Feeling spontaneous or desperate for a healthy holiday to get you back into shape? Then pack your bags for a last minute getaway in the sun on one of these recommended yoga and wellness retreats taking place within the next two months.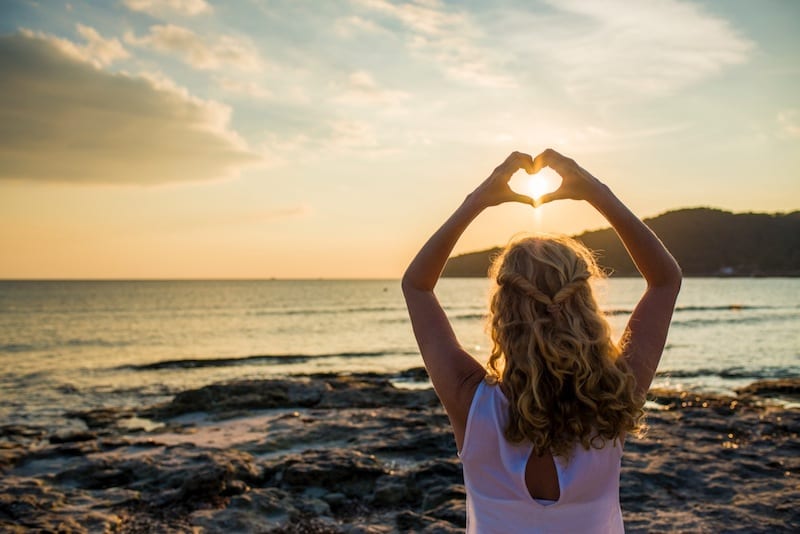 Designed for women who think too much, we're proud to deliver a new yoga and detox retreat for your mind. The 21st century sees us constantly plugged in and always digitally available; we invite you to step into stillness, switch off your phone and tune back in. Bring the art of mindfulness into your yoga practise, with breath-work and meditation to reconnect to your power-centre and inner guide. Feel new passions and purpose emerge, empowering you to create a more sustainable love-life-work equilibrium, and step forward into a more harmonious chapter of your life. This is for you if you are feeling burned out, tired out or in need of stillness.
A personal program of massages and therapies will help you to let go of stress and tensions and practical life coaching techniques to take away with you, will transform your fears and anxieties, whilst daily meditations and evening yin and restorative yoga rejuvenate your peace and clarity. You will then feel fresh insights arise, with holistic life coaching and spiritual counselling to help this process further. And 1:1 yoga therapy and wellness coaching will empower you with a compelling daily practice and a new sense of personal boundaries, so you can feel equipped and excited about your return to reality.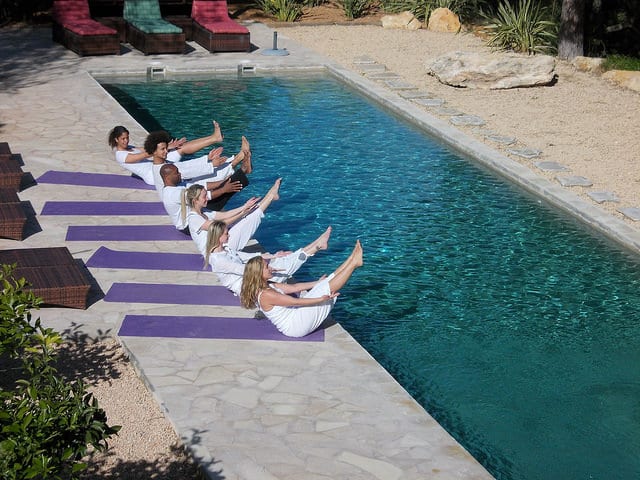 Restore and rebalance in Ibiza with Ibiza Retreats this summer. Our yoga, fitness and eat-clean retreat will restore, rebalance and rejuvenate your body, mind and soul. We have specially created this well balanced, holistic retreat using our deep collective knowledge and experience. We have balanced yoga, fitness, meditation, nutrition and clean eating in this perfect retreat package. This retreat is for you if you are feeling a little unmotivated, tired, or lost and are looking to relight that spark, ignite your energy and bring back your zest for life.
We will set your body, mind and soul into a conscious, present and loving state that will springboard your onward life journey and empower you to take on life's ups and downs. By creating a positive foundation to lead a healthy, balanced life, you can be the best you can be. Be assured that this is very much still a yoga retreat, with a fitness element smoothly included, just rather from the point of view of holistic wellness – opening our minds to the bigger picture. We will enjoy yoga every day – on the fitness mornings, it will take the form of an elongated stretch and meditation class – and then pure yoga flow for 3 days. In the evenings, we will have a yin style practice or a take part in beautiful hike through the beautiful Ibiza countryside.
Our retreat is held inside the beautiful whitewashed walls of Can Amonita, in the stunning countryside of north Ibiza. The unique sanctuary reflects the beauty and peace of this side of the island with a beautiful outdoor practice space.
This transformational experience taking place on the magical island of Ibiza, in our Sanctuary contemporary villa situated in the best sunset spot of the island "Art of Healing Retreat" is a Quintessentially Ibiza experience, created and offered by an eclectic mix of locals. It is an opportunity to get away from the outside world, release old beliefs and patterns which no longer serve you. Reflect on where you are, where you want to be. Discover new healthy habits which will empower you to navigate your being with less stress and ease.
Upon arrival, you will be whisked away in a private car and taken to our sanctuary. It is surrounded by forest, mountains, birds, fresh air, cicadas, an infinity pool with a breathtaking view. We will welcome you with a big hug and a fresh juice to the great island of Ibiza.
The Art of Healing Retreat offers a variety of activities such as: creative journaling in a diary gifted to you, sound healing and frequency workshop, art classes where you paint your own mandala, crystal jewelry introduction and raw food workshop. Or you can always choose to stay by the pool with your book. Whatever it is, it is perfect. This is your journey.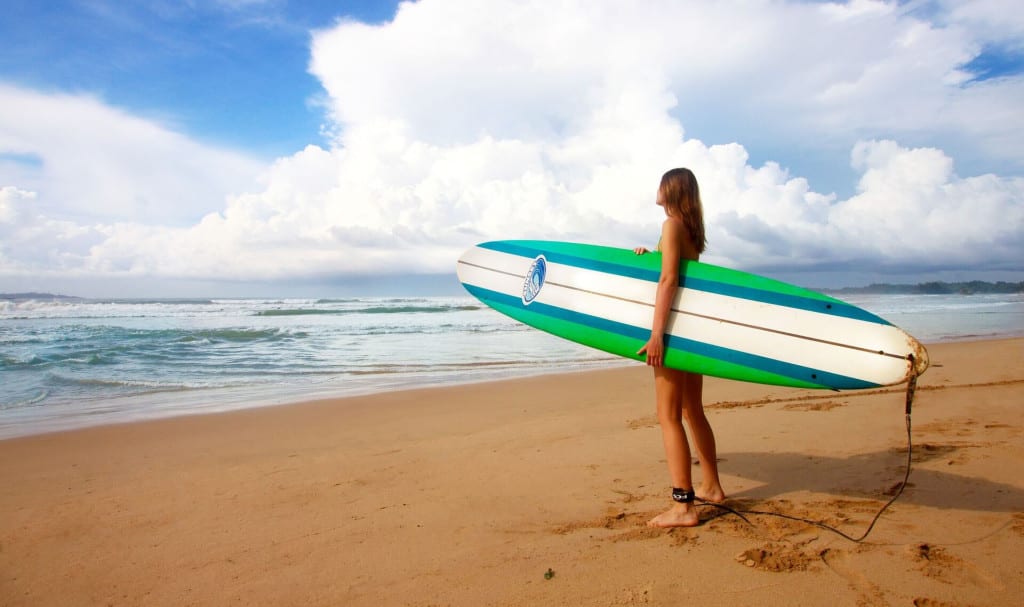 A match made in heaven – yoga and surfing – create a perfect semblance of serenity. Our Girls Yoga Surf retreat brings challenge in both mental and physical senses, all while providing connection between the mind, body, soul, and the ocean.
We invite you to embark on an adventure and spend a week in beautiful Lourinha exploring and living the combination of vinyasa yoga and surfing. The practice of both energizing yoga and the restorative yin yoga will help to better understand, prepare and catch waves as well as to unwind and restore after a day in the ocean.
Yoga and surf may seem different, but they compliment each other perfectly. At our retreat you will experience how yoga classes prepare you for the time in the ocean, build your strength, balance and mental preparation. Spending a week together with other like-minded girls will allow you to not only have this memorable experience, but share this joy and connect through the journey. Finally, the balancing and meditation skills learned here will transfer to your daily life and you will enjoy these lessons learn long after coming back home
At our yoga surf retreat in Portugal all yoga classes are created and designed to support and strengthen your practice as well as your sustainability for surfing. It doesn't matter if a beginner in surf or yoga or if you have experience in either of them our teachers will help you build skills to apply on and off the mat, on and off the surfboard and will make your Portugal surf camp vacation unforgettable.
We practice hatha, vinyasa, yin, and restorative yoga. as well as utilize various Pranayama (breathing) techniques in each class. Besides the serene moments in the yoga shala and energizing days surfing you will have an incredible opportunity to bond and connect to your fellow yogis and surfers. Breakfasts, dinners and outings as well as wonderful time together on the gorgeous Portugal's beaches will make you friends for life. If an active yoga and surf adventure is what you're looking for then our girls yoga and surf retreat in Portugal is just the one for you.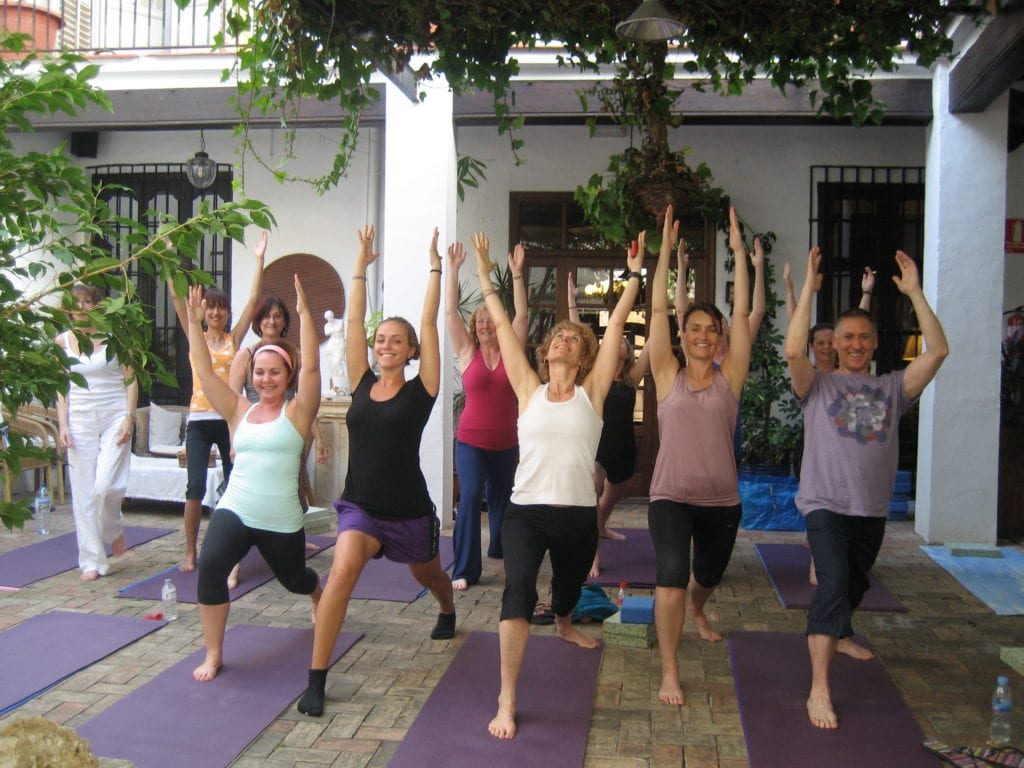 If you're keen to re-kindle or develop your existing yoga practice, going on a yoga retreat is the perfect way to deepen your understanding with experienced teachers. You'll feel the difference in just a few days which is all you need to ignite your yoga flame and kick start a regular practice back home.
Our Pure Yoga Retreat Holidays are held near the sea in the vibrant coastal town of Denia, an hour north of Alicante. The programme includes carefully planned twice daily yoga sessions with plenty of alignment cues to keep you on track, different pranayama techniques and daily meditations all of which will help your body relax, open and strengthen. We'll also delve into other aspects of this ancient healing system and help you create your own home yoga practice too.
And, when you're not on your yoga mat, there will be plenty of time to relax at the beach, paddle in the sea, join a coastal hike, head off on a guided bike ride, go horse trekking, book super beauty and holistic therapies, snooze, enjoy delicious tapas or explore the lovely vibrant town of Denia. You'll feel so much stronger and calmer by the end of your stay and notice a huge difference in yourself and your yoga practice in just a week. Join us for an authentic and complete yoga experience which touches on yogic details and practices your regular teachers may not have time to teach you. It is ideal if you want to deepen your practice with senior teachers who will help progress and develop in just a few days.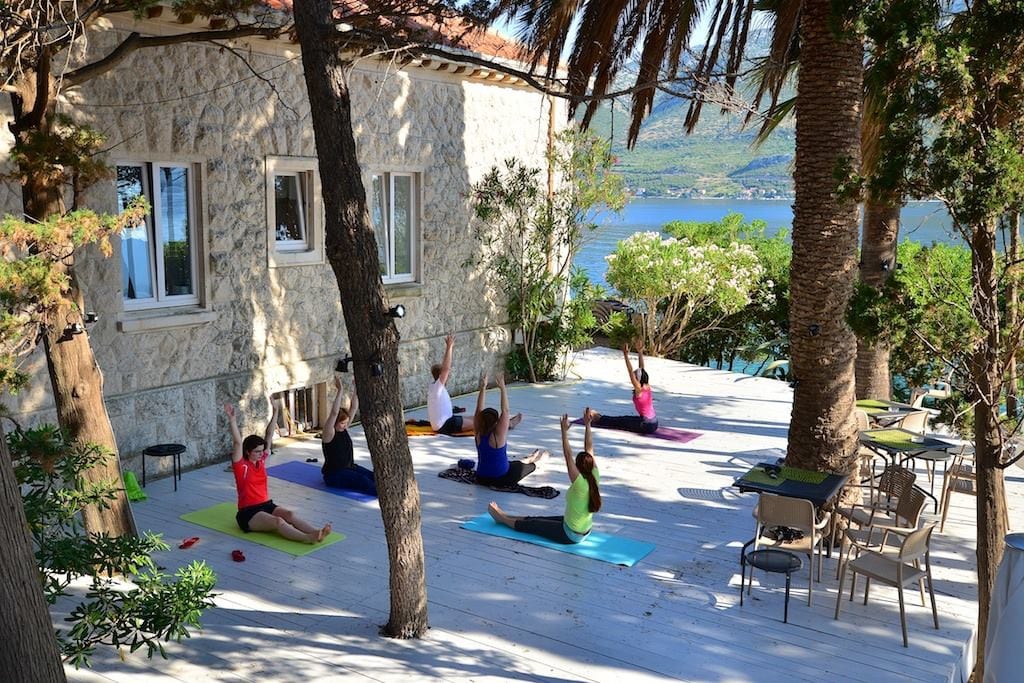 Join the Joy of the Mediterranean for a relaxing, rejuvenating, and detoxing Yoga and wellness weekend retreat. This is the perfect opportunity to refill and restore your energy under the Mediterranean sun surrounded by crystal blue seas, and bring your body and mind into balance with daily yoga classes, meditation and breathing exercises. The extensive local knowledge of the retreat team ensures that you will enjoy the best authentic sights, flavors and experiences of Croatia. Located in the gorgeous and unspoiled location of the enchanting Korcula Island, Dalmatia.
You will enjoy hikes through Korcula's lush and unspoiled wild fields, explore hidden bays of breathtaking beauty and experience an excursion to the magical naturural park of island Mlijet, with its salt lakes, bicycle wine tour to the famous Croatian wine region on Peljesac and most of all to discover all the joys of Mediterranean and have a lot of fun in the process.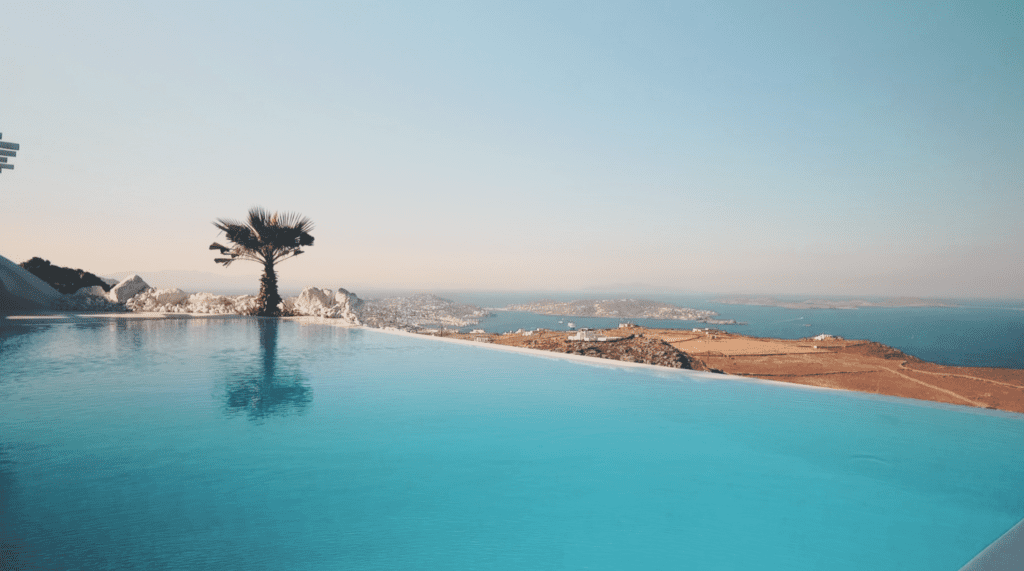 Helios Retreats host health and fitness experiences in luxury and exclusive locations in Europe with some of the world's best trainers and yoga instructors. Join us in Mykonos for a transformational week of yoga, HIIT training and endorphin boosting workouts with fitness model Camilla Akerberg and Ollie Lee of Barry's NYC. The Yoga is provided by our resident trainer Sarah Highfield. The setting and our retreat home for the week is at our secluded, luxury villa nearby the only lighthouse in Mykonos located on the North West of the island.
Swedish fitness model and personal trainer Camilla is coming all the way from Sydney, Australia to join us in this super retreat alongside Barry's NYC trainer, celebrity personal trainer and newest Helios resident, Oliver Lee. Expect HIITs in the morning with these two and a lot of fun.
Should you wish to stay less days we offer the option of 6 days and 5 nights. For those staying 7 days you will receive a complimentary massage on the arrival. One of our major highlights is the food! Designed by Mr Filip Koidis, PhD in 'Nutrition in Fat Loss' and all meals are prepared by our Michelin trained Chef Vassilis.
We offer 24hr-security in the villa and daily housekeeping to ensure your en-suite room is looked after. Wi-Fi is available in the villa, although we encourage you to switch off from your phone and enjoy the peaceful setting. We provide complimentary transportation twice in the week to the old town of Mykonos and one trip to Nammos Beach/Scorpios. There will be one afternoon off to let your hair down and enjoy a day (and evening) out. For greater freedom and to utilise your free time, we recommend hiring a car. We want you to enjoy this week and make the most out of getting to know Mykonos and encourage trips in the week to the most exclusive beach clubs on the island, the old town and the famous Windmills, an optional boat trip to the mystical island of Delos (around €50 euros) and an optional day trip to the breathtaking 'mega villa' owned by our friend Zinas, a famous fashion designer in Greece, which hosts a number of Hollywood celebrities and magnates from all around the world in the summer.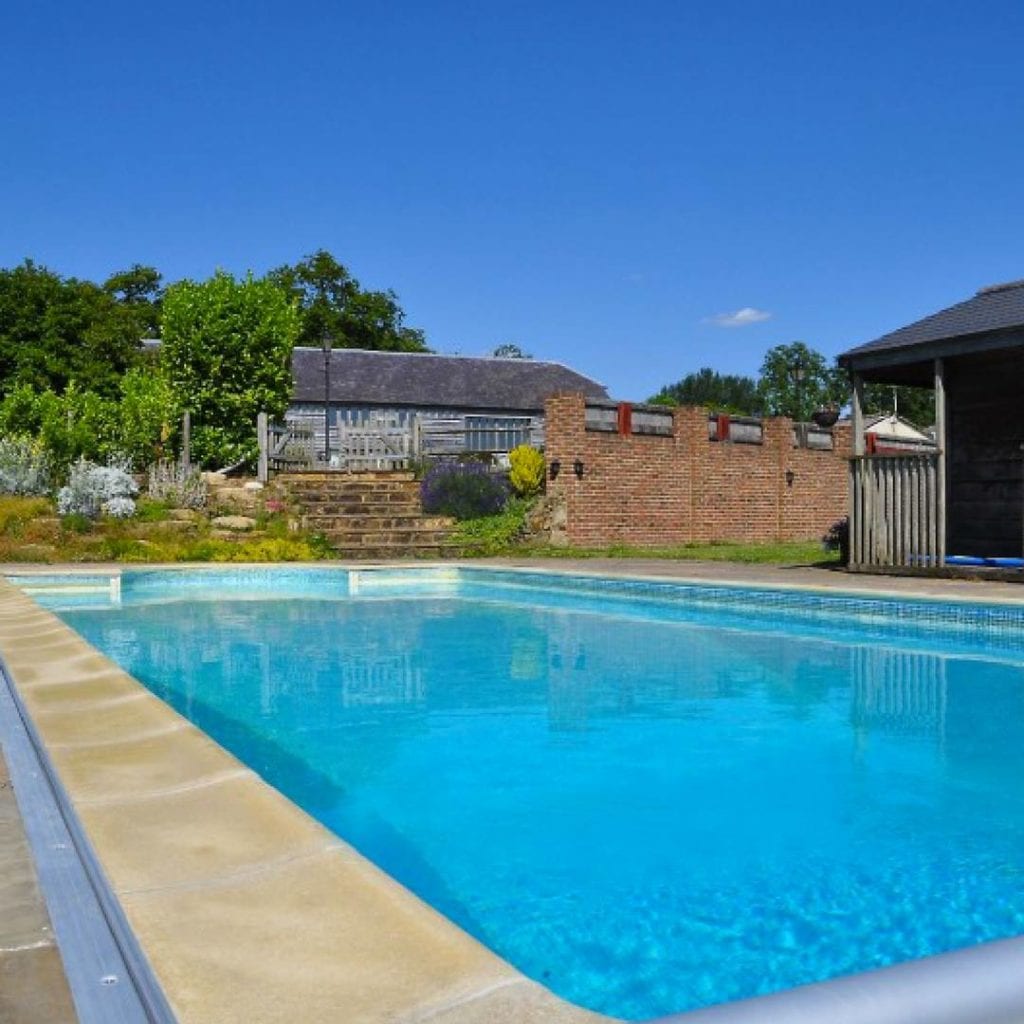 Would you like to feel energised, light, and clear headed? Would you like to have glowing skin, hair and nails? Would you like to lose weight and look and feel younger? For some of us, we actually feel heavy, tired, foggy headed, and suffer from digestive issues. Let this 3 day detox and yoga retreat be the kick start to a new and healthier you. Empower yourself by learning how to be healthier and brighter by taking control of your diet, not letting your diet control you.
We bring our own talented chefs to our retreats who specialise in creating tasty nutritious dishes to energise you and make you happy. All our food is free from wheat, dairy, sugar and other toxic foods and these are replaced with alkaline foods such as pulses, grains, raw foods, nut milk, green smoothies. You can learn how to make nut milk, raw juices and other yummy raw recipes. You will learn that eating a cleaner diet is tasty, healthy, easy, creative and inspiring.
Our East Sussex venue is a collection of beautiful converted barns, with an outdoor heated pool to 30 degrees with stunning views of the Wealdon valley.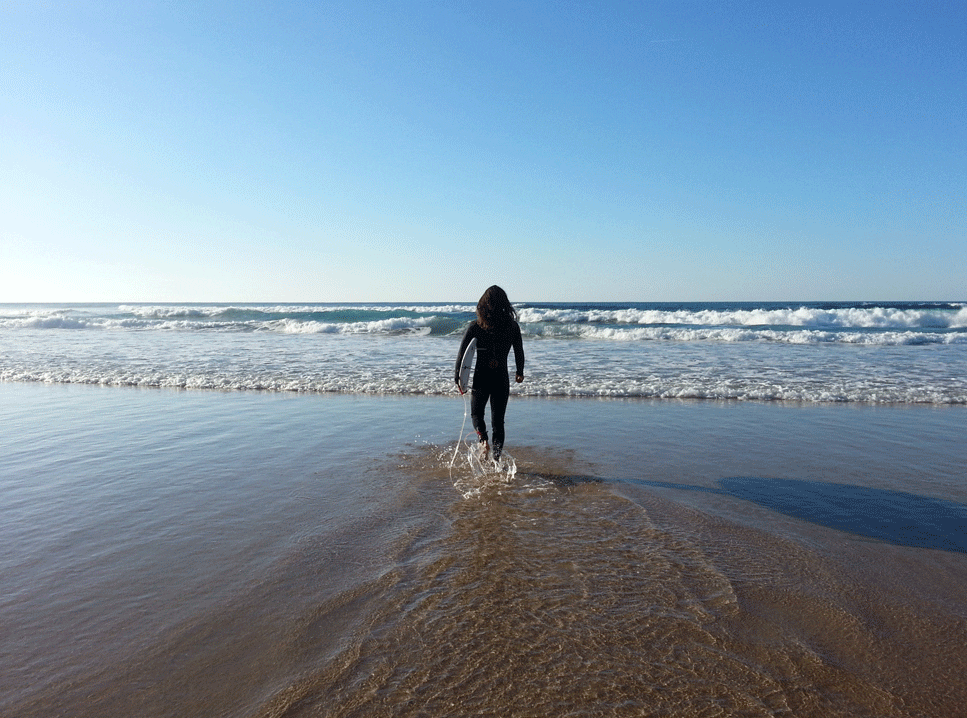 This retreat will offer you the opportunity to combine the wonderful surf of the Portuguese South West coast with a healing and insightful yoga practice. Surfing is awesome, everyone will tell you that, whether you are a beginner or a seasoned surfer, the ocean doesn't care; it will play with you and remind you of the child inside. The famous surfer Clay Marzo says it very beautifully: 'Waves are toys from God'. What not so many people will tell you is that it is also a hard art. The ocean is extremely powerful and we are small creatures, so we do take a bit of a beating every time we get out there. A small price to pay, but a price non-the less.
Yoga will give you the opportunity to enjoy this week without breaking your body. We'll stretch and warm you up for the ride in the mornings and take care of your happily exhausted bodies at the end of the day with a wonderful restorative and relaxing session.You'll come back home with a giant smile, a tan and a new understanding of how amazing this yoga stuff really can be.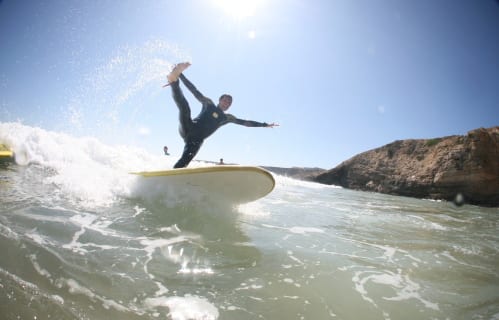 The Yoga Surf Holiday is for anyone that loves yoga (or likes to learn to love it), loves to be outdoors, at the beach and likes to learn (or improve) one of the most fun sports ever!
Every day we start at sunrise with meditation, followed by a 1.5 hour yoga class and a deliciously healthy breakfast, so you are ready to be picked up by the surf school to go to the beach and learn to surf. We'll bring lunch to the beach, but you will come back for the 1 hour afternoon relaxing yoga class, followed by dinner and by that time, all you can think of is going to bed and sleeping like a baby! Expect to have a week full of fun, sun, health and happiness. The eyes will be glowing with life once you return back home.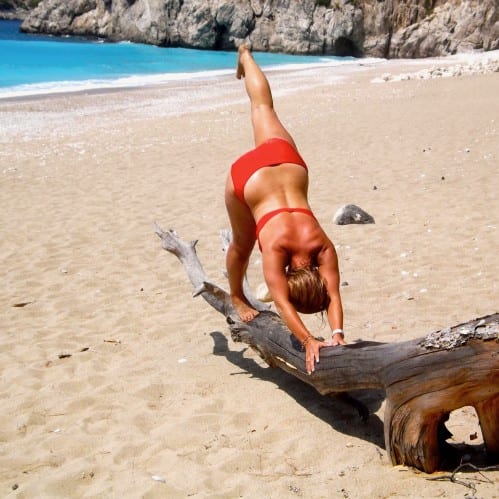 The Sunshine Retreat is the perfect yoga getaway at Suleyman's Garden, carved into terraces of abundant fruits and vegetables, nestled in the pine forests that cascade down to the Mediterranean. There are breathtaking sea views and sunsets from the dining terrace and yoga shalas. The accommodation is in very comfortable stone or wooden cabins with verandahs, shaded by vines and flowers.
Dappled sunshine, yoga, forests, the wild seashore and the ripening fruits in the gardens; this is a retreat, an escape to Eden and far removed from the bustling tourist routes, a hideaway beneath the mountains for those who seek a space of peace. A taste of old Turkey on the Lycian Way and a potent venue to reveal delight through an immersive yoga programme that dives into the body, breath and heart.
A long established and highly respected teacher from the Isle of Wight, Emma's teaching over nearly two decades has evolved into one that provides clarity, invites a fresh understanding of alignment and a deeper internal conscious and energetic awareness as participants are guided mindfully through creative graceful sequences. The retreat experience is liberating and the perfect way to move forward lighter and freer, fitter and healthier – a more contented you. This is a yoga retreat for those wishing to delve deeper into the practices and teachings of yoga. There are local walks in the forest and along the coast, fantastic swimming in the sea and trips available by boats to secluded beaches. Fethiye is a half hour drive away with its historic hammam and vibrant market.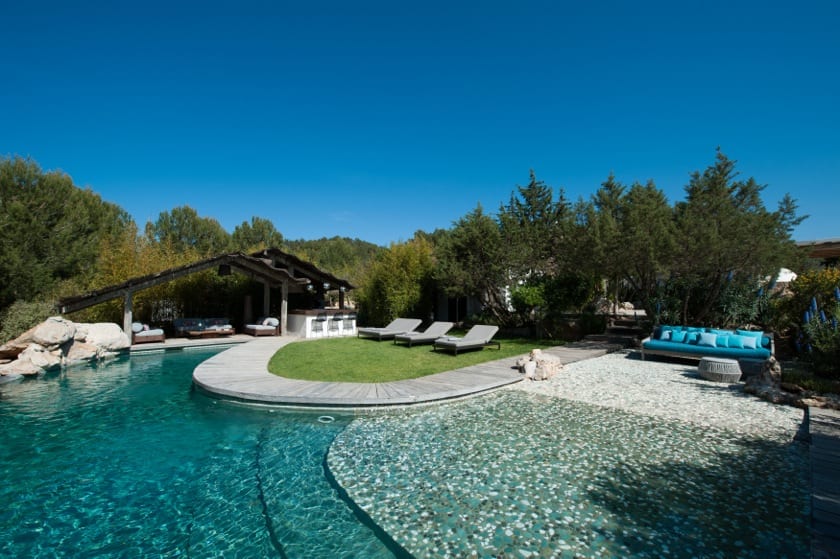 This is the chance to get away from it all! Find yourself in a nourishing sanctuary to give the body and mind a break on this Boutique Yoga Detox Weekend with Ibiza Retreats. Let us do the doing, making it easier for you to switch off and de-stress. Let Ibiza work her magic on you. This incredible island, a place of enchanting natural beauty where we can all return to the breath. Sometimes we get so caught up in life, we can forget to actually enjoy it!
A holistic detox experience for mind, body and soul – dust off those cobwebs and discover a little magic here in Ibiza! This retreat is very special. Words fail to exactly describe the magic here, or why the experience is so unique and touching… A feeling that stays with you long after you leave this little paradise on the south west corner of Ibiza. Set in the picturesque Can Bikini, a sanctuary of pure luxurious bliss.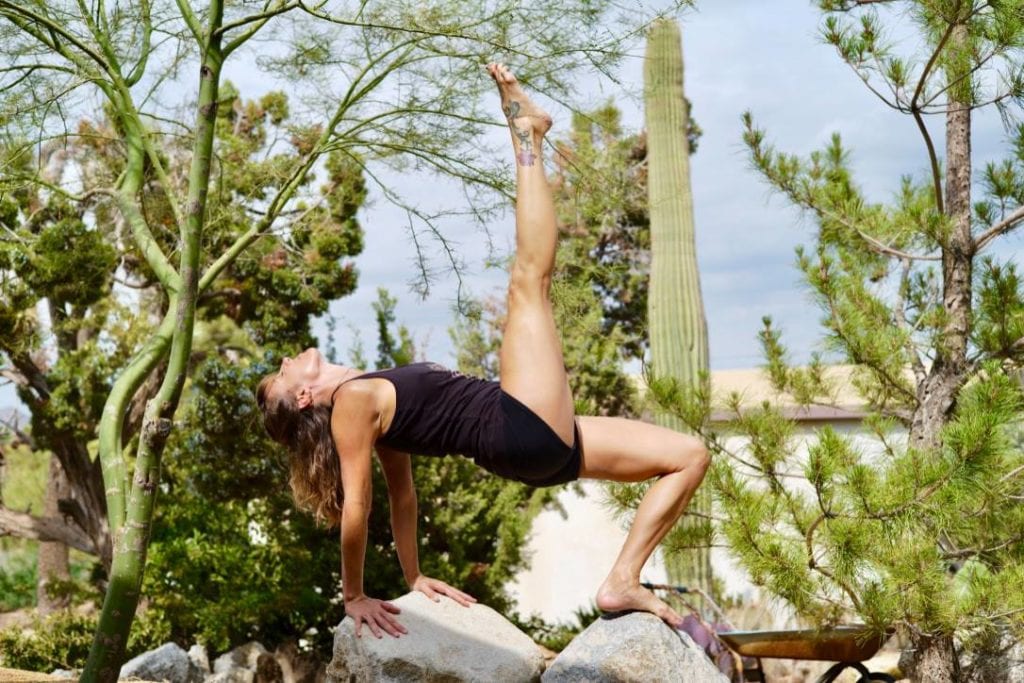 Join Joan for a 7 day Culture and Yoga Retreat in Northern Italy, to the beautiful hills of Monferrato in Piedmont, nestled deep in the wine country, situated an hour away from Milan, Turin and Genoa, and few minutes drive from Acqui Terme, an old Roman bath town where you can immerse yourself in the classic Italian culture and see some of the ancient Roman ruins.
The "Noceto Michelotti Country House" is located in a breathtaking valley surrounded by vineyards, that in Autumn turns into a rainbow of colours from red to yellow and brown.
Within the silent harmony of nature, at the sun rise, experience the sweet morning run of deers and fawns. The house offers charming rooms and apartments, designed with character and in true Italian country style, each with amazing views of the surrounding hills and vineyards. The majestic house also offers relaxing areas, outside gardens, patios and a heated pool.
There will be two yoga and meditation classes each day, along with all meals provided, including healthy vegetarian and fish options with an ayurvedic taste. Excursions include walks, hiking, bike rides and a visit to the Roman town of Acqui and to the famous wineries and cellars of the region, together with a full day excursion to the nearby Italian cost of Liguria, where you can discover the romantic Camogli, and unique and sophisticated Portofino.
Come celebrate Italian culture and with a tribe of like-minded friends and find your bliss in the lush country of Italy!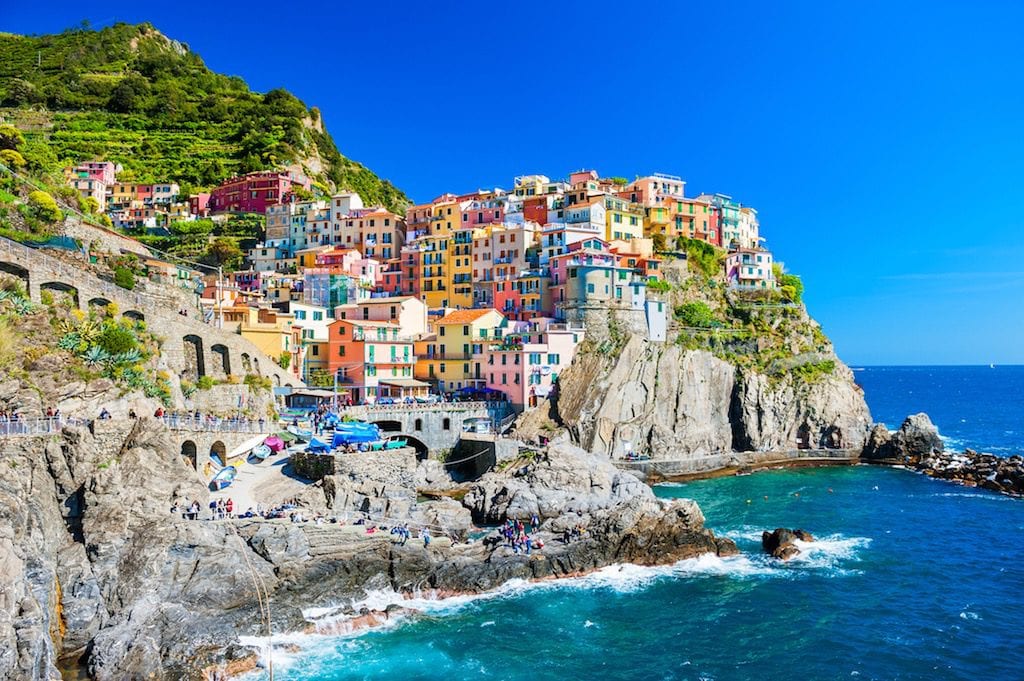 Get ready to explore the unforgettable sights and the magic of Tuscany on our Soul Adventure Retreat, and be swept away by the irresistible culture and cuisine. Picture yourself unwinding at our delightful countryside villa, where you will be guided by life coach, Sharon Stokes to create and explore your own "Life Map"! Through self reflection, invigorating movement, healthy nutrition, and fun adventures, you will rekindle your inner sparkle, and leave bubbling with inspiration, fully connected to your life's purpose.
Come experience your own 'Under the Tuscan Sun' adventure and immerse yourself in the magic and beauty of the Italian countryside while connecting with other like-minded women.
To balance this "soul work", holistic health coach, Sarah McKeon will lead daily invigorating movement and yoga, positive mindset practices, and provide irresistible local and fresh cuisine. These wellness activities will keep your energy flowing and your body feeling its best!
On top of the soulful time at the villa, we will be exploring some of the majestic and iconic sights in Tuscany! Make sure to pack your walking shoes as we have 3 adventure days included in the retreat. The first is a full day exploring the culturally rich city of Florence, the birthplace of the Renaissance. Secondly, we will visit the breathtaking coastal villages of Cinque Terre! Last, but not least, we will enjoy a leisurely bike stroll around the walled city of Lucca, and have dinner in the magical Piazza del l'Anfiteatro, the historic and soulful heart of the city. You will feel like a true Italian, strolling the cobblestone streets in this hidden gem.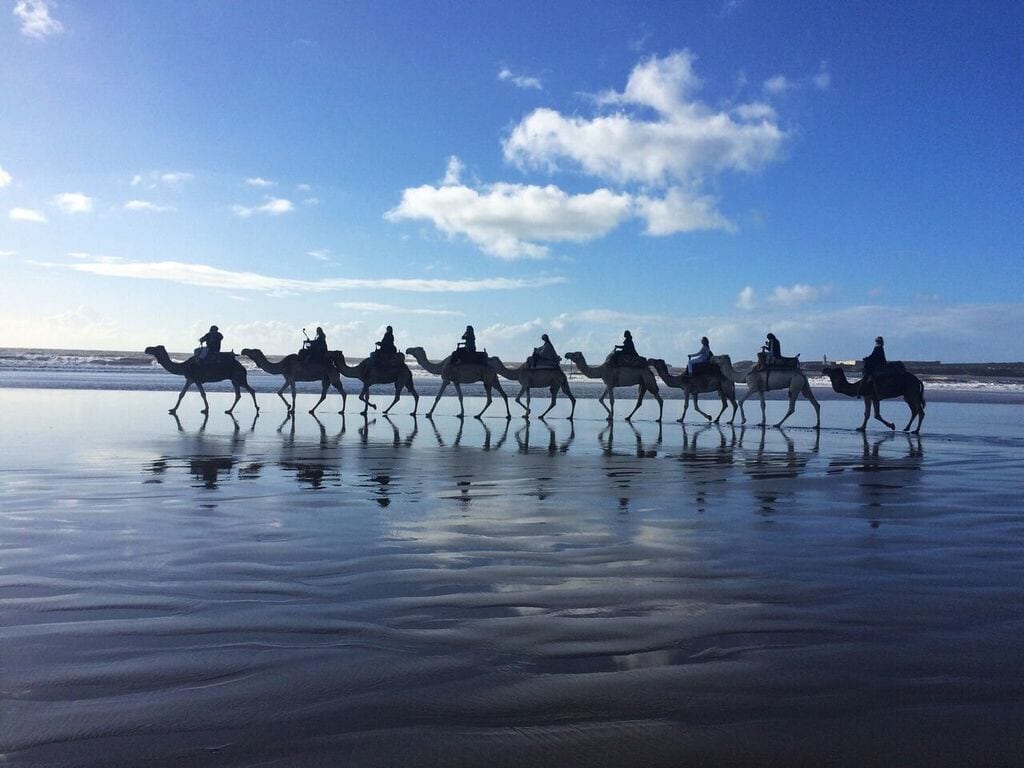 Besides daily yoga classes, our new EAT PRAY MOVE Yoga retreat offers a series of mindful workshops that will guide you in the exploration of creative self-expression in your life. We will have meaningful discussions and fun activities intended to help you tap into your own inner wisdom and heartfelt desires.
This fantastic yoga retreat will take place at the fabulous Peacock Pavilions boutique hotel. This stylish and eco-friendly abode has been featured in worldwide publications, including National Geographic Traveler. Guests will not only enjoy the grounds of Peacock Pavilions, the outdoor areas including a lovely pool, patio, private terraces, and covered yoga platform, but the retreat includes some amazing day-trips to the surrounding sites. A guided day in Marrakech will lead guests through an introduction to souks and visits to sites such as Ben Youssef Medrasa.
A full day will be spent exploring the nearby Atlas Mountains with a base at the Kasbah Tamadot Hotel with a traditional mule trek to the nearby village of Asni followed by time at the beautiful grounds of this 5-star location overlooking the vista and tasting menu lunch. The final full day entails a trip to the famous Bains de Marrakech, a luxurious spa facility, where guests can be pampered to their heart's content with a full program of various treatments. What better way to wrap up a week of yoga than a day of pure relaxation.

Imagine doing a fluid practice of yoga and Pilates in one of the world's most beautiful islands. An island that erupted over 3600 years ago to reveal the best sunset in the Mediterranean. With cascading white bungalows down sheer cliff drops into the Aegean Sea, blue skies forcefully embracing turquoise waters and the only navigable sea crater in the world, Santorini Greece is your perfect destination to rekindle that fire within and enjoy a week of amazing yoga and Pilates.
Your backdrop for your Sky Pilates and Yoga Retreat will needless to say leave you captivated, enlightened and elevated to another realm. You won't want to miss this incredible opportunity to transform your yoga and pilates practice and your view on the splendors of nature.
The Pelagos Hotel in Oia Santorini will be hosting what will be your most memorable healthy holiday. This boutique hotel is the perfect setting for a relaxing and fun Pilates and Yoga holiday, with a beautiful 30' x 40' practice shala where all classes will take place. All your materials for all your classes will be provided so you can bring your body, mind, and spirit to the mat. Prepare to reconnect with your love of health and the warmth of the mediterranean sea.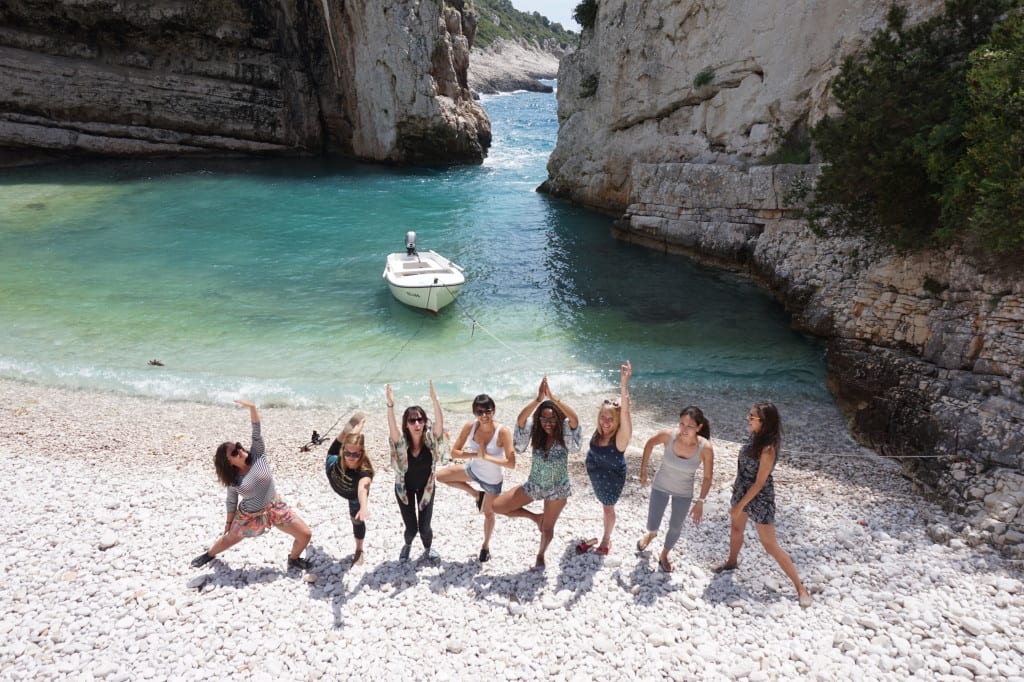 The Balance yoga retreat on the incredible and magical island of Vis, Croatia invites you to experience moments of meditation by a quiet sea with turquoise waters, two daily yoga classes with morning vinyasa and evening yin / restorative, massages, vegetarian and vegan food and island discovery tours exploring the beaches, coves, bays and lovely towns. A harmonious week will bring your mind, body and spirit into the balance and will connect you to the likeminded discoverers and yogis from all over the worlds to share your journey.
This unforgettable 7 day island retreat experience in a gorgeous seaside villa with stunning views will give you the much needed personal time and a chance to look inwards and find peace within. We strive for a balance between the wellbeing of the spirit and the body (with yoga and meditation) and the pure joy of everyday life. We've created a program that connects our guests to themselves, the magical nature and the little new family they have made for the week. All of these connections create what we call – a wonderful balance. We welcome solo travelers or couples, from beginners to advanced yogis as well as any ages. Each student gets individual attention and care from the teacher for his or her developing practice. Join us for your wonderful journey to balance!
You will be staying in a beautiful seaside villa located on the south side of the Vis Island. Every morning you will be greeted with a view to the beach and surrounding small islets. A large outdoor pool, a garden, outdoors dining and lounge areas and the sound of waves make this place a perfect destination to relax, feel at peace and go deeper into your yoga and meditation practice.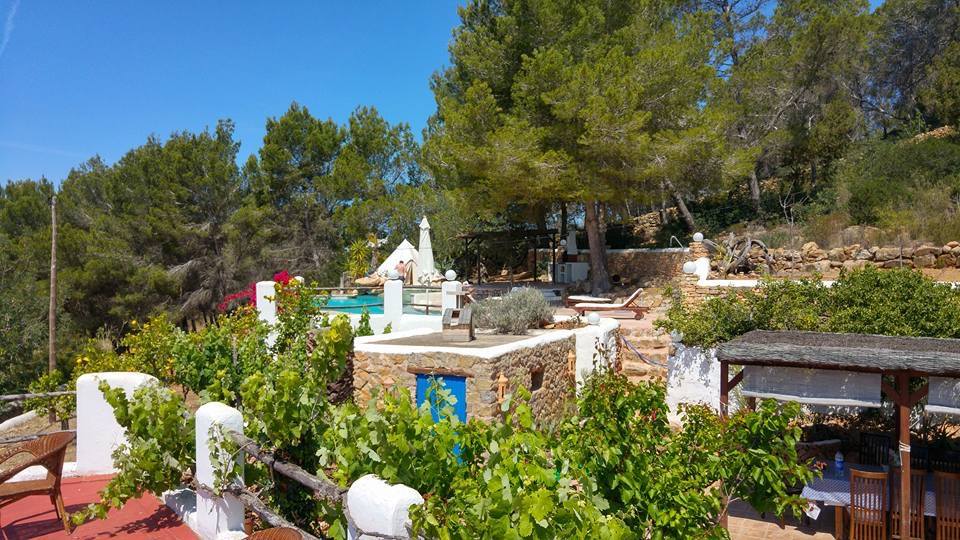 Our Nourish your Soul retreat at Casta Shakti will bring your body back into complete balance and you will leave feeling cleansed and ready for a new day and a new you. Your retreat hosts Kate and Vicky met at a yoga teacher training in 2011 and bring together their love of yoga, nutritious food, and workshops to create a retreat that will bring your body, mind and soul back into complete balance, leaving you feeling cleansed and ready for a new day and a new you.
We have carefully thought out our week long retreat providing you with the the ultimate opportunity to pause from the crazy pace of modern day life. The retreat includes a complementary massage and naturopathic consultation providing you with a nutrition and a lifestyle plan for you to take away with you and implement into your life. The focus of this retreat is inner healing and the yoga that will be taught will reflect this. Our practices will be based daily around the 7 chakras and we will take a journey into all aspects of Hatha yoga. The yoga on this retreat will be general level and everyone will feel both nurtured and challenged through their daily practice. We pride ourselves on being kind and caring teachers and being able to create a warm and friendly daily yoga practice accessible to all levels.
We feel blessed to have found the idyllic Casa Shakti as the location for our retreats. It is a truly authentic Ibicenco finca (farmhouse) set in or North East coast of Ibiza. The finca has a beautiful pool, jacuzzi and yoga deck with a sea view! It is a totally serene and beautiful spot that is surrounded by nature, Elena the owner has horses and offers horsemanship workshops and the farmhouse is surrounded by magnificent woodland there is nowhere quite like. This location speaks to your soul and has a wonderful healing energy that you feel the moment you arrive. Join us for 7 magnificent days of sunshine, yoga and meditation, great nutritious food, and lots of love and laughter too.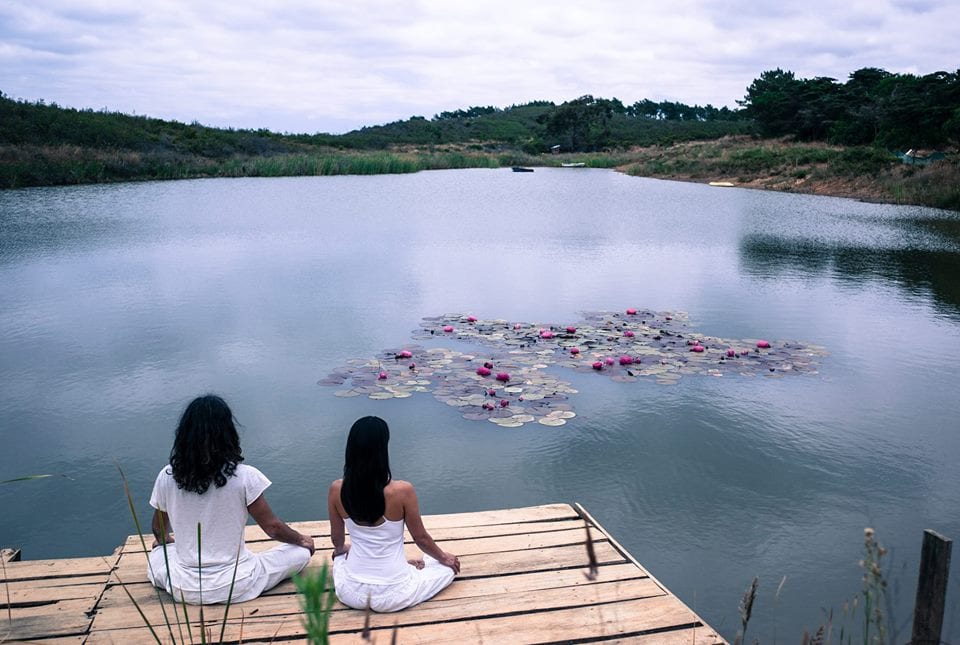 Our yin yoga retreats are for those going through a stressful life period or work situations and need to rest, heal and recharge batteries, while spending some quality time with themselves. Living in the world, balancing love, work, family, finances and health is not an easy feat. There are always incredible moments to be enjoyed but they are usually sustained and financed by long days of hard work. To maintain our health in such busy rhythm is often challenging and there are moments when one needs to take a break, a wholesome break, both for the body and the mind.
This retreat offers exactly that, quality yoga and mindfulness teachings, therapeutically holistic treatments, healthy food and lots of time and space for you to disconnect and reconnect. Welcome to this unique opportunity to heal and open your heart, supported by the softest side of yoga and the loving guidance of Jenny and Igor at Vale da Lama, Algarve Portugal.
Join Yoga Breaks Spain for a 5 night Yoga and Pilates retreat by the sea and immerse yourself in gorgeous sunshine, big open blue skies, fresh sea air, beach time and feast on delicious healthy food. Plus, super experienced yoga and pilates teachers will help you open, lengthen, quieten and strengthen your body with two classes a day with time in between to explore this stunningly beautiful area with the optional biking, hiking, horse trekking or simply relax by the pool with a great book and soak up the sun's rays.
Based at a 300 year old olive farm – now a 4* country house hotel – set in acres of orange & olive groves near the sea. This peaceful setting is the perfect base to get away from your normal routine and get a fresh perspective on life.
Whether your a keen beginner or have a regular yoga or Pilates practice, this retreat will meet you where you are with small groups of 12 and classes for beginners and intermediates/advanced plus workshops to help progress & deepen your practice. There'll be plenty of opportunity to get outside and be in nature too with a guided hike, bike ride, horse trek, visits to the beach, take part in a Spanish cookery workshop, rest by the pool or enjoy pampering therapies.
And don't worry, these retreats are super relaxed. So if there is a morning where you want to sleep in, please do. If there's an afternoon you would stay longer by the pool and skip class, that's ok! Whatever you feel you need, please do.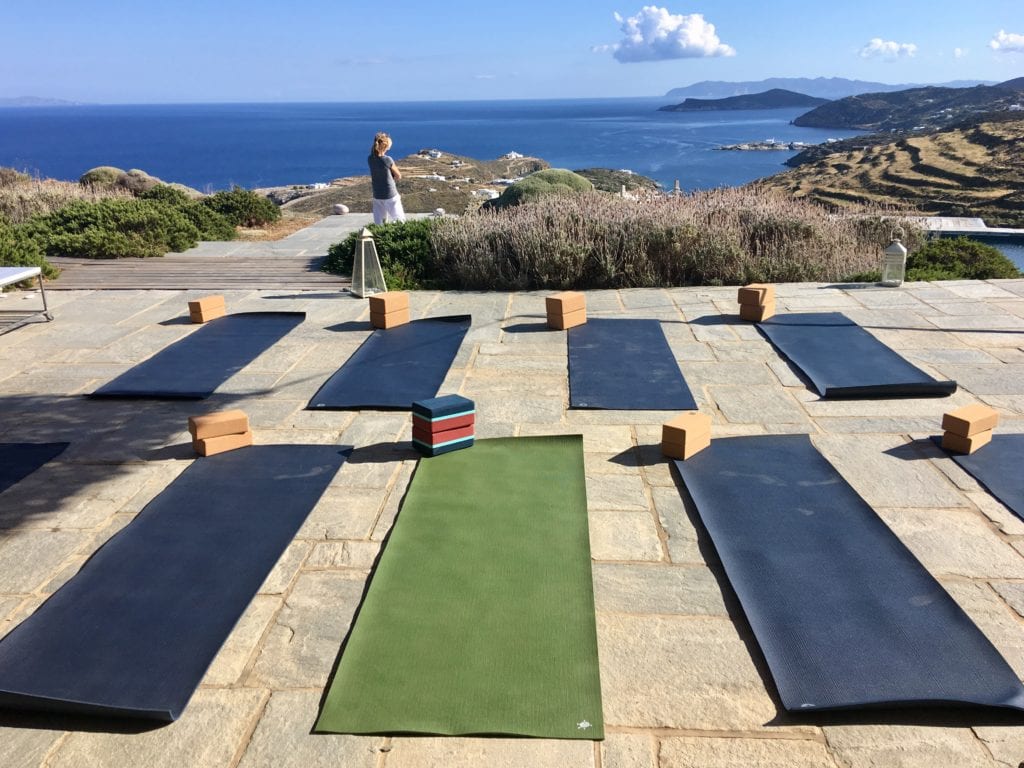 Escape to some of the most breathtaking parts of Greece, away from the tourist crowds where you can practice yoga, pilates, mindfulness and meditation against a backdrop of the beautiful Mediterranean sea.
I'm so happy to be taking you on a joyful yoga retreat to my favorite place on the planet, one of the most authentic and spiritual Greek Islands for 7 days of deeply transformational yoga practice. This week will allow you to access your inner strength and wisdom to reach a place of complete alignment with your deepest Self and manifest your true potential into the world.
We will be feeding on locally grown organic food, practicing Jivamukti yoga morning and evenings, creating beautiful friendships, discovering one of the most special Greek islands while staying in a gorgeous villa, setting powerful intentions and letting go of what no longer serves us to expand to our true potential.
During the retreat, there will be 2 daily yoga practices of around 90 minutes in the morning and before sunset. A total of 13 classes combining asana, chanting, meditation, intention setting, pranayama, and spiritual teachings. We will explore the asana practice through both dynamic vinyasa and restorative practices, challenging your own pre-established boundaries to progress into a new space, letting go of old patterns that no longer serve you.
Through dedicated workshops we will explore in depth backbends, inversions, the art of vinyasa, deep hip opening and chakra tuning.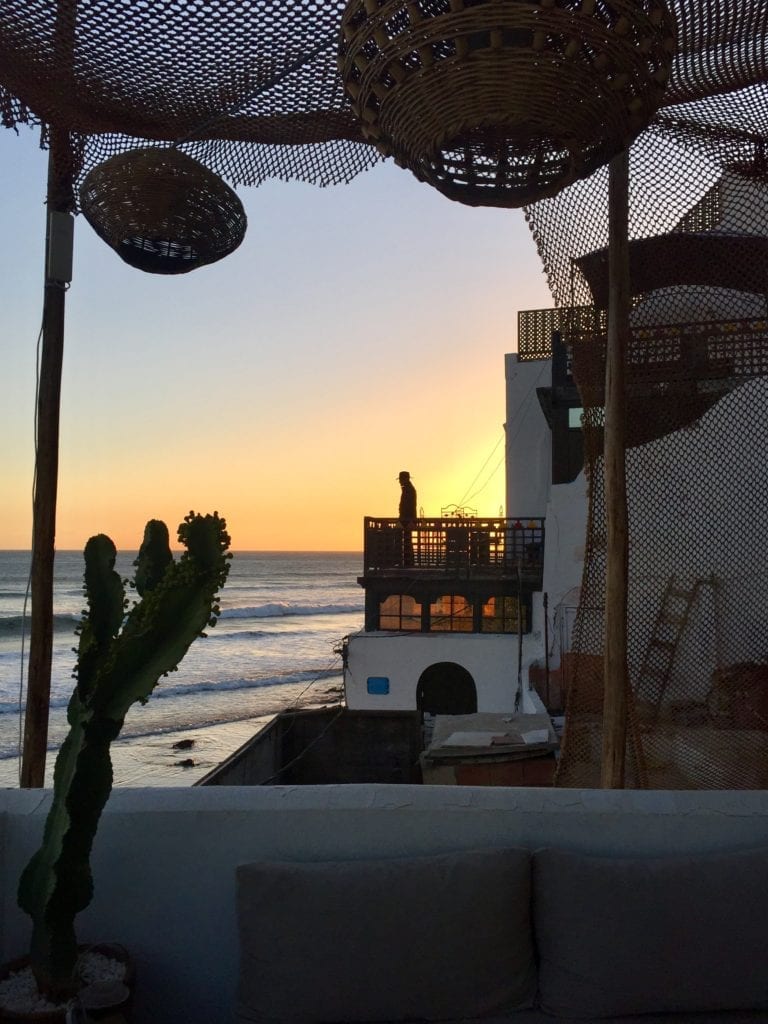 "Don't cry because it's over, smile because it happened." Dr Seuss. Long summer days are in full effect right now and winter may seem an age away. But the days are already becoming shorter and you may be looking for an awesome way to end the summer season, allowing you to wind down, regroup and get ready for some darker colder nights. We have just the solution!
We invite you to join us for a grounding and nourishing five day retreat to adjust physically and spiritually. Come and reflect, stretch and ground with us (Jules Barber and Rosie Markwick) in the beautiful Moroccan fishing village of Taghazout. We first ran this retreat in March of this year and have established a wonderful relationship with World of Waves Guesthouse and their team. Nothing is too much trouble and we will be looked after like royalty.
For a chilled out, fun-filled five days, we will be practicing yoga together, a 90-minute classes twice daily, eating delicious and nutritious freshly prepared local food, and kicking back and relaxing in the Moroccan sunshine.
We have a number of amazing and rejuvenating additional activities available –swim in the ocean, walk through the Paradise Valley or hunt for bargains at the souk. Or simply chilling out on a beanbag in the sun sipping a juice. This is a retreat with a difference: inexpensive, family-style vibes, loads of personal attention with a maximum of 10 guests. A beautiful little coastal hideaway and delicious food. It's designed to be a break in the truest sense.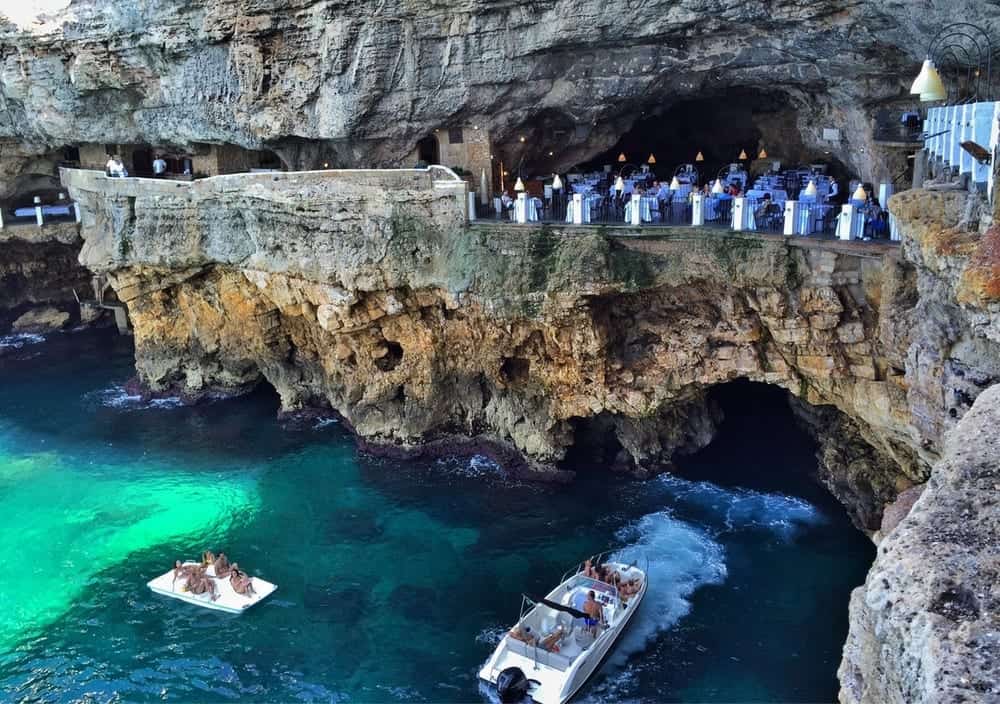 Treat yourself to an Italian escape. Relax, recharge, practice then have a post-Savasana glass of Chianti if you fancy!
Join us on our EAT.PRAY.MOVE Yoga retreat in Puglia, in Italy's rural heel. This wonderful retreat will enable us to experience the landscapes and activities of this incredible rising star of Italy.
Besides daily yoga classes, our new MOVE+MANIFEST retreats offers a series of mindful workshops that will guide you in the exploration of creative self-expression in your life. We will have meaningful discussions and fun activities intended to help you tap into your own inner wisdom and heartfelt desires. And between the beauty and serenity of Puglia alongside the sea and ancient olive trees, the atmosphere will surely ignite your being with an energy perfect for the creative process.
We will tour through Puglia's famous trulli; cone shaped houses in the town of Alberobello, a UNESCO world heritage site. After walking around the town and enjoying a delicious tasting lunch, we will make our way back to the stunning Masseria Fumarola, an ancient farmstead that will be our home for the week.
There will also be a relaxed day at the beach where we will explore the incredible coastal part of the region, followed up with an amazing and unique dining experience in a cliffside grotto. In this open cavern, we will eat while looking down upon the sea at Polignano al Mare, one of the most picturesque villages of Puglia.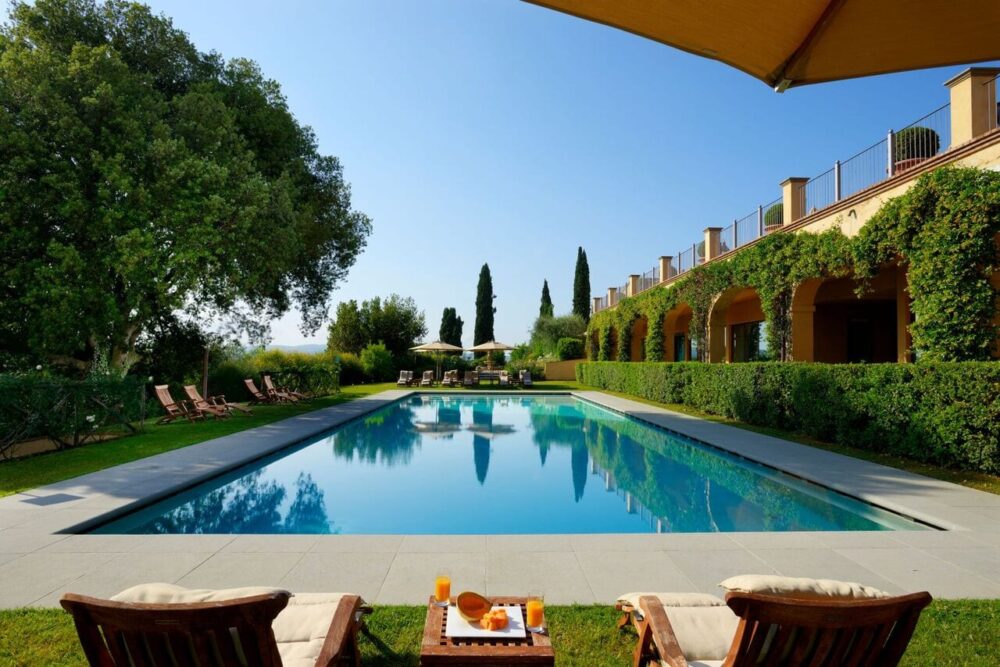 Join us in the heart of Italian wine region Chianti for a fall getaway, themed in 'self-care' – enjoy a 5* spa retreat, spa treatments, one of the best food seasons in Italy, as well as daily yoga + soul-coaching workshops.
Our MOVE+MANIFEST retreats offer a series of mindful workshops that will guide you in the exploration of creative self-expression in your life. We will have meaningful discussions and fun activities intended to help you tap into your own inner wisdom and heartfelt desires. And between the beauty and serenity of Tuscany alongside the vineyards and olive trees, the atmosphere will surely ignite your being with an energy perfect for the creative process.
Guests will not only enjoy the hotel and encompassing estate, but also the richness of the Italian cities in nearby regions. Day trips will allow students to add arts, culture, adventure, and natural beauty to their retreat experience. We will visit the nearby cities of Florence and Siena as well as the "city of towers", San Gimignano and various Chianti wine region villages for tastings.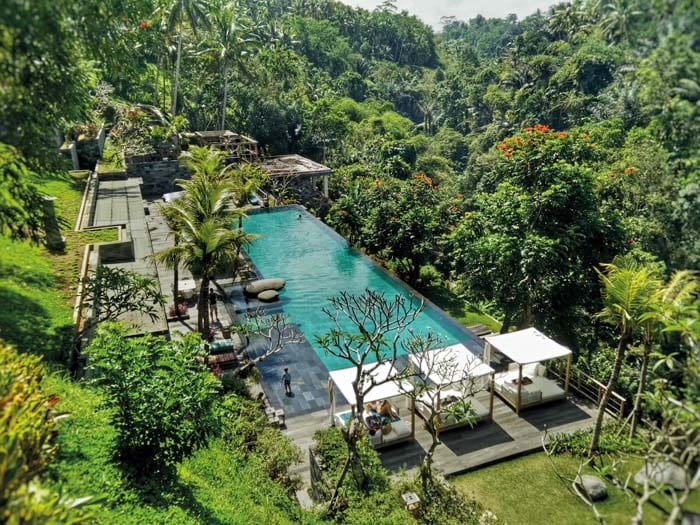 Our eight day fitness and adventure retreat is based in the beautiful and lush community that is Bali. We offer twice daily classes of yoga or fitness and clients can pick and choose what classes they wish to take that day. Clients can choose to stay with yoga, venture out of their comfort zone with fitness or pick the day of what their body needs. Prices include daily breakfasts and dinners, a cooking class, traditional Balinese show and dinner, admission to the exotic Jungle Fish pool and a group driver for daily drop off activities within the area such as Monkey Forest, Jungle Swing, the Waterfalls and the beautiful and famous ridge walk. This retreat is perfect for yoga or fitness participants of all levels, fantastic for friends or couples who have different fitness routines or for the solo individual.
​
We host our classes at the Ubud Yoga Centre, a contemporary two-tiered complex building, that allows an individual to feel like they are practising their yoga in the jungle. Wide open spaces and ceiling to floor windows that overlook the lush greenery that surrounds the building, creates a magical feeling.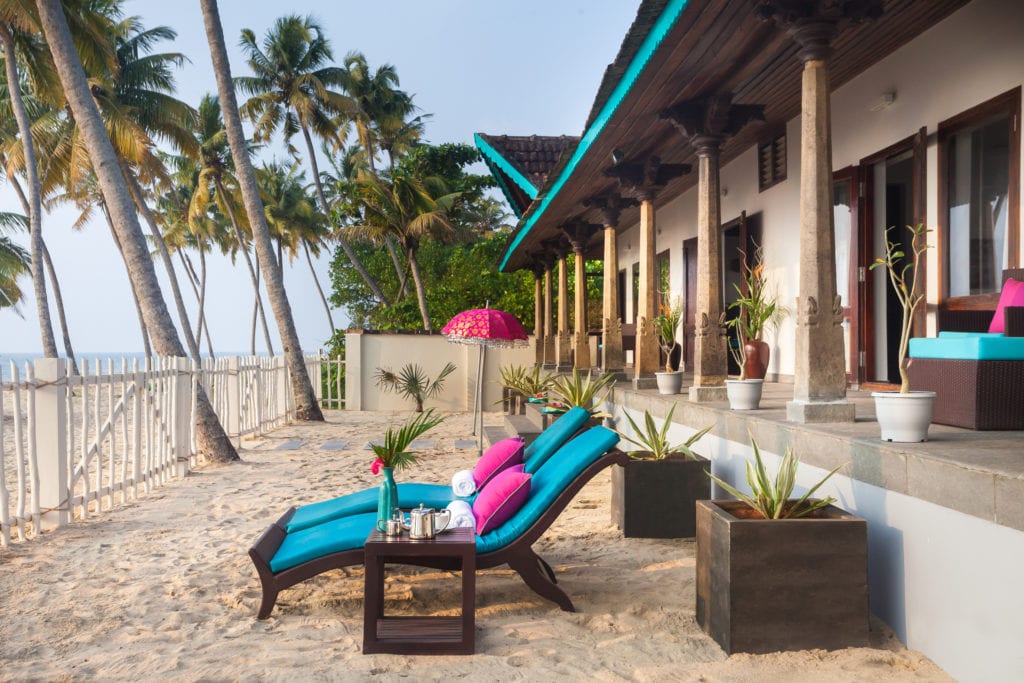 Celebrate the fullness of life on the tropical southern shores of India. Escape to a boutique breathing and yoga retreat with Laurent Roure (limited to 12 people) and experience the magic of Kerala – 'God's Own Country'. Known for its abundant wildlife, picture-perfect flora and endless beaches, Kerala is the perfect get-away and a soothing balm for the soul. During the retreat you will experience daily mindful yoga, breathwork and meditation. You can also opt to indulge in a traditional massage or have a consultation with an Ayurveda physician to understand more about your 'doshas' (bodily elements) and how to balance your body and mind.
This intimate small yoga retreat will take place at a collection of boutique serviced Villas, the Marari Villas which lie alongside the beautiful, undeveloped Marari Beach. This quiet and peaceful venue provides all the ingredients for a great retreat holiday: a stunning setting overlooking the Arabian Sea, fresh local food to nourish the body and soul, caring staff and all the comforts of a superior hotel. Marari Villas and its yoga shala are the perfect tranquil space for you to start or deepen your yoga practice.
Through the combination of Laurent's experience organising yoga retreats and service from Olga and Rupert at Marari Villas, you will experience the ultimate retreat where you can fully dive into learning yoga, pranayama and meditation. So come relax, utterly restore yourself and step back from contemporary life.
Follow our travel inspiration on instagram @soulseedtravel. Get in touch with one of our wellbeing travel advisors at retreats@soulseedmedia.com to enquire about any of our retreats.
Pack your bags and book your flight! We recommend SkyScanner to search for the best airfare.