Feeling spontaneous or desperate for a healthy holiday to get you back into shape? Then pack your bags for a last minute getaway in the sun on one of these recommended yoga and wellness retreats taking place within the next two months.
Ibiza
This Autumn Retreat will welcome guests to a stunning cliff-side property in Ibiza's rural North with Yoga teacher Suzanne Faith. Suzanne's teachings encourage students to dissolve barriers, to dance and move through a resourceful practice in order to cultivate more intimacy with breath, body, mind and most importantly to each other. Her classes are devotional, dynamic and diverse…bold, mighty and introspective, weaving progressive sequencing, anchored in ancient teachings, and woven to attune to modern duty.
The yoga will be hosted on a custom built wooden deck over the sea (weather permitting.) Native guide Toby Clarke will lead guests on hikes to beautiful local spots. This immersion in nature will help guests to drop out of their minds and into their bodies leading to deep mindfulness and relaxation. There will also be a bodywork session for every guest with extras such as personal training, cranio-sacral therapy, acupuncture, facials, manicures and pedicures are available on request.
Ibiza is grounded on a bed of crystals and thought to be one of the most healing places in the world. This is a truly magical location perched on a cliff in tropical gardens with expansive sea-views and the sunset every evening.
Fast facts
Price 
Yin and Yang €1750 pp
Ananda €1850 pp
Shiva & Shakti €1900 pp
Bhakti €2250
Includes
* Accommodation
* 3-meals per day
* 8 Yoga classes
* 2 Hikes
* 1 Bodywork session
Special booking offer
Book with a friend and get 20% off when you book through Soul Seed Travel.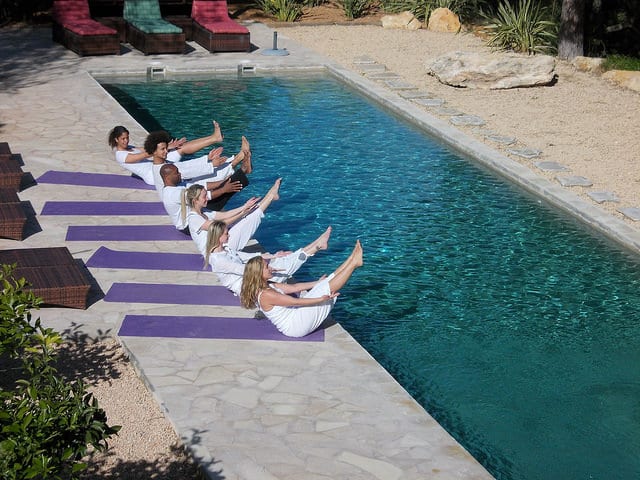 Restore and rebalance in Ibiza with Ibiza Retreats this summer. Our yoga, fitness and eat-clean retreat will restore, rebalance and rejuvenate your body, mind and soul. We have specially created this well balanced, holistic retreat using our deep collective knowledge and experience. We have balanced yoga, fitness, meditation, nutrition and clean eating in this perfect retreat package. This retreat is for you if you are feeling a little unmotivated, tired, or lost and are looking to relight that spark, ignite your energy and bring back your zest for life.
We will set your body, mind and soul into a conscious, present and loving state that will springboard your onward life journey and empower you to take on life's ups and downs. By creating a positive foundation to lead a healthy, balanced life, you can be the best you can be. Be assured that this is very much still a yoga retreat, with a fitness element smoothly included, just rather from the point of view of holistic wellness – opening our minds to the bigger picture. We will enjoy yoga every day – on the fitness mornings, it will take the form of an elongated stretch and meditation class – and then pure yoga flow for 3 days. In the evenings, we will have a yin style practice or a take part in beautiful hike through the beautiful Ibiza countryside.
Our retreat is held inside the beautiful whitewashed walls of Can Amonita, in the stunning countryside of north Ibiza. The unique sanctuary reflects the beauty and peace of this side of the island with a beautiful outdoor practice space.
Fast facts
Price 
5 nights from €1445 twin en-suite room & €1845 single-occupancy, ensuite.
6 nights June €1,695 twin en-suite & €2,095 single occupancy, ensuite. July, August & September from €1,850 twin en-suite & €2,295 single-occupancy, ensuite.
Includes
* Accommodation in beautiful Can Amonita
* Fitness, hiking, yoga and meditation
* Post practice juice or smoothie
* Fresh, seasonal brunches and dinners
* A full body massage upon arrival
* Full Ibiza Retreats concierge to take care of your every need
Special booking offer
Receive a complimentary 30 minutes reflexology treatment when you book through Soul Seed Travel.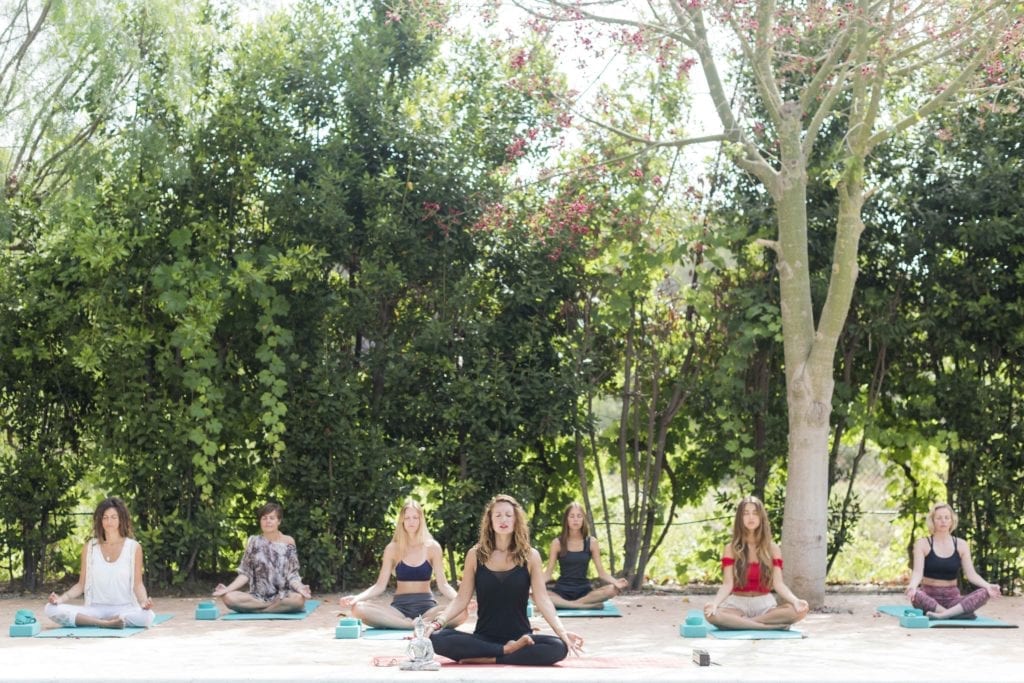 The Art of Healing bespoke Ibiza Retreat, as seen in Conde Nast Traveller, takes place at our luxurious CanCan Villa, set in the most idyllic position high above the village of San Lorenzo and surrounded by pine forest. The views are breathtaking and the silence is magnificent. The retreat provides an opportunity to get away from your busy schedule, release old beliefs and patterns which no longer serve you, reflect on where you are and where you want to be. Discover new healthy habits which will empower you to navigate your being with less stress and ease.
Each day starts with yoga and towards the end of the week will be accompanied with hang. Upon completion of breathwork, yoga poses and relaxation you will feel your energy flow open into a meditative state. Our retreat also includes one-to-one life coaching sessions. If there is an area in your life you would like to improve, your life coach will be there to lovingly guide you to see what is holding you back, enabling you to live the life of your dreams.
The Art of Healing Retreat offers a variety of activities such as: creative journaling in a diary gifted to you, sound healing, art classes where you paint your own mandala and a raw food workshop. Or you can always choose to stay by the pool with your book. Whatever it is, it is perfect. This is your journey.
Fast facts
Price 
Shared €1790
Single €2690
Includes
* Accommodation in a magnificent villa
* Your own personalised detox menu twice a day, herbal protocol, various snacks and drinks available throughout a day
* Daily yoga, pranayama and meditation
* Sound healing group session
* Detox consultations
* Health history and iridology evaluation
* Post retreat PDF guidance
* Raw food cooking workshop
* Creative journaling workshop
* Energetic heart opening
* Personal mentoring
* Art therapy workshop through Sacred Geometry where you will paint your own mandala which you can take home
* Closing ceremony dinner
Special booking offer
Special discounted rates when you book through Soul Seed Travel – shared room €1,490 and single room €1,990
Namibia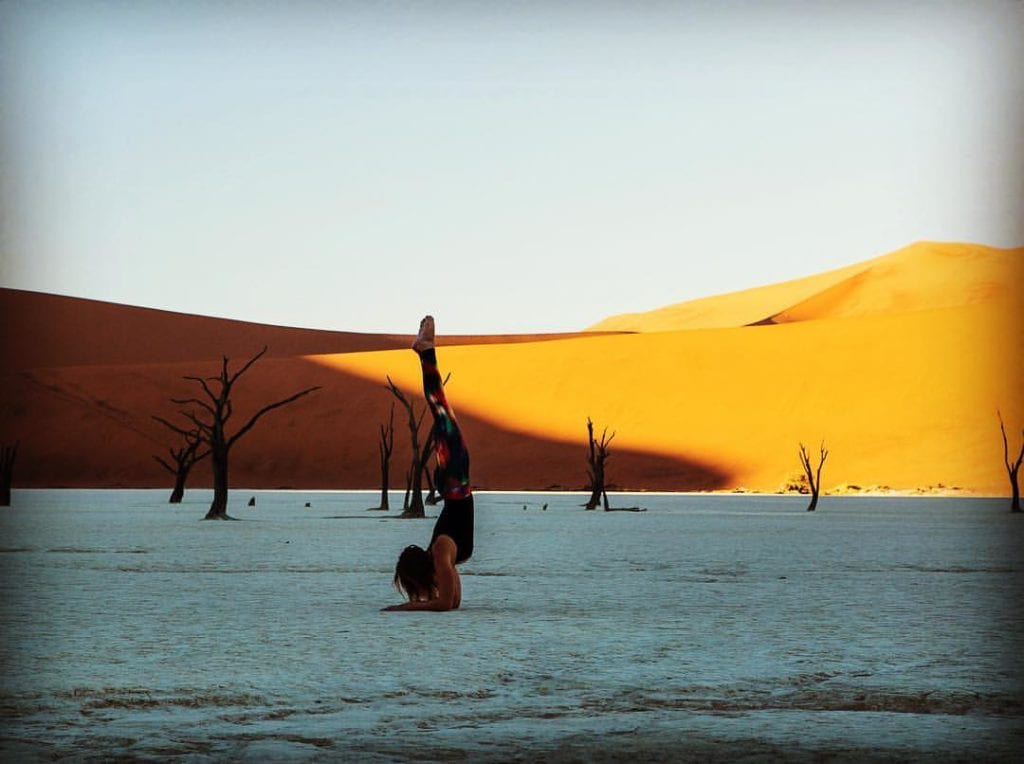 Namaste Yoga Safari is the first and so far the only yoga retreat in Namibia that offers Yoga while on Safari. Some people describe Namibia as a country that gets into your Soul. Namibia awakens your emotions and senses –with its stunning landscapes, endless space and fresh air. You will experience moments that wont be possible anywhere else, feeling re-connected with your soul! Its not just a holiday, yoga or a safari, it is an adventure of a lifetime. An unforgettable journey making your feel more peaceful and balanced. The Retreat will offer you the chance to enjoy nature in its purest form and deeply relax in unique surroundings.
We offer all inclusive 7 and 10 day Yoga Safari Retreats in Namibia, accommodating a maximum of 8 people and a minimum of 4 to keep it intimate and special. Yoga, nature and animal lovers looking to get in touch with their inner self will appreciate these Soulful Yoga Safari's. This is a truly unique experience combining Yoga on Safari.
Fast facts
Price 
7 DAY RETREAT:
€2600 p/p sharing All Inclusive
€2800 p/p Private All Inclusive
10 DAY RETREAT:
€3750 p/p sharing All Inclusive
€3950 p/p Private All Inclusive
Includes
* Beautiful and Spacious Accommodation
* 3 Healthy meals a day
* All drinks
* All excursions
* All park fees
* Airport transfers
* Road transport
* Laundry
* Complimentary Wifi
* Welcoming pack
Special booking offer
Receive a welcoming gift worth €130 which includes an African printed yoga bag and natural Namibian beauty products when you book through Soul Seed Travel
Spain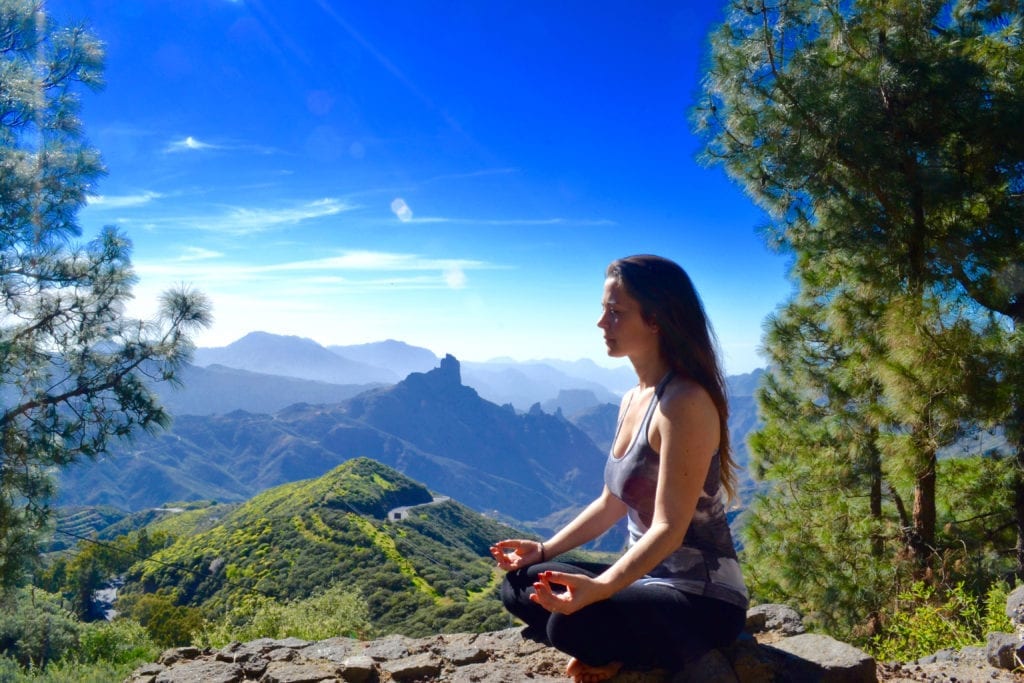 See the Canary Islands like you've never seen them before. Experience your ultimate healthy, pilates and yoga retreat in the most beautiful island in the Canaries. Gran Canaria Spain is a small continent on its own. With enormous lush green mountains, sand dune beaches and multiple mircroclimate zones Gran Canaria makes the perfect backdrop of a holistic practice of yoga and pilates. At Sky Pilates and Yoga retreat we guide you through a daily practice of pilates, yoga and meditation along with several active excursions to keep you feeling fit and healthy.
Experience a consistent challenging practise of Yoga every day with our expert instructor Paola Reznik from Buenos Aires Argentina. Our yoga classes are open level classes. We invite everyone, regardless of ability and level, to participate in an invigorating flow of Hatha and Vinyasa. There are few yoga instructors that draw you in, support you and elevate you to another realm, and hatha yoga teacher Paola is one of them. Her supportive and challenging classes will transform your yoga practice.
What would a pain free life feel like? Pilates focuses on the strengthening and lengthening of the physical and mental core, as well as the realignment of the spine. Learn to move again with Classical Pilates expert Alex Estornel.
Fast facts
Price 
Single private starting at €1000
Shared starting at €850
Includes
* Accommodation
* 2  to 3 classes a day of yoga, meditation and pilates
* All class materials such as mats, belts, blocks, blankets and props
* Brunch everyday of your stay which includes juice, tea, coffee and water
* Beach and pool towels
* 5 x 4/5 course vegetarian dinners during your stay including the day of arrival
* Transportation to and from the airport
* Transportation to/from active excursions such as hiking, visiting sand dune beaches and discovering the historic towns of Agüimes and Las Palmas
Special booking offer
Receive €50 off when you book through Soul Seed Travel.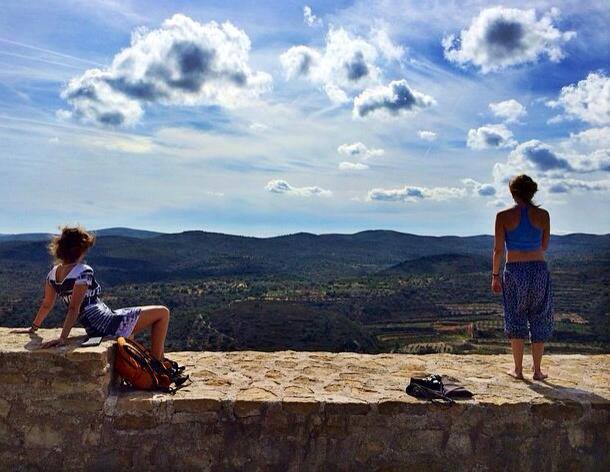 This four day course has been designed by Gerry Rixen as a fast track to understanding the fundamental principles of Yoga and Astrology as well as providing practical tools for working with specific chakras, organs and psychological issues. The combination of these two ancient systems allows for a much deeper self-analysis, and understanding of ones innate and current advantages and difficulties. Through the exploration of these subjects we can begin a deeper dialogue within ourselves, understanding better our own psyche and personal paths in life; leading to higher awareness and self-empowerment. The fundamental tools provided in this workshop are designed to be long lasting, practical and relevant. The course presents a unique opportunity to tap into the profound understanding Gerry has in his respective fields thereby facilitating a journey into knowledge, self healing and wisdom. This yoga course is entwined with the theory of the chakras, yoga psychology, esoteric healing and asana practice, breath control, the use of props and meditation.
Yoga and Astrology are part of the ancient heritage and share the deep understanding of 'as above, so below'. This is exemplified in the functioning of the chakras. The chakras are associated with the elements and the planets as well as specific organ functions and aspects of our psyche. Moreover the chakras also relate to the 12 Meridians which in turn relate to the Zodiac. Hatha Yoga is the Yoga of Sun and Moon but Mercury, Venus, Mars, Jupiter and Saturn all have specific qualities mirrored in the functioning of the chakras.
Fast facts
Price 
€590. Single room – supplement applies of €100
Includes
*  Mats, props, cushions, supports
* 2 full meals a day (breakfast and lunch)
* Twin accommodation
* 4 nights accommodation
* Astrology chart interpretation
* Daily vegetarian breakfast and lunch
* Daily yoga and meditation sessions
* Health consultation
* One Shiatsu treatment
Special booking offer
Receive an exclusive 10% discount when you book through Soul Seed Travel.
Costacalida Spanish invites you to this yoga retreat with Spanish learning and Pilates classes in Murcia, Spain. This holiday will be held in spring and autumn when the weather can be glorious. Your holiday will include yoga practices in a beautiful studio overlooking the sea, relaxed informal morning Spanish lessons, Pilates classes, historical visits, guided excursions so you can learn about the area, wine tasting, cycle rides, activities and much more. Of course all activities are optional. If you prefer to relax in the apartment or have time at the beach…the choice is yours. Join Costacalida Spanish for a holiday in the beautiful Bay of Mazarrón for a totally bespoke holiday and a chance to explore this undiscovered unspoiled corner of Spain.
We understand that you/your partner/a friend may not want to participate in the Spanish lessons, Pilates classes, Yoga and/or the cultural activities. We will make sure that you have a fabulous time too. The area is steeped in history from prehistoric times to Phoenician, Roman and with many places of interest and excavated sites. A visit to Cartagena is a must to see the roman amphitheatre and excavations and the town of Mazarron to see the stunning mining features and old mining industry.
Mazarron itself and the coastal areas are separated by Sierra de las Moreras, Sierra de las Herrerias and Sierra del Algorrabo being the ideal area for the practice of outdoor activities such as walking, hiking, cycling or climbing. If this is your thing, we can arrange this for you. Evenings will be spent eating in different local Spanish restaurants. Single travellers, solo travellers, couples and small groups are all welcome on our holidays.
Fast facts
Price 
£800 for shared room in shared apartment £900 for own room in shared apartment £1000 for whole apartment for yourself.
Includes
* Pilates and Yoga Studio for our Pilates Holidays
* Luxury accommodation
* 1 x 1 hour Spanish lesson daily Monday – Friday
* 1 hour pilates class daily Monday – Friday
* Optional morning yoga class
* Lunch & dinner
Special booking offer
Receive a 20% discount when you book through Soul Seed Travel.
Romania

Capture the essence of Transylvania. This six-day retreat goes to the core of the purpose of of Akasha, to enable us to connect with nature, explore forests, hike trails, and expand our ability to recognise how vulnerable our planet truly is. We will start each day with an energizing yoga session and nourishing breakfast, and then spend time exploring the stunning scenery. If you like walking, photography and the great outdoors, this retreat is certainly for you.
And as we are set in a photographer's paradise, there will be three workshops on nature photography with a talented artist and award winning photographer Sebastian Ionut Baciu included in the retreat. So have your cameras at the ready. The retreat includes guided nature photography tours,a technical photography course on how to take the perfect photo, a photography processing seminar on how to perfect your photos,
yoga & meditation sessions, a guided Hike on Piatra Craiului National Park, antroduction to yoga philosophy and health coaching, forest walks and daily healthy vegan and vegetarian meals, all organic and local produce.
Fast facts
Price 
Double Room – Private – €850.00
Queen Room – Private – €925.00
Twin Room – Sharing – €635.00
Includes
● Twice daily yoga practice & meditation sessions
● 4 x vegan cooking sessions including nutrition, cooking demonstrations, superfoods & raw deserts
● 2 x wine tasting evenings including a selection of the finest Romanian wines offered by Romanian sommeliers
● Two different yoga teachers with a mixture of dynamic and restorative styles
● Evening activities after dinner: Chakra balancing, hot tub night, dharma talks, cinema, intention setting fire ceremony
● Chakra balancing nutrition: 3 daily healthy vegan & vegetarian meals all organic and local produce
● 5 nights accommodation in boutique rooms with en-suite bathrooms and glorious mountain views
● Daily chakra balancing superfood juice & smoothies
● Introduction to yoga philosophy and health coaching
● Enjoy hiking, nature & forest walks
● Group activities, cinema & library, creative arts & crafts
● Unlimited jacuzzi hot tub & sauna
● Optional spa massage therapy & salt herbal bath soak rituals
● Pick up & drop off to & from Brasov city
● Integrative medicine & nutrition support from resident medical doctors.
Special booking offer
Receice a complimentary 30-minute massage and an activated charcoal detoxifying face mask when you book through Seed Travel.
UK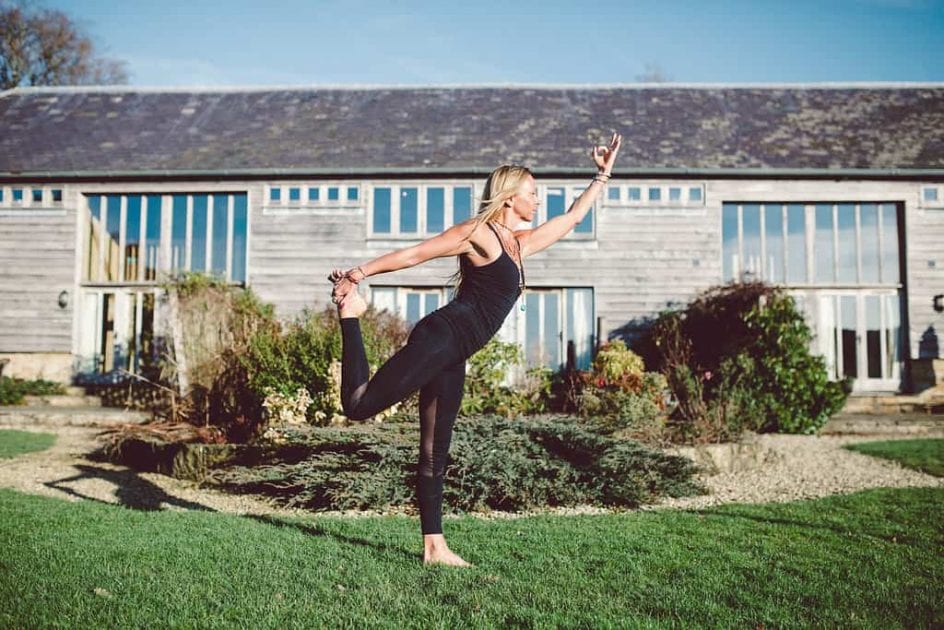 Would you like to feel energised, light, and clear headed? Would you like to have glowing skin, hair and nails? Would you like to lose weight and look and feel younger? For some of us, we actually feel heavy, tired, foggy headed, and suffer from digestive issues. Let this 3 day detox and yoga retreat be the kick start to a new and healthier you. Empower yourself by learning how to be healthier and brighter by taking control of your diet, not letting your diet control you.
We bring our own talented chefs to our retreats who specialise in creating tasty nutritious dishes to energise you and make you happy. All our food is free from wheat, dairy, sugar and other toxic foods and these are replaced with alkaline foods such as pulses, grains, raw foods, nut milk, green smoothies. You can learn how to make nut milk, raw juices and other yummy raw recipes. You will learn that eating a cleaner diet is tasty, healthy, easy, creative and inspiring.
Our East Sussex venue is a collection of beautiful converted barns, with an outdoor heated pool to 30 degrees with stunning views of the Wealdon valley.
Fast facts
Price 
£497. Based on 2 people sharing a room. If you are coming on your own you are welcome to share a twin room with another guest of the same sex, or if you would prefer a room to yourself there is a 40% single supplement.
Includes
* 3 nights cosy cottage accommodation in the rural tranquillity surrounded by beautiful East Sussex countryside with views of the Wealden valley.
* Private use of the outdoor heated pool with stunning views of the Wealdon Valley.
* Early morning hot water, lemon and ginger or herbal teas with nut snacks to boost energy levels pre yoga.
* 3 x daily guided silent morning walk to the sunrise to wake up peacefully and slowly.
* 3 x 2 hour morning yoga practices which will energise and awaken and help release toxins from the body during the detox process.
* 3 x inspiring detox breakfast of delicious and filling Green Smoothie, homemade nut milks, a variety of organic nuts, seeds, flakes and coconut to create your own muesli created by our in house detox chef.
* A cooking workshop that teaches you practical tools on how to make quick, easy and delicious healthy and detoxing foods, green smoothies, energy balls and more!
* A guided walk on Sunday afternoon around Bewl Lake for fresh air and activity.
* 3 x fresh, warming and healthy vegan/detox style lunches with a selection of raw salads and dressing. This is the biggest meal of the day on our detox retreats.
* 3 x 2 hour evening yoga to unwind and calm with restorative practices, meditation and yoga nidra to help cleanse body and mind.
* 3 x light evening meals of soup and grains to help give digestion a break.
* All Yoga equipment.
* Complimentary shared taxi transfers arranged to and and from the venue to save on cost.
* Helpful, friendly, experienced and knowledgable AY staff to look after your every need to help you feel pampered and looked after on your journey to health on this retreat.
Special booking offer
Receive exclusive £50 discount when you book through Soul Seed Travel.
Lebanon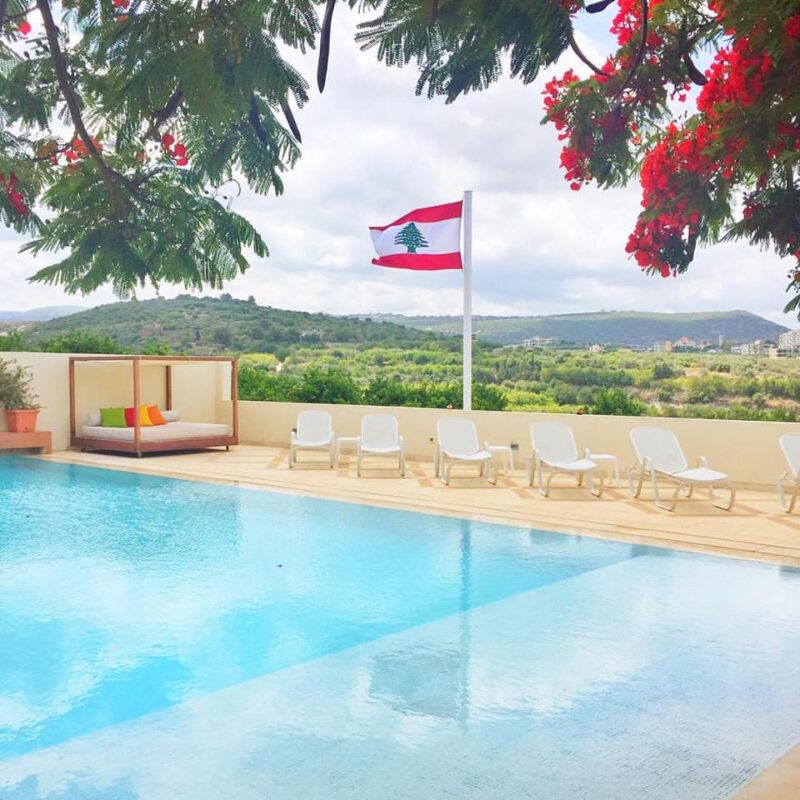 Join Kathryn McCusker for a 5 day Kundalini Yoga, Meditation & Gong relaxation retreat at Al Yasmine, a luxury guest house in the South of Lebanon, a place that allows you to be mesmerized by mountain and sea views, surrounded by orchards, different kinds of birds, horses, swans and deer.
Kathryn will take you on a journey through the body, to help you cleanse and relax your mind, leaving you feeling more awake, aware, healthy and prepared to face the challenges of everyday life! Using a series of movements, powerful breathing techniques, mantra, sound vibration, meditation and deep relaxation we will open our bodies and surrender our minds to recognise our innate strength, courage and wisdom.
Practicing Kundalini Yoga will help you to increase your awareness, unlock your potential and support you to be happy and healthy. It will transform your energy levels, keep the body in shape and train the mind to be strong and flexible in the face of stress and change.
Al Yasmine is a Luxury guest house located in the South of Lebanon. It's an idyllic getaway for those searching to relax by a pool, spend time in nature and simply relax and breathe.
Fast facts
Price 
$1600 pp sharing
$1900 single
Includes
* Transportation bus from a point of assembly in Beirut and return
* 4 nights accommodation
* Full board
* AM/PM Kundalini classes and meditation 1.30 hours each
* Art therapy for 1 day
* Integrative massage
* Hiking
Special booking offer
Receive a 10% discount when you book through Soul Seed Travel.
Mexico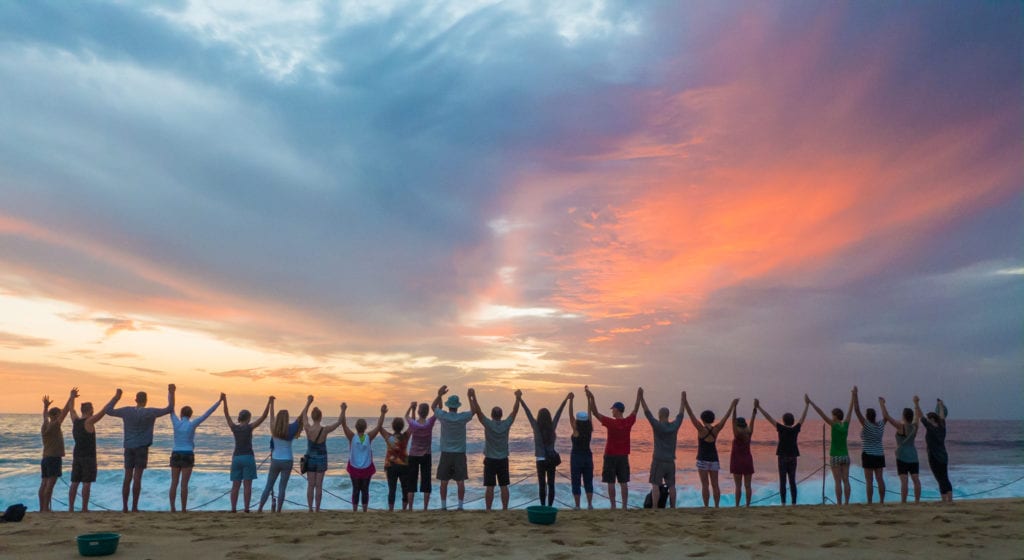 Join Silvia Mordini and Emily Perry for an incredible Gratitude and Manifestation retreat at Prana del Mar Mexico. With over 30 years of experience teaching yoga all over the world, we are excited to show you the best of Baja through a variety of fun and wonderful activities! Set your expectations that by going away to magical Prana del Mar we can help you reconnect your commitment to your most important Intentions. Those that support your true happiness.
There will be twice a day (1 workshop style and the other flow or restorative), daily guided Meditations, Journaling, Mantra, Wellness Coaching along with time to take naps, lounge by the pool, and read a great book. We will teach you how to harness the power of Manifestation to focus on creating a life you love! Coming away from this retreat you will be more convinced about the direction of your growth and evolution in 2017,
In advance of your retreat please read the book The Alchemist by Paulo Coelho. We will use the lessons about life, love and purpose from this important book as guidance for our week together. We will have journaling exercises, sharing circles and meditations related to The Alchemist and setting the course for manifesting our best intentions and embracing your personal legend.
Fast facts
Price 
Double Occupancy: $1,775
Single Occupancy: $2,350
Includes
* 7 nights 5 Star Lodging
* 3 Daily Gourmet Feasts
* 2 daily classes: 1 solar and 1 lunar
* Meditation and Pranayama
* Kayaking and Snorkeling Adventure
* Sunset Baby Turtle Release
* Guided Labyrinth Meditation and History
* Tequila Tasting Presentation
* Guided Beach Hike on the 19 acre property
* 1 Social Hour
* Headshot Happy Hour – Yoga Photoshoot
* Fire Practice (ritual to remove negative energy) Beach Bonfire
* Restorative Yoga
* Yoga Workshops
* Wellness Coaching
* Eco-Friendly Goodie Bags
* Ground transportation inbound and outbound from airport
Special booking offer
Receive $200 off when you book through Soul Seed Travel.
Italy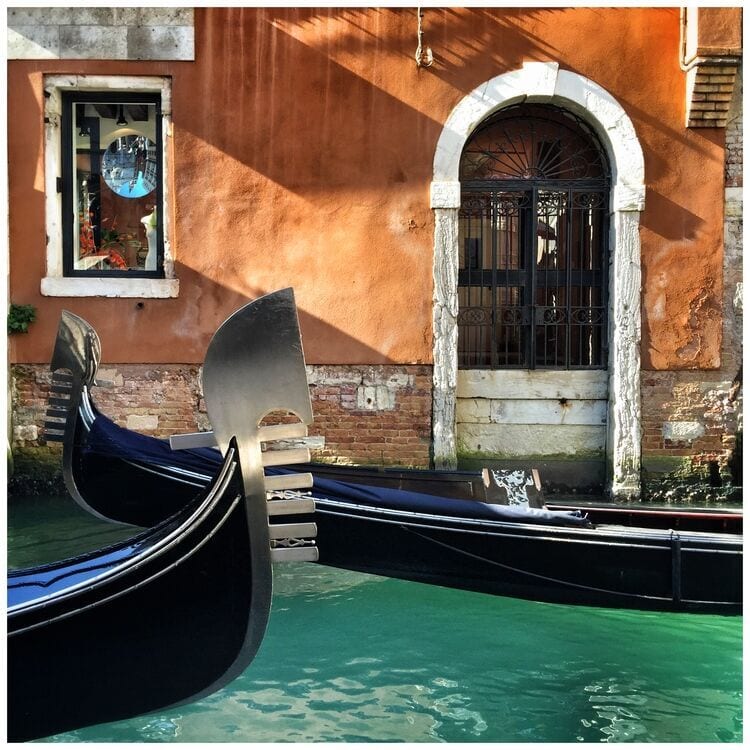 EAT.PRAY.MOVE is excited to team up with Julian Hyzler from EASEL&LENS to bring you this FORM + FOCUS photography and yoga in Venice retreat. The magical city of Venice will be our inspirational base for this week of yoga and photography. Unlike anywhere else in the world, Venice has the ability to transport you to a fantasy land of renaissance Italy. Our retreat will allow you to gain a better understanding of Vines canals and islands. The city will be quieter at this time of year and the chances of the acqua alta (high waters) are higher, allowing for an exciting experience.
We will practice yoga and use that focus to engage in creative photographic and art projects. We will not only enjoy classic photography, but also sketching and "ifonography", or smartphone photography. The yoga and the photography will work together to help us find new ways of seeing both the landscape and ourselves. The many layers of Venice's history will be a stunning place to find our own focus.
Fast facts
Price 
$2695 (shared room)
$3195 (single room)
Includes
* Hotel accommodation (spacious bedrooms, luxury bathrooms, linens)
* Daily breakfast and dinner
* Aperitivo at famous Venetian cafe
* Select lunches
* Transportation to/from day trips
* Daily yoga and art classes
* Venice sites + walking tour
* Dinner + opera performance
* Special Biennale and/or Halloween event
* Boat tour
* Visit to Murano
* Market tour
* Venetian mask-making class
* Spa day with treatments at Luxury Venetian Spa
* Taxes
Special booking offer
Receive a discount of $150 and a devotional Mala worth $120 when you book through Soul Seed Travel.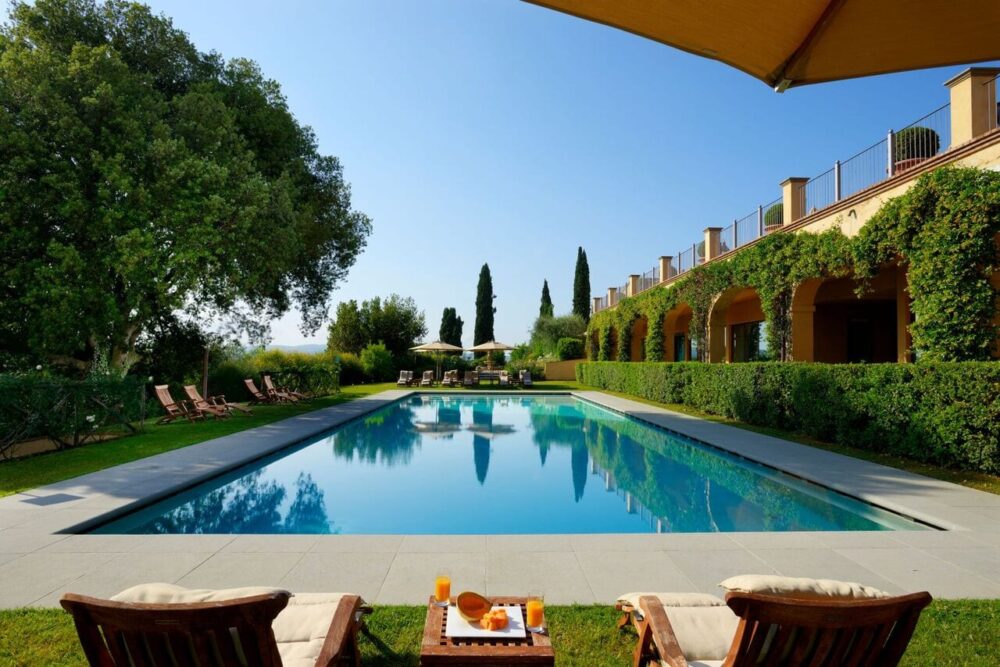 Join us in the heart of Italian wine region Chianti for a fall getaway, themed in 'self-care' – enjoy a 5* spa retreat, spa treatments, one of the best food seasons in Italy, as well as daily yoga + soul-coaching workshops.
Our MOVE+MANIFEST retreats offer a series of mindful workshops that will guide you in the exploration of creative self-expression in your life. We will have meaningful discussions and fun activities intended to help you tap into your own inner wisdom and heartfelt desires. And between the beauty and serenity of Tuscany alongside the vineyards and olive trees, the atmosphere will surely ignite your being with an energy perfect for the creative process.
Guests will not only enjoy the hotel and encompassing estate, but also the richness of the Italian cities in nearby regions. Day trips will allow students to add arts, culture, adventure, and natural beauty to their retreat experience. We will visit the nearby cities of Florence and Siena as well as the "city of towers", San Gimignano and various Chianti wine region villages for tastings.
Fast facts
Price 
$3,295 (shared room*), +$650 supplement (single room)
Includes
* 5-star hotel accommodation (spacious bedrooms each with private bathrooms, linens)
* Daily breakfast
* Dinners at hotel and restaurants on day trips
* Arrival/Departure group ransfers to/from Florence
* Transportation to/from day trips
* Meditation and yoga classes
* "Soul / life coaching" workshops
* Use of yoga mats
* Use of estate premises (hiking trails, pool, etc.)
* Spa day + treatments
* Day trip and Dinner in Florence
* Evening and Dinner in Siena
* Chianti winery tour + tasting
* Dinner in nearby Chianti village
* Afternoon in San Gimignano + exclusive food class
Special booking offer
Receive a discount of $150 and a devotional Mala worth $120 when you book through Soul Seed Travel.
Bali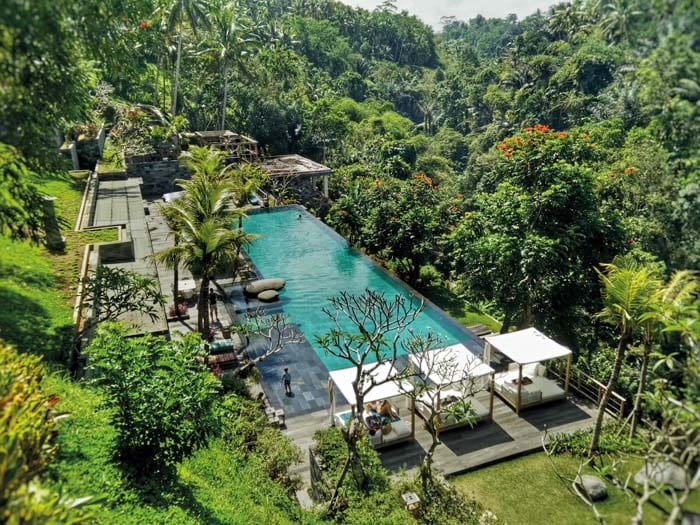 Our eight day fitness and adventure retreat is based in the beautiful and lush community that is Bali. We offer twice daily classes of yoga or fitness and clients can pick and choose what classes they wish to take that day. Clients can choose to stay with yoga, venture out of their comfort zone with fitness or pick the day of what their body needs. Prices include daily breakfasts and dinners, a cooking class, traditional Balinese show and dinner, admission to the exotic Jungle Fish pool and a group driver for daily drop off activities within the area such as Monkey Forest, Jungle Swing, the Waterfalls and the beautiful and famous ridge walk. This retreat is perfect for yoga or fitness participants of all levels, fantastic for friends or couples who have different fitness routines or for the solo individual.
​
We host our classes at the Ubud Yoga Centre, a contemporary two-tiered complex building, that allows an individual to feel like they are practising their yoga in the jungle. Wide open spaces and ceiling to floor windows that overlook the lush greenery that surrounds the building, creates a magical feeling.
Fast facts
Price 
Prices start at $1800 per person
Includes
* 2 daily yoga or fitness classes
* 7 Breakfasts
* 7 Dinners
* 7 nights accommodation
* 1 cooking class
* 1 traditional show and dinner
* 1 special outing to the unique Jungle Fish Pool
* 1 T-shirt
* Group driver for daily optional activities and site seeing
Special booking offer
Receive a complimentary welcome massage when you book through Soul Seed Travel.
India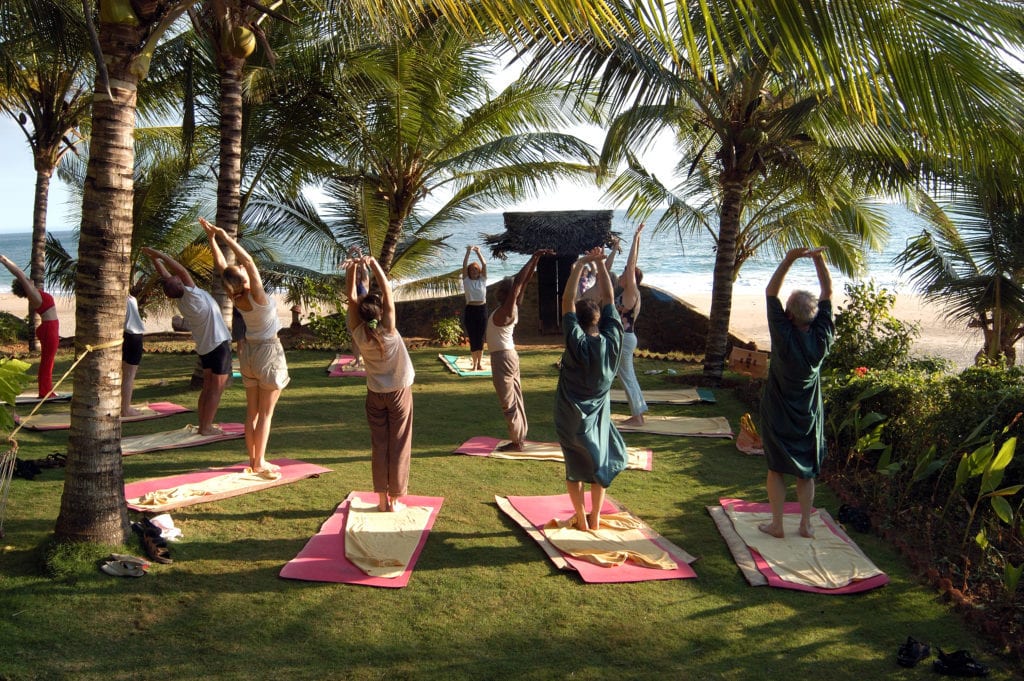 Experience the overwhelming magic and exoticness that is India. Let its ancient cultures and traditions mystify you, its exotic foods take you on a culinary voyage of its own, its colorful people charm you, its spirituality reveal the beauty of your soul and its ancient medicinal teachings heal you. This is a journey of self-transformation through a land of soul-stirring spiritual experiences and an in-depth practice and study of yoga, ayurveda and meditation.
This retreat is not for the faint-hearted, nor is it only for the fearless. It is for those seeking to discover themselves on a journey of personal transformation through a myriad of inner and outer experiences that last a lifetime. Isn't it time you explored one of the world's most gorgeous and ancient lands, and discovered yourself in a soul-stirring spiritual adventure? Your journey to self-discovery begins not when the universe says so but when you decide to start it. It is no accident that you have come across this.
Our journey begins in Kovalam, Kerala, on the shores of the Arabian Sea. Here we will immerse ourselves in a daily study and practice of Ayurveda and Yoga. We will observe an Ayurvedic diet and lifestyle for 7-days as part of our wellness experience and rejuvenation of the body on this retreat. From here, we traverse to the very southern tip of India before making our to Madurai, the ancient Tamil capital of culture. The city itself is a densely packed warren of streets, shops and bazaars. Our hotel is a luxurious oasis just on the outside of town that will allow us a peaceful base from which to explore. Join us on our Vedic Adventure for an experience of a lifetime.
Fast facts
Price 
$2,950 per person based on double occupancy
Includes
• Accommodations for 12 days and 11 nights
• Breakfast, lunch and dinner (all meals Ayurvedic and vegetarian). Two lunches are not included.
• All classes conducted by Jasmine Grace and guest teachers
• All group excursions planned by Jasmine Grace
• Domestic flight from Madurai to Chennai
• Ground transfer from Trivandrum airport (TRV) to Kovalam Retreat Center.
• All ground transportation for the retreat
Special booking offer
Receive $100 off when you book through Soul Seed Travel.
Thailand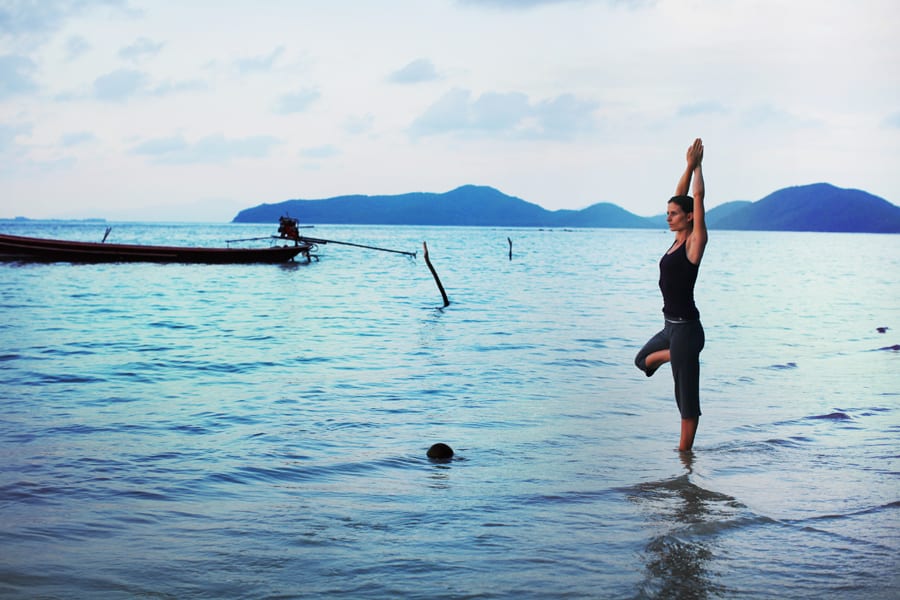 Samahita Wellness Retreat in Koh Samui has been a pioneer in healthy programming for the body, breath and mind for almost 15 years. They are a dedicated center with a strong purpose: to provide a place in which to practice balanced and healthy living in all areas of our life! Their aim is to share this way of life with others. Known as one of the most authentic yoga teaching locations worldwide while introducing a balance of practices and activities for both body and mind that includes meditation and breath work as well as full cardio and core strength fitness routines.
Samahita offer 3, 5 and 7 day wellness spa programs offering the full benefits of their facilities including a health spa, yoga, plus your choice of treatments each day. They recommend a 7 day stay in order to get the most of the experience as it takes a few days just to let go. However, busy schedules can mean only a few days are available, so they offer 3 or 5 days to suit. You can also extend one of these program times on a daily basis adding on whichever therapies and health treatments you desire.
Fast facts
Price 
3 days
Share two bedroom loft (THB) 17,640
Semi private room (THB) 19,950
Single superior room (THB) 22,260
5 days
Share two bedroom loft (THB) 29,190
Semi private room (THB) 32,760
Single superior room (THB) 36,540
7 days
Share two bedroom loft (THB) 40,530
Semi private room (THB) 45,360
Single superior room (THB) 50,400
Includes
* Yoga practices and breathwork
* All our delicious home cooked buffet meals
* Full use of Samahita Retreat facilities including pool and steam room
* Full wellness staff support
* Full yoga program
* Fully equipped accommodation with AC
* Full brunch and dinner buffets
* Mineral drinking water
* Herbal steam room
* Paddle boards
* Salt water swimming pool
* Wifi
* Service charge
* VAT government tax
Special booking offer
Receive 25% off until the 25th November when you book through Soul Seed Travel.
Follow our travel inspiration on instagram @soulseedtravel. Get in touch with one of our wellbeing travel advisors at retreats@soulseedmedia.com to enquire about any of our retreats.
Pack your bags and book your flight! We recommend SkyScanner to search for the best airfare.