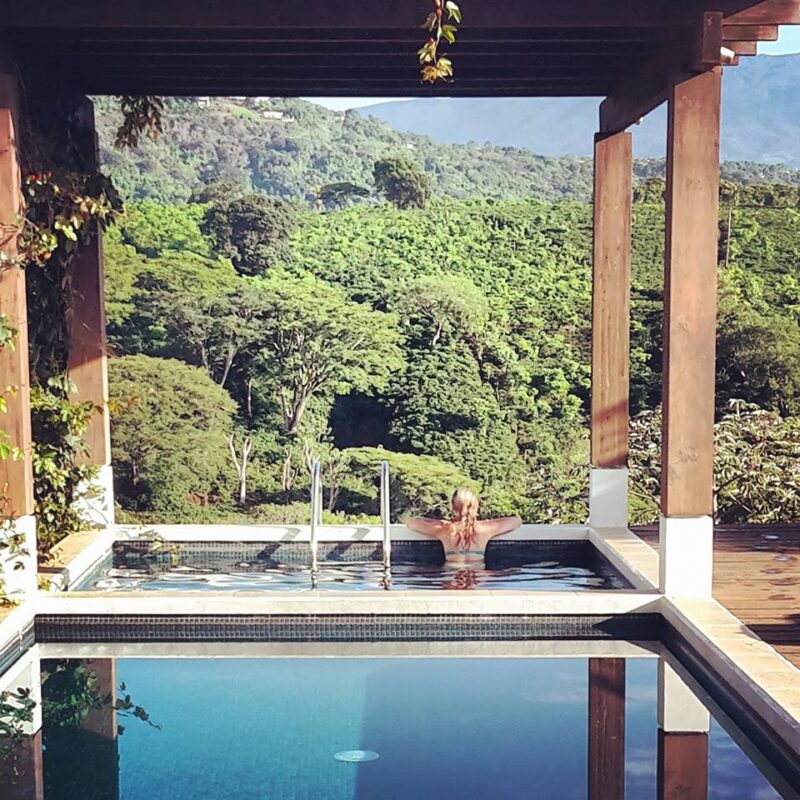 "For those who have experienced the joy of being alone in nature there is really little need for me to say much more; for those who have not, no words of mine can ever describe the powerful, almost mystical knowledge of beauty and eternity that come, suddenly, and all unexpected." Jane Goodall
I couldn't of said it better myself and I will never forget how Costa Rica made me feel, there's something deeply profound about being surrounded by nature, a strong reminder that we are part of it and not separate. I love this reminder because I need it, we all do. It makes you slow down, to live in harmony with our greatest teacher. Appreciating what you have. Enjoying life slowly. Building a strong sense of community. Being good spirited.
I've always wanted to go to Costa Rica as it just seemed so alive! She lies on the land bridge between North and South America, a country of extreme natural diversity and untouched beauty. From mountains and volcanoes, cloud forest and coastal rainforest, stunning pacific beaches, waterfalls, exotic wildlife and friendly rural villages, she offers so much in a small area.
A country with no armed forces and with over 20% of the country a protected national park, Costa Rica is a paradise for wildlife enthusiasts and those seeking untouched and beautiful natural surroundings. A transformative environment to retreat in, for healing and wellbeing.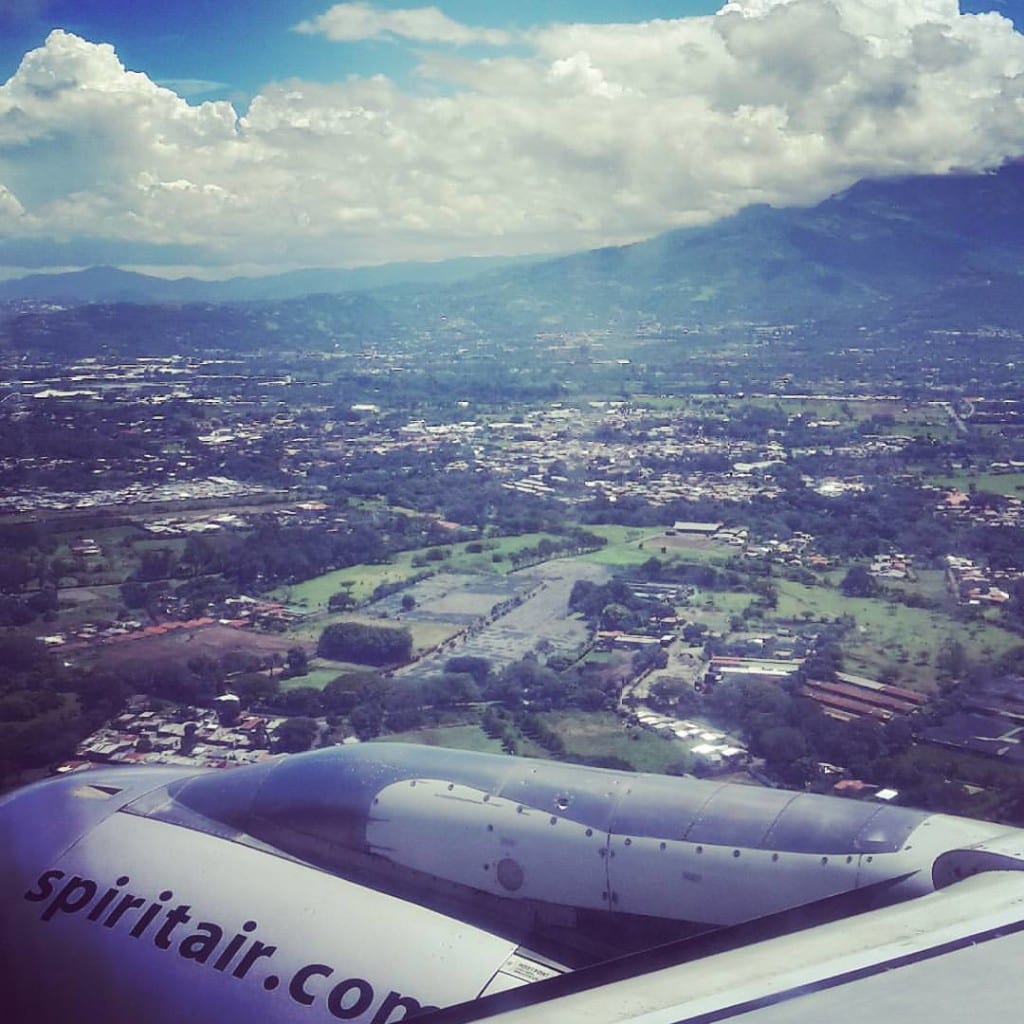 My Month tour of Costa Rica Retreats
After spending most of the year globetrotting around the world visiting retreat centres, Costa Rica was my final destination of 2015. I did a one month tour of Costa Rica retreats visiting the following centres – Asclepios, Samasati, Peace Retreat, Blue Spirit and Amatierra. That's one month of daily yoga and eating ridiculously healthy food!
I could feel the powerful energy of Mother Nature permeate through me as soon as I arrived at the first retreat, the luxury Asclepios Wellness and Healing Resort, only twenty minutes away from the crazy and bustling city of San Jose yet a world away. Residing on 12,500 acres of land where the only noise you can hear is the echo of the birds, and wildlife from the emerald rainforest that envelopes around the retreat.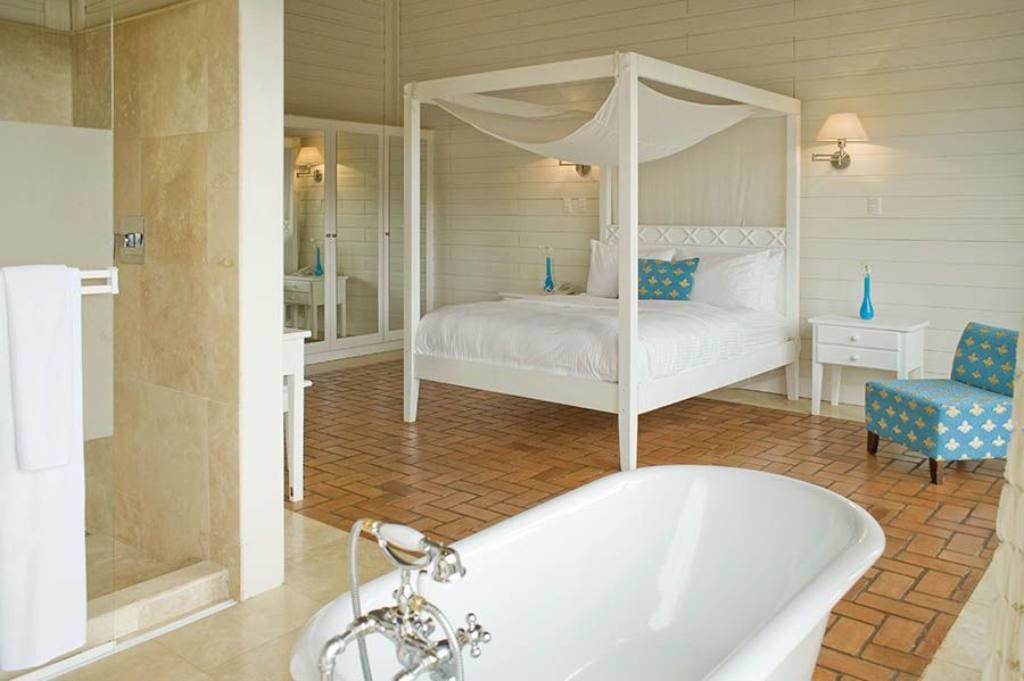 My huge room dressed in pure white linens has stunning views of the rainforest; lush green vegetation painted with the bright colours of tropical birds and plants.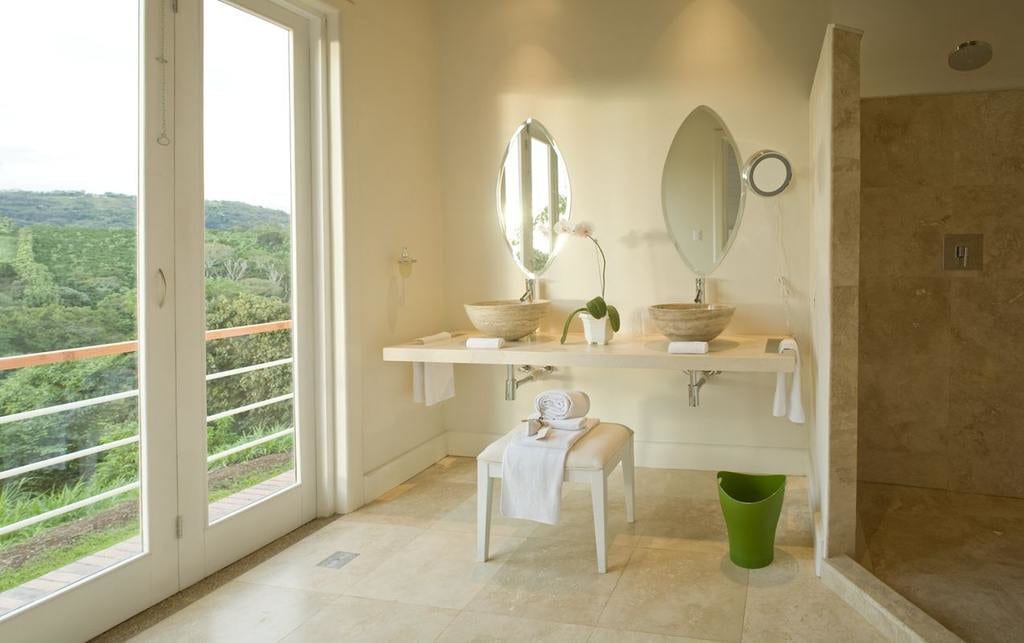 The days begin with an early sunrise at 5am and the unforgettable sounds of the jungle that simultaneously awaken all of my senses. As I look out the window I take in and absorb the healing energies of the mountains, feeling incredibly blessed to be here. The first time I hear the chorus it's hard to decipher what animals they are coming from. The sound of the howler monkeys is one that dominates and is distinctive.
Asclepios five star wellness resort is a sanctuary well set up for disconnecting, detoxing, healing and transformation. The food is all organic, seasonal and light, starting the day with a healthy breakfast of granola, fruits, organic bread with home made spreads and freshly squeezed exotic fruit juice. The extensive gardens are a paradise and include an ionized outdoor pool, with the perfect back drop of breathtaking mountain views, an arabian style huge hamman with grandoise, spa, turkish baths and a yoga room.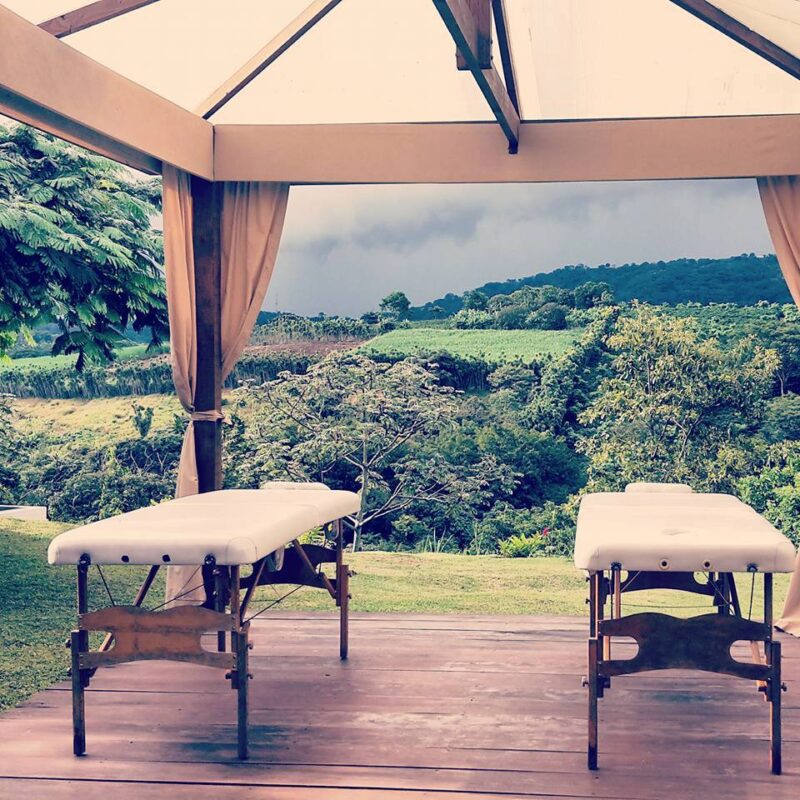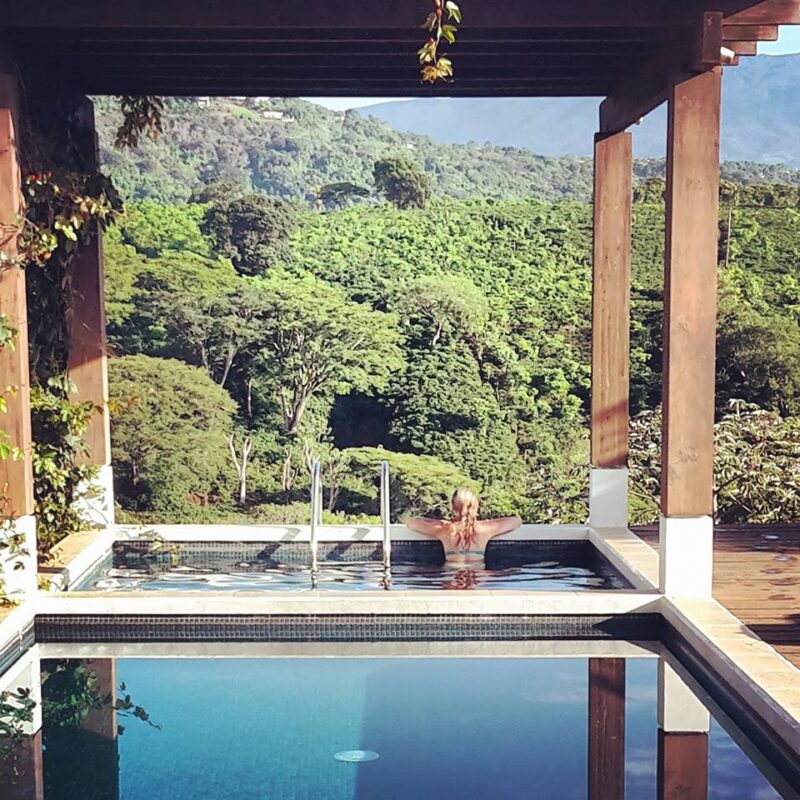 A Greek theme runs throughout the luxury wellness resort, all the 12 rooms are named after Greek god and the walls adorned with historical poems and paintings. Asclepios itself is named after the ancient god of health and offers a wealth of wellness programs and healing therapies. In the spa, located in the magical gardens I relaxed in the huge hamman and received their signature massage which was heavenly.
After three nights at the Asclepios it was time for the next adventure as I travelled over to the Caribbean side to spend seven nights at Samasati retreat centre in Puerto Viejo.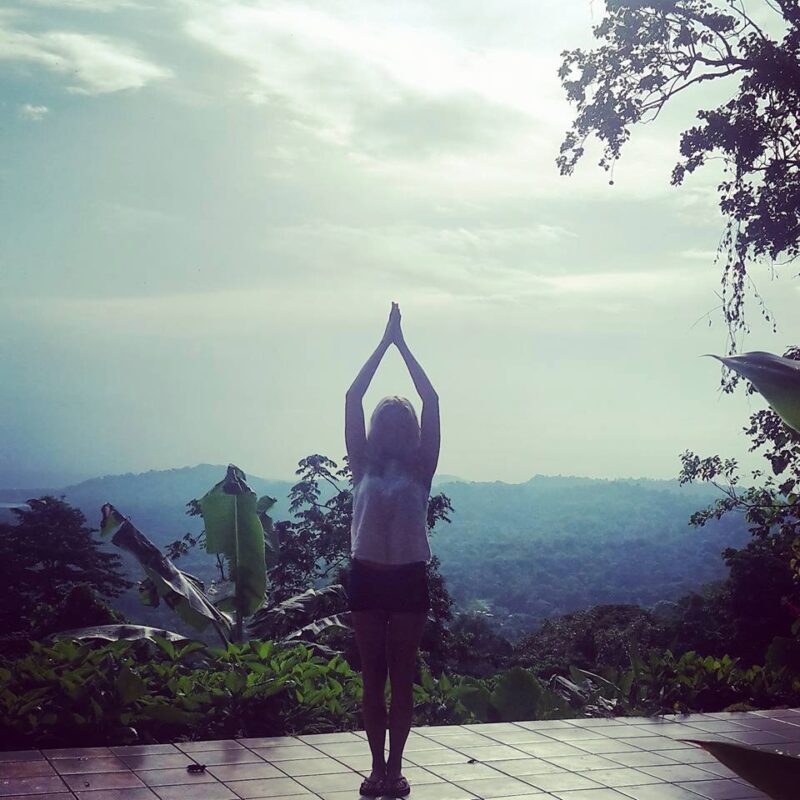 Samasati is a term that buddha used to encourage his disciples to remember to be aware in their daily activities and stay present. Perched high on the mountains the retreat centre has been built embedded within the rainforest in a 250 acre biological reserve. It lives up to its name, and on my first day there I feel more mindful and in sync with the nature.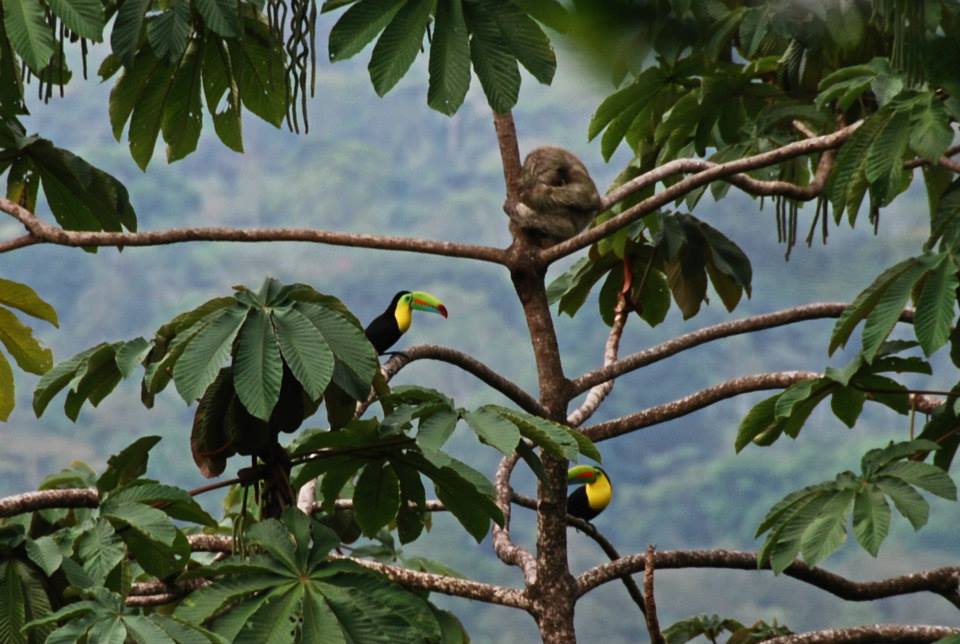 The 'rooms' are wooden tree huts where I spent a week living amongst the creepy crawlies and creatures. Here I am deeply immersed in the jungle, bursting with life! I loved lying in the hammock listening to the hypnotic sounds of the howler monkeys and the orchestra of birds, frogs and insects.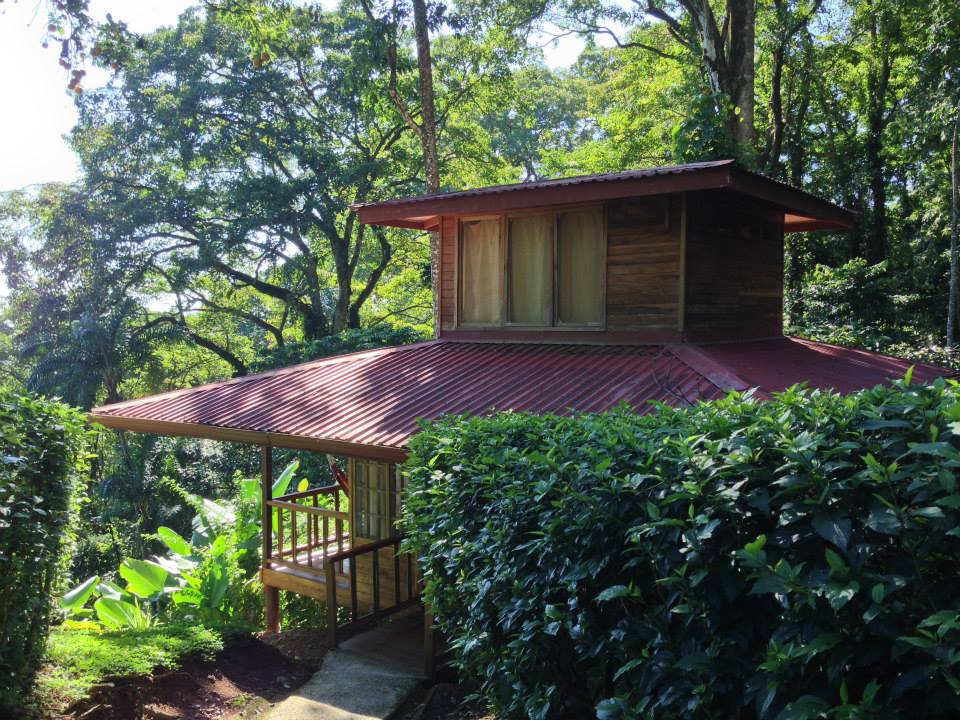 It's like something out of a fairy tale as exotic butterflies, toucans and humming birds fly around me. Who knew parts of the planet could look like this?! In Costa Rice you'll often hear the term 'Pura Vida' – an expression of happiness and joy. That's how happy I feel whilst I am sitting in the hot tub that overlooks the rainforest and on to the ocean!
Being so connected and close to nature deepens my yoga and meditation practice with daily classes given by Stephanie. Stephanie's intuitive teaching weaves together philosophy, mythology, yogic-living and inspiration. She draws from her deep understanding of yogic traditions, therapeutics, biomechanics and sequencing to bring students into a intimate, honest conversation with their selves.
There are three meal times a day buffet style, served in the outdoor restaurant – all vegetarian and you can eat as much (or as little) as you want, I certainly never went hungry!
I leave Samasati feeling grounded, flexible, focused and strong, ready for my trip to Peace Retreat!
Another retreat that lives up to its name, located off the beaten track near Playa Negra providing a peaceful haven for inner and outer peace. The intention when Kevin, the founder, set up Peace Retreat, was to create a sustainable environment based around, but not exclusively, yoga, where people can reset, recharge and realign to reconnect with their supreme self that is at peace.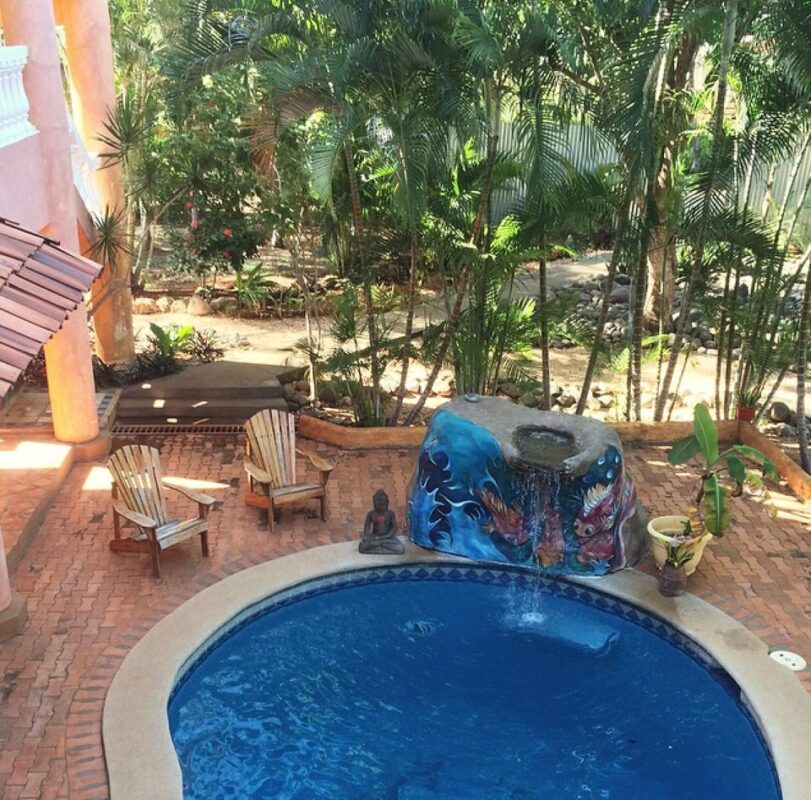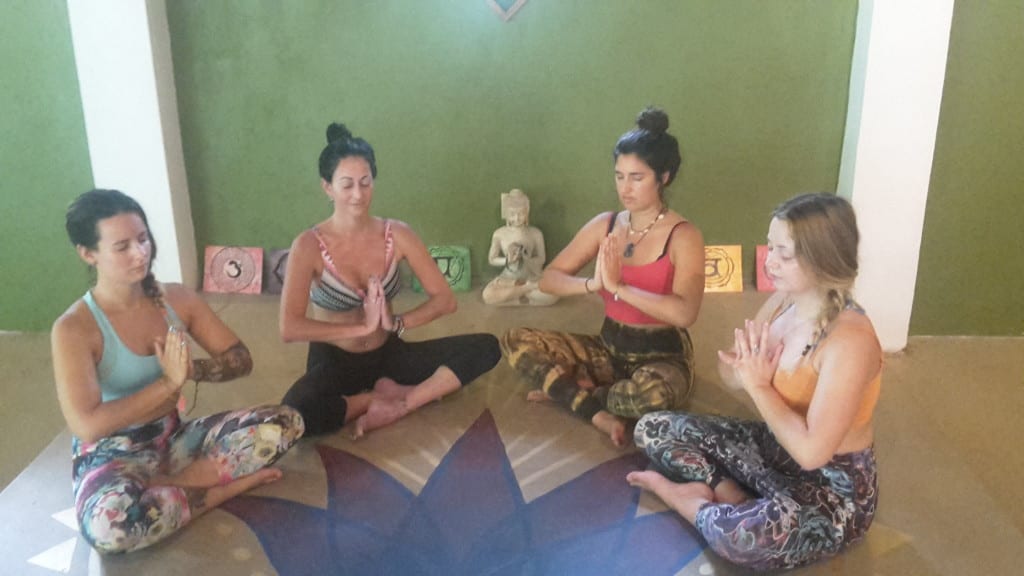 Peace Retreat is ran by a team of wonderful young volunteers who are all committed to their own personal growth and who participate in the daily yoga and meditation classes.  It's a special place, where disconnecting from the man-made world and living simply and close to nature seems to rewire your sense of time, and space. A place where you get back to  yourself and what's important.
Playa Negra beach is only a 15 minute walk away and a surfers paradise, I captured a surfer in this picture as the sun was setting.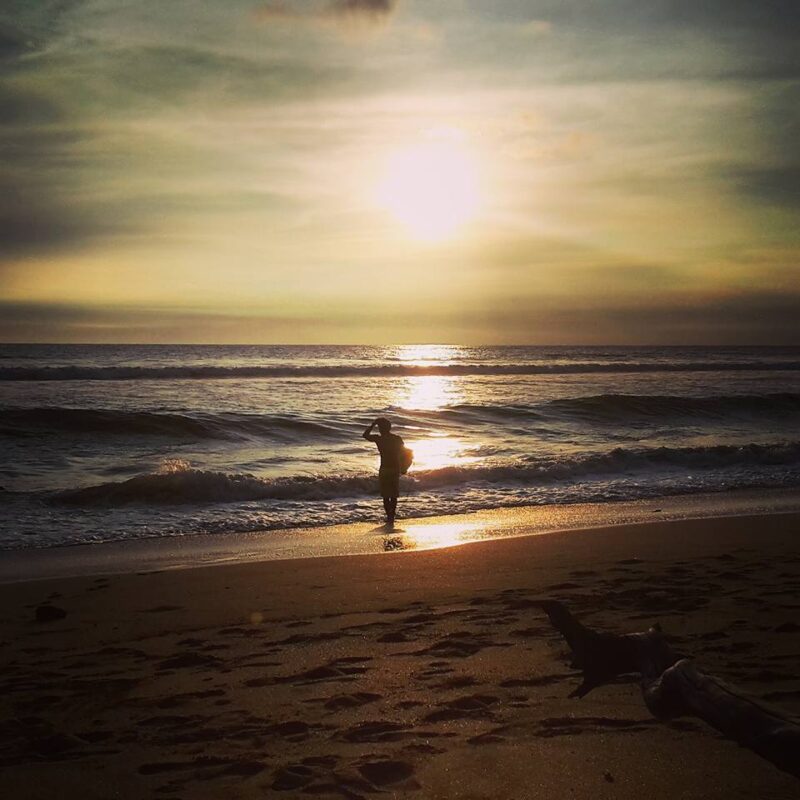 Next stop was the eco friendly Blue Spirit Retreat, the largest of the retreat centres I visited. Blue Spirit is located within a tropical rainforest high above Guiones beach in Nosara on the Nicoya Peninsula. The retreat centre is in a Blue Zone (an area where people live the longest and report the highest levels of well-being) and very unique with the Pacific Ocean on one side and a mountainous wold life preserve on the other. Blue Spirit was founded by Stephan Rechtschaffen who also co-founded the renowned Omega Institute in New York.
I am a special guest as everyone else is part of an individual group retreat that run at the same time as each other from Saturday to Saturday. I got to dip into and try a couple of the yoga classes from the different groups, allowing me to get a feel of the magic that goes on there.
One of the classes I attend is held in the Sky Mind Hall, literally high in the sky with 180 degree views out to the crystal clear ocean. It has to be the most breathtaking space I have practice yoga in. Blue Spirit is dedicated to spiritual transformation, personal development, and environmental sustainability, it's no wonder that it attracts some of the best yoga teachers to host their retreats there.
The facilities are top notch and meticulously cared for, providing different levels of accommodation options depending on your needs and budget; a spa, four yoga rooms, three gourmet meals a day are included and there's an onsite cafe that serves delicious smoothies, green juices and vegan cakes.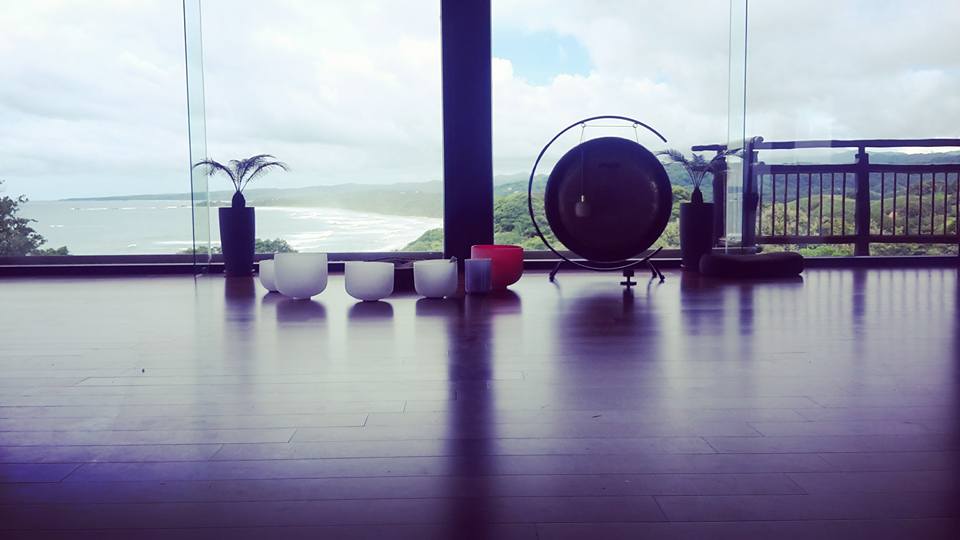 The salt water infinity pool offers a protected surround sound swim in the jungle with palm tree leaves as my shade. I spotted my first Iguana munching away at a green plant that it had camouflaged itself in!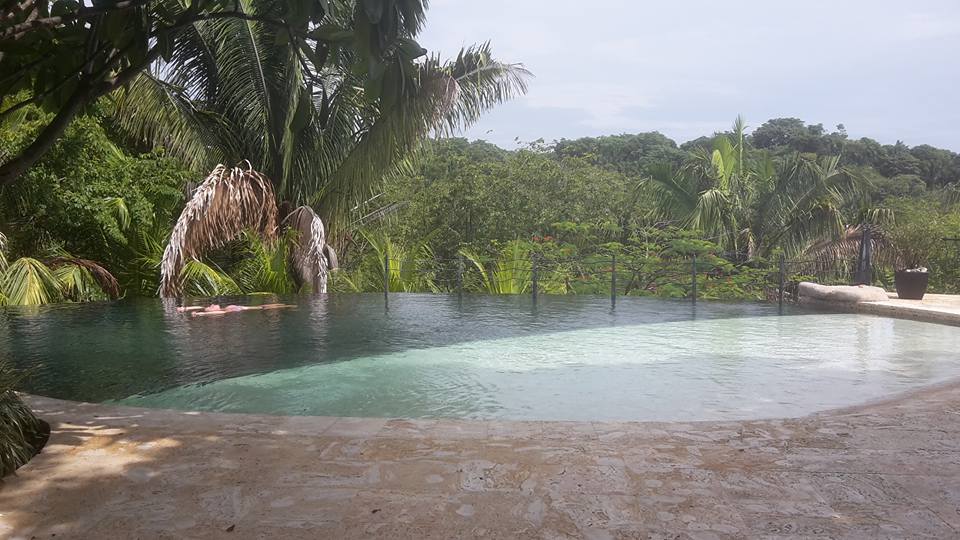 I love that Blue Spirit has its own private beach, home to a turtle sanctuary where I discovered the most gentle waves to swim in and watched the spectacular sunsets.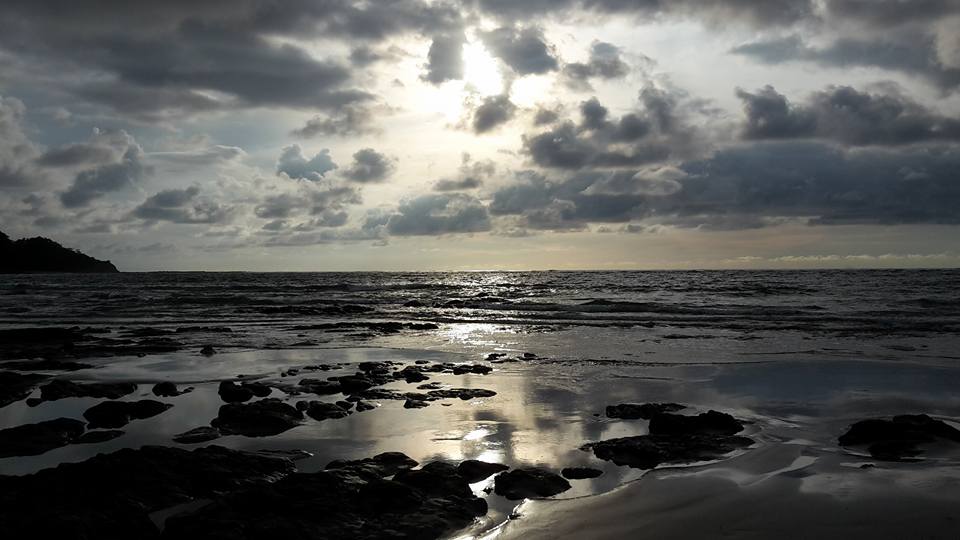 I only spent three nights here and wish I could of stayed longer so I will definitely go back and take part in on the group retreats and have the full Blue Spirit experience!
My final destination is the Amatierra Retreat and Wellness Centre. Nestled on eight acres in the Costa Rican mountains, one hour west of the capital city of San Jose, Amatierra is a rural, eco, wellness retreat centre offering life-enhancing facilities for retreat leaders and their groups. Now there are several non-stop flights each week on British Air from London to San Jose International Airport in Costa Rica, and also to Liberia Airport starting in April 2016.
Described as a 'retreat for the whole person' it is owned and managed by a kind and warm couple, Jill and Bob Ruttenburg. Amatierra was one of the first retreat centres to open in Costa Rica and born out of a love to create a place where people could take time out from life, de-stress and heal themselves naturally. Their mission is to serve the whole person and provide an oasis of tranquility and rejuvenation through yoga, meditation, mind/body awareness, healthful food, fresh spring water, herbal medicine and bodywork. You can tell they have really given their heart and soul to this place, it's been their precious home for the last nine years!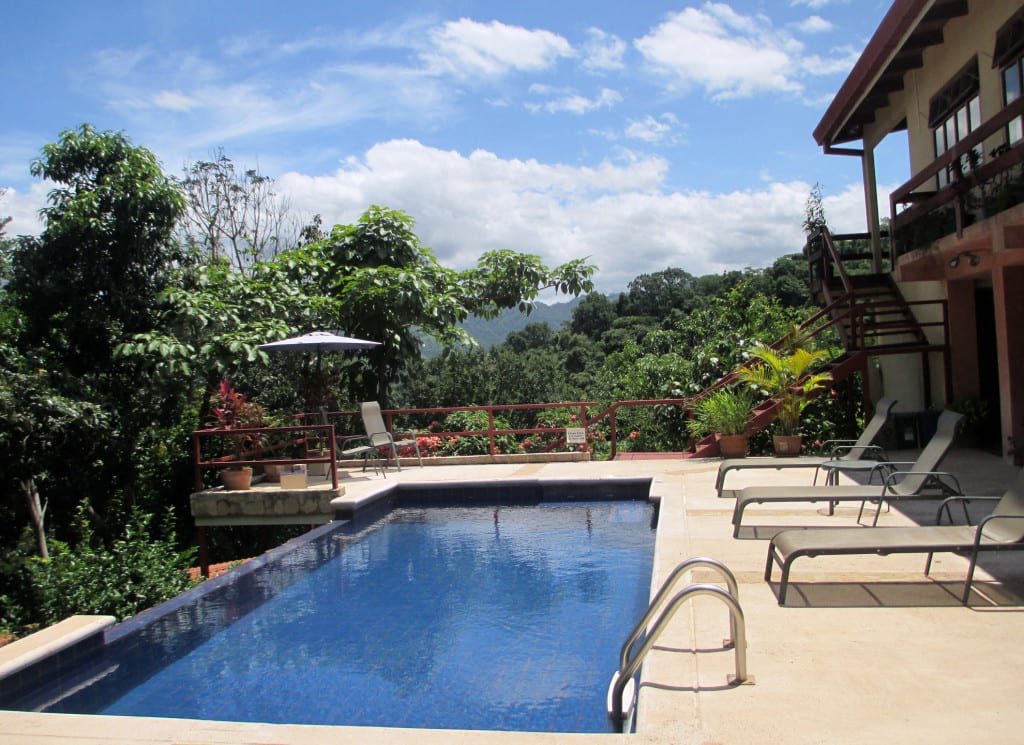 I feel right at home at Amatierra, there's something about the atmosphere and the staff that give you the sense of being treated as one of the family. The healing surroundings stimulate self-reflection and there's plenty of space to be with yourself should you wish to be alone.
Jill is Amatierra's wellness director, she has been a nutritionist and clinical herbalist and a student of holistic health practices for over 30 years! Jill offers an array of wellness services taking a holistic approach that person is a whole being – body, mind and spirit (energy). She's also the resident yoga teacher, teaching a morning hatha yoga class and an evening meditation in the lovely outdoor dome shaped yoga shala that gives full view of the surrounding rainforest, and is a gift to practice in each day.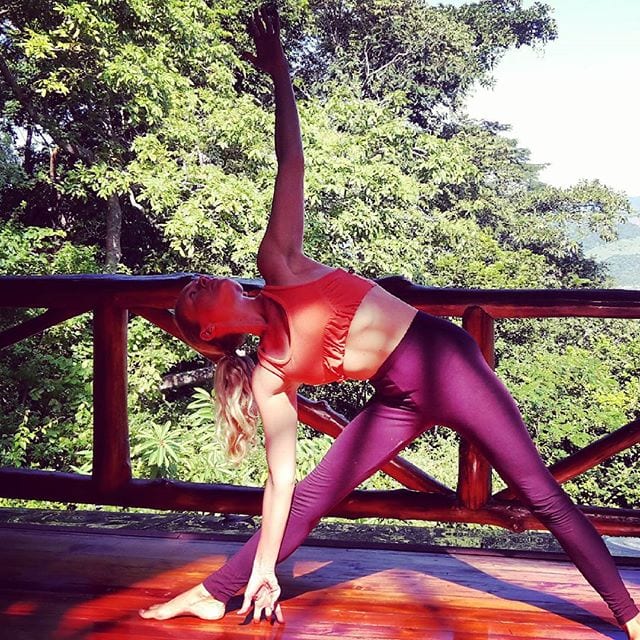 The food is the best of the trip – healthy, wholesome, organic and full of flavour! I looked forward to every meal on the outdoor terrace and it was a pleasure to spend a few of the meal times sitting with Jill and Bob and getting to know them better.
Jill gave me a tour of the organic garden and amazing hydroponic green house where they have herbs, plants and spices growing used both for medicinal purposes and in our delicious food!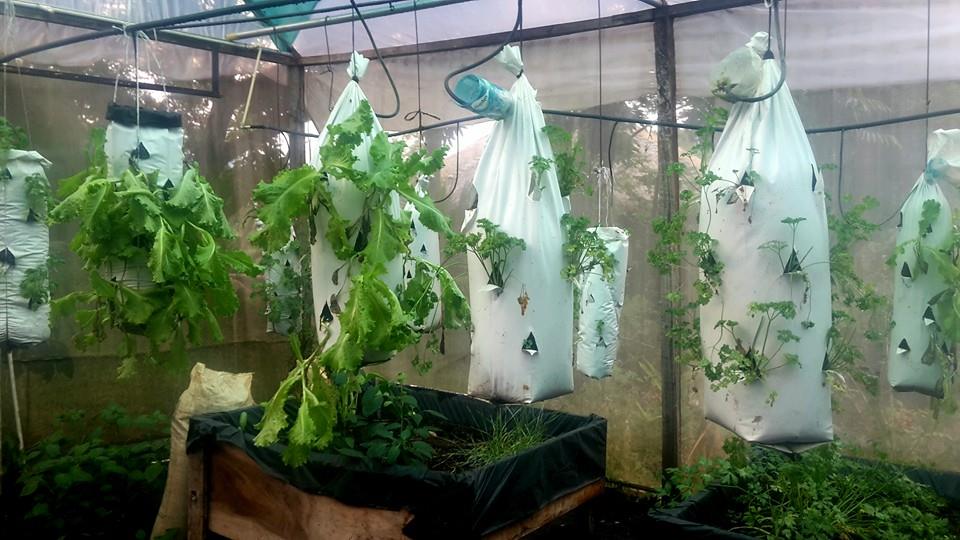 What I began to notice was the transformations of the other people on the retreat, who were there on individual programmes, the healing was beginning to take place and this was visibly apparent! It is truly beautiful to watch people shed their stress and worry and get in touch with themselves. Amatierra is the place to come for deep healing and transformation to occur.
Amatierra was the perfect place to spend my last week in Costa Rica and take my rejuvenated, nourished and whole self back to the fast paced city life in London, until the next travel adventure!
I crave meaningful experiences that enliven my heart – maybe that's why I like to travel so much. My travels in Costa Rica were unforgettable and life changing.  After every travel experience, when it becomes just a collection of memories there's always a part of me that's changed, and the lessons that I carry with me remain.
READ THE SOUL SEED TRAVEL GUIDE TO THE BEST YOGA RETREATS IN COSTA RICA
I'm happy to share that it's easier than ever before to travel to Costa Rica from the UK! British Airways now offers direct flights to San Jose International Airport, as well as Liberia Airport starting in April.
Have you been to Costa Rica? I would love to hear about your trip! Say hello by emailing me at retreats@soulseedmedia.com.