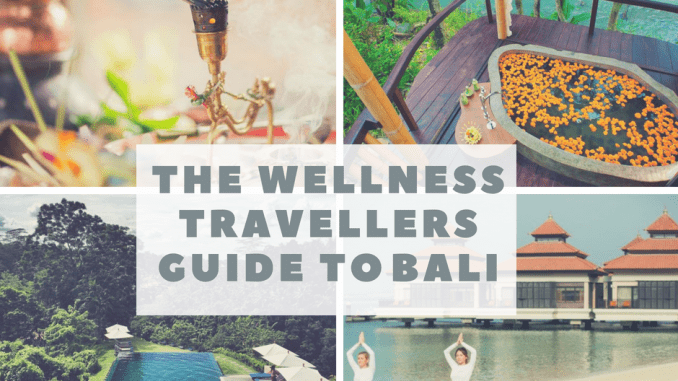 In our Bali Wellness Guide we share our favourite Yoga Retreats and Spa Resorts. All of them are focused on taking a holistic approach to healing the body and mind through nutritious food, yoga, pilates, meditation, holistic treatments, massages and traditional Balinese ceremonies.
Bali Wellness Guide: Retreats for Healing and Detox
UBUD
A Healing Retreat for Regeneration, Replenishment & Alignment. At Fivelements, Puri Ahimsa, we embrace holistic Balinese-inspired therapies administered by traditional Balinese healers using ancient wisdoms passed down through direct lineage.
Following the Balinese principal of Sekala-Niskala, which holds that we all live equally in two worlds; the seen or conscious world Sekala, and the unseen or psychic world Niskala, the Balinese healers engage the help of the divine source during each healing session.
The Panca Mahabhuta (five elements) Retreat is our signature program that comprises a holistic integrative approach designed to tune in on the physical, emotional and spiritual levels, allowing an organic healing process to naturally unfold. This begins by attuning to your authenticity and honouring your highest potential.
Acknowledging and respecting your individuality, we collaborate with you through a personalised Guest Liaisonprogramme, which guides and nurtures a healing path combining: Balinese-inspired healing rituals for purification, balancing and regeneration, Plant-based living foods cuisine for health, beauty and longevity, sacred arts practices for inner strength, alignment and dedication. Retreats are available in 3, 5, 7, 10, 14 & 21 nights' stays.

Bali's premier Health and Wellbeing Spa Retreat, Bagus Jati, is set in 5 hectares of hillside gardens among lush tropical forests in the mountains of Ubud, Bali. Bagus Jati offers stunning views of one of Bali's most breathtaking valleys. It is an architecturally unique retreat dedicated to one thing – your wellbeing.
Eight circular deluxe spa villas, twelve superior villas, ten superior chalets, four pool villas and one royal pool suite are nestled into five hectares of beautifully landscaped gardens and jungle along with facilities that will ensure that you unwind, and experience a level of relaxation and rejuvenation that is unsurpassed.
At Bagus Jati, our guests are treated as individuals. Our natural health and well-being programs are tailored to focus on replenishing your body, mind and spirit, offering you the tools to improve the quality of your everyday life. Escape the daily stress of life and learn to live well.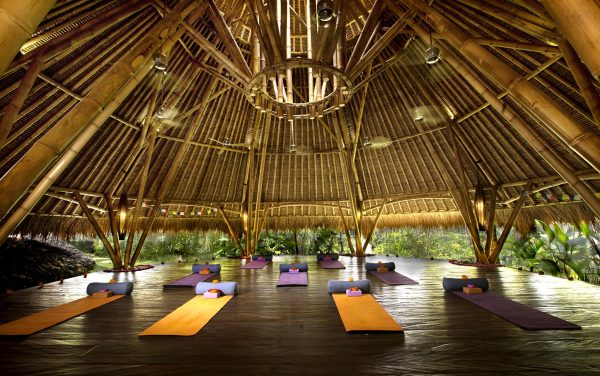 Indulge yourself for a whole week in the Blue Karma Ubud resort on the magical island of Bali.
Between heaven and earth, 3.5 km from the centre of Ubud, in the middle of rice paddies, you'll discover Blue Karma Resort Ubud, our Boutique Hotel de Charme, where everything waits for you to relax and let go.
In the middle of this verdant haven of peace, built with respect for the environment, surrounded by fruit trees and deliciously perfumed plants, nestles a 25 m pool, our Karma Yoga pagoda, gazebos with their thatched roofs as well as many other resting areas.
With a comprehensive range of wellness treatments, you'll receive the very best care for your body and soul. This detox retreat at the Blue Karma Ubud resort can help you lose weight, reduce stress, clear up the skin and digestive problems, and significantly boost energy levels.
Let go of possibly years of accumulated stress and negative mental patterns and give your body and soul a new energy and vitality. Reconnect with yourself, others, and the environment at Blue Karma Ubud. Traditional Balinese massage and a range of other treatments are available and offer the perfect opportunity to enhance your stay in Bali.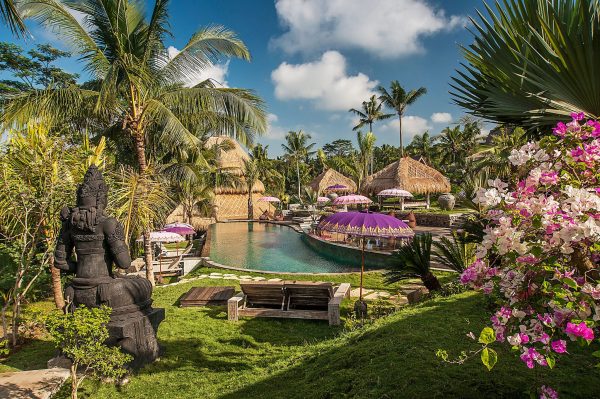 Nestled on the hillside, between sky and earth, in the middle of rice paddies, this retreat will surely awaken the divinity within you with daily yoga classes and spa treatments.
You will be immersed in a safe and peaceful heaven where butterflies, ethnic statues, and greenery mingle around traditional Javanese huts immersed in a more modern fashion to ensure you a memorable holiday.
Awaken the divinity within you in this retreat. During your stay, you will enjoy daily yoga classes to calm the mind, connect with your spirit, and bring your body, mind, and soul back into harmony.
During your stay, you will enjoy daily yoga classes to calm the mind, connect with your spirit and bring your body, mind, and soul back into harmony.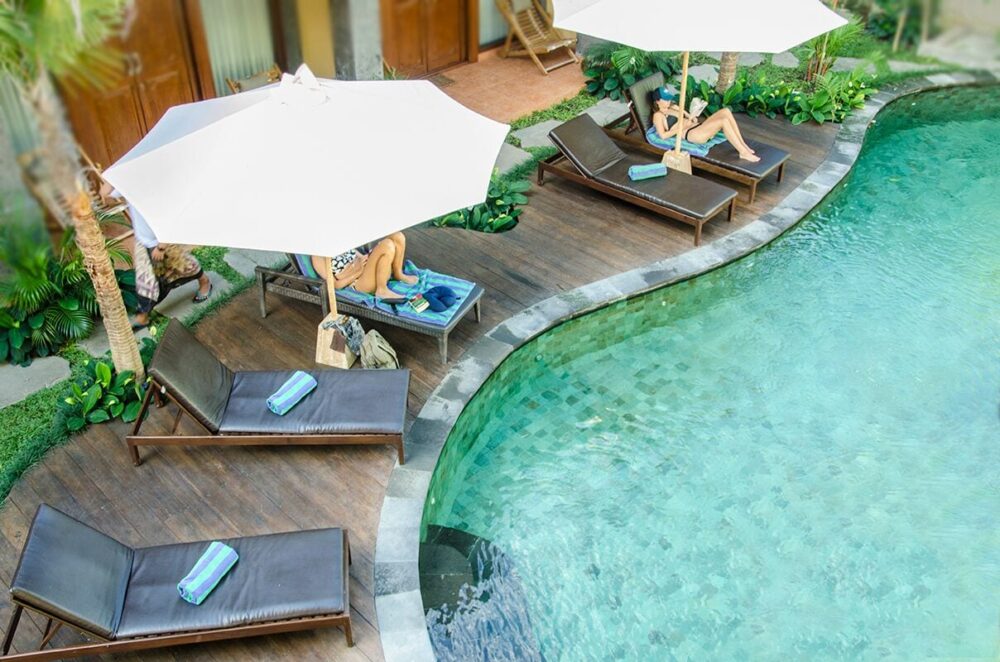 In this 14 day detox you will experience a wonderful cleansing juice detox with our added elixers and alkalizing powders, as well as visit the "real bail" on our tailor made special trips including a unique visit to a rural Balinese Priest in East Bali.
By attending for a longer time, your body will receive a more thorough cleanse, and those stubborn kilos will fall away as well! This is also suitable for those of you who don't want to lose weight, but want to detox and cleanse your body. You will also be pampered at our spa with hot stone massages, organic facial, and body scrubs!
Our retreat program includes a health and wellness consultation, specialist meditation and breathing program, Change Your Mind Change Your Life session with our clinical hypnotherapist – a mix of life coaching, hypnotherapy and creative visualisation, yoga classes with our private teacher, an enthralling visit to the Balinese Healer and an excursion to the Healing Volcanic Hot Pools.
On our Healing Detox Retreat, we embrace holistic Balinese-inspired therapies administered by traditional Balinese healers using ancient wisdoms passed down through direct lineage.
Following the Balinese principal of Sekala-Niskala, which holds that we all live equally in two worlds; the seen or conscious world Sekala, and the unseen or psychic world Niskala, the Balinese healers engage the help of the divine source during each healing session.
A healing journey for detoxification and transformation. At Fivelements, Bali we recognise that optimal wellness comes from learning to love and respect the body, mind, and spirit, where health and well-being are a reflection of inner harmony.
This is our signature cleansing programme inspired by the ancient Balinese philosophy that promotes living with purity of thought, speech, and action. It encourages us to align our heartfelt goodwill and thinking with consistent speech and action.
The retreat includes traditional Balinese healing therapies aimed to detoxify and purify the physical body, sekala, and the non-physical mind and soul, niskala, unifying body and mind towards a natural harmonious state of being, and allowing an organic healing process to unfold.
With your needs in mind, we collaborate with you to nurture a new healing path, combining: Balinese Healing Rituals for purification, balance and regeneration. Living Foods for detoxification, nutrition and vitality and Sacred Arts for inner strength, integrity and dedication.
As our lives become increasingly demanding, fast-paced and over-stressed, we begin to recognise significant impacts in our body's natural ability to sustain healthy organ productivity, effective toxin elimination and overall health and wellness.
Combined with the growing number of harmful chemicals and pollutants to which we are exposed on a daily basis (whether due to impure air or water, food pesticides, preservatives, additives or other non-natural materials), this is causing us to experience poorer health, including chronic aches and pains, lower levels of energy and productivity, frequent illness, decreased memory or concentration, depression, ongoing digestive issues, bloating, excessive weight, dependence upon food or other substances, disease and premature aging.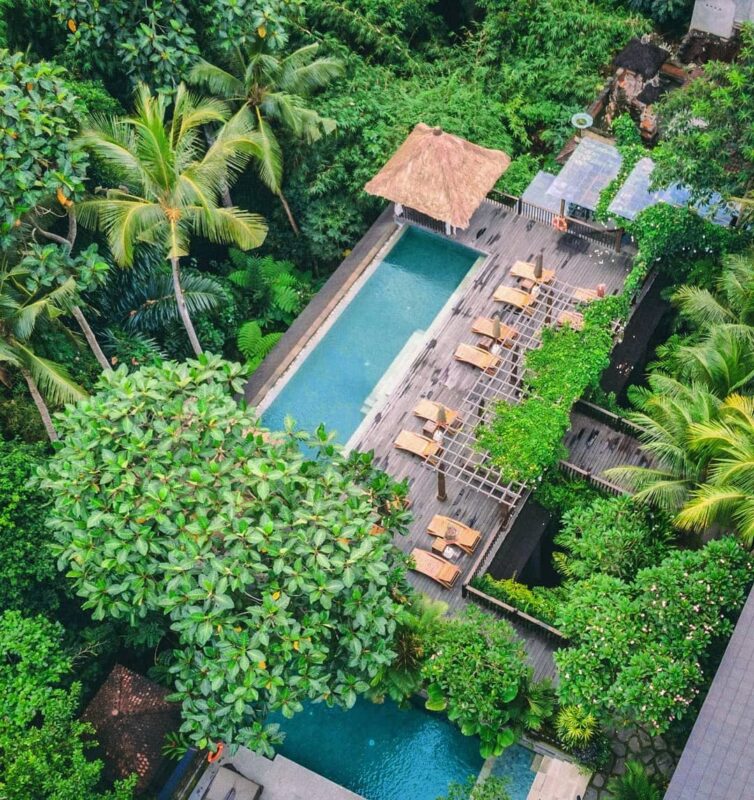 Treat yourself to more than just pampering and spa experiences at a resort in Bali! Our boutique wellness resort Hotel Adiwana is true home away from home where you will practice yoga sessions lead by the experienced teachers.
You will find peace among the exotic gardens and let Adiwana Resort Jembawan pamper you the way you deserve with the pampering treatments, recharging yoga and meditation classes, and exciting cultural excursions.
This five day retreat starts with a hatha yoga class and will be continue with Pranayama and meditation. During this program your meals and spa treatment it will be based on a wellness consultation result with the Ayurvedic Practitioner to diagnose your Dosha (Pita, Kapha,Vata) as your basic knowledge to continuing this program.
Rejuvenation often is defined as reversal of the ageing process. This contrasts with 'life extension' strategies that attempt to combat the causes of ageing in order to slow it down. Because rejuvenation is the reversal of ageing, the means employed to achieve it focus on repairing the damage caused by ageing and replacement of damaged tissue with new tissue.
While rejuvenation is one means to achieve extension of life, rejuvenation itself fundamentally affects a person by restoring aspects of youthfulness from the inside out. This program is designed to reverse biological ageing. It emphasise the quality of life instead of the mere prolongation of it. It is about enhancing your experience of life itself.
We offer a full spectrum of activities, therapies and retreat experiences for everyone. We believe that everyone is special, unique, and different in their own way. At Adiwana Resort Jembawan, you can customise your own retreat package based on your personal needs both as an individual or part of a group. Our goal is for you to return home feeling relaxed, refreshed and energised.
AMED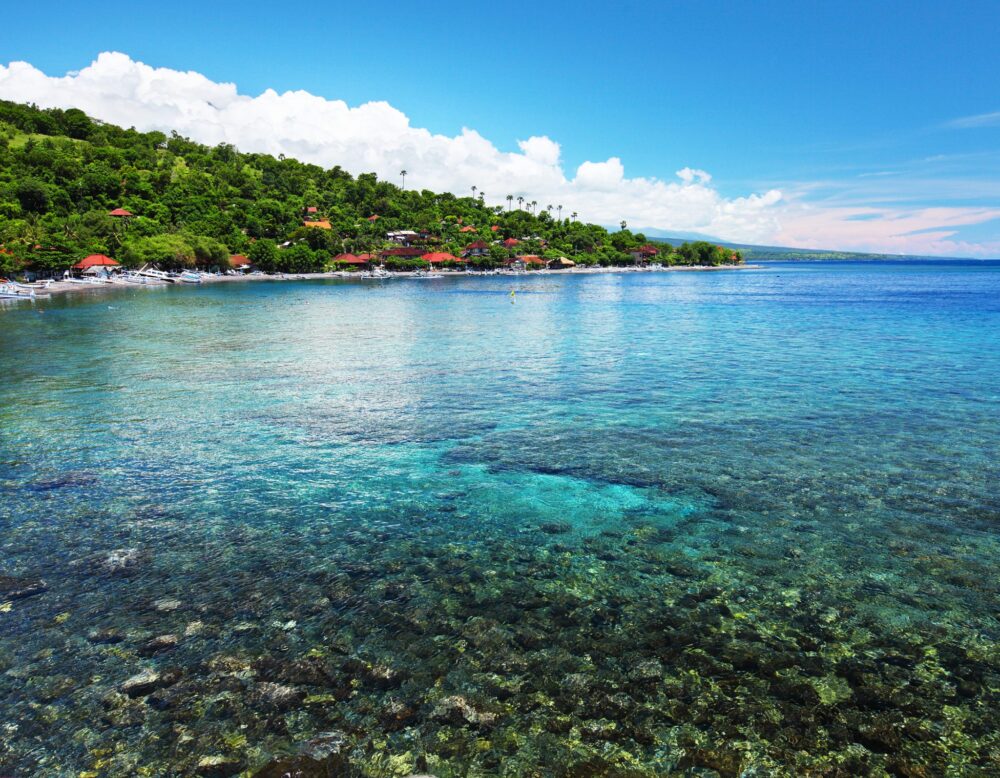 Imagine spending 8 days on the beautiful East coast of Bali immersed in nurturing, reconnecting and replenishing yourself….no distractions, no where else to be, nothing that 'needs' to be done. Enjoy twice daily yoga classes, meditation, workshops and mindful talks, plus plenty of time for self-reflection and adventure, will find your spirit renewed and start you on your journey of personal transformation. This time is for you.
Life in Amed Boutique Resort will be your home during the retreat. Featuring a blend of Balinese and modern design, beach front location, beautiful natural stone open air bathrooms, fragrant lush gardens, swimming pool and a fantastic restaurant serving Indonesian and Western cuisine, Life in Amed is in a class of its own. Luxurious enough to feel spoilt, Life in Amed is located right in the hub of the traditional fishing village of Lean, uniquely giving you a glimpse into traditional East Balinese life while still having all the comforts expected of a boutique resort.
Spectacular scenery, incredible diving and snorkelling straight off the beach, a tranquil and slow pace of life and the opportunity to mingle with and learn more about the people and culture of this area will make this retreat different from your usual Bali yoga retreat.
Watch daily life unfold. Wake to the call of roosters and chickens, to the early morning sounds of small village life and watch and marvel as daily temple offerings are made and proffered in a centuries old tradition. Feel yourself slow down and remember what is important in life.
KUMARAS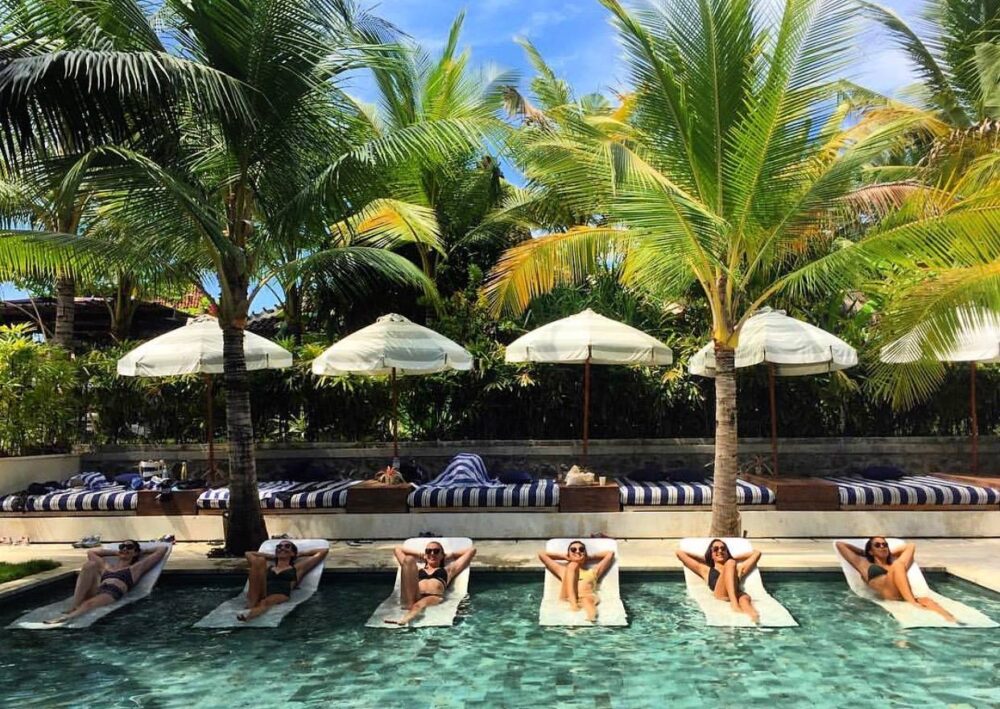 Hotel Komune Resort and Beach Club is blessed with a hypnotising view of the world famous Keramas surf break. With its pristine volcanic beach, this beachfront Bali resort offers a wonderful experience of spending leisure time in a natural luxury hotel.
The body deserves a reward after a day of working out, and our Joglo Spa understands how to pamper the body – from head to toe. Our new Health Hub is perfect for those who are looking for a Bali Yoga Retreat or Bali Fitness Retreat, with state of the art facilities designed to let our guests maintain their healthy and active lifestyle while on holiday.
These retreat will be filled with a mix of fitness training and yoga. This seven day package is intended to give you some challenges and will leave you with some new motivation to set you back on track.
Our very skilled team will discuss your desires and goals leaving feeling more determined and hungry for more. You can immerse yourself in as much or as little as you want, in a tailor made package to suit your level of fitness. In between daily spa treatments and relaxing pool time or may select to take up one of our recommended off site activities to feed your adventurous side.
SEMINYAK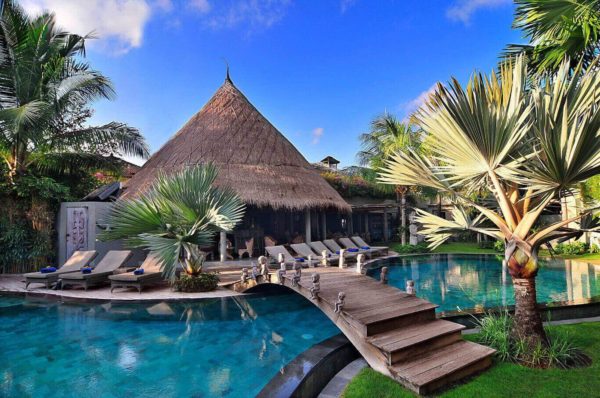 This 7 day detox and cleanse retreat will take place at Blue Karma Seminyak resort on the beautiful island of Bali. Indulge yourself a week in the magical island of the Gods, Bali with comprehensive wellness treatment and care from the best.
This retreat can help you lose weight, reduce stress, clear up the skin and digestive problems, and significantly boost energy levels.
Let go of years of accumulated stress and negative mental patterns and give your body and soul a new energy and vitality. Reconnect with yourself, others, and the environment.
Blue Karma Seminyak is a beach resort area at the southern end of Bali, with many luxury hotels, villas, and spas, as well as high-end shopping and restaurants. In the heart of Seminyak, the resort is within walking distance to shops, restaurants, and to the beach.
Bali Wellness Guide – Yoga Teacher Trainings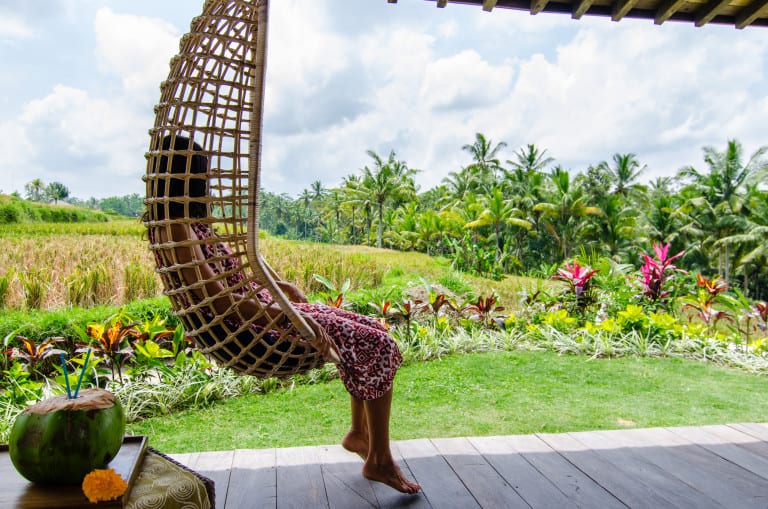 Join Silvia Mordini and guest instructors for a 3-week immersion yoga teacher training on the magical "Island of Love", Bali. This RYT 200 Hour Teacher Training is wholeheartedly dedicated to the art of self-study through self-exploration.
A Hero's Journey that will both challenge and encourage students to embrace their potential, awaken their inner power and ignite their passion for life.
Alchemy of Yoga is waiting for you to join us on our Bali Yoga Teacher Training course! We are seekers, adventurers, lovers of love, rebel yoga spirits, stretchy-minded, soulful, and sensitive.
We enjoy supporting one another, laughter, organic food, dancing in the moonlight, lounging in the pool under the stars, playing at the beach, silent meditation hikes, taking naps, and enthusiastic conversation about elevating the world.
Ancient Alchemists, like their Yogi counterparts, saw all of creation as composed of Earth, Water, Fire, Air, and Space. Through their meditations and explorations of these five elements, they created healing and transformative potions that unlocked many of the mysteries of the universe and therein contributed to the evolution of humankind.
For us as Alchemist Yogis, our laboratory is our mat and the ingredients are our bodies, poses, breath, and thoughts. Mixing it all together changes your life. You are transformed into a Peace Leader, leading a Happiness Revolution and changing the world!
Bali Wellness Guide – Spa Hotels
UBUD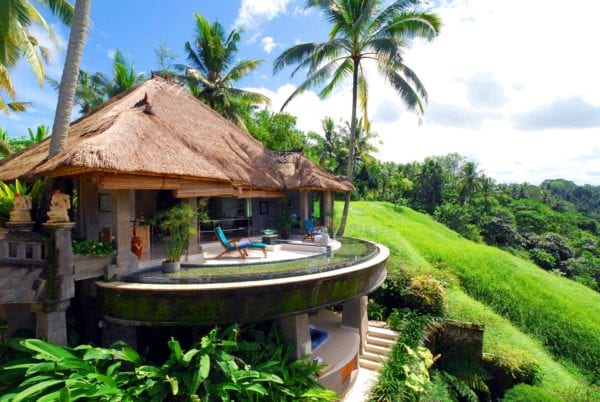 Set above Ubud's verdant Valley of the Kings, Viceroy Bali is one of the world's most intimate and beautiful experiences, considered the ultimate when choosing a luxury resort in Bali. Just 10 minutes from the bustling cultural town of Ubud, each of the 25 private pool villas looks out to a spectacular jungle ravine.
Adding to the serenity is the sound of the rolling river rising from the valley floor below, something best enjoyed from your outdoor Balinese bungalow perched next to the pool.
3 day wellness packages are offered that include daily spa treatments and private yoga lessons.
Perched magnificently atop Bali's Valley of the Kings, the Lembah Spa is considered one of Bali's most tranquil settings and the perfect location for the pursuit of holistic health and well-being. Treatments have been meticulously developed combining Western knowledge with traditional, time-honored Balinese wellness techniques handed down over centuries. Read reviews.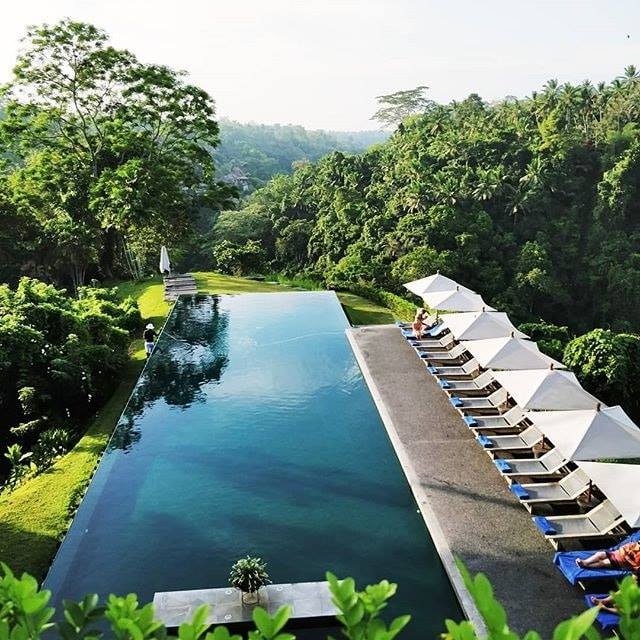 A winding mile from the village below, the hilltop boutique resort of Alila Ubud owes its inspiration to traditional Balinese village life. 14 two-storey wood-and-stone-made blocks house just 56 rooms. Each one offers panoramic views of the valley below, the River Ayung that runs through it and the ring of volcanoes surrounding the hotel.
On top of all this, Alila Ubud's 25-metre infinity pool with a killer view is the wow-factor here. Like its sister hotels in Bali, Alila Villas Uluwatu and Alila Manggis, Alila Ubud is a sustainable design hotel with a minimal eco footprint.
Alila Ubud takes relaxation to a new level of indulgence with a Rainforest Spa Experience that unfolds within a blissful cocoon of tranquility and beautiful valley views, encompassing spa rejuvenation and culinary refreshment.
Amid this enchanting setting, surrender to the pampering sensations of a relaxing footbath followed by a 90-minute therapeutic massage designed to unravel the deepest tension and stress.
Then refresh with a healthy, delicious lunch, choosing from either a three-course Detox or Pan-Asian set menu, made with fresh local and organic ingredients. Read reviews.
SEMINYAK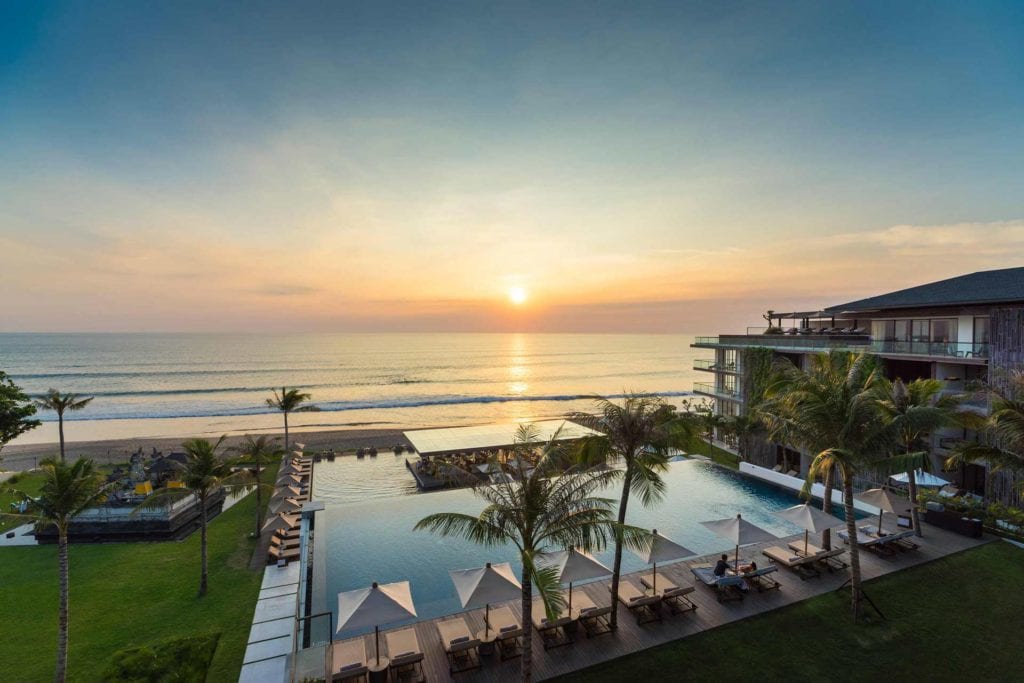 This chic beach retreat is located one of Bali's most prestigious, pristine and untouched stretches of the South West shoreline. There are 240 contemporary styled rooms, as well as one spectacular penthouse, all embracing a chic beach and laid back style.
The hotel is designed as a secret garden, decorated with beautiful greenery, exotic palms and colourful flowers which are complemented by the shimmering Indian ocean just footsteps away.
Situated at the quieter end of an eight-kilometre beach that stretches north from Kuta and Legian, Seminyak is the perfect spot for rest and recuperation with a touch of luxury.
The Spa Alila offers Asian inspired pampering treatments, four superb swimming pools, a state-of-the-art gym and wellness centre and even a Leisure Concierge to help you decide how to fill up your days.
Alila Seminyak is the first resort in Indonesia to surpass the rigorous EarthCheck standards, achieving a 44-point best practice score against the industry norm of five points.
The resort's eco and energy solutions include the use of local and recyclable building materials, operating completely paperless and using their own bottled water. In addition, low energy light fixtures, rainwater harvesting, environmental and building management systems have been implemented.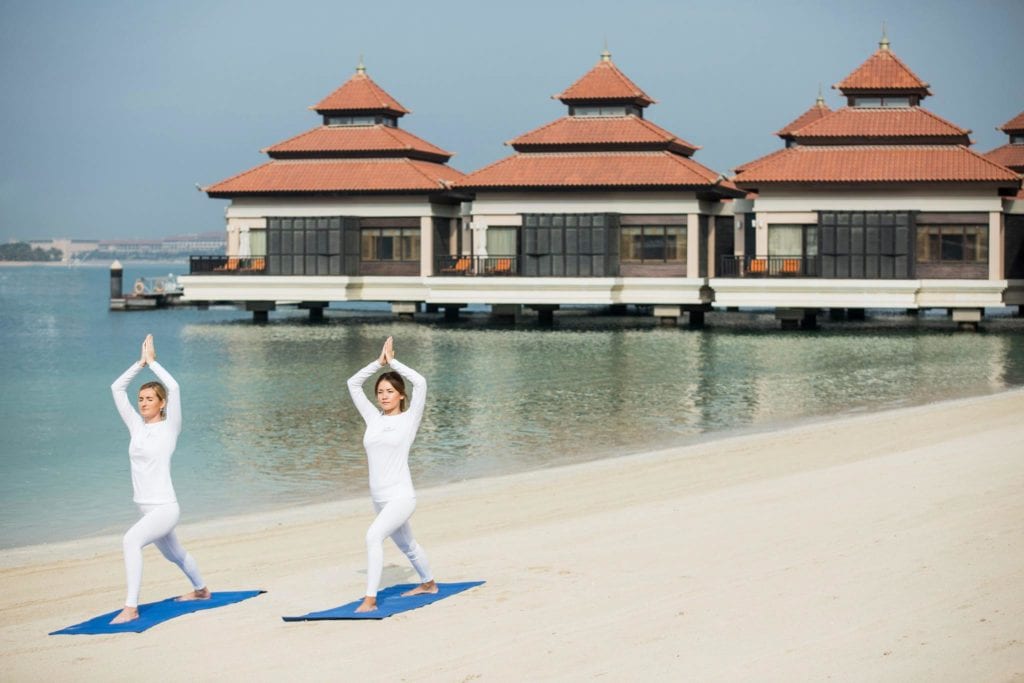 Discover the joys of Bali's upscale enclave at Anantara Seminyak Bali Resort, an elegant spa retreat Bali hotel situated in a prime beachfront location.
Awaken to the rustle of a sea breeze through coconut palms, toast the world famous Seminyak sunsets from your private balcony and dive into Balinese culture and unique island discoveries from this sought after stretch of shore.
Anantara's all-suite Bali resort at Seminyak offers a distinctly contemporary design approach blended with Balinese and Indonesian culture, ocean views, expansive balconies and Anantara's inimitable Jacuzzi terrazzo bath tubs big enough for two.
Uncover the rich Balinese heritage and awe-inspiring natural wonders on this exotic island. Learn to ride the waves with expert surfing instructors who'll show off their skills. Indulgent amenities abound in stylish rooms that channel the spirit of Bali.
Bali Wellness Guide – Luxury Villa Rentals
Luxury Retreat Villa in Seminyak, Bali / 4 bedrooms / 4 bathrooms / Pool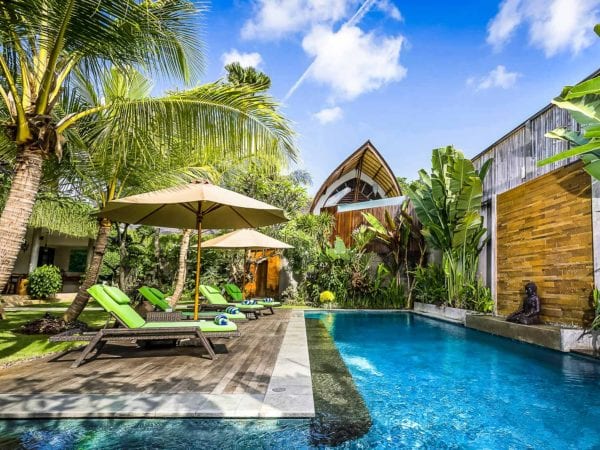 This enchanting luxury villa in Bali balances exquisite privacy with outstanding access to the beaches and nightlife of Seminyak.
With extraordinary design combining traditional Balinese architecture with visionary, contemporary style, the villa features a beautiful alfresco garden terrace, beautiful interior living spaces, a spectacular rooftop terrace and bar, and four superb bedroom suites.
Deluxe services include a private chef and security, creating the ideal vacation rental for a unique yet quintessential taste of this South Pacific paradise.
The terrace has the lush, secluded feel of a private sanctuary. Enjoy dreamy days with family and friends by the lagoon-like swimming pool, bathing in the crystalline waters, luxuriating on elegant loungers, and staying cool in the sumptuous, canopied bed. Relish an alfresco meal at the lovely table in the lanai, and sip afternoon cocktails in the lounge. In the evening, repair to the outstanding rooftop bar and terrace to behold the spectacular sunset views. Details.
Luxury Retreat Villa in Ubud, Bali / 4 Bedroom / 4 Bathrooms & Pool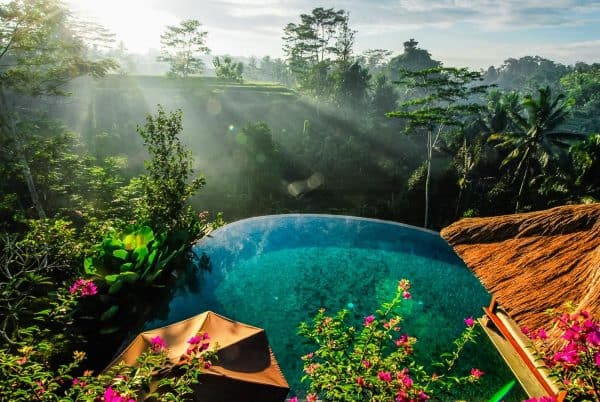 Escape to the forests of Bali in luxury style at this luxury retreat villa in Ubud. Tucked into lush rice terraces, with views of the island's sacred volcano. Laid out as a compound, the four-bedroom property can accommodate up to eight friends or extended family in a combination of common and private spaces.
Your holiday includes an airport transfer, daily breakfast, a twice-daily shuttle to Ubud and the services of a housekeeper and butler.
Settle into the striking pool and watch the sun move across the vibrant landscape, indulge in a nap in one of the sun loungers on the terrace and finish the day with a meal from the barbecue at the al-fresco table.
Designed by Popo Danes, one of the most renowned architects in Southeast Asia, the villa is a stunning take on traditional Balinese style.
In the main pavilion, a thatched roof, open-plan layout and several sets of French doors to the terrace lend a relaxed feel. The wicker seating area, dining table for ten and fully equipped kitchen are understated yet inviting.
Flower-covered pergolas connect the four bedrooms to the main house. All four suites are honeymoon-worthy retreats with king beds and en-suite bathrooms; two of the bedrooms connect to the villa's spa area, and two have their own al-fresco showers.
From Villa Bayad Estate, it's easy to visit the must-sees of Ubud, from its art museums to the market and royal palace.
Animal lovers won't want to miss a visit to the nearby Taro Elephant Safari Park or Bali Bird Park. For those craving sun and sand, popular beaches such as Echo and Kuta are within day-trip distance. Details.
Bali Wellness Guide – Healthy eats
Bali Wellness Guide – Spa's
Contact Soul Seed Travel to book your next retreat and check the 'Recommended Retreats' guide for more yoga, wellness and transformational retreats around the world. Want to feature your Bali retreat with us? Get in touch!