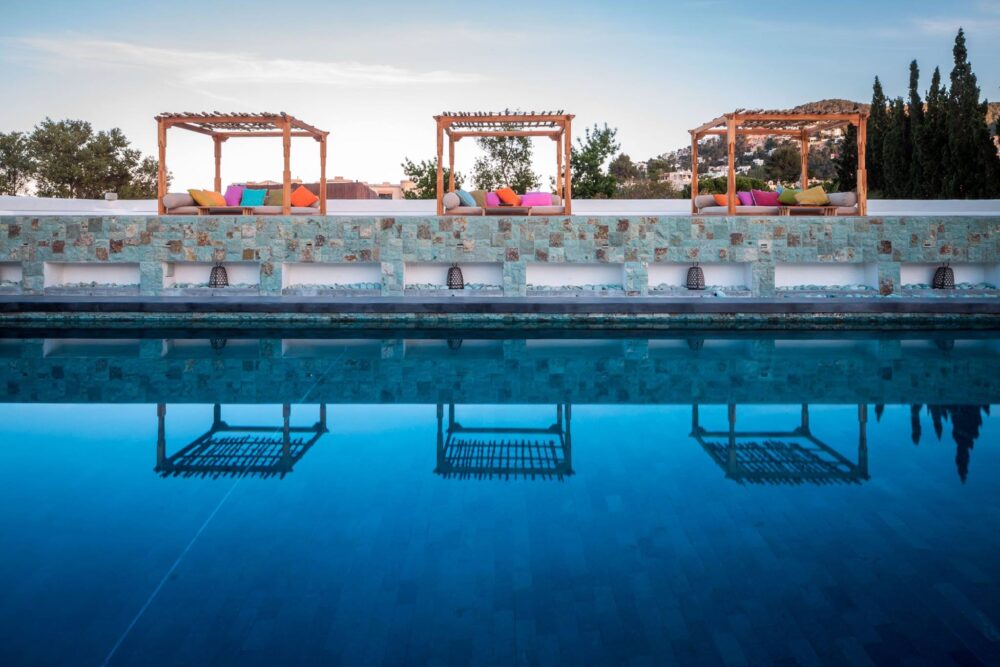 Escape to the beautiful Balearic Islands for one of these inspirational wellbeing holidays with yoga, meditation, hiking, fitness, nutritious food and plenty of relaxation time. Here's our recommended guide to wellbeing holidays, retreats and spa hotels in Ibiza and Mallorca.
Ibiza Retreats
Ibiza is one of our favourite Islands in the world! As soon as you step foot off the plane you can feel the healing energies work their magic….and that's even before the retreat starts! It's the perfect place for yoga, meditation, detox, wellbeing, beaching, guided walks, nurturing, unwinding, relaxing, pampering, spa time and plenty of YOU time!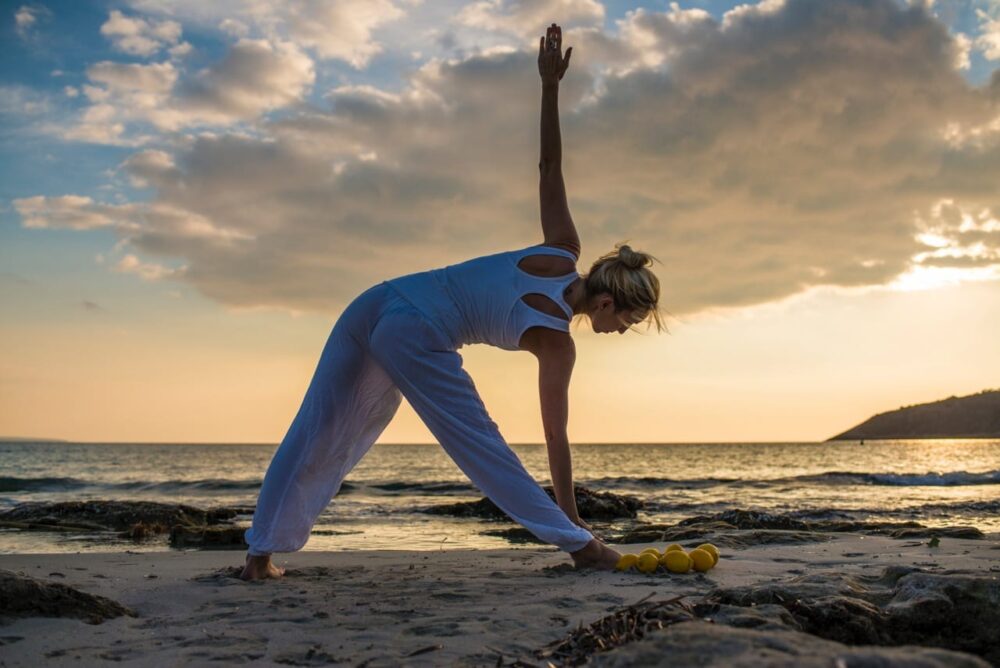 The focus of this Yoga, Energy and Natural Wellbeing retreat is to allow you to take time and space to hear the voice of your heart. Feel the glow radiate from within to reveal a new you – inspired, energetic and shining, inside and out.
Get your glow back in body, mind and spirit, with daily vinyasa flow yoga, holistic life coaching, mindfulness practices and transformational meditation techniques. Learn about and understand your own chakra energy system and discover how to optimise and manage your energy levels. Revitalising drops of yogic philosophy will develop your spiritual awareness, inner-strength and clarity of mind. Our super-clean nutritious menus will work their magic on your metabolism and help you avoid the 'peaks and troughs' of energy that come with an un-balanced diet and stressful life. Reconnect with your your heart and soul and rediscover your strength of body and mind.
This is a truly empowering retreat, that will help you regain balance in the energy and emotion you use every day, and regain your zest for life!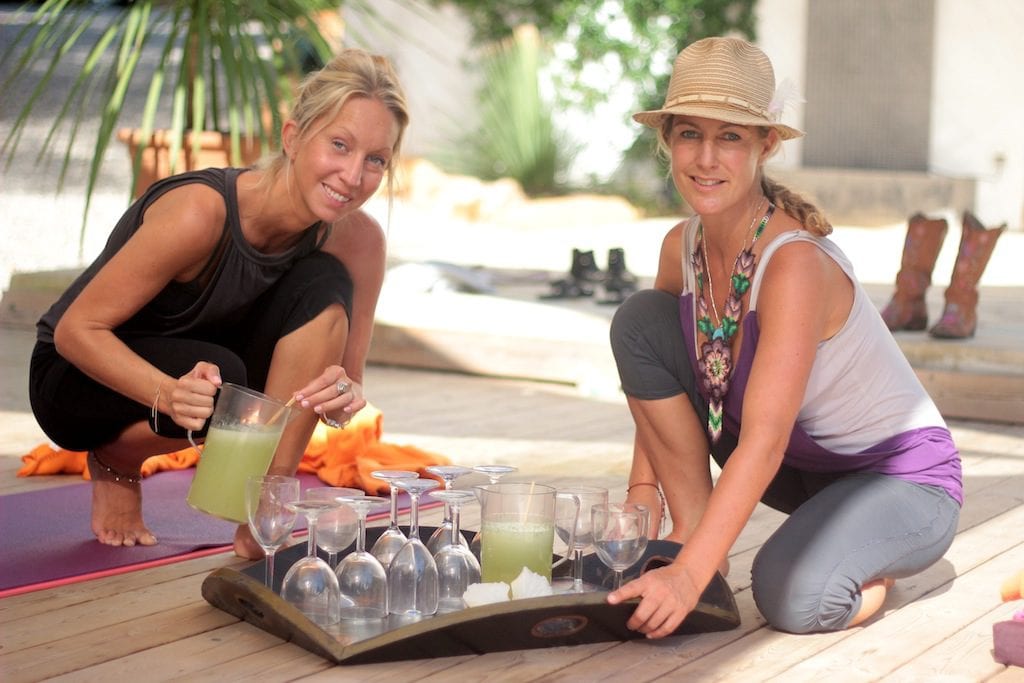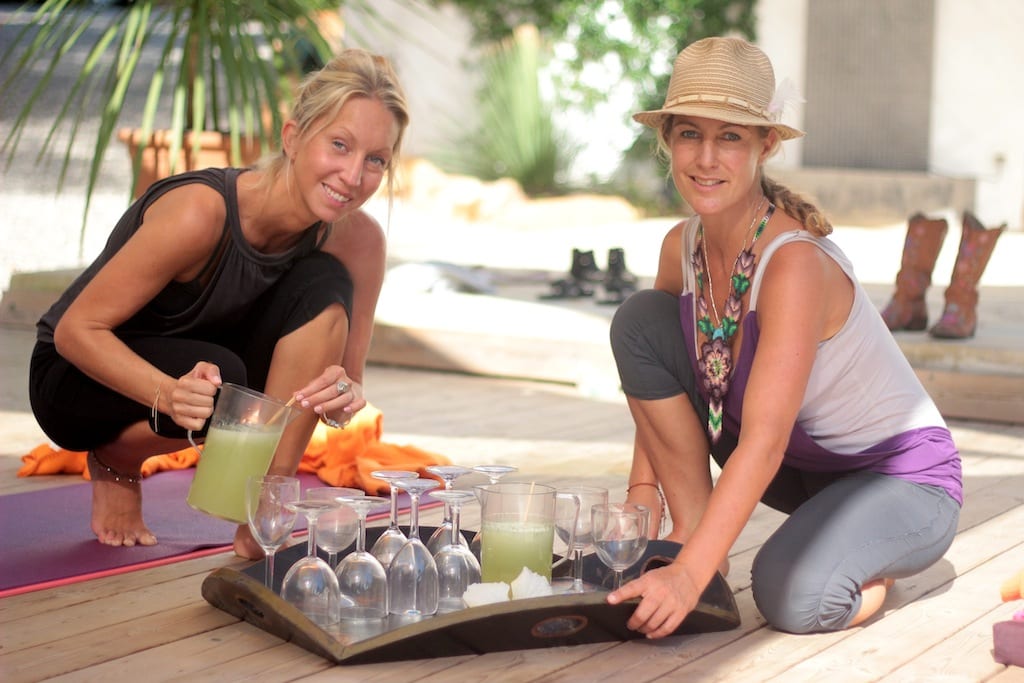 Open your heart and learn how to raise your vibration energetically! The focus of this retreat is to allow you to take time and space to hear the voice of your heart – your intuition. It's about understanding your energy system and how you work as a whole being, as you learn to listen in and to appreciate  exactly who you are, and how you work holistically.
Your individual journey, in a positive loving group atmosphere, is threaded through with Life and Wellness Coaching, personalised yoga guidance, spiritual counselling and NLP so that you can leave feeling fully empowered with a clear strategy for balancing your priorities, time and energy when back in reality. As a team we integrate our expertise to fully support you on your journey towards honouring your fully glowing self.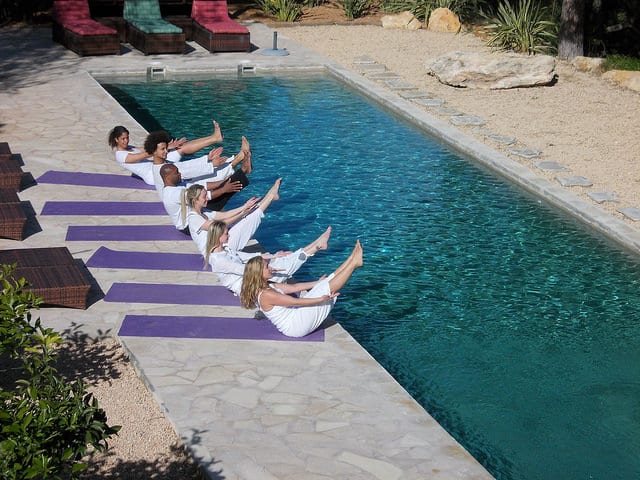 Restore and rebalance in Ibiza with Ibiza Retreats this summer. Our yoga, fitness and eat-clean retreat will restore, rebalance and rejuvenate your body, mind and soul. We have specially created this well balanced, holistic retreat using our deep collective knowledge and experience. We have balanced yoga, fitness, meditation, nutrition and clean eating in this perfect retreat package. This retreat is for you if you are feeling a little unmotivated, tired, or lost and are looking to relight that spark, ignite your energy and bring back your zest for life.
We will set your body, mind and soul into a conscious, present and loving state that will springboard your onward life journey and empower you to take on life's ups and downs. By creating a positive foundation to lead a healthy, balanced life, you can be the best you can be. Be assured that this is very much still a yoga retreat, with a fitness element smoothly included, just rather from the point of view of holistic wellness – opening our minds to the bigger picture. We will enjoy yoga every day – on the fitness mornings, it will take the form of an elongated stretch and meditation class – and then pure yoga flow for 3 days. In the evenings, we will have a yin style practise or a take part in beautiful hike through the beautiful Ibiza countryside.
Our retreat is held inside the beautiful whitewashed walls of Can Amonita, in the stunning countryside of north Ibiza. The unique sanctuary reflects the beauty and peace of this side of the island with a beautiful outdoor practice space.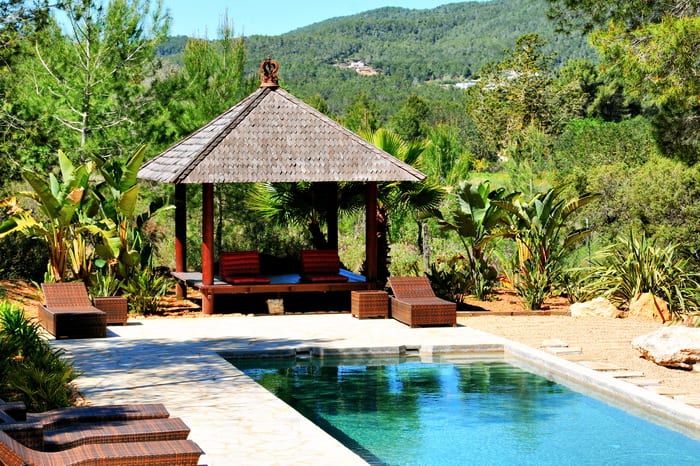 The carte blanche body balance retreat is an empowering and life changing experience all about you. We create an organic and nurturing environment for you to relax, recharge and reconnect with yourself. Pause the stress of daily life and submerge yourself in the magical beauty of Ibiza. Discover the island of turquoise waters, hidden coves and the famous Ibiza sunsets.
Be inspired as you practice yoga and meditation amid the beautiful surroundings of your villa, a calming and peaceful sanctuary. This is more than a yoga retreat. Enjoy nature hikes, creative workshops, a mindfulness workshop, natural skin care workshop and a cooking workshop. Our diverse timetable invites you to try a range of activities with something for everyone. Leave feeling refreshed, energised and ready to take on the world.
Our time table will be perfectly balanced between exciting activities and personal time to relax, dip in the pool and catch up on 'me time'. You are invited to try everything, however, extra personal time and long lies are also supported. Your villa is nestled amongst a fragrant pine forest in the beautiful North of Ibiza, a peaceful and tranquil sanctuary. This organic and nurturing home has gardens to explore, meditative spaces to switch off, Baili style huts to relax and a beautiful pool to dip in and refresh.

By the women of Ibiza, for women from all over the world, this retreat space is a sanctuary, a meeting point for like minded souls in need of nurturing and nourishment. Connecting you with your inner-guidance system, tuning you into your intuition, your inner wise woman through yoga, meditation, breath work, yoga therapy, reiki and different forms of energy work, cranio-sacral therapy, massages and many types of therapeutic bodywork, holistic life and wellness coaching, spiritual counselling, sound healing, dance and creativity.
Embrace your power and creativity, learn to live life in true abundance, in health and harmony, in rhythm with your natural cycles as a woman, in touch with your feminine elements. We support you on this nourishing retreat for women to create a rhythm in your life that fills you with positive energy and enables you to live in harmony with yourself and world around you.
We educate you about your cycles and rhythms as a woman so that you can begin to embrace your emotional sides, your sensitivity, your creativity, to become more selective about what you invest your time and energy in and more receptive to life's magical opportunities.
Connecting you with your inner-guidance system, tuning you into your intuition, your inner wise woman, through yoga, meditation, breath work, yoga therapy, reiki and different forms of energy work, cranio-sacral therapy, massages and many types of therapeutic bodywork, holistic life and wellness coaching, spiritual counselling, sound healing, dance and creativity.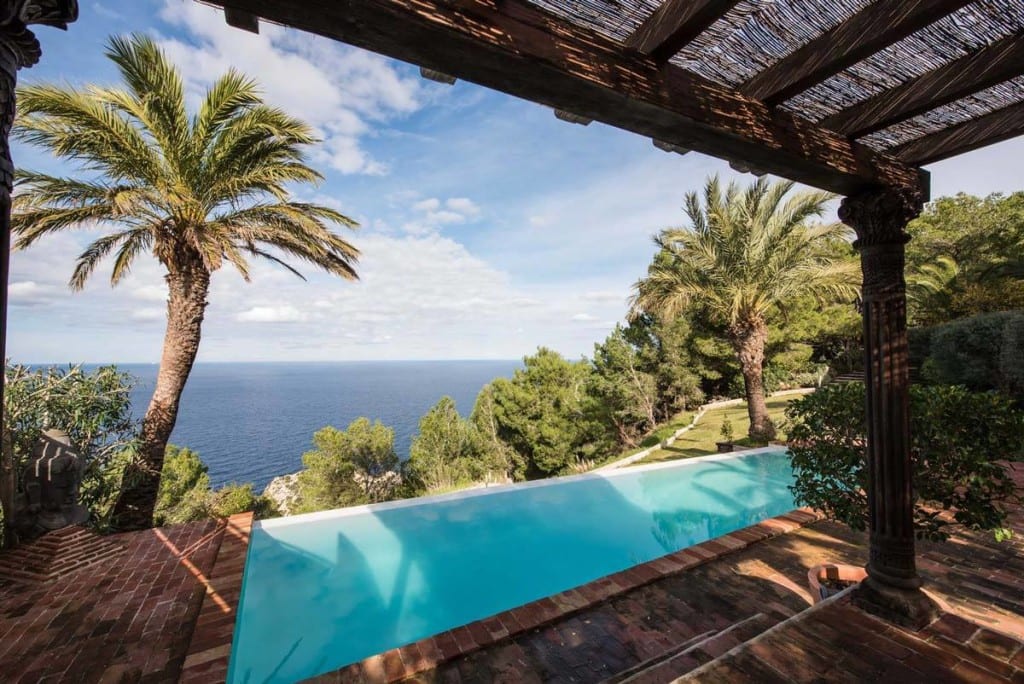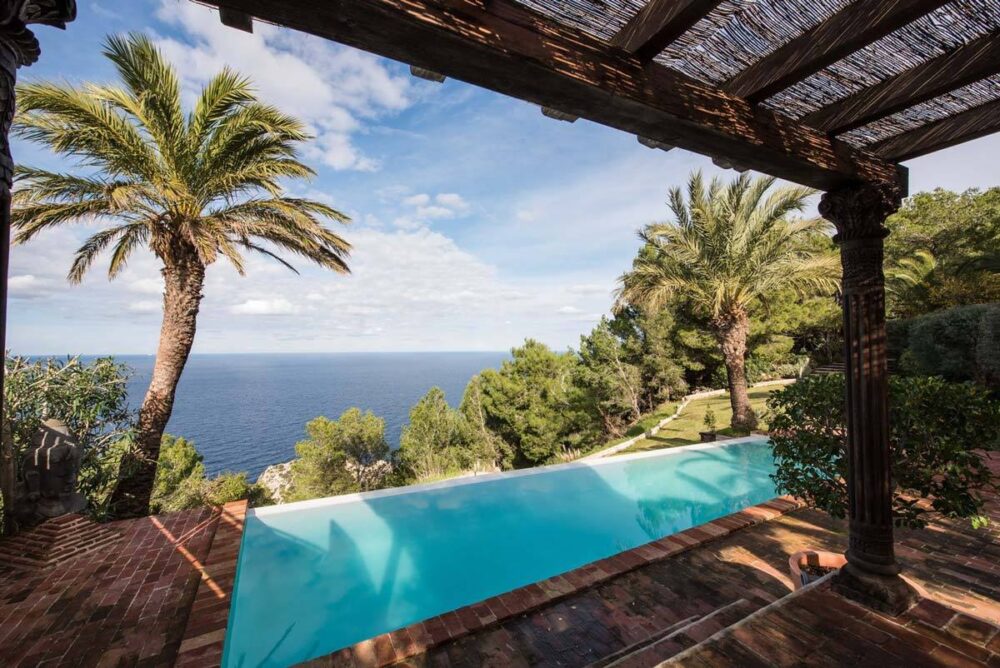 Soulshine Ibiza retreat experiences capture the heart and soul of the Soulshine philosophy. More than a yoga holiday, our meticulously curated retreats at Soulshine's Ibiza flagship,Can Shui, allow you to pause from the crazy pace of modern life. Reconnect with your true nature and let your soul shine with a whole heap of love from the Soulshine team and a jam-packed schedule of holistic, healing and transformative loveliness.  The perfect opportunity to explore, develop and deepen your yoga and meditation practice whilst gaining a greater understanding of holistic healing.
Laugh a lot, make new friends, snooze, sunbathe, explore, relax, read, walk and indulge in yummy food. A Soulshine retreat gives you a transformative holistic wellness experience that nourishes your body, mind and soul.
During your six nights in the care of the extensive Soulshine Yoga Retreats Team you can expect to enjoy an extraordinary amount of delicious daily Yoga, Meditation, Wellness Talks and Healing Workshops from Wellness experts. Plus pampertastic and deeply healing remedial treatments from our talented wellness team (to ensure maximum relaxation and soul soothing!). Not to mention being cared for by our utterly loving and attentive hosts who are constantly on hand to ensure that you don't lift a finger (we're quite strict about that!). It is a truly holistic wellness experience.
Mallorca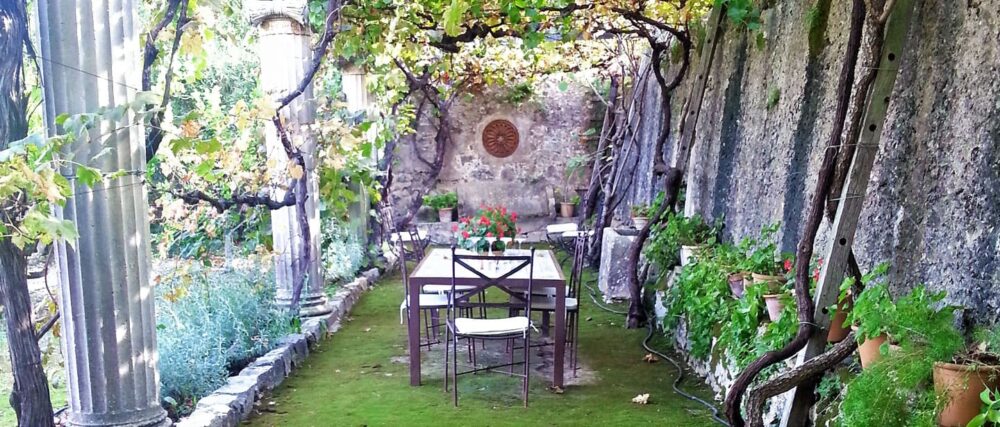 Come to Mallora where the sun has not ended yet and enjoy a weekend yoga and wine tasting holiday with vegan and vegetarian gourmet meals, hiking and free time at the beach beach. Get to know the amazing wines of Mallorca and experience yoga in a winery!
Grapespiration is our special pairing of yoga and wine tasting! An international team of yoga teachers to match a wine and sake sommelier to enjoy Majorca in a new way! Breath in, breath out, practice yoga, relax and taste wines in a magical environment such as the beautiful island of Majorca.
Our special pairing of yoga and wine tasting delivers a unique experience. We will visit two outstanding wineries of the island while we will get an insight to local wine production. We will mindfully taste wines and learn about winemaking traditions of the island.
Join us for four days of yoga practiced at exclusive wineries, Majorcan finest wines tastings, bodegas tours, delicious vegetarian and vegan cuisine or a private chef service, dining in the vineyards, sake tastings, cultural routes with official guides, pampering and massage, free time at the beach and much more!.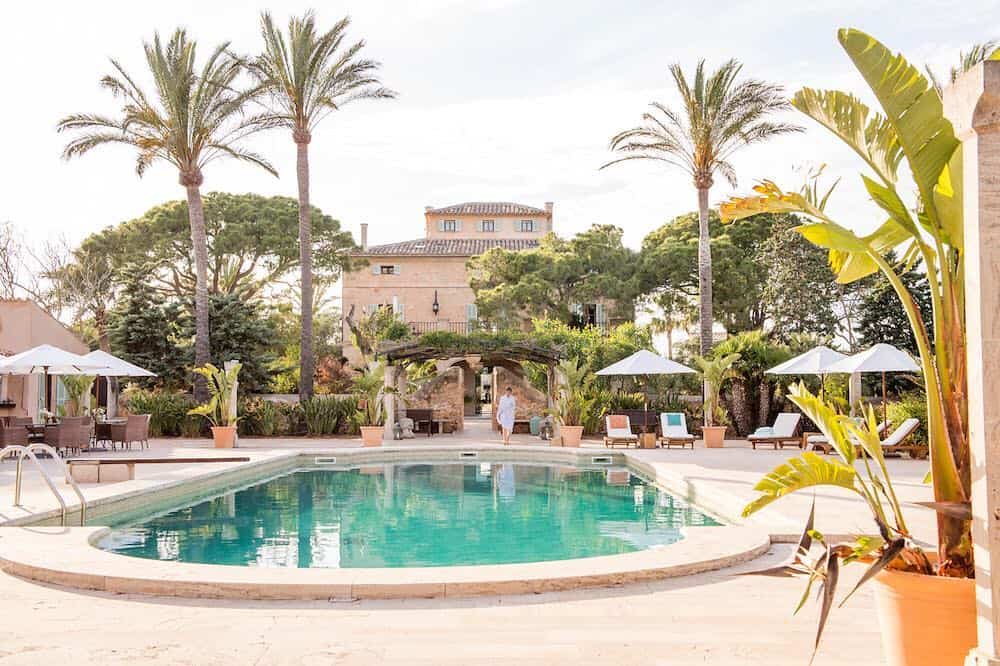 Spring is a good opportunity to rejuvenate and to cleanse the body, mind & soul. This Yoga Retreat is designed to let go of old patterns and nourish yourself with energy & peace. We will focus on cleansing, nourishing & rebalancing your physical, mental and spiritual bodies, allowing you to find your true self.
During this Cal Reiet In House Retreat we will combine Yoga, Qi Gong, Meditation & pranayama to revitalize and balance your subtle bodies. In the mornings, you will enjoy detoxifying Morning Flow Yoga & guided meditations – in the afternoons we immerse into peace with Restorative Yin Yoga & Qi Gong surrounded by the beauty and peaceful location of CAL REIET.
Cal Reiet was founded with the purpose of inspiring our guests with a unique and transformative experience. Our different retreats include yoga, meditation and mindfulness workshops, seminars and other holistic wellness related events. The retreats include all aspects of wellbeing; physical, mental, emotional, spiritual and social. Most of our retreats are led by renowned international teachers and holistic wellness experts. You can choose a completely personalised wellbeing experience tailored to your individual needs, or you can choose to join one of our upcoming group retreats.
Hotels with a Heart and Soul
Ibiza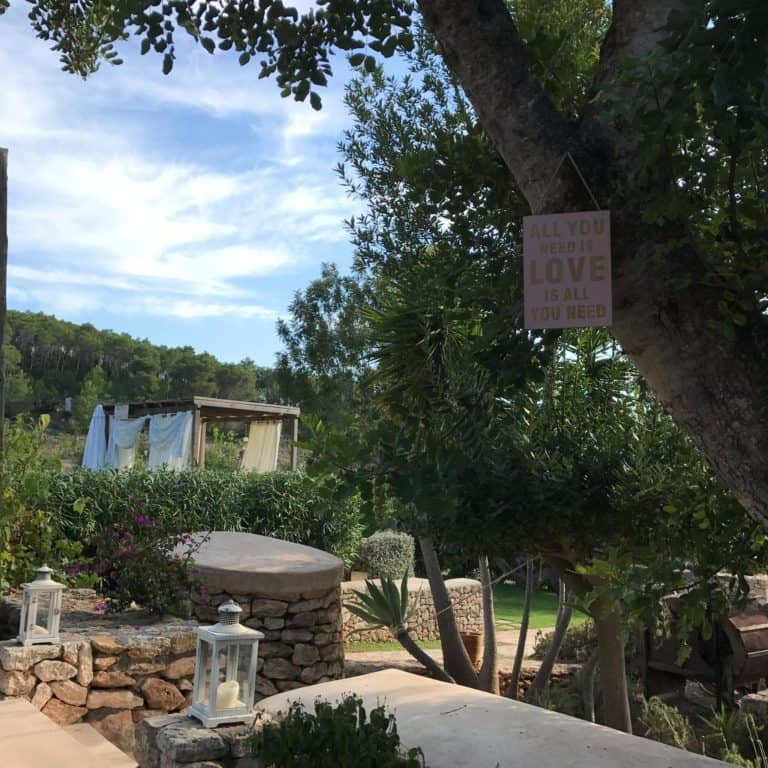 Immerse yourself in the Ibizan countryside at Can Lluc agrotourismo hotel, an calm oasis  where you can enjoy beautiful sunsets from the viewing platform, siestas beneath the carob trees, a dip in the pool and nights beneath a thousand stars. Choose a Stay Healthy or Weekend Yoga package, to help you relax and indulge in some pampering with a massage in the zen garden besides the breathtaking pool.
With only 20 rooms, this is a boutique style wellness package where you will be well looked after by the family owners and wonderful staff.
In the evenings you can choose to eat at the on site restaurant that attracts many locals and serves home grown, organic and locally sourced food and wine from their own vineyard. Or if you want to head into Ibiza town, it's only a fifteen minute drive away so you never get that feeling that you are somewhere completely remote and in the middle of nowhere! A peaceful nights sleep followed by a deliciously healthy breakfast in the morning is guaranteed.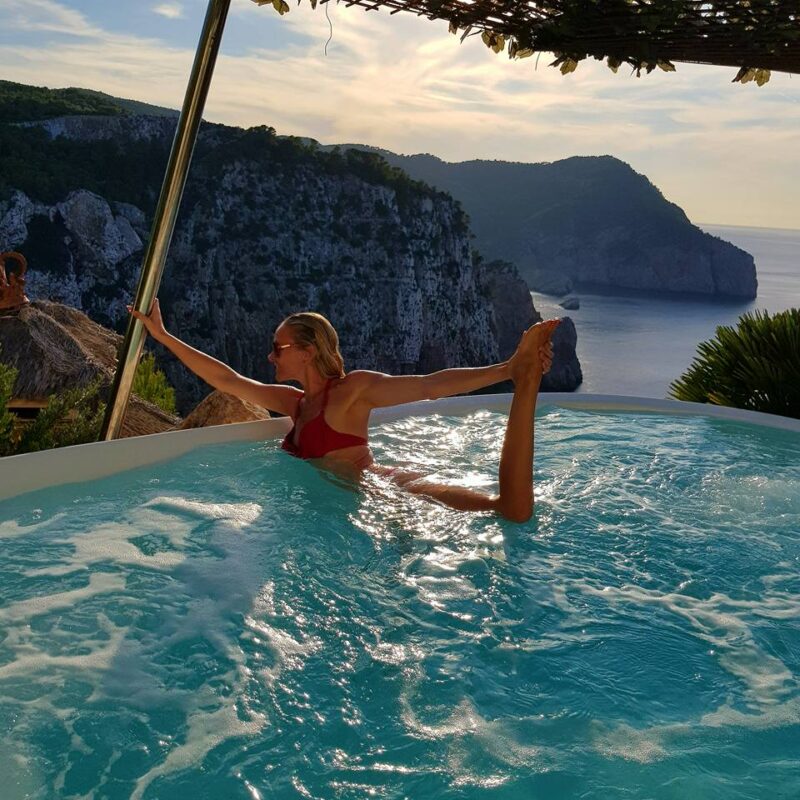 Set on a cliff top on Ibiza's northern shoreline the beautiful Hotel Hacienda Na Xamena offers elegant rooms with stunning sea views. The gorgeous spa, La Posidonia, named after the important seaweed that grows around the Mediterranean basin, is a sanctuary in which to feel reborn. A not to be missed experience is the thermal circuit with suspended waterfalls, named the Cascadas Suspendidas.
The one of a kind naturally based exterior parcours built around and within the Ibicencan nature, will revitalise all your senses and infuse a deep overflowing relaxation. The distinguished skin care brand SkinCeuticals and spa La Posidonia, have teamed up to bring the knowledge of science to a range of facial and corporal treatments available on the spa menu.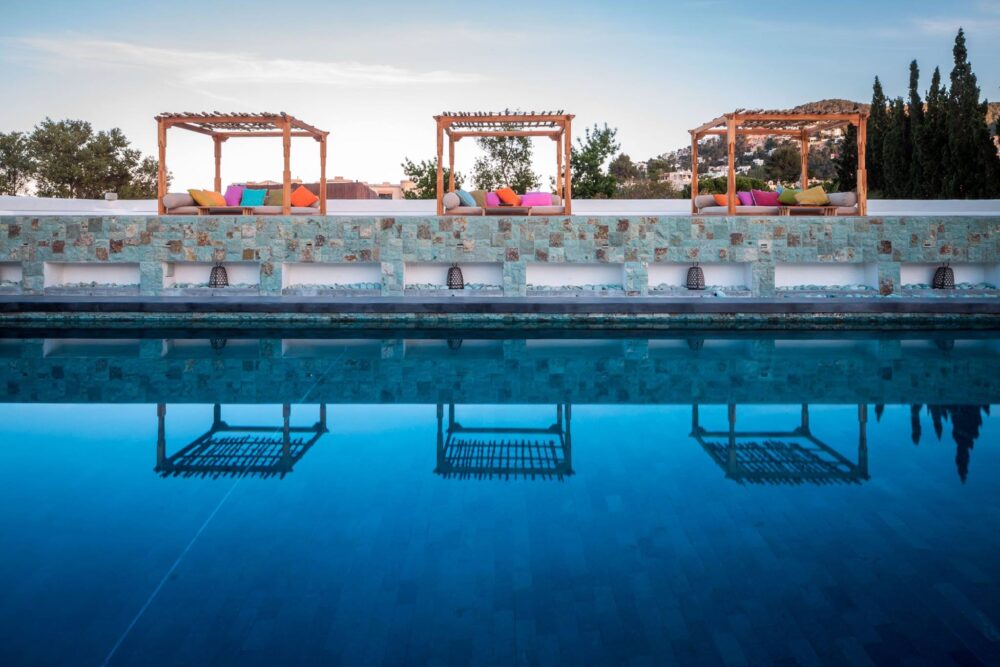 Located in Santa Eulalia, Ibizazen is an 18th century former small farm house which has been meticulously restored in and converted into a small private luxury boutique hotel, offering comfortable and modern accommodations with a warm bohemian touch.
The name 'Ibizazen' comes from 'Ibiza' on the one hand and 'Zazen' on the other hand. The aim of the 'Zazen' state of mind is 'just sitting'. Letting words, ideas, images and thoughts pass by without actually getting involved in them. A big red Buddha greets you at the door and there's an eclectic mix of modern art along with recycled artefacts and funky furniture. This is the place to retreat in tranquil surroundings and spend your days lying on one of the colourful and comfy Balinese day beds. The Asian inspired rooms come with kimino robes to lounge around in which beats your average white dressing gown.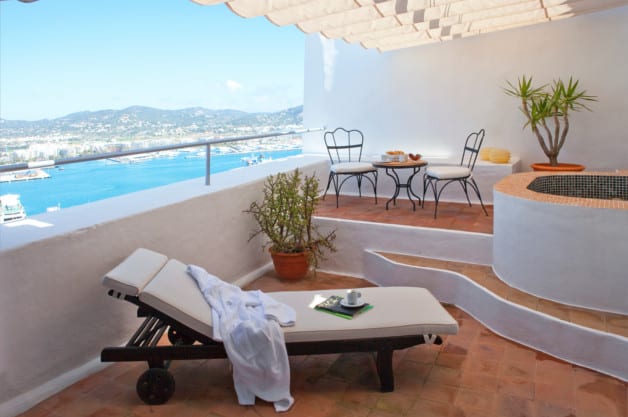 A hidden gem located right at the top of Dalt Villa, in the old town of Ibiza. It's worth a visit just for the 360 degree vievs of the Island. This quaint and charming four star hotel retains its original features from the fourteenth century along with luxury comfort. Rooms are beautifully designed, breakfast is served view a birds eye view over the harbour and there's an outdoor pool to cool down in after all that up hill walking.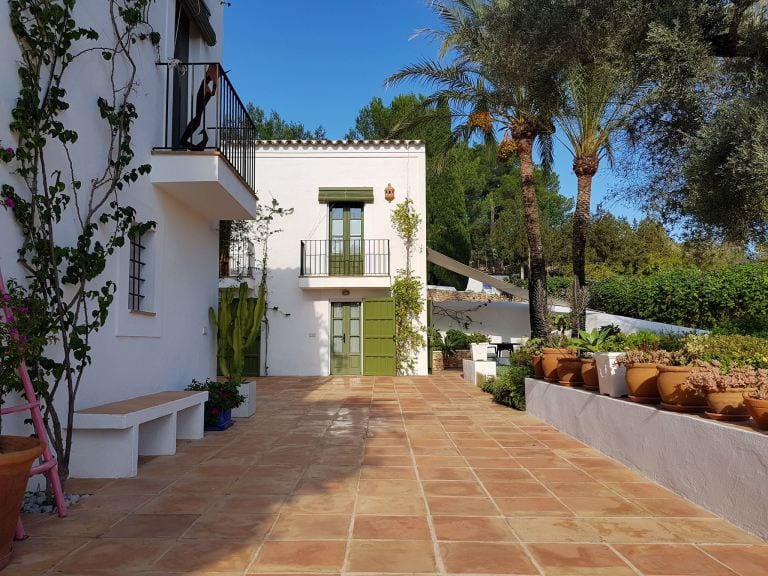 The gates of Gas Gasi open to reveal a serene and secluded garden, surrounded by pine forests, olive groves, almond and carob trees, and the most charming and beautiful "hotel with a heart".
As no outside visitors are allowed at the hotel, the discretion and privacy of the guests is of the upmost importance, giving it an exclusive more members club feeling. There's no pretentiousness around this though, just no crowds and restrictiveness.
The land is abundant and colorful and grows the vegetables and fruits that are served in the restaurant. There are two pools, one of them exclusively for children so that the adults and other guests without children always have their own space to relax in.
This is a hotel that will keep you on the health and wellbeing track. There is a spa that offers massages, body and facial treatments and complimentary yoga classes offered in the morning. With the help of a nutritionist, they have created the most deliciously healthy menu for vegans and vegetarians including organic acai bowl, scrambled tofu with tomato and a superfood juice menu available at breakfast!.
Mallorca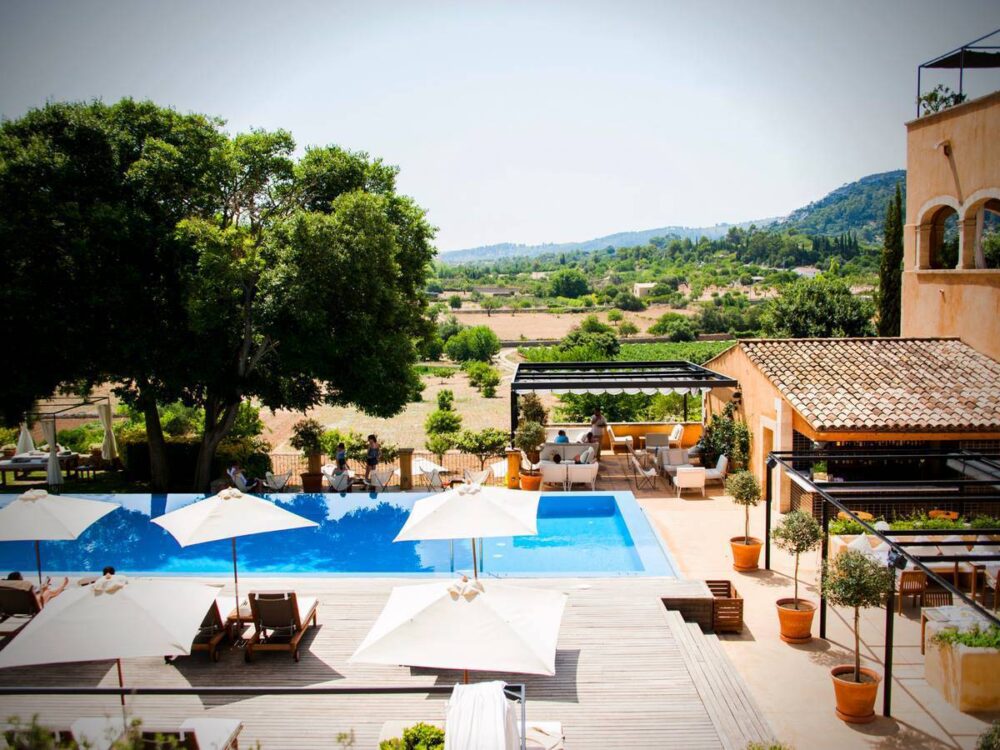 Son Brull in 5 words – Authenticity, Respect, Culture, Tradition and Heritage. Welcome to Son Brull Hotel & Spa, where you can enjoy the best of Mallorca in its most authentic and sophisticated way. A Jesuit monastery from the 18th century converted into a 5-star hotel with contemporary design and luxury.
A Luxury boutique hotel in Mallorca in a rural setting, at the foot of the Sierra de Tramuntana, near the best beaches, the Formentor Peninsula and the picturesque town of Pollensa. Three to six day spa, wellness, fitness and activity packages are on the menu such as cycling, personal training, hiking , golfing and cooking.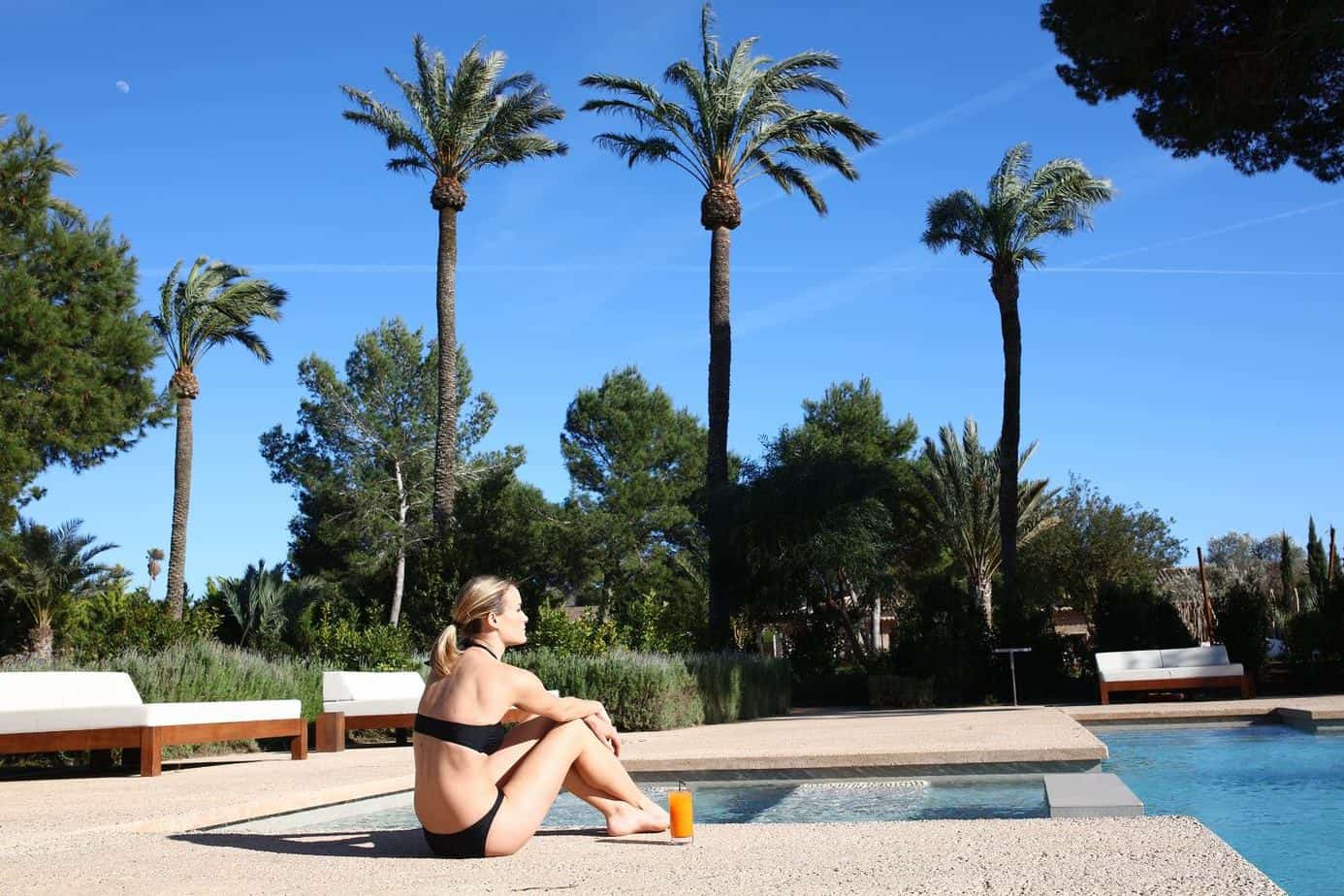 Fontsanta Hotel is a 5 star hotel located in Campos in the Southern portion of the island of Mallorca. It is much more than just an exclusive location: one is able to enjoy from the pleasure and welfare of the thermal spa, which offers the only natural thermal waters in the Balearic Islands.
Everything in Fontsanta Hotel and its environment leads to inspiration. The body and mind, the leisurely gaze and the pleasure of listening to the silence. Its creation appropriates the space offering guests a unique experience. Visitors are delighted to find, within each space, an original work of art, conceived by contemporary artists.
The sublime sculptures, installations, murals, drawings and paintings create dialogues in a natural, essentially Mediterranean environment. This is a collection of art created exclusively for the site. We invite you to quietly contemplate, and get your inspiration flowing. Short 3 day and longer 6 day packages are offered including, Detox-Yoga, Time for Wellness, Calm & Tranquility.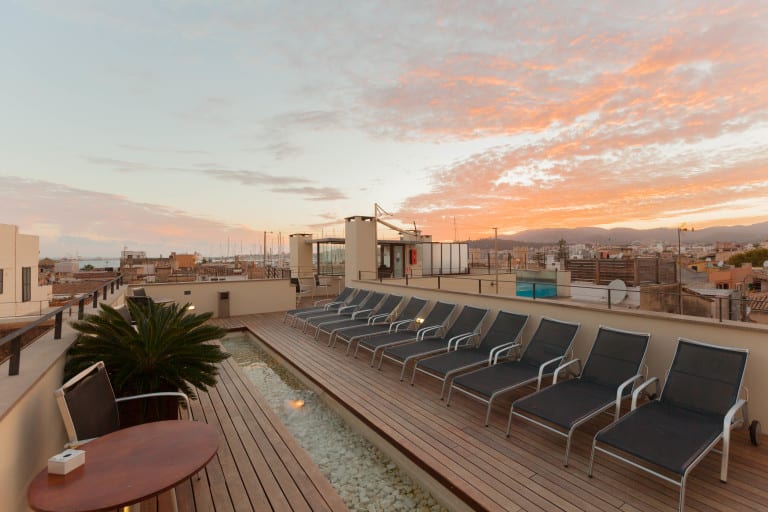 Healthy Eats
For recommendations on healthy places to eat in Ibiza check out this blog post by Can Planells Agroturismo. We have to say that we are a big fan of Passion Cafe, it's our favourite hang out, they do the most delicious food, smoothies, juices and heavenly to die for cakes!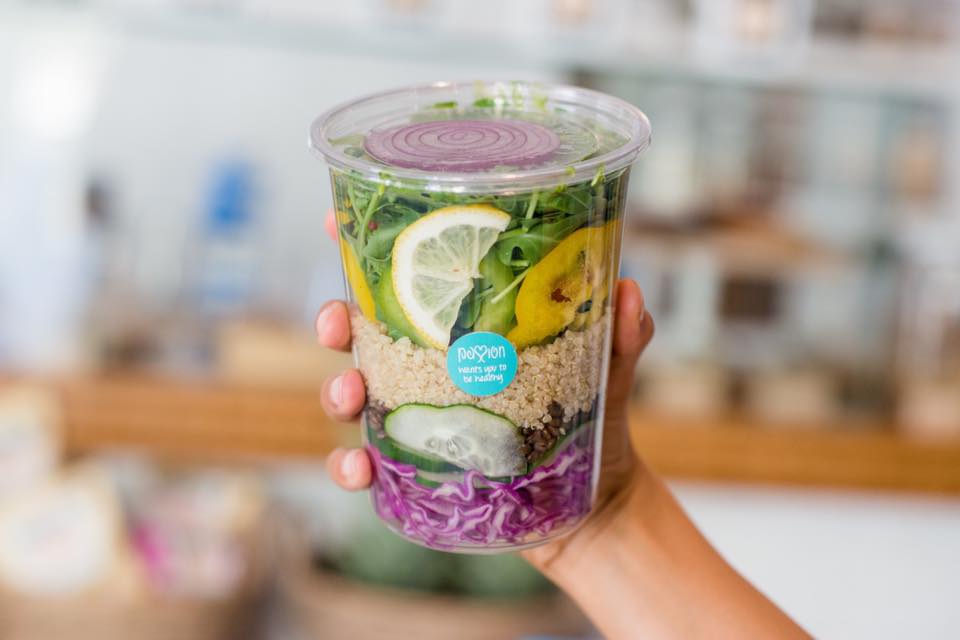 In Mallorca, read this guide from The Culture Trip on Palma's best vegetarian and vegan restaurants.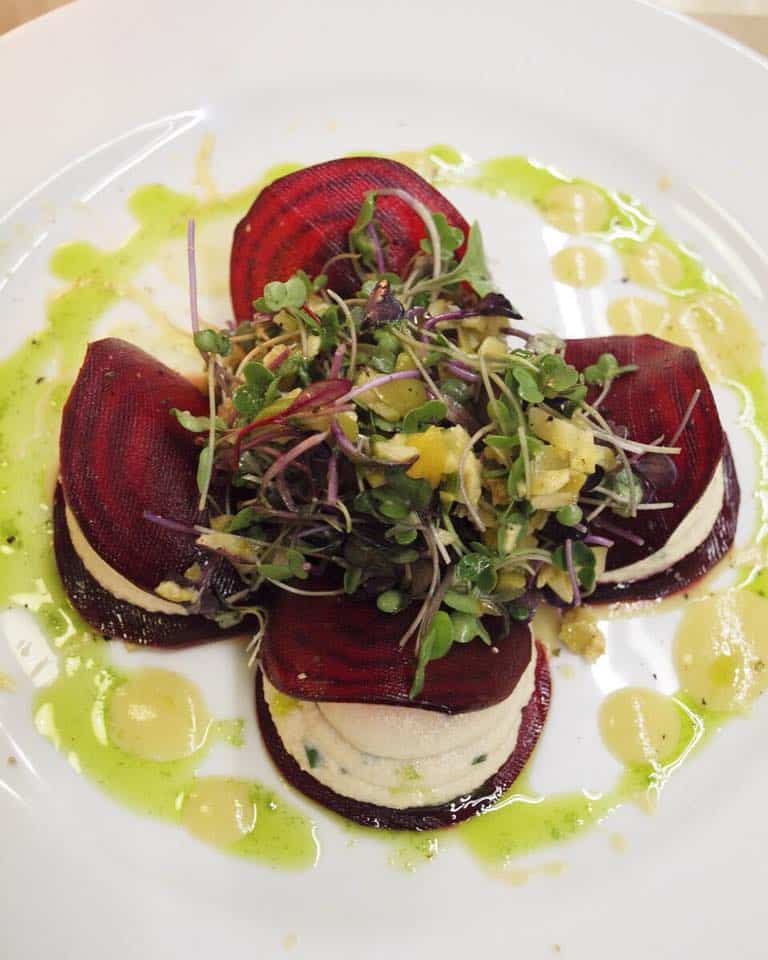 We recommend Happy Cow as a great resource for finding local vegetarian and vegan cafes and local juice bars. It's an app that you can download on your phone which lists all the great places to eat in the area with reviews and tips.
Get £20 off your first booking by signing up to our Wellness Travel Club!
For the latest travel inspiration follow us on Instagram @soulseedtravel. Get in touch with our retreat advisors to help you find, discover and book your perfect retreat. Namaste!