Treat yourselves to a holiday that will nourish you on every level, whilst having fun and sharing memorable moments with your friends, mothers and daughters.
Go on an uplifting retreat with yoga, meditation, good food (and wine if you fancy), spa treatment and massages and plenty of good vibes to keep you smiling, happy and healthy.
Retreats in Ibiza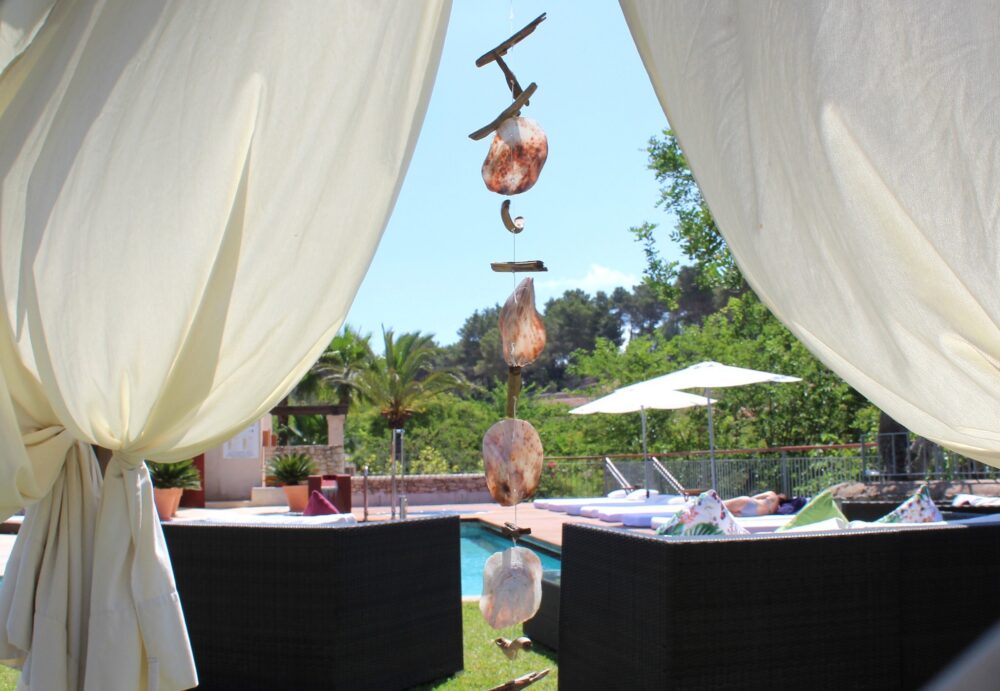 Can Lluc is one of those special and breathtakingly beautiful places, abundant with greenery, that has you feeling relaxed and radiating peacefulness within 24 hours.
Spend your days doing yoga, meditation and chilling by the pool on a big Balinese bed.
This wellness package includes 3 night's accommodation, a healthy breakfast each morning, daily yoga session and meditation and a relax hour giving complimentary access to the sauna and jacuzzi.
The Can Lluc is located just a few kilometres from Ibiza's lovely coves, with views of the sunset over San Antonio, and only 10 km from the cosmopolitan city of Ibiza and its magical nights.
Its location is one of its strong points; close to everything, yet still offering peace, tranquillity and privacy.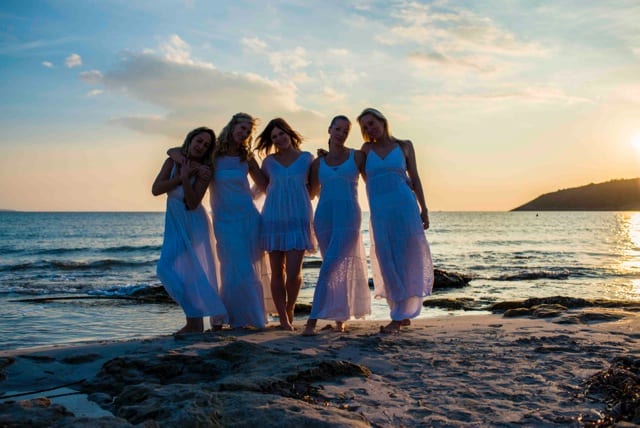 By the women of Ibiza, for women from all over the world, this retreat space is a sanctuary, a meeting point for like minded souls in need of nurturing and nourishment.
This nourishing retreat for women will take you on a journey to deeply soothe your nervous system starting with sweet healing holistic massages.
Wellness therapies will start to shift emotional and energy blockages and release negative beliefs and social conditioning.
You will be reconnected to the wisdom of your heart with advanced reiki and energy healing therapies.
Clarifying, intuitive soul coaching will enable you to become more selective about how you invest your time and energy, and more receptive to life's magical opportunities.
Retreats in England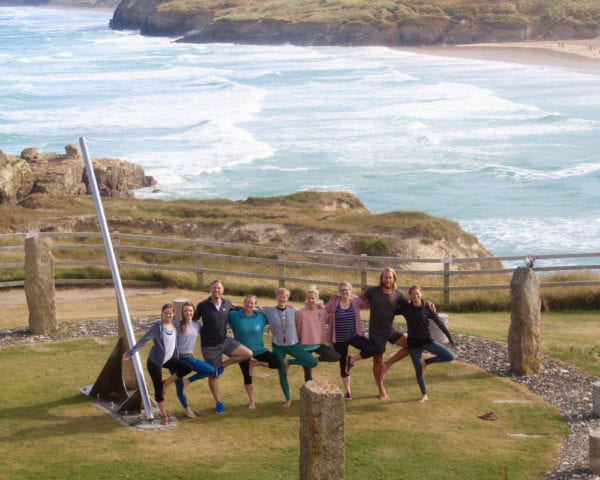 For a New Year's Eve retreat with a difference, join us in Cornwall for 3, 4 or 7 nights! This new year we have relocated to the beautiful area of St Agnes.
After the excess of Christmas, our New Year yoga retreat Cornwall is the perfect way to unwind, rest and recuperate and start 2019.
Gently cleanse and nourish body and mind this new year with 2 hours of energising yoga in the morning and after brunch, enjoy the many walks from the retreat, immerse yourself in the setting intentions workshop, journal, have a massage or soak in the hot tub.
Your accommodation in Cornwall is simply stunning. It is a traditional Cornish stone farmhouse that has been recently renovated to 5 star luxury.
Set in 15 acres of private grounds with a woodland with a stream running through it and rolling hills with breath taking views of the Mithian Valley.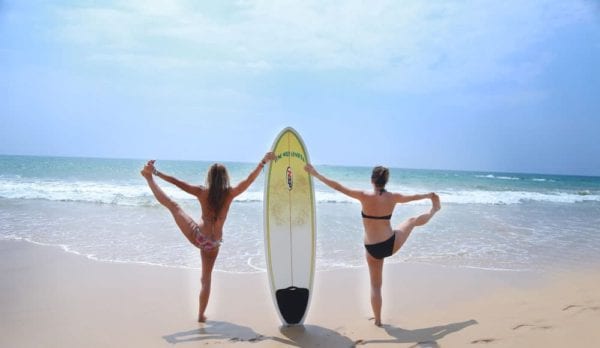 Join us for our Yoga Surf Retreat Cornwall for 3, 4 or 7 nights this summer. We have returned to Cornwall after a break, and we are so excited to share this adventure with you!
We have relocated to the beautiful area of St Agnes. This area is known for its outstanding natural beauty and from the TV series Poldark, so imagine a dramatic coastline with crashing waves and stunning beaches.
Our yoga and surf retreat Cornwall is very popular!. Energise with 1.5 hours of yoga in the morning and after brunch, the day is yours to be as active or relaxed as you like.
Try surfing, explore the gorgeous beaches nearby or treat yourself to a cream tea! Restore with 1.5 hours of yoga in the evening, followed by a two-course healthy vegetarian evening meal.
Whether you are a surf pro, a yoga pro or a complete beginner at either, the combination of yoga with surfing will enhance your balance, concentration and flexibility to help you get up on the board and stay on!.
Retreats in Marrakech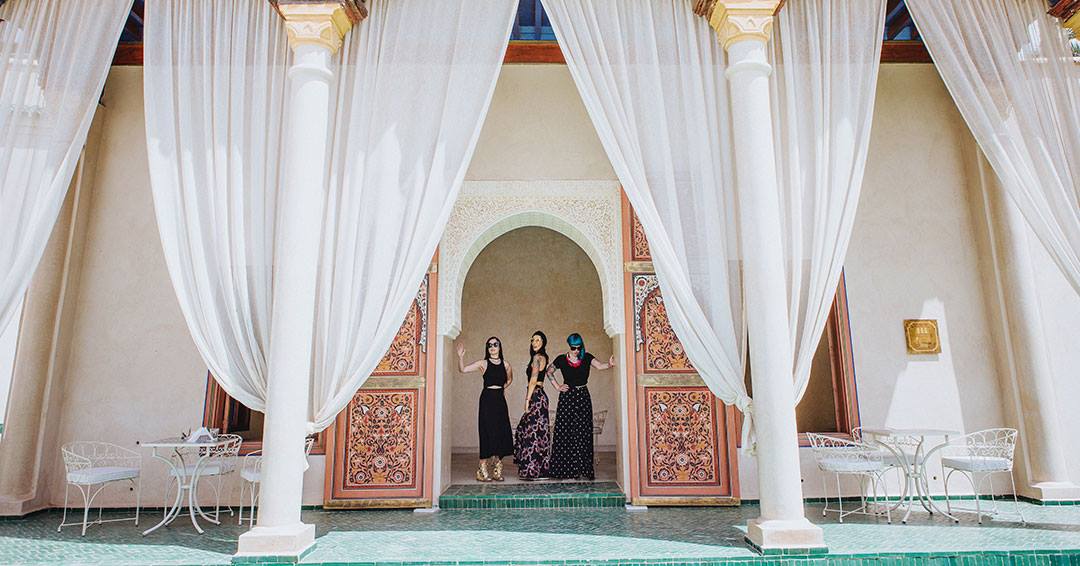 This is the ultimate 3 night Sex and the City Escape. It offers the opportunity to go away at any time you wish and to create your very own bespoke escape with a group of ten (more can be arranged) taking the entire riad exclusively.
The UK based owner, Lucia Silver, will work with you to design a program of perfectly balanced relaxing, adventurous and cultural activities that will nurture your body and romance your soul.
In Lucia's words, this is a "Gorgeous marriage of the radical self love we owe to our hard working-selves and the style, fun and cultural sophistication of Sex and the City".
All you need to do is tell us what you need and want and leave us to do the rest. Your only job is to get on a plane here and enjoy it.
In Lucia's work as a red carpet and wedding dress designer in London, Brides tell her all the time that they can't find anywhere original or distinctive to celebrate their hen with their best girlfriends.
Especially if they don't want it to involve stretch white limos, pink bunny ears and sweaty nightclubs.
Well that's no longer true! "Sex and the City" inspired and reminded us of the fun and importance of precious girlfriend time and Lucia wanted to create something really special at Dar to allow for just this.
The perfect, exotic, beautiful place to explore and adventure, shop until you drop and relax with your best gals.
Spa Breaks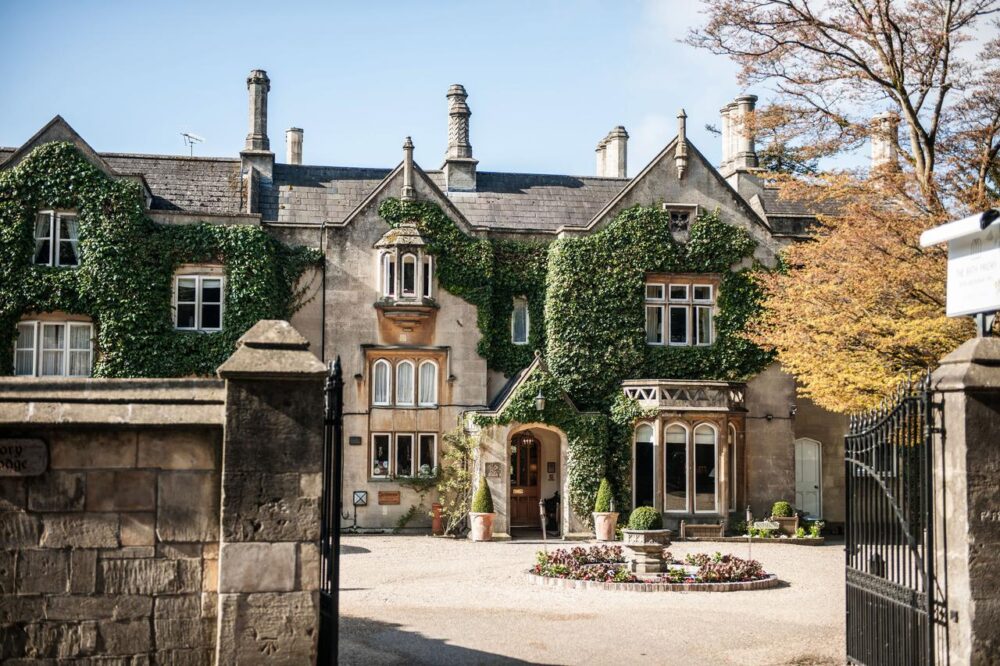 Just a short stroll from the centre of Bath (perfect if you intend on some retail therapy) The Bath Priory is a gorgeous country house renovated to a high standard and featuring a relaxing spa.
The Garden Spa features a luxurious indoor pool, sauna and elliptical steam pod. All of the products used in the spa are L'Occitane, with the scent of fresh flowers, aromatherapy essential oils and only the finest ingredients to leave you feeling good as new.
Choose from a range of treatments such as a facial, body scrub or a beauty treatment such as a manicure or pedicure.
Every room at the hotel is named after a flower and feature crisp white linens, modern decor and views over the gardens. Touches such as home-made biscuits, fluffy slippers and L'Occitane toiletries make your stay feel extra cosy.
A perfect hotel for the fitness fanatic and wellness traveller where you can still start the stay with a yoga class.
Designed by concrete architects, there are lots of outdoor areas to relax in, including a ground-floor courtyard with cascading greenery and beautiful lanterns.
The pod like and space-aged designed rooms are hightech and come with tablet storing DJ-curated playlists, customisable light settings and remote-control blackout screens.
The wraparound rooftop terrace on the 22nd floor is an Urban Oasis with wooden ceilings, plants, picnic tables and green sofas.
There's also a basketball court-inspired gym which features floor-to-ceiling windows and an outdoor yoga terrace.
Located in the funky meat packing district, Ink48 gets its name from being a former print building. The David Rockwell­ designed Kimpton hotel leads the way as an eco friendly establishment and has earned itself several green accolades over the years.
Rooms are spacious and beautifully designed – big windows, high ceilings, king sized bed, and an office spot to work from with sky scraping views.
For panoramic views of the city, the roof top bar 'Press Lounge' is the place to be, where socialites, fashionistas and business people mingle over a fancy named cocktail. Regarded as one of Manhattans rooftop bars it's a fabulous spot to watch the sunset.
For wellbeing needs every room comes with a yoga mat and there's hotel bikes to ride around town, and a 24-hour fitness centre.
And for pampering and relaxation there's the eco-friendly, tranquil zen inspired INKSPA that offers massages and treatments using Elemis products.
Retreats in Italy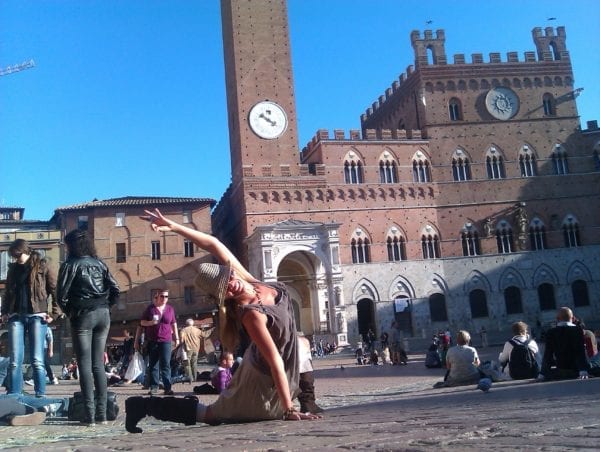 Join Silvia Mordini for her 7 Day Vino and Vinyasa Italian Yoga Tour Holiday. Silvia is a yoga teacher, healer, author and international guide who is passionate about Tuscany and has lived in Italy on and off her entire life, and is experienced in the culture!
You will be guests at Antico Borgo di Tignano recognized by UNESCO as a World Heritage Site focusing on Tuscan traditions. Stay in your own 10th century restored villa all with private baths.
Peacefully nestled into the hills with epic views of Casole d'Elsa and Volterra in the distance, this is the perfect entryway into the Tuscan countryside.
Some say you can fall in love with a place just as you can with a person. This is certainly true of Toscana! The tastes, sights and people of Tuscany will nourish your spirit and renew your sense of joy.
Experiencing life under the Tuscan sun is something that stays with you forever. In Italy, you slow down to enjoy each breath, each sip of chianti, each taste of antipasto.
You may in fact realize that you are actually home: the home of your heart. And life will never be the same after that.
Tuscany teaches us to savor each moment and live inspired by the details that might have otherwise passed us by. Silvia's years of guiding in Italy ensures that you will experience the joy of La Dolce Vita (The Sweet Life).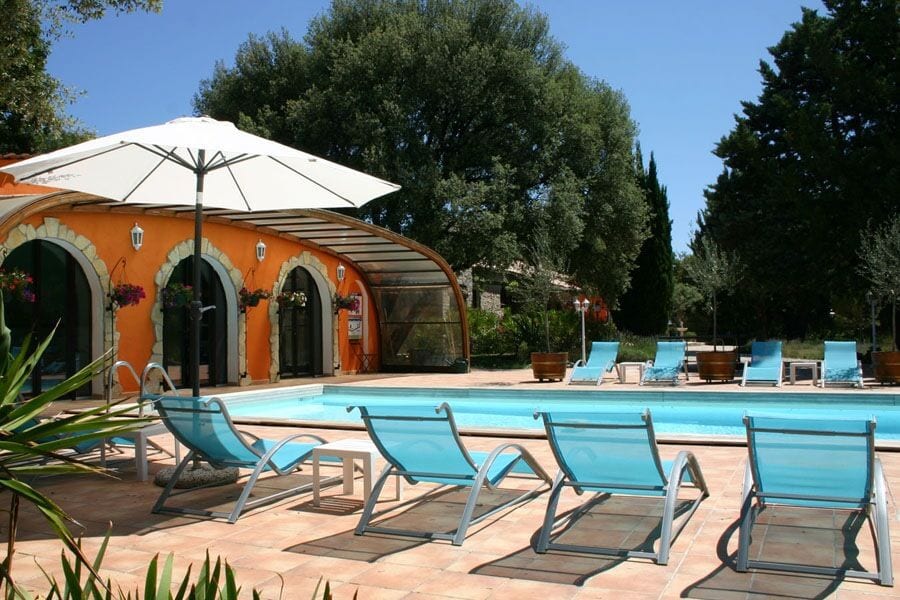 Join us for our Yoga, Spa & Culture Retreat in the South of France. Days on the Côte d'Azur, markets in Aix-en-Provence, lavender fields, and yoga overlooking the vineyards of the region of rosé – ending with a spa day of pure relaxation. Bastide Avellanne is the ideal location to visit Provence.
Situated only 30 minutes from the sea and from the Cote D'Azur between Cannes, St Tropez and Hyeres, with its hundreds of kilometers of white beaches, rocky capes and wild bays is considered the most beautiful coastline of France.
It looks just as you see in postcards, fields of lavender, medieval villages, chateaux, markets full of colours where you can find local products and exotic spices, lively small towns with a slow way of life.
Day trips will allow guests to add arts, culture, adventure, and natural beauty to their retreat experience.
Trips may include visits to small villages, large cities, and outdoor activities, even a gorgeous spa day in near the Cote D'Azur where guests can swim, enjoy a healthy lunch, schedule spa treatments, or simply enjoy the sun.
See smaller villages that few tourists go, and get a true education and taste of France with various tastings of regional wines, aperitifs and cheeses.
One full day will be spent on the French Riviera on the island of Porquerolles for free time to explore the beaches, hiking trails or town.
We will take a tour through the countryside to see the Gorges du Verdon, lavender fields and quaint villages.
Also, we will take a trip to the famous city of Aix-en-Provence. You'll enjoy a true Provencal experience with the markets, food, culture, and sites. Our final day will be spent relaxing at a beautiful spa in St. Tropez as well as a stroll through this famous harbor town.
Retreats in Florida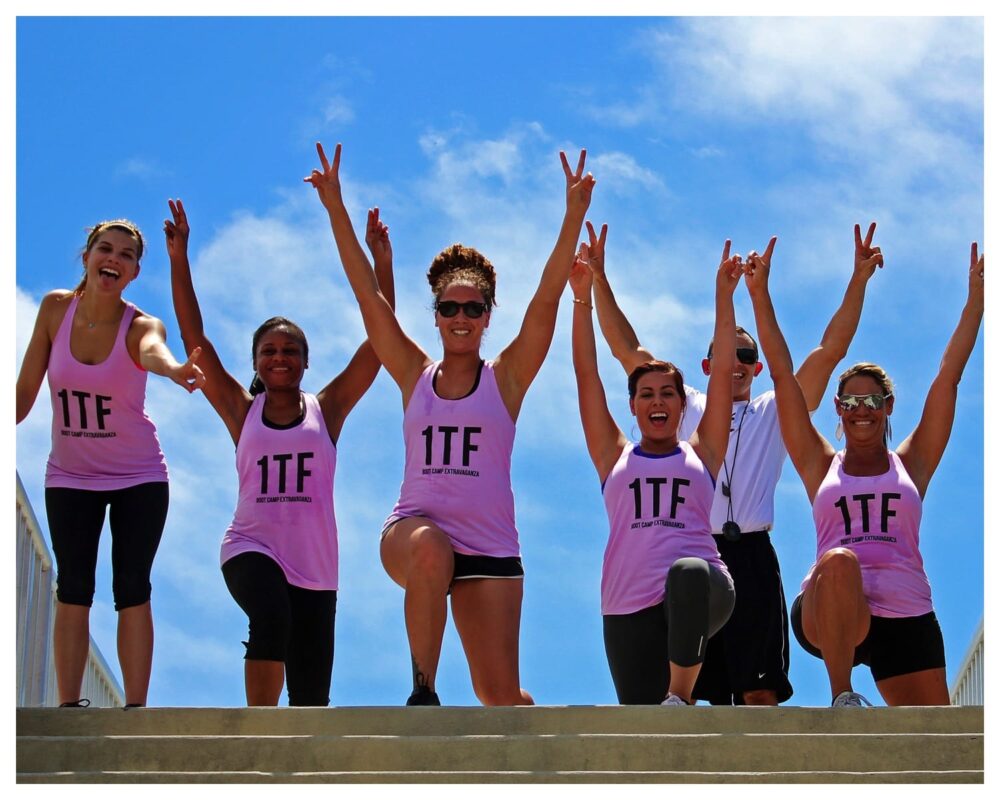 1Team Fitness is an all-inclusive fitness retreat based in St. Pete/Clearwater Beach, FL. We infuse fitness, fun and relaxation to create the ultimate "fitcation" combining multiple facets of training and outdoor fitness activities, all revolving around getting the results you want!
Our retreat is offered in St. Pete Beach and Clearwater Beach. With both beaches being ranked within the top 5 in the nation, your options have never been better!
We believe that establishing a great relationship with our guests from the start is vital to the success of their experience at 1Team Fitness.
Its also important in creating a special bond that will last long after they leave the program! Our trainers are attentive to your goals, and give you all the tools you need to succeed while being with you every step of the way.
Included in our retreat packages are beach front hotel accommodations, 3 health conscious meals each day, 5 hours of fitness activities each day(kayaking, yoga, paddle boarding, Pilates, spin, hiking, beach fitness, TRX, kickboxing and more!), spa treatment, 1Team Fitness Nike t- shirt, guest specific take home workout program, and great return incentive rates.
We believe in the notion that a true fitness retreat should be individualized and specific to each of our guests fitness levels and goals, not just thrown into a group of people to fend for themselves. Book your "fitcation" today and see why 1Team Fitness is Florida's number one fitness retreat!.
Having trouble choosing? Email us at retreats@soulseedmedia.com and one of our retreat advisors will help you find and book your perfect retreat.