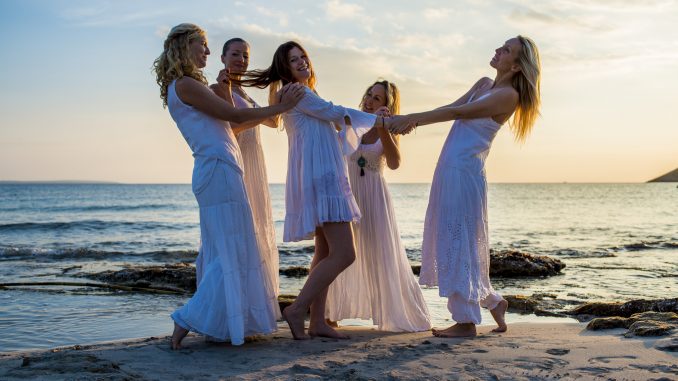 Treat yourselves to a holiday that will nourish you on every level, whilst having fun and sharing memorable moments with your friends, mothers and daughters.
Go on an uplifting retreat with yoga, meditation, good food (and wine if you fancy), spa treatments and massages and plenty of good vibes to keep you smiling, happy and healthy.
Retreats in Ibiza
Dates: Open all year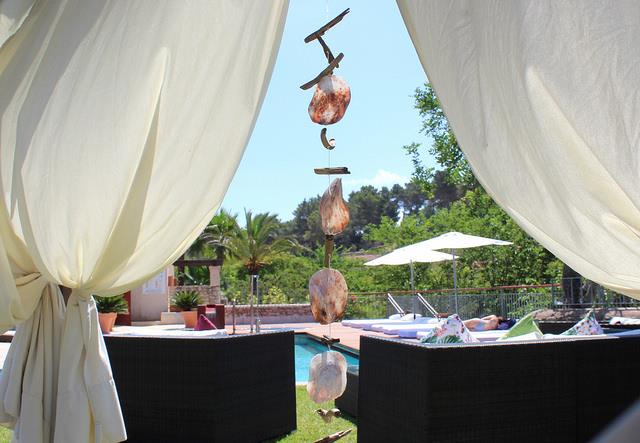 This is a relaxed yoga retreat program where you can spend your days doing yoga, meditation, chilling by the pool on a big Balinese bed and taking a sunset walk with a meditation on the top of the hill with panoramic views of the Island.
Can Lluc is one of those special and breathtakingly beautiful places, abundant with greenery, that has you feeling relaxed and radiating peacefulness within 24 hours.
A 200 years old rustic ranch that has been in the family for at least three generations was transformed into an agroturismo by owners and husband and wife team Tina and Lucas, along with a local architect who spent three years creating their luxurious boutique spa hotel with 20 rooms.
The main building was built by Lucas's grandfather and his family home for generations. The attention to detail within the renovations retains a strong sense of the traditional through Ibicenco architecture, rustic stone walls, wooden ceilings and beautifully restored décor. At sunset you can enjoy a walk in nature to enjoy the fabulous panoramic views over San Antonio.
Dates: 21st – 26th September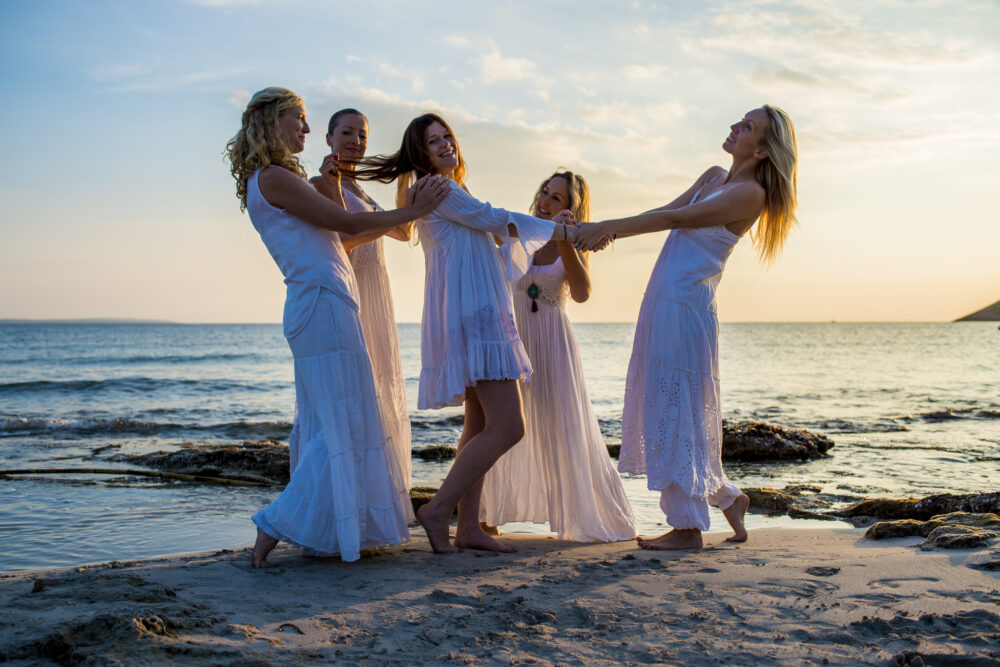 A nourishing retreat for women designed by the women of Ibiza, for women from all over the world. This retreat space is a sanctuary, a meeting point for like minded souls in need of nurturing and nourishment.
With flowing intuitive yoga and deeply-healing voice essence journeys, we invite you to come find your voice, live your potential, express your wishes and needs.
Feel the relief and release as you share in timeless practices of sitting in circle, learn to appreciate and honour your cycles and rhythms and harness the power of rituals and ceremonies to connect deeply to your wisdom and the magic of a fully supportive female community.
Lighter, brighter insights arise as you surrender to the transformational energies here. As the masks come off, expect to feel more awake and aware of your emotional self.
This nourishing retreat for women will take you on a journey to deeply soothe your nervous system starting with sweet healing holistic massages. Holistic wellness therapies will start to shift emotional and energy blockages and release negative beliefs and social conditioning.
You will be reconnected to the wisdom of your heart with advanced reiki and energy healing therapies. Clarifying, intuitive soul coaching will enable you to become more selective about how you invest your time and energy, and more receptive to life's magical opportunities.
♥ Book retreats in Ibiza
Retreats in Greece
Dates: 21st -25th September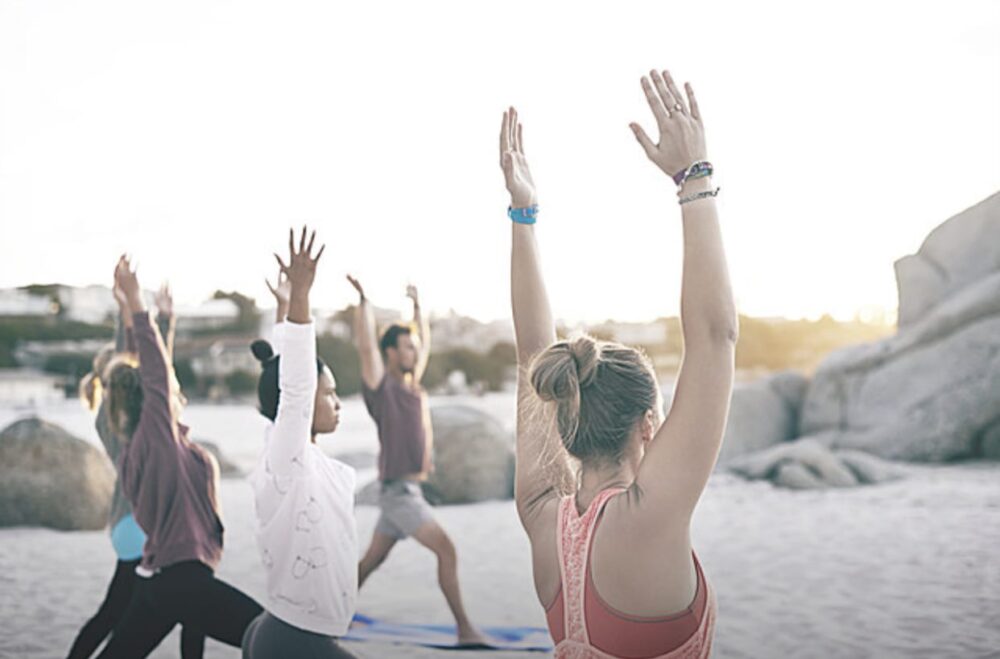 By the time the boat arrives at the tiny Port of Koufunisia you can take your shoes off and never wear them again. That's the spirit of the island, carefree and easy.
Crystal clear turquoise blue water, sandy velvet white beaches, fresh Aegean air without any toxin exhaust fumes and the holistic fertile soil of this conscious island of Koufunisia is what charges everyone of us up and fill us with new energy.
Your body, mind and soul are not only going to recharge from your stressful daily business life, you will also will detox yourself from all bad habits clear your thoughts and becoming lighter whiles shining your biggest brightness.
During these five days, I'm sharing my passion for yoga, meditation, fire ceremonies and ecstatic dance movements along with simple ayurvedic tips for living a healthy life. There is no better place for all these to happen than the magical island of Koufunisia.
A place where the meaning of greek summer is condensed in 3km golden sand, mythical caves and the most glittery water in the Aegean. This island adventure is the best recipe to start living your life to the fullest. Walk everywhere you want, swim from one beach to another, and be on your swimsuit all day long.
This is the absolute hideaway for those who want to escape the ordinary and get a taste of what real island life means! By the time you leave, you'll be a local!
Retreats in Portugal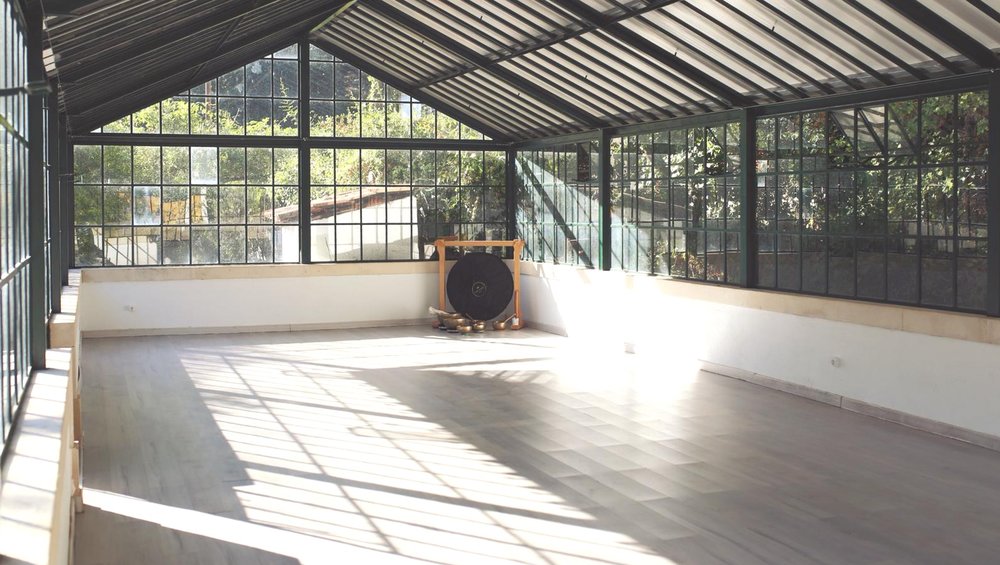 Come enjoy the Shanti Space, our Portuguese Quinta retreat sanctuary located in Mafra, only 30 minutes away from Lisbon. This gem of a retreat space as it is located on a farm within walking distance of National Parks, and only 15 minutes drive from Ericeira beach, which offers beautiful waves suited for surfing
This five day retreat will enhance your inner sparkle through inviting the practices in that allows your nervous system to relax and your highest self to shine.
Observe how beautifully being in your "element' shifts your external world! We will be bathing in the abundance of nature as we practice yoga, dance, meditation and wellness on the farm in our dedicated, fully equipped, practice space.
Your day will consist of two daily movement classes with ample free time to catch some waves, book a wellness service, or check out the nearby (walking distance!) National Parks.
Get excited! A day excursion to the colourful Pena Palace in Sintra is included. The Palacio Nacional da Pena is one of the finest tourist attractions in Portugal and exemplifies the 19th century Romanticism style of architecture.
The palace is a mix of vividly painted terraces, decorative battlements and mythological statues, all of which stand at stark contrast to the lush greens of the Parque de Pena forest. You will enjoy a chartered bus and packed organic lunch on this special adventure.
Experience our Signature Enhance Your Inner Sparkle Essential Oil Class where you will get hands-on with your new 10 pack of therapeutic grade essential oils. During this class you'll learn easy-to-integrate tips and tricks on clean living and natural health solutions. Come, re-connect with your self love and sparkle in Portugal. We would love to have you.
Retreats in England
Dates: 12 – 14 July, 16 – 18 August
Give yourself a well deserved break and join us on our UK Summer Yoga wellness retreat in Oxfordshire where you can unwind, relax, and cleanse body and mind.
Stay in our gorgeous manor house and enjoy the peace that the meditation practices bring to you during the silent walk and in the yoga classes, and feel the body loosen and open up with the asana practices.
Situated alongside one of the Oxfordshire canal routes, Thrupp is a pretty and thriving village. If you are feeling adventurous take a canoe and paddle down the canal or hire a canal boat for the afternoon!
Explore the local surroundings and enjoy being in the countryside away from the frenetic pace of life in your day to day. Enjoy a massage from one of our expert in-house therapists or take time to rest and just be.
Revive in the morning with energising yoga in our beautiful yoga space and the day is yours to unwind in the grounds or explore and even take out a canoe! Evening yoga can be outside on the lawn to the dusk light.
.
Dates: 23rd – 26th August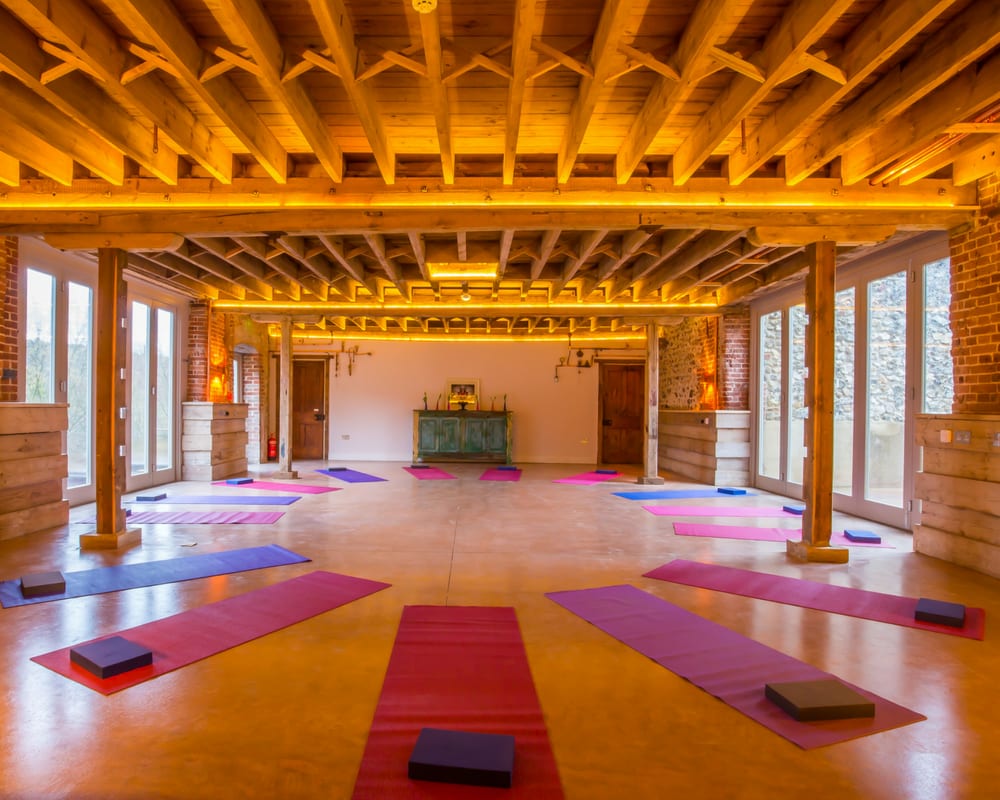 Join us for our August Bank Holiday Yoga, Wellness and Meditation Retreat in Norfolk. Held at our stunning barn venue set in private grounds, with opportunities for wild lake swimming, exploring the Norfolk countryside, and experiencing all that summer have to offer.
The August bank holiday is the perfect time to unwind, relax and cleanse body and mind. Stay in our gorgeous courtyard barn rooms and enjoy the deep relaxation and new found energy a weekend yoga, meditation, and pranayama can bring you.
Feel your body loosen with each class and in the afternoons choose to relax by the swimming lake, read under a tree or go for a long walk and feel invigorated by being in such beautiful surroundings.
Explore the local surroundings and enjoy being in the countryside away from the frenetic pace of life in your day to day. Enjoy a massage from one of our expert in-house therapists or take time to rest and just be.
Holkham beach is nearby for those who would like a beach day in our free time. This retreat is suitable for anyone who'd like a weekend away with wellness, healthy food and yoga. Beginners are welcome as well as all ages.
♥ Book retreats in the UK
Dates: open all year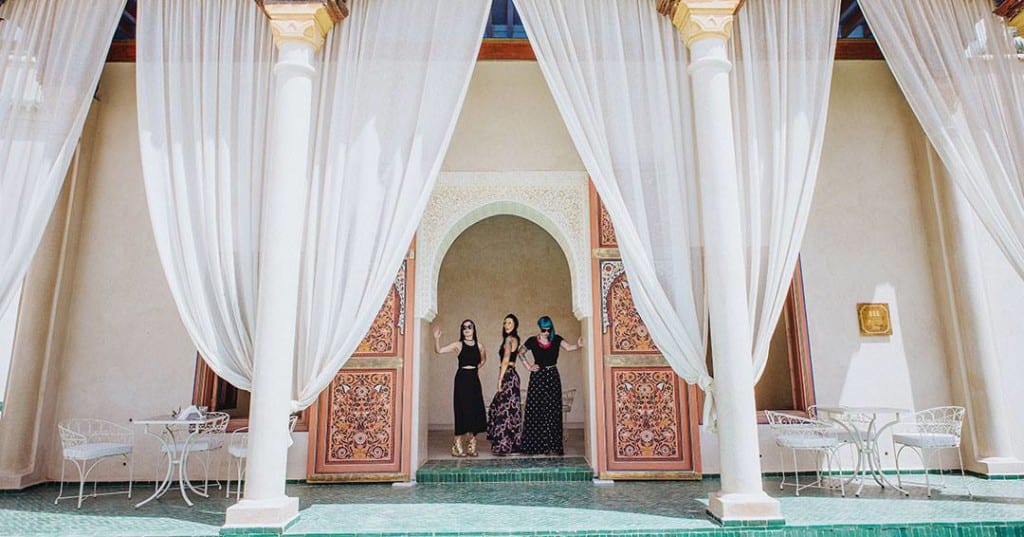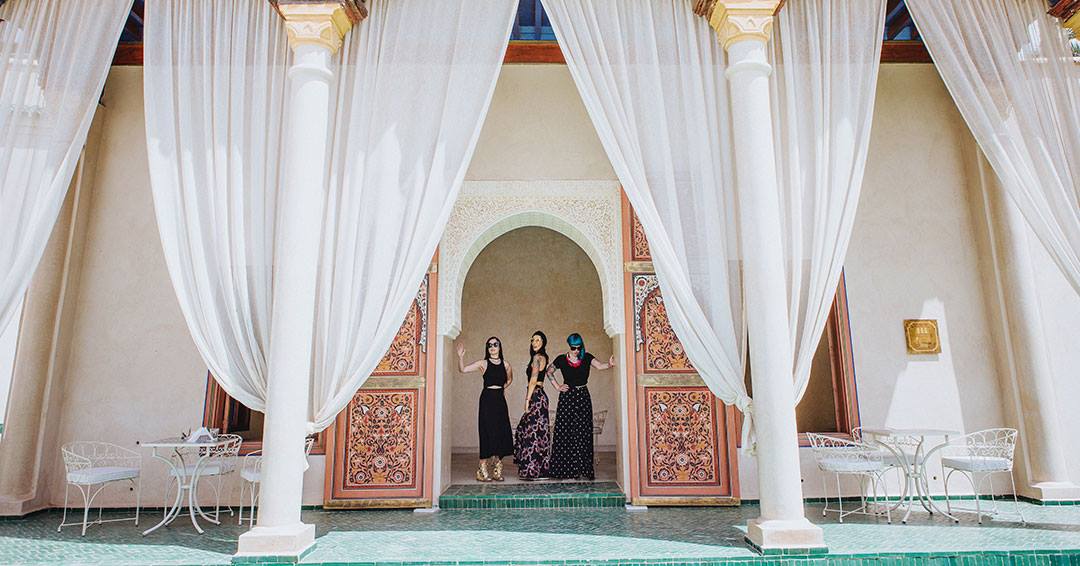 This is the ultimate 3 night Sex and the City Escape. It offers the opportunity to go away at any time you wish and to create your very own bespoke escape with a group of ten (more can be arranged) taking the entire riad exclusively. Marrakech is the perfect, exotic, beautiful place to explore and adventure, shop until you drop and relax with your best gals.
The UK based owner, Lucia Silver, will work with you to design a program of perfectly balanced relaxing, adventurous and cultural activities that will nurture your body and romance your soul.
In Lucia's words, this is a "Gorgeous marriage of the radical self love we owe to our hard working-selves and the style, fun and cultural sophistication of Sex and the City". All you need to do is tell us what you need and want and leave us to do the rest. Your only job is to get on a plane here and enjoy it.
In Lucia's work as a red carpet and wedding dress designer in London, Brides tell her all the time that they can't find anywhere original or distinctive to celebrate their hen with their best girlfriends.
Especially if they don't want it to involve stretch white limos, pink bunny ears and sweaty nightclubs.Well that's no longer true! "Sex and the City" inspired and reminded us of the fun and importance of precious girlfriend time and Lucia wanted to create something really special at Dar to allow for just this.
Dates: 30th June – 6th July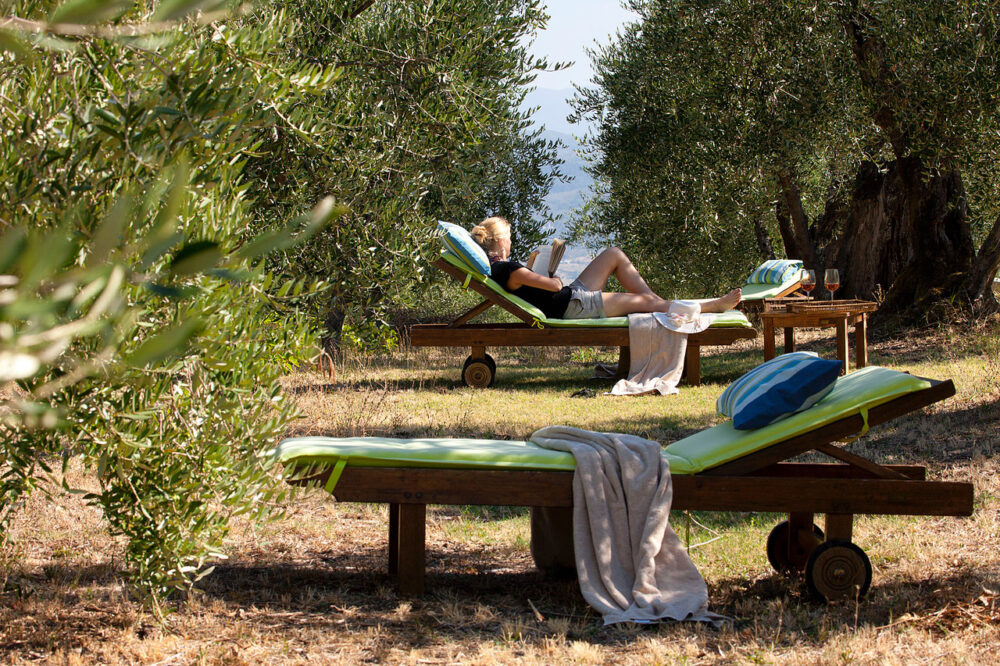 On this Luxury Yoga, Food and Adventure Retreat in Tuscany your days will be a perfect blend of exploring the Art Cities of Italy: lingering with iconic art, architecture, and design punctuated with wine, food, fashion, and fun. You will experience the real sensuousness of Tuscany and understand why it is on everyone's bucket list!
This week is all about recharging through reverence for nature, delight in culinary magnificence, inspired yoga and meditation practices and cultivating community.
Some say you can fall in love with a place just as you can with a person. This is certainly true of Toscana! The tastes, sights and people of Tuscany will nourish your spirit and renew your sense of joy.
Experiencing life under the Tuscan sun is something that stays with you forever. In Italy, you slow down to enjoy each breath, each sip of chianti, each taste of antipasto. You may in fact realise that you are actually home: the home of your heart. And life will never be the same after that. Tuscany teaches us to savour each moment and live inspired by the details that might have otherwise passed us by.
We will move at a relaxed pace; participation in any event is not mandatory and there will be plenty of time offered to explore on your own, read a great book, go on a horseback ride on the over 200 acre estate, hike through the vineyards or lounge by the pool getting the best tan of your life.
This week is all about pleasure. We will move at a relaxed pace; participation in any event is not mandatory and there will be plenty of time offered to explore on your own, read a great book, go on a horseback ride on the over 200 acre estate, hike through the vineyards or lounge by the pool getting the best tan of your life.
♥ Book retreats Italy
Retreats in France
Dates: 14th – 22nd September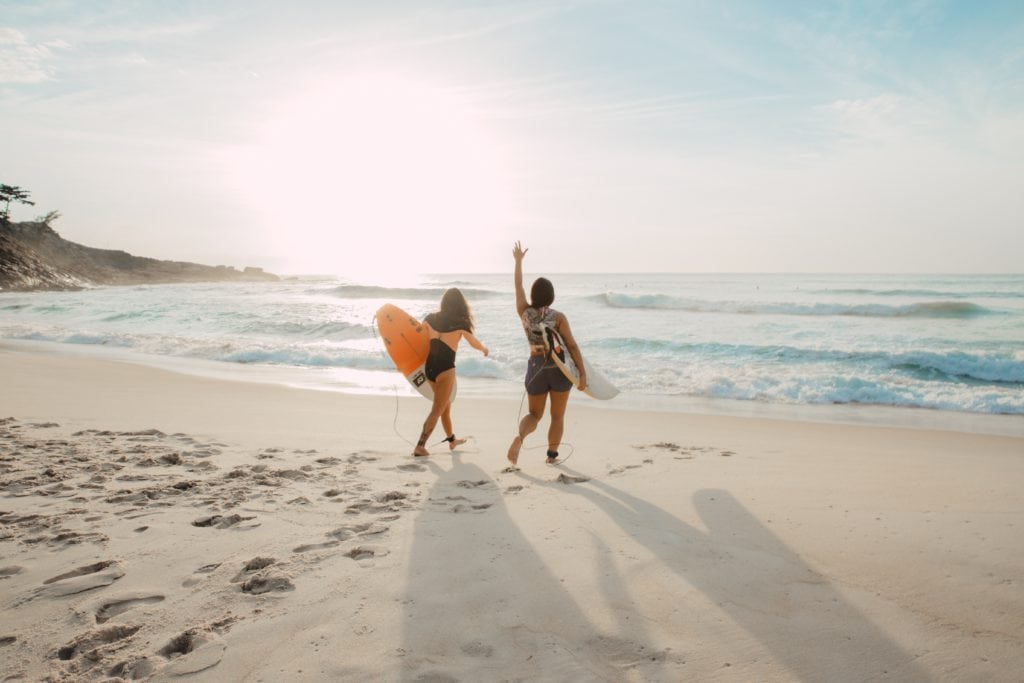 Our empowerment wellbeing retreat for women is a combination of an empowerment workshop, surfing, yoga, meditation and healthy, organic, low carb food. On this retreat you will increase your energy levels, boost your confidence and get you back in charge of your life. We will challenge you to get out of your comfort zone while also enjoying life and dancing in the rain.
The main focus is on the Empowerment Workshop to expand your imagination and encourage you to chase your dreams. We use surfing, yoga and meditation as a tool to bring you in a relaxed, open state of mind and henceforth improve your coaching experience. The environment and the culinary pleasure are the cherry on the cake
If you are women between 25 –90 years of age, open minded, ambitious, passionate, active and interested in connecting with other like-minded women, ready to challenge yourself, looking to challenge yourself and experience life to the fullest, then book with us and prepare to feel flow, and grow.
♥ Book retreats France
Retreats in Florida
Dates: open all year round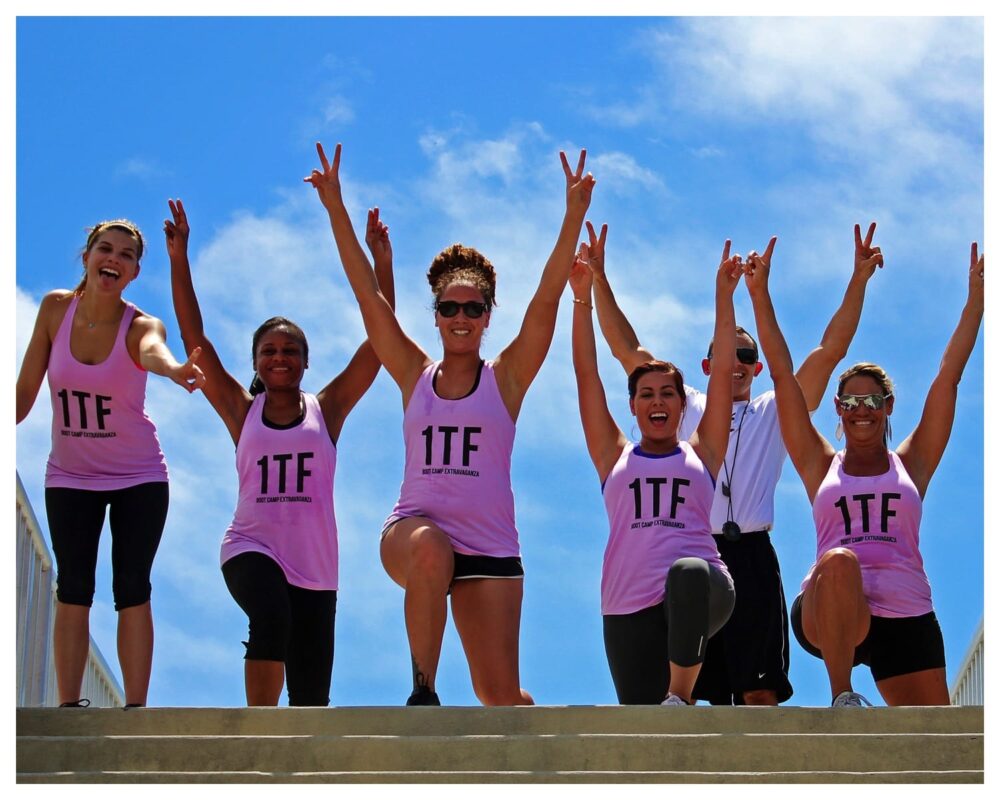 1Team Fitness is an all-inclusive fitness retreat based in St. Pete/Clearwater Beach, FL. We infuse fitness, fun and relaxation to create the ultimate "fitcation" combining multiple facets of training and outdoor fitness activities, all revolving around getting the results you want!
Our retreat is offered in St. Pete Beach and Clearwater Beach. With both beaches being ranked within the top 5 in the nation, your options have never been better! We believe that establishing a great relationship with our guests from the start is vital to the success of their experience at 1Team Fitness.
Its also important in creating a special bond that will last long after they leave the program! Our trainers are attentive to your goals, and give you all the tools you need to succeed while being with you every step of the way.
Included in our retreat packages are beach front hotel accommodations, 3 health conscious meals each day, 5 hours of fitness activities each day(kayaking, yoga, paddle boarding, Pilates, spin, hiking, beach fitness, TRX, kickboxing and more!), spa treatment, 1Team Fitness Nike t- shirt, guest specific take home workout program, and great return incentive rates.
We believe in the notion that a true fitness retreat should be individualized and specific to each of our guests fitness levels and goals, not just thrown into a group of people to fend for themselves. Book your "fitcation" today and see why 1Team Fitness is Florida's number one fitness retreat!.
Having trouble choosing from our collection of healthy and uplifting retreats to take your girlfriend on? Email us at retreats@soulseedmedia.com and we will help you find and book your perfect retreat. Follow our travels on Instagram @soulseedtravel.