Feeling spontaneous or desperate for a healthy holiday to get you back into shape? Then pack your bags for one of these last minute retreats taking place in  September, October and November.
Last Minute Retreats in Greece
Be energised and inspired on this trip of a lifetime and join us on our 7 day Santorini yoga retreat. Enjoy flowing vinyasa practice, gentle restorative sessions and rejuvenating meditation.
This rejuvenating 7 day Santorini yoga retreat programme combines vinyasa yoga, restorative yoga and meditation to take you on an incredible journey of wellbeing and discovery in stunning Santorini.
From your arrival in Greece you can feel at ease and enjoy the wonders of this glistening jewel of an island, safe in the experienced hands of our team. We look forward to welcoming you, supporting you and guiding you through this incredible wellbeing experience.
As well as the expert teachings you will also find yourself rebalanced by the beautiful nature of Santorini, with inspiring walks and views all around.
You can take in the stillness, soak up the Greek sunshine and enjoy the energy of this special island, allowing yourself the time and space to invite relaxation and wellbeing in.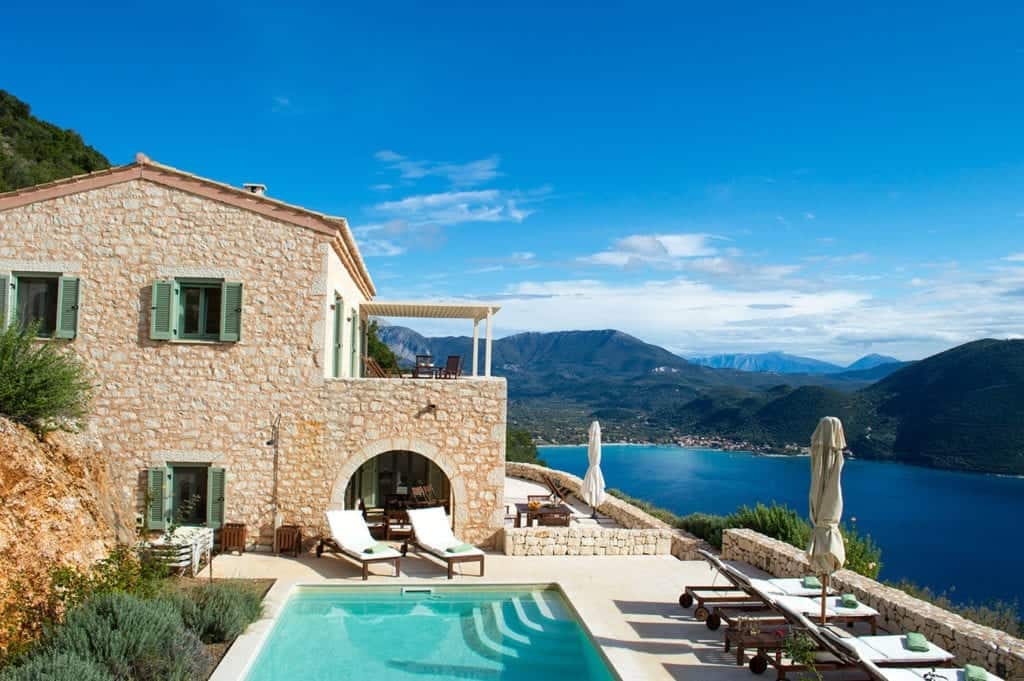 Join us for a beautiful and transformative Indian Yoga and Alchemist Meditation experience in the scenic backdrop of Lefkada Islands, Greece.
Learn to go inside through deep Buddhist meditation and classical yoga in order to release our blockages and undo the cycles of our past, while simultaneously applying this powerful knowledge in order to heal the body through tantra, ayurveda and reflexology practices.
Winner of the Luxury Travel Guide Awards 2017 for Asia and Australia region and Service Excellence by Tripadvisor this is an intensive spiritual experience, where with the back drop of pure nature you can learn to go inside.
Let go off the pain, the cycles of limitations and expand beyond your original self through simple direct work on and into the mind which the Yogis have practiced for thousands of years.
There are opportunities to work directly with the Zen master and seek Transcendental appointments and therapies from him during the retreat.
Come, allow yourself the change you have always wanted, but did not know how to create. This retreat is immerse and content rich, suitable for the student who is ready to form his her spiritual path.
Our luxurious back drop if the Urania Luxury Resorts, standing on top of a mountain overlooking the 7 Ionian Islands and the beautiful Ionian Sea.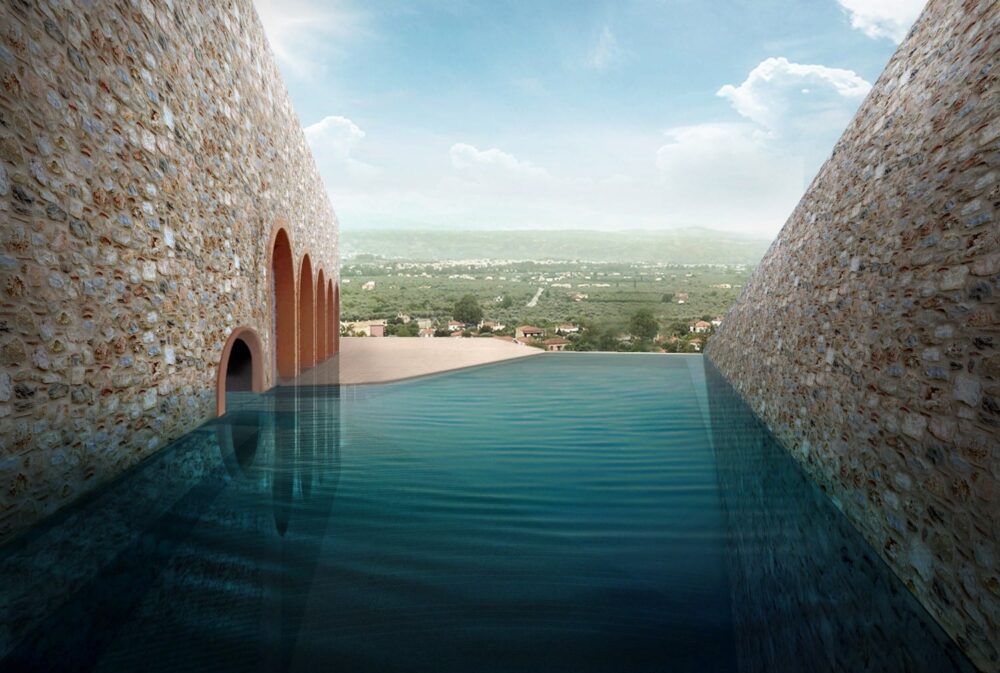 The Euphoria Emotional and Physical Transformation Retreat is our signature intensive retreat and aims to improve your overall state of emotional wellbeing and bring harmony to your life.
By addressing all levels – physical, emotional and spiritual – it assists your self-reflection and contemplation and enhances your evolutionary journey towards self-awareness and illumination.
The Ancient Hellenic and Chinese civilisations observed the cosmos and human organisms and developed philosophies that in detail describe both. Most of the principles of these philosophies have been confirmed by today's science.
Euphoria Retreat's concept stands on these two pillars of ancient wisdom, which describe how energy flows in our body and how the body is influenced by the cosmos, giving guidance that derives from thousands of years of experiences on how to live a euphoric and healthy life.
Modern evidence-based science provides clear answers on whether something is valuable or not, and gives information on a biochemical level regarding what is needed to support wellbeing – vitamins, minerals etc – and uses medicine to cure and set a safe basis for complementary and alternative medicine.
In this way, Euphoria Retreat has developed wellbeing programmes that centre around the five elements of earth, fire, water, wood and metal and their related energies and emotions, with treatments designed to bring balance by addressing the three levels of existence (emotional, physical and spiritual).
On a daily basis, you will explore your relationship to each element (water, wood, fire, earth, metal), with physical/energy treatments as well as in intimate group sessions. The program also includes nutritional assessment through innovative technologies.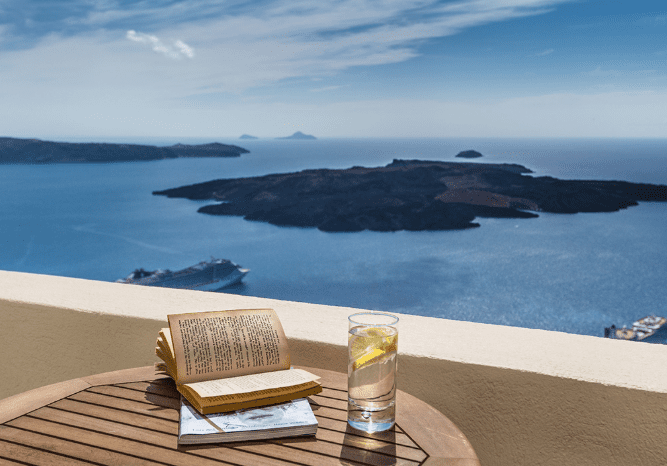 Join us for a magical and transforming small-group Retreat experience of 5 days of Yoga, Meditation, Sailing and Hiking on the famous Greek island of Santorini, staying on a beautiful private villa overlooking the stunning volcano view!
On one of the days we will sail with a private catamaran to the Santorini caldera, have our meal on board, enjoy the sun and have the chance to swim to the hot springs. Our evening session that day will include meditation and yoga nidra right next to the volcano.
One evening, we will hike to Skaros rock where we will enjoy our evening session at the edge of an amazing view witnessing the setting of the sun.
This retreat is for everyone. From beginners to the more advanced students. Your teacher Athina has many years' experience of Hatha yoga and will accommodate you based on where your level of practice is at the moment.
During your stay you will be able to book and enjoy personal Thai Massage or Reiki sessions with Athina.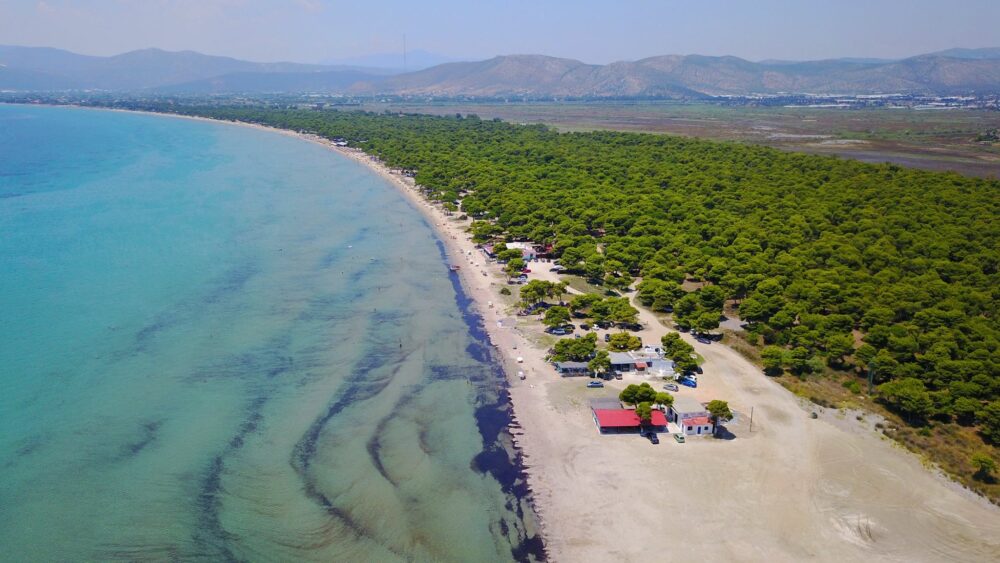 Are you feeling tired and sluggish, in need of a reset? Do you want to feel invigorated and revitalized?
Join us at Nefeli Nine Luxury Fitness Retreats in Dikastika, Greece for a 6-day, 7-night escape. Stay in a beautiful villa with sea views just 45 minutes from Athens airport. Wake up to the sound of the waves lapping the shore.
Switch off and fully immerse yourself for a week of mind and body relaxation, which will include, among other, hiking through historical paths with amazing views and flora to dazzle, sunset yoga sessions, and nourishing and delicious meals eaten while overlooking the Mediterranean Sea.
Regardless of whether your goals are weight loss or improved physical performance, our retreats are tailored for your needs. First and foremost, we focus on your wellbeing through fun outdoor fitness and fresh restoring nutrition.
During your week with us you will eat delicious largely plant based food. Indulge in hikes and lots of other fun exercises in amazing surroundings leaving you pleasingly exhausted at the end of the day. You will sleep well, in rooms with lovely views of the Aegean Sea. And of course, there will be some pampering massages to soothe away painful muscles.
Our ethos is to keep it simple, return to the basics, and to achieve a simpler, less complicated way to live better that you can maintain long after you leave us at Nefeli Nine.
Join us for a 7 night summer beach yoga holiday on the beach in Corfu! Offering a beautiful yet tranquil alternative to the bustling, cosmopolitan beach of Acharavi.
Almyros is a peaceful paradise escape, perfect for those looking to take a relaxing break from the hustle and bustle of everyday life.
Just Relax is a Greek yoga retreat, which allows guests to unwind in its tranquil environment. We welcome couples; solo travellers and friends who'd like to combine their love of yoga with a sunshine holiday.
Located within the stunning Greek island of Corfu, our experienced and inspiring yoga teachers will challenge your mind and body, encouraging you to enhance your overall wellbeing through daily practice of yoga techniques.
The house is located right on the beach where you can spend your days chilling out in between the meals and yoga. The walk to the nearest town is about 1/2hr away, or an easy 10min cycle with the bikes we provide for free. In the town there is a supermarket, cafes and restaurants.
Last Minute Retreats in Italy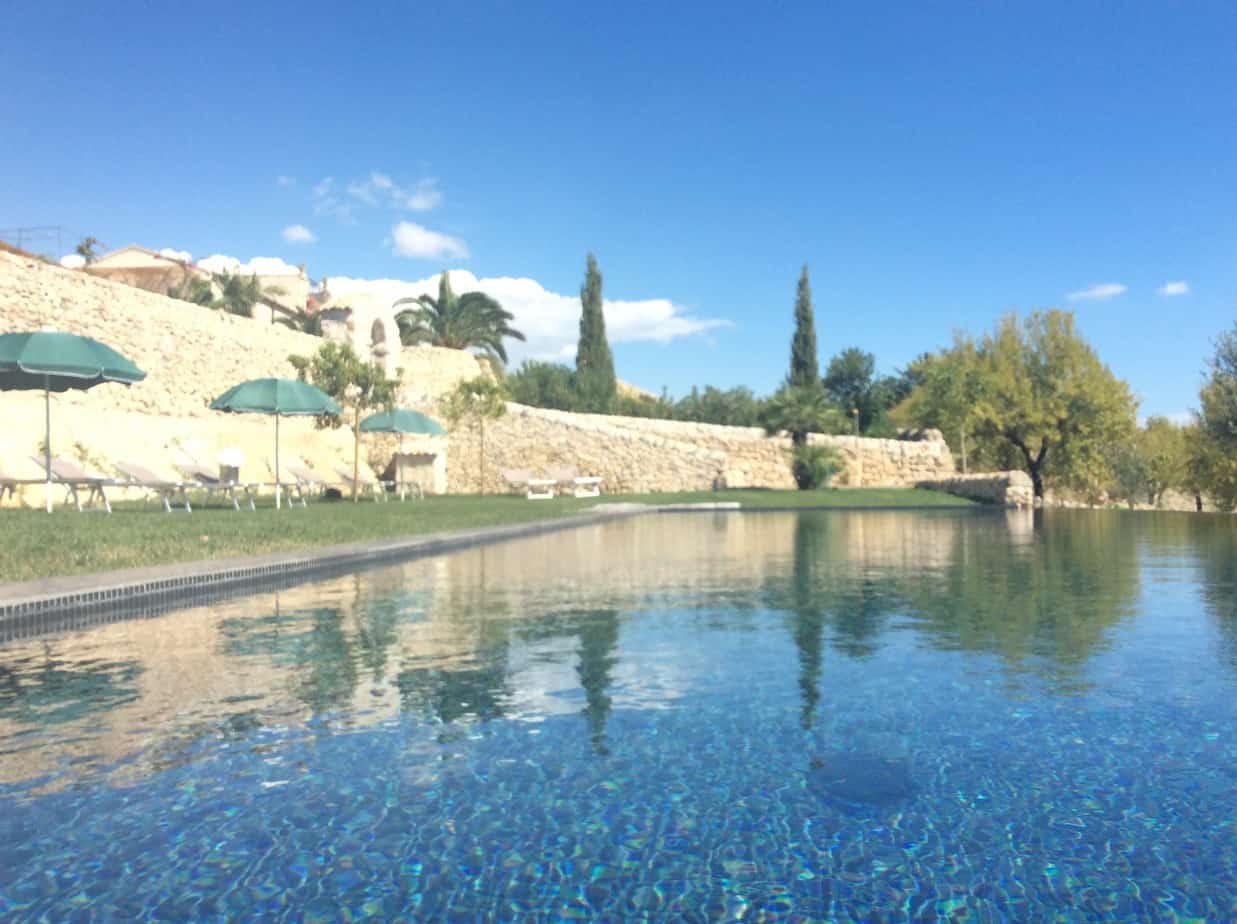 To be yourself in a world that is constantly trying to make you someone else is the greatest accomplishment." – Ralph Waldo Emerson.
One of the best quotes that summarize this amazing week long, detox your mind & rebalance your body yoga retreat with Francesca Paris.
We will focus and experience "pranayama" physically and internally, appreciating every movement as it radiates outwards and inwards throughout the body, calming the mind, reducing stress and promoting concentration.
Hatha Flow, Yin and Meditation will be our magical tools to make every movement purposeful, we will experience what yoga feels like, rather than what it looks like, you will be encouraged and given the opportunity to wake up your core and spine throughout the classes and build self-trust.
Embrace the present and nourish each minute of your yoga vacation, recharge your energy, take advantage of this time dedicated to you, spread the Light and Be Love.
Our main location is a 19th century farmhouse – La Masseria – situated in the luscious natural landscape of southeastern Sicily surrounded by the breathtaking Mediterranean Sea.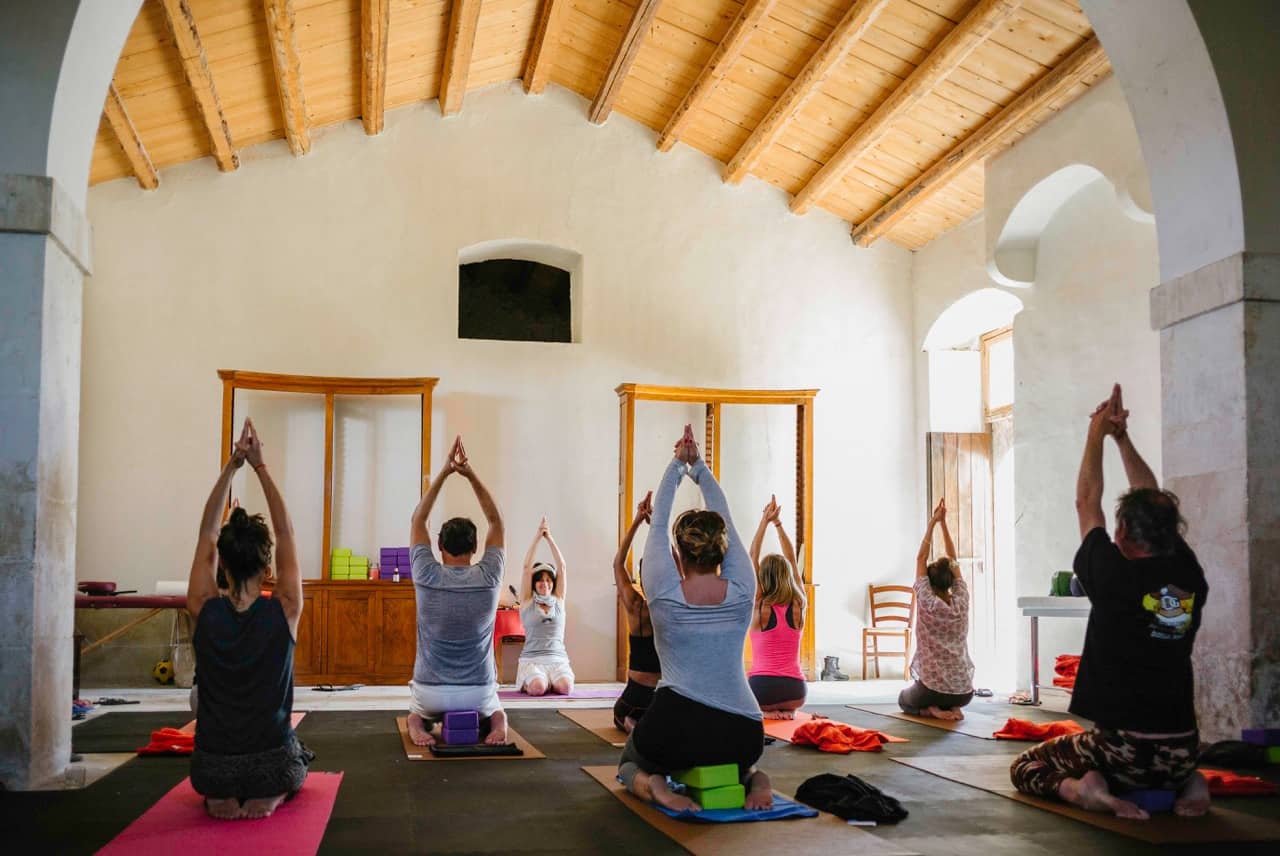 In this Exploring the elements Jivamukti retreat with Moena de Jong, filled with abundance like Vinyasa, Alignment, Pranayma, meditation, Shastra (Philosophy), Mantra, Yin.
We will explore the practise from the perspective of the Elements (Earth, Water, Fire, Air & Ether) and experience how those different components in ourselves and life are more related than we see at first sight. Now this is yoga – Patanjali describes about the journey to Self realisation. Yoga is translated as to unite. An interesting point of view from us, humans, as we mostly look at ourselves and the other as different beings.
A beautiful dive into your Sadhana (spiritual practise) for practitioners with some experience and everyone with an open and curious mind. Be ready for Yoga Fun!
Gift your mind the space to unwind, your body the chance to restore and your soul the beauty of connecting. The perfect opportunity to let go, release and reset our systems.
Last Minute Retreats in Spain & Canary Islands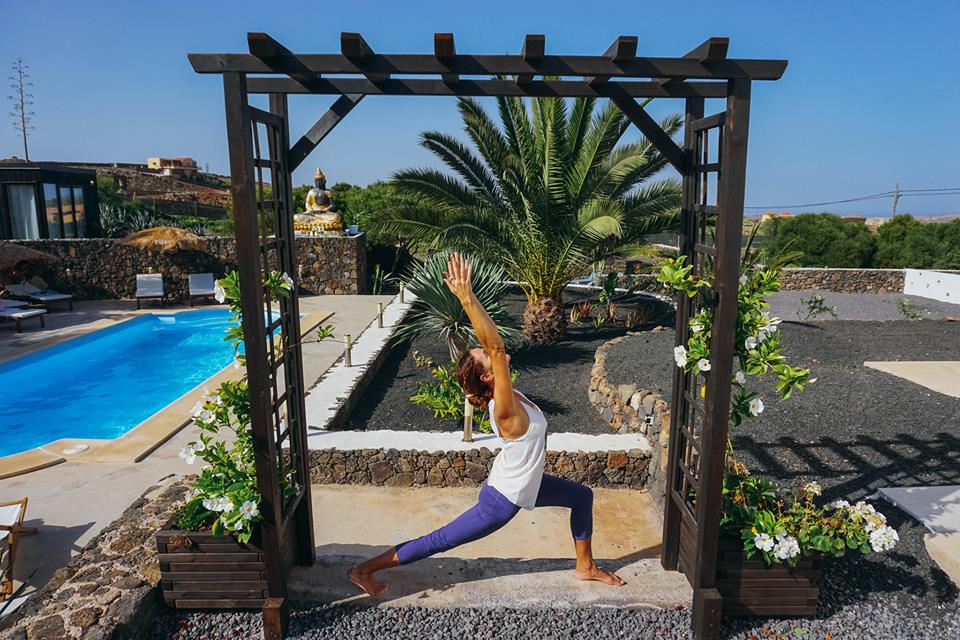 Join us year round at our Surya retreat, on the sun-blessed island of Fuerteventura, with epic sand dunes rolling down into the turquoise ocean, breathtaking white-sand beaches and dramatic volcanic sunsets.
More than just a holiday, we are here to support you in your wellbeing journey, making you feel at ease from the moment you arrive.
Relax and revitalise at one of Europe's leading yoga and pilates retreats in the Canary Islands, Spain.
Stretch and strengthen your body and mind and bring yourself back into balance with a unique blend of yoga, pilates and meditation.
Enjoy mouthwatering vegetarian meals, holistic massages and stunning sunsets over the volcanoes.
Our seven night yoga and Pilates retreats running every week from Saturday to Saturday are designed to help reduce stress, improve fitness and vitality and most importantly take time for you.
Perfect for all levels from beginner to advanced practitioners, we are here to support you and your goals every step of the way. We also have a second retreat venue located by the beach.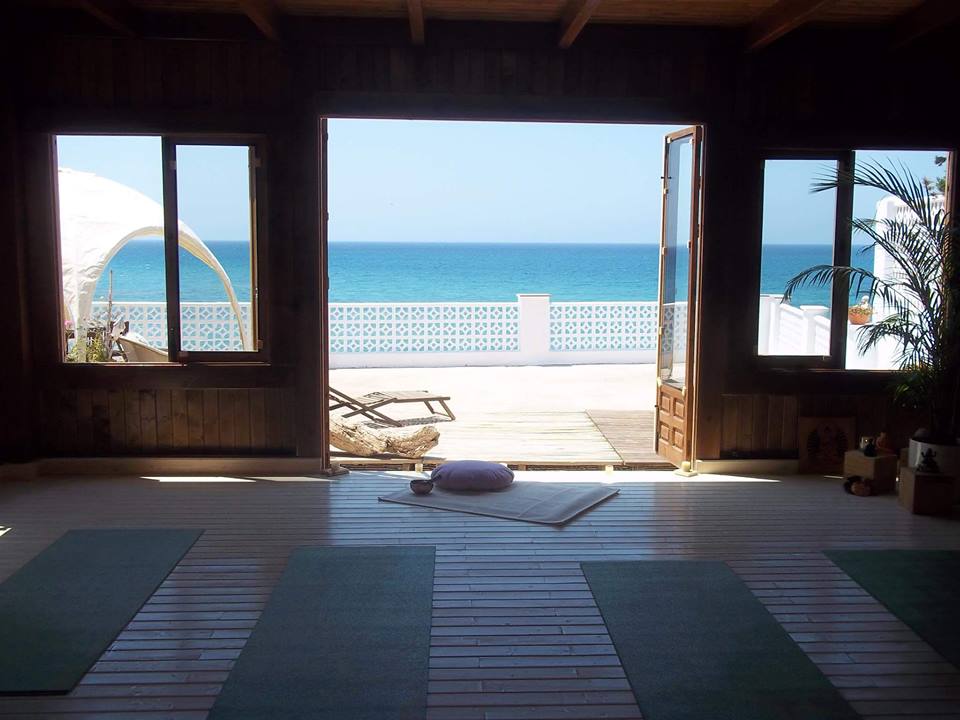 Join us for on our yoga and pilates holidays in the beautiful Bay of Mazarron, with its unspoilt blue flag beaches. Held in spring and autumn when the weather can be glorious.
Our yoga and pilates holidays include yoga practices in a beautiful studio overlooking the sea, a relaxed informal Spanish lesson over lunch, Pilates classes, historical visits, guided excursions so you can learn about the area, wine tasting, cycle rides, activities and much more.
Of course all activities are optional. If you prefer to relax in the apartment or have time at the beach, the choice is yours.
The afternoons will be spent on various activities and fascinating trips learning about the local history, visiting local historic sites, optional walks, wine tasting, cycle rides depending on the weather and of course what everyone would like to do.
The area is steeped in history from prehistoric times to Phoenician, Roman and with many places of interest and excavated sites.
A visit to Cartagena is a must to see the roman amphitheatre and excavations and the town of Mazarron to see the stunning mining features and old mining industry.
If you prefer to do your own thing on our yoga and pilates holidays and just relax the choice is yours. We can also organise fitness, walking, hiking, scuba diving, snorkelling, boat trips, dolphin boat trips (depending on weather) golf, tennis and much more.
Mazarron itself and the coastal areas are separated by Sierra de las Moreras, Sierra de las Herrerias and Sierra del Algorrabo being the ideal area for the practice of outdoor activities such as walking, hiking, cycling or climbing. If this is your thing, we can arrange this for you.
In the evenings we take you out to eat in different local Spanish restaurants or to a local bar for a drink.
Single travellers, solo travellers, couples and small groups are all welcomed on our Pilates Holidays. We will look after you all the time during your stay.
Travelling solo doesn't have to mean travelling alone. All activities, meals, Spanish lessons and classes on our yoga and pilates Holidays are in small groups with your holiday organiser on hand to help every step of the way.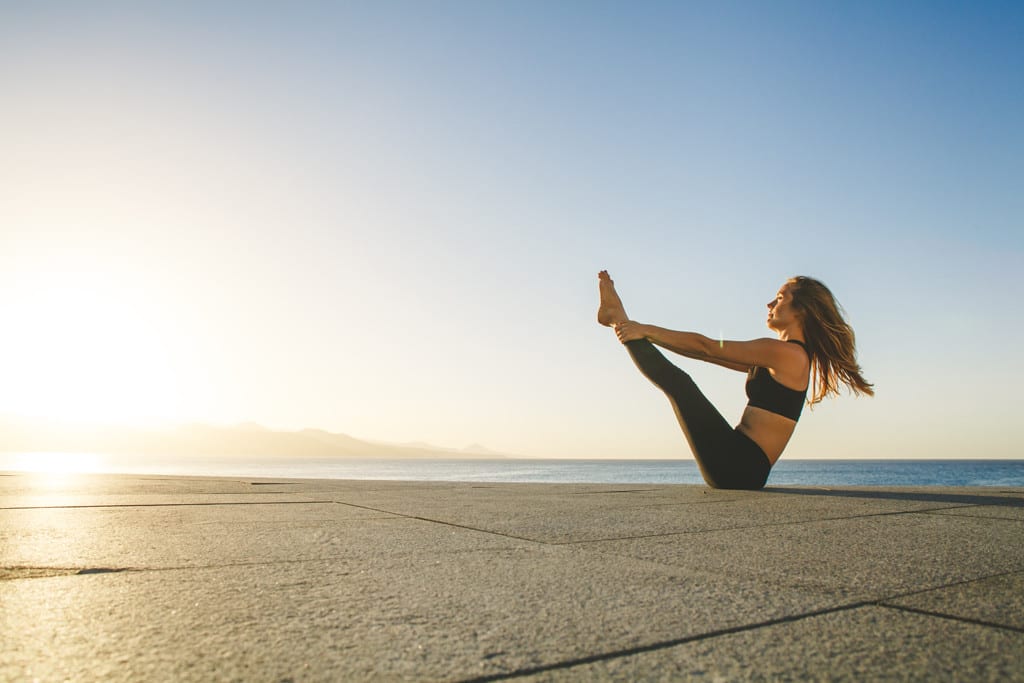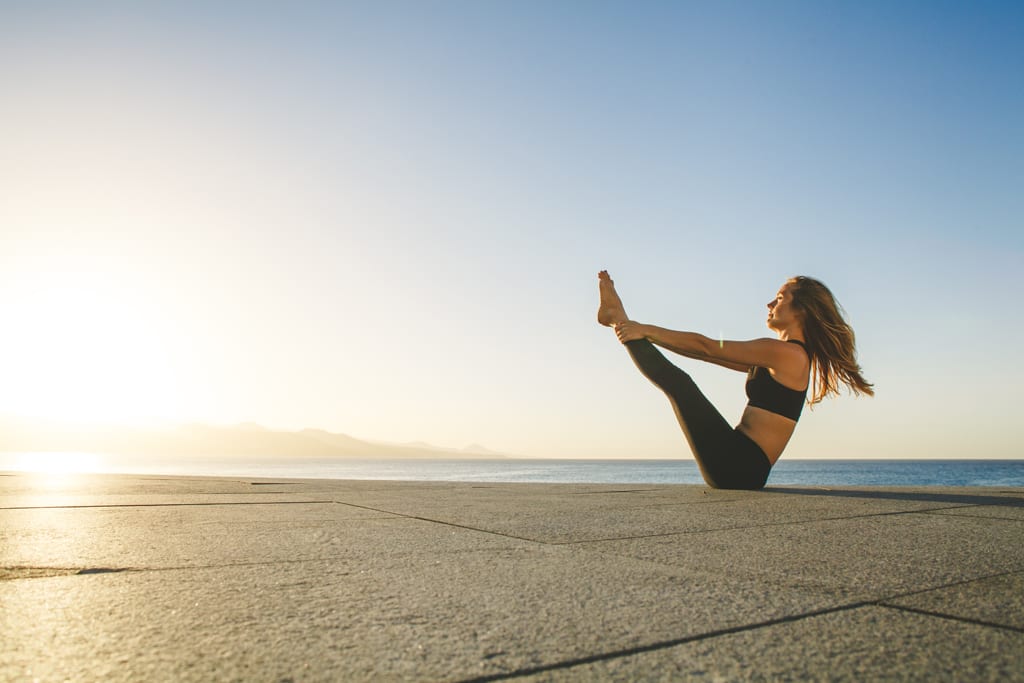 Join us for one of our yoga holidays in Las Palmas, a place known for its all year long summer, right in the beach promenade of la Playa de Las Canteras, a 12 kilometers beach which is considered one of the best urban beaches in Europe.
The Canary Islands are known for their eternal summer weather, so you can enjoy your holidays at the beach all year long.
We want to give you the opportunity to let yoga be your daily companion, merge into the Canarian lifestyle, meet new people, connect to nature and have a time for yourself.
An invitation to leave your "musts" behind and just live your holiday as you please. We want to give you what we love, so we offer you daily yoga classes and all sort of activities to discover Gran Canaria, experience something new or simply relax and chill.
Your non yogi partner will also have its place and you will be able to enjoy both your yoga practice and the pleasure of sharing. Because we believe that above all, the best way to be healthy is to be happy.
The neighborhood where we are located is very quiet, secure and warm, so you can have all the facilities of being in a city, but in a soft and calm atmosphere.
Las Palmas is a charming city which still keeps its Latin American colonial influences, making it colorful, joyful and kind.
It also has a lot of different kind of nice restaurants where you will be able to eat all sorts of food from all over the world.
Our cute yoga studio is from 5 to 10 minutes walk from all our accommodations as it is the rooftop where we teach some of our lessons.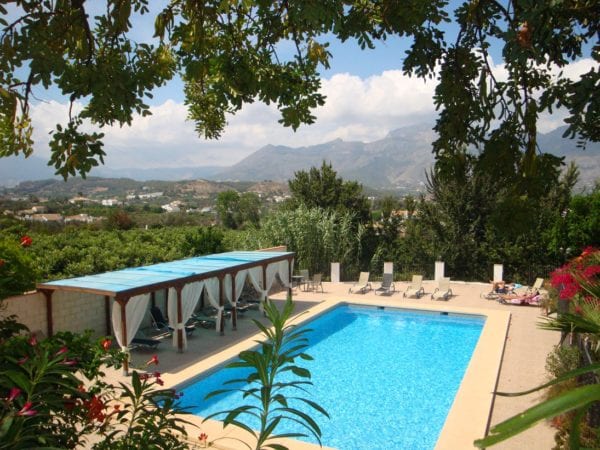 Escape to Spain for a four or five night yoga and hiking retreat, and immerse yourself in warm sunshine, 'drink' fresh clean sea air, feast on delicious tasty food, open your body in twice daily amazing yoga and hike in stunning natural scenery.
And, if you fancy exploring further, you can go biking and horse trekking, cook up a delicious paella lunch or simply chill in the sun.
Our yoga and hiking retreats in Spain are the perfect blend of two complementing exercises.
Whilst hiking is great for the heart and lungs it can create tight leg muscles and an aching back but, with the addition of delicious yoga to lengthen, open and strengthen your posture, you'll loosen your hamstrings, build strength, mobilise joints and deepen your breathing.
The simple fusion of yoga and hiking on one retreat means you receive a complete boost to your health and fitness.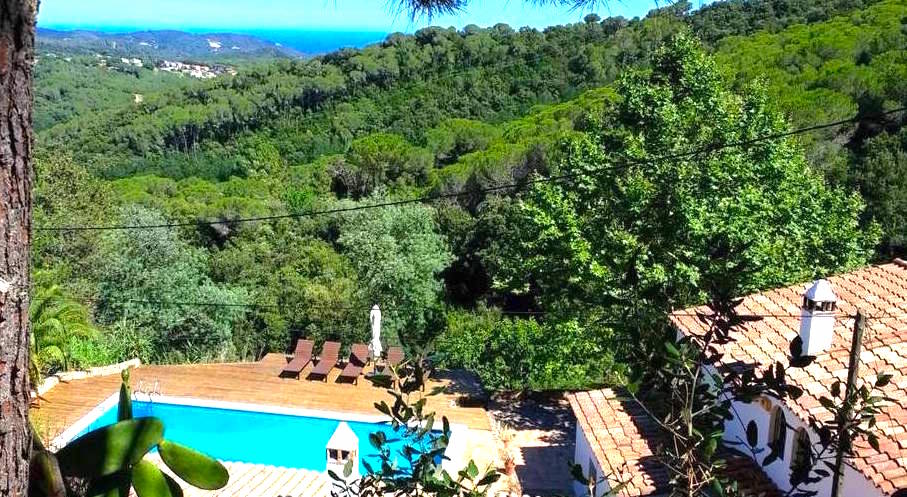 Escape away for a few days of relaxation, detox + the ultimate of serenity at a boutique-style retreat in a beautiful Natural Park on the Costa Brava, Spain. Enjoy stunning views of the ocean and mountains in a beautiful 15th century Catalan 'Masia', once an old vineyard, just inland from Sant Pol de Mar, less than an hour north of Barcelona.
After a long hot summer of indulgence, holidays and boozy BBQ's, it's time to get back on track with healthy habits.
Escaping the dirtiness and craziness of the city, and feeling totally at peace in your beautiful natural surroundings.
Relax by the pool, explore the local nature hikes or chill out reading a book, soaking up the warm Autumn Spanish sun. Enjoy a stress-free time, being totally taken care of, with no worries, nowhere to be and nothing to plan.
De-stress, Detox + Revitalise your body, mind + soul with daily vinyasa flow and restorative yoga with Pranayama, meditation and mindfulness practices with the fabulous Kasia Olszko of Mindful Workshop, healthy nourishing gourmet vegan meals prepared with love by Lucy Cheyney of The Wild Beets, superfood smoothies and cold pressed juices.
Last Minute Retreats in Ibiza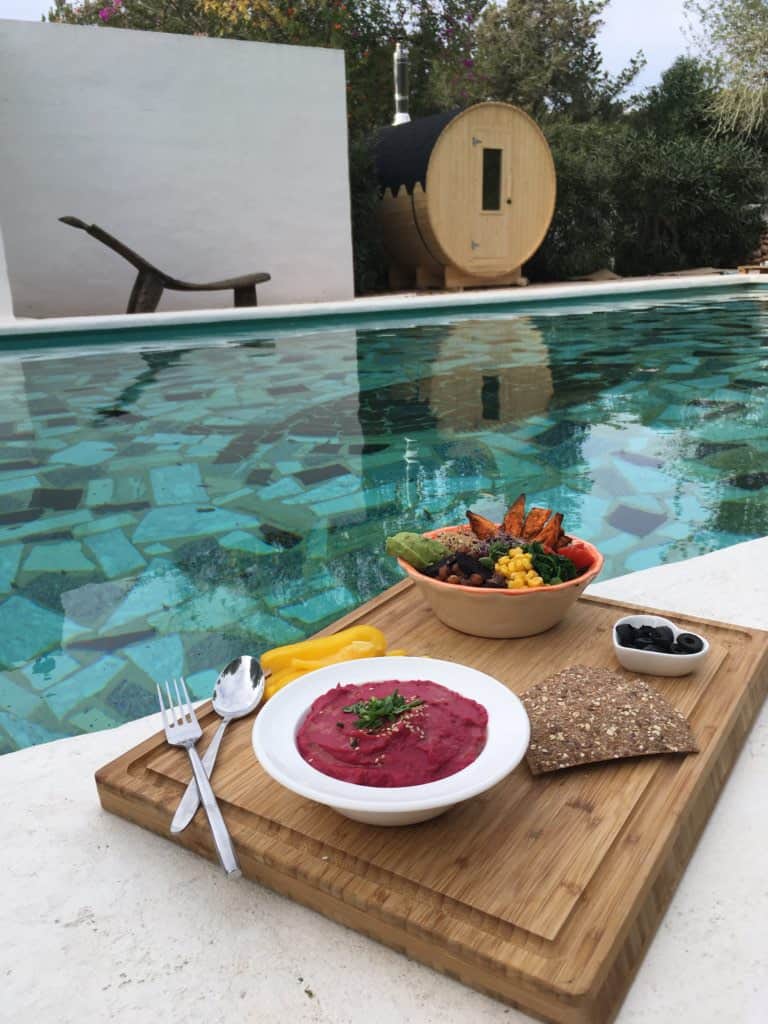 Join Yoga Trip Retreats this Autumn for this fabulous four night Ibiza wellness break of yoga, pampering, tasty vegetarian food and fun experiences with the 'real' Ibiza!.
Some of our mornings start with (optional) brisk silent walk or jog to the seaside and back to get our energies flowing, followed by yoga practice.
Other mornings we flow straight into our pranayama, meditation and yoga practice after our supercharged power shot.
Seasonal, delicious vegetarian brunch follows with time of to digest, lounge by our pool and relax. Afternoons we have workshops, endure for a hike in stunning Ibizan nature or soothe our bodies and minds with restorative or Yin yoga practice.
One day we will spend at Ibiza Spirit Festival, filled with yoga, therapies, music, dance, workshops, seminars and lively festival spirit.
To top the retreat off, you are going to be indulged in body or energy healing treatment of your choice.
And our authentic Finnish sauna will be heated for a purifying sauna session. The retreat is accessible to all levels, including beginners.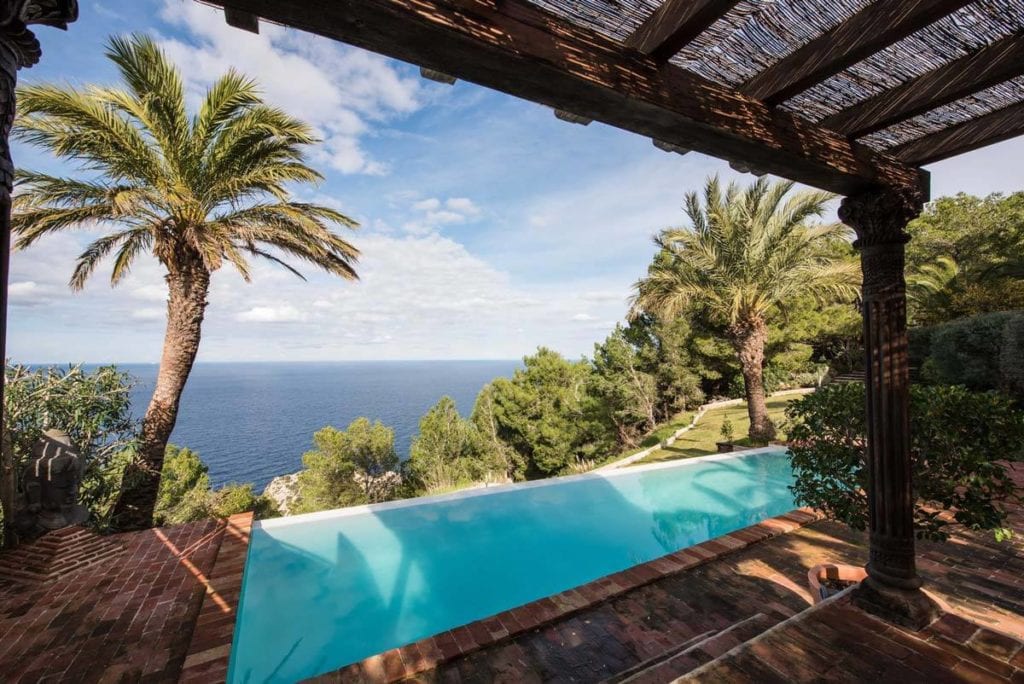 More than a yoga holiday, our meticulously curated retreats allow you to pause from the crazy pace of modern life.
Reconnect with your true nature and let your soul shine with a whole heap of love from the  team and a jam-packed schedule of holistic, healing and transformative loveliness.
The perfect opportunity to explore, develop and deepen your yoga and meditation practice whilst gaining a greater understanding of holistic healing.
Laugh a lot, make new friends, snooze, sunbathe, explore, relax, read, walk and indulge in yummy food. A transformative holistic wellbeing experience that nourishes your body, mind and soul.
During your six nights on our holistic wellbeing retreat you can expect to enjoy an extraordinary amount of delicious daily Yoga, Meditation, Wellness Talks and Healing
Workshops from our wellness experts, plus pampertastic and deeply healing remedial treatments from our talented wellness team (to ensure maximum relaxation and soul soothing!).
Not to mention being cared for by our utterly loving and attentive hosts who are constantly on hand to ensure that you don't lift a finger (we're quite strict about that!). It is a truly holistic wellness experience.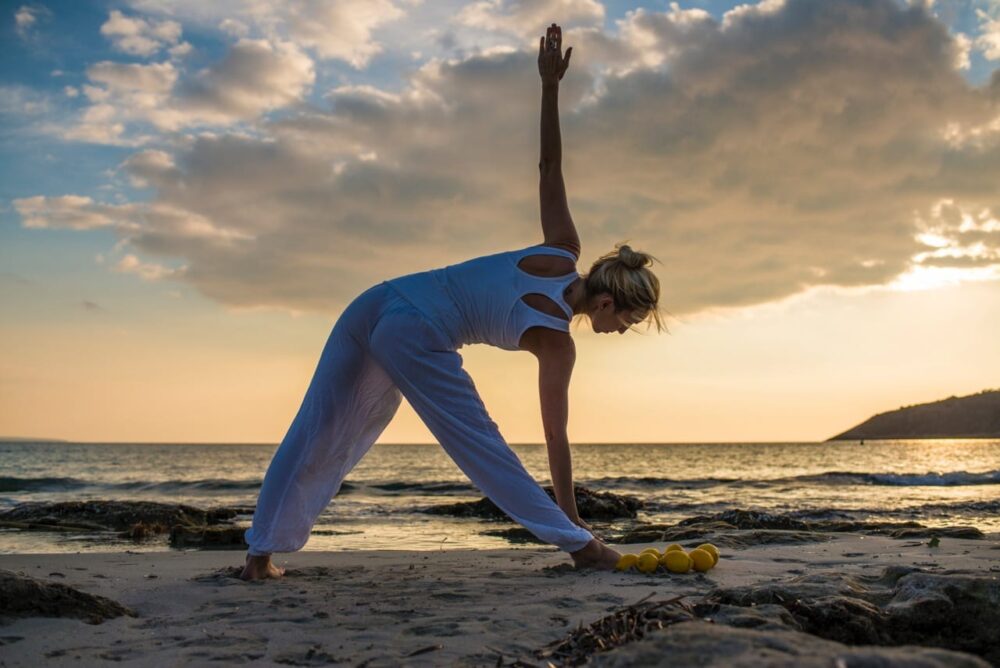 The focus of this Yoga, Energy and Natural Wellbeing retreat is to allow you to take time and space to hear the voice of your heart.
Feel the glow radiate from within to reveal a new you – inspired, energetic and shining, inside and out.
Get your glow back in body, mind and spirit, with daily vinyasa flow yoga, holistic life coaching, mindfulness practices and transformational meditation techniques.
Learn about and understand your own chakra energy system and discover how to optimise and manage your energy levels.
Revitalising drops of yogic philosophy will develop your spiritual awareness, inner-strength and clarity of mind.
Our super-clean nutritious menus will work their magic on your metabolism and help you avoid the 'peaks and troughs' of energy that come with an un-balanced diet and stressful life.
Reconnect with your your heart and soul and rediscover your strength of body and mind on our natural wellbeing wellbeing retreat.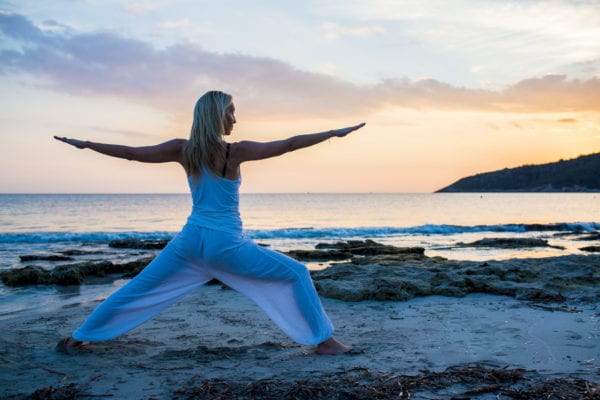 This rejuvenate and fitness balance retreat in Ibiza is for you if you are feeling a little unmotivated, tired, or lost and are looking to relight that spark, ignite your energy and bring back your zest for life.
We have specially created this well balanced, holistic retreat using our deep collective knowledge and experience. We have balanced yoga, fitness, meditation, nutrition and clean eating in this perfect retreat package.
This is not a bootcamp, but an intelligent, conscious way to exercise. Our experienced trainer will take you through a range of techniques and practices, to help you find what feels right for you and your body – as we all know, everybody has a different story! Cultivate strength, confidence and body awareness for life.
We will set your body, mind and soul into a conscious, present and loving state that will springboard your onward life journey and empower you to take on life's ups and downs. By creating a positive foundation to lead a healthy, balanced life, you can be the best you can be.
Be assured that this is very much still a yoga retreat, with a fitness element smoothly included, just rather from the point of view of holistic wellness – opening our minds to the bigger picture.
We will enjoy yoga every day – on the fitness mornings, it will take the form of an elongated stretch and meditation class – and then pure yoga flow for 3 days. In the evenings, we will have a yin style practise or a take part in beautiful hike through the beautiful Ibiza countryside.
Our retreat is held inside the beautiful whitewashed walls of Can Amonita, in the stunning countryside of north Ibiza. The unique sanctuary reflects the beauty and peace of this side of the island with a beautiful outdoor practice space.
Last Minute Retreat in Cyprus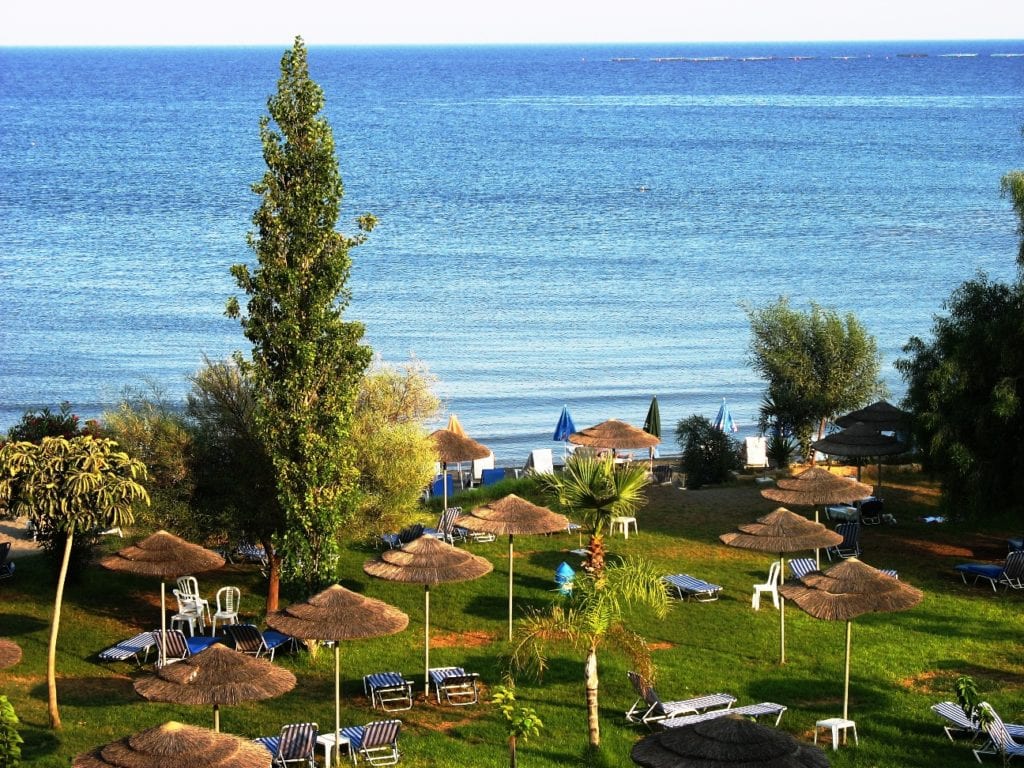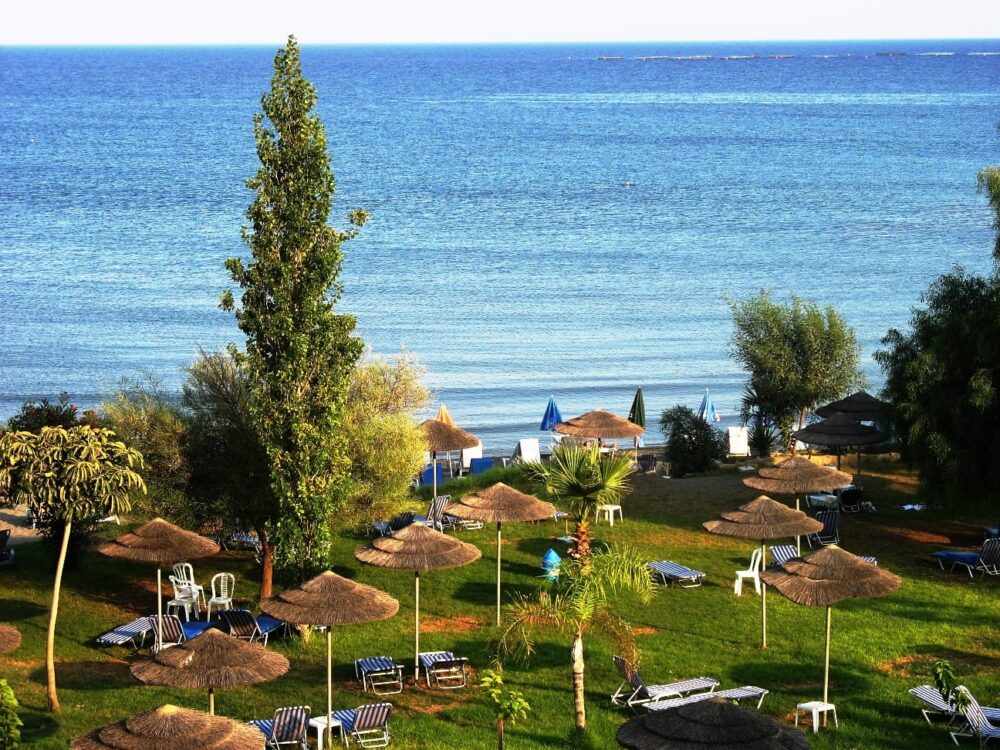 A fun-filled week with something to suit everyone, take the next step along your path of self-discovery through the practice of Hatha yoga, physical postures, breathing techniques, meditation and relaxation with our team of professional yoga teachers!
Relax and unwind in the comfort of one of Cyprus Villages tastefully restored traditional village houses far away from mass tourism. The houses and apartments are located in and around the village of Tochni.
Tochni is set in the country approx. 10 km from the beach and 30 km from Limassol. Spend your free time either reflecting quietly or take part in the varied activities on offer. Leave feeling renewed with a greatly enhanced sense of wellbeing and positivity.
Last Minute Retreats in the UK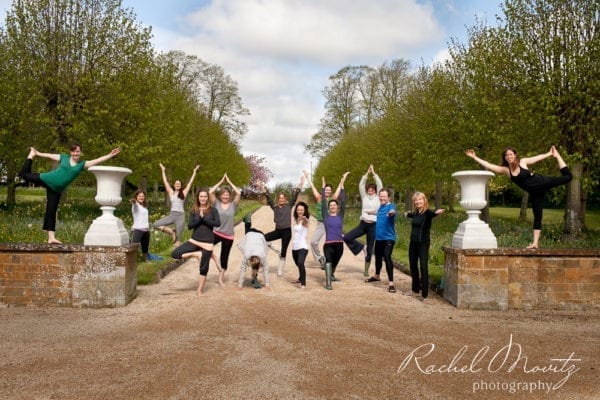 On our wellness yoga retreat in Bicester, Oxfordshire be prepared to switch off, let go and give permission to yourself to totally relax.
Retreat to the Oxfordshire countryside and escape for the weekend! Our Bicester venue is well loved by our guests for its grand, yet incredibly homely feel.
Enjoy first class yoga teaching from Senior Yoga teachers, Meditation to calm your active mind, incredible meals lovingly prepared by our talented chefs and served as a community, optional holistic treatments to soothe your body and guided walks of the local countryside.
You are guaranteed to leave feeling energised, a little lighter, and grateful to yourself for taking some time away.
Feel space to breathe, unwind and release tension and your troubles away. This retreat is suitable for anyone who'd like a weekend away with wellness, healthy food and Yoga. Beginners are welcome as well as all ages.
Last Minute Retreats in France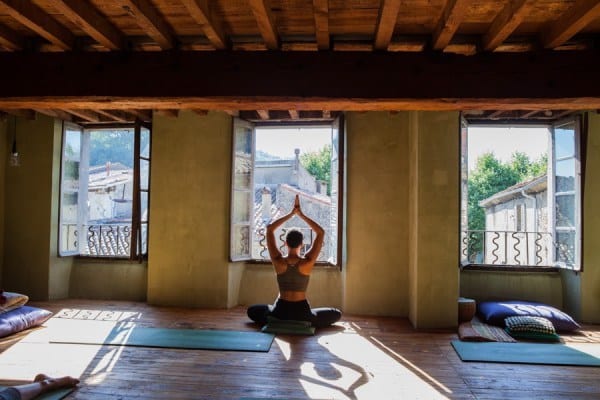 A 5 day Yoga, Mindfulness and Meditation Retreat at the award winning Yobaba Lounge to re-establish a rich, soulful connection to your yoga and meditation practice.
Located in a picturesque medieval village in the southern French Pyrenees, the house feels like a temple, the rooms are large and stylish.
The gourmet vegan food has been described as sensational, outrageous, alchemical, the best ever, and more.
It is often raw, always free from dairy, meats, gluten, and sugar. The food supports the practice and quickly rebalances digestion. Retreat facilitator Gertrud shares her practice of Embodied Meditation, which is the yoga of breath, mindfulness and movement.
Without excessive effort, the practice strengthens your core, legs and hips, tones your parasympathetic nervous system and sets alight your inner space.
There will be periods of free time each day, which gives you opportunity to just relax in the walled garden, pamper yourself or explore wild swimming in nearby lakes and rivers.
This Yoga, Mindfulness and Meditation Retreat is intended for all those in need of rejuvenation, rest and relaxation, and those who are seeking a more mystical connection to their existing yoga and meditation practice.
Last Minute Retreats in Thailand
Spend five days at our Hua Hin Resort on this Stress & Burnout Prevention Retreat to regain your vitality and restore your energy levels.
Our balancing wellness retreats are carefully designed to create positive changes, reduce and manage your stress levels. This program is designed for you when you need time to disconnect and unwind from your busy life and re-establish inner-balance.
The retreat is designed to reinvigorate your mind, body and soul, through various yogic practices. These include breath centric yoga, meditation, yogic detox, healing treatments to revitalize body elements, and balancing food to support your yogic practice, and excursions combined with the perfect environment for relaxation.
This luxury stress & burnout retreat is aimed at those interested in a gentle relaxing wellness holiday, and in smaller groups. You will leave feeling replenished, energised and de-stressed.
We focus on small groups for a personalised experience. This stress and burn out retreat will help you unwind using yoga, meditation, breathing techniques and massage while being surrounded by the beautiful and soothing elements of nature that Aleenta has to offer. (No previous experience of yoga is necessary).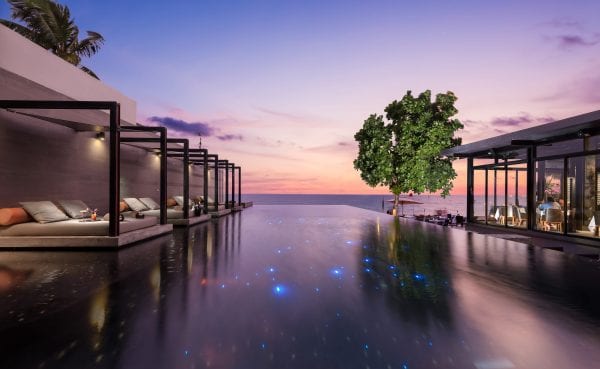 This luxury breathe vitality retreat at Aleenta in Phuket is designed for those who wish to go into a much deeper restorative and healing process by dealing with the root causes of stress and burnout.
It will help you unlock the key to feeling joyful, healthy, and energetic: discovering what balance means for You.
You will have time to relax and renew your energy and reinvigorate your mind body and soul.
Nature and the elements are important components of our retreat, as they help you in the healing and balancing process.
We combine knowledge of Thai holistic medicine, soul coaching and traditional Hatha yoga practices with an analysis of the 4 life elements.
Situated on a pristine 10km beach a short dash from Phuket, it lies on a peaceful and refreshingly undeveloped stretch of coastline and is designed with the signature 'Outside Living In' philosophy.
Pampering is de rigueur – expect sumptuous Thai and fusion cuisine, highly personalised service, great attention to detail and extensive spa treatments based on the 4 elements of moon, sun, earth and sea.
Last Minute Retreats in Croatia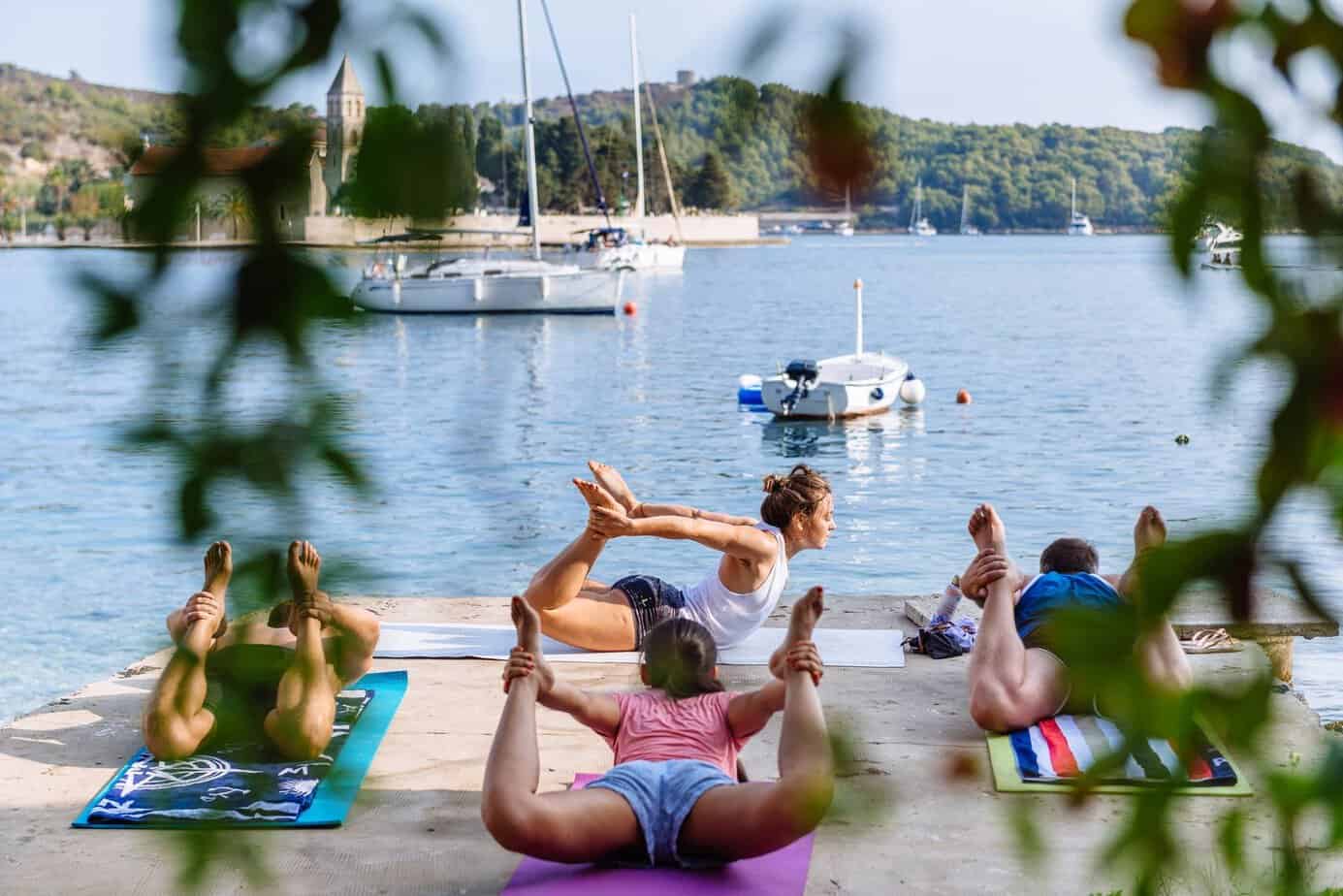 We combine a retreat and sailing yoga holiday in Croatia, on a beautiful Split to Dubrovnik (and vice versa) itinerary.
The itinerary is like 'a tasting plate of Croatia' including some of the best destinations when you sail Croatia, including Hvar, the magical Pakleni Islands, the National Park in Mljet, the fortified town of Korčula and the magical island of Vis and its hidden gem; Stivina Bay.
Our Croatian retreat + sailing yoga holiday itinerary is like no other. You will have yoga classes in the morning (depending on the day), daily swim stops and evening meditation before heading out to explore a new town/port every day.
Yoga classes are an hour long in some of the most breath-taking settings you've ever taken a class.
There is still time to explore world famous islands, such as Vis, Korčula and Hvar where you can wander the streets, explore the old castle and enjoy sunset cocktails.
​
As you sail Croatia, you have the freedom to relax as you please with a book, sunbathing, chatting with your fellow yoga retreat guests or learning to sail with your skipper.
If your schedule allows it, stay an extra day before and after your trip.  Don't fly in on Saturday and join the boat immediately, then finish your trip on Saturday, then fly out that day, you will miss out on so much of the amazing Old Towns.
Last Minute Retreats in Morocco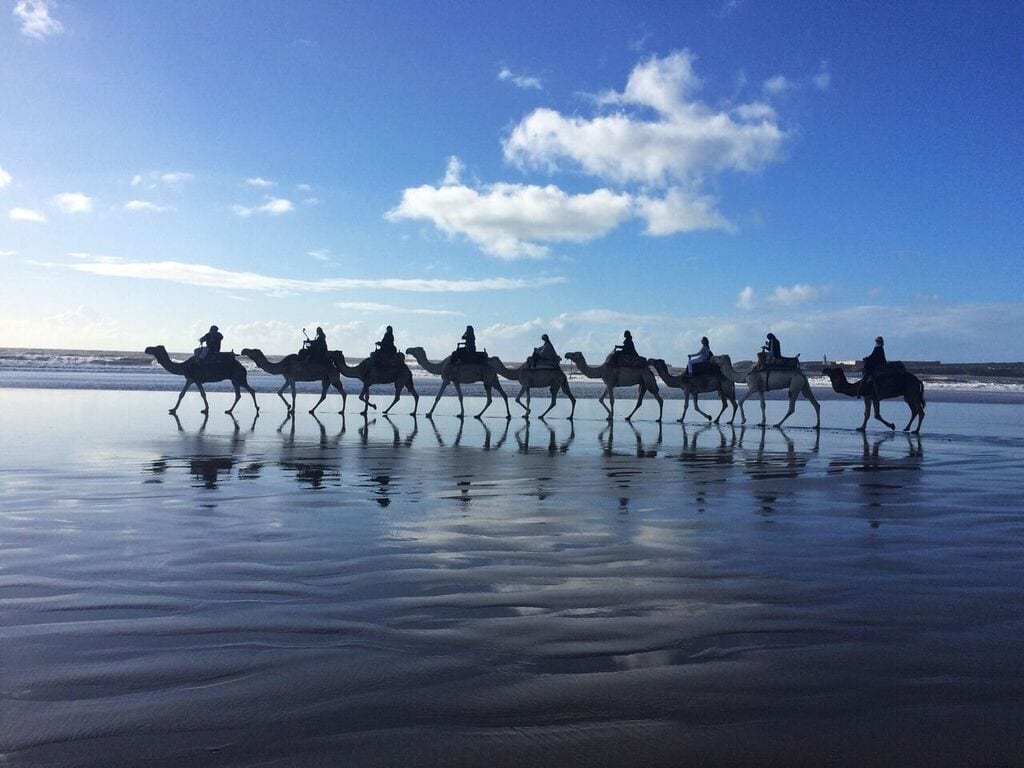 This Luxury Yoga Marrakech retreat offers a series of mindful workshops that will guide you in the exploration of creative self-expression in your life. We will have meaningful discussions and fun activities intended to help you tap into your own inner wisdom and heartfelt desires.
Your retreat home for the week is the fabulous Peacock Pavilions boutique hotel. This stylish and eco-friendly abode has been featured in worldwide publications, including National Geographic Traveler.
You will not only enjoy the grounds of Peacock Pavilions, the outdoor areas including a lovely pool, patio, private terraces, and covered yoga platform, but the retreat includes some amazing day-trips to the surrounding sites.
A guided day in Marrakech will lead you through an introduction to souks and visits to sites such as Ben Youssef Medrasa.
A full day will be spent exploring the nearby Atlas Mountains with a base at the Kasbah Tamadot Hotel with a traditional mule trek to the nearby village of Asni followed by time at the beautiful grounds of this 5-star location overlooking the vista and tasting menu lunch.
The final full day entails a trip to the famous Bains de Marrakech, a luxurious spa facility, where guests can be pampered to their heart's content with a full program of various treatments. What better way to wrap up a week of yoga than a day of pure relaxation.