Discover the most beautiful retreats in Spain and the Canary Islands offering plenty of sunshine, walks in nature and fresh air, along with a daily yoga or pilates practice, nutritious food and plenty of fun!.
Beautiful Retreats in Spain and the Canary Islands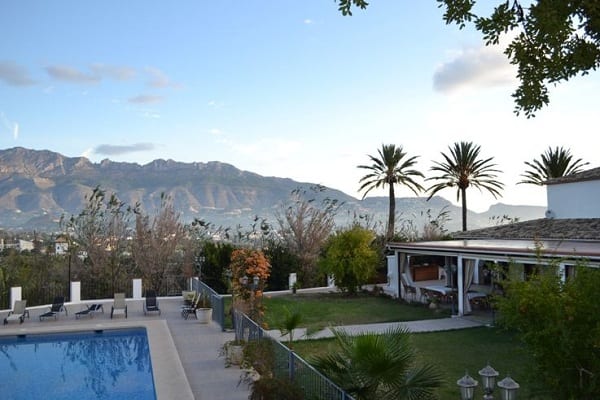 Escape to Spain for 5 nights and immerse yourself in warm sunshine, 'drink' fresh clean sea air, feast on delicious tasty food, open your body in twice daily amazing yoga and hike in stunning natural scenery. And, if you fancy exploring further, you can go biking and horse trekking, cook up a delicious paella lunch or simply chill in the sun.
Our beautiful retreats in Spain are the perfect blend of two complementing exercises. Whilst hiking is great for the heart and lungs it can create tight leg muscles and an aching back but, with the addition of delicious yoga to lengthen, open and strengthen your posture, you'll loosen your hamstrings, build strength, mobilise joints and deepen your breathing. The simple fusion of yoga and hiking on one retreat means you receive a complete boost to your health and fitness.
Based at a 300 year old peaceful Olive farm on the edge of the 'old town' of Altea – considered to be one of the prettiest in the area. Now converted into a cosy 4-star country house hotel with pool, sauna, small gym and 20 en-suite spacious double bedrooms. Set in breath taking scenery with awesome views to the mountains and the sea. All solo travellers are given their own rooms as we don't expect you to share.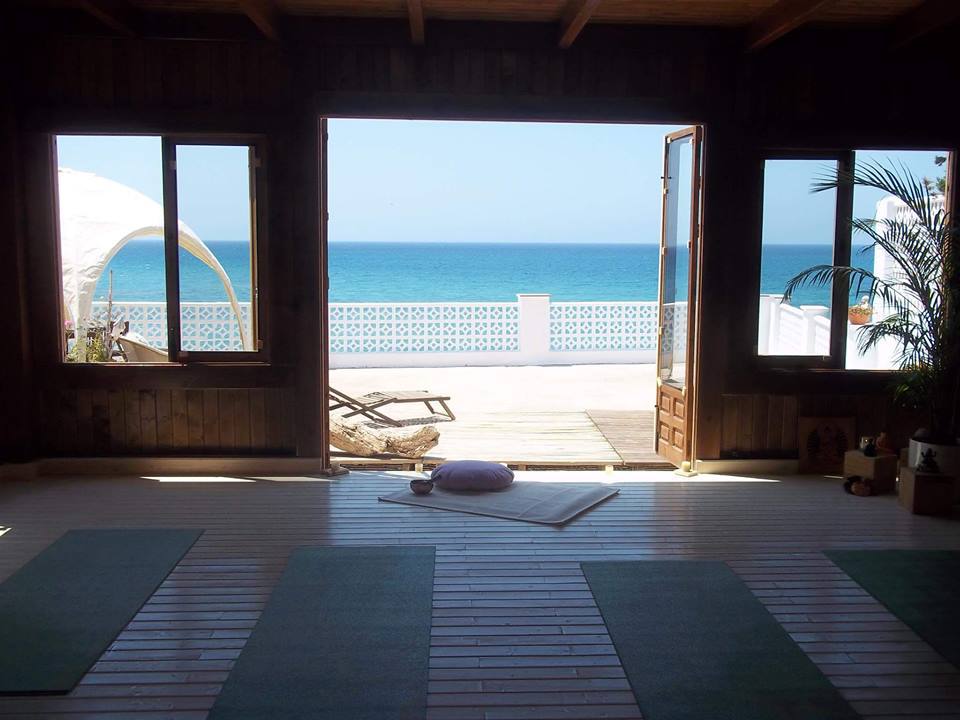 We invite you to the beautiful Bay of Mazarron with its unspoilt blue flag beaches for one of our weeks bespoke holidays. Your holiday will include yoga practices in a beautiful studio overlooking the sea, a relaxed informal Spanish lesson over lunch, Pilates classes, historical visits, guided excursions so you can learn about the area, wine tasting, cycle rides, activities and much more. Of course all activities are optional. If you prefer to relax in the apartment or have time at the beach…the choice is yours.
The afternoons will be spent on various activities and fascinating trips learning about the local history, visiting local historic sites, optional walks, wine tasting, cycle rides depending on the weather and of course what everyone would like to do. The area is steeped in history from prehistoric times to Phoenician, Roman and with many places of interest and excavated sites. A visit to Cartagena is a must to see the roman amphitheatre and excavations and the town of Mazarron to see the stunning mining features and old mining industry.
If you prefer to do your own thing and just relax the choice is yours. We can also organise fitness, walking, hiking, scuba diving, snorkelling, boat trips, dolphin boat trips (depending on weather) golf, tennis and much more.
A 5 night Yoga and Pilates retreat by the sea where you can immerse yourself in gorgeous sunshine, big open blue skies, fresh sea air, beach time and feast on delicious healthy food. Plus, super experienced yoga and pilates teachers will help you open, lengthen, quieten and strengthen your body with two classes a day with time in between to explore this stunningly beautiful area with the optional biking, hiking, horse trekking or simply relax by the pool with a great book and soak up the sun's rays.
Based at a 300 year old olive farm – now a 4* country house hotel – set in acres of orange and olive groves near the sea. This peaceful setting is the perfect base to get away from your normal routine and get a fresh perspective on life.
Whether you're a keen beginner or have a regular yoga or Pilates practice, this retreat will meet you where you are with small groups of 12 and classes for beginners and intermediates/advanced plus workshops to help progress and deepen your practice. There'll be plenty of opportunity to get outside and be in nature too with a guided hike, bike ride, horse trek, visits to the beach, take part in a Spanish cookery workshop, rest by the pool or enjoy pampering therapies.
And don't worry, these beautiful retreats in Spain are super relaxed. So if there is a morning where you want to sleep in, please do. If there's an afternoon you would stay longer by the pool and skip class, that's ok! Whatever you feel you need, please do.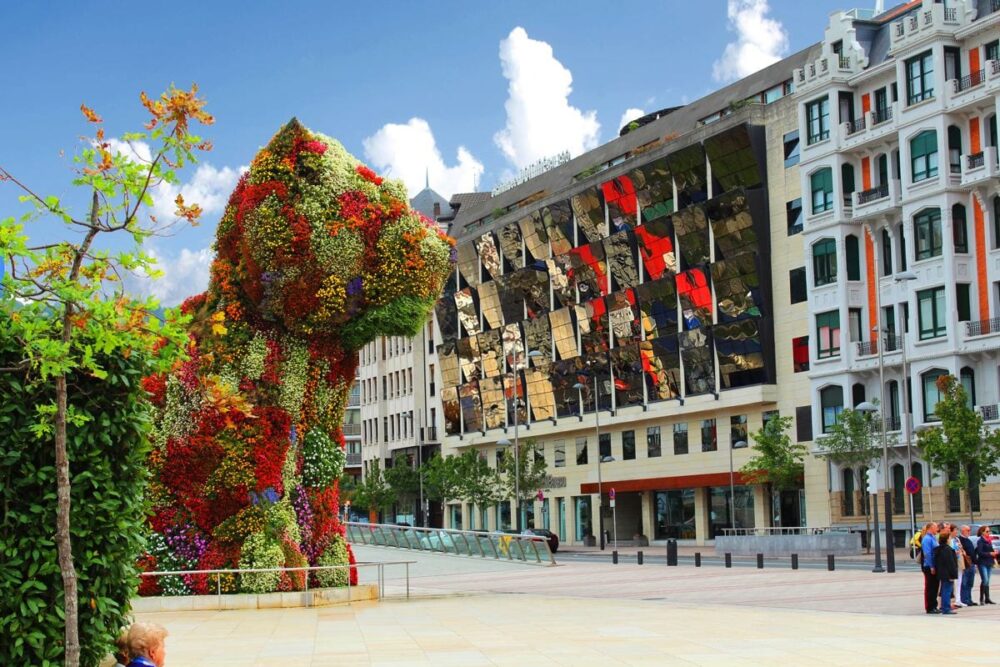 Our premier retreat in the Basque country takes place in one of the Gastronomic capitals of the world. Join us for a luxurious stay filled with culture, sites, architecture, Michelin restaurants, spa day and more. For this exploration of the Basque country we have collaborated with Julian Hyzler from EASEL&LENS to combine a look at creative focus with art projects in sketching and "ifonography" (smartphone photography) throughout the week.
Yoga and meditation classes will be held daily to prepare our bodies and minds to find a creative way of focus on our excursions through the Italian countryside. All levels are welcome, and participation is voluntary. Projects and classes will be offered as a completely exploratory, unintimidating and personal experience.
This retreat in the Basque country includes some amazing day-trips to the surrounding sites. We'll begin the week with a walking tour of our home city of Bilbao including the Guggenheim Museum, then we'll head to the famed wine region of Rioja for a winery visit, tasting, and pairing lunch. A day of site-seeing along the coast with an amazing bio-reserve will keep us connected to the landscape, and then we'll enjoy a full day in San Sebastian with a food tour, time to see the old-city, funicular ride to a look out, and luxurious spa day. All this, alongside daily yoga and travel-journal creation classes, and punctuated by the amazing cuisine and a Michelin-starred meal.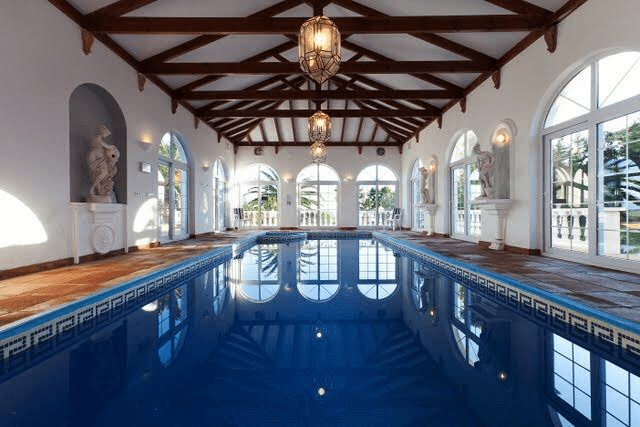 When you're at a major crossroads or going through a particularly challenging life transition, giving yourself extra time to negotiate this passage is very helpful. The Soul Alive Retreat is particularly aimed at this. With too many plates spinning how to decide which ones to drop? SOUL ALIVE allows you to step back and reassess your life through creativity, mindfulness and having a good laugh. You'll be part of a small, confidential group in a safe and nurturing environment.
Everything you need is taken care of, which leaves you free to focus on yourself and your new friends. No telephone, no emails, no internet – unplug, switch off and open up for 7 whole days. Making time for yourself is both a rare luxury, a much needed necessity and a good choice.
It's a fully-inclusive, 7-day boutique retreat in Tarifa, southern Spain – you benefit from both a fully-facilitated Retreat and a holiday combined. An en-suite room to yourself, nutritious Ayurvedic meals prepared for you, Movement-Art Therapy workshops, daily chauffeur-driven excursions, relaxation in the beautiful, spacious gardens of this luxury villa with indoor and outdoor pools with panoramic views over miles of coastline.

Salute to the sun as it rises over the ocean, explore the endless white sandy beaches or learn to surf in the beautiful turquoise ocean. Azulfit's Lotus Retreat in Corralejo, Fuerteventura, Canary Islands is a little oasis for you to experience an unforgettable beach yoga holiday. With world-class instruction from a team of international instructors, an inclusive full body massage and delicious, wholesome breakfasts, the retreat is made for holidays that enliven body, mind and spirit.
With small class sizes, world-class instruction and massage treatments all set in the stylish accommodation of a luxury villa, this is the perfect way to rejuvenate and reconnect whilst enjoying a beach holiday. For extra exhilaration surf courses are available. This retreat offers beach yoga, Pilates, Tai Chi and meditation sessions led by inspiring and highly qualified instructors who give personal attention to each and every student.
As well as beach yoga and Pilates, you will also have the chance to experience blissful yoga and meditation classes at the retreat. Drink in the sunset from the yoga terrace or enjoy our spacious indoor studio and drift away into savasana.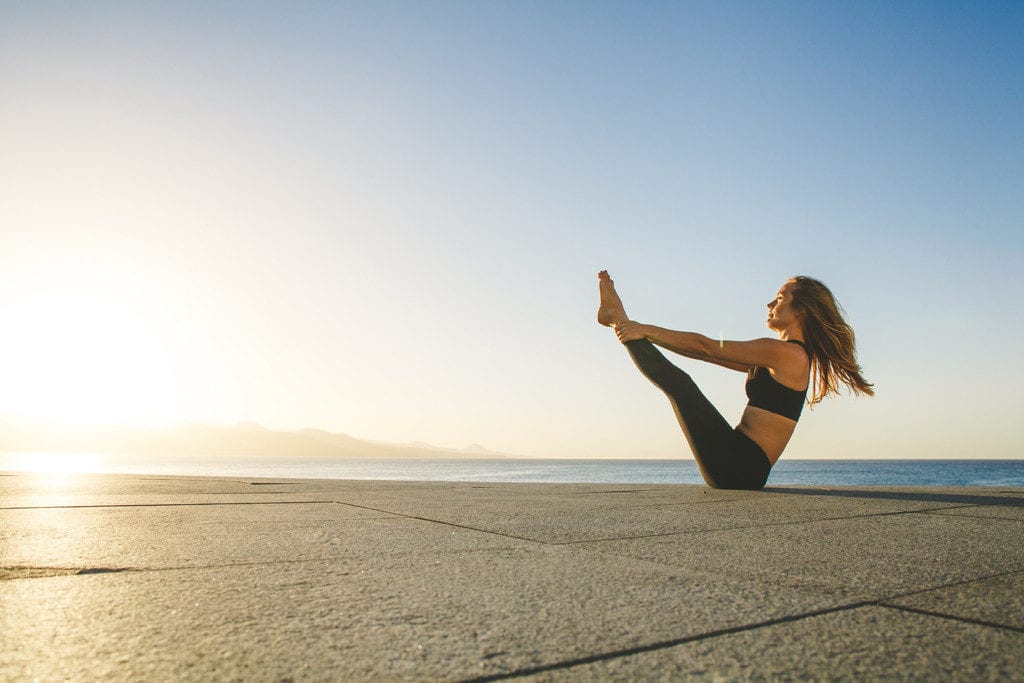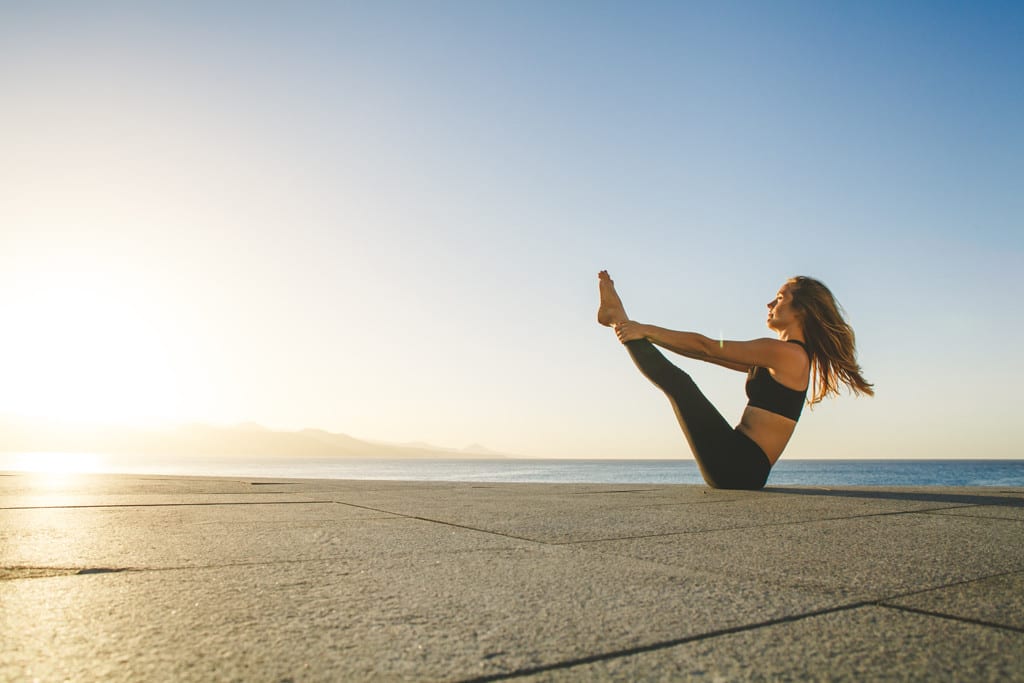 Our yoga holidays are located in Las Palmas de Gran Canaria (Spain), a place known for its all year long summer. We want to give you the opportunity to let yoga be your daily companion, merge into the Canarian lifestyle, meet new people, connect to nature and have a time for yourself. An invitation to leave your "musts" behind and just live your holidays as you please.
We want to give you what we love, so we offer you daily yoga classes and all sort of activities to discover Gran Canaria, experience something new or simply relax and chill. Your non yogi partner will also have its place and you will be able to enjoy both your yoga practice and the pleasure of sharing. Because we believe that above all, the best way to be healthy is to be happy.
At See Yoga Holidays all levels and reasons for practicing yoga are more than welcome. During the classes, you will always be encouraged to listen to your body and let it be your guide. We will suggest you all sorts of modifications that will help you to build up your own practice and deepen into it. Classes will naturally change from one yoga style to other (Vinyasa flow, Hatha, Yin, Kundalini) depending of the time of the day and the energy of the group. All our teachers are qualified by the Yoga Alliance and have wide experience in other fields (reiki, alternative therapies, art, dance, meditation). Indoor and outdoor yoga practices will be combined.
Spa Hotels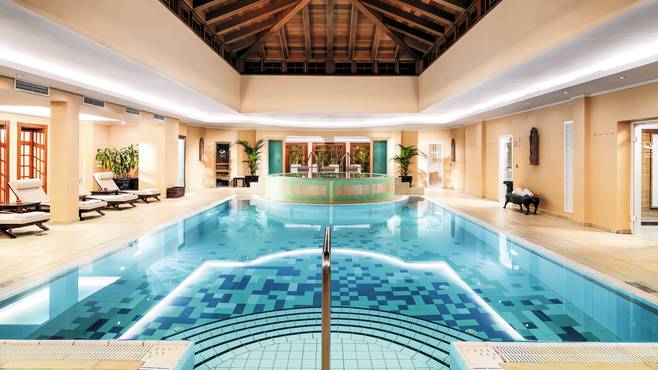 Discover the magic of Tenerife and enjoy an unforgettable stay at the elegant 5-star luxury spa hotel Botanico. One of the most luxurious hotels in Tenerife wit a well-earned reputation for elegance and service it is truly a hotel of genuine distinction. With a classic style and oriental touches, this luxury hotel is located in Puerto de la Cruz and features first-rate leisure facilities to guarantee the perfect retreat experience. Start the day off by the pool with a refreshing fruit juice and the most complete and healthy buffet imaginable, sign up for a yoga class, play golf or tennis, stroll through through the idyllic gardens, and enjoy a succulent à la carte dinner at any of the haute cuisine restaurants.
Let yourself be pampered at the award-winning and renowned Oriental Spa Garden set in landscaped tropical gardens with views of Mount Teide, the Orotava Valley and the ocean. Read reviews on Tripadvisor.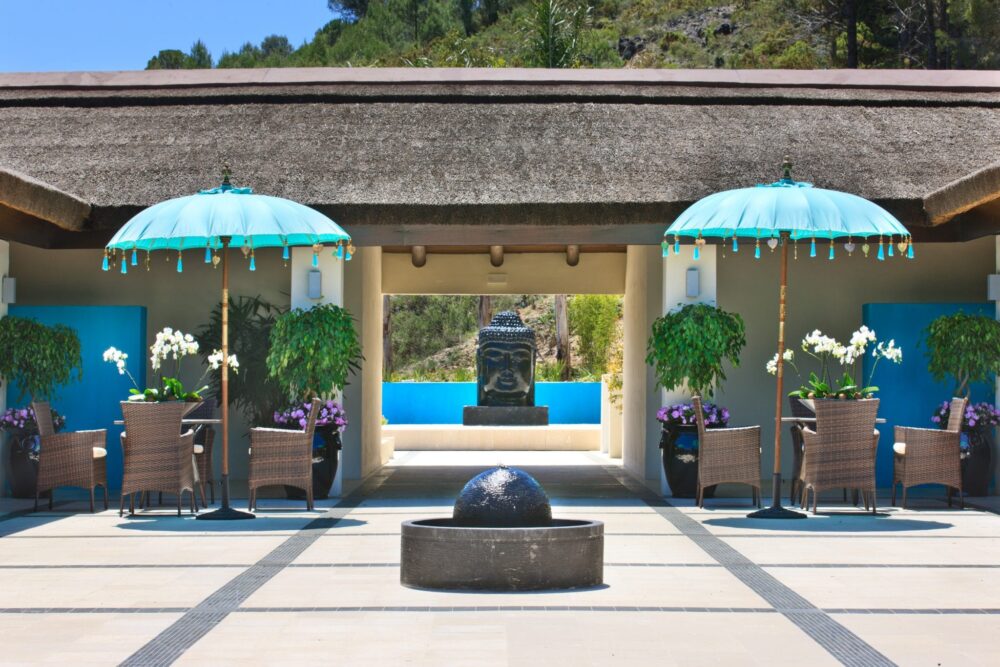 Shanti-Som wellbeing retreat is nestled in the midst of nature surrounded by the Sierra de las Nieves Nature Park and Biosphere reserve and has been carefully constructed respecting and incorporating local materials as well as following the guidelines of Feng-Shui. On arrival you will be greeted by a huge Buddha lying on the roof. Shanti Som is a haven of tranquility, surrounded by acres of luscious land pine, almond, lemon and olive trees.
You will wake up each morning to the blissful sounds of the wildlife and water from the stream, waterfalls and fountains of the retreat's Oriental gardens, rather than an alarm clock to get your body in natural harmony with natures rhythms. And you will leave the retreat feeling rested and re-nourished on every level.
Your 7 day detox retreat program consists of 5 days of fresh juices, supplements and broths
, daily group yoga class, self-administered colonics
, nutritional support during your stay
 and complementary use of the steam bath, sauna, swimming pool and gym.
The 14 bedrooms at Shanti-Som consist of 12 premium rooms and two Suites. Following a philosophy of East meets West, all rooms have been individually designed with attention to detail including marble luxury en-suite bathrooms, fine linens, flat screen TV and stylish furnishings and accessories like bath amenities, bath rope, and slippers. Your private terrace or balcony is the ideal place to relax and absorb the surrounding nature of pine forest and mountains. Read reviews on Tripadvisor.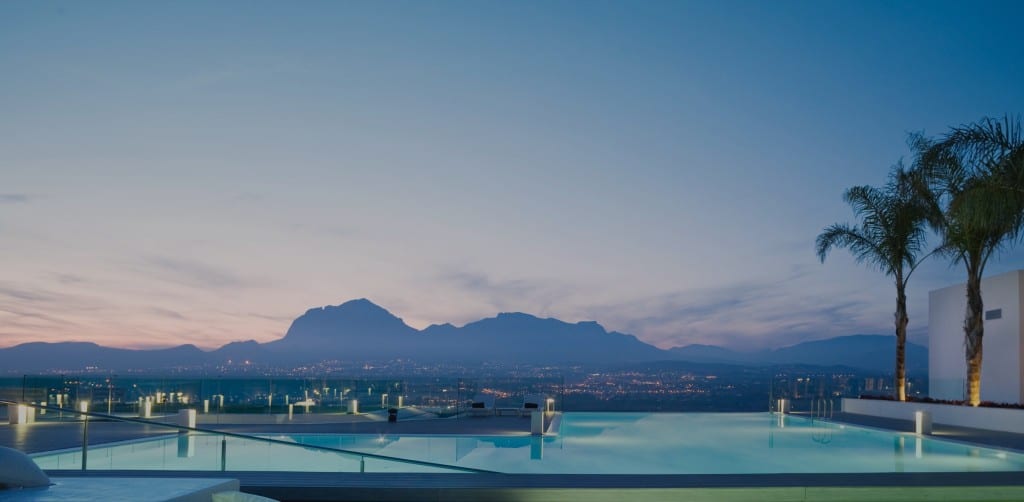 The SHA Wellness Clinic is a world-class pioneering health clinic, hailed as one of the best medical spas in Europe and offering an array of tailored wellbeing programs including detox, weight loss, fitness, sleep recovery and anti-stress. SHA was the brainchild of Alfredo Bataller Parietti who's vision was to open a clinic that could treat major illnesses with a perfect fusion of natural ancient Eastern philosophy and advanced cutting-edge Western techniques, alongside a pure macrobiotic nutrition diet.
Located on a Spanish mountainside, near the beach of El Albir, overlooking the Mediterranean and serenely set within Sierra Helada Natural Park. All SHA's programmes and treatments are created and supervised by world renowned experts including the eminent Michio Kushi, the world leader in modern macrobiotics. Among the therapies available are acupuncture, ozone therapy, hydrotherapy, yoga, Pilates, reflexology, hydrocolonotherapy, and the signature macrobiotics and anti-ageing treatments. Retreat programs start from a minimum 4 day stay. Read reviews on Tripadvisor.
Healthy eats
Spa's
Having trouble choosing one of our beautiful retreats in Spain and the Canary Islands? Contact the team on retreats@soulseedmedia.com and we will help you find and book your perfect retreat. Follow our travels on Instagram @soulseedtravel.
Pack your bags and book your flight! We recommend Skyscanner to find the best airfare.