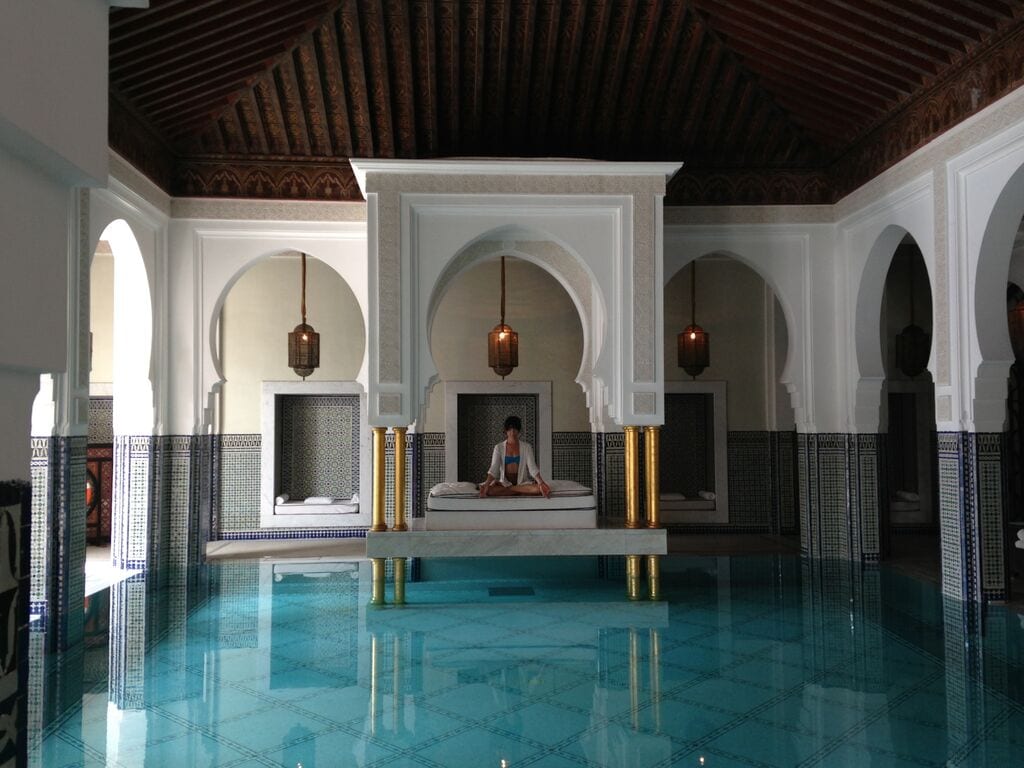 Whether you're looking for a tranquil wellbeing escape or an action-packed city trip, when travelling solo the world is your oyster.
The greatest luxury about solo travelling is the freedom to go wherever your heart desires. Give yourself the gift of travel and choose experiences that light you up and make you happy.
Here's our top pick on luxury retreats, city breaks and spa's for the solo traveller.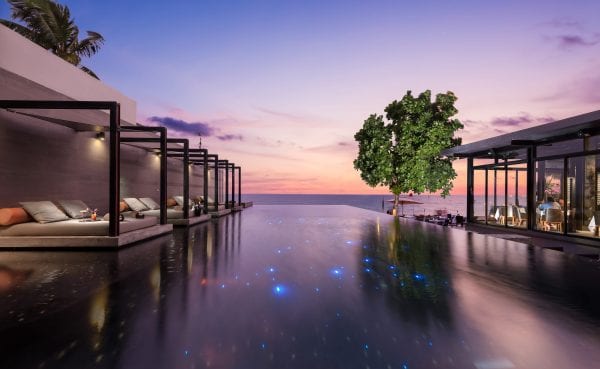 This luxury breathe vitality retreat at Aleenta in Phuket is designed for those who wish to go into a much deeper restorative and healing process by dealing with the root causes of stress and burnout.
It will help you unlock the key to feeling joyful, healthy, and energetic: discovering what balance means for You. You will have time to relax and renew your energy and reinvigorate your mind body and soul.
Nature and the elements are important components of our retreat, as they help you in the healing and balancing process. We combine knowledge of Thai holistic medicine, soul coaching and traditional Hatha yoga practices with an analysis of the 4 life elements.
Aleenta Hua Hin Resort & Spa in Phuket is the original award winning boutique luxury resort upon which Aleenta started. This special boutique luxury resort and spa features 25 unique residences, most with a private pool.
Each suite is located within mere footsteps of the beach and offers commanding views over the Gulf of Thailand. Situated on the pristine and golden sand stretch of Pak Nampran Bay, Aleenta Hua Hin Resort is a comfortable 3 hour drive south of Bangkok.
The main resort, located along the beachfront, features white-washed buildings with thatched roofs, amid swaying palms. The picturesque Resort Wing offers a variety of residence, suites and villas, steps away from the seashore and complete with private plunge pools.
Besides a daily yoga class, we will also enjoy walks around the scenic Tuscan hills and a meditation walk will be included in the week as well. "FLAVORS" – We'll not only balance the week with the healthy "form" part of the retreat, but also with learning about and experiencing firsthand the amazing flavors of this region.
Each day we'll be able to enjoy mouth-watering cuisine, as well as take part in tastings from wine and olive oil, to cheeses, gelato, and of course the Italian espresso. From award-winning restaurants to family farms and kitchens, learning and enjoying the food will be an added bonus to working up an appetite during our classes and walks!.
Trips include visits to small villages, large cities, and outdoor activities, even a day at a unique "Sensorial" thermal spa where guests will enjoy a treatment "circuit" through thermal waters, aromatherapy, chromotherapy, and relaxation pods.
Julian and Erin will be your guides around the city, museums, and outlying walks. Enjoy seeing world famous works of art, as well as monuments, one-of-a-kind lookouts, and feeling the modern bustle of this compact city.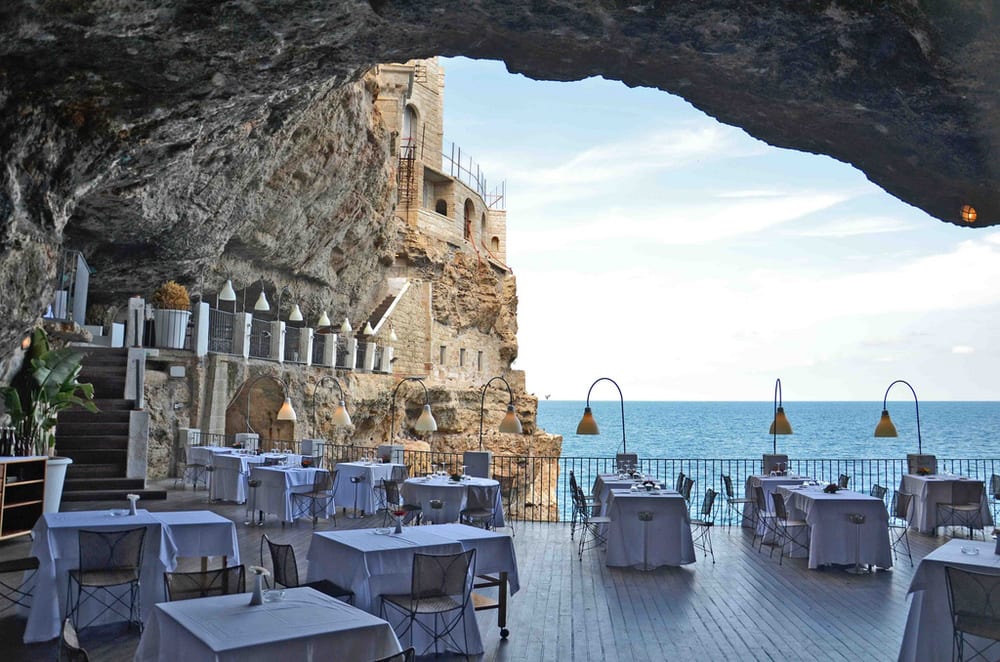 Get ready for our annual getaway in the south of France – this time with a new itinerary with daily yoga, walks, and food-focused activities throughout the week. From gourmet tastings, the famous Provencal rosé, and plenty of time to take in the gorgeous surroundings on our hikes past lavender, blue waters, and vineyards.
Bastide Avellanne is the ideal location to visit Provence. Situated only 30 minutes from the sea and from the Cote D'Azur between Cannes, St Tropez and Hyeres, with its hundreds of kilometers of white beaches, rocky capes and wild bays is considered the most beautiful coastline of France – 300 kilometers of coast accompanying the Mediterranean Sea, white sandy beaches, a preserved landscape, protected islands and famous locations renowned worldwide.
Bastide Avellanne is the ideal location to visit Provence. Situated only 30 minutes from the sea and from the Cote D'Azur between Cannes, St. Tropez and Hyeres. With its hundreds of kilometers of white beaches, rocky capes and wild bays, it is considered the most beautiful coastline of France – 300 kilometers of coast accompanying the Mediterranean Sea, white sandy beaches, a preserved landscape, protected islands and famous locations renowned worldwide.
It looks just as you see in postcards: fields of lavender, medieval villages, chateaux, markets full of colours where you can find local products and exotic spices, lively small towns with a slow way of life.
Day trips will allow guests to add arts, culture, adventure, and natural beauty to their retreat experience. Trips may include visits to small villages, large cities, outdoor activities, even a gorgeous spa day in a 5* countryside chateau where guests can swim, enjoy lunch, use the spa area and receive a relaxing treatment (included in the retreat).
See smaller villages that few tourists visit, and get a true education and taste of France with various tastings of regional wines, aperitifs and cheeses.
One day will be spent on the French Riviera on the island of Porquerolles for freetime to explore the beaches, hiking trails or town. We will take a tour through the countryside to see quaint villages, French markets, and hopefully get a peek at the early-blooming lavender fields.
You'll enjoy a true Provencal experience with the markets, food, culture, and sites. Our final day will be spent relaxing at a beautiful spa in the countryside with treatments, 5* service and lunch.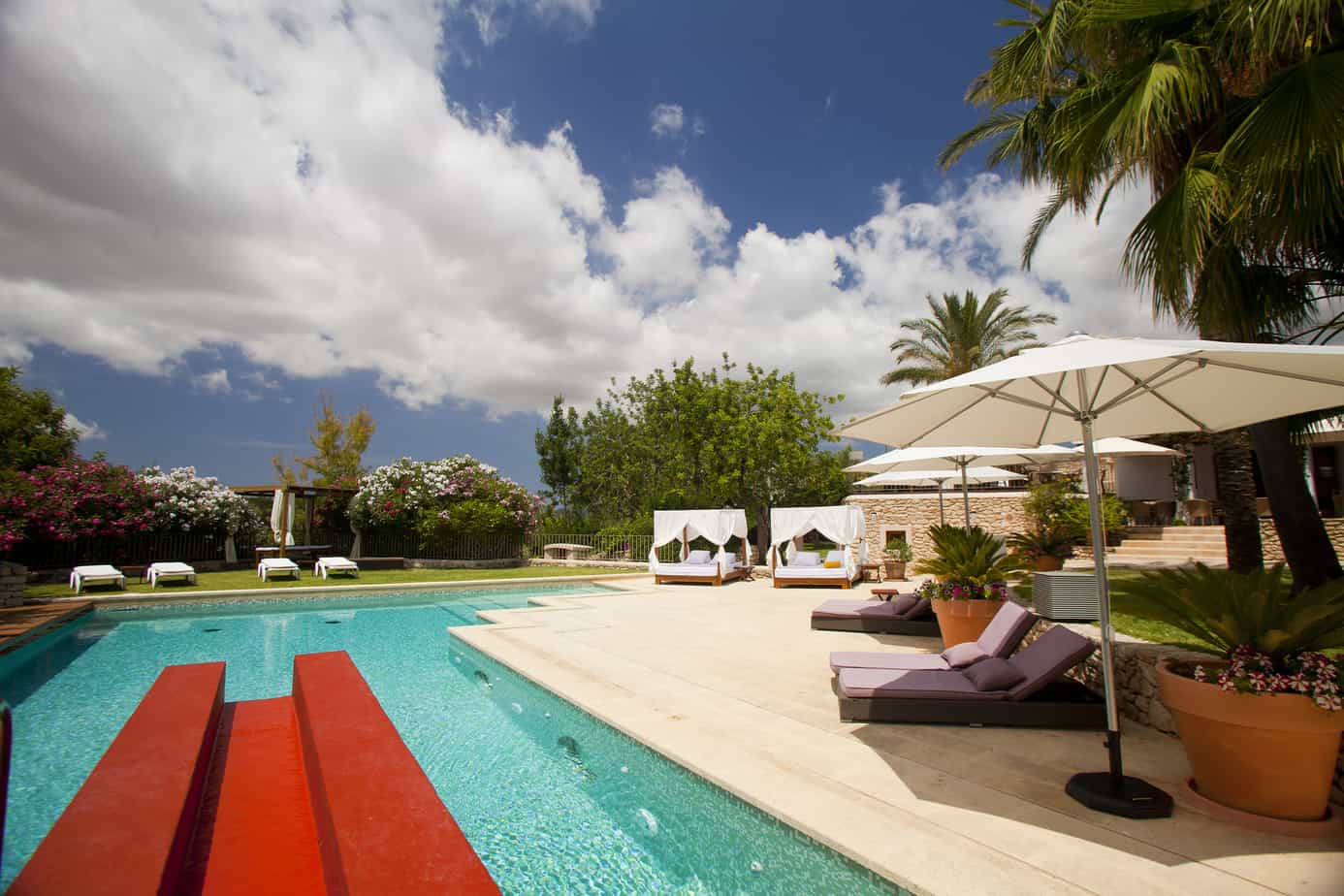 When you are blessed with blue skies and sunshine, and surrounded by positive affirmations and palm trees, you feel a tremendous sense of gratitude for life. Can Lluc is one of those special and breathtakingly beautiful places, abundant with greenery, that has you feeling relaxed and radiating peacefulness within 24 hours.
A 200 years old rustic ranch that has been in the family for at least three generations was transformed into an agroturismo by owners and husband and wife team Tina and Lucas, along with a local architect who spent three years creating their luxurious boutique spa hotel with 20 rooms.
The main building was built by Lucas's grandfather and his family home for generations. The attention to detail within the renovations retains a strong sense of the traditional through Ibicenco architecture, rustic stone walls, wooden ceilings and beautifully restored décor.
This is a relaxed retreat where you can spend your days doing yoga, chilling by the pool on a big Balinese bed and taking a sunset walk with a meditation on the top of the hill with panoramic views of the Island.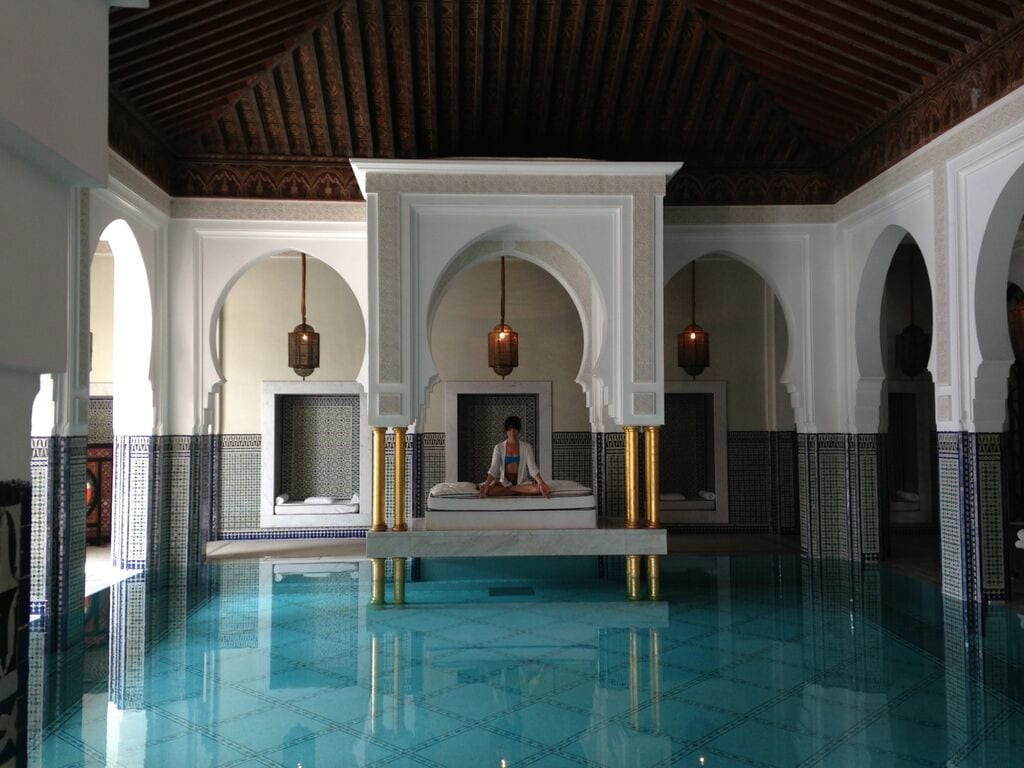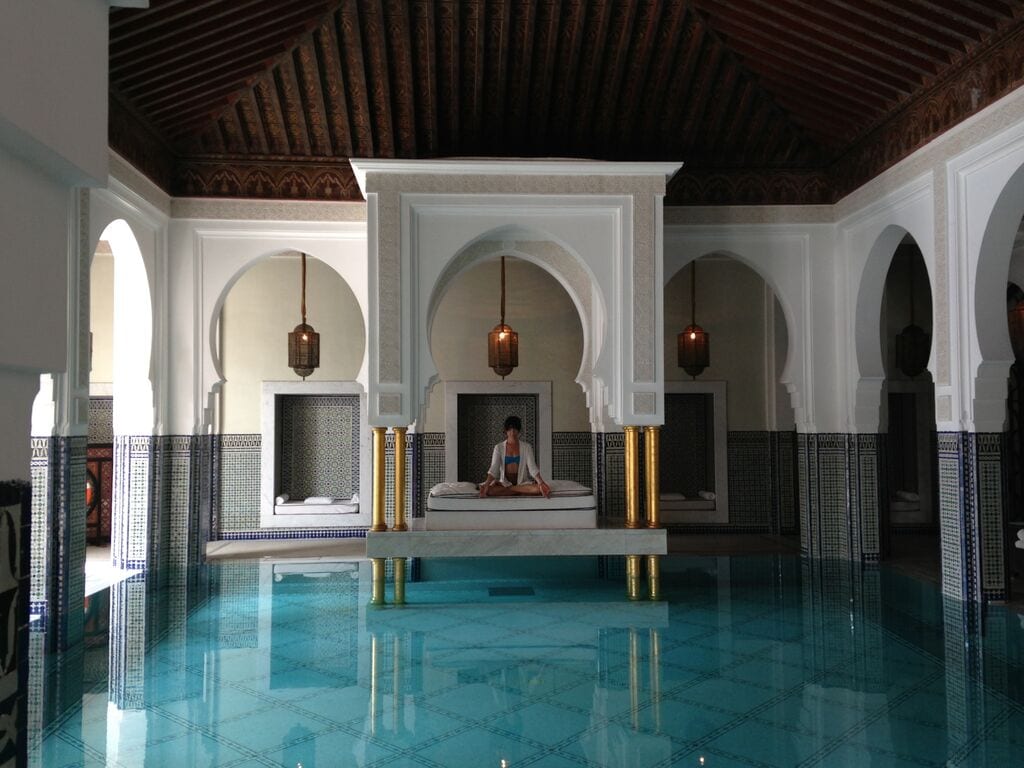 This Yoga Marrakech Move + Manifest retreat offers a series of mindful workshops that will guide you in the exploration of creative self-expression in your life. Expect meaningful discussions and fun activities intended to help you tap into your own inner wisdom and heartfelt desires.
Your retreat home for the week is the  fabulous Peacock Pavilions boutique hotel. This stylish and eco-friendly abode has been featured in worldwide publications, including National Geographic Traveler.
You will not only enjoy the grounds of Peacock Pavilions, the outdoor areas including a lovely pool, patio, private terraces, and covered yoga platform, but the retreat includes some amazing day-trips to the surrounding sites.
A guided day trip in Marrakech will lead you through an introduction to souks and visits to sites such as Ben Youssef Medrasa.
A full day will be spent exploring the nearby Atlas Mountains with a base at the Kasbah Tamadot Hotel with a traditional mule trek to the nearby village of Asni followed by time at the beautiful grounds of this 5-star location overlooking the vista and tasting menu lunch.
The final full day entails a trip to the famous Bains de Marrakech, a luxurious spa facility, where guests can be pampered to their heart's content with a full program of various treatments. What better way to wrap up a week of yoga than a day of pure relaxation.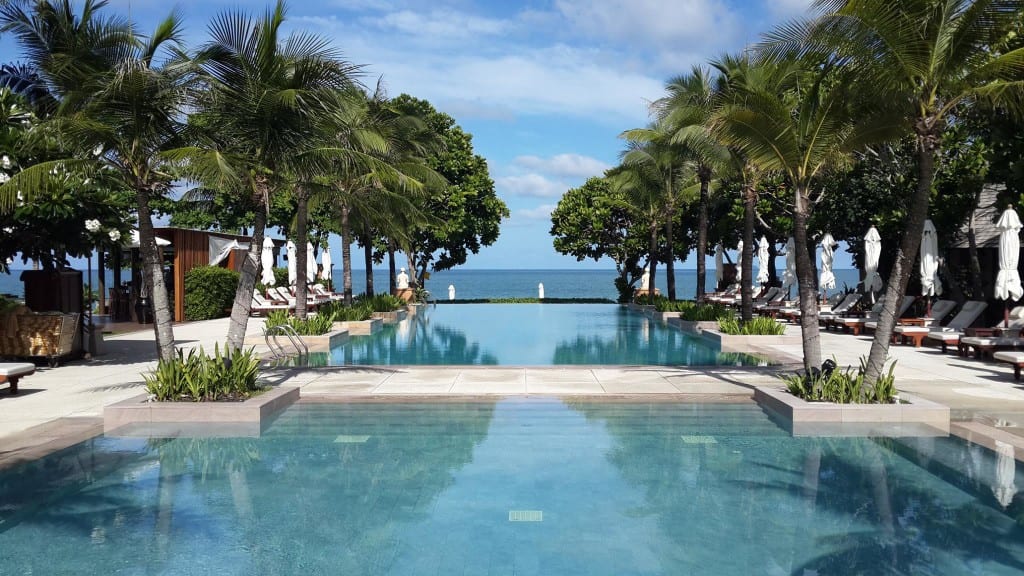 Layana Resort & Spa is a luxurious adults-only hideaway set amidst the azure blue waters of the Andaman Sea, Koh Lanta Yai, an idyllic tropical island located in the South of Thailand with pristine beaches backed by lush tropical greenery and forested hills. Located on 3 kilometers of the white sandy Phra-Ae-Beach and harmonising with its secluded surroundings in a way that is distinctly Asian, Layana Resort & Spa blends pampered luxury with a fresh, open and natural ambience.
Translated from the Sanskrit language "Layana" means "a pause in time"; in keeping with this ethos, Layana Resort & Spa is committed to creating an exclusive haven of luxury where the world revolves around you.
To extend our commitment to the luxury of time and rejuvenation power of an island holiday, we have just completed an ambitious upgrade and expansion of our wellness facilities. Guests can enjoy a completely new experience at our "Wellness Zone."
After an invigorating workout in our new and ultra-modern gym facilities or pre/post a soothing massage, refresh or take laps at the new wellness pool. The pool uses saltwater treatment, nature's very own purifier and cleaning agent, which aids in skin recovery, is great for joint pain, and has far less irritants when compared to chlorinated pools.
You will leave feeling revitalized and cleansed without the harsh side effects of chlorine. The half Olympic size lap pool is perfect for exercise sessions or just lounging while enjoying healthy refreshments from the brand new Healthy Juice Bar. Our Fusion Fitness retreat packages are offered for 4, 7 or 10 nights.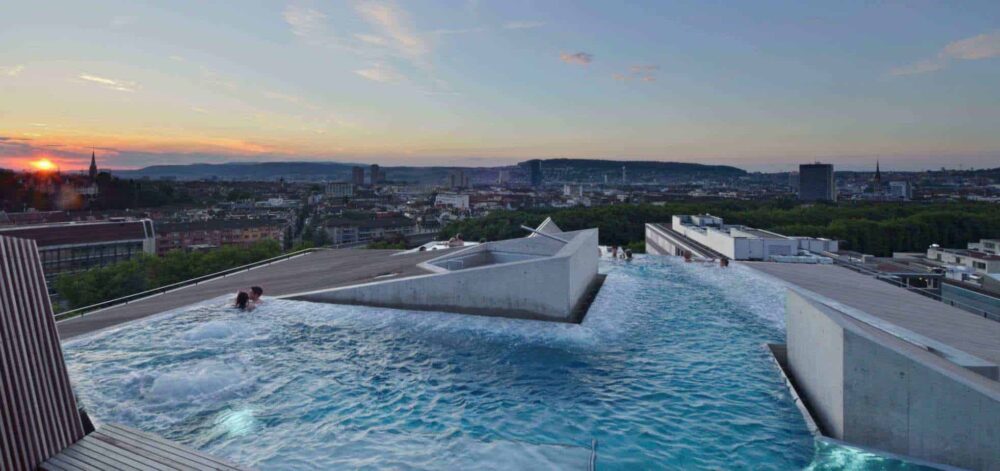 Staying where beer was once brewed: The B2 Boutique Hotel + Spa in the former Hürlimann brewery is a surprising and unusual city hotel. Your retreat in the middle of Zurich, which you will remember for many reasons, including its architecture, which creates an exciting bridge between Zurich's industrial history and urban design.
The individual design and selected materialisation of the stylish rooms and suites, the Wine Library with 33,000 books and unique chandeliers made from original Hürlimann beer bottles – the ideal place to enjoy, read, work in peace and still in company and not forgetting the spa and thermal bath , which offers a wellness experience for all senses, from the centuries-old brewery vaults in the cellar to the infinity rooftop pool overlooking Zurich.
The thermal water from the Aqui spring comes deep from the earth under Zurich and is exceptionally rich in valuable minerals that provide relaxation and well-being. In the hundred-year-old barrel vaults under the B2 Hotel, where once the Hürlimann beer was stored in oak barrels, today huge wooden tubs invite for thermal bathing.
Relax with massage jets, bubble seats, bubble beds and whirlpools; in the emerald bath, meditation bath, in the steam bath or in the Kneipp zone. And take a bath in the open air in the warm infinity pool on the roof of the brewhouse – where you can enjoy a magnificent panorama of Zurich in every season.
As a guest of the B2 Boutique Hotel + Spa Zurich, you can take the lift directly from the hotel to the thermal spa. Bathrobe and slippers are ready in your room.

Get fit and healthy without spending hours in the gym! The retreat combines daily sessions of uplifting yoga to open and awaken your body plus fitness sessions outside in beautiful scenery and sunshine to boost to the 'feel good' factor of exercising in the great outdoors.
Enjoy beautiful hikes into the nearby mountains, guided bike rides and uber delicious healthy food.  And, when you're ready for a little rest and relaxation you can flop on a lounger by the pool, pamper yourself with lovely treatments, take a snooze in your spacious suite or enjoy some water 'therapy' in the newly opened Spa.
You'll be practicing hatha yoga, vinyasa flow and yin yoga to ensure you experience the full breadth and depth of what yoga can do for your body and health.
Don't worry, everything is optional as we like our retreats to be super relaxed. If there's a morning you want to sleep in, please sleep in. If there's an afternoon you would rather explore the town than come to class, that's ok! Whatever your soul needs, please do that. The classes are designed to be appropriate for all levels.
Join us for our once-in-a-lifetime luxury boutique yoga retreat travel experience combined with a deeper spiritual perspective in the mystical, magical land of Marrakech.
You'll be able to experience the exotic world of Marrakech while learning about the historically unique culture, indulging in a one-of-a-kind shopping experience, going to the spectacular Atlas Mountains, dining in stunning restaurants, rejuvenating in the famous Moroccan Spas, going on camel rides and mule treks, seeing beautiful Arabian horses and much more!!.
Plus daily yoga and meditation class, along with personal tarot readings with our leader Michelle Lee, are integrated into each day, making the week a true soulful "retreat" experience. You will go home feeling centered, rejuvenated, and completely inspired!
Our hotel sits in the magnificent 14 hectares of the Beldi Country Club. Here you will find a charming blend of Moroccan tradition and French chic. A green oasis of charm, ancient olive trees, stylish swimming pools and restaurants with views across the rose gardens to the Atlas Mountains.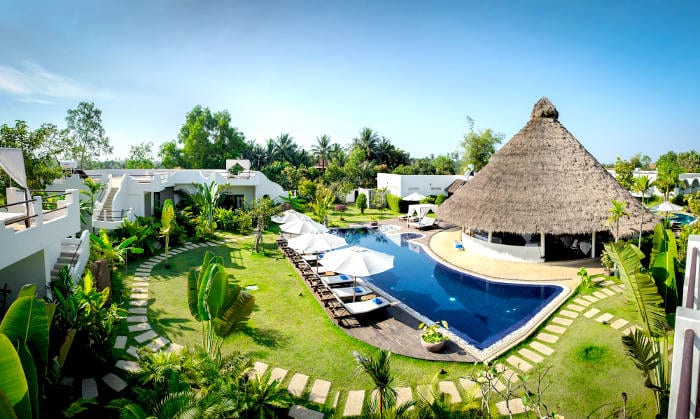 Tucked-away in a village within 5 minutes from the Old Market in the colonial French Quarters of Siem Reap, is the beautiful oasis that is Navutu Dreams. With 28 rooms and suites housed in low slung chalet on a hectare and half of gardens speckled with 3 swimming pools, it is the only upscale resort and wellness retreat in Angkor. This is where detoxing or a mini-break can easily be a part of a relaxing holiday highlighted with a visit to Angkor Wat which is a mere 30 minutes driving distance from the resort.
Navutu Dreams has a core team of seasoned wellness practitioners who have crafted programs designed to detox the body, the mind or both. Yoga classes are available three time a day, each day of the week. Private bodyworks, breath-work, yoga, meditation or even partner yoga sessions can easily be arranged.
Traditional Chinese medicine is also available at the resort. Within its menu are services for acupuncture, shiatsu, cupping and auriculotherapy. Alternative healing is also readily on-hand. Reiki, Crystal Healing, Tibetan Bowl Sound Bath and the resort's signature BreathLightBliss which is a combination of these plus breath-work.
Destination-inspired activities also include forest bathing or the practice of ''Shinrin-yoku'' in a selected path at the Angkor Archaeological Park and sunrise meditation within the grounds of 9th century temple on a hill over-looking the Tonle Sap Lake.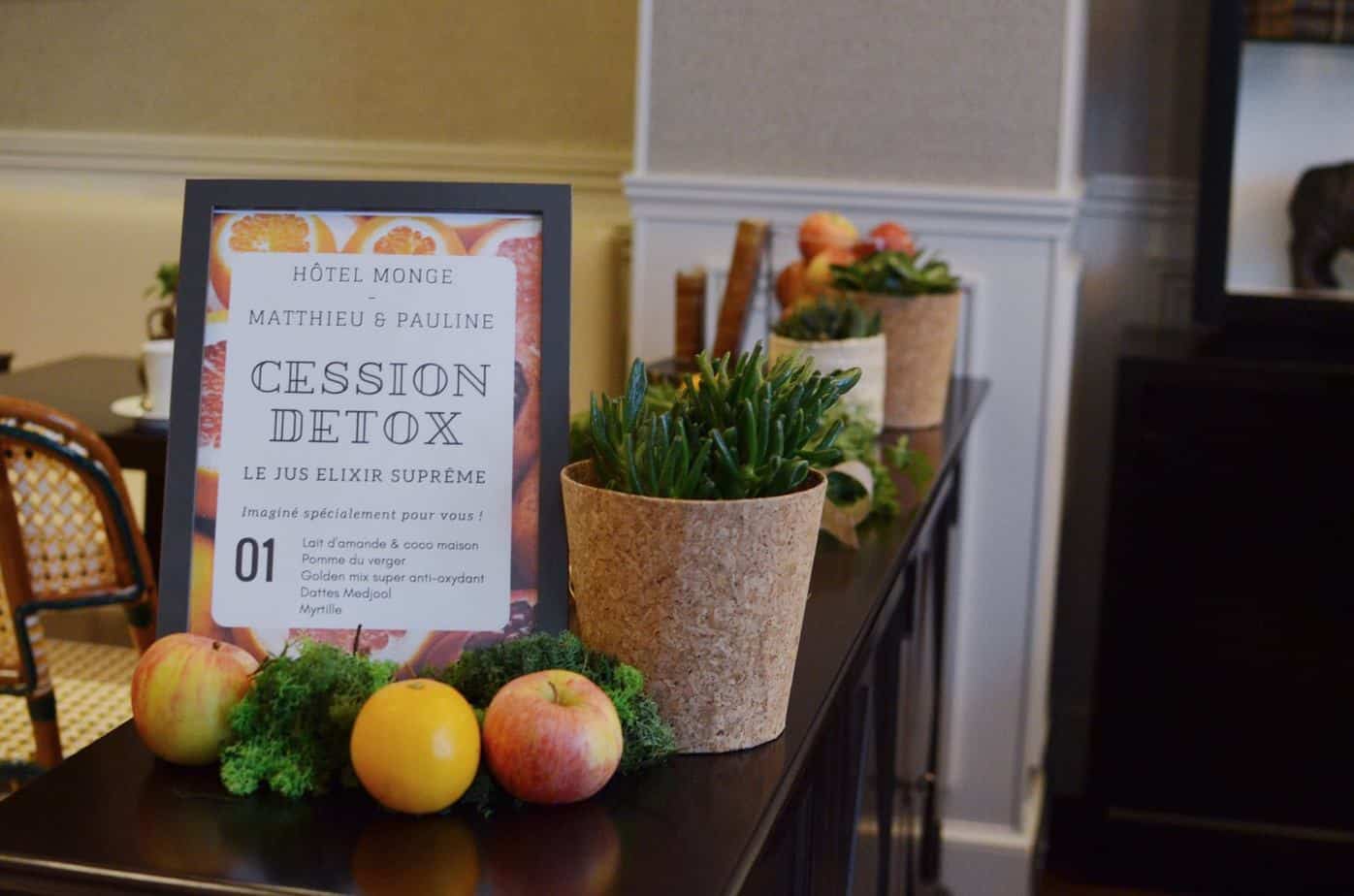 As the former home of a family who once played a significant part in the artistic community of the Left Bank, the Hotel Monge, in the heart of the 5th arrondissement of Paris, has always been an address of prestige and significance in the Latin Quarter. This charming 4-star hotel reopened in 2016 following a complete renovation. The new décor of the establishment and its 30 bedrooms is largely inspired by the district in which it stands ; a district that evolved in close harmony with the world of books.
So, naturally, the design of the décor offers numerous nods to the literary Paris of Saint-Germain-des-Prés and the neighbouring University of Paris, known as the Sorbonne, as well as lithographs and souvenirs of journeys emblazoned with poetry and honouring the flora and fauna of the nearby Jardin des Plantes.
You can enjoy top-of-the-range services and amenities, including room service, a tea room and honesty bar, a Decléor wellness area with a hammam and massage room, as well as a concierge service and the assistance of a dedicated team that is particularly attentive to the welcome and satisfaction of each and every guest.
Ideally located between the Jardin des Plantes and the world-famous Notre-Dame Cathedral, several rooms overlook the Arènes de Lutèce and provide the perfect starting point for discovering Paris.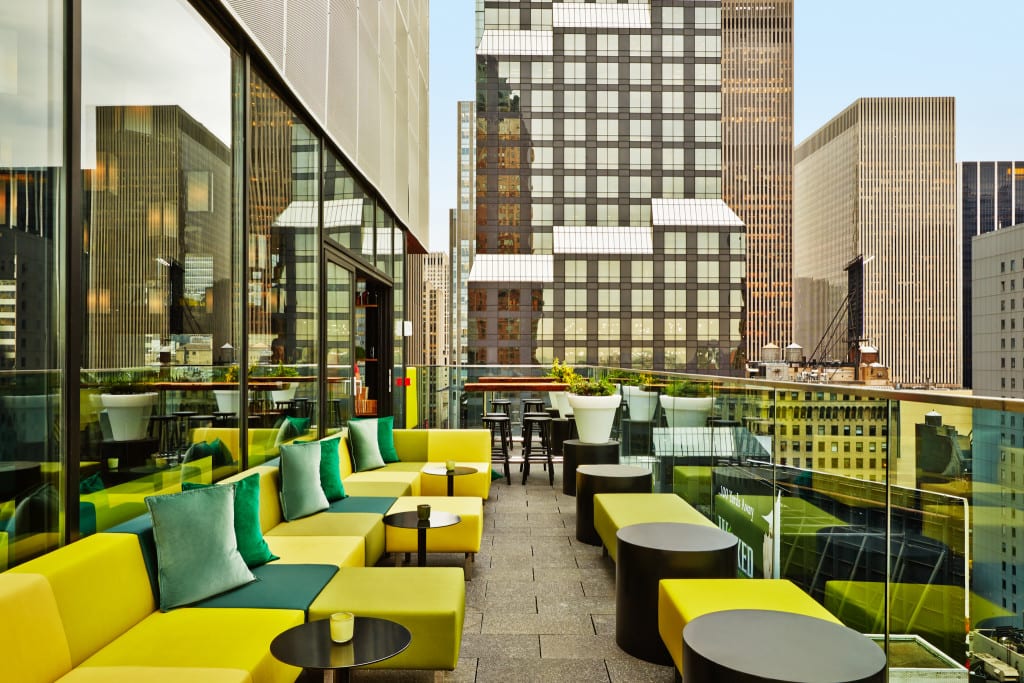 The hip and modern lobby of the CitizenM Hotel reminds its like something out of the front cover of Time Out Magazine – palettes of red, black and white. A glossy mountain bike hangs behind the reception desk and a postbox red statue of liberty stands in the garden. Floor-to-ceiling bookshelves showcase an eclectic mix of funky art and eccentric objects from around the world.
Designed by concrete architects, there are lots of outdoor areas to relax or work in, including a ground-floor courtyard with cascading greenery and beautiful lanterns. The pod like and space-aged designed rooms are high tech and come with tablet storing DJ-curated playlists, customisable light settings and remote-control blackout screens.
The wraparound rooftop terrace on the 22nd floor is an Urban Oasis with wooden ceilings, plants, picnic tables and green sofas. There's also a basketball court-inspired gym which features floor-to-ceiling windows and an outdoor yoga terrace. A perfect hotel for the fitness fanatic and wellness traveller where you can still start the stay with a yoga class.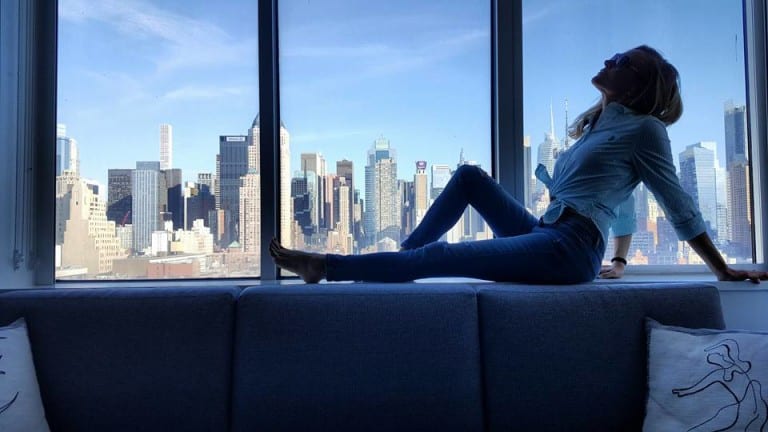 Located in the funky meat packing district, Ink48 gets its name from being a former print building. The David Rockwell­ designed Kimpton hotel leads the way as an eco friendly establishment and has earned itself several green accolades over the years.
As with most Kimpton boutique hotels, which are certified by the Green Key Eco-Rating Program and TripAdvisor GreenLeaders™ Program, Ink48, has a number of green hotel practices such as eco-friendly bath products, in-room recycling bins, limited paper products, energy-efficient lighting, low-flow water toilets and faucets and other sustainable features.
Additionally, the hotel's line of cleaning products are eco-friendly and they serve only organic and/or free trade coffee and tea products. The PRINT restaurant also offers sustainably sourced ingredients from local farms and regional suppliers.
Rooms are spacious and beautifully designed – big windows, high ceilings, king sized bed, and an office spot to work from with sky scraping views. For panoramic views of the city, the roof top bar 'Press Lounge' is the place to be, where socialites, fashionistas and business people mingle over a fancy named cocktail. Regarded as one of Manhattans rooftop bars it's a fabulous spot to watch the sunset.
For wellbeing needs every room comes with a yoga mat and there's hotel bikes to ride around town, and a 24-hour fitness centre. And for pampering and relaxation there's the eco-friendly, tranquil zen inspired INKSPA that offers massages and treatments using Elemis products.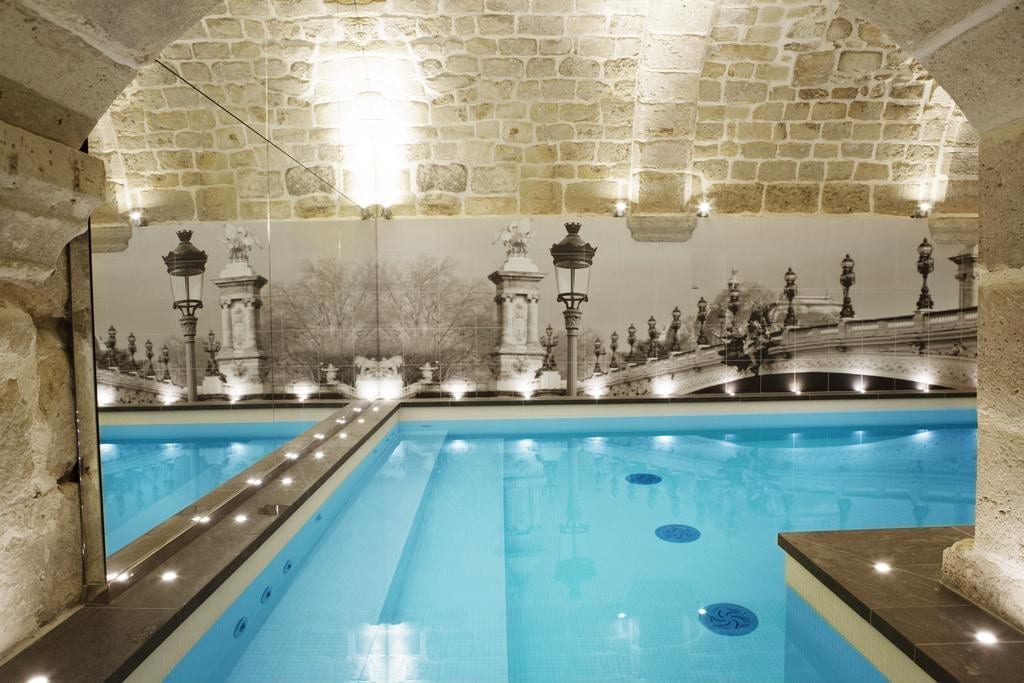 This 4-star chic boutique hotel is nestled within the Latin Quarter – the Notre Dame, Louvre and the Pantheon all within a short walking distance. It has a romantic and luxury feel, decorated with photos of black and white scenes of the streets of Paris by Nicolas Sénégas, a splash of fuchsia pink materials on the chairs, an orange glass ceiling, locally sourced antiques (such as the two oval windows rescued from a grand Parisian residence), mirrors and lanterns hanging each side of the bed.
The cosy and spacious suites with have cute little balconies with scenes of a typical Parisian street, a place to watch the world go by and write in your journal. The secret discovery of the hotel is the Wellbeing La Lanterne, a beautifully designed spa with an indoor swimming pool that lies beneath an ancient gold-stone arch, a hammam and Turkish Bath and Sensorial Shower. Wherever you look in the La Lanterne you will have a whispering reminder that you are in Paris.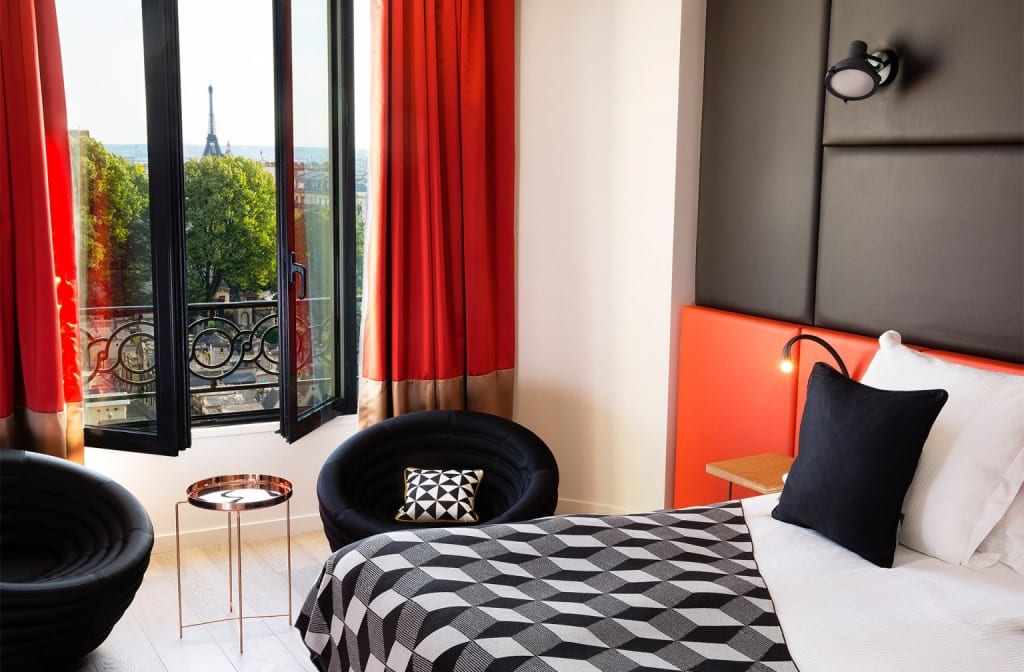 The four star Le Terrass is located in the heart of Montmartre, on the corner one of the picturesque street, rue des Abbesses. The elegant Eiffel suite offers direct views from the bed and the bathroom, so you can even brush your teeth whilst watching the twinkling lights flash before bedtime. The roof terrace is the "place to be" for a panoramic view of Paris matched with a sunset and a glass of champagne or a to die for cocktail (or the sunrise for those early risers!). 
This hotel really has it all, it's got soul, it's got style, the best views of Paris, phenomenal staff and the icing on the (Eiffel Tower shaped cake) – a spa of course! A haven of peace and well-being, the NUXE spa offers you a sauna and a hammam as well as treatment rooms for massages.  The hotel also has 'sport cabins' for the fitness fanatics, situated on the 2nd and 5th floor, equipped with a bicycle and a treadmill, so one can still exercise during a rainy day in Paris.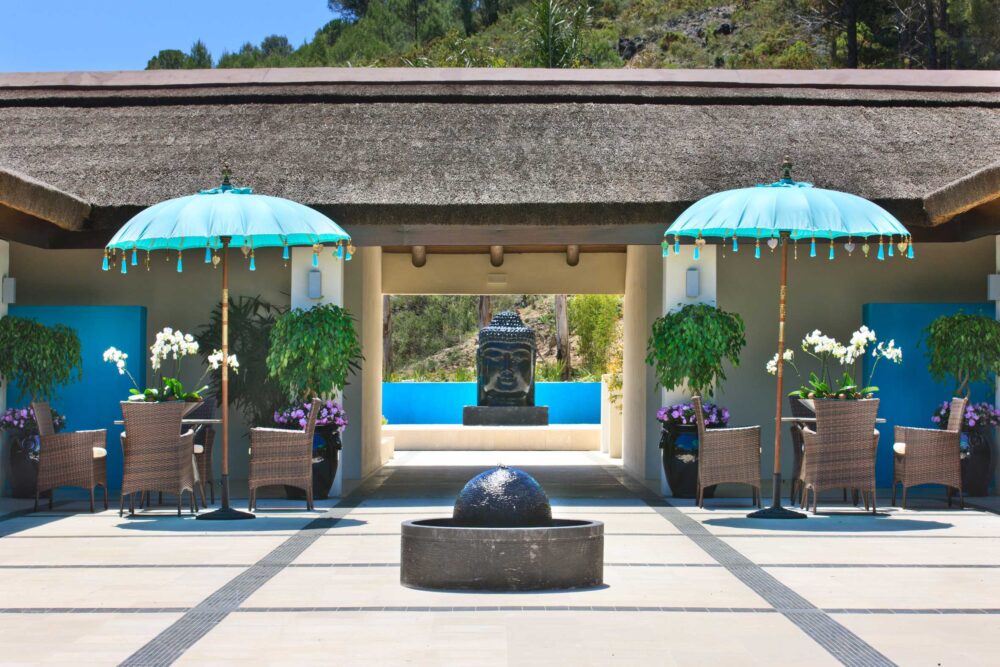 Shanti-Som wellbeing retreat is nestled in the midst of nature surrounded by the Sierra de las Nieves Nature Park and Biosphere reserve and has been carefully constructed respecting and incorporating local materials as well as following the guidelines of Feng-Shui. On arrival you will be greeted by a huge Buddha lying on the roof. Shanti Som is a haven of tranquility, surrounded by acres of luscious land pine, almond, lemon and olive trees.
You will wake up each morning to the blissful sounds of the wildlife and water from the stream, waterfalls and fountains of the retreat's Oriental gardens, rather than an alarm clock to get your body in natural harmony with natures rhythms. And you will leave the retreat feeling rested and re-nourished on every level.
Your 7 day day detox retreat programme consists of 5 days of fresh juices, supplements and broths
, daily group yoga class, self-administered colonics
, nutritional support during your stay
 and complementary use of the steam bath, sauna, swimming pool and gym.
The 14 bedrooms at Shanti-Som consist of 12 premium rooms and two Suites. Following a philosophy of East meets West, all rooms have been individually designed with attention to detail including marble luxury en-suite bathrooms, fine linens, flat screen TV and stylish furnishings and accessories like bath amenities, bath rope, and slippers. Your private terrace or balcony is the ideal place to relax and absorb the surrounding nature of pine forest and mountains.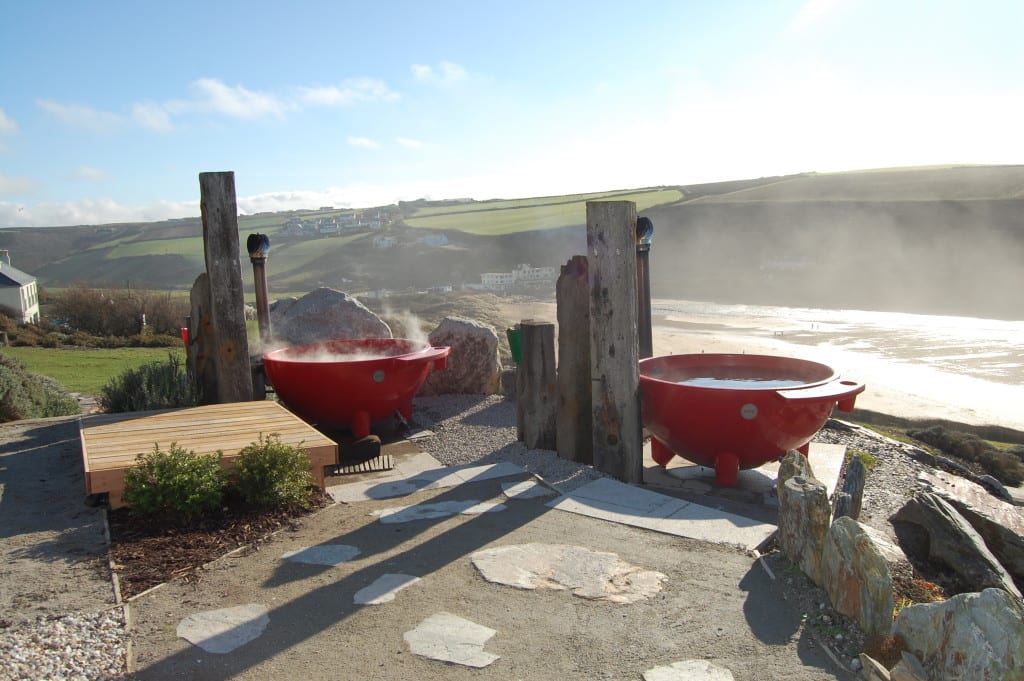 You can indulge in all kinds of relaxing diversions here at the Scarlet – including cliff-top hot tubs, a natural reed-bed swimming pool and an Ayurvedic inspired spa. The hotel has been designed so that almost wherever you are, you can enjoy far-reaching views of the beach and sea beyond. A balance of light, airy spaces with cosy, private areas which allow you to mix with our other guests or enjoy peace and solitude.
The stunningly appointed bedrooms and suites feature free standing baths, walk-in showers, sea views, private gardens, terraces or private rooftop sitting rooms. The Scarlet offers you serenity, a chance to escape from life's fast pace, slow down and truly enjoy nature, great food and a warm welcome. With its luxury tented treatment rooms lit by lanterns and its far-reaching views over Mawgan Porth Beach to the wild Atlantic beyond, the Scarlet Spa is essentially a quiet, contemplative, almost spiritual place.
The focus of their spa is on your holistic wellbeing and the nourishment of your mind, body and soul, drawing on the wisdom of Ayurveda and a distinctive Cornish twist. You might want to slather yourself in rich mineral mud in our rhassoul, experience a traditional bathing ritual in the hammam, or try your hand at massage guided by one of our therapists. Outside, a cliff top hot tub invites you to stargaze or storm watch, and our natural chemical-free pool, cleaned by reeds, beckons you into the water.
For more tips on luxury wellness retreats and spa hotels contact our team and follow our travel inspiration on instagram @soulseedtravel.