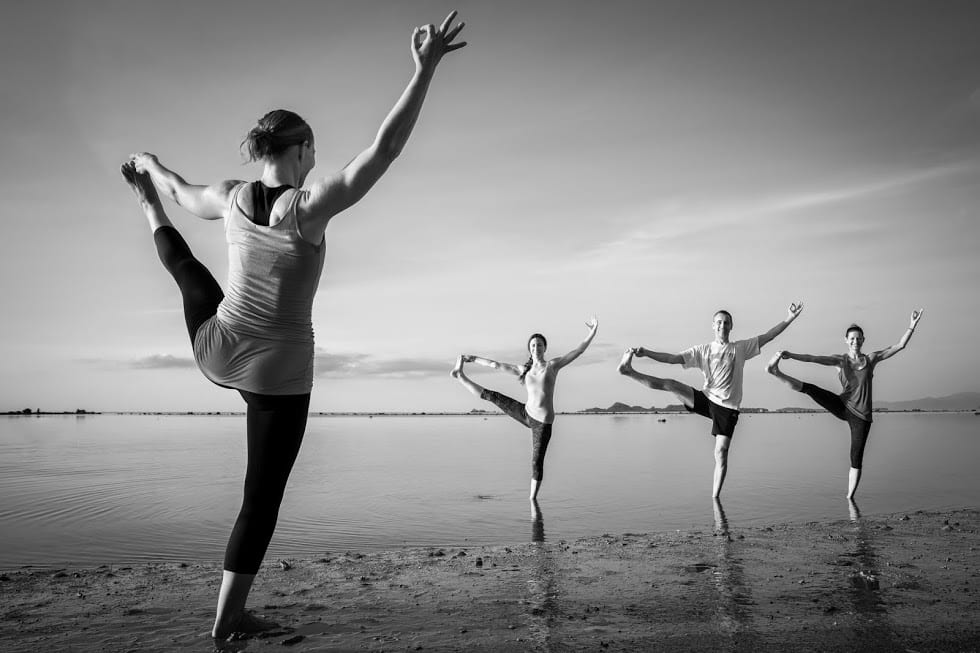 Southeast Asia is abundant with healing and wellbeing retreats offering the perfect escape, and a chance to relax, practice yoga, meditate and focus on your health.
When searching for retreats in Southeast Asia first consider which destination you wish to travel to – some of the most popular being Bali, Sri Lanka, Thailand and Cambodia.
Then think about your health and wellness goals and what it is that you want to achieve. What kind of environment are you seeking? Would you prefer to be on the beach or somewhere cooler with more solitude in the mountains?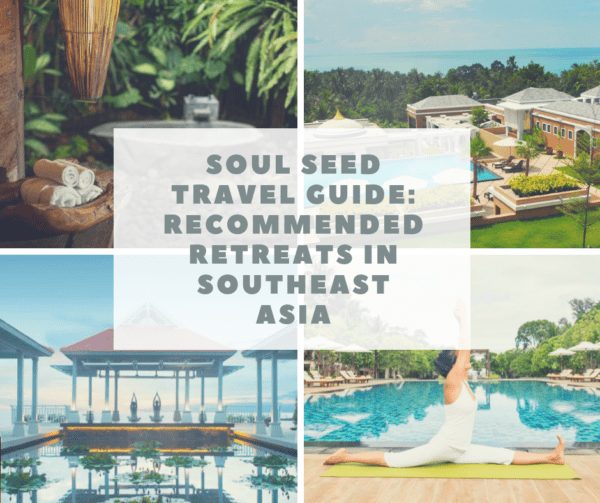 These recommended retreats in Southeast Asia have excellent spa's and therapists on hand to provide you with healing treatments and massages. You'll also be alongside some of the best yoga teachers in the world who can help you to deepen your practice.
Thailand – Koh Lanta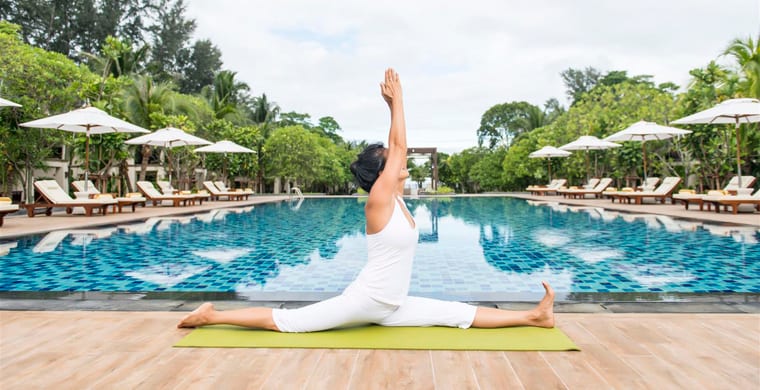 Layana Resort & Spa is a luxurious adults-only hideaway set amidst the azure blue waters of the Andaman Sea, Koh Lanta Yai, an idyllic tropical island located in the South of Thailand with pristine beaches backed by lush tropical greenery and forested hills.
Located on 3 kilometers of the white sandy Phra-Ae-Beach and harmonising with its secluded surroundings in a way that is distinctly Asian, Layana Resort & Spa blends pampered luxury with a fresh, open and natural ambience.
Translated from the Sanskrit language "Layana" means "a pause in time"; in keeping with this ethos, Layana Resort & Spa is committed to creating an exclusive haven of luxury where the world revolves around you.
To extend our commitment to the luxury of time and rejuvenation power of an island holiday, we have just completed an ambitious upgrade and expansion of our wellness facilities. Guests can enjoy a completely new experience at our "Wellness Zone." After an invigorating workout in our new and ultra-modern gym facilities or pre/post a soothing massage, refresh or take laps at the new wellness pool.
The pool uses saltwater treatment, nature's very own purifier and cleaning agent, which aids in skin recovery, is great for joint pain, and has far less irritants when compared to chlorinated pools. You will leave feeling revitalized and cleansed without the harsh side effects of chlorine.
The half Olympic size lap pool is perfect for exercise sessions or just lounging while enjoying healthy refreshments from the brand new Healthy Juice Bar. Our Fusion Fitness retreat packages are offered for 4, 7 or 10 nights.
Thailand – Koh Samui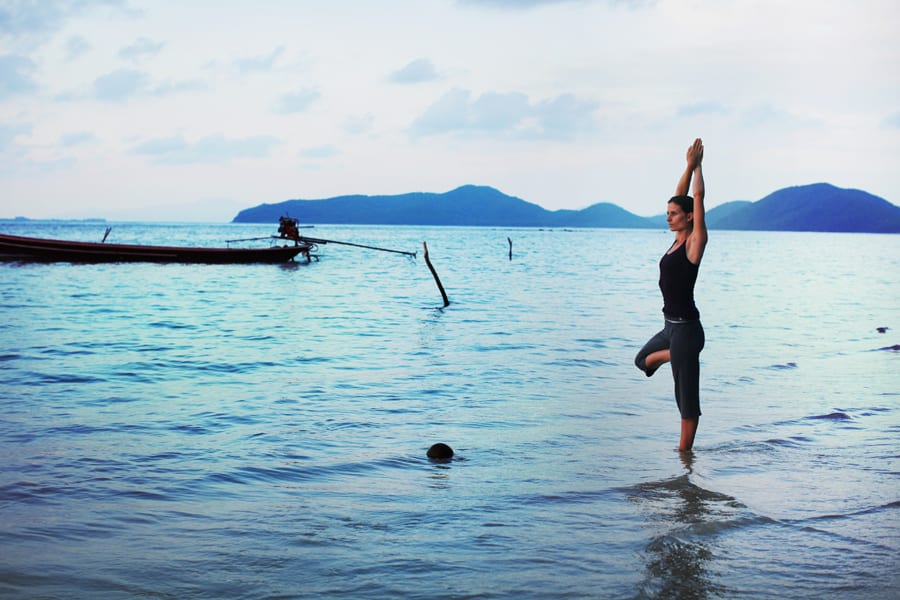 Samahita Wellness Retreat in Koh Samui has been a pioneer in healthy programming for the body, breath and mind for almost 15 years. They are a dedicated center with a strong purpose: to provide a place in which to practice balanced and healthy living in all areas of our life! Their aim is to share this way of life with others. Known as one of the most authentic yoga teaching locations worldwide while introducing a balance of practices and activities for both body and mind that includes meditation and breath work as well as full cardio and core strength fitness routines.
Samahita offer 3, 5 and 7 day wellness spa programs offering the full benefits of their facilities including a health spa, yoga, plus your choice of treatments each day. They recommend a 7 day stay in order to get the most of the experience as it takes a few days just to let go.
However, busy schedules can mean only a few days are available, so they offer 3 or 5 days to suit. You can also extend one of these program times on a daily basis adding on whichever therapies and health treatments you desire.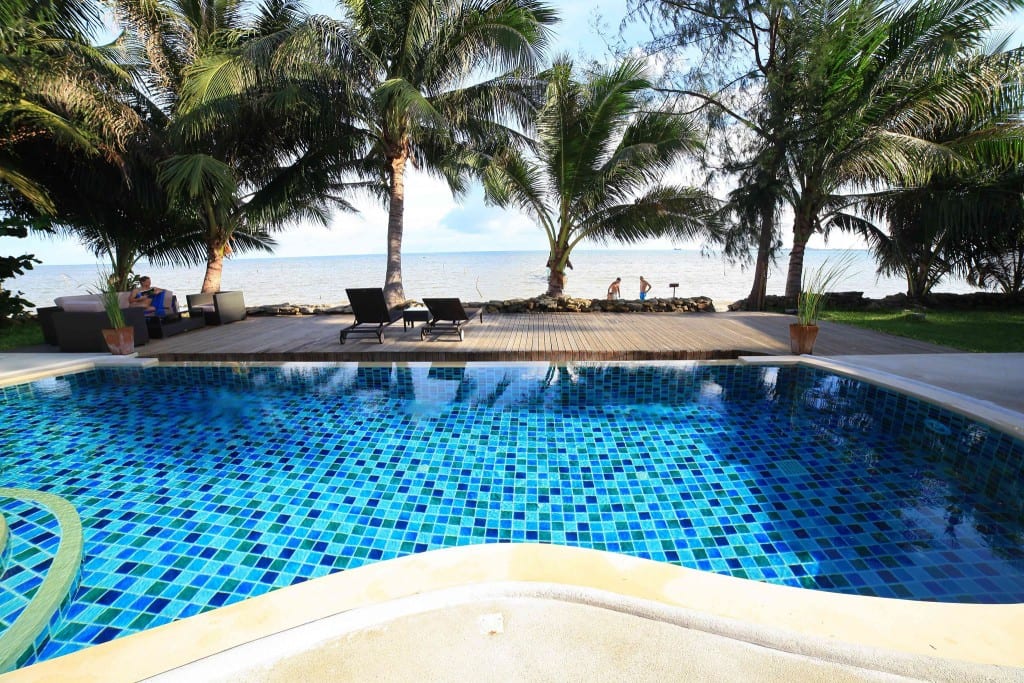 Add not just years to your life, but life to your years! Our all-inclusive detox programs help you to rediscover your vibrant health and well-being. Where necessary, these programs can also help target areas of imbalance in your life.
From our range of detox and cleansing programs, to more focused weight loss and de-stress programs, our specially designed blend of treatments, nutrition and support ensure you meet your health goals.
At Samahita Koh Samui, the detox programs have been developed through years of personal experience and research. We do not use common off-the-shelf detox kits.
Instead, we have carefully developed an Ayurvedic herbal detox formula, combined it with professional therapies, supplements, yoga practices and an optimal food and juice balance suited to your energy and toxicity level.
We do not claim to be medical experts or offer such advice. As a leading Thailand Detox resort, we are, however, deeply immersed in healthy, holistic living and carry with us our experience of detox and balanced living. As a result we offer you a positive, purpose-built, complete and supportive environment in which to enjoy your detox program.
We personalise your detox retreat program taking your needs, goals and preferences into account and balancing them with our professional expertise to provide you with the perfect detoxing retreat experience.
To get the most out of the process it is recommended to participate in a detox program for at least 7 to 10 days. One can continue a little longer if need be. However, we do offer program packages of 3 and 5 days also, ideal for a wellness weekend break.
We understand people's time limitations coupled with the desire to fit everything in, so encourage you to plan it out in advance. We offer 3, 5, 10 and 14 day detox retreat options. We also have a complete program that includes colon hydrotherapy sessions and a candida detox program.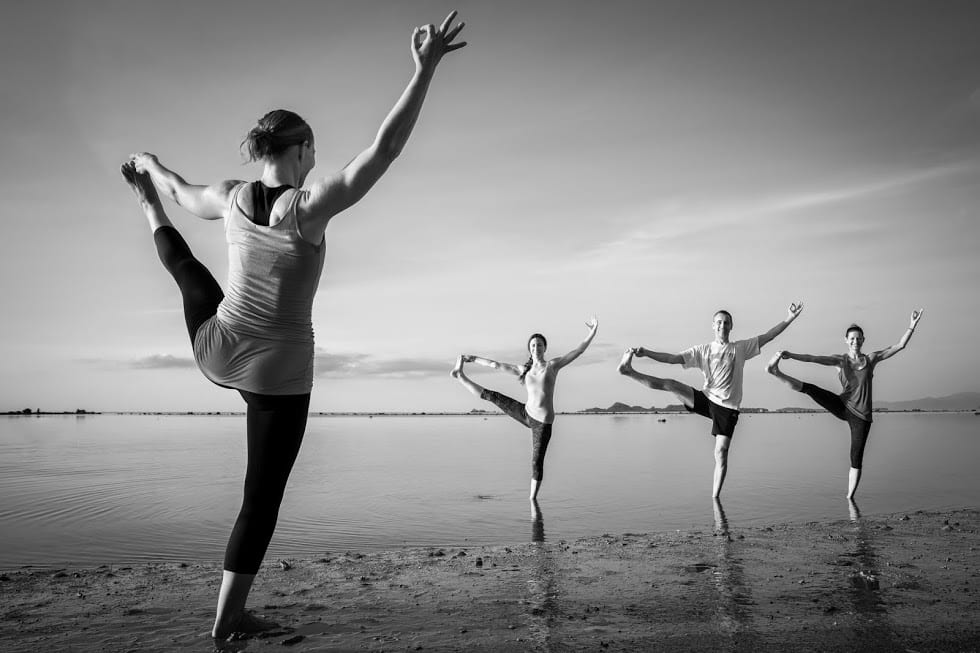 One of the best retreats in Southeast Asia, this Christmas and New Year holiday at Samahita integrates yoga and fitness to give you a great way to escape the commercial onslaught of the holiday season.
Paul and his team will share in the task of teaching and guiding all guests across the range of yoga practices, core strength work and cycle classes. Yoga and its techniques cover a number of practices that include sitting meditation forms, focused breath work that develops into a pranayama practice, and the physical yoga practice of asana.
In addition we incorporate core strength sessions and cycle work outs. The aim is for you to experience and practice yoga across its spectrum, taking care of the mental and emotional side to the different aspects of the physical.
Every morning involves sitting and breath work practices. This serves as a platform for all other activities. The physical yoga asana practice will be offered on a number of levels that includes experienced self-practice, guided vinyasa classes, explorative asana classes, and restorative afternoon sessions.
Weaved into this schedule are different core classes in the morning and/or afternoon. We alternate the cycle classes between silent-sunrise classes to mid-afternoon fun-cycle classes.
As is the case at Samahita, you are free to attend all sessions or choose those that are working for you on a particular day. Our intention is for you to feel uplifted and clear in what to practice by the time you end the retreat.
There will be a Christmas Eve celebration with special gourmet feast and performances and fundraiser for our local charities.
On New Year's Eve there will be a special ceremony to acknowledge 2018 and welcome in 2019 as well as a feast and performances.
The special ceremony will help you close and heal the past year, setting the energy and intention for the year coming with an impetus to follow through on it. Come and really enjoy a genuine holiday break from the 'holidays'.
Whilst you are in Koh Samui check out these 4 not to be missed healthy cafes recommended by Zanna Van Dijk.
For a romantic evening dine in a Tree Top at Anantara, a treetop restaurant overlooking the incredible Samui coast. For beaches and cool and hip bars in Fisherman's Village, Hammock Stories gives you the low down.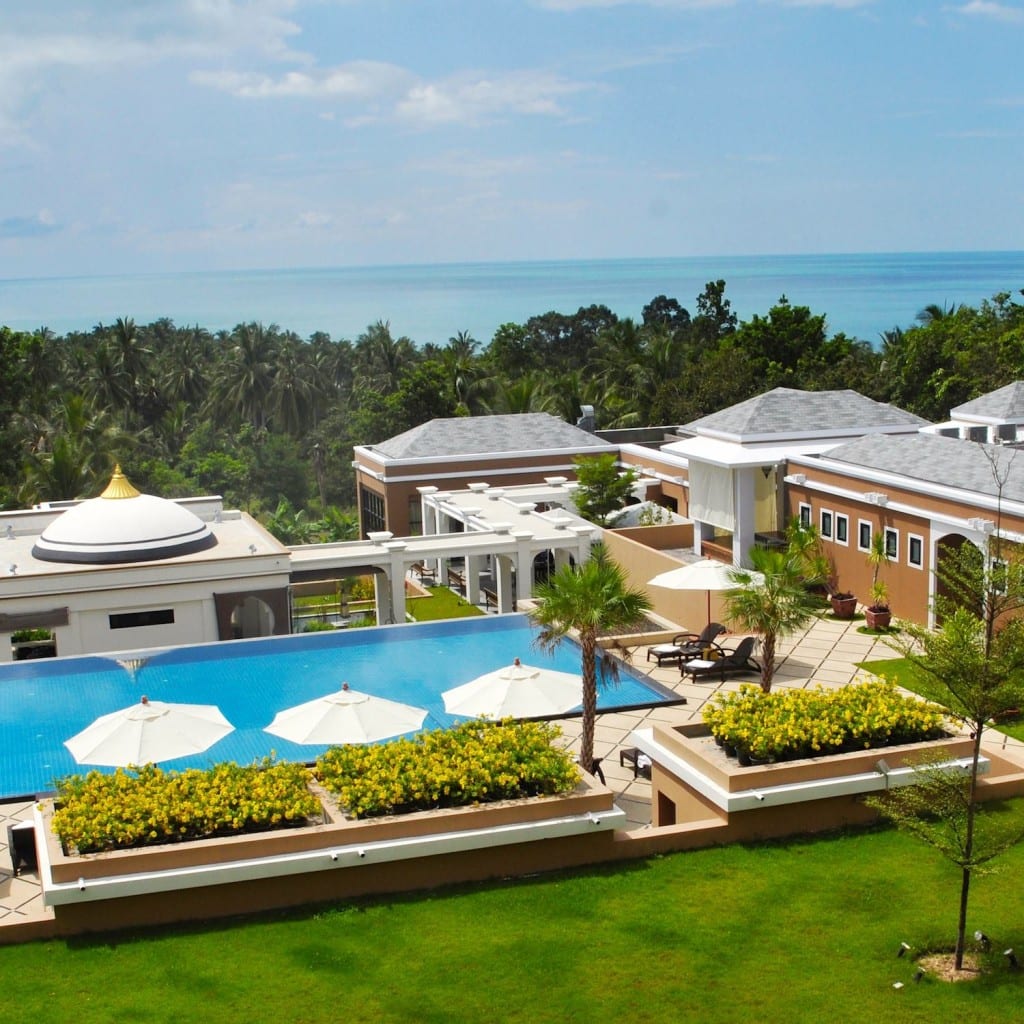 Absolutely Sanctuary is Asia's top wellness resort for fitness, health, lifestyle, weight management, yoga and yoga teacher training. They set the benchmark for effective wellness programs that will transform you to the best you and centers around your needs.
They are the creators of award winning guest experiences, the benefits of which will last a lifetime. Their crafted programs leverage on their expertise in yoga, pilates, core programs and healthy food programs from being part of ABSOLUTE YOU, the largest health and lifestyle brand in Thailand, to produce effective results.
This is the place to reconnect with yourself, recharge, revitalise and re-energise. The retreat boosts a world class yoga center with two fully equipped yoga studios.
Since opening it has hosted numerous month long teacher trainings and yoga workshops conducted by yoga teachers from around the world including well known names such as Paul Grilley, Desiree Rumbaugh and Amy Ippoliti.
ABSOLUTE YOU owns and operates ABSOLUTE YOGA, the largest yoga studio in Thailand with 10 yoga centers nationwide has used its years of experience in running a yoga business and teaching over 100,000 to build the perfect retreat center.
They take a holistic approach to wellness and their programs seek to address individual goals be it to detox, pamper, de-stress, manage your weight, change your lifestyle, indulge in either yoga or pilates on simply enjoy a meaningful holiday.
With 12 different programs across 9 categories you will be spoilt for choice. All of the programs at Absolute Sanctuary are essentially about nurturing your mind, body and spirit.
The top 3 Healthy Places to eat in Koh Samui by Purely B.
For some tips on the unspoiled Thai Islands that don't suffer from over-crowding and are ready and waiting to welcome tourists to their empty, untouched beaches, check out this guide.
Thailand – Chiang Mai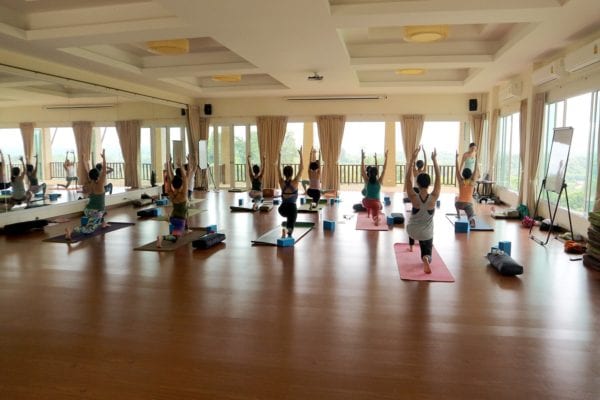 Nestled within the lush nature of Mae Ann Valley, The Pavana Chiang Mai Resort boasts its spectacular grounds of over 100,000 square meters on the hills of Mae Rim countryside. With the unique blend of Lanna architecture, comfort accommodation, and our comprehensive wellness programs, The Pavana Chiang Mai Resort is truly an oasis for those who seek to rejuvenate their body and mind.
The Pavana Chiang mai Resort offers holistic approach for the inner and outer transformation by combining The Five Habits to Longevity, which consists of cleansing, eating properly, exercising, breathing and mind-purification. Our wellness programs are designed based on this system to help balancing your body and mind, and can be personalized to fit the health conditions and needs of each individual.
Thailand – Phuket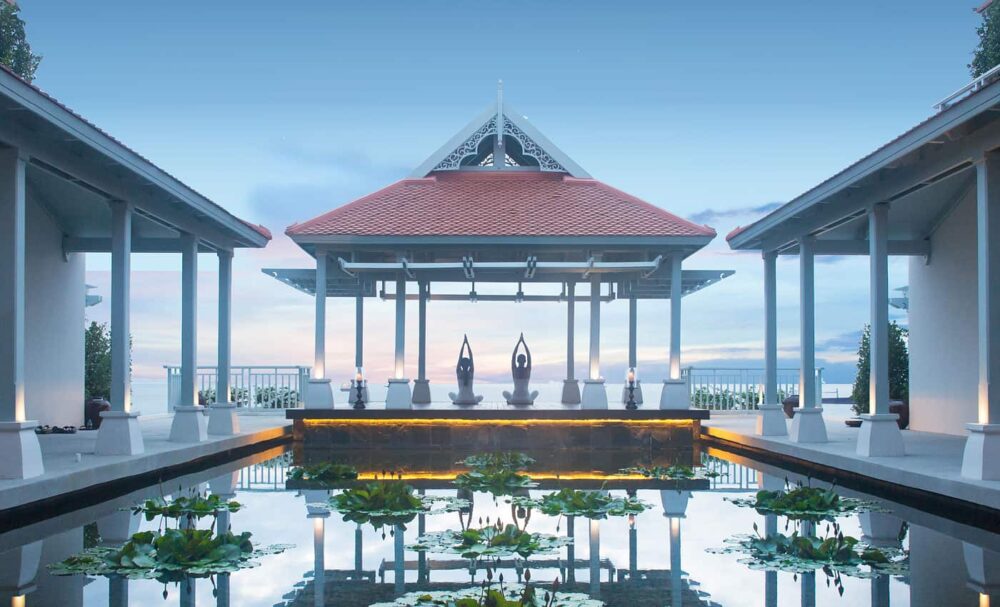 Amatara Wellness Resort is the new benchmark for life enhancing wellness experience in a luxury resort setting. Tucked away in a quiet corner of this idyllic island, Cape Panwa overlooking a secluded bay lapped by the turquoise Andaman Sea, our concept is helping you to reach a new level of happiness through balancing your body and mind through healthy activities, diet and blissful treatments to allow a new level of happiness in and to find the pure joy in every moment. This is the kind of happiness that lasts a lifetime.
This retreat is your own perfect, personalised yoga sanctuary. It's a wonderful chance to explore and deepen your yoga practice, and is individually customized to cater for both beginners and advanced yoga practitioners.
Yoga offers so many wonderful benefits, on physical, mental and emotional levels. Studies have found it to offer real solutions to insomnia, digestive complaints, fatigue and stress, just to name a few benefits. Keeping both body and mind supple, strong and balanced, yoga can truly be called and anti-aging and life-enhancing practice.
In your personalised retreat, we offer a balance of daily physical asana practice, meditation, philosophy, and the tools and means to allow you to continue your practice with confidence when you return home.
Your personalised yoga retreat also includes sessions that teach present-mindedness, allowing you to let go of stress and really be in the present moment, listening and observing with an open mind and heart. It is our sincere hope that this serves to enhance your life as you bring your practice off your mat and into daily living.
To travel around Thailand, AirAsia is an excellent short haul option to fly between Bangkok and the Islands.
Sailing Yoga Retreats across Indonesia's eastern archipelago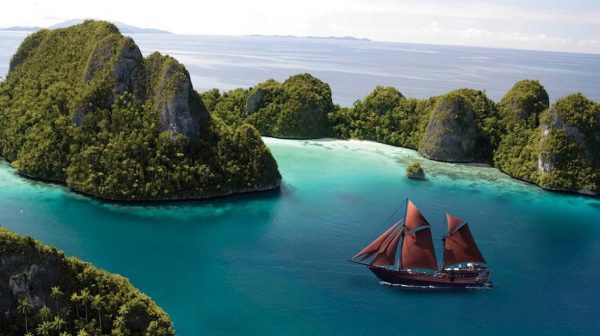 Immerse yourself in a supportive space surrounded by the ocean and the ion-rich sea breeze. Relish moments of deep knowledge and inner awareness as you reclaim your connection with inner wisdom.
Reconnect to nature and your true essence, while basking in the beauty of Indonesia's eastern archipelago, one of the most extraordinary marine environment on the planet. Mantamae Charter invite you to join acclaimed international yoga teacher Francesco de Nigris aboard Mantamae.
Come onboard and join a magical yoga and wellbeing retreat on Mantamae a traditional Indonesian Phinisi. Enjoy a simple yet intense program that encompasses morning awakenings of the body, breathing exercises, free body workouts, meditations, sequences of postures and moments of deep knowledge.
Bringing yoga in contact with the sea is like giving wings to a dream. At sea, with the intimacy of space and the expanse of the ocean, we open ourselves, experiment, find strength. Here, we can stop , see an feel; we can let profound feelings rise, discover fragments of ourselves and return them into alignment In intimate dialogue within this rediscovered space, the dream blossoms.
Our team team will take care of you, creating a beautiful and natural daily flow. The teacher will draw on eastern wisdom (both Indian and Chinese) from 20 years of study and practice, to create a tailor-made path of you. Though intense, the retreat will have moments of sharing and lightness, of personal or group relaxation, of exploration above and below water. Moments shared at dinner, in the creative kitchen of Karen or after dinner in conversation with the stars or in ecstatic dance.
This retreat will be lead on board Mantamae, you will sail around Raja Ampat National Park or Komodo National Park Indonesia.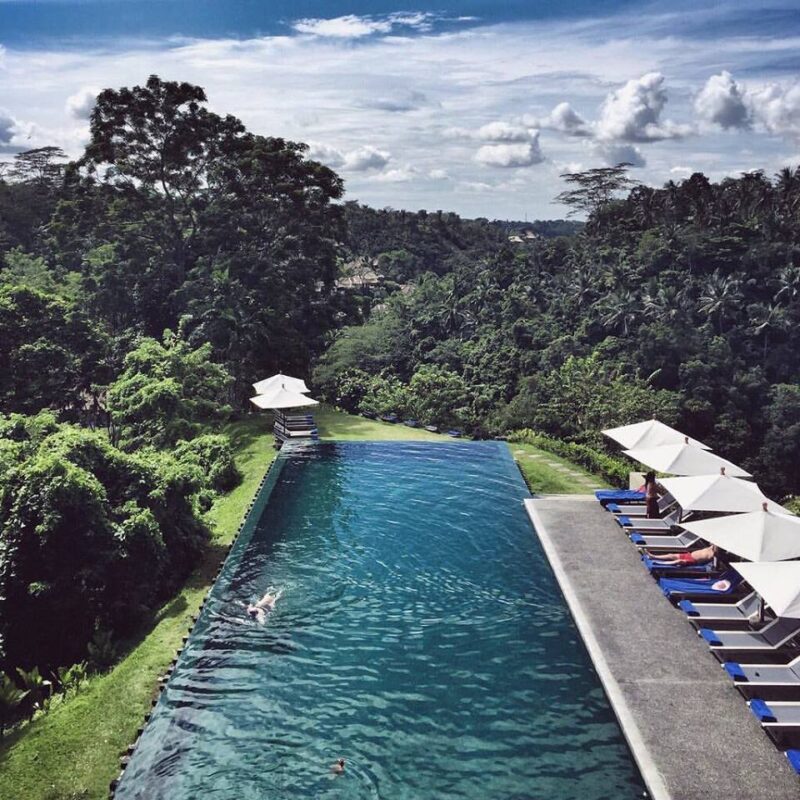 Our time in Bali will be split between two locations so guests can experience the best of what this lovely land has to offer! We will start at a seaside village away from the hustle and bustle and really settle in to this week alongside the ocean! We'll have half of the week with beach accommodations and a relaxing way to ease into our holiday. We will be taken care of by an award-winning boutique hotel family that will host us at both locations in Bali.
The first is sumptuous yet unassuming – an ocean-front retreat that lies in the shade of Mount Agung, held up as sacred by Balians, and surrounded by opulent coconut groves. Mid-way through the week we'll head into Bali's most famous town of Ubud. We'll be hosted in luxury accommodations – a tranquil and secluded hillside retreat that sits high up on the edge of the rich green Ayung River valley in Bali's central foothills, in the traditional Balinese hill village of Payangan. Both hotels offer award-winning design accommodations and even one of the world's "Top 50 Pools in the World.".
Guests will not only enjoy the grounds of the villa, the outdoor areas including a lovely pool, patio and lounges, but the retreat includes some amazing day-trips to the surrounding sites. A guided day in and around Ubud will lead guests through an introduction to this area. We'll visit a spice plantation, get to participate in a Balinese healing and fire ritual, and learn Balinese cooking during our cuisine lesson. There will be time in nature, on the beaches, and also we'll get to visit the Indonesian weavers of our "Give Back" Partner in Bali and learn more about the amazing textiles of the area.
The final full day entails a trip to the luxurious Four Seasons where we'll delve deeper into Bali's serene beauty and tradition by spending a day in the life of a local farmer – from a private guided walk through rice fields and jungle paths, followed by a picnic breakfast in a rice field pavilion, known as a bale, then we help local farmers plant rice with traditional methods. Next we venture to the spa villa close to the banks of the river for a traditional bathing ritual, scrub and massage. What a way to end the week – in pure relaxation!
Bali – Ubud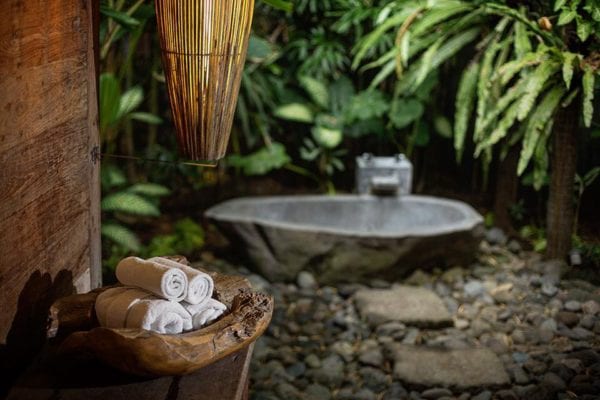 Escape to the magical island of the Gods, Bali for a 7 day detox retreat at Blue Karma Ubud. This program has been carefully designed for your body and soul to reap all the benefits of a healthy and vibrant lifestyle.
This detox retreat at Blue Karma Ubud can help you lose weight, reduce stress, experience glowing skin, eliminate digestive issues, and boost energy levels. Release stress and negative mental patterns, and give your body and soul a new energy and vitality.
Between heaven and earth, 3.5 km from the centre of Ubud, in the middle of rice paddies, you'll discover Blue Karma Resort Ubud, our Boutique Hotel de Charme, where everything waits for you to relax and let go.
In the middle of this verdant haven of peace, built with respect for the environment, surrounded by fruit trees and deliciously perfumed plants, nestles a 25 m pool, our Karma Yoga pagoda, gazebos with their thatched roofs as well as many other resting areas.
With a comprehensive range of wellness treatments, you'll receive the very best care for your body and soul. This detox retreat at Blue Karma Ubud resort can help you lose weight, reduce stress, clear up the skin and digestive problems, and significantly boost energy levels.
Reconnect with yourself, others, and the environment at Blue Karma Ubud. Traditional Balinese massage and a range of other treatments are available and offer the perfect opportunity to enhance your stay in Bali.
On our Healing Detox Retreat, we embrace holistic Balinese-inspired therapies administered by traditional Balinese healers using ancient wisdoms passed down through direct lineage.
Following the Balinese principal of Sekala-Niskala, which holds that we all live equally in two worlds; the seen or conscious world Sekala, and the unseen or psychic world Niskala, the Balinese healers engage the help of the divine source during each healing session.
A healing journey for detoxification and transformation. At Fivelements, Bali we recognise that optimal wellness comes from learning to love and respect the body, mind, and spirit, where health and well-being are a reflection of inner harmony.
This is our signature cleansing programme inspired by the ancient Balinese philosophy that promotes living with purity of thought, speech, and action. It encourages us to align our heartfelt goodwill and thinking with consistent speech and action.
The retreat includes traditional Balinese healing therapies aimed to detoxify and purify the physical body, sekala, and the non-physical mind and soul, niskala, unifying body and mind towards a natural harmonious state of being, and allowing an organic healing process to unfold.
With your needs in mind, we collaborate with you to nurture a new healing path, combining:
Balinese Healing Rituals for purification, balance and regeneration. Living Foods for detoxification, nutrition and vitality and Sacred Arts for inner strength, integrity and dedication.
As our lives become increasingly demanding, fast-paced and over-stressed, we begin to recognise significant impacts in our body's natural ability to sustain healthy organ productivity, effective toxin elimination and overall health and wellness.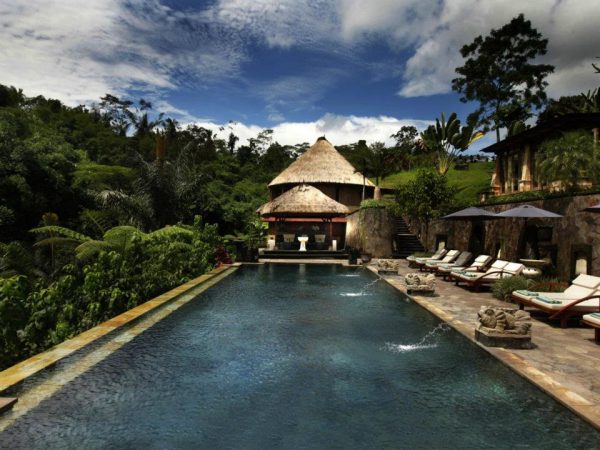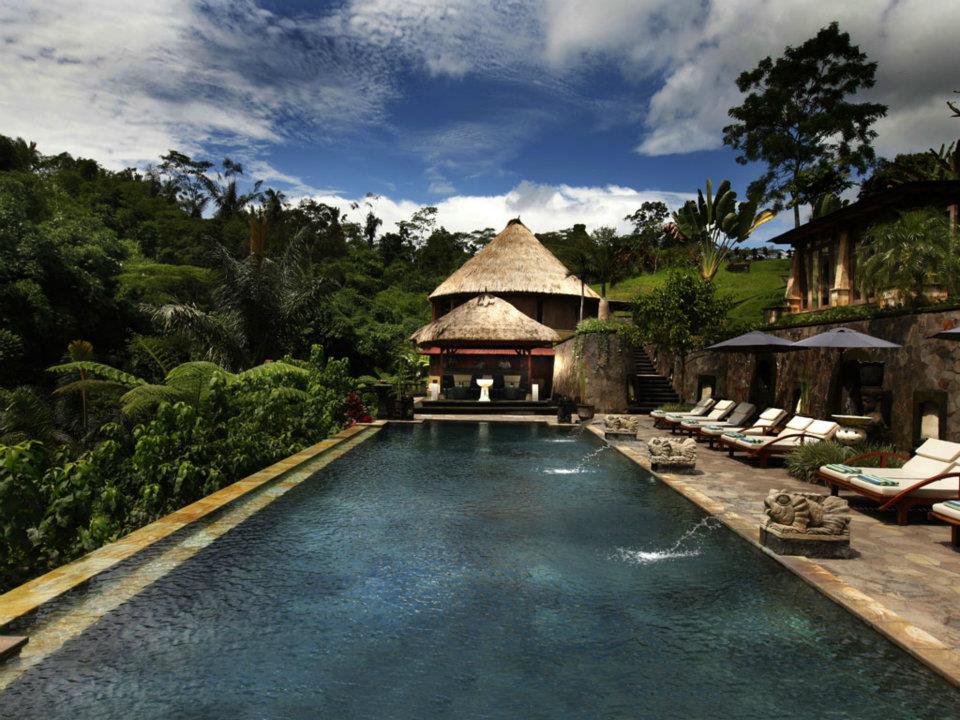 Bali's premier Health and Wellbeing Spa Retreat, Bagus Jati, is set in 5 hectares of hillside gardens among lush tropical forests in the mountains of Ubud, Bali. Bagus Jati offers stunning views of one of Bali's most breathtaking valleys. It is an architecturally unique retreat dedicated to one thing – your wellbeing.
Eight circular deluxe spa villas, twelve superior villas, ten superior chalets, four pool villas and one royal pool suite are nestled into five hectares of beautifully landscaped gardens and jungle along with facilities that will ensure that you unwind, and experience a level of relaxation and rejuvenation that is unsurpassed.
At Bagus Jati, our guests are treated as individuals. Our natural health and well-being programs are tailored to focus on replenishing your body, mind and spirit, offering you the tools to improve the quality of your everyday life. Escape the daily stress of life and learn to live well.
Retreats are available for 5, 7 or 10 days.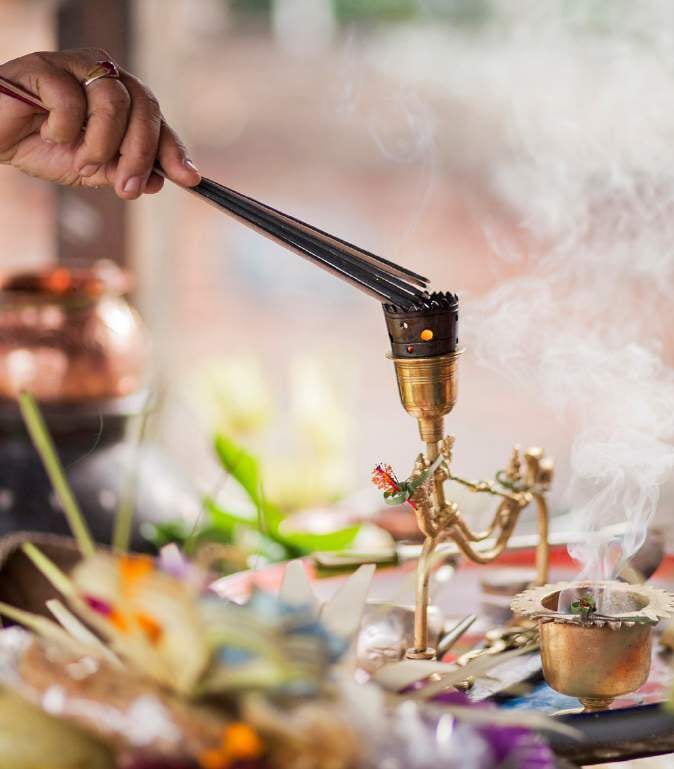 This luxury chakra retreat in Ubud will honor the deeply spiritual nature of Bali, or "Island of the Gods," by offering a series of workshops exploring the Chakra System, the seven spiritual centers in the human body.
A series of mindful workshops will guide you in the exploration of creative self-expression in your life. Every day, you will be guided into awareness and understanding of how these swirling wheels of energy assist you in staying balanced and healthy.
Complimenting the workshops, we will extend the chakra focus through corresponding daily yoga postures, sensory experiences, and cultural local activities.
We will begin the week with the 1st chakra and work our way up to the 7th by the last day, offering a complete immersion into the world of chakras using all the senses. You will surely end the week feeling balanced in mind, body, and spirit.
You will not only enjoy the grounds of the hotel, the outdoor areas, including a lovely pool, patio and lounges, but the retreat also includes some amazing day-trips to the surrounding sites.
A guided day in and around Ubud will lead you through an introduction to the area, the sites and temples. We'll enjoy participating in activities that mirror the elements for our chakra-themed days, such as visiting the rice paddies (earth), a water temple (water), a Balinese healing and fire ritual (fire), as well as experience the traditional Balinese dance (air).
There will be free time to explore more of the amazing town of Ubud, as well as relax and renew poolside, overlooking the rainforest.
The final full day entails a trip to a luxurious 5* hotel and spa where we'll indulge in personalized chakra ceremony spa treatments and plenty of time to relax in the lush surroundings – the perfect way to balance out a week of soul-work and mindfulness.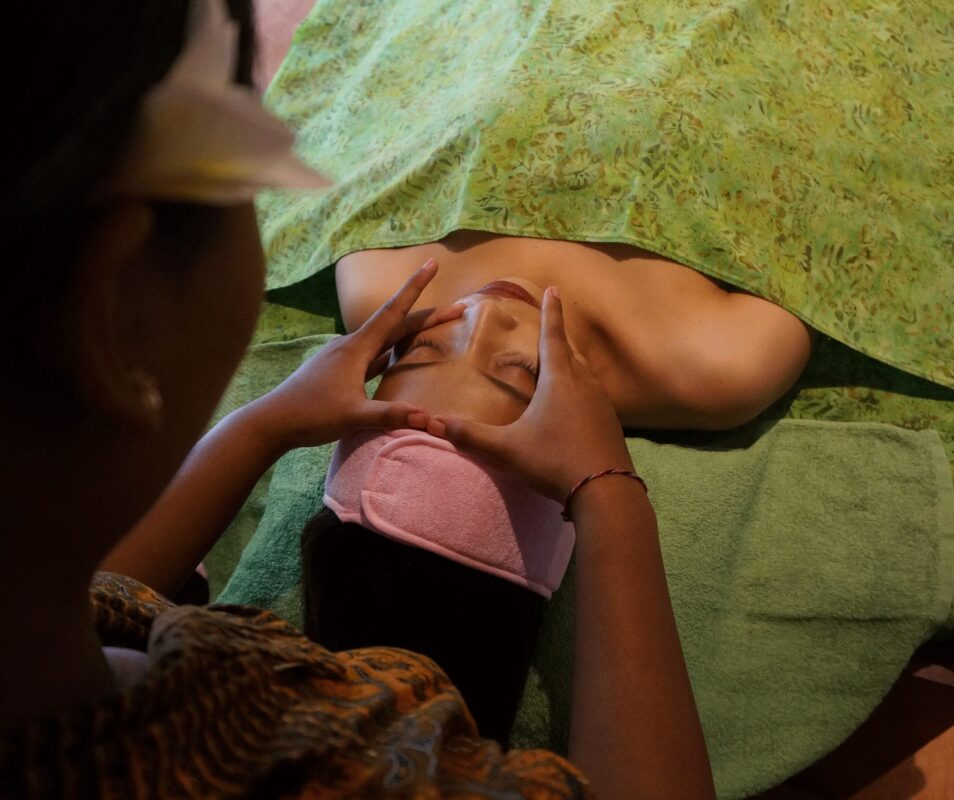 This 21 day assist chronic disease retreat program is for anyone with health challenges and may be especially helpful for those with chronic symptoms that have not been improving or need some nutritional and other complimentary input. 21 days is enough time to change a habit, including the habit of what we eat.
You will be assisted with this by 15 days of juicing and elixers only, then slowly reintroducing foods, starting with a raw food platter, then daily vegetarian meals. Allowing you to detoxify your body in a safe and gentle environment where they are aware of your specific health needs, you will learn new eating habits that you can continue with back home.
Some examples of health issues that have been improved are pre diabetes, type 2 diabetes, thyroid issues, stress of mind and body, post-surgery, adrenal fatigue, chronic pain and sleep issues.
This program includes daily yoga, far infra red sauna, colonic hydrotherapy, practitioner consultations, meditation and breathing, plus some great excursions.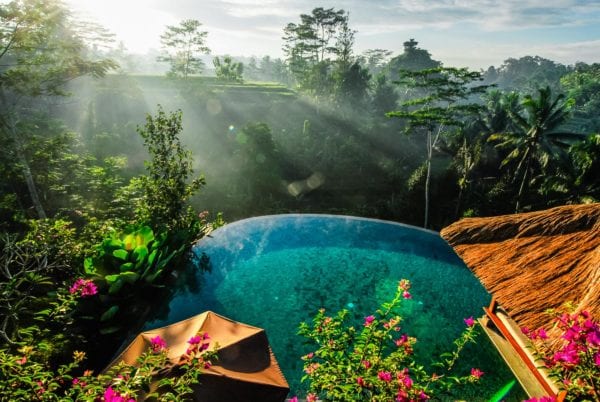 Escape to the forests of Bali in luxury style at this luxury retreat villa in Ubud. Tucked into lush rice terraces, with views of the island's sacred volcano. Laid out as a compound, the four-bedroom property can accommodate up to eight friends or extended family in a combination of common and private spaces.
Your holiday includes an airport transfer, daily breakfast, a twice-daily shuttle to Ubud and the services of a housekeeper and butler.
Settle into the striking pool and watch the sun move across the vibrant landscape, indulge in a nap in one of the sun loungers on the terrace and finish the day with a meal from the barbecue at the al-fresco table.
The villa also has amenities from an exercise room to a cable TV, sound system and Wi-Fi.
Designed by Popo Danes, one of the most renowned architects in Southeast Asia, the villa is a stunning take on traditional Balinese style.
In the main pavilion, a thatched roof, open-plan layout and several sets of French doors to the terrace lend a relaxed feel. The wicker seating area, dining table for ten and fully equipped kitchen are understated yet inviting.
Flower-covered pergolas connect the four bedrooms to the main house. All four suites are honeymoon-worthy retreats with king beds and en-suite bathrooms; two of the bedrooms connect to the villa's spa area, and two have their own al-fresco showers.
From Villa Bayad Estate, it's easy to visit the must-sees of Ubud, from its art museums to the market and royal palace.
Animal lovers won't want to miss a visit to the nearby Taro Elephant Safari Park or Bali Bird Park. For those craving sun and sand, popular beaches such as Echo and Kuta are within day-trip distance.
The Ubud Wellbeing Guide: Where to stay, spa, yoga and eat healthy food.
Bali – Seminyak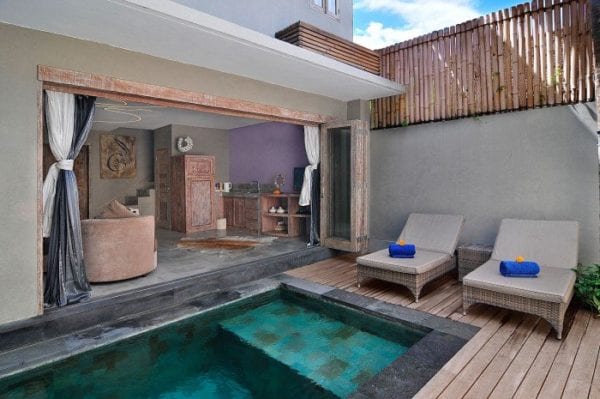 This 7 day detox and cleanse retreat will take place at Blue Karma Seminyak resort on the beautiful island of Bali. Indulge yourself a week in the magical island of the Gods, Bali with comprehensive wellness treatment and care from the best.
This retreat can help you lose weight, reduce stress, clear up the skin and digestive problems, and significantly boost energy levels.
Let go of years of accumulated stress and negative mental patterns and give your body and soul a new energy and vitality. Reconnect with yourself, others, and the environment.
Blue Karma Seminyak is a beach resort area at the southern end of Bali, with many luxury hotels, villas, and spas, as well as high-end shopping and restaurants. In the heart of Seminyak, the resort is within walking distance to shops, restaurants, and to the beach.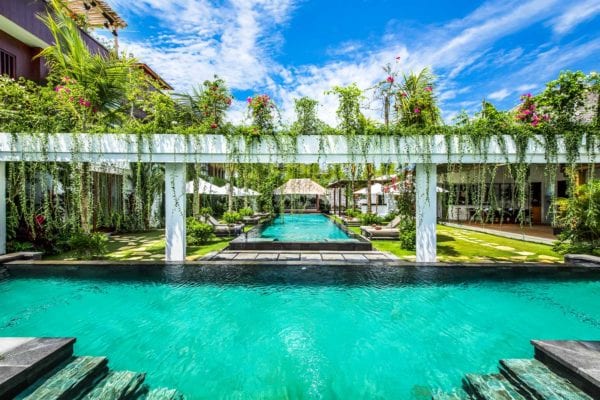 Villa Anam is a spectacular luxury estate in southern Bali, just a kilometer-and-a-half from Seminyak and its world-famous beach. Consisting of two separate villas—Villa Anam-Bo and Villa Anam-Ba—the estate features an extraordinary central alfresco garden terrace with swimming pools, well-appointed interior living areas in both villas, and ten superb bedroom suites (five in each villa).
The stunning design combines exquisite traditional Indonesian elements with high-end contemporary comforts and amenities. With accommodations for twenty, Villa Anam is an outstanding vacation rental for a bespoke retreat experience.
The terrace invites you to enchanting days in the South Pacific sun, with two ample swimming pools forming a cross-shape in its center. Elegant loungers, a sumptuous canopied bed, and an ample lounge area surround them.
Each of the villas faces this central terrace, with wide open walls inviting delicious breezes indoors and creating an expansive space for dining and relaxation. Both villas feature great rooms with high ceilings, superbly appointed with a lounge, bar, fully equipped kitchen, and dining table for twelve. Villa Anam-Bo additionally features an air-conditioned exercise room and an outstanding home theather.
Beyond your private paradise at Villa Anam, you're within minutes of some of the finest destinations and activities in Bali. The town and beach of Seminyak are a few minutes from your door, and the famous Double Six Beach, Petingenet Beach, and Batubelig Beach are also minutes away.
Bali – Canggu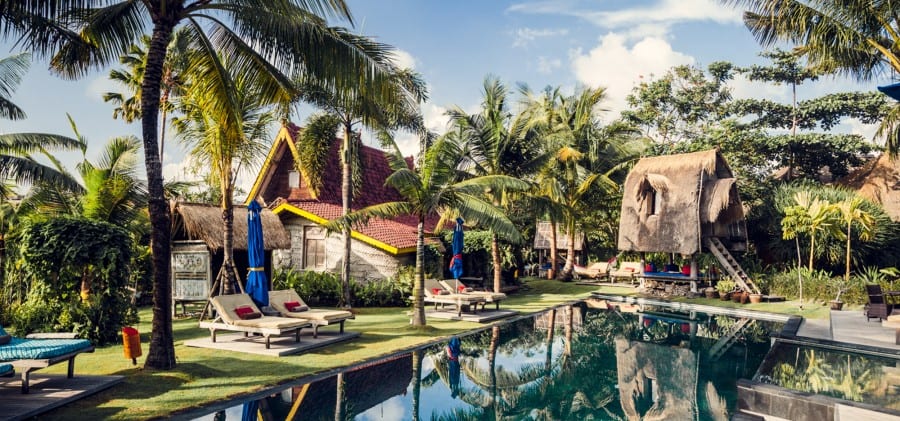 This pilates and yoga retreat at Desa Seni is one of our most popular, even amongst our teachers! Every two years we return to the island of gods for our Bali fix. For the fourth time, our beautiful teacher of teachers, Tash Barnard, will be leading us through her innovative and knowledgable Pilates classes and inspire you to do more than you thought you were capable of.
Tracy Sue de Plassis, classical Pilates and Iyengar Yoga teacher will join us and add that second layer of teaching with her patience, knowlegde and wisdom.
Exercise besides, of course there will be plenty of time to explore the natural and cultural wonders of Bali itself, be it the beaches, the temples, an evening walk through the rice fields or the creative bustle of Ubud's shop-lined alleys.
urrounded by paddy fields and an organic garden, our home for the week will be the much sought after Desa Seni Village Resort in Changgu. Created by two Australian friends, the eco-resort is a labour of love and a hand-picked collection of beautiful antique wooden homes and traditional furnishings, representing different cultures and traditions of Indonesian lifestyle.
Each villa has its own style and character and the attention to detail is remarkable. It might take you the week to discover all the little details and treasures your cosy home has to offer. There is a saltwater pool with a sundeck, an organic restaurant supplied from the on-site garden, and a spa offering holistic treatments.
There are grassy pathways and hidden gazebos and lots of space to live and breathe and laugh and be. And of course, there is our beautiful outdoor Yoga studio that we will be using for the classes and workshops. The closest beach is just 15 minutes away and easily reached by tuktuk, taxi or bicycle.
Bali – Keramas Beach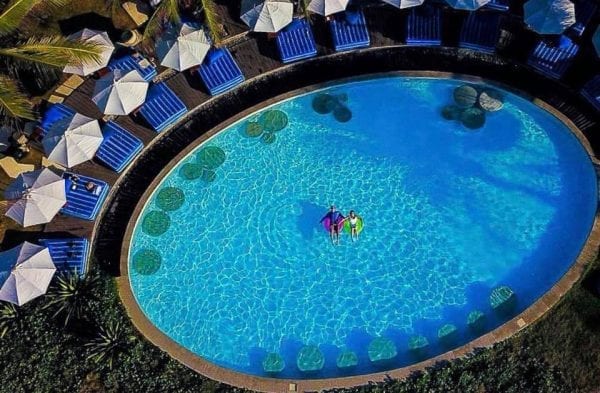 Komune Bali strives to be the premiere yoga, health and fitness retreat destination in Bali, right on the world famous Keramas surf break.
Whilst being committed to their surfing roots, the Komune owners have recognised a demand from their guests for further fitness, yoga, health and wellness retreats and experiences and activities during their stay at Komune Bali Resort.
Their goal is to provide all the facilities and an amazing class schedule for our guests to maintain a healthy and active lifestyle while on holiday.
We know the importance of combining any training with a healthy balanced diet. So we've created a dedicated healthy cafe and restaurant where we serve healthy, organic foods and cold pressed juices to our group training guests during their stay.
On this 6 night package we recommend arrival on a Sunday for orientation breakfast on Monday with a Health Hub Team Member. These next six days will be filled with mindful Yoga to improve your practice or answer the burning curiosities of what Yoga is all about.
Their instructors will guide you through your daily yoga practice, instructing in various styles of which you can choose from plus a one on one session. Or if you choose more fitness training this package is intended to give you some challenge and will leave you with some new motivation or set you back on track.
You can immerse yourself as much or as little as you want, in either or both with a tailor made package to suit your level of skill and fitness. In addition, you will get a two hour Ayurvedic consultation and one private goal coaching sessions to encourage you to live your most authentic and inspired self.
You're spoilt for choice when it comes to healthy eating in Bali. Check out the HEALTHY EATING GUIDE from The Fit Traveller.
Read our guide to the Best Retreats in Bali.
Cambodia – Siem Reap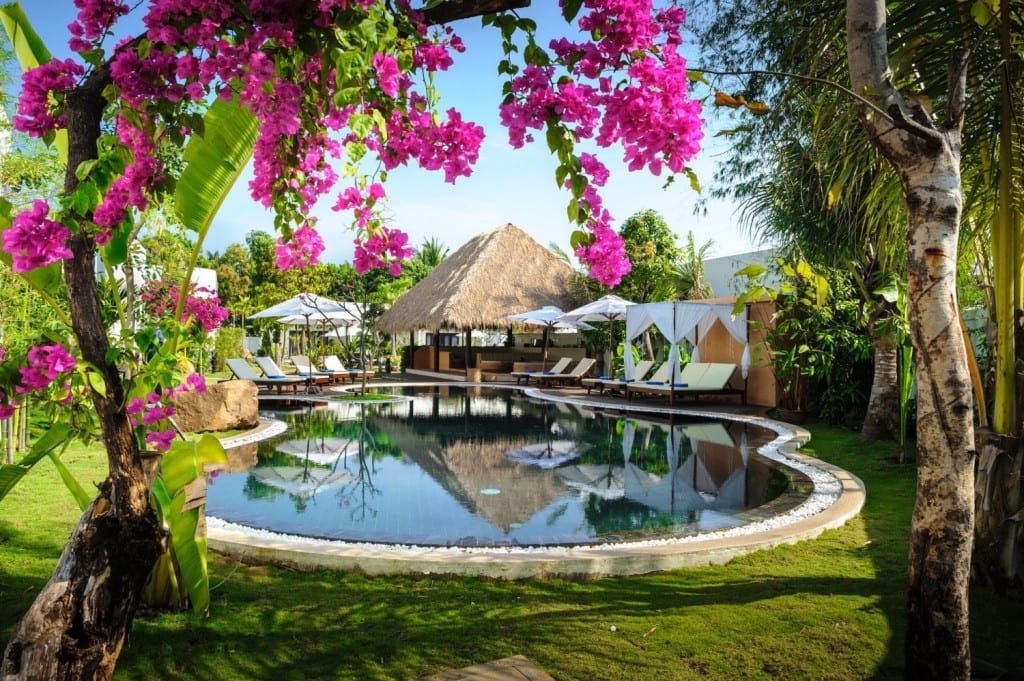 Tucked-away in a village within 5 minutes from the Old Market in the colonial French Quarters of Siem Reap, is the beautiful oasis that is Navutu Dreams. With 28 rooms and suites housed in low slung chalet on a hectare and half of gardens speckled with 3 swimming pools, it is the only upscale resort and wellness retreat in Angkor.
This is where detoxing or a mini-break can easily be a part of a relaxing holiday highlighted with a visit to Angkor Wat which is a mere 30 minutes driving distance from the resort. Well regarded for its private retreats; whether it be for a detox of the mind, a detox for the body or a yoga mini-break. Retreats for individuals or couples can range from 1-7 days. The resort is also able to bespoke retreats for individuals or small groups.
Navutu Dreams has a core team of seasoned wellness practitioners who have crafted programs designed to detox the body, the mind or both. Yoga classes are available three time a day, each day of the week. Private bodyworks, breath-work, yoga, meditation or even partner yoga sessions can easily be arranged.
Traditional Chinese medicine is also available at the resort. Within its menu are services for acupuncture, shiatsu, cupping and auriculotherapy. Alternative healing is also readily on-hand. Reiki, Crystal Healing, Tibetan Bowl Sound Bath and the resort's signature BreathLightBliss which is a combination of these plus breath-work.
Destination-inspired activities also include forest bathing or the practice of ''Shinrin-yoku'' in a selected path at the Angkor Archaeological Park and sunrise meditation within the grounds of 9th century temple on a hill over-looking the Tonle Sap Lake.
Indonesia – Private Island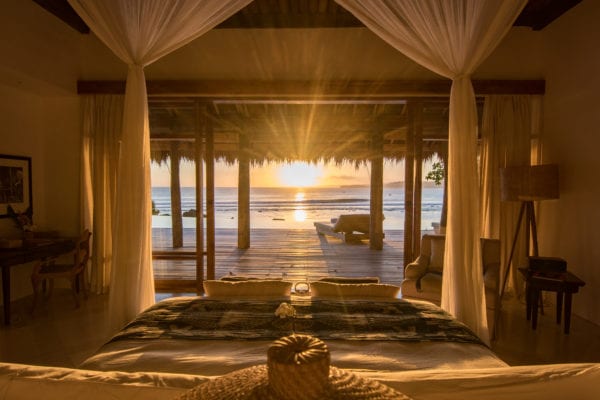 This is not an escape from everyday life. It is the return to a life well lived. Where rugged luxury meets unregulated freedom.
A place to connect with something larger than oneself. A haven for the adventurer, for the wanderer. The endlessly passionate and curious. Arrive with an open heart and leave changed forever. This is vacation with a purpose. A destination with meaning. This is Nihi Sumba.
At Nihi Sumba Island we promote all facets of wellbeing. Our focus is to help you leave rejuvenated and rebalanced through a plethora of activities that have been designed to support our mission.
Let the highly trained, healing hands of our Sumbanese Spa staff take care of you as you unplug from your daily life and begin to reconnect to your inner self.
Yoga is an integral part of the Nihi Sumba Island experience and the design of our yoga pavilion reflects just that: a breathtaking platform set atop a cliff side ridge offers sweeping views of Nihiwatu Beach on the Indian Ocean.
The schedule created by Nihi's Yoga & Wellness Director, Mary Tilson caters to all levels, honoring limitations while also elevating each student their highest potential through an integrated journey of body, mind and spirit.
The Nihi nourish program is designed to reboot your system with nourishing a healthy mean plan and a daily routine that will leave you reenergized and restored.
This retreat program includes a scenic trek, healthy breakfast served at our treehouse dining area, a full menu of spa treatments, a private bale with spa therapist for the day, and access to the beach and infinity pool.
Sri Lanka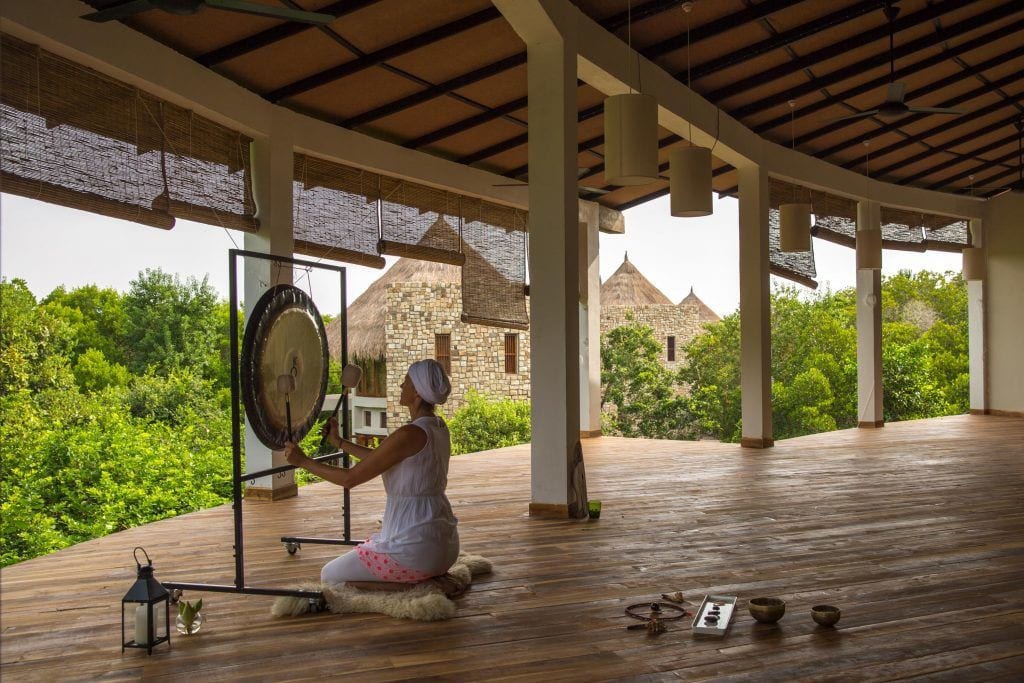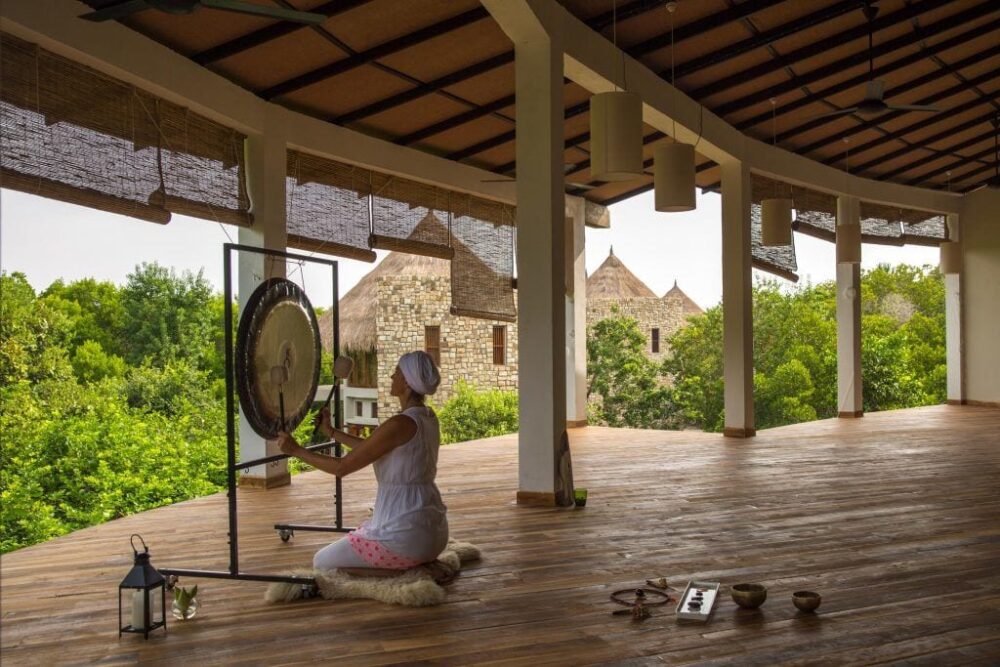 The Sen Wellness Sanctuary is a small, peaceful and modest retreat in a nature reserve set between a lagoon and the ocean in the south of Sri Lanka. It is the perfect place to immerse yourself in natural beauty and relax and rejuvenate your body and mind.
The Sanctuary offers Yoga and Ayurveda retreats all year round and hosts detox retreats and special Signature retreats a few times a year. Founder Sam Kankanamge, is a world-renowned Osteopath who runs a clinic in London as well as hosting the signature retreats at the Sanctuary himself.
The Sanctuary offers Kundalini Yoga and other yoga styles in twice daily classes that mark sunrise and sunset. The gentle rhythm of the sanctuary and the pared back approach and architecture of the place allow for a genuine retreat.
The focus here is on rest and connection with nature and oneself. The eclectic and fascinating selection of books available are perfect to fill your time between yoga, treatments and walks on the beach. You'll be encouraged to put away your devices as much as possible and allow for a digital detox too.
Meals at the sanctuary are genuinely healthy, in keeping with Ayuverdic principles and delicious. A mostly vegetarian offering, the dairy and wheat free menu enables you to transform your body from the inside during your stay.
Guest leave feeling lighter and clearer from the effects of the diet, the teas and the fresh coconut juice served daily. Breath of Life Retreat sanctuary in Sri Lanka welcomes you to come and experience fantastic yoga instruction in a stunning Sri Lankan setting.
We tailor our retreats to your needs, allowing you to have more control over how you enjoy your time. We offer twice daily yoga, meditation, Ayurvedic consultations and treatments, as well as osteopathy.
Our retreats allow you to relax, rebalance and rejuvenate in a peaceful, healing environment in our natural sanctuary. With our retreat sanctuary in the mangrove forest by the beach, we invite our guests to reconnect with nature and feel the vital energy of Sri Lanka.
Get £20 off your first booking by signing up to our Wellness Travel Club and we'll send you a voucher!
For the latest travel inspiration follow us on Instagram @soulseedtravel. Get in touch with our of our wellness travel advisors to help you find, discover and book your perfect retreat.