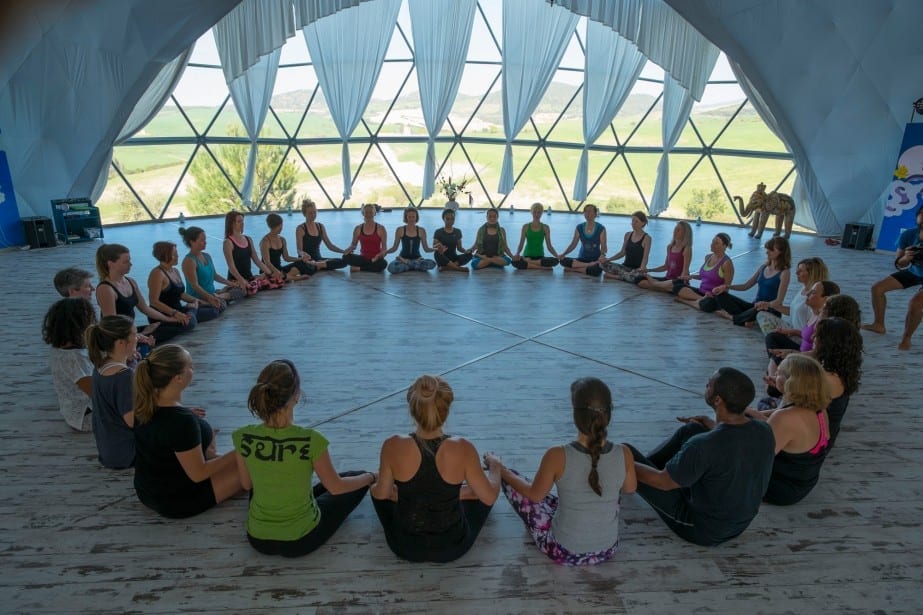 As a student of yoga, there comes a time when you would consider taking that next step and going on a yoga teacher training program.
Whether you've decided you want to teach or simply dig deeper into your practice, choosing the right course for you can be challenging! Ask yourself what your intentions are and what you want to get out of the course. Things to consider include the learning objectives, location, style, lineage, teachers, philosophy, course structure, the time investment and commitment.
To help you decide we've put together a round up of the best Yoga Teacher Trainings.
The Best Yoga Teacher Trainings in India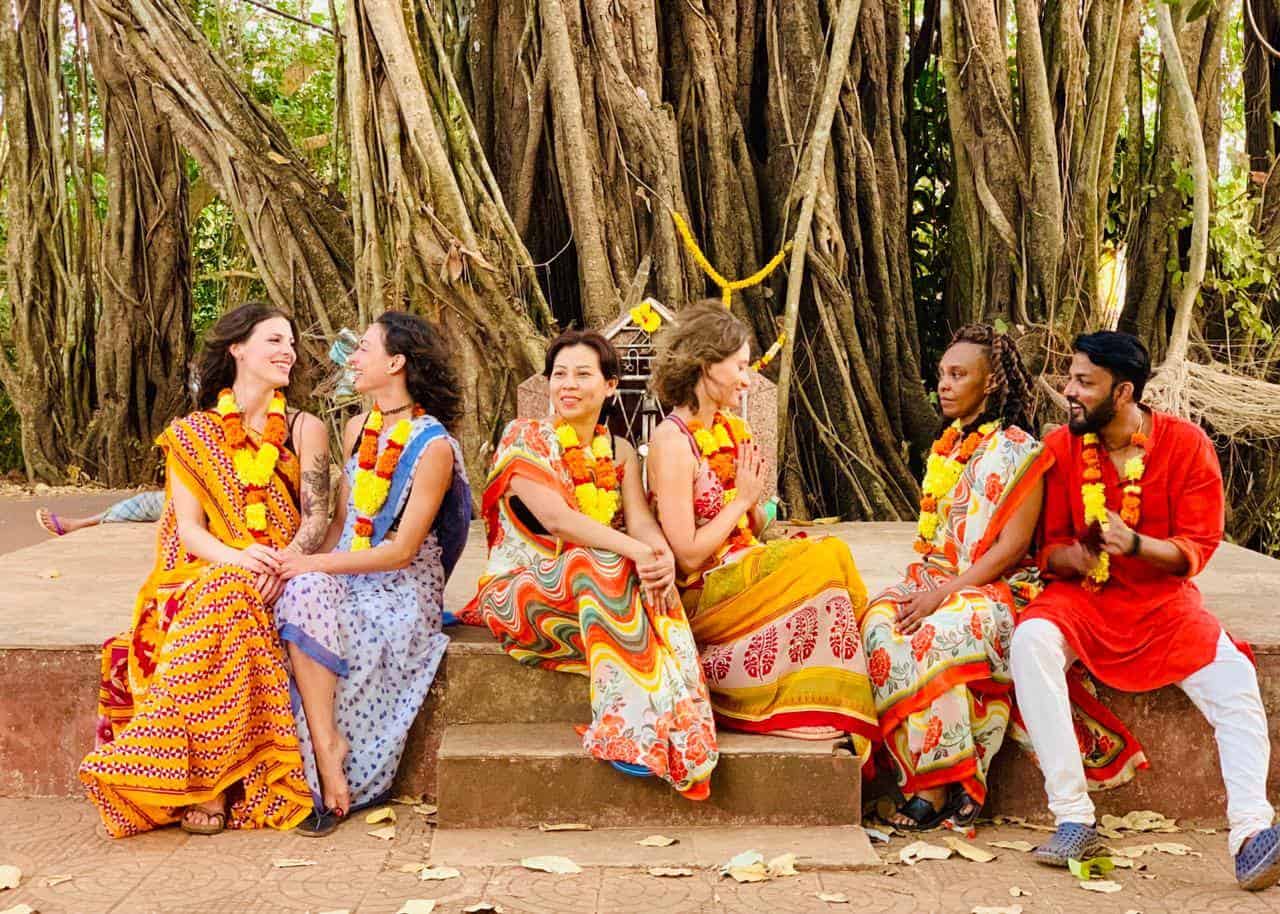 Yoga Nisarga's yoga journey to become a yoga teacher starts with establishing a personal practice, a dedicated study of the ancient wisdom of Yoga Sutras, and applying their core principles in your life.
This 200-hour yoga teacher training program is uniquely designed for all levels students of yoga and aspiring teachers. Yoga Nisarga is a Yoga Alliance USA recognised Yoga school. It will help you to build a strong foundation and to deepen your practice. Learn traditional yoga from Indian yoga masters and teacher in India.
For twenty-five days you will be immersed in the theory and practice of Yoga, Yoga Philosophy, and the art of teaching. During the course you will have the opportunity to apply the new theoretical knowledge by teaching classes to your fellow students. Since our students come from all over the world, we have designed a cross-cultural friendly and adaptable program. By the end of the course you will return home not only with useful information and new skills, but many fond memories of your time in Goa, India.
This teacher training course is designed for all levels and provides the opportunity to experience the yogic lifestyle and study yoga at the source while getting international yoga certification at the same time.
You will feel happy to share with other people what you learn from this experience. Yoga is a life path to study, know yourself and work with others with awareness.
The Best Yoga Teacher Trainings in Bali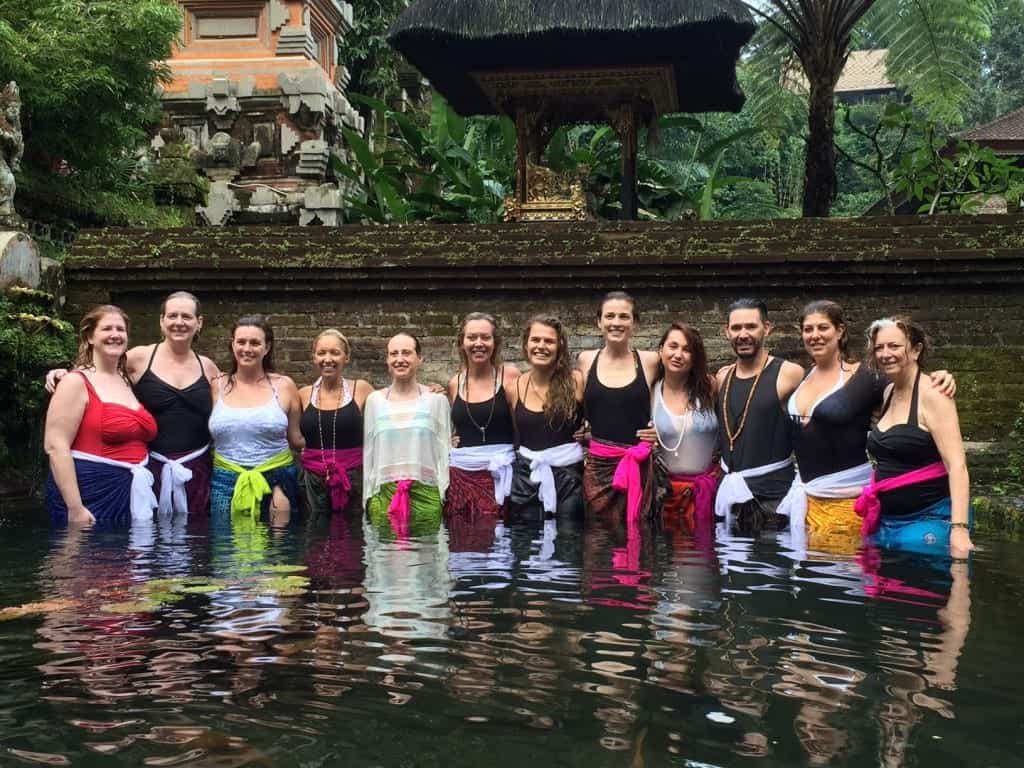 Join Silvia Mordini and guest instructors for a 3-week immersion yoga teacher training on the magical "Island of Love", Bali. This RYT 200 Hour Teacher Training is wholeheartedly dedicated to the art of self-study through self-exploration.
A Hero's Journey that will both challenge and encourage students to embrace their potential, awaken their inner power and ignite their passion for life.
Alchemy of Yoga is waiting for you to join us on our Bali Yoga Teacher Training course! We are seekers, adventurers, lovers of love, rebel yoga spirits, stretchy-minded, soulful, and sensitive.
Ancient Alchemists, like their Yogi counterparts, saw all of creation as composed of Earth, Water, Fire, Air, and Space. Through their meditations and explorations of these five elements, they created healing and transformative potions that unlocked many of the mysteries of the universe and therein contributed to the evolution of humankind.
Something magical and mystical happens when a group of high-intentioned individuals make the decision to gather together for two hundred hours with the purpose of uplifting their lives and expanding consciousness into radical authenticity. The Alchemy of Yoga Teacher Training will provide you with the skills to sit confidently and authentically in the seat of the teacher.
The Best Yoga Teacher Trainings in Costa Rica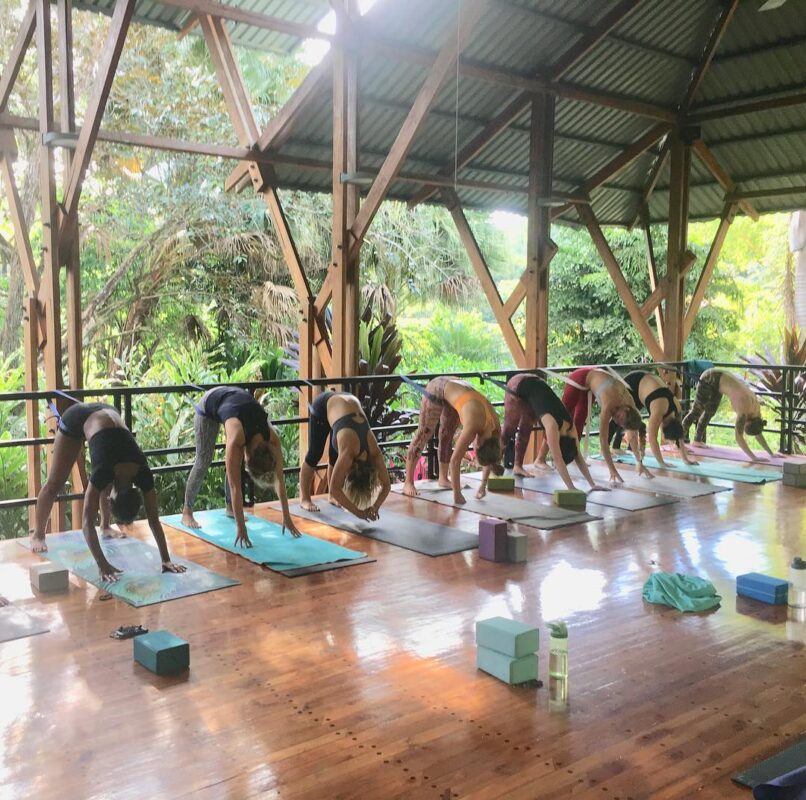 The Tantric Alchemy Institute (TAI) provides a 300 hour Yoga Alliance certification upon completion of their classically scripted curriculum based around the ancient tantric paradigm once found in India.
TAI provides a compendium of tools as catalysts for human evolution by integrating wisdom found in the sciences of Samkhya philosophy; Hatha Yoga (asana, pranayama, mudra, bandha, yantra, mantra), Ayurveda (the science of health), Vaastu (creating harmonious surroundings), and Jyotisha (classical techniques of divination).
By incorporating these ancient sciences into ones contemporary life, vibrant physical health, mental and emotional states, the refinement and expansion of consciousness, spiritual growth, and real empowerment will harmoniously unfold.
Study of Samkhya, Ayurveda, Sanskrit, Vaastu, Jyotisha, Dhuni Puja and Viraja Homa will together provide a strong foundation for teachers in comprehending the concepts of classic Yoga Shastra which are so deeply intertwined within these sister subjects and rituals.
These subjects will be integrated into the science of Hatha Yoga which will be explored through asana practice and posture clinics, the art of sequencing and specialized teaching methods, yoga nidra, yoga therapy, the detailed study of pranayama techniques and benefits, meditation, bandhas, mudras, mantra and chanting, western anatomy and anatomy of the energy body.
This 300 hour Yoga Teacher Training will give students the fundamentals of the vidyas which in India are traditionally considered basic essentials for a qualified teacher in any of the classic subjects.
This training is for those who have already completed a 200 hour level training or by permission from the Director of the program. This advanced 300 hour teacher training will enhance the scope of knowledge for even the most ardent practitioners.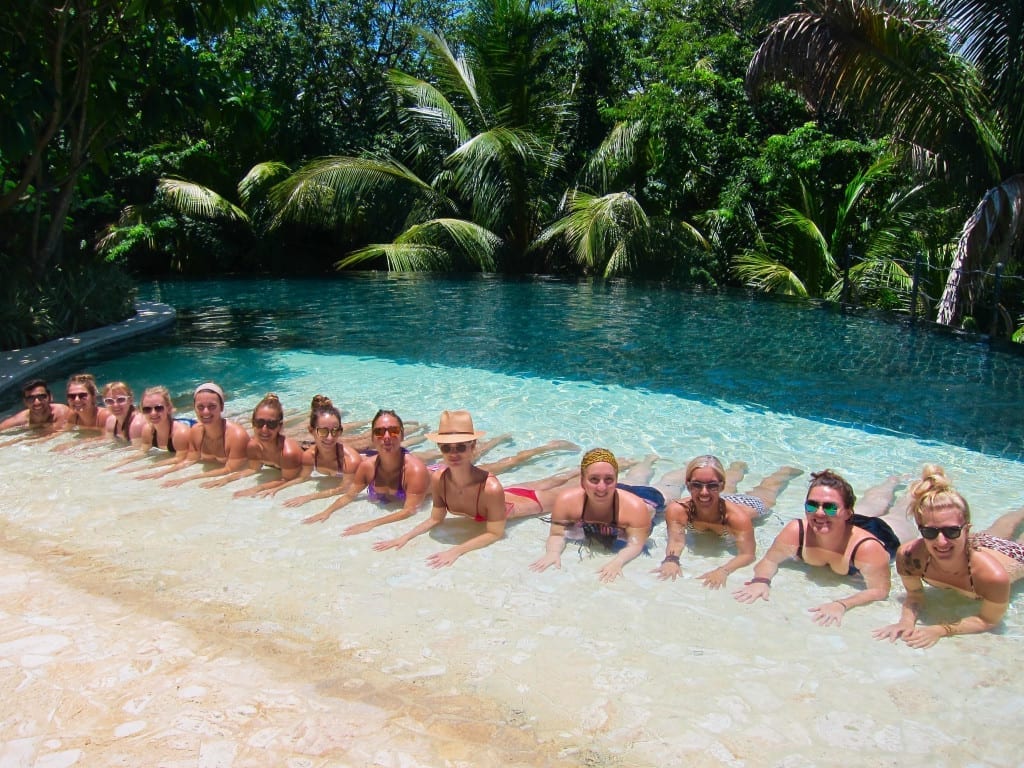 Join Silvia Mordini and Emily Perry for a complete 1, 2 or 3-week Teacher Training at the Bodhi Tree in the happiest country in the world, Costa Rica! You will live at the luxurious and intimate Bodhi Tree Yoga Resort.
Are you looking for a training that is part vacation, deep learning, total self-inquiry, with fun, loving support, and easeful schedule? If you feel our vibe, join our tribe! We welcome you with open arms.
This 300 hour yoga teacher training transforms trainees on three levels: Physical Alchemy, Spiritual Alchemy, and Mental Alchemy. We are all alchemists. Our laboratory is our mat and the ingredients are our bodies, poses, breath, and most of all our thoughts.
Our thoughts create potions that cause chemicals to be neurologically released in our bodies and shape our perception of the world. Silvia empowers her students to create elixers that invigorate our innate nature of infinite love and peace.
Upon completion, students will be prepared to design and confidently lead intelligent alignment driven Vinyasa, Hatha and Restorative classes, all with their own signature style.
They'll also have the skills to adapt to varied fitness and experience levels of their students. They will graduate as a Happiness Ambassador ready to authentically and effectively inspire others while carrying out Alchemy of Yoga's ultimate mission to teach peace.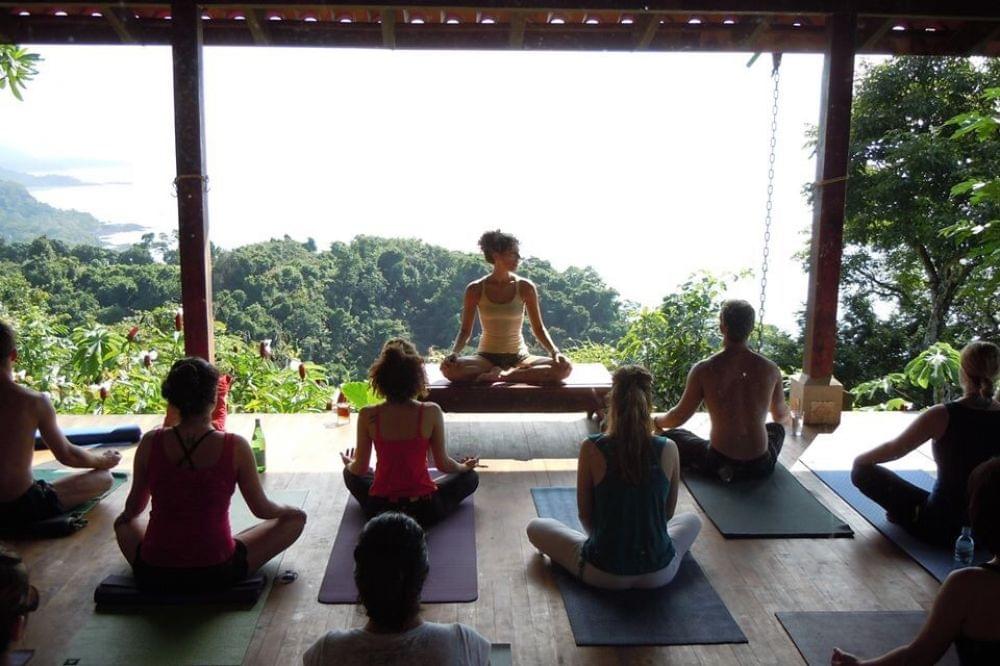 Investing in yourself with a Yoga Teacher Training Certification Program is a life enriching experience even if you have no intention of teaching. Our 200-hour teacher training immersion in Costa Rica's lush Blue Zone gives you three weeks to focus on your yoga practice with other curious, interesting people from around the world.
It is a time for you to enjoy life while learning about the timeless tradition of yoga, it is an opportunity to cultivate true health and happiness while making new, like minded friends.
This Yoga Instructor Certification Program draws from many traditions and emphasizes more than the physical practice of Yoga. We will explore and experience classical Ayurveda and Traditional Chinese Medicine, the importance of ritual, the magic of mantra, philosophy from the Yoga Sutras of Patanjali and the Hatha Yoga Pradipika, awareness of the subtle energies within and around us, and a deep connection to Nature as our teacher.
Our asana practice is Hatha Vinyasa, Vinyasa meaning the fluid and purposeful integration of breath and movement. You will gain an understanding of proper alignment for over 108 asana, sun salutations for all levels, creative and smart sequencing, core based strength exercises, enhancing postures with hands-on adjustments, how to incorporate music into a class, how to use props and how to work with special populations.
The Best Yoga Teacher Trainings in Thailand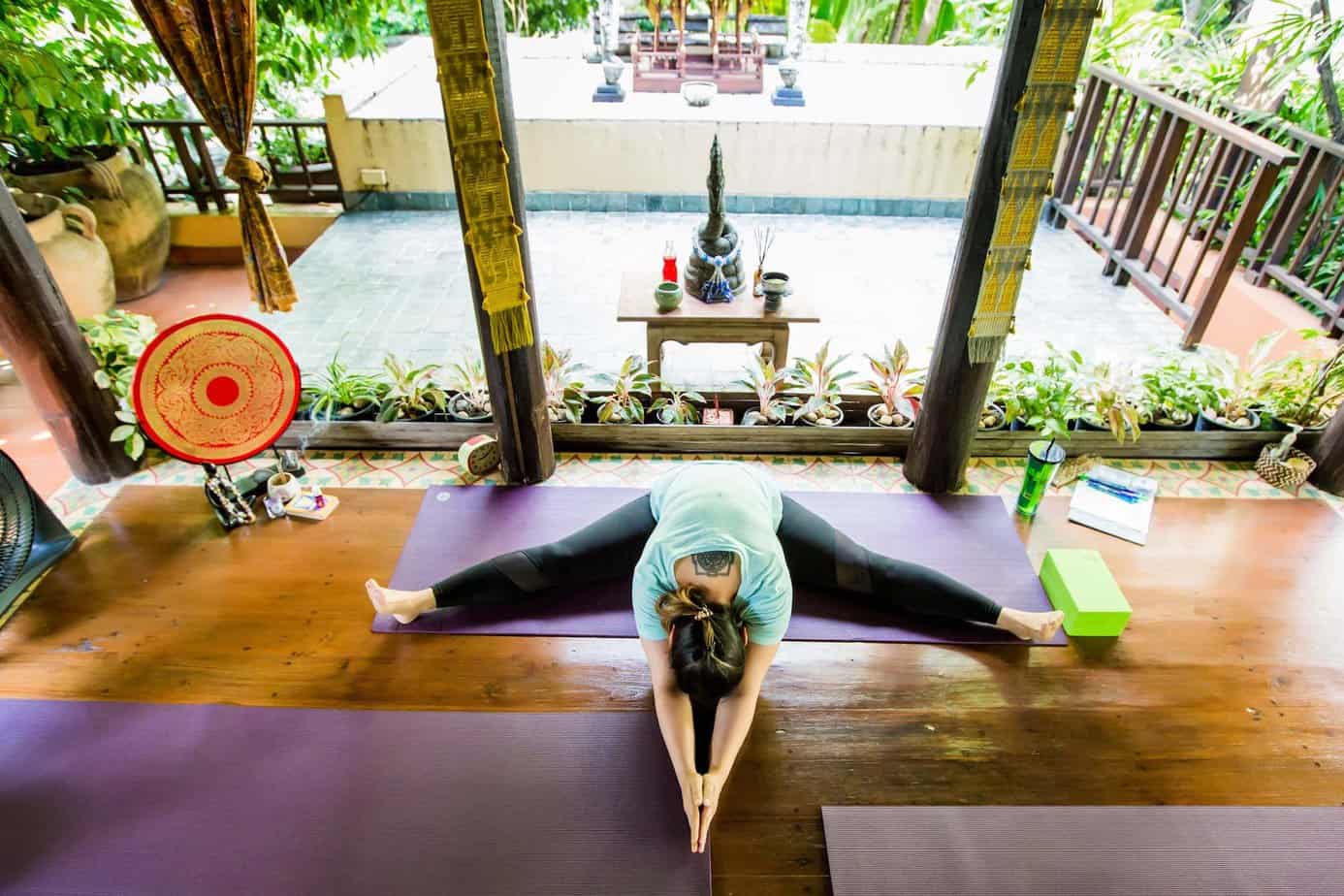 Our goddess Yoga Teacher Training provides women with the tools to help and empower you and handle the challenges of the modern world. You will learn various transformation techniques that will also help open the gateway to female fertility and great health.
The program combines ancient yoga practices with modern meditations and holistic techniques, making it a unique blend that targets the body, mind and soul.
During the magical 11 days you will embark a magnificent journey to:
-evolve at a soul level
-empower other women
-engage with your tribe
-evaluate the energy that will help them become better beings
– learn about the Chakra Philosophy and also the application of it into your daily life
Our retreat takes place at the boutique 5 Star Hotel akyra in Thonglor Bangkok. Bangkok's urban style and creative flair is captured perfectly at akyra Thonglor Bangkok – a luxury boutique 5 Star hotel nestled between the exciting Sukhumvit Soi 55 and Petchaburi Road.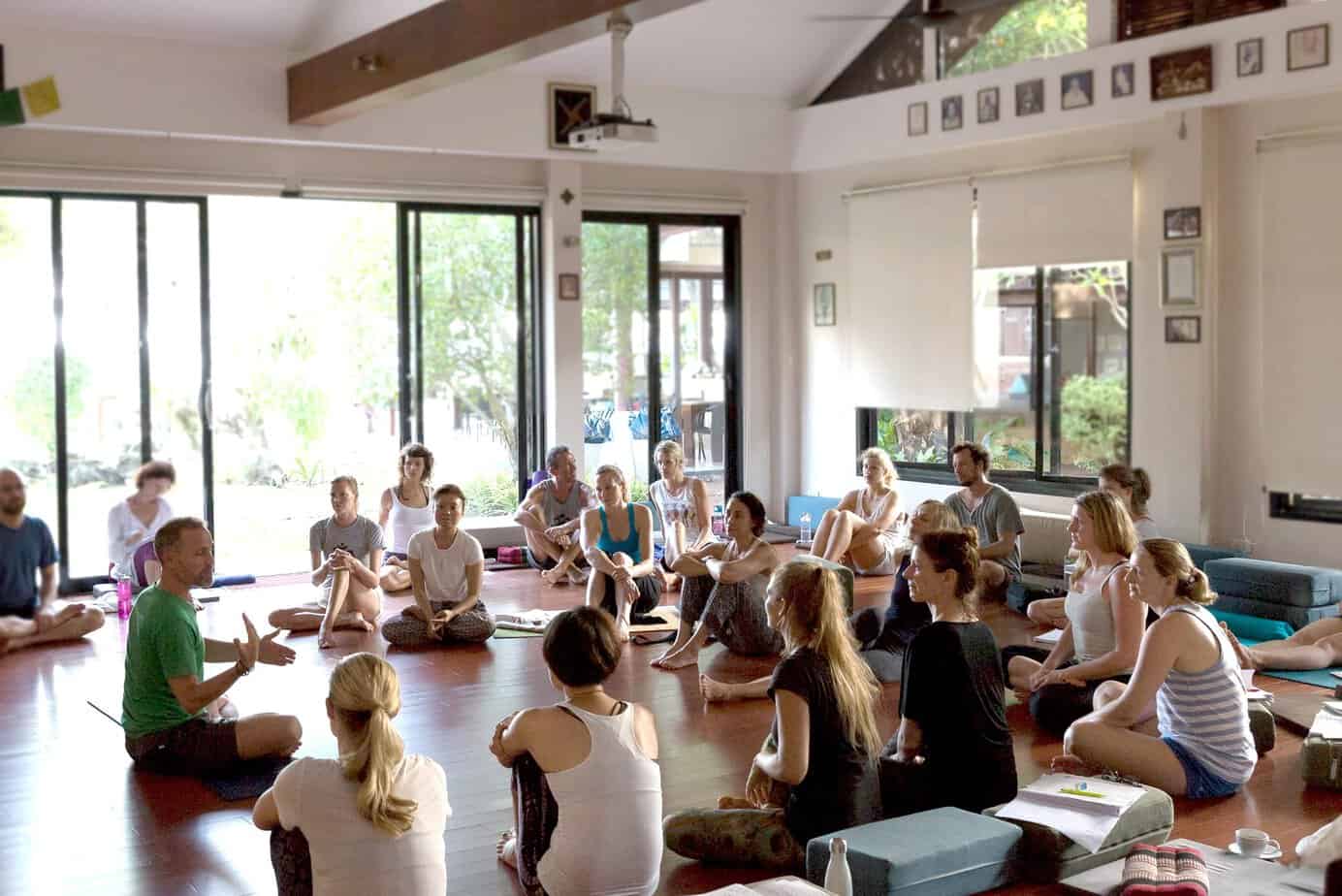 Centered Yoga's Education in Yoga Foundation Level 200-hour Yoga Teacher Training Course delivers almost 300 hours of training that encompasses methods and teaching from classical Raja and Hatha Yoga, across modern vinyasa and asana, to traditional pranayama and meditation, with modern science and research to guide the way forward.
Eat, live and breathe in one of the world's most dedicated yoga practice settings at Samahita retreat is Koh Samui, designed for the yoga approach and to aid your own practice and growth.
Since 1999, Centered Yoga's well-established Education in Yoga 200-hour program has been offered yearly with graduates worldwide. It is where the depth of practice and tradition meets modern understanding and scientific knowledge, plus a good dose of fun, music, chanting, caring and sharing, saving the planet, looking within, and how to enjoy a life while thinking of others, open the heart, sharpen the mind, and free the spirit.
All 200-hour Yoga Teacher Training courses are fully inclusive of the training program, both practical sessions and lectures, and includes the full facilities of Samahita Retreat, accommodation of your choice, and all buffet meals and drinks.
Additionally, we offer fully filtered water stations for you to fill up and stay hydrated along with electrolyte drink on the buffet. We provide a setting to support your body and mind at the optimal level so the time invested in your training is most beneficial.
The Best Yoga Teacher Trainings in Greece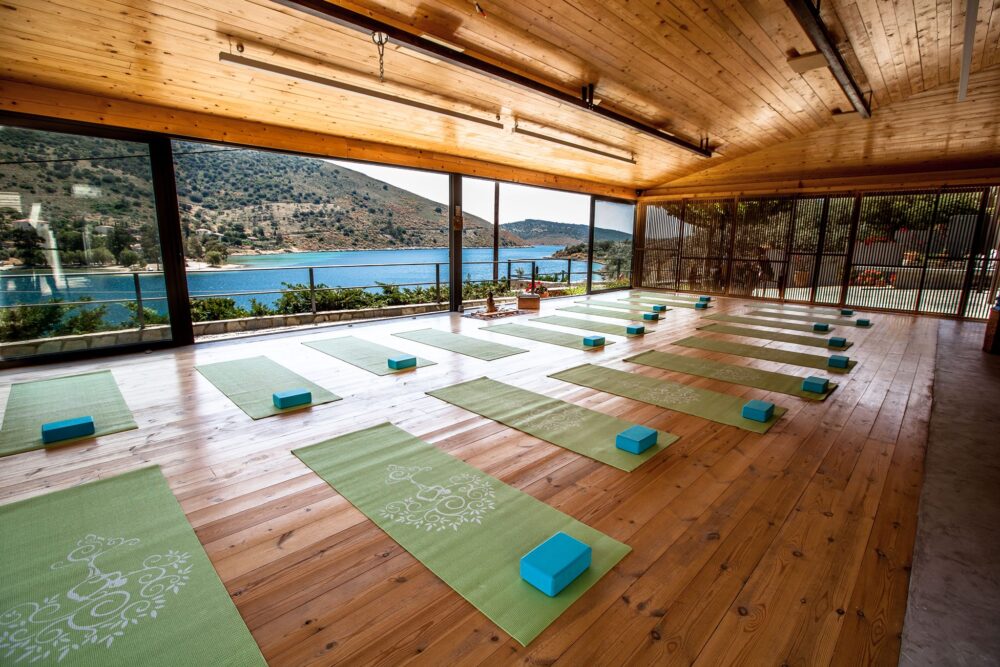 This 200 hour ashtanga and vinyasa yoga teacher training hosted at Evia Silence retreat centre is designed for all levels of yogis who want to connect with and deepen their practice, understand vinyasa flow sequencing and experience a well-rounded curriculum that will develop them into confident teachers.
The course is led by the Alpha Yoga School who strongly believe in the importance of experiential learning through one's own journey of self-discovery and encourage each student to discover and develop his/her unique style as a teacher.
It gives a strong foundation to build your self practice. As your practice deepens, sharing your personal experience in the form of teaching naturally blossoms. Through practical application and direct experience, you will develop the skills, tools and confidence to teach Vinyasa flow classes. You will connect anatomy knowledge to movement and continue your personal yogic journey.
We recommend at least six months of regular yoga practice before taking this course. You will study and practice yoga poses, breathing techniques, meditation, mindfulness, intelligent sequencing, teaching skills and hands-on adjustments.
Theory will include Indian philosophy, yogic lifestyle, moral and ethical codes of yoga (yamas and niyamas), Eastern anatomy and alignment. You will teach your fellow students, giving and receiving constructive feedback throughout the course.
You will practice primarily Ashtanga and Vinyasa with exposure to yin and restorative yoga. By the end of the course you will practice the Ashtanga Yoga Primary Series by yourself, teach classes based on the Primary Sequence, and create your own Vinyasa sequences. Come as a practitioner, leave as a teacher.
You will have lots of opportunities to practice teaching. From day one, you will start teaching one-on-one and, as the course continues, you will progress to teaching larger groups. By the end of the course you will be able to teach mixed-level yoga classes confidently.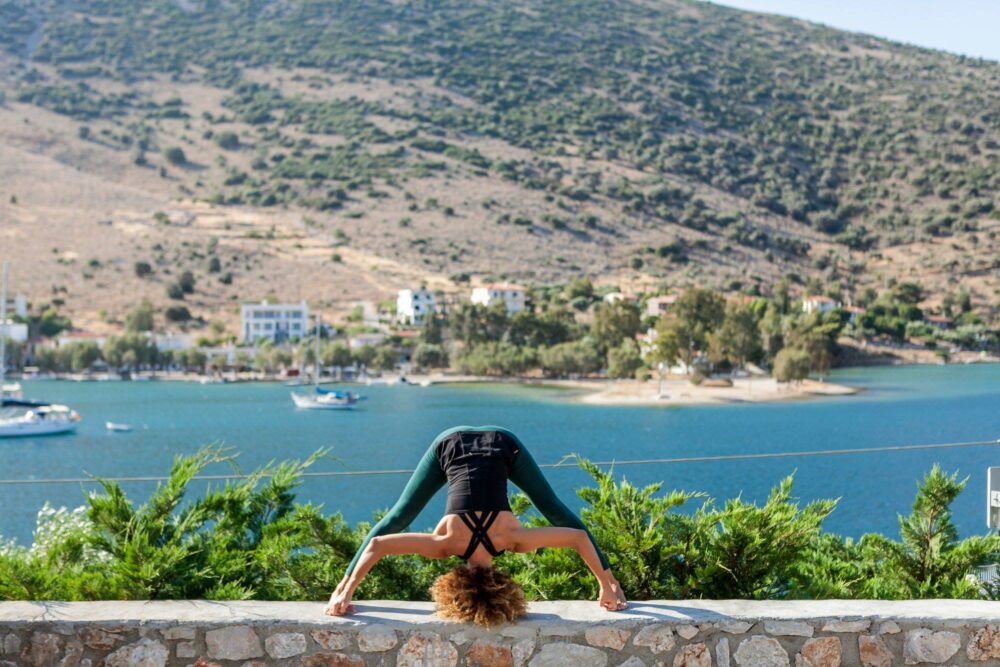 In this ten day 75-Hour Yoga Teaching Methodology & Sequencing Training course led by the Alpha Yoga School, you will learn from experienced and passionate teachers.
All Alpha Yoga School Teacher Training Courses are registered with with the Yoga Alliance USA​. The course covers teaching methodology, refining alignment and how to adjust students in different postural categories. Refine your skills as a teacher while enjoying being a student.
It has become very common to get adjusted in yoga classes, with many students expecting to get adjusted. Since there are infinite possibilities of how to adjust different body types in a posture, adjusting has become an art.
While some students respond to verbal instructions, others respond to hands-on adjustments. That makes adjustments a very effective way of communicating with your students. Often the best way to understand something is not through information but through experience. You will learn different types and techniques of adjusting approximately 20 poses in a safe, supportive environment.
The Best Yoga Teacher Trainings in Spain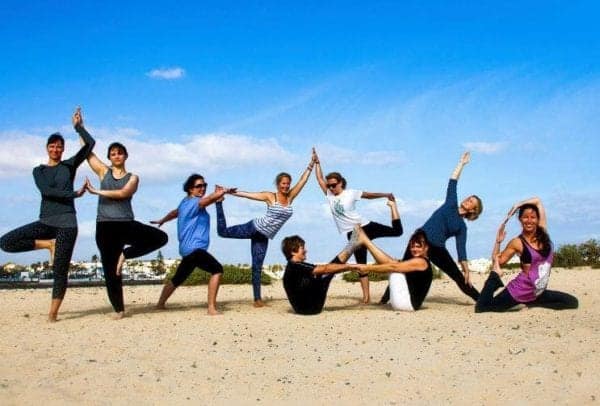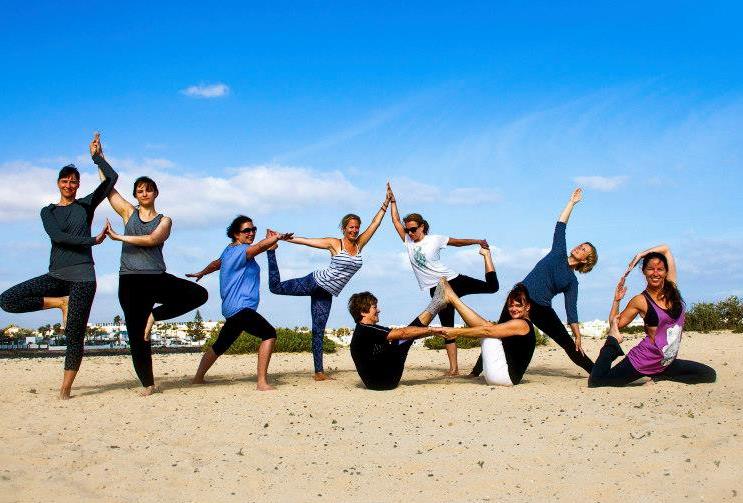 This 200 Hour Vinyasa Yoga Teacher Training course takes place at Azulfit's Surya retreat, in Fuerteventura (Canary Islands, Spain), followed by one long weekend in November at OneYoga Studio, Manchester for final evaluations and testing. You are also able to take your final evaluation at an agreed date in Fuerteventura.
Learn from one of the world's leading yoga teachers and deepen your practice on this immersive 200 Hour Vinyasa Flow yoga teacher training course. This course will offer student-teachers of all levels of experience the chance to immerse themselves in theoretical, practical, historical and spiritual dimensions of vinyasa yoga with Andrea Everingham. Be empowered; deepen your practice and soak up the Fuerteventura sunshine whilst you immerse in the study of yoga.
Our 200 Hour Yoga Alliance teacher training program is for any practitioner who wants to become a yoga teacher as well as for yoga students who want to advance and deepen their yoga practice and understanding of yoga.
During the 200 hours of this yoga teacher training we will study asana, anatomy, alignment, yoga philosophy and most importantly you will learn how to teach a safe, engaging and effective yoga class in Andrea's incredible, engaging style. This course is certified as an ERYT-200 Yoga Alliance training school.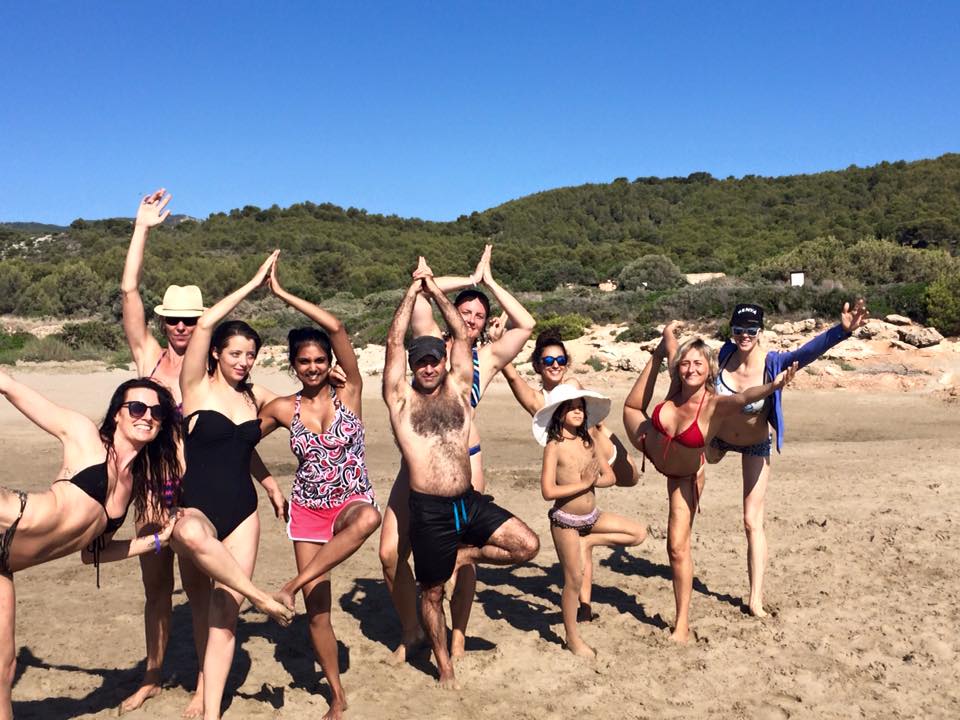 This 200 hour Hatha Yoga Teacher Training is registered by Yoga Alliance International YAI and Yoga Alliance Professionals YAP. The course reflects an energetic and therapeutic approach to yoga in line with the instructors Gerry Rixon's wide ranging experience which includes 30 years as a professional shiatsu therapist and teacher.
Sequences taught are designed to improve both strength and flexibility as well as bring awareness to the flow of subtle energy through the body. You may apply for the YAP certification after graduation.
This Yoga Teacher Training program emphasises teaching from beginner to intermediary levels. It concentrates on safety, the use of props, correct breathing and alignment, restorative asana, relaxation and meditation as well as more dynamic and strong asanas to improve strength, endurance and will power.
Practitioners are advised to have a minimum of two years and 100 hours yoga experience. It is also helpful for students to have a basic understanding of the philosophy of Yoga, lifestyle and diet; however all these subjects are taught during the course.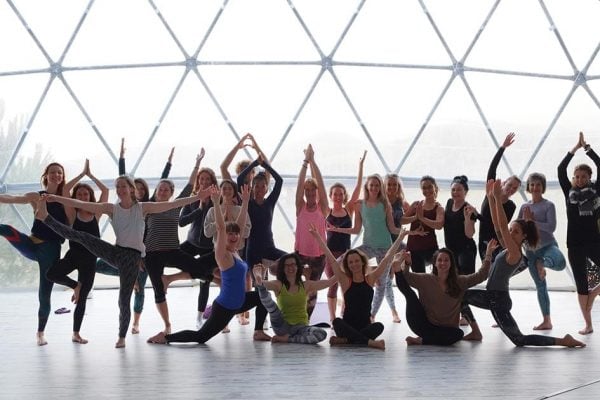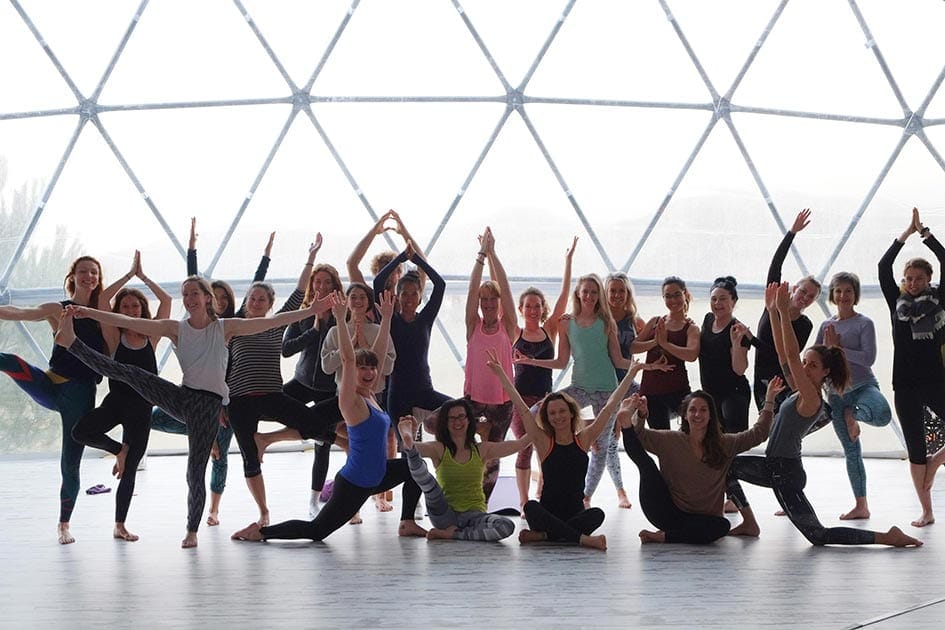 This three week intensive Yoga Teacher Training with Frog Lotus Yoga at Suryalila, Spain is an exceptionally high quality, fully comprehensive, profoundly life transforming retreat. It is passionately, and skilfully, led by Vidya Jacqueline Heisel, E-RYT 500, SYT, the founder and director of Frog Lotus Yoga International and the owner and director of Suryalila.
Vidya is a Master teacher with 40 years of Yoga teaching experience, a deep and experienced knowledge of Yogic philosophy and meditation, as well as being an inspiring practitioner and gifted communicator.
The Frog Lotus Yoga Teacher Training Course is a professional, established, comprehensive, well-organised and highly effective programme. For many it is a profoundly transformational and life-affirming journey.
A 200 hour Yoga Teacher Training is considered to be the industry standard for a foundational Yoga Teacher Certification. We have found that removing the student from the distractions of their everyday environment, and putting them in a beautiful, peaceful place enhances and optimises their learning ability.
For three whole weeks, you will be fully immersed: talking, thinking, and breathing Yoga with fellow yogis. During the 200 hour Yoga Teacher Training Retreat you are taken on a magical journey and given all the nurturing and support you need to be successful.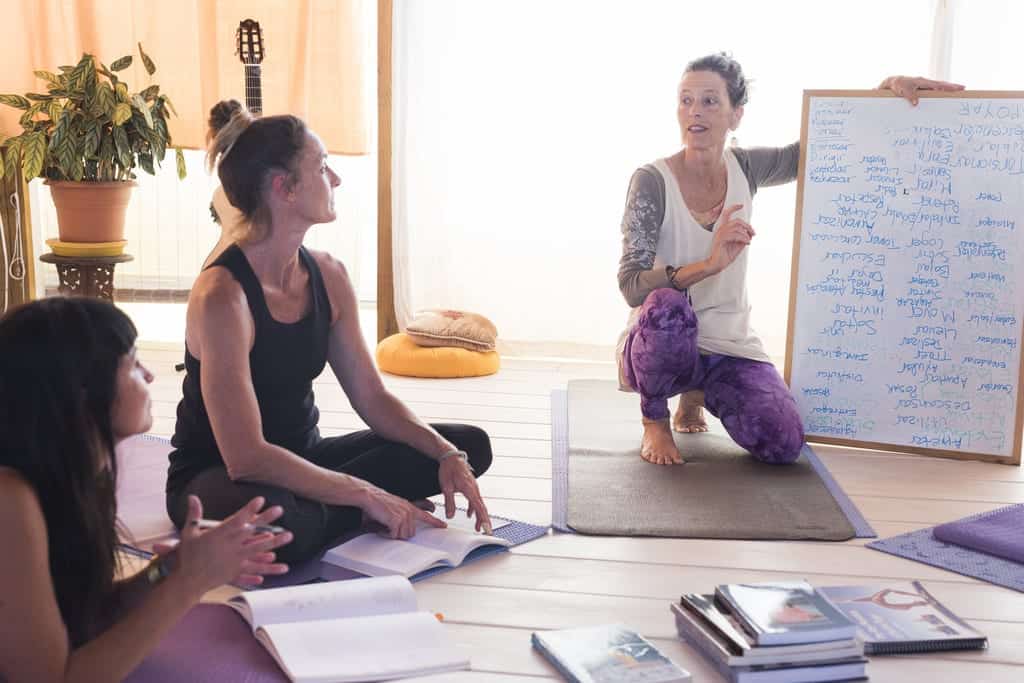 This 200-hour yoga teacher training is designed to root you in the practice and help you achieve the confidence you need to transmit your knowledge and love of Yoga to others.
A traditional, Sivananda style yoga teacher training, the format of this intensive residential yoga immersion allows for much personal attention and teaching practice for each student, giving them the opportunity to learn to teach with confidence and safety. There will be time to explore other styles of yoga, and students from different yoga traditions are welcome!
Disconnect from your worldly distractions and go inside yourself to explore your relationship to yoga and to yourself. The shared experience gives students the challenges and support of a professional group, with more than 30 years of experience and dedicated to a common goal: to imbibe and transmit the spirit of yoga.
Whether you wish to become a yoga teacher or simply deepen your practice, come join us and experience the strength, discernment and joy that come through yoga.
Upon successful completion of the course, participants can opt to become Registered Yoga Teacher RYT 200 with the internationally recognised Yoga Alliance.
Led by renowned yoga instructors Nora Belton and Kirana Stover – who have been leading Yoga Alliance certified yoga teacher training courses in Ibiza since 2011. Catering to those with a desire to become a professional teacher, in addition to those seeking to deepen their personal practice.
This training is an intensive residential immersion, following the classical Indian-style ashram structure. Groups are small, allowing for lots of personal attention and a true community spirit.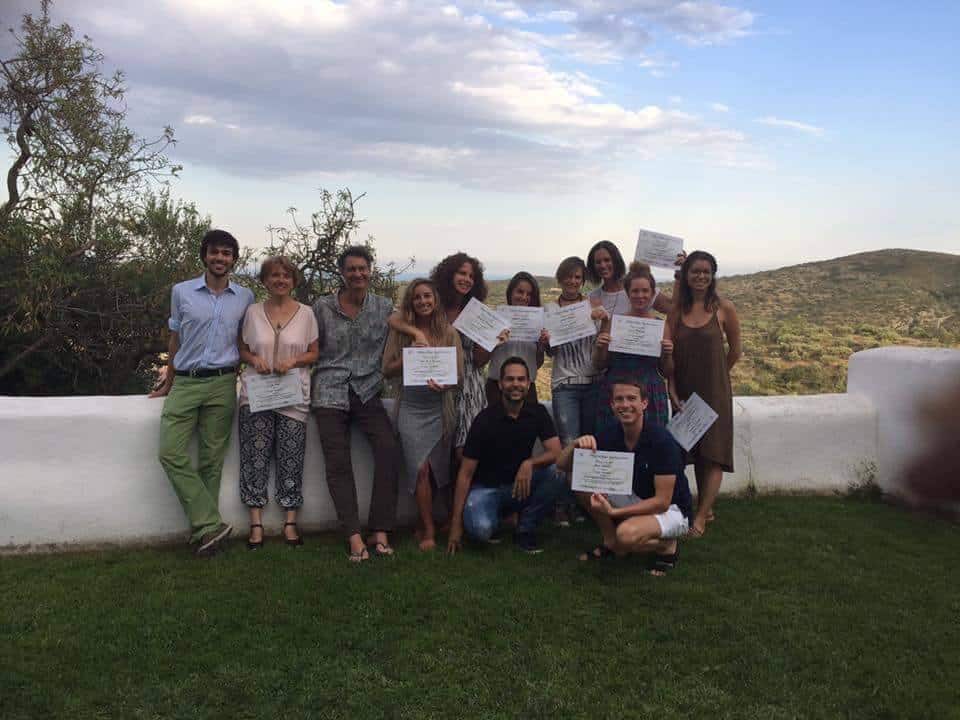 This 500 Hour Yoga Therapy Teacher Training program is a chance to delve deep inside ourselves, exploring the profoundly therapeutic benefits of yoga and a unique opportunity to receive the teachings of the experienced therapist Gerry Rixen.
Gerry has been running yoga courses for over 20 years, alongside this he has over 30 years professional experience teaching and treating thousands of patients with Zen shiatsu and traditional Chinese medicine. He is the founder and director of the International Shiatsu and Yoga school (SYM), established in 1997.
This Yoga Therapy Teacher Training course will teach you how to evaluate your patients health using various methods of palpation as well as observation, listening skills, taking detailed case histories and interpreting the signs and symptoms of imbalance and disease.
The SYM has met the stringent requirements set by Yoga Alliance Professionals demonstrating that the course is of the highest standard. Our graduates are eligible to register with Yoga Alliance Professionals and use their accreditation as a sign of quality training. Places are limited, we accept a maximum of 12 students per group.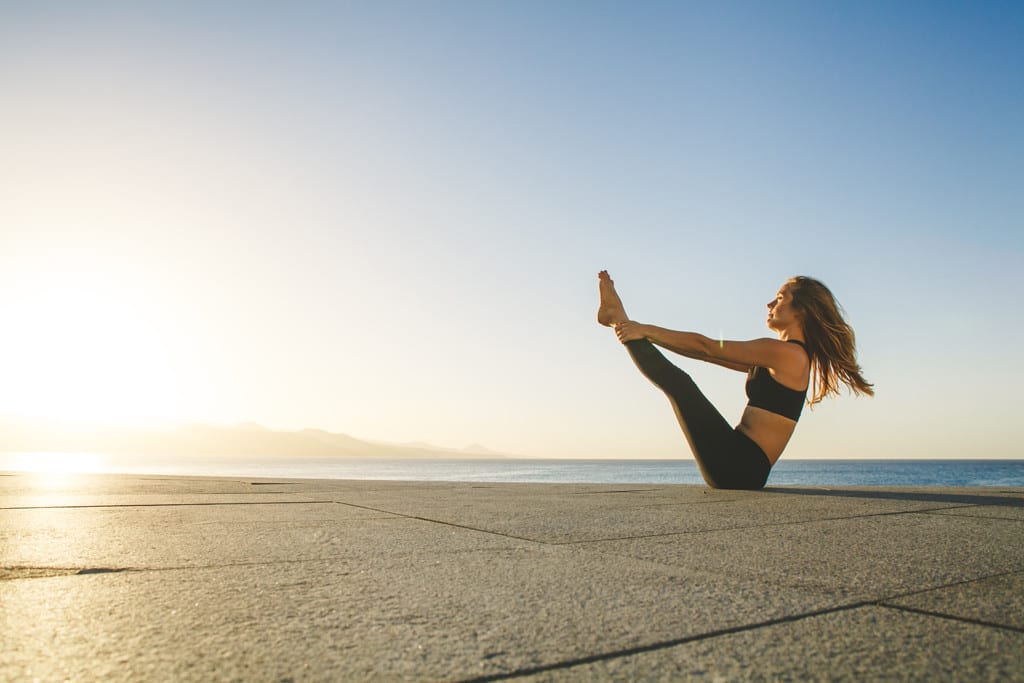 In this 200-hour Yoga Vinyasa Teacher Training we study the healing power of the body through the nature of the 5 elements through a base sequence which is provided to the students. We apply concepts of physical and energetic anatomy, and Ayurveda and Chinese medicine for the complete understanding of the sequence to be learned.
Students are encouraged to create from the basic sequence once they master it, looking for what each person has to give to the world. There will be a special emphasis on finding each one's voice, bring in to light what is their contribution to the world and give them tools to apply it in their lessons.
Some of the sessions focus on learning how to hold spaces where the work done by the assistants is profound, such as intensive workshops, retreats and training. The whole process of transformation is always guided with love.
Daily activities based on body expression, simple ancestral rituals and coaching techniques are held, with the aim of opening new paths for the students to reconnect with themselves and find what's unique in them.
All the tools that will be put into practice during the workshops will be provided in an understandable way so that everyone can use them in their lessons and in their daily life. Some of the practices and meditations take place in Nature to recharge and feel in depth the element with which we work.
This Vinyasa yoga training is accredited by the Yoga Alliance and all of its content has been reviewed by AllYouCanYoga. Beginners and experienced practitioners are welcome.
Book your teacher training through Soul Seed Travel to get a discount or complimentary add on
We'd love to hear from those who have completed their Yoga Teacher Trainings and get your feedback and recommendations. Contact the team to get in touch!.