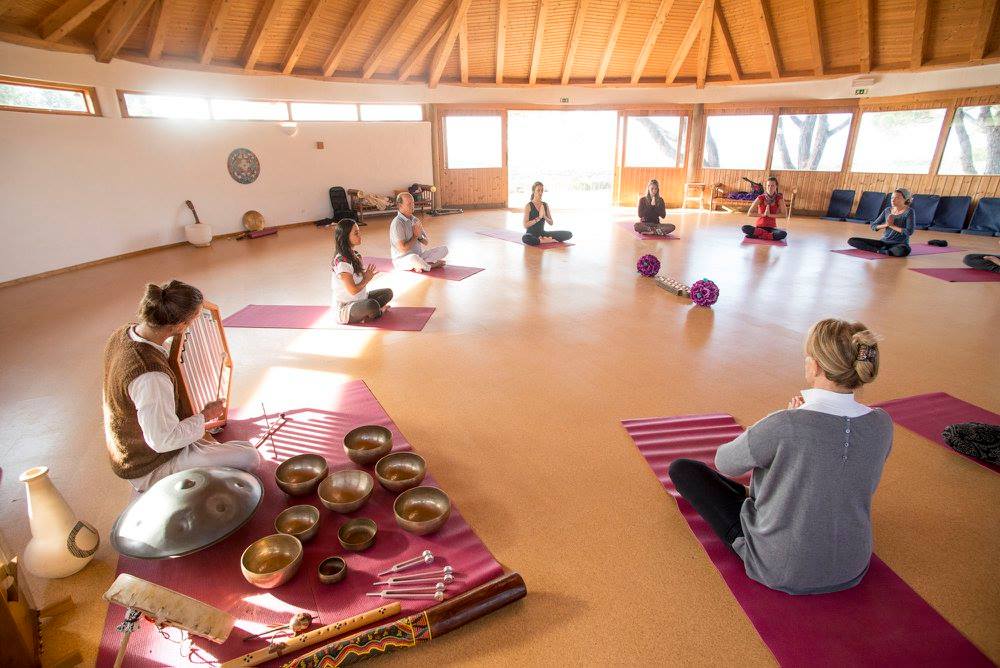 Yoga and pilates are both sophisticated systems of integrative exercise with a lot in common. The six pilates principles: centering, concentration, control, precision, breath and flow, could easily be used to describe the principles of many kinds of yoga as well. Both disciplines are also integrative and associated with stress reduction and increased well-being.
Pilates and yoga are also quite different from each other, and it is in the differences that we find many of the complimentary aspects of the two that make them such a great team. Explore the benefits of practicing both together on of these recommended yoga and pilates combination retreats.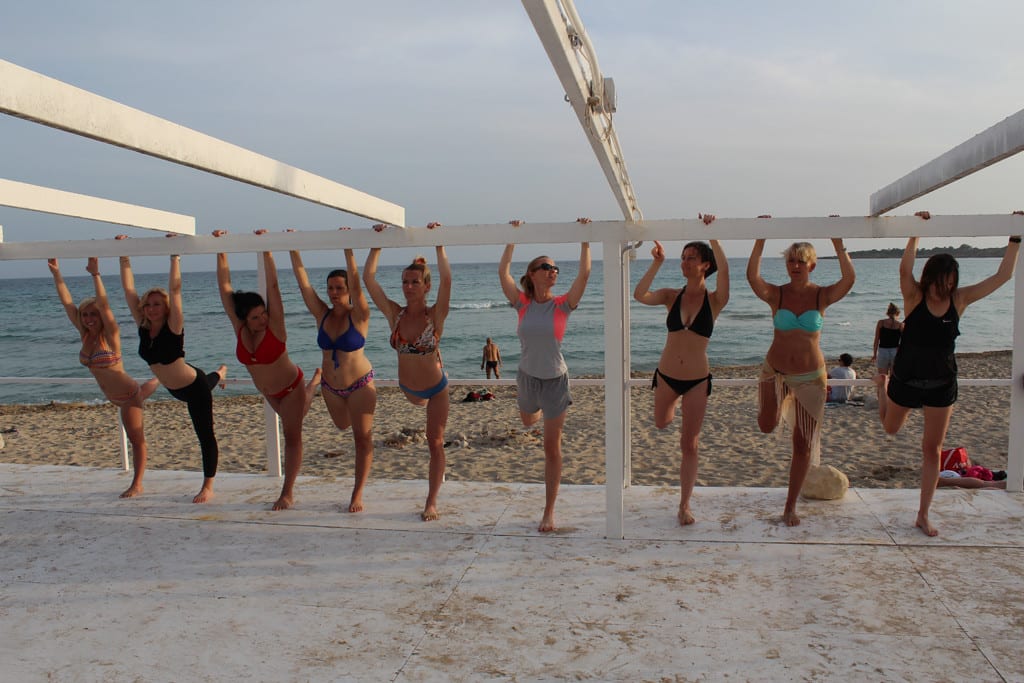 Get invigorated, relaxed and refreshed during this exclusive 11 days Pilates and Yoga retreat in Girona hosted at the rural villas near the beautiful lake of Banyoles. With the daily Pilates and Yoga classes, relaxation and breathing sessions, unlimited swimming pool and tennis court access, healthy diet and so much to see and do in the area…you will return home feeling rejuvenated and full of energy.
We have been organizing retreats from 2014. We pick the destinations and hosts carefully to make sure that apart from getting fitter, our guests have a chance to visit extraordinary places and meet interesting people. The retreat is also family friendly. One of the villas will be intended for participants with children. Each of the villas has its own swimming pool and yard and there is plenty of attractions to keep the kids busy. They are welcome to participate in most of the activities and at other times there will be a person designated to organize their time during the classes.
The program has a variety of activities so that you can choose between Yoga and Pilates, getting to know both systems, suiting your interest and needs. The physiotherapist is always there and caring to make your trainings safe and efficient. We adjust the level of difficulty of our classes to suit the group and if needed divide the participants into smaller groups according to their physical ability. Our idea of fitness is naturally incorporating physical activity into your lifestyle. That is what we promote during the retreats.
We want you to have fun and enjoy being with us in the beautiful scenery while getting fitter and doing something great for your body. We believe it is not a hard core boot camp or heavy trainings that will make you love fitness. It's associating regular physical activity with the feeling of joy and satisfaction that will make you keep up with the good habits when you come back home. That is what we want to do for you during this Spanish adventure. By delivering Pilates, Yoga, slow jogging, relaxations, healthy food and a great atmosphere we simply want to make you fall in love with moving!

Imagine doing a fluid practice of yoga and Pilates in one of the world's most beautiful islands. An island that erupted over 3600 years ago to reveal the best sunset in the Mediterranean. With cascading white bungalows down sheer cliff drops into the Aegean Sea, blue skies forcefully embracing turquoise waters and the only navigable sea crater in the world, Santorini Greece is your perfect destination to rekindle that fire within and enjoy a week of amazing yoga and Pilates. Your backdrop for your Sky Pilates and Yoga Retreat will needless to say leave you captivated, enlightened and elevated to another realm.
You won't want to miss this incredible opportunity to transform your yoga and pilates practice and your view on the splendors of nature.
The Pelagos Hotel in Oia Santorini will be hosting what will be your most memorable healthy holiday. This boutique hotel is the perfect setting for a relaxing and fun Pilates and Yoga holiday, with a beautiful 30' x 40' practice shala where all classes will take place. All your materials for all your classes will be provided so you can bring your body, mind, and spirit to the mat. Prepare to reconnect with your love of health and the warmth of the mediterranean sea. Grab a last minute deal of €100 discount on the May dates.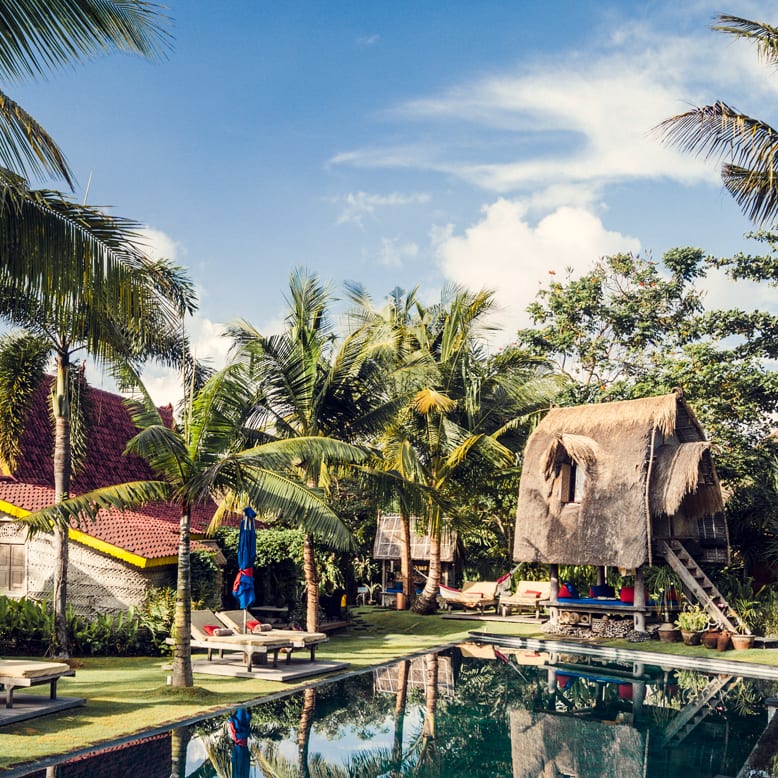 This pilates and acro yoga retreat in Bali is one of our most popular, even amongst our teachers! After a break, we are finally returning to Bali, island of gods, island of bliss. For the third time, our beautiful teacher of teachers, Tash Barnard, will be leading us through her innovative and knowledgable Pilates classes and inspire you to do more than you thought you were capable of.
Barbara Gentile from New York will join us with her passion for Yoga and all things aerial, teaching with patience and wisdom. There's never been a better way to joyfully step out of your comfort zone. You'll be amazed of what slumbers deep inside of you. Exercise besides, of course there will be plenty of time to explore the natural and cultural wonders of Bali itself, be it the beaches, the temples, an evening walk through the rice fields or the creative bustle of Ubud's shop-lined alleys.
Surrounded by paddy fields and an organic garden, our home for the week will be the much sought after Desa Seni Village Resort in Changgu. Created by two Australian friends, the eco-resort is a labour of love and a hand-picked collection of beautiful antique wooden homes and traditional furnishings, representing different cultures and traditions of Indonesian lifestyle.
Each villa has its own style and character and the attention to detail is remarkable. It might take you the week to discover all the little details and treasures your cosy home has to offer. There is a saltwater pool with a sundeck, an organic restaurant supplied from the on-site garden, and a spa offering holistic treatments.  And of course, there is our beautiful outdoor Yoga studio that we will be using for the classes and workshops. The closest beach is just 15 minutes away and easily reached by tuktuk, taxi or bicycle. Grab a 10% discount last minute deal exclusive to Soul Seed Travel.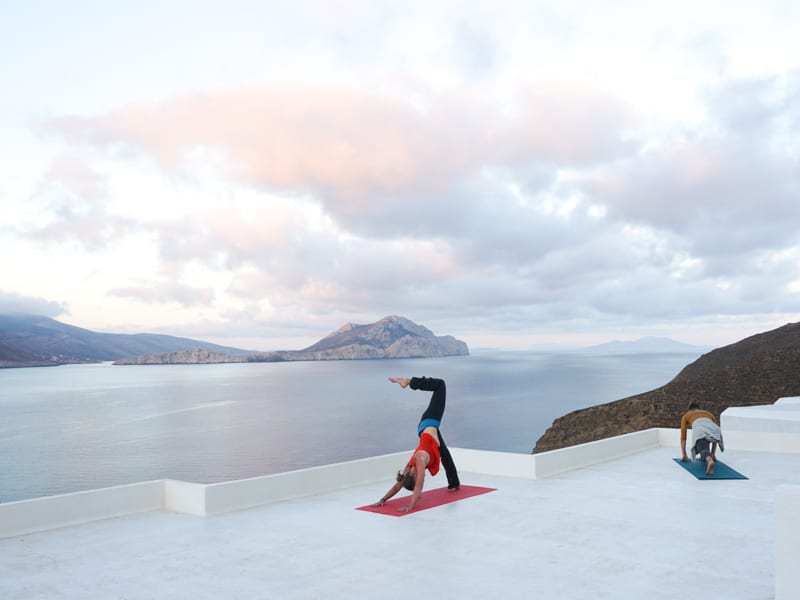 The Deep Blue. Remember that movie? Come with us to this beautiful Greek Island for our Pilates & Yoga retreat in Amorgos and see "The Deep Blue" for yourself. We found the perfect place to truly disconnect in order to reconnect. In this retreat movement in all its shapes and forms stands at the forefront: From the up and down of our breath during meditation, via the deep inner connections found during the Pilates and Yoga sessions, to the hiking and swimming while exploring Amorgos. A retreat to embrace yourself!
Join us and our wonderful retreat leaders Kat and Bianca in five star luxury with the charm and feel of a local boutique hotel – the Aegialis Hotel & Spa. Come and play with us and the wind during our daily Pilates and Yoga classes outside. We will hike together, discover some secluded beaches and swim together (the water should be delicious in June). We will explore our bodies and mind and tie together connections to become stronger and re-energize ourselves.
We've all heard of Santorini and Mykonos…but Amorgos is one of those very special magical places, with much fewer tourists than its famous neighbors. The cult film The Deep Blue was actually filmed on Amorgos island and as this retreat is all about discoveries, we will bring you to that magic little beach for some swimming, and diving into the deep blue waters of the Aegean Sea. But this just one little highlight of your week of bliss. Grab a last minute 20% discount on a shared room and 25% for 2 people booking together.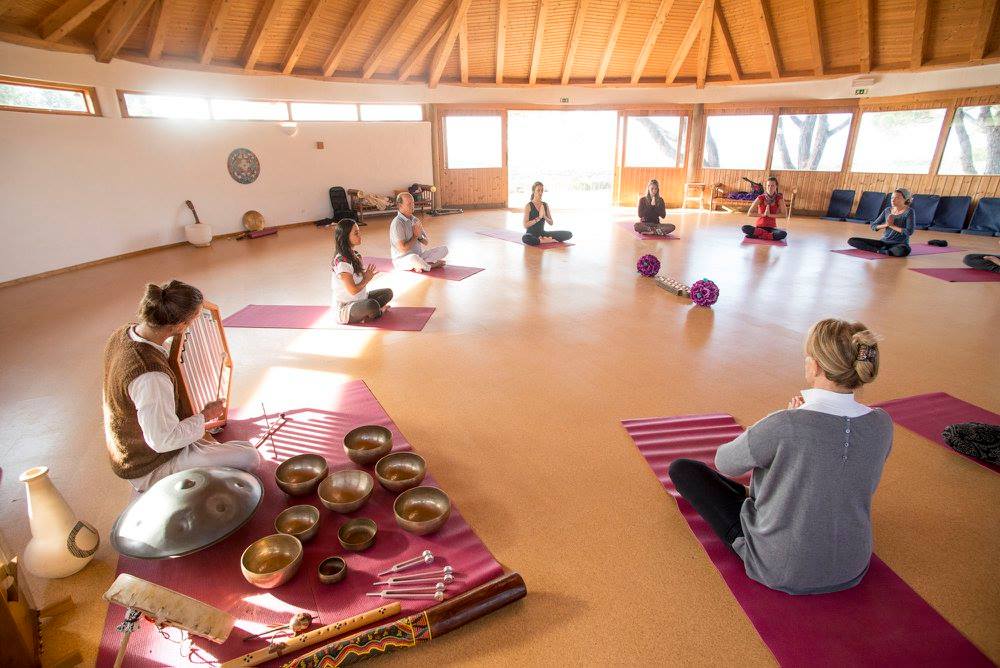 Our Ground, Expand, Connect Pilates and Yoga retreat is designed with the intention of your health and healing in mind. We are committed to bringing you to a deep place of calm in your mind and body. We are committed to teaching in a fun and informative way. We believe play is an essential element to learning and incorporate this in our teaching. Through the principles of Hatha Yoga and focused concentration of Pilates our goal is to re-connect you to yourself, each other and nature.
At Monte Velho we are lucky to be nestled in the countryside, surrounded by nature and the ocean. This is a chance for you to shine both in your body, mind and heart! We will also explore the nearby village Carrapateira, where you can get to know the local culture and enjoy a slow brewed cup of coffee and practice your Portuguese. There are two nearby stunning beaches Amado and Bordeira. These beaches are accessible by bike, walking, horseback riding or a short taxi ride. These are sought after beaches where people come from far and wide to enjoy and we will be able to walk to them!
All ages and all levels of practice are welcome on this retreat. Whether you are new to yoga or pilates or a solid practitioner there is something you can gain from this experience. This is an international group of travelers, learners, and soul-seekers. This is a chance for you to shine both in your body, mind and heart. We can't wait to share this experience with you, will you join us?
This is your week, so you're encouraged to take the time you need, go at your own speed, and try and let go – whether that means diving in deep into the movement practice, or taking a day to rest and relax. The scenery offers spaces of comfort where time stands still. Our hope is for you to cherish the time with yourself (or with friends) in a magical setting away from the daily grind. Our goal is to re-connect you to yourself, each other and nature.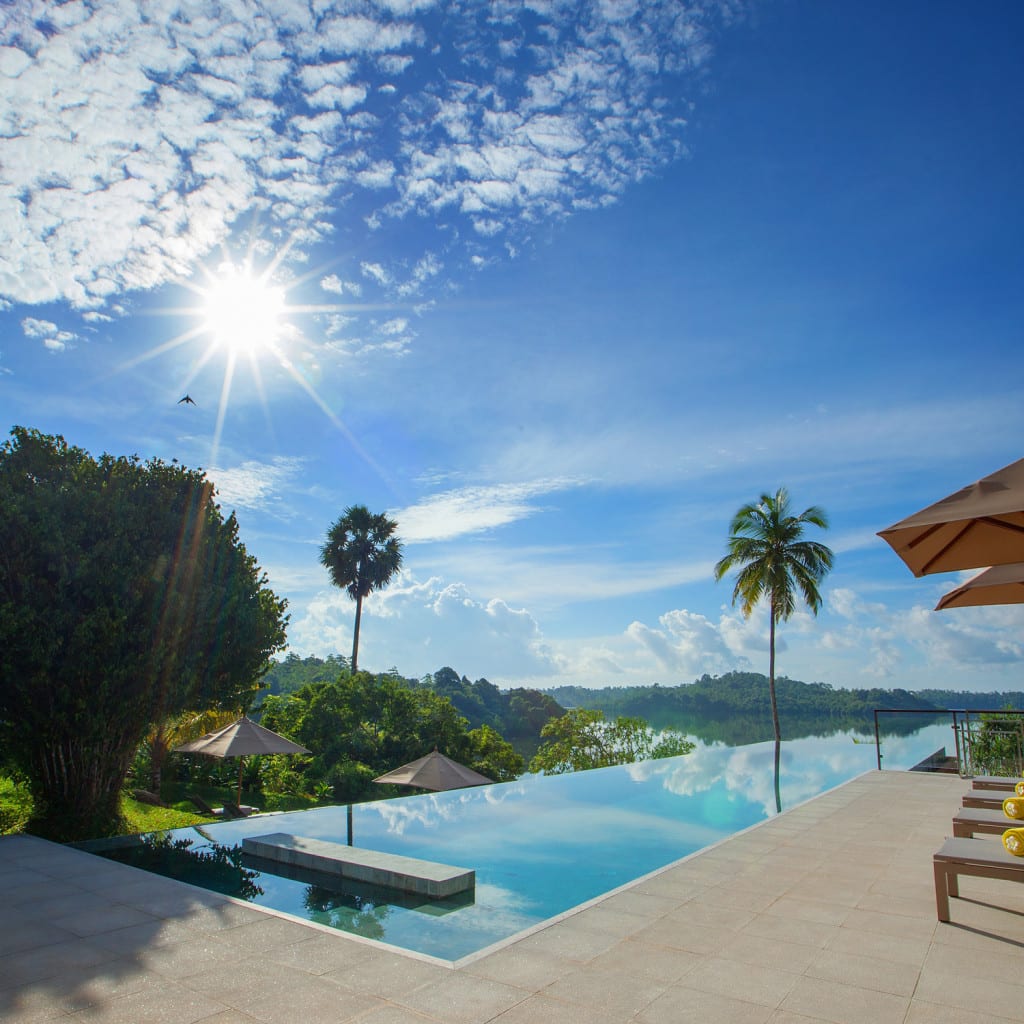 Enjoy a luxurious week in Sri Lanka to recharge and recover from the daily grind. Let the lush tropical setting of Sri Lanka's West coast set the stage for discoveries. This retreat will focus on 'going deep' as the name implies. Find new depths in your Pilates or Yoga practice and explore the inner connections between mind and body. Our senior teachers Mareile Paley and Heather Thomas Shalabi will guide you through a blissful week of practice, rest and relaxation and new experiences. Beginners, of course, are always welcome.
We couldn't have found a more peaceful, inspiring and positive place to finally offer that long anticipated retreat in Sri Lanka. Our home for the week is the brand-new and much praised sustainable design hotel TRI, with its firm focus on wellness. Surrounded by nature and overlooking the palm-shaded banks Koggala Lake, we will have the entire property to ourselves — its first-class yoga facilities, soothing spa, abundant space and delicious fusion meals prepared just for us.
This is your week, so you're encouraged to take the time you need, go at your own speed, and try and let go – whether that means diving in deep into the movement practice, or taking a day to rest and relax. Our hope is for you to cherish the time with yourself (or with friends) in a magical setting away from the daily grind.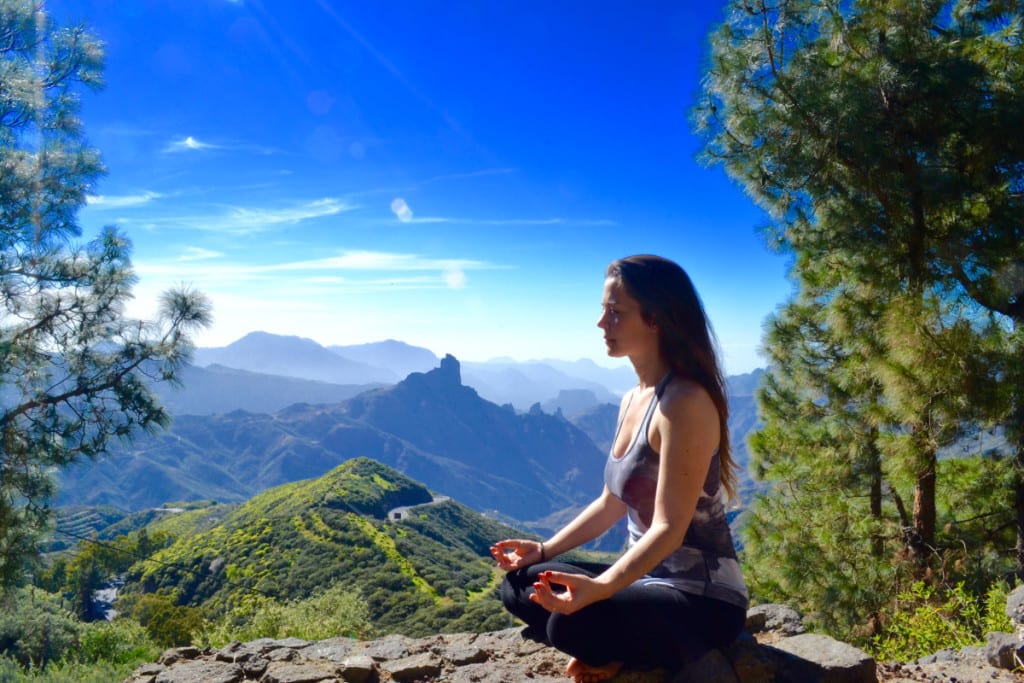 See the Canary Islands like you've never seen them before. Experience your ultimate healthy, pilates and yoga retreat in the most beautiful island in the Canaries. Gran Canaria Spain is a small continent on its own. With enormous lush green mountains, sand dune beaches and multiple microclimate zones Gran Canaria makes the perfect backdrop of a holistic practice of yoga and pilates. At Sky Pilates and Yoga retreat we guide you through a daily practice of pilates, yoga and meditation along with several active excursions to keep you feeling fit and healthy.
Experience a consistent challenging practice of Yoga every day with our expert instructor Paola Reznik from Buenos Aires Argentina. Our yoga classes are open level classes. We invite everyone, regardless of ability and level, to participate in an invigorating flow of Hatha and Vinyasa. There are few yoga instructors that draw you in, support you and elevate you to another realm, and hatha yoga teacher Paola is one of them. Her supportive and challenging classes will transform your yoga practice. What would a pain free life feel like? Pilates focuses on the strengthening and lengthening of the physical and mental core, as well as the realignment of the spine. Learn to move again on this retreat at Villa Gran Canaria, located inland just 15 minutes from the airport of Gran Canaria, 30 minutes from the capital Las Palmas and 25 minutes from the sand dunes of Maspalomas. The villa is situated perfectly for your daily explorations between classes.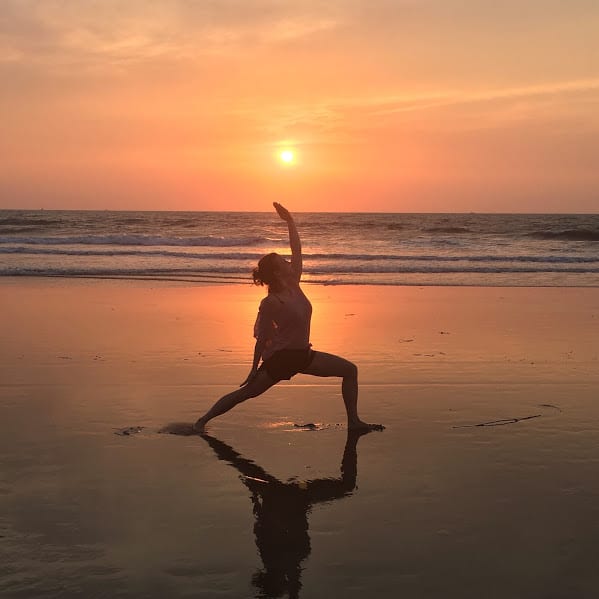 Escape the grind by retreating to rustic Southern India for a wellness retreat focusing on YOU. This is an opportunity to seek space for rejuvenation, exploration and peace.
Take part in two classes each day of Yoga and Pilates, sprinkled with other wellness opportunities like meditation and breath technique. Delight your taste buds with Southern India's cuisine of spice, texture and sauces, including lentils, native fruits, coconut oils/milks and curry leaves. Take the opportunity to soak up knowledge of Ayurveda, India's sister science, and experience luscious ayurvedic treatments, the ultimate in self-care. The state of Kerela has a tropical climate and the beach culture of the Kovalam area will allow you to shed the layers and congestion of the west as you practice self care and relaxation in a natural environment.
India has so much for the senses to take in. Whether it be the wind of tuk tuks whizzing by on the road or the smell of Indian spices wafting from restaurants and local family homes, or the sound of a woman chopping open a fresh coconut for you to drink by the beach. Brightly colored sari's adorn the local women and tiny winding streets with handmade shopping treasures entice you to explore. It is full to the brim of endless temples, shrines, churches, mosques, and bazaars devoted to spices, incense and freshly cut flowers. India is made for those with a curious spirit and a heart ready for adventure.
Leave it to Mandee to navigate the details in moving through India while you simply enjoy and treat yourself to the tropical experience in the south. India's positive and energetic vibe is like nothing you have been a part of before. Let her lead you to a place that mesmerizes with all its colors, beauty and life lessons!
Alex Estornel, founder of Sky Pilates and Yoga Retreats explains the advantages of combining yoga and Pilates in this article. Check out our Recommended Pilates & Yoga Retreats in stunning locations.
Follow our travel inspiration on instagram @soulseedtravel to stay updated with our latest recommendations on yoga and pilates combination retreats. Pack your bags and book your flight!.