Unfortunately endless summer isn't actually endless. With the last days of summer approaching far too quickly, and the near end of our much loved outdoor yoga practice, we point you in the direction of 6 nourishing and fun filled retreats where you can practice yoga and enjoy the last days of sunshine.
Escape to some of the most breathtaking parts of Greece, away from the tourist crowds where you can practice yoga, pilates, mindfulness and meditation against a backdrop of the beautiful Mediterranean sea.
I'm so happy to be taking you on a joyful yoga retreat to my favorite place on the planet, one of the most authentic and spiritual Greek Islands for 7 days of deeply transformational yoga practice. This week will allow you to access your inner strength and wisdom to reach a place of complete alignment with your deepest Self and manifest your true potential into the world.
We will be feeding on locally grown organic food, practicing Jivamukti yoga morning and evenings, creating beautiful friendships, discovering one of the most special Greek islands while staying in a gorgeous villa, setting powerful intentions and letting go of what no longer serves us to expand to our true potential.
During the retreat, there will be 2 daily yoga practices of around 90 minutes in the morning and before sunset. A total of 13 classes combining asana, chanting, meditation, intention setting, pranayama, and spiritual teachings. We will explore the asana practice through both dynamic vinyasa and restorative practices, challenging your own pre-established boundaries to progress into a new space, letting go of old patterns that no longer serve you.
Through dedicated workshops we will explore in depth backbends, inversions, the art of vinyasa, deep hip opening and chakra tuning.
READ: The Soul Seed Travel Guide to some of the best wellness retreats in Greece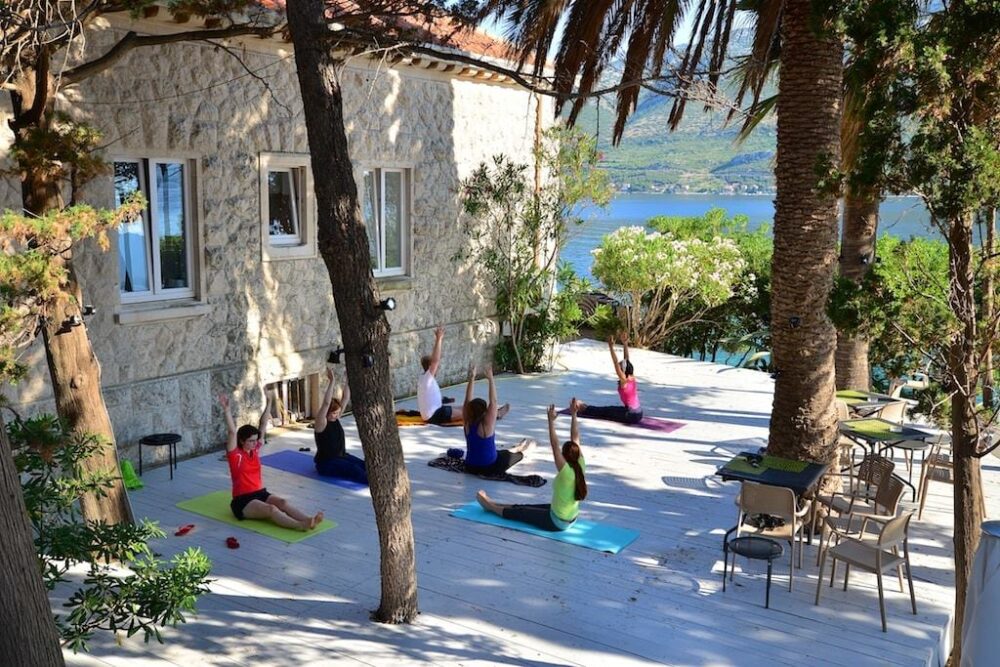 With its diversity in natural beauty and all year round sunny climate, Croatia is the ideal place for anyone looking to getaway on a healthy holiday. Relax and rejuvenate alongside views of the sparkling turquoise-blue Adriatic sea, explore the many islands that scatter its breath-taking landscape, the jaw-dropping vivid green lakes you can swim in and admire the characterful architecture that lines this wellness hotspot. I encourage you to go and explore and add it to your bucket list for this year.
Join the Joy of the Mediterranean for a relaxing, rejuvenating, and detoxing Yoga and wellness weekend retreat. This is the perfect opportunity to refill and restore your energy under the Mediterranean sun surrounded by crystal blue seas, and bring your body and mind into balance with daily yoga classes, meditation and breathing exercises. The extensive local knowledge of the retreat team ensures that you will enjoy the best authentic sights, flavors and experiences of Croatia. Located in the gorgeous and unspoiled location of the enchanting Korcula Island,  Dalmatia.
You will enjoy hikes through Korcula's lush and unspoiled wild fields, explore hidden bays of breathtaking beauty and experience an excursion to the magical naturural park of island Mlijet, with its salt lakes, bicycle wine tour to the famous Croatian wine region on Peljesac and most of all to discover all the joys of Mediterranean and have a lot of fun in the process. Should you prefer a week long retreat we offer our Seaside Yoga Holiday.
READ: The Soul Seed Travel guide to the best retreats, spa resorts and healthy eats in Croatia
Despite its size Portugal is packed with striking landscapes, exceptional beaches, and vibrant culture. If you think it's time to explore this little country facing the Atlantic and be ready to visit Portugal and enjoy some of the best sunsets of your life.
A match made in heaven – yoga and surfing – create a perfect semblance of serenity. Our Girls Yoga Surf retreat brings challenge in both mental and physical senses, all while providing connection between the mind, body, soul, and the ocean.
We invite you to embark on an adventure and spend a week in beautiful Lourinha exploring and living the combination of vinyasa yoga and surfing. The practice of both energizing yoga and the restorative yin yoga will help to better understand, prepare and catch waves as well as to unwind and restore after a day in the ocean.
Yoga and surf may seem different, but they compliment each other perfectly. At our retreat you will experience how yoga classes prepare you for the time in the ocean, build your strength, balance and mental preparation. Spending a week together with other like-minded girls will allow you to not only have this memorable experience, but share this joy and connect through the journey. Finally, the balancing and meditation skills learned here will transfer to your daily life and you will enjoy these lessons learn long after coming back home
At our yoga surf retreat in Portugal all yoga classes are created and designed to support and strengthen your practice as well as your sustainability for surfing. It doesn't matter if a beginner in surf or yoga or if you have experience in either of them our teachers will help you build skills to apply on and off the mat, on and off the surfboard and will make your Portugal surf camp vacation unforgettable.
We practice hatha, vinyasa, yin, and restorative yoga. as well as utilize various Pranayama (breathing) techniques in each class. Besides the serene moments in the yoga shala and energizing days surfing you will have an incredible opportunity to bond and connect to your fellow yogis and surfers. Breakfasts, dinners and outings as well as wonderful time together on the gorgeous Portugal's beaches will make you friends for life. If an active yoga and surf adventure is what you're looking for then our girls yoga and surf retreat in Portugal is just the one for you.
READ: The Soul Seed Travel guide to the best wellness and spa holidays in Portugal
"Don't cry because it's over, smile because it happened." Dr Seuss. Long summer days are in full effect right now and winter may seem an age away. But the days are already becoming shorter and you may be looking for an awesome way to end the summer season, allowing you to wind down, regroup and get ready for some darker colder nights. We have just the solution!
We invite you to join us for a grounding and nourishing five day retreat to adjust physically and spiritually. Come and reflect, stretch and ground with us (Jules Barber and Rosie Markwick) in the beautiful Moroccan fishing village of Taghazout. We first ran this retreat in March of this year and have established a wonderful relationship with World of Waves Guesthouse and their team. Nothing is too much trouble and we will be looked after like royalty.
For a chilled out, fun-filled five days, we will be practicing yoga together, a 90-minute classes twice daily, eating delicious and nutritious freshly prepared local food, and kicking back and relaxing in the Moroccan sunshine.
We have a number of amazing and rejuvenating additional activities available –swim in the ocean, walk through the Paradise Valley or hunt for bargains at the souk. Or simply chilling out on a beanbag in the sun sipping a juice. This is a retreat with a difference: inexpensive, family-style vibes, loads of personal attention with a maximum of 10 guests. A beautiful little coastal hideaway and delicious food. It's designed to be a break in the truest sense.
Treat yourself to an Italian escape. Relax, recharge, practice then have a post-Savasana glass of Chianti if you fancy!
Join us on our EAT.PRAY.MOVE Yoga retreat in Puglia, in Italy's rural heel. This wonderful retreat will enable us to experience the landscapes and activities of this incredible rising star of Italy.
Besides daily yoga classes, our new MOVE+MANIFEST retreats offers a series of mindful workshops that will guide you in the exploration of creative self-expression in your life. We will have meaningful discussions and fun activities intended to help you tap into your own inner wisdom and heartfelt desires. And between the beauty and serenity of Puglia alongside the sea and ancient olive trees, the atmosphere will surely ignite your being with an energy perfect for the creative process.
We will tour through Puglia's famous trulli; cone shaped houses in the town of Alberobello, a UNESCO world heritage site. After walking around the town and enjoying a delicious tasting lunch, we will make our way back to the stunning Masseria Fumarola, an ancient farmstead that will be our home for the week.
There will also be a relaxed day at the beach where we will explore the incredible coastal part of the region, followed up with an amazing and unique dining experience in a cliffside grotto. In this open cavern, we will eat while looking down upon the sea at Polignano al Mare, one of the most picturesque villages of Puglia.
READ: The Soul Seed Travel guide to the best retreats and spa hotels in Italy
Ibiza is one of our favourite Islands in the world! As soon as you step foot off the plane you can feel the healing energies work their magic….and that's even before the retreat starts! It's the perfect place for yoga, meditation, detox, wellbeing, beaching, guided walks, nurturing, unwinding, relaxing, pampering, spa time and plenty of YOU time!
Restore and rebalance in Ibiza with Ibiza Retreats this summer. Our yoga, fitness and eat-clean retreat will restore, rebalance and rejuvenate your body, mind and soul. We have specially created this well balanced, holistic retreat using our deep collective knowledge and experience. We have balanced yoga, fitness, meditation, nutrition and clean eating in this perfect retreat package. This retreat is for you if you are feeling a little unmotivated, tired, or lost and are looking to relight that spark, ignite your energy and bring back your zest for life.
We will set your body, mind and soul into a conscious, present and loving state that will springboard your onward life journey and empower you to take on life's ups and downs. By creating a positive foundation to lead a healthy, balanced life, you can be the best you can be. Be assured that this is very much still a yoga retreat, with a fitness element smoothly included, just rather from the point of view of holistic wellness – opening our minds to the bigger picture. We will enjoy yoga every day – on the fitness mornings, it will take the form of an elongated stretch and meditation class – and then pure yoga flow for 3 days. In the evenings, we will have a yin style practice or a take part in beautiful hike through the beautiful Ibiza countryside.
Our retreat is held inside the beautiful whitewashed walls of Can Amonita, in the stunning countryside of north Ibiza. The unique sanctuary reflects the beauty and peace of this side of the island with a beautiful outdoor practice space.
READ: Our recommendations on Ibiza's best yoga, wellness and energising retreats
For the latest travel inspiration follow us on Instagram @soulseedtravel. Get in touch with our retreat advisors to help you find, discover and book your perfect retreat. Namaste!