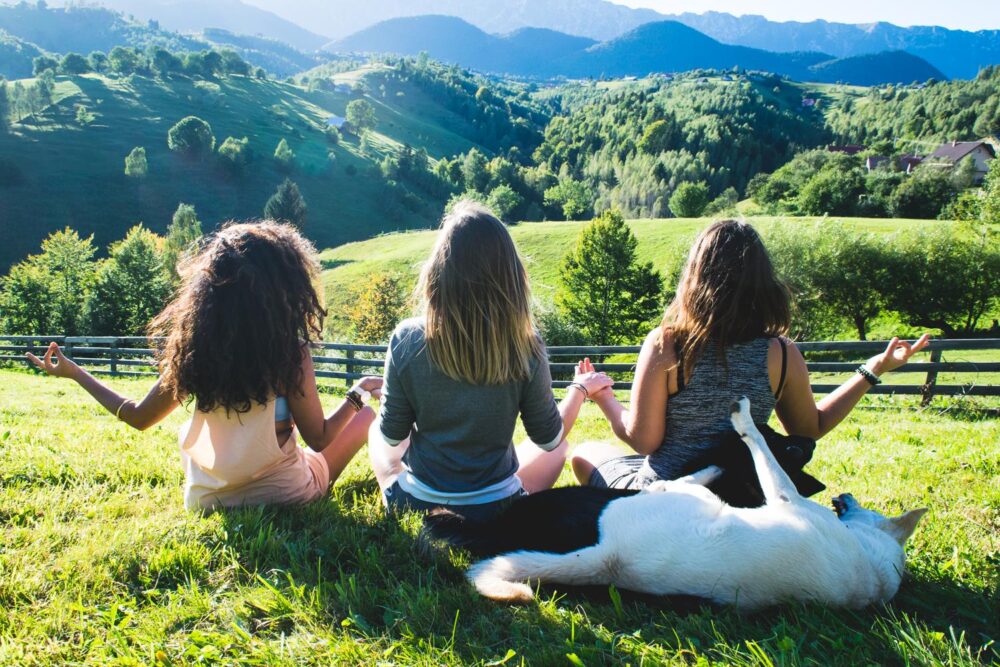 For when we head away from the brightness of the summer and towards the the gorgeous colours and crisp air of the new season, here are 10 nourishing, nurturing and inspiring retreats to soothe your spirit this coming Autumn.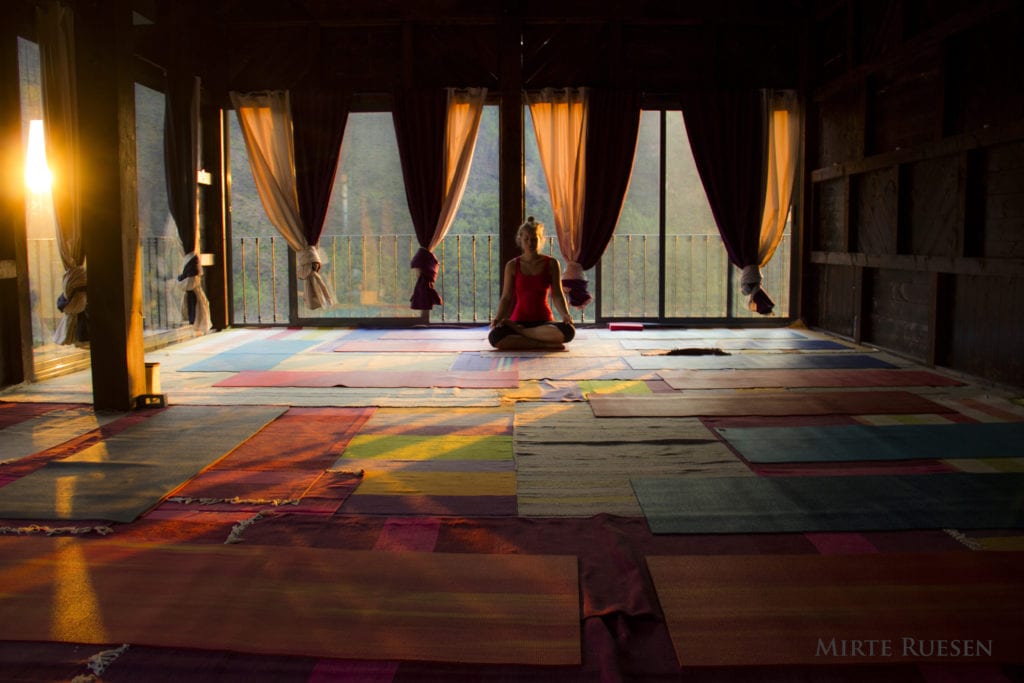 Vale de Moses is a family run yoga retreat in the heart of the Portuguese mountains. Spend a week or more practicing yoga, receiving massage and acupuncture treatments, walking in forests, swimming in natural river pools and eating delicious nutritious food. Stay in one of the beautifully restored stone cottages, Soulpads or in a Tipi.
Our retreat home is perfect for those in need of a break, rest and relaxation. We are surrounded by nature and forests, peace and tranquility – the perfect ingredients to restore your body and mind. The combination of good food and sleep, clean mountain air and water, therapeutic massage and acupuncture, hill walking and river swimming, all create a highly restorative context in which to begin, or to deepen, your yoga practice.
Soulfully reconnect with our planet and with your own body. This warm invitation to deepen your love affair with yoga, is open for everyone, travelling alone or with friends, new to yoga or practicing for decades. Most of our retreats at Vale de Moses include morning and afternoon classes, a health consultation, massage/acupuncture treatment, 3 nourishing daily meals and a trip to the nearby Rio Zêzere.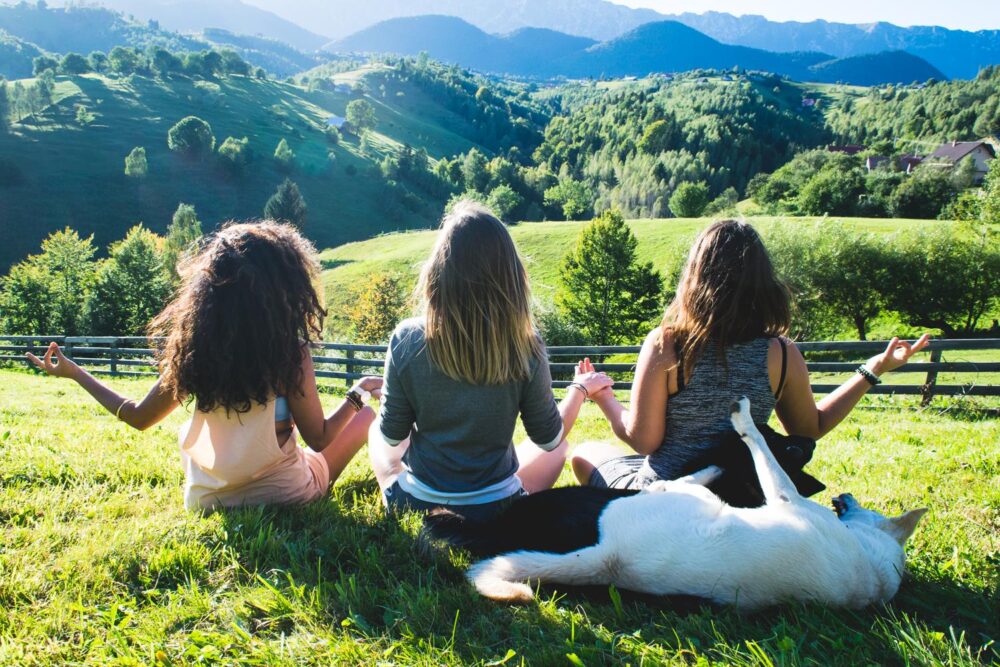 Join us for an event-filled week, and learn how to create variety in your kitchen through seasonal, wholesome, and healthy vegan cooking. We will create nourishing dishes that can be enjoyed by all, and learn how to combine ingredients to create a plant-based plate of goodness. No diets, no fads, nothing fancy, nothing fake. Simply home cooking that fresh, healthy and delicious.
We'll begin each day with a sunrise yoga session, followed by a healthy breakfast. After that we will continue with cooking demonstrations and presentations that will help you to form good habits and create a home menu for yourself and your family
Maria Galbeaza, founder and Chairman of the The Wine Tourism Association ("Asociația de Enoturism") will bring a selection of Romanian wines for us to discover, along with her knowledge and passion for the winemaking tradition of Romania. This will be a truly special and unique addition to our wellness experience right here in Transylvania.
On two nights of the evening you will enjoy a three course vegan menu which is paired with specially selection wines from around the country.
Your stay includes accommodation in our boutique rooms, nourishing vegan meals, access to the wood-fired hot tub and sauna. You will also have free time to take walks in nature, read or enjoy a massage from our resident massage therapist.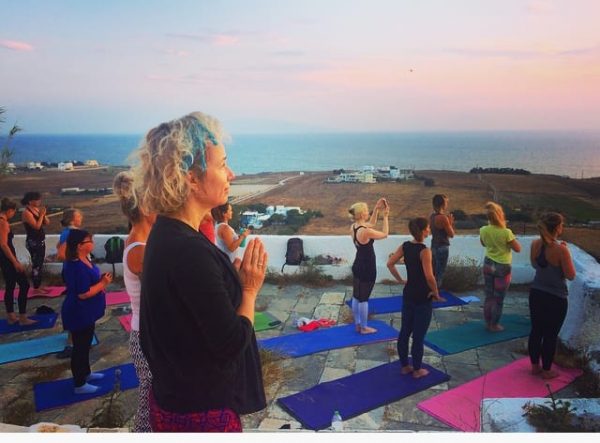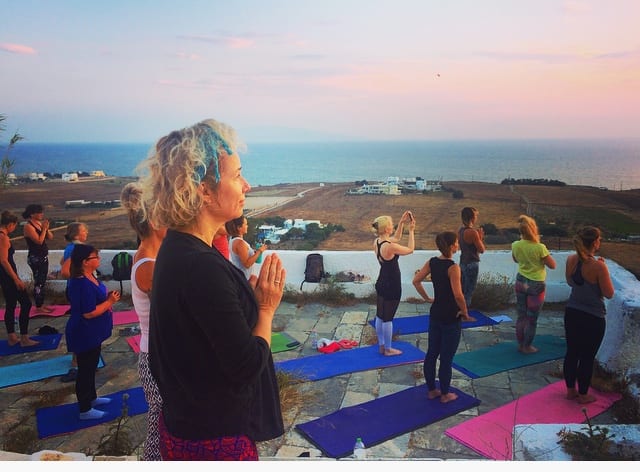 Be energised and inspired on this trip of a lifetime and join us on our 7 day Santorini yoga retreat. Enjoy flowing vinyasa practice, gentle restorative sessions and rejuvenating meditation.
This rejuvenating 7 day Santorini yoga retreat programme combines vinyasa yoga, restorative yoga and meditation to take you on an incredible journey of wellbeing and discovery in stunning Santorini.
From your arrival in Greece you can feel at ease and enjoy the wonders of this glistening jewel of an island, safe in the experienced hands of our team. We look forward to welcoming you, supporting you and guiding you through this incredible wellbeing experience.
As well as the expert teachings you will also find yourself rebalanced by the beautiful nature of Santorini, with inspiring walks and views all around.
You can take in the stillness, soak up the Greek sunshine and enjoy the energy of this special island, allowing yourself the time and space to invite relaxation and wellbeing in.
Santorini is considered the precious gem of the Aegean. With its white-washed clifftop villages set against the deep blue sky, multicoloured beaches, vast volcanic vineyards, crystal clear waters and world famous sunsets, it is easy to fall under the spell of this magical, mythical island.
Your retreat home of Oia is located high up on what is considered the balcony of Santorini. Oia is known for its amazing views of the volcano. You can even scuba dive in this giant lagoon, to adventure into the crater and discover for yourself what's left of the opening of the volcano.
Just two kilometers from the beach with inspiring walks and views all around, this is a chance to truly unwind and explore the many facets of beautiful Santorini. The culture, architecture, geography and gastromony of Santorini are all reasons to visit in themselves.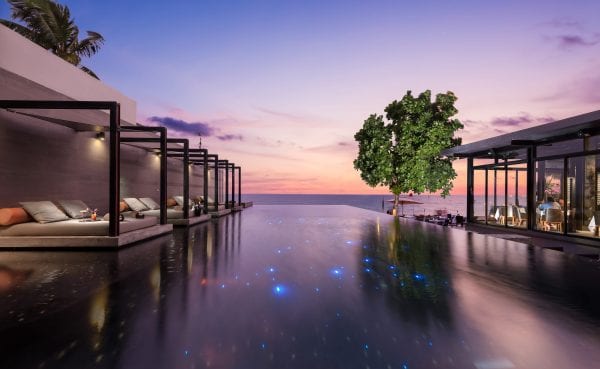 This luxury breathe vitality retreat at Aleenta in Phuket is designed for those who wish to go into a much deeper restorative and healing process by dealing with the root causes of stress and burnout.
It will help you unlock the key to feeling joyful, healthy, and energetic: discovering what balance means for You. You will have time to relax and renew your energy and reinvigorate your mind body and soul.
Nature and the elements are important components of our retreat, as they help you in the healing and balancing process. We combine knowledge of Thai holistic medicine, soul coaching and traditional Hatha yoga practices with an analysis of the 4 life elements.
Aleenta Hua Hin Resort & Spa in Phuket is the original award winning boutique luxury resort upon which Aleenta started. This special boutique luxury resort and spa features 25 unique residences, most with a private pool.
Each suite is located within mere footsteps of the beach and offers commanding views over the Gulf of Thailand. Situated on the pristine and golden sand stretch of Pak Nampran Bay, Aleenta Hua Hin Resort is a comfortable 3 hour drive south of Bangkok.
The main resort, located along the beachfront, features white-washed buildings with thatched roofs, amid swaying palms. The picturesque Resort Wing offers a variety of residence, suites and villas, steps away from the seashore and complete with private plunge pools.
On our Healing Detox Retreat, we embrace holistic Balinese-inspired therapies administered by traditional Balinese healers using ancient wisdoms passed down through direct lineage.
Following the Balinese principal of Sekala-Niskala, which holds that we all live equally in two worlds; the seen or conscious world Sekala, and the unseen or psychic world Niskala, the Balinese healers engage the help of the divine source during each healing session.
A healing journey for detoxification and transformation. At Fivelements, Bali we recognise that optimal wellness comes from learning to love and respect the body, mind, and spirit, where health and well-being are a reflection of inner harmony.
This is our signature cleansing programme inspired by the ancient Balinese philosophy that promotes living with purity of thought, speech, and action. It encourages us to align our heartfelt goodwill and thinking with consistent speech and action.
The retreat includes traditional Balinese healing therapies aimed to detoxify and purify the physical body, sekala, and the non-physical mind and soul, niskala, unifying body and mind towards a natural harmonious state of being, and allowing an organic healing process to unfold.
With your needs in mind, we collaborate with you to nurture a new healing path, combining:
Balinese Healing Rituals for purification, balance and regeneration. Living Foods for detoxification, nutrition and vitality and Sacred Arts for inner strength, integrity and dedication.
As our lives become increasingly demanding, fast-paced and over-stressed, we begin to recognise significant impacts in our body's natural ability to sustain healthy organ productivity, effective toxin elimination and overall health and wellness.
Combined with the growing number of harmful chemicals and pollutants to which we are exposed on a daily basis (whether due to impure air or water, food pesticides, preservatives, additives or other non-natural materials), this is causing us to experience poorer health, including chronic aches and pains, lower levels of energy and productivity, frequent illness, decreased memory or concentration, depression, ongoing digestive issues, bloating, excessive weight, dependence upon food or other substances, disease and premature aging.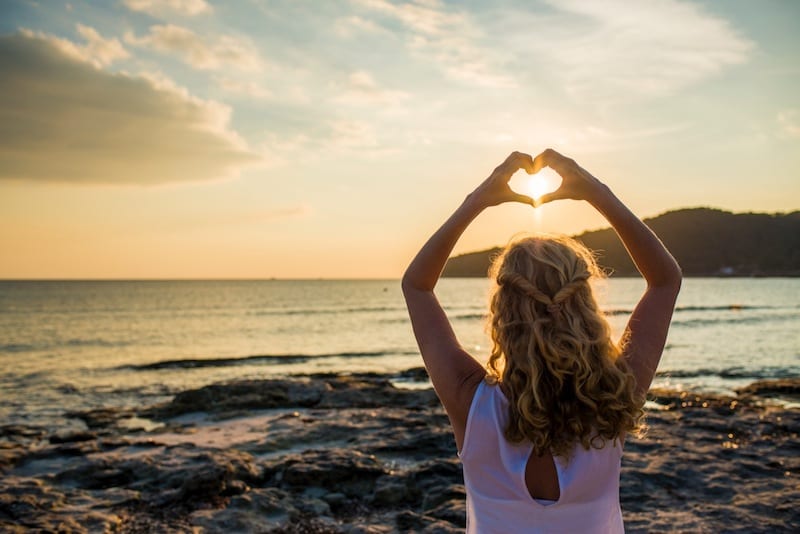 Designed for people who find themselves over-thinking or over-analysing, or who are prone to stress and fear they are heading for burn-out, and for those seeking to heal trauma or heartbreak.
The Harmonise Retreat is the perfect environment to disconnect from the over-stimulation of 21st century living and bring your life back into true harmony; mentally, physically and spiritually.
Through mindfulness and meditation practices to train the "monkey mind" and flowing, therapeutic yoga for all abilities, you will ease relentless mind-chatter and tune into the quieter voice of your inner-guidance system.
With a renewed sense of balance and a more peaceful inner-space, you will feel new passions and purpose arise, supported by 1:1 holistic wellness coaching, sharing circles and back-to-life coaching, helping you create clear and compelling strategies for a healthier, happier and more sustainable work-love-life equilibrium.
The Harmonise Retreat offers you practical tools, such as MET (Emotional Freedom Technique) and NLP to cleanse negative thoughts and destructive behavioural patterns, along with Restorative yoga to nurture your nervous system and sound healing to release energetic blockages, raise your vibration and bring your body, mind and spirit into happy, healthy alignment.
Your Wellness Coaches will offer (optional) tailor-made / prescriptive programs of treatments & therapies from our world-class team, whilst you enjoy a magical journey through rejuvenating and transformational evening wellness workshops and abundant but 'clean', delicious and nourishing, detoxifying cuisine.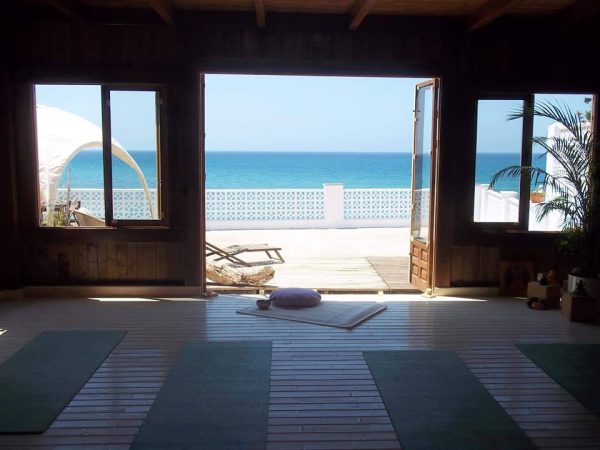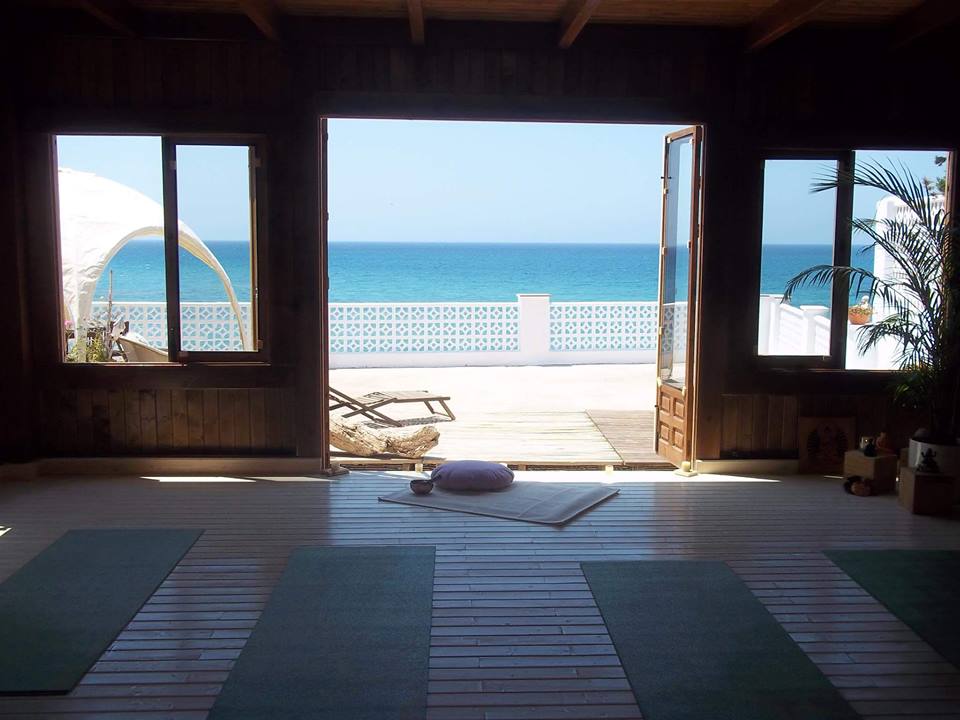 Join us for on our yoga and pilates holidays in the beautiful Bay of Mazarron, with its unspoilt blue flag beaches. Held in spring and autumn when the weather can be glorious.
Our yoga and pilates holidays include yoga practices in a beautiful studio overlooking the sea, a relaxed informal Spanish lesson over lunch, Pilates classes, historical visits, guided excursions so you can learn about the area, wine tasting, cycle rides, activities and much more. Of course all activities are optional. If you prefer to relax in the apartment or have time at the beach, the choice is yours.
The afternoons will be spent on various activities and fascinating trips learning about the local history, visiting local historic sites, optional walks, wine tasting, cycle rides depending on the weather and of course what everyone would like to do.
The area is steeped in history from prehistoric times to Phoenician, Roman and with many places of interest and excavated sites. A visit to Cartagena is a must to see the roman amphitheatre and excavations and the town of Mazarron to see the stunning mining features and old mining industry.
If you prefer to do your own thing on our yoga and pilates holidays and just relax the choice is yours. We can also organise fitness, walking, hiking, scuba diving, snorkelling, boat trips, dolphin boat trips (depending on weather) golf, tennis and much more.
Mazarron itself and the coastal areas are separated by Sierra de las Moreras, Sierra de las Herrerias and Sierra del Algorrabo being the ideal area for the practice of outdoor activities such as walking, hiking, cycling or climbing. If this is your thing, we can arrange this for you.
In the evenings we take you out to eat in different local Spanish restaurants or to a local bar for a drink.
Single travellers, solo travellers, couples and small groups are all welcomed on our Pilates Holidays. We will look after you all the time during your stay.
Travelling solo doesn't have to mean travelling alone. All activities, meals, Spanish lessons and classes on our yoga and pilates Holidays are in small groups with your holiday organiser on hand to help every step of the way.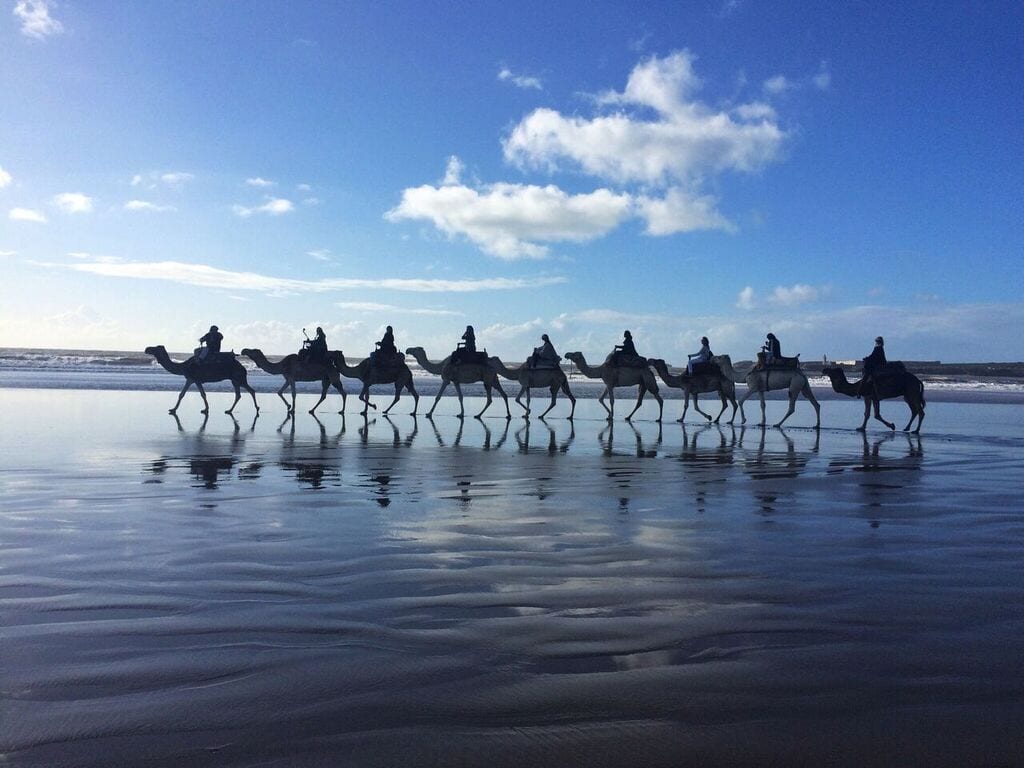 This Yoga Marrakech Move + Manifest retreat offers a series of mindful workshops that will guide you in the exploration of creative self-expression in your life. Expect meaningful discussions and fun activities intended to help you tap into your own inner wisdom and heartfelt desires.
Your retreat home for the week is the  fabulous Peacock Pavilions boutique hotel. This stylish and eco-friendly abode has been featured in worldwide publications, including National Geographic Traveler.
You will not only enjoy the grounds of Peacock Pavilions, the outdoor areas including a lovely pool, patio, private terraces, and covered yoga platform, but the retreat includes some amazing day-trips to the surrounding sites.
A guided day trip in Marrakech will lead you through an introduction to souks and visits to sites such as Ben Youssef Medrasa.
A full day will be spent exploring the nearby Atlas Mountains with a base at the Kasbah Tamadot Hotel with a traditional mule trek to the nearby village of Asni followed by time at the beautiful grounds of this 5-star location overlooking the vista and tasting menu lunch.
The final full day entails a trip to the famous Bains de Marrakech, a luxurious spa facility, where guests can be pampered to their heart's content with a full program of various treatments. What better way to wrap up a week of yoga than a day of pure relaxation.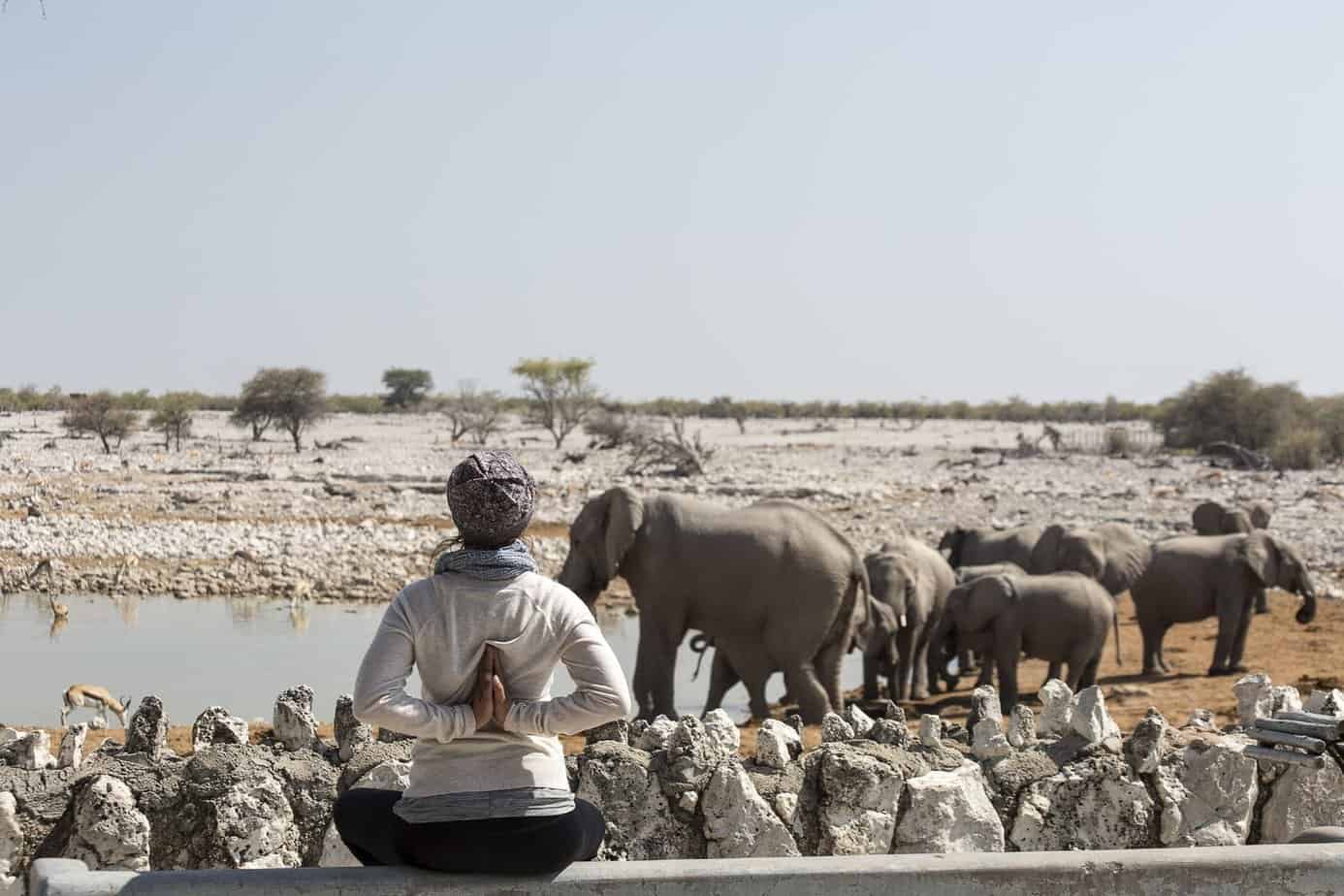 Namaste Yoga Safari is the first and so far the only yoga retreat in Namibia that offers Yoga while on Safari. Some people describe Namibia as a country that gets into your Soul. Namibia awakens your emotions and senses –with its stunning landscapes, endless space and fresh air.
You will experience moments that wont be possible anywhere else, feeling re-connected with your soul! Its not just a holiday, yoga or a safari, it is an adventure of a lifetime. An unforgettable journey making your feel more peaceful and balanced. The Retreat will offer you the chance to enjoy nature in its purest form and deeply relax in unique surroundings.
We offer all inclusive 7 and 10 day Yoga Safari Retreats in Namibia, accommodating a maximum of 8 people and a minimum of 4 to keep it intimate and special.  Yoga, nature and animal lovers looking to get in touch with their inner self will appreciate these Soulful Yoga Safari's. This is a truly unique experience combining Yoga on Safari.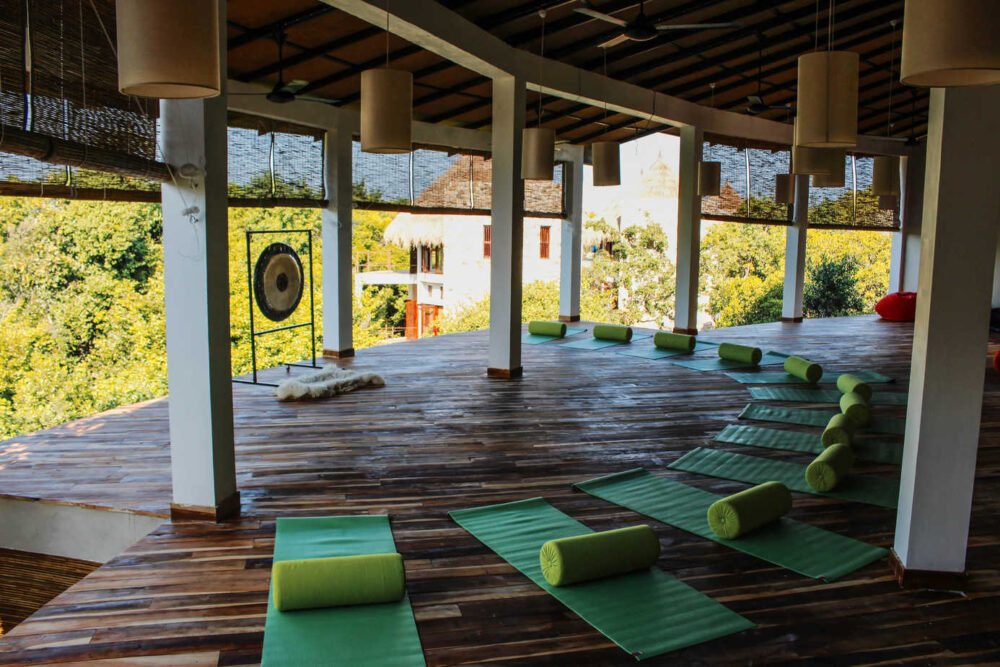 The Sen Wellness Sanctuary is a small, peaceful and modest retreat in a nature reserve set between a lagoon and the ocean in the south of Sri Lanka. It is the perfect place to immerse yourself in natural beauty and relax and rejuvenate your body and mind. The Sanctuary offers Yoga and Ayurveda retreats all year round and hosts detox retreats and special Signature retreats a few times a year. Founder Sam Kankanamge, is a world-renowned Osteopath who runs a clinic in London as well as hosting the signature retreats at the Sen Wellness Sanctuary himself.
We teach Kundalini Yoga and other yoga styles in twice daily classes that mark sunrise and sunset. The gentle rhythm of the sanctuary and the pared back approach and architecture of the place allow for a genuine retreat. The focus at Sen Wellness Retreat is on rest and connection with nature and oneself. The eclectic and fascinating selection of books available are perfect to fill your time between yoga, treatments and walks on the beach. You'll be encouraged to put away your devices as much as possible and allow for a digital detox too.
Our team of world-class osteopaths and yoga teachers as well as local therapists, skilful chefs and knowledgeable Ayurvedic doctor's wellness philosophy is to support all aspects of our guests, reminding the physical/mental/emotional/spiritual body to live in harmony as a whole. The Sanctuary programs are an integrative system of healing that blends advanced scientific principles of the west and ancient wisdom of the east. By treating each individual as a whole, the necessary changes can be made and long lasting results can be created.
We tailor our retreats at Sen Wellness Sanctuary to your needs, allowing you to have more control over how you enjoy your time. We offer twice daily yoga, meditation, Ayurvedic consultations and treatments, as well as osteopathy. Our retreats allow you to relax, rebalance and rejuvenate in a peaceful, healing environment in our natural sanctuary. With our retreat sanctuary in the mangrove forest by the beach, we invite our guests to reconnect with nature and feel the vital energy of Sri Lanka.
Follow our travels inspiration on instagram @soulseedtravel. Get in touch with one of our wellbeing travel advisors at retreats@soulseedmedia.com to enquire about any of our retreats.