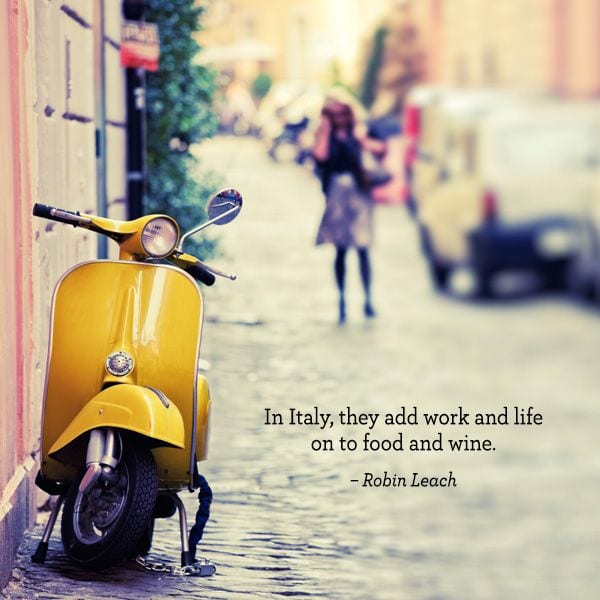 From a morning yoga practice at sunrise on the beach to a candle lit sunset meditation on a mountain in the midst plenty of azure seas and glorious sunshine, Europe has got it covered with an abundance of retreats to choose from. Here's our recommendations on the best places in Europe for a yoga retreat.
Greece – Best for Beaches
Though having one beach to wander and relax upon is great, in Greece you are able to choose between hundreds of beaches. Since the country is home to 227-inhabited islands, it is in the cards that you will find that one special beach that allows you to escape and truly enjoy yourself.
Not all beaches are created equal in Greece as some have white sand while others have pink or black sand covering the shores.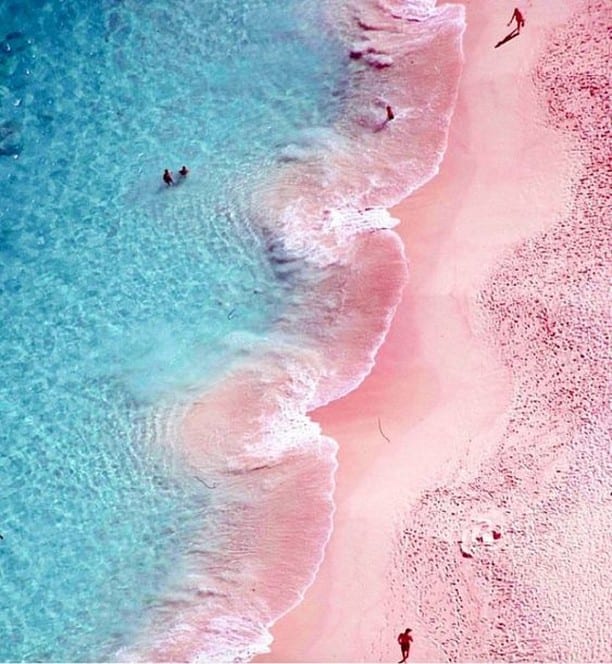 Recommended Retreats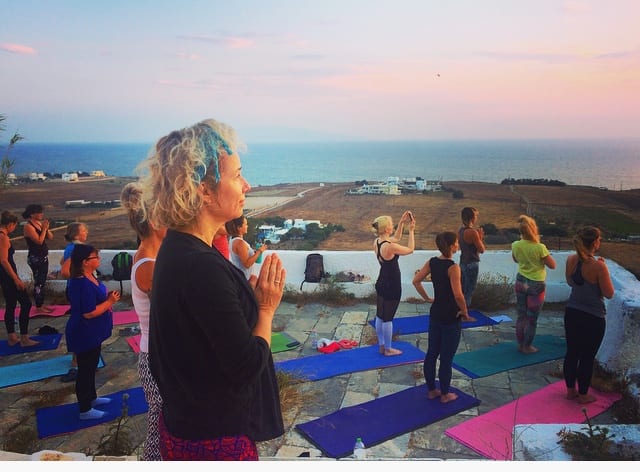 Be energised and inspired on this trip of a lifetime and join us on our 7 day Santorini yoga retreat. Enjoy flowing vinyasa practice, gentle restorative sessions and rejuvenating meditation.
This rejuvenating 7 day Santorini yoga retreat programme combines vinyasa yoga, restorative yoga and meditation to take you on an incredible journey of wellbeing and discovery in stunning Santorini.
From your arrival in Greece you can feel at ease and enjoy the wonders of this glistening jewel of an island, safe in the experienced hands of our team. We look forward to welcoming you, supporting you and guiding you through this incredible wellbeing experience.
As well as the expert teachings you will also find yourself rebalanced by the beautiful nature of Santorini, with inspiring walks and views all around.
You can take in the stillness, soak up the Greek sunshine and enjoy the energy of this special island, allowing yourself the time and space to invite relaxation and wellbeing in.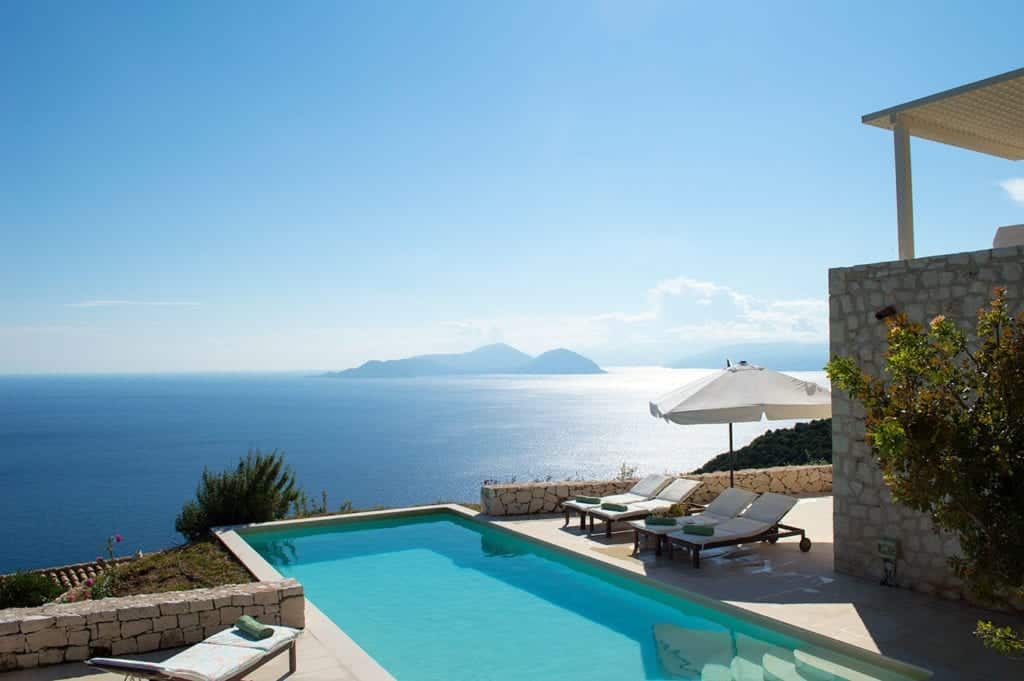 Join us for a beautiful and transformative Indian Yoga and Meditation experience in the scenic backdrop of Lefkada Islands, Greece. Learn to go inside through deep Buddhist meditation and classical yoga in order to release our blockages and undo the cycles of our past, while simultaneously applying this powerful knowledge in order to heal the body through tantra, ayurveda and reflexology practices.
Winner of the Luxury Travel Guide Awards 2017 for Asia and Australia region and Service Excellence by Tripadvisor this is an intensive spiritual experience, where with the back drop of pure nature you can learn to go inside, let go off the pain, the cycles of limitations and expand beyond your original self through simple direct work on and into the mind which the Yogis have practiced for thousands of years.
Our luxurious back drop if the Urania Luxury Resorts, standing on top of a mountain overlooking the 7 Ionian Islands and the beautiful Ionian sea.
Spain – Best for recharging the batteries
The excellent climate is a great appeal for travellers and with an average of 300 or more days of sunshine each year along the Mediterranean coastline; Spain is the sunniest country in Europe.
Siesta time may not be adhered to religiously throughout Spain, however the pace is slow, and the climate warm. Whilst on holiday, relaxing midday is a great part of the Spanish culture to indulge in.
Choose the right location and settle into the swing of things; Spain is the ultimate location for fully recharging the batteries.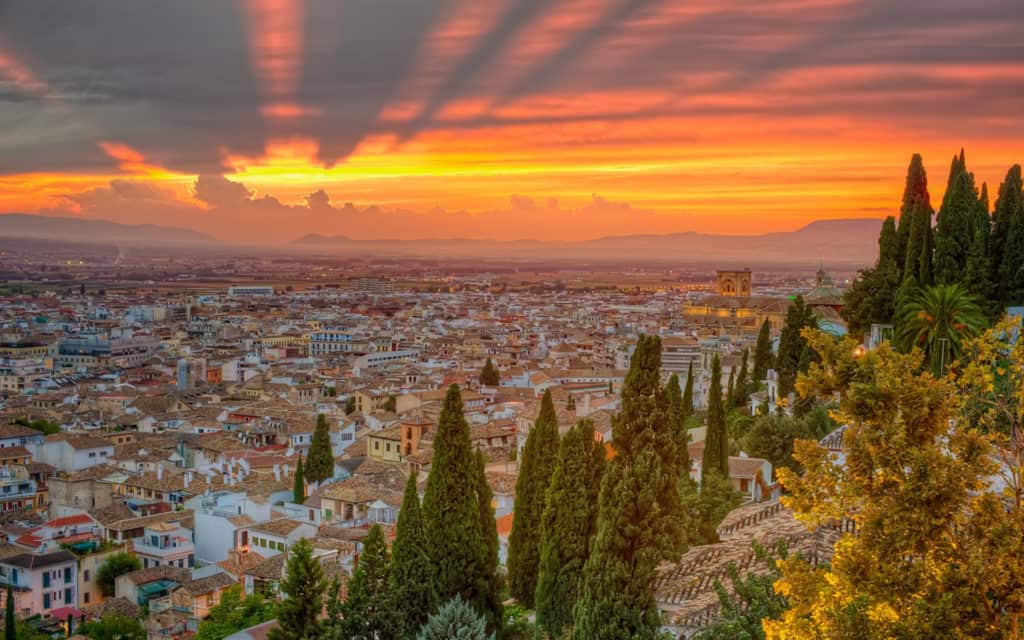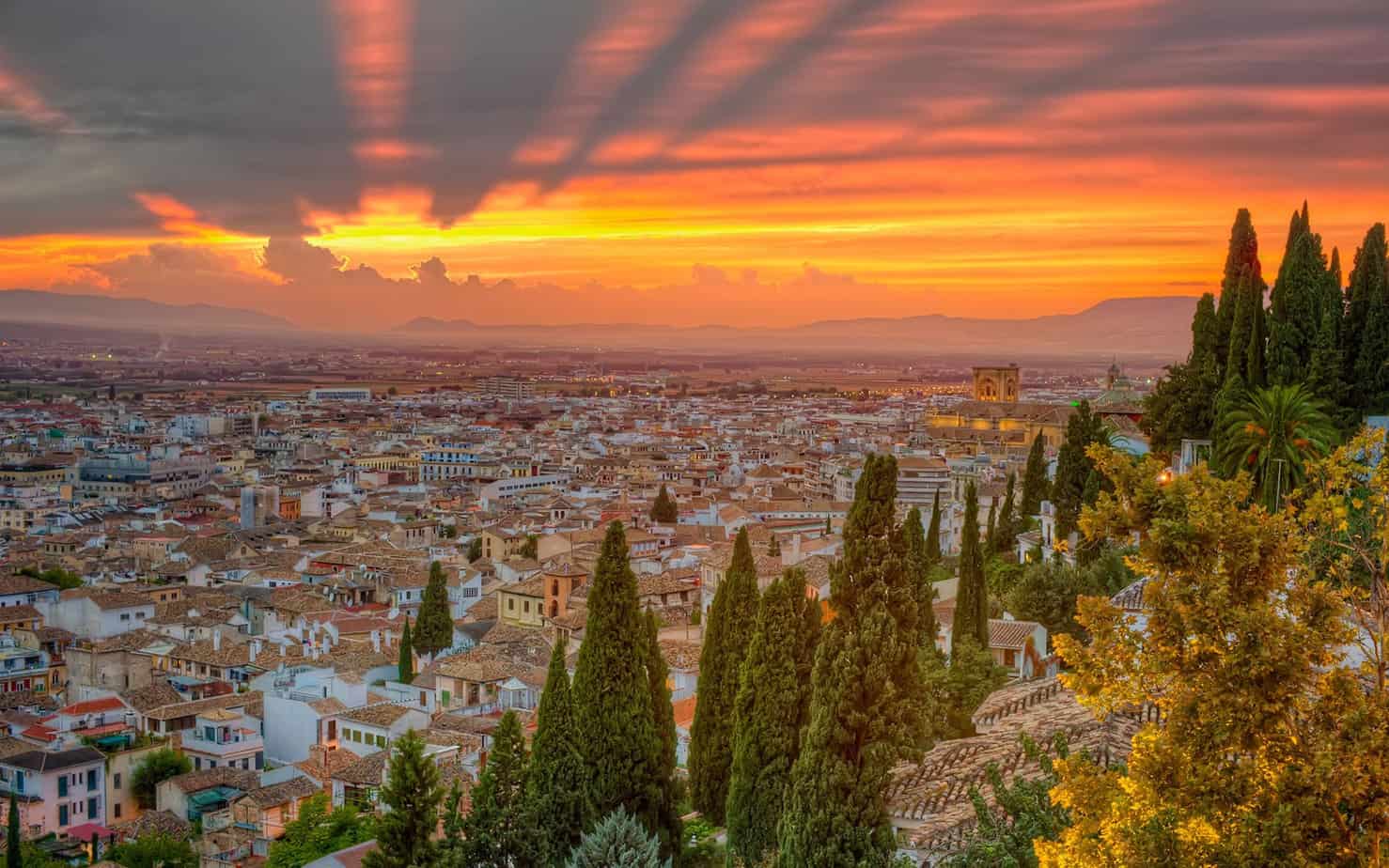 Recommended Retreats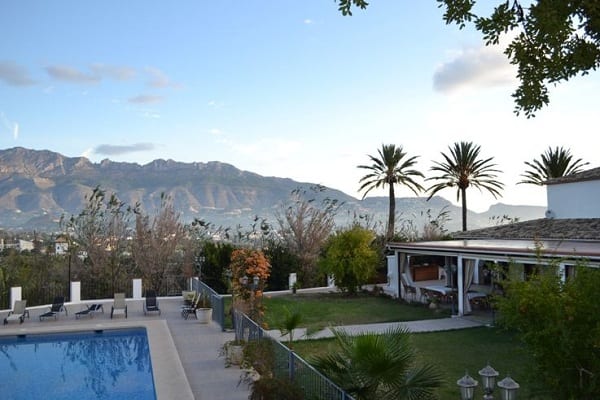 Escape to Spain for 5 nights and immerse yourself in warm sunshine, 'drink' fresh clean sea air, feast on delicious tasty food, open your body in twice daily amazing yoga and hike in stunning natural scenery.
And, if you fancy exploring further, you can go biking and horse trekking, cook up a delicious paella lunch or simply chill in the sun.
Our yoga and hiking retreats in Spain are the perfect blend of two complementing exercises. Whilst hiking is great for the heart and lungs it can create tight leg muscles and an aching back but, with the addition of delicious yoga to lengthen, open and strengthen your posture, you'll loosen your hamstrings, build strength, mobilise joints and deepen your breathing.
The simple fusion of yoga and hiking on one retreat means you receive a complete boost to your health and fitness.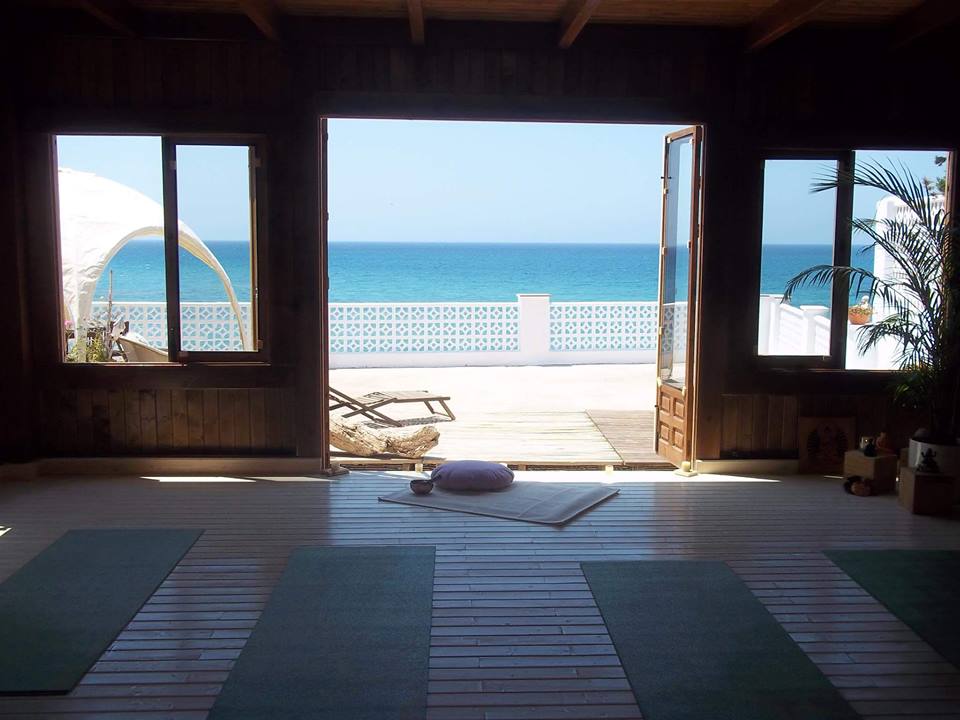 Join us for on our yoga and pilates holidays in the beautiful Bay of Mazarron, with its unspoilt blue flag beaches. Held in spring and autumn when the weather can be glorious.
Our yoga and pilates holidays include yoga practices in a beautiful studio overlooking the sea, a relaxed informal Spanish lesson over lunch, Pilates classes, historical visits, guided excursions so you can learn about the area, wine tasting, cycle rides, activities and much more. Of course all activities are optional. If you prefer to relax in the apartment or have time at the beach, the choice is yours.
The afternoons will be spent on various activities and fascinating trips learning about the local history, visiting local historic sites, optional walks, wine tasting, cycle rides depending on the weather and of course what everyone would like to do.
The area is steeped in history from prehistoric times to Phoenician, Roman and with many places of interest and excavated sites. A visit to Cartagena is a must to see the roman amphitheatre and excavations and the town of Mazarron to see the stunning mining features and old mining industry.
If you prefer to do your own thing on our yoga and pilates holidays and just relax the choice is yours. We can also organise fitness, walking, hiking, scuba diving, snorkelling, boat trips, dolphin boat trips (depending on weather) golf, tennis and much more.
Mazarron itself and the coastal areas are separated by Sierra de las Moreras, Sierra de las Herrerias and Sierra del Algorrabo being the ideal area for the practice of outdoor activities such as walking, hiking, cycling or climbing. If this is your thing, we can arrange this for you.
In the evenings we take you out to eat in different local Spanish restaurants or to a local bar for a drink.
Single travellers, solo travellers, couples and small groups are all welcomed on our Pilates Holidays. We will look after you all the time during your stay.
Travelling solo doesn't have to mean travelling alone. All activities, meals, Spanish lessons and classes on our yoga and pilates Holidays are in small groups with your holiday organiser on hand to help every step of the way.
Ibiza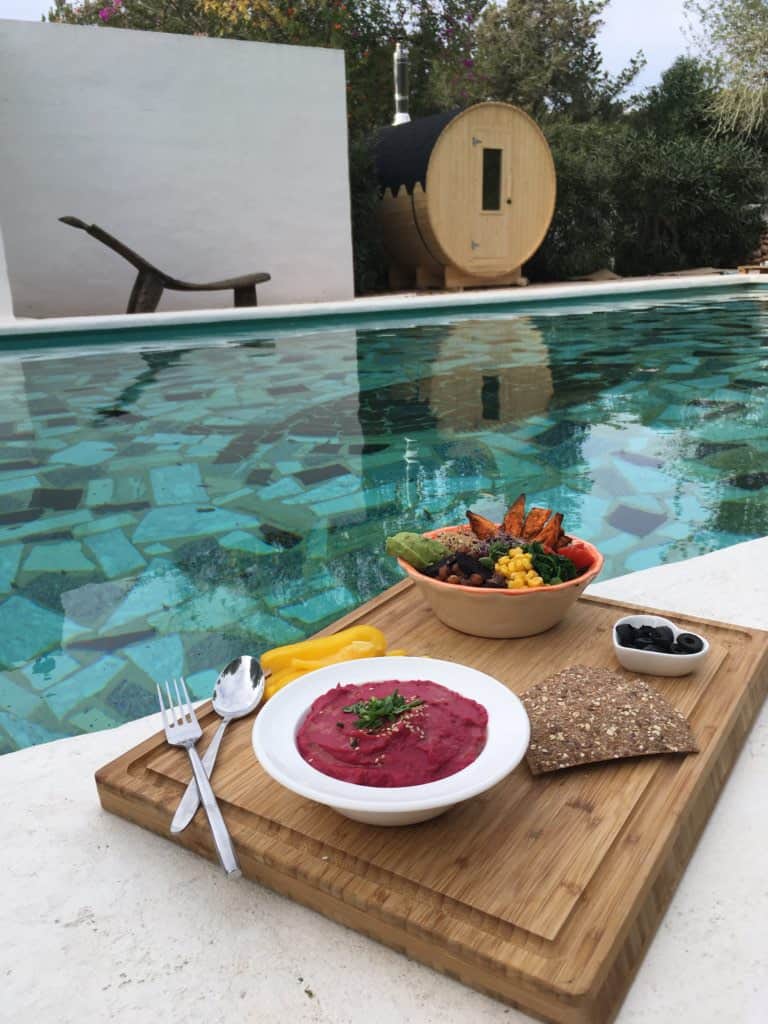 Join Yoga Trip Retreats this Autumn for this fabulous four night Ibiza wellness break of yoga, pampering, tasty vegetarian food and fun experiences with the 'real' Ibiza!.
Some of our mornings start with (optional) brisk silent walk or jog to the seaside and back to get our energies flowing, followed by yoga practice. Other mornings we flow straight into our pranayama, meditation and yoga practice after our supercharged power shot.
Seasonal, delicious vegetarian brunch follows with time of to digest, lounge by our pool and relax. Afternoons we have workshops, endure for a hike in stunning Ibizan nature or soothe our bodies and minds with restorative or Yin yoga practice. One day we will spend at Ibiza Spirit Festival, filled with yoga, therapies, music, dance, workshops, seminars and lively festival spirit.
Dinners are long affairs on our Ibiza wellness break – often accompanied with laughter and lots of great stories. And to top the retreat off, you are going to be indulged in body or energy healing treatment of your choice. And our authentic Finnish sauna will be heated for a purifying sauna session. The retreat is accessible to all levels, including beginners.
All meals (except dinner on your Ibizan Spirit Festival night) and full program is included. All you need to bring is a positive spirit and curious mind. Come and join us!
Canary Islands

Salute to the sun as it rises over the ocean, explore the endless white sandy beaches or learn to surf in the beautiful turquoise ocean. Azulfit's Lotus Retreat in Corralejo, Fuerteventura, Canary Islands is a little oasis for you to experience an unforgettable beach yoga holiday. With world-class instruction from a team of international instructors, an inclusive full body massage and delicious, wholesome breakfasts, the retreat is made for holidays that enliven body, mind and spirit.
With small class sizes, world-class instruction and massage treatments all set in the stylish accommodation of a luxury villa, this is the perfect way to rejuvenate and reconnect whilst enjoying a beach holiday. For extra exhilaration surf courses are available. This retreat offers beach yoga, Pilates, TaiChi and meditation sessions led by inspiring and highly qualified instructors who give personal attention to each and every student.
As well as beach yoga and Pilates, you will also have the chance to experience blissful yoga and meditation classes at the retreat. Drink in the sunset from the yoga terrace or enjoy our spacious indoor studio and drift away into savasana.
Italy – Best for food and wine (with a side of yoga)
It's an old saying, but in Italy, what grows together truly goes together. Eat to live and not live to eat. How could you go to Italy and not enjoy the food? It is, of course, one of the delights of travelling in Italy.
But food in Italy is more than about taste. It's about respect for the land, the people who produce food and wine and the ancient knowledge and traditions that have been developed and refined over many centuries.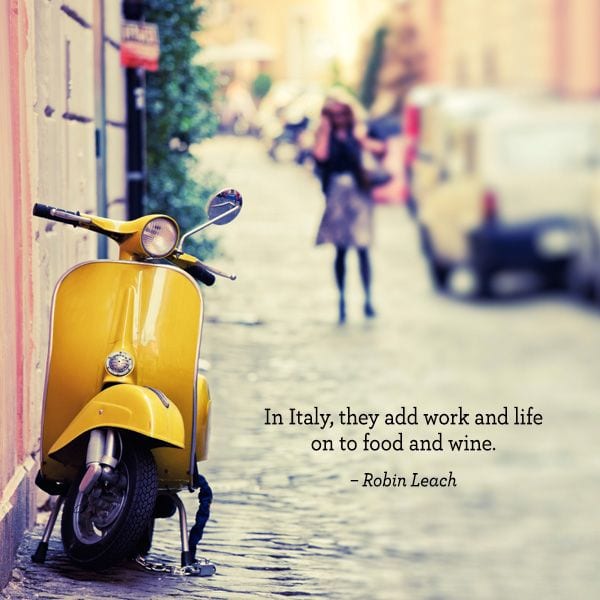 Recommended Retreats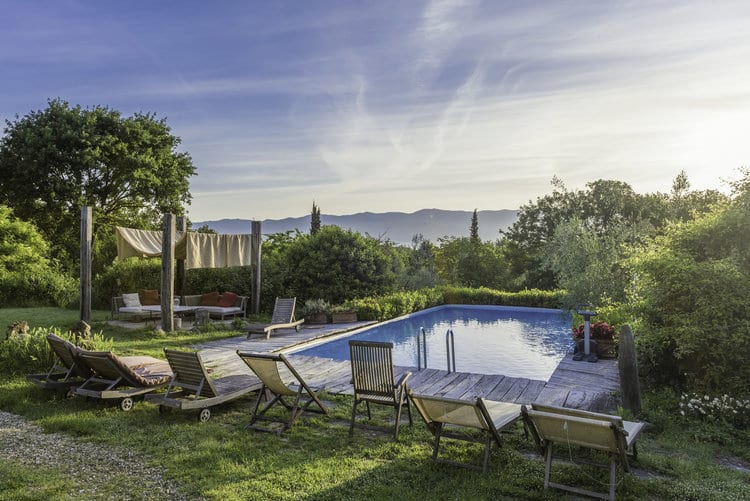 Join us for Gaia Gourmet in Tuscany! We have crafted a delicious week with cooking classes, wine & cheese tasting, truffle hunting, sight seeing, shopping, daily Yoga and more! All of our culinary delights and adventures have been curated by Chef Naga in alignment with our Gaia Gourmet philosophy. We have chosen foodie-focused excursions (everything is optional), and have also left some unstructured time for you to explore on your own or relax with some quiet moments on this beautiful property (massage services available).
We will journey to another Sanctuary in the Chianti region of Tuscany, the heart of the "Golden Triangle" between Senna, Arezzo and Florence; La Selva di Giordano. This magical property, overlooking the gentle slopes of the Arno valley, is a vast 32 acre natural garden of ancient oaks, olive groves, grape vines and overflowing meadows with indigenous wild flora and fauna.
Similar to our beloved Sanctuary in Costa Rica, two flowing streams of water enhance the potent high vibration of the land. The totally restored 17th century farmhouse, two additional smaller villas, a spacious studio specifically for Yoga, four salt water swimming pools and an outdoor amphitheater are peacefully nestled into this healing environment, intertwined as if in symbiosis.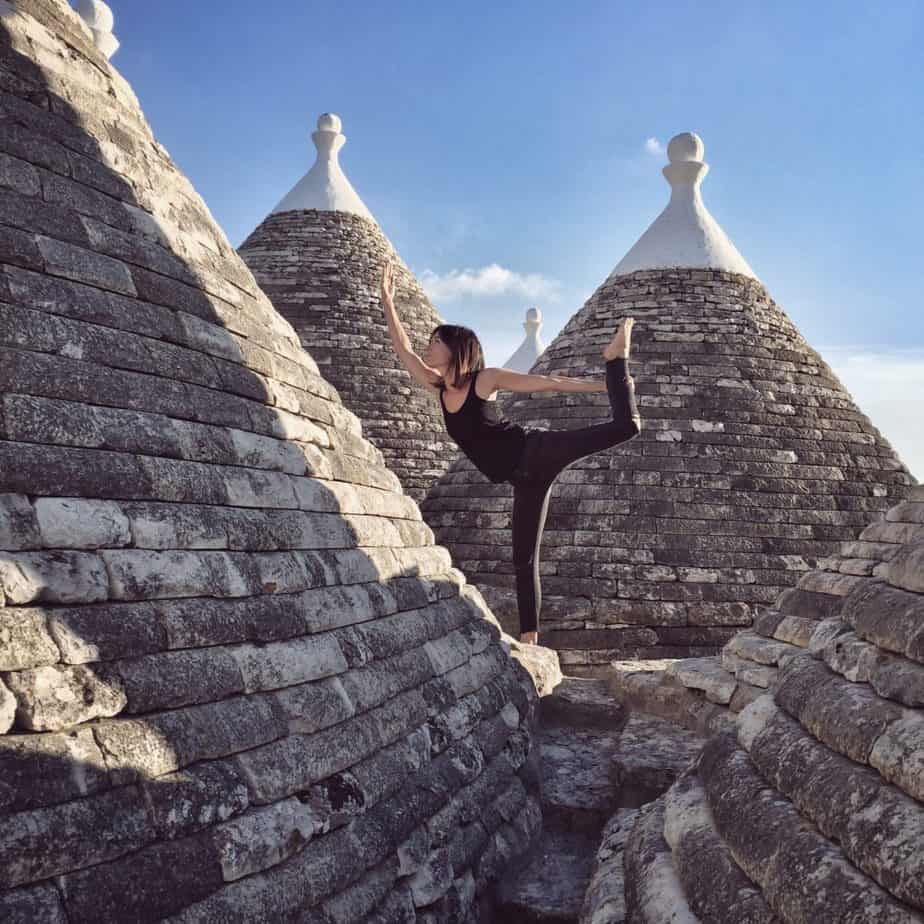 Join us for our annual Luxury Yoga Retreat in Puglia, and discover this "it list" region of Italy's rural heel. This wonderful retreat will enable us to experience the landscapes and activities of this incredible rising star of Italy.
We will spend a week amongst fertile red earth, gnarled olives, turquoise seas, tour through Puglia's famous trulli; cone shaped houses in the town of Alberobello, a UNESCO world heritage site.
After walking around the town and enjoying a delicious tasting lunch, we will make our way back to the stunning Masseria Fumarola, an ancient farmstead that will be our home for the week.
There will also be a relaxed day at the beach where we will explore the incredible coastal part of the region, followed up with an amazing and unique dining experience in a cliffside grotto.
In this open cavern, we will eat while looking down upon the sea at Polignano al Mare, one of the most picturesque villages of Puglia. Besides daily yoga classes, our MOVE+MANIFEST retreats offers a series of mindful workshops that will guide you in the exploration of creative self-expression in your life.
One day is spent in the neighboring region of Bascilicata in the town of Matera where we'll enjoy the sites and also allow us to unwind in a beautiful spa with treatments. The next day will be spent learning about the flavours of Puglia.
We start off with a cheese tasting and a visit to the town of Martina Franca. We then move on to a winery where we will enjoy a tour and tasting, followed by lunch. We will also take in the gorgeous hilltop town of Ostuni, known as the White City. We will explore some of Italy's oldest olive farms and enjoy a meal in a local restaurant.
Sicily
Our all inclusive city and sea yoga escape in Sicily begins in the vibrant and flamboyant city of Palermo. Famed for its storied past and street food culture, this is a city at the edge of Europe, at center of the ancient world. A place where Arabesqu rub shoulders with baroque churches, a place where fallen empires and faded frescos collide.
Staying in the heart of the old Souk markets, at the luxury boutique hotel Baglio San Giovanni we find ourselves in the lively centro storico wandering the labyrinthine streets, breathing in the dazzling aroma of spices, and savoring local delights.
We greet each morning with a guided meditation, followed by a yoga class focusing on the chakras to recharge the body's energy centres. Weather permitting, our morning practice will take place in the gardens of our Hotel. Following this, we indulge in a café breakfast Sicilian-style, before taking some precious moments for riposare — the lovely Italian word for relaxation.
The rest of our days we spend in the ancient heart of Palermo, wandering the colourful markets with fruit stalls piled high resembling works of art, breathing in the dazzling aroma of spices, and savoring street food delights.
We take you on a tour, exploring the aphrodisiac properties of Sicilian spezzi and enjoy a cooking class with a local chef, who will share culinary secrets passed down from generations. We lunch and dine at restaurants serving local specialties sure to captivate the senses.
In Sicilian cuisine we find a tradition of flavourful simplicity — and like an artist's palette, it is a delicious testimony to the intricate tapestry of cultures that settled here.
This escape is open to singles and couples of all levels of yoga, and every walk of life. For anyone interested in the mind-opening experiences inspired by yoga, meditation and travel, as well as a love of Italy and it's food and culture, then this is the retreat for you!.
The architectural splendour of Palermo will leave you in awe as we search the labyrinthine streets for stories left behind by Norman Kings and Arab dynasties, the glittering gold of Byzantine mosaics and the particularities of Sicilian Baroque.
Prepare to be enchanted by walking tours that will both inform and mesmerize! This old world charm sets a backdrop for a city that is abuzz with modern art and fashion. Our Escape provides time for some shopping along the glamorous Via Liberta, as well as scoping out upcoming designers, as we uncover the secrets of Sicilian style.
Mid-week we journey to the seaside oasis of Marsala — famed for its picturesque salt-pans, sweet wine and amber sunsets. We find repose at the beautifully appointed and luxurious villa.
During this part of our Escape we slow down and focus on renewal and restoration as we practice yoga and meditation in the tranquil haven of our villa's rose garden.
Our activities on Sicily's west coast include a private wine tour, a day trip to the exquisite isle of Favignana, charming sunset aperitivi, and a fun workshop learning the art of the 'perfect photograph'.
Notwithstanding the magic of wine and art, the yoga highlight of our trip is a sacred meditation in Selinunte. Here in ancient Phoenicia we breathe in the air of lost civilizations and experience a guided venus inspired meditation amongst the ruins.
We celebrate this celestial homecoming with our personal star map in hand as we consult the planets, focusing on where Venus falls in our own chart. Taking cues from the Goddess of beauty, we discover the significance she holds in our lives and the ways in which we can manifest the creative spirit within us.
Our Escape culminates hilltop gazing over the picturesque vineyards of Fina Cantina, as we sip on our aperitif, storytell with the stars, and watch the sunset over the Egadi Islands. In true Sicilian style, we wine and dine together one last evening, creating a memorable tavola of stories and flavours to remain with us per sempre.
On the final morning of our Sicilian Escape, we complete our time together with a light yoga practice, followed by breakfast, before we transfer you back to your life with a restored mind and body, a deep sense of friendship, self-discovery and transformation.
France – best for culture and heritage
According to the United Nations World Tourism Organisation, over 80 million people travel to France every year. People from all over the world are drawn to France's sophisticated culture, heritage sites, delicious wine, sheer diversity, mountain range and charming little towns.
It's time to discover some of the gems of this country with our recommended yoga and wellness retreats in France.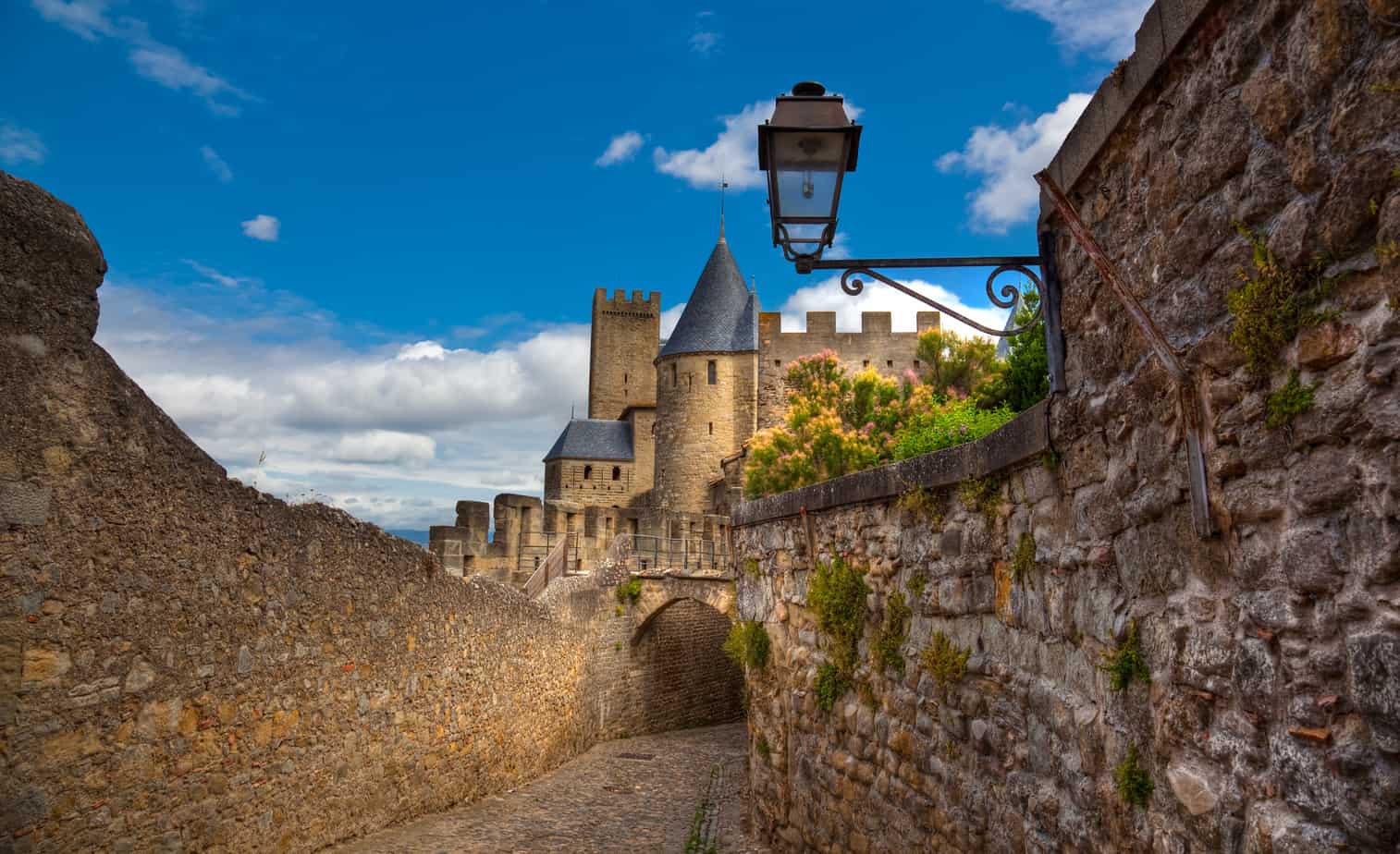 Recommended Retreats
Join us in the beautiful French Alps for an alpine yoga and hiking holiday adventure. After touring around the French Alps, we love hiking in this area. With so many routes to choose from and breathtaking views, you won't want to go home! Stay in our beautiful rustic Chalet style accommodation nestled on the mountainside surrounded by alpine pastures. Start and end the day with yoga to stretch out your hiking limbs, and soothe them with a sauna and hot tub, or treat yourself to a massage. We have been running these alpine adventures since 2008 and have worked out the perfect formula for your active relaxation.
Step out of the chalet and the mountain trails are yours for the picking. If you've not visited the French Alps in the summer time, you're in for a treat. As the winter snow melts away in the spring, the mountains take on their summer mantle of bright green grass and colourful alpine flowers. The views are equally as spectacular in the summer as they are in the winter.
After a long walk reward yourself with a swim to cool off in a refreshing glacial lake. There are so many hikes to choose from, at blue, red or black levels. Enjoy views of Mont Blanc in the distance. If you feel like a day off from walking why not try paragliding or white water rafting, or enjoy the Olympic sized pool in Bourg St Maurice. Or simply relax in the garden of the chalet and catch some sun whilst enjoying a good book.
A 5 day retreat at award winning Yobaba Lounge to re-establish a rich, soulful connection to your yoga and meditation practice. Located in a picturesque medieval village in the southern French Pyrenees, the house feels like a temple, the rooms are large and stylish.
The gourmet vegan food has been described as sensational, outrageous, alchemical, the best ever, and more. It is often raw, always free from dairy, meats, gluten, and sugar. The food supports the practice and quickly rebalances digestion. Retreat facilitator Gertrud shares her practice of Embodied Meditation, which is the yoga of breath, mindfulness and movement. Without excessive effort, the practice strengthens your core, legs and hips, tones your parasympathetic nervous system and sets alight your inner space.
There will be periods of free time each day, which gives you opportunity to just relax in the walled garden, pamper yourself or explore wild swimming in nearby lakes and rivers. You will be held within a clear daily structure. The Yobaba Lounge team will look after all your practical needs whilst you let go and spend time with your self.
Our retreats include periods of delicious silence (until mid-day each day) to help you reflect and integrate what arises during practice. The retreat is intended for all those in need of rejuvenation, rest and relaxation, and those who are seeking a more mystical connection to their existing yoga and meditation practice. Nevertheless, it is suitable for beginners or those already proficient in either yoga or meditation.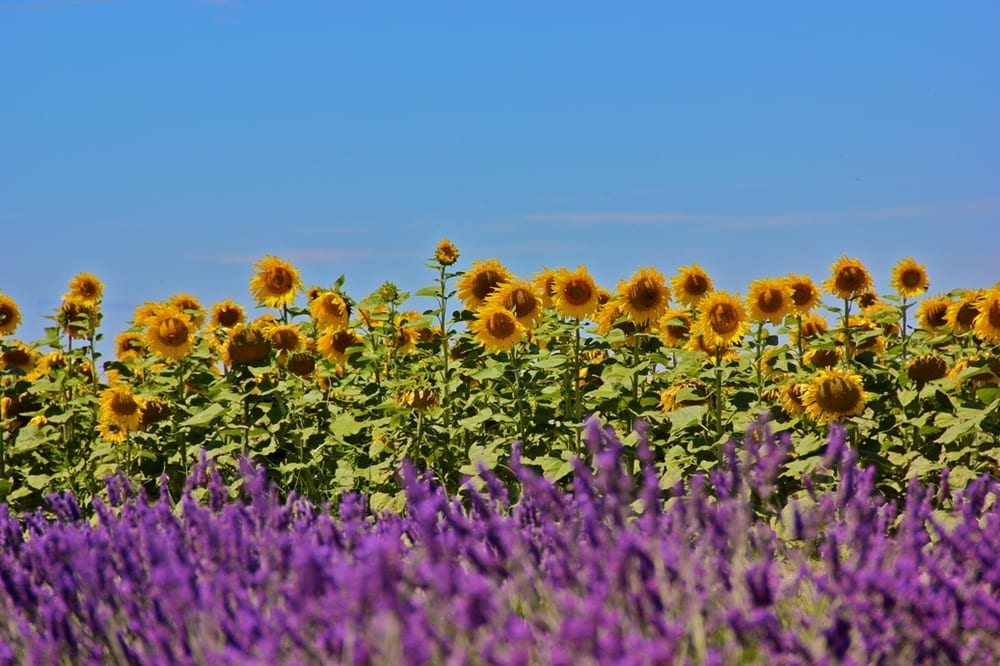 Join us in the chic south of France during lavender season. Enjoy daily yoga, day trips, amazing tastings, and scenes of the beautiful Cote d'Azur! Bastide Avellanne is the ideal location to visit Provence. Situated only 30 minutes from the sea and from the Cote D'Azur between Cannes, St Tropez and Hyeres, with its hundreds of kilometers of white beaches, rocky capes and wild bays is considered the most beautiful coastline of France – 300 kilometers of coast accompanying the Mediterranean Sea, white sandy beaches, a preserved landscape, protected islands and famous locations renowned worldwide. It looks just as you see in postcards, fields of lavender, medieval villages, chateaux, markets full of colours where you can find local products and exotic spices, lively small towns with a slow way of life.
Day trips will allow guests to add arts, culture, adventure, and natural beauty to their retreat experience. Trips may include visits to small villages, large cities, and outdoor activities, even a gorgeous spa day in near the Cote D'Azur where guests can swim, enjoy a healthy lunch, schedule spa treatments, or simply enjoy the sun. See smaller villages that few tourists go, and get a true education and taste of France with various tastings of regional wines, aperitifs and cheese.
Portugal – best for nature lovers
For nature and landscape lovers, Portugal will amaze the most difficult to impress visitor. From volcanic islands, green national parks, waterfalls, caves, stunning long white beaches, valleys, mountains, vast golden fields of wheat, Portugal has it all.
Whether you just like to take pictures, hiking through nature, or just contemplate post-card like landscapes, you'll love the spectacle Portugal has waiting for you.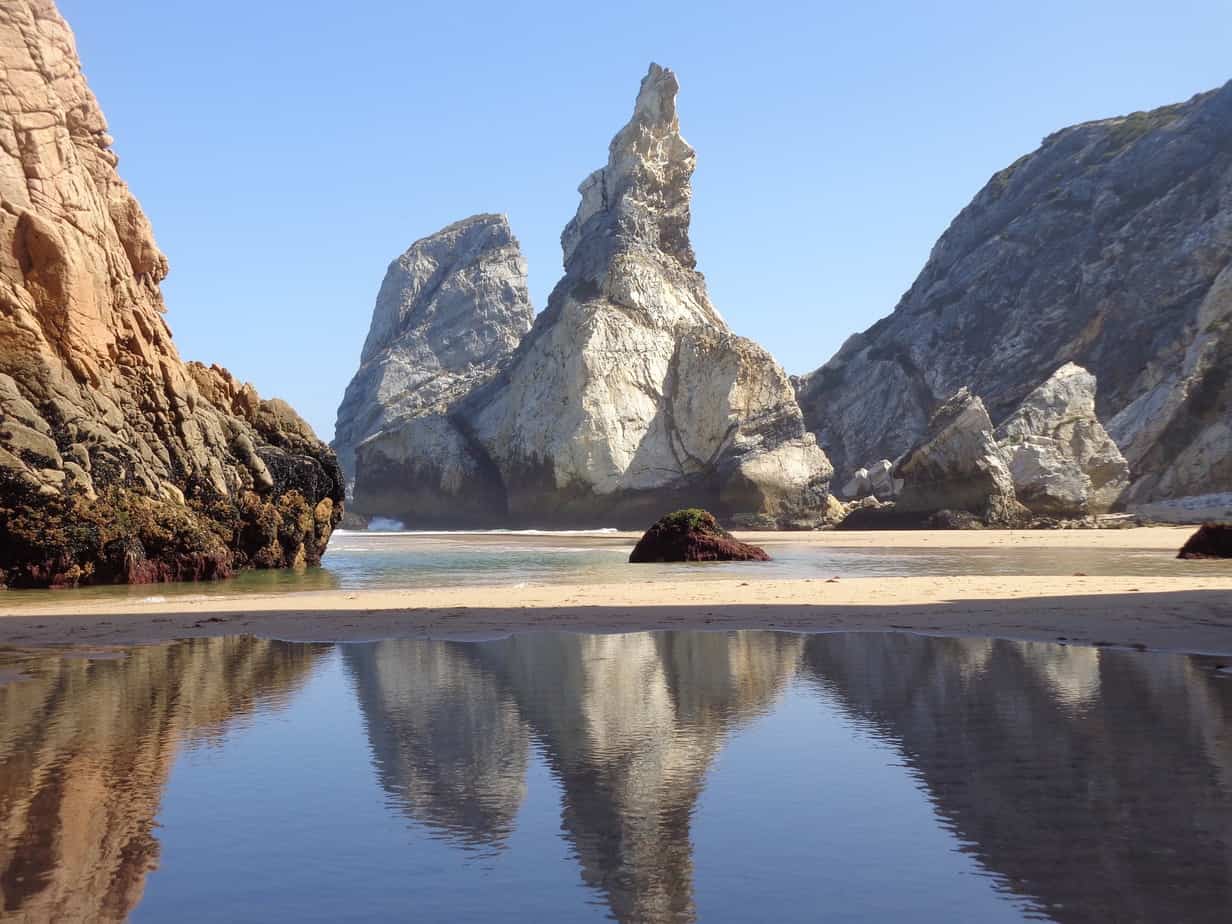 Recommended Retreats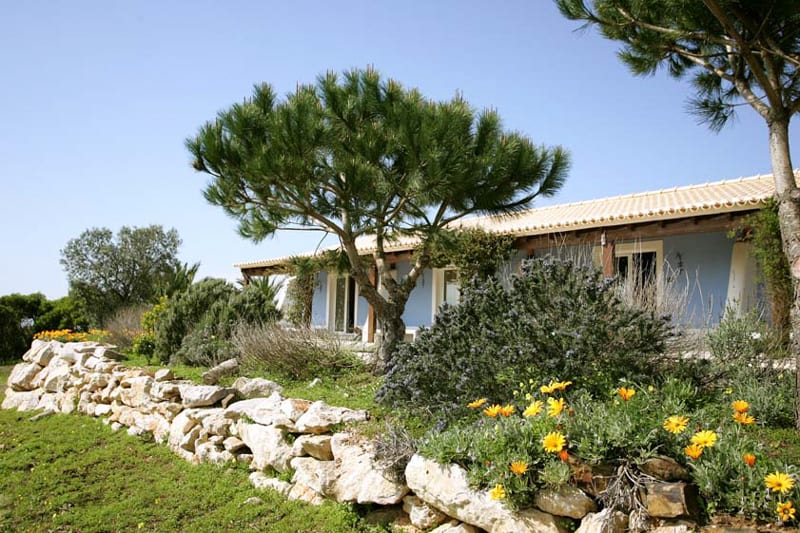 Anula Maiberg and James Crader are coming to Portugal for a week of Pilates NS exploration of movement. If you know them, you know that this will be an incredible week and if you don't know them…get ready for bouts of inspiration, sparks of brilliance and a smile from the universe! And don't forget — you don't have to be special to attend. This retreat is for very real people, just like you and me!
This retreat will fill up quickly and spaces are limited, but do know that anyone can join. We want to make this incredible experience of learning and getting up close and personal with some of the industries best teachers. Get ready for a high energy and unforgettable week.
Our home for this retreat week will be Monte Velho, a breath-taking yoga retreat venue with a stunning round yoga hall, sitting on top of the hills of the Algarve's west coast. The spaciousness of the retreat and its surroundings invite to get lost and fully immersed in nature. Adjacent to a holistic riding center and not far from the Atlantic sea, Mote Velho feels like a world apart.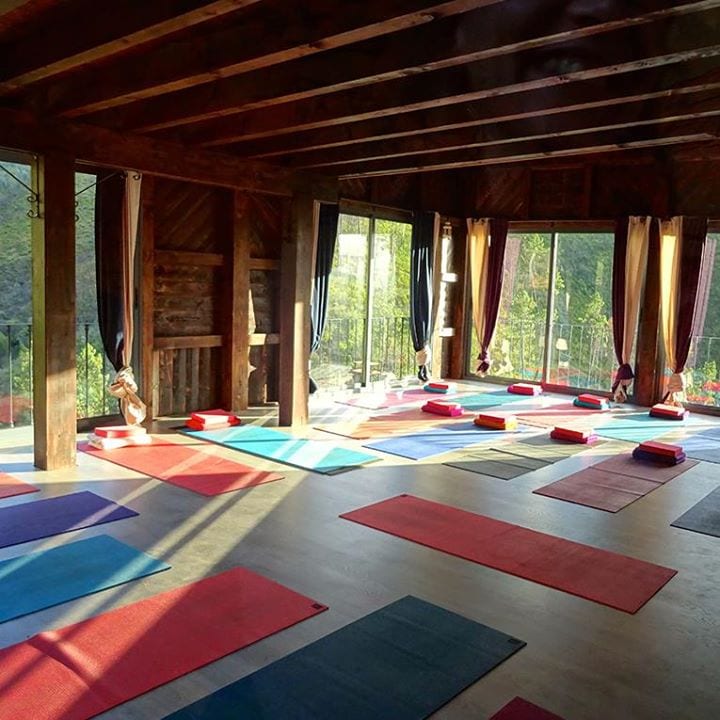 Vale de Moses is a family run yoga retreat in the heart of the Portuguese mountains. Spend a week or more practicing yoga, receiving massage and acupuncture treatments, walking in forests, swimming in natural river pools and eating delicious nutritious food. Stay in one of the beautifully restored stone cottages, Soulpads or in a Tipi. Our retreat home is perfect for those in need of a break, rest and relaxation. We are surrounded by nature and forests, peace and tranquility – the perfect ingredients to restore your body and mind.
The combination of good food and sleep, clean mountain air and water, therapeutic massage and acupuncture, hill walking and river swimming, all create a highly restorative context in which to begin, or to deepen, your yoga practice. Retreat week run from April to October. A variety of styles of yoga are taught at Vale de Moses through the year by some delightful and inspiring teachers who will take care of you on your mat. Please do not worry about being "good" enough. Or flexible or thin enough. Or whatever enough. We prefer to think you are perfect just as you are. Whatever your capability or experience may be, you are truly welcome. It might be your first yoga retreat, perhaps your first yoga class, or maybe you've been practicing regularly for decades.
Want more wellness travel inspiration? Sometimes all we all need is a change of scenery and a beautiful view to bring a new perspective to our lives. Here's our round up of Recommended Retreats to uplift, inspire and nourish you.
Having trouble choosing? Email us at retreats@soulseedmedia.com and we will help you find and book your perfect retreat. Follow our travels on Instagram @soulseedtravel.
Pack your bags and book your flight! We recommend Skyscanner to find the best airfare.