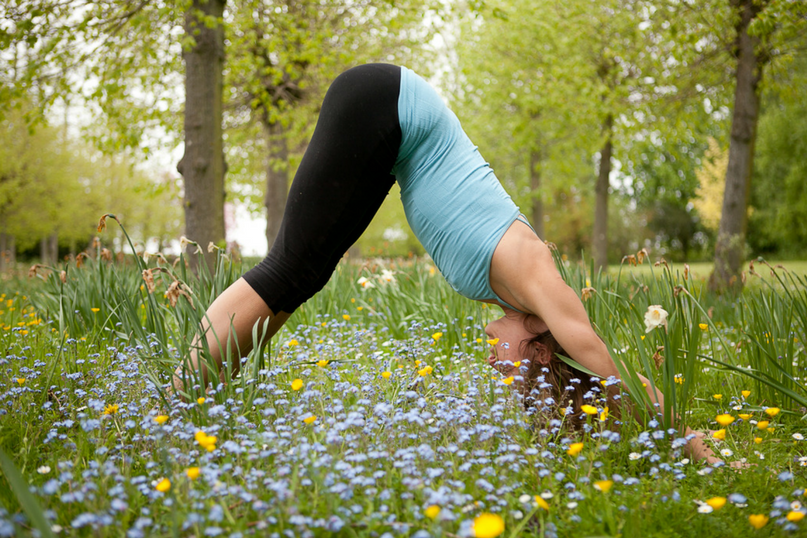 Our guide to short wellness breaks and weekend yoga, hiking, meditation and mindfulness holidays in the UK. Enjoy the lush greenery, rolling hills and running rivers of the great British countryside, the wind swept beaches along the stunning Cornish coast or hiking across the Lake District. And when you book on to a bank holiday retreat you can look forward to the long weekends!
Dates: 13th – 15th September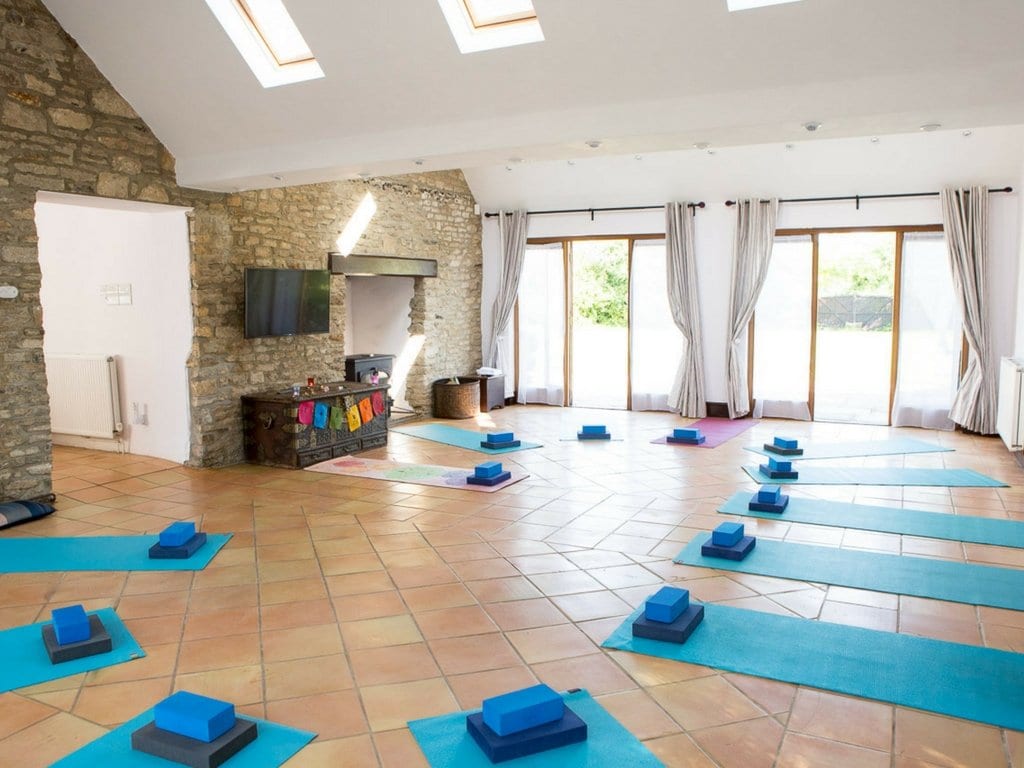 Give yourself a well deserved break and join us for our yoga and wellness retreat in Oxfordshire. Be prepared to switch off, let go and give permission to yourself to totally relax.
Situated along the canal life has a relaxed vibe to it, with people pottering alongside the canal or walkers taking in the scenery. Revive in the morning with energising yoga in our beautiful yoga space and the day is yours to unwind in the grounds or explore and even take out a canoe! Evening yoga can be outside on the lawn to the dusk light.
Immerse yourself in nature on these retreats and observe the changes of each season. Use this time to reflect on the impermanence of each day and feel gratitude for the now.
Staying at our gorgeous manor house, enjoy the peace that meditation practices bring to you during the silent walk and in the yoga classes, and feel the body loosen and open up with the asana practices.
Enjoy a massage from one of our expert in-house therapists or take time to rest and just be. These weekends are yours to do as much or as little as you like.
Dates: 4 – 6 October, 15 – 17 November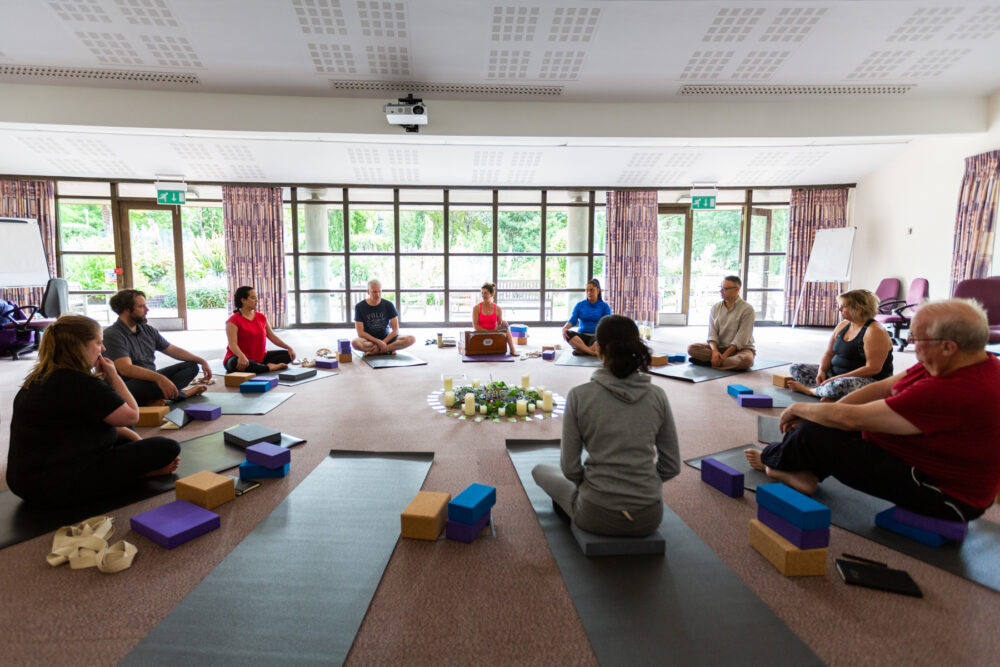 This three day mindfulness, meditation and yoga retreat takes place at Ashridge House in Hertfordshire. Maintaining an optimal level of wellness is absolutely crucial to live a higher quality life. At Ashridge House you will experience a unique retreat, combining mindfulness, meditation, walking and revitalising yoga, surrounded by beautiful landscaped gardens.
Whilst enjoying the surroundings, you will invigorate yourself with activities to rest your mind, restore your body and nourish your soul, leaving you feeling rejuvenated and equipped to make important wellbeing changes to your lifestyle.
Our resilience is enhanced by learning to proactively balance our active, restful and reflective practices, and to develop a state of inner calm and mindfulness as an important basis for our effectiveness. When we are resilient, we stick at things, sleep better, performed better and we enjoy life more.
Majestically located in 190 acres of private gardens, Ashridge House is a hidden gem in leafy Hertfordshire just 30 miles outside of London. The tranquil setting is just minutes from Berkhamsted train station and close to the main road networks. All London airports are conveniently located for those visiting from afar whilst there is extensive onsite complimentary car parking.
The historic gardens are breathtaking whatever the season, making them ideal for reflecting and re-energising throughout the retreat. Ashridge House is perfectly located in every way.
Our activities focus on re-energising your body and resting your mind. During this retreat you will learn practices that will help you bring a better balance to your life.
The weekend will include short experiential workshops on topics including re-framing behaviours and patterns, how to improve the quality of your sleep, the practice of mindfulness, whilst ensuring time for you to rest and rejuvenate. The weekend will be facilitated by experienced and specialist members of faculty in personal resilience and mindfulness.
Dates: 26th – 29th September (2019) / 21 – 24 May, 22 – 25 October (2020)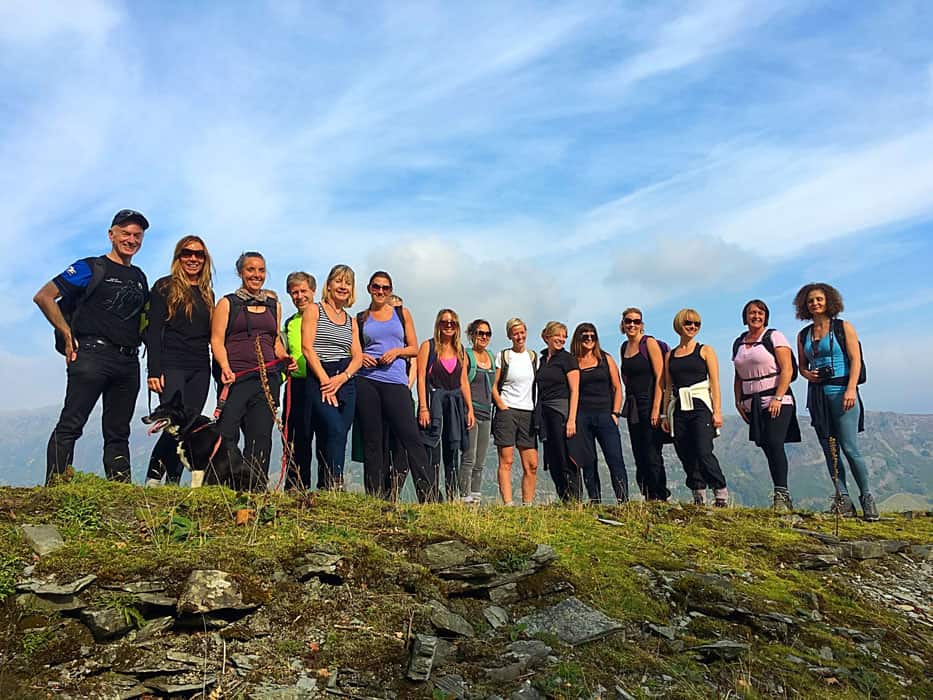 Grab your walking boots and join us for a spectacular three night, four day hiking and yoga retreat in the Lake District at our luxurious venue. Awaken yourself with energising and restorative yoga with our expert yoga teachers, enjoy a hearty and healthy breakfast and then bundle up for a guided hike to discover breath-taking and panoramic views of the Lakes with our qualified mountain guides.
On the second day of your activity and hiking yoga retreat it is up to you – enjoy one of the many activities available in the area: more hiking, kayaking, canoeing, mountain biking, horse riding, climbing, or perhaps visit Lake Windermere for the day?
We also recommend getting cosy and enjoying the magnificent grounds, before treating yourself to an indulgent massage – it is your yoga retreat, so it's up to you!
Our classes for our yoga retreat in the Lake District are really special, with natural light coming in to the purpose built, high ceiling yoga shala overlooking the mountains.
Each yoga class is designed in response to the energetic needs of the group, and this is reflected in the overall pace and rhythm of your yoga retreat. We ensure that the level and dynamics of the yoga classes are in harmony with the participants, the time of the day and the activities enjoyed that day.
Dates: 11 – 13 October, 15 – 17 November (2019) /

21 – 23 February, 13 – 15 March (2020)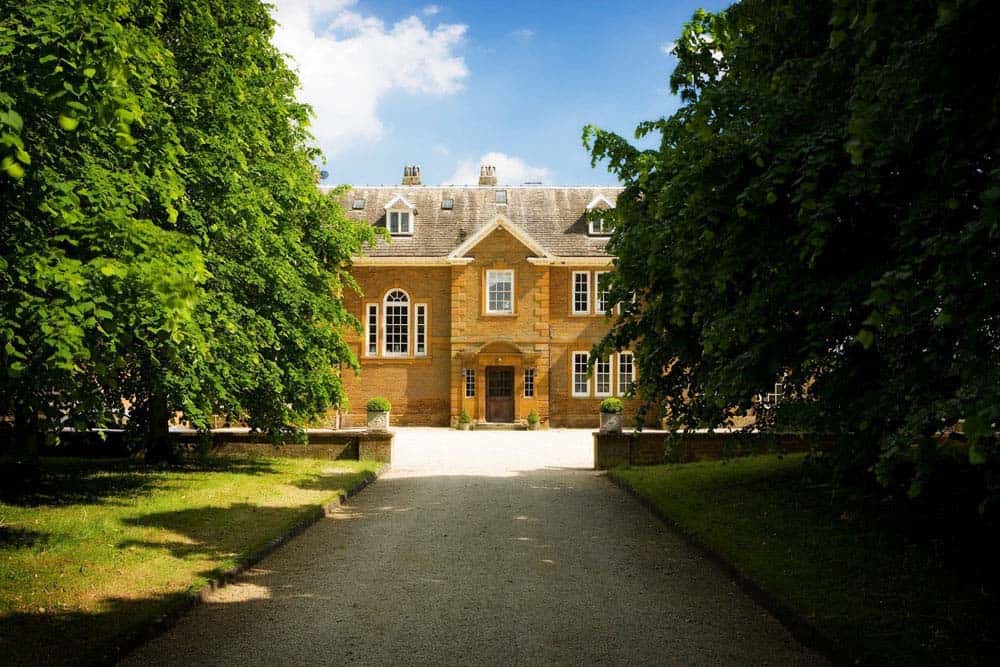 On our Bicester yoga and wellness retreat in Bicester, be prepared to switch off, let go and give permission to yourself to totally relax. Retreat to the Oxfordshire countryside and escape for the weekend. Our Bicester wellness yoga retreat venue is well loved by our guests for it's grand, yet incredibly homely feel.
Surrounded by Oxfordshire countryside with sweeping views all around, in warmer weather relax in the peaceful grounds or in colder times curl up with a good book by the open fire.
We have been running our retreats at this venue for 8 years and it is a home from home for us and our return guests. Enjoy first class yoga teaching from teachers, meditation to calm your active mind, incredible meals lovingly prepared by our talented chefs and served as a community, optional holistic treatments to soothe your body and guided walks of the local countryside; you are guaranteed to leave feeling energised, a little lighter, and grateful to yourself for taking some time away.
Dates: 28th December – 1st January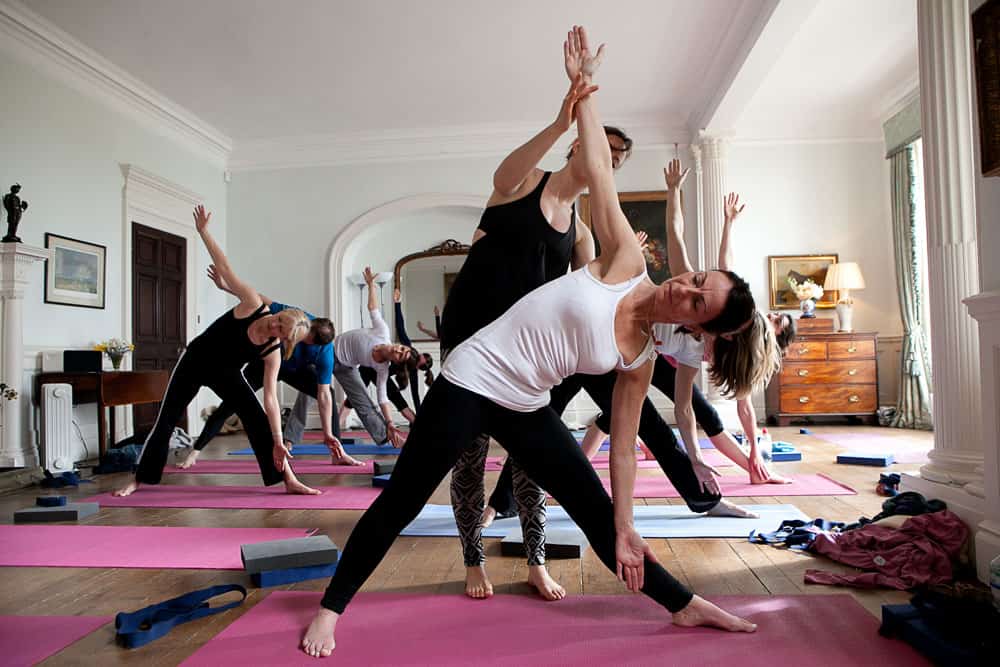 Retreat to the Oxfordshire countryside and escape the normal hectic New Year's celebrations. Our Bicester venue is well loved by our guests for its grand, yet incredibly homely feel and love our New Years Eve retreat because it is a chance to pause, reset, be thankful for the year behind us and set intentions for the year ahead!
This year, alongside guided walks, twice daily yoga, and our intentions workshops, we have added a cookery workshop so you can take a little piece of the retreat home with you. Start 2019 feeling like your true self: rested, rejuvenated and ready to take on the year with a renewed sense of purpose.
This retreat is suitable for anyone who'd like a New Year away with wellness, healthy food and Yoga. Beginners are welcome as well as all ages.
Dates: 30th December – 2nd January

Join Jo of Solasta Sounds, Hayley Dunne Yoga and guest teachers Amie Evans and Bradley Starkey on their New New Yoga Retreat in Canterbury for a luxurious bit of 'me time' among like-hearted people. This getaway is built with a nourishing start to the New Year in mind.
There will be zero expectations of you in this time. The team simply want to provide this retreat as an alternative to New Year events that can sometimes leave us feeling drained – we've been there before! This will be a space and a time that you can rest and restore, no deep 'work' just some gentle invitations to return to the body and heart space and leave you nourished and feeling great about yourself ready for the year ahead. The team are devoted to this, pure and simple.
You don't have to be a yogi to enjoy the retreat but even more experienced yogis will find the space rich with options for nourishment. Your time on retreat includes; morning feel good hatha yoga, one yoga workshop, 5Rhythms, sound bathing, an embodiment workshop and space to rest and restore in the beautiful Scandanavian designed spaces of the glorious 19 acre grounds.
Dates: 28 December – 1 January / 1 – 4 January (stay for 3, 4 or 7 nights)
Spend your New Year relaxing, reflecting and restoring on our new year yoga retreat in Cornwall. Feel the need to get away for the New Year? Want to completely unwind, immerse yourself in your yoga practice and soak up some tranquility? Join us at our stunning and cosy retreat in Cornwall. Kick back, relax, stretch out the Christmas excesses and enjoy the company of new friends.
On our new year yoga retreat Cornwall you will welcome the new year in with lots of yoga, pampering treatments, walks, fabulous healthy food and workshops you will be actively relaxing the whole time. There's a special evening schedule to bring the New Year in with setting of intentions, meditation, a delicious vegetarian feast, and dancing.
Our retreats are wonderful in winter with their open fires, story telling, cooking workshops, yoga workshops and invigorating walks. With a daily schedule of yoga in the morning and evening, tasty vegetarian meals, massages and free time to explore or relax. Join us for just a couple of days or a week this New Year.
These retreats are perfect for those who want to get away from the usual New Year celebrations, feel healthy, alive and set positive intentions for the year ahead.
Dates: Ongoing

Reframe your mind and transform your life for a healthier, happier you. Raw Horizons is the UK's leading destination for wellbeing retreats for women.
Offering wellness coaching, yoga and detox programmes, our life-changing retreats will take you on a unique mind and body journey to be healthily happy.
Here you will find sanctuary, a safe haven to find peace, clarity and inspiration. Come to us to slow down and discover how to find your balance, access your inner confidence, discover your life passions, nourish your body or just relax.
Our delicious cuisine is based on the clean raw food diet, helping you detox in a gentle satisfying way. Open all year, we offer four signature retreat programs for 2, 3 & 5 nights.
Located in beautiful North Yorkshire countryside with amazing views and lovely country walks, our tranquil retreat venue, Split Farthing Hall is luxurious yet cosy. Arrive tired, stressed, perhaps a little lost… Leave feeling calm, energised and ready to take on the world.
Dates: 10th – 13th April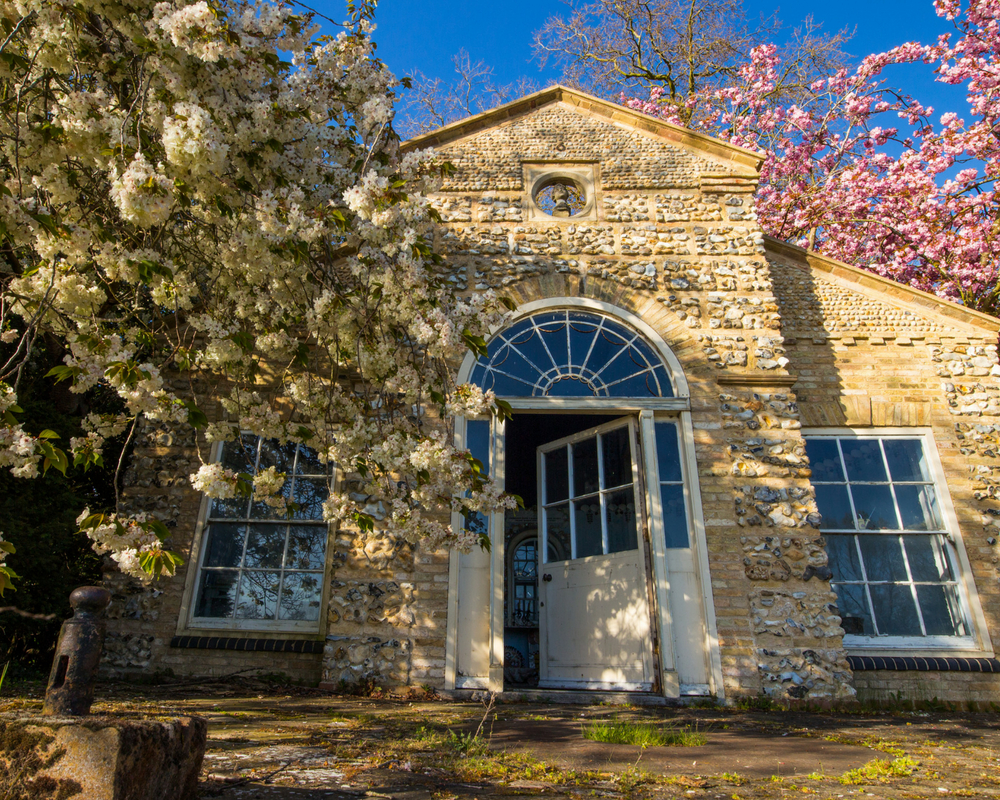 If you are not sure of your plans for Easter come and join us in Norfolk at our stunning venue and revitalise with yoga, delicious food and invigorating walks on our Easter weekend yoga retreat.
Our guests love joining us on our Easter yoga retreat in Norfolk. The spring equinox has been and the days are getting lighter which means that an optimism is in the air, new life is on the horizon and a new and abundant energy is blossoming.
Now is a great time to let go of the slower energy from winter that may have left you feeling stagnant and invigorate body and mind with playful yoga, a more dynamic practice to reflect the energy of spring and let go of the heaviness of winter to feel, after 4 days, lighter, brighter and a more energised you.
Dates: 22 -25 May, 28 – 31 August (2020)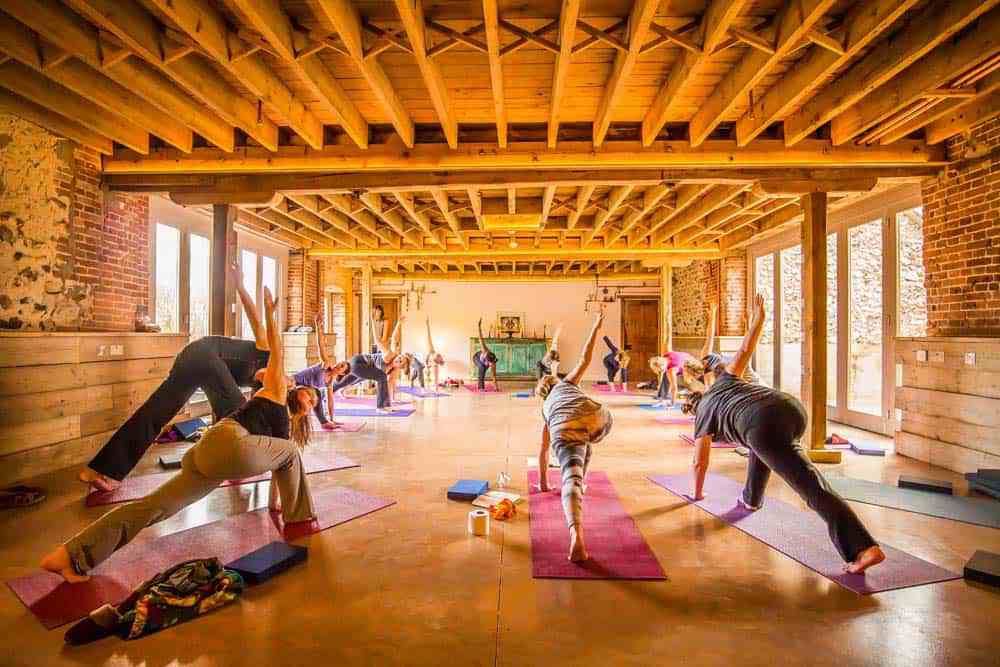 Join us for one of our Bank Holiday Yoga, Wellness and Meditation Retreats in Norfolk. Held at our stunning barn venue set in private grounds, with opportunities for wild lake swimming, exploring the Norfolk countryside, and experiencing all that Spring and Summer have to offer!
Enjoy twice daily yoga, with a dynamic focus in the mornings and a restorative focus in the evenings. Feast on delicious home cooked vegetarian brunch, lunch and dinner. Relax with meditative practices, holistic treatments, guided walks and more.
Holkham beach is nearby for those who would like a beach day in our free time. This retreat is suitable for anyone who'd like a weekend away with wellness, healthy food and Yoga. Beginners are welcome as well as all ages.
Sometimes the only way to truly relax is to leave London behind and escape to the countryside for a peaceful couple of days. If you can't abscond for a trip abroad, take the staycation route and pay one of the UK's most luxurious spa hotels a visit – whether you're surrounded by ponies in the idyllic Lime Wood Hotel in the New Forest or enjoying the rooftop pool at Cameron House on the banks of Loch Lomond. Here, Vogue rounds up the very best spa breaks in the UK for you to escape to.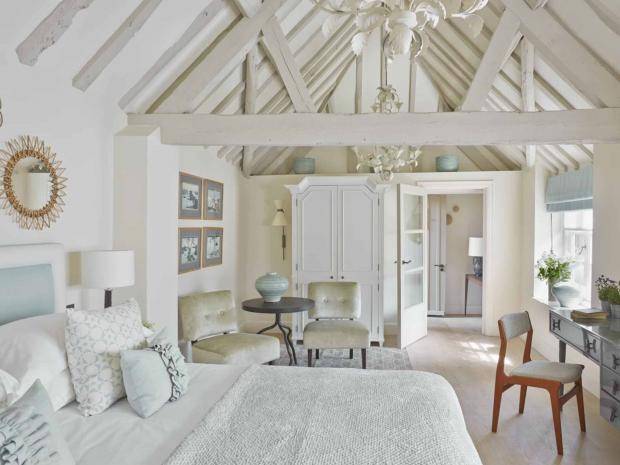 Wind your way down picturesque country lanes, past Cotswold-stone cottages, and eventually you'll reach the warm welcome of Dormy House Hotel – a cosy converted farmhouse that's about as British as you can get.
Accommodation options range from roomy suites to the adorable Rose Cottage, complete with private hot tub, and the House Spa is utterly luxurious. As well as an indoor infinity pool, outdoor hydrotherapy hot tub and three thermal suites, the treatments on offer are truly exemplary.
The fitness studio is well kitted out too, but if the weather's nice it would feel foolish not to take advantage of the glorious Cotswolds setting – ask for a map at reception and take a walk across hilltops dotted with sheep. Afterwards, reward yourself with a meal at one of the restaurants on-site – The Garden Room is particularly special. Read reviews.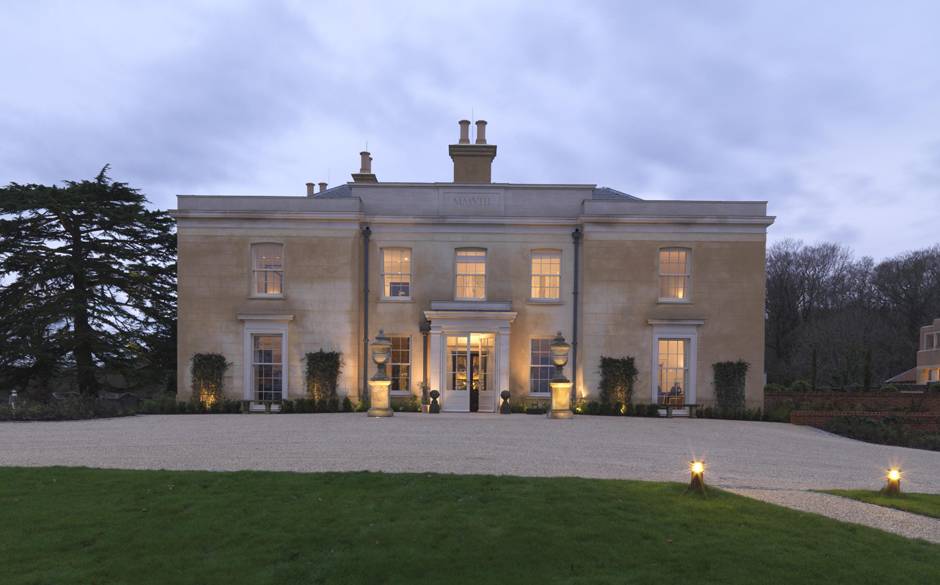 Just over 90 minutes from London by train, Lime Wood Hotel's idyllic New Forest setting makes for the most picturesque of countryside retreats, complete with wild ponies and donkeys roaming the entrance.
From opulent but cosy rooms in the main house to secluded cabins and lodges with log fires and private patios, it is almost too tempting to relax in your room for the entire stay.
However, with a spa that features a peaceful rooftop herb garden (where you can take part in morning yoga or meditation should you wish), a hydro-pool, steam room and sauna overlooking the forest and an outdoor hotpool and mud house – not to mention the warmest service, a pretty courtyard bar and a restaurant headed up by Michelin-starred chef Angela Hartnett and co-head Luke Holder – the rest of Lime Wood is well worth your time too. Read reviews.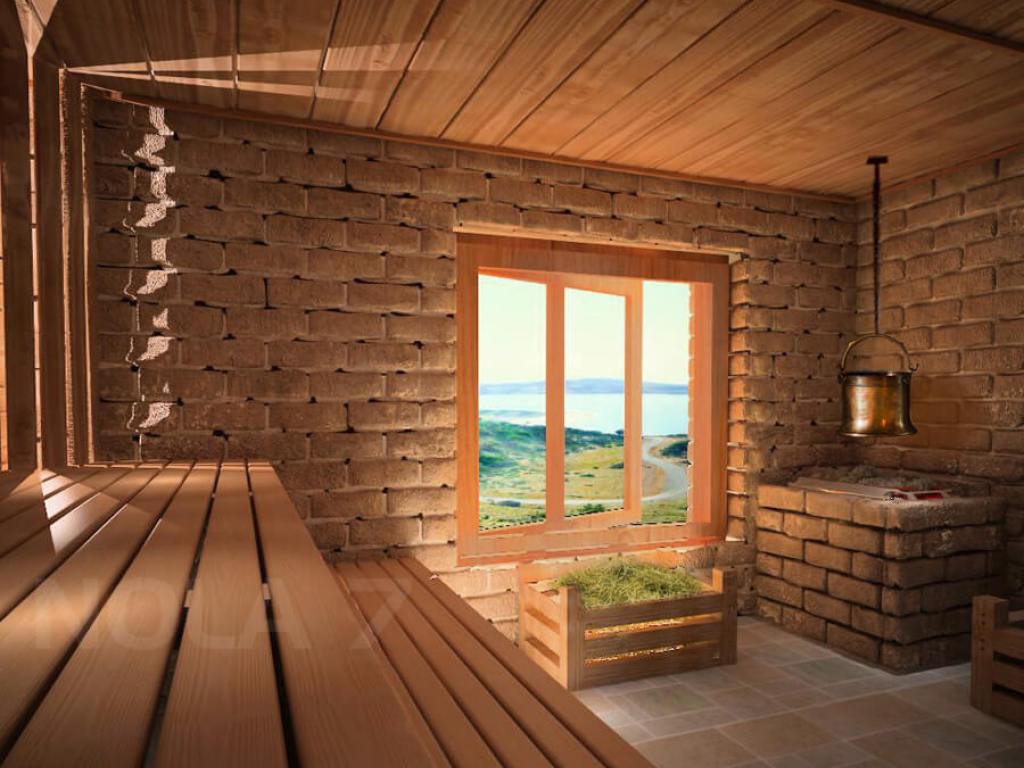 Archerfield House is a hidden gem. Stay in the main house or a self-contained lodge in the 550-acre grounds, and wander to the Fletcher's Cottage spa for a Sisley Supreme Anti-Ageing Facial to restore tone and radiance, or a Sisley Body Treatment involving deep muscle relief.
Complement these with a session in one of the private bath huts, each equipped with hand-harvested seaweed for a potent detoxifying boost, or a hot-stone massage using Beatitude, Scotland's own luxury essential-oil brand. Just 40 minutes' drive from Edinburgh, it's the perfect distance for an astonishingly recharging weekend. Read reviews.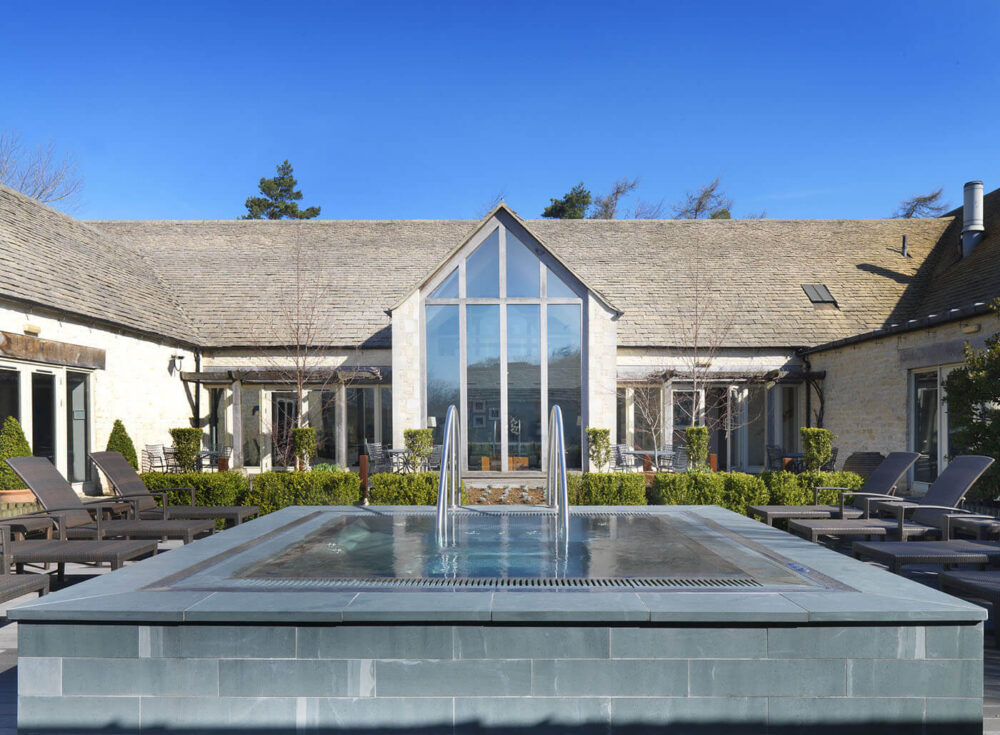 The word "Manor" in Calcot Manor is slightly misleading, encouraging visitors to expect a stuffy intimidating house, when nothing could be further from the truth.
Calcot Village would be more appropriate to describe the layout and feel, since the accommodation is made up of 35 quaint cottages, barns and outbuildings, all grouped around the rustic main building.
Thoughtfully preserved on the outside and completely modernised on the inside, the rooms provide exactly what most city visitors want from a country retreat: the appearance of rural living, but with wi-fi.
The spa – one of the main reasons that Calcot is almost always full, even on a rainy midweek day – occupies another of the cluster of farm buildings and boasts an indoor pool, treatment rooms, lounge, and lavender-surrounded outdoor hot tub overlooking an open wood fire.
Treatments focus on complete relaxation using Aromatherapy Associates products – although CACI therapies are also on offer – and the 45-minute Rose Facial is so relaxing it feels twice as long. Time moves more slowly in the Cotswolds – which is just as we like it. Read reviews.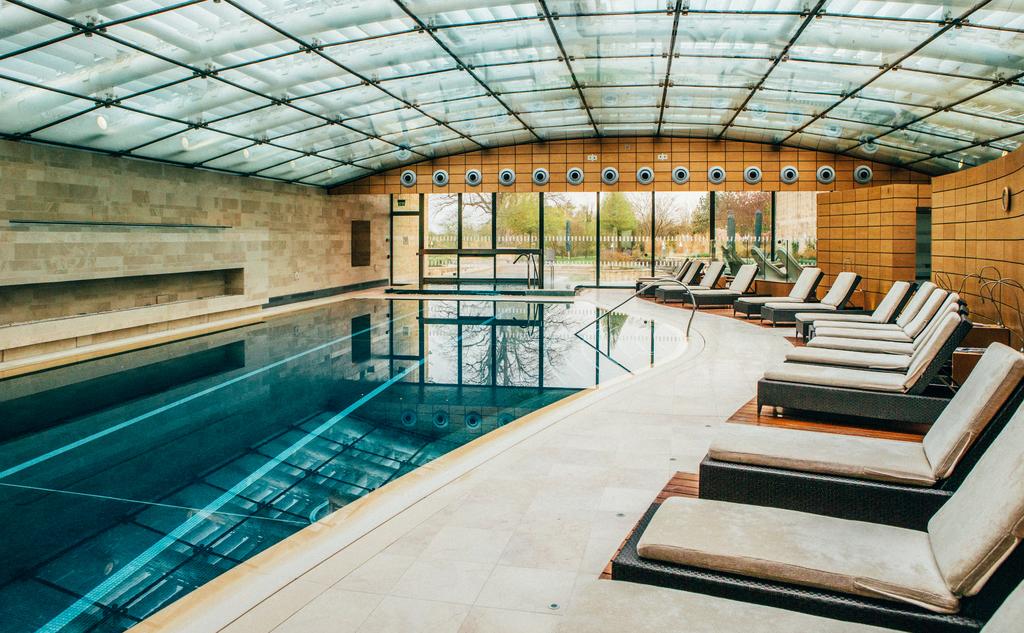 After driving down a mile-long driveway lined with beech and lime trees, Lucknam Park is no disappointment when you eventually reach it.
A Palladian mansion just six miles from the beautiful city of Bath, Lucknam boasts 42 individually-styled rooms and suites, 500 acres of land (which you can explore on horseback or by bike, should you wish to), a Michelin-starred restaurant and a spa featuring a 20-metre pool, hydrotherapy pool and five thermal cabins.
Guests can choose from a list of treatments using products from Espa, visit the gym or even book an appointment at the hairdressing salon during their stay.
The setting is idyllic, the hotel and facilities utterly luxurious and the service second to none – a weekend's stay feels like the ultimate country escape. Read reviews.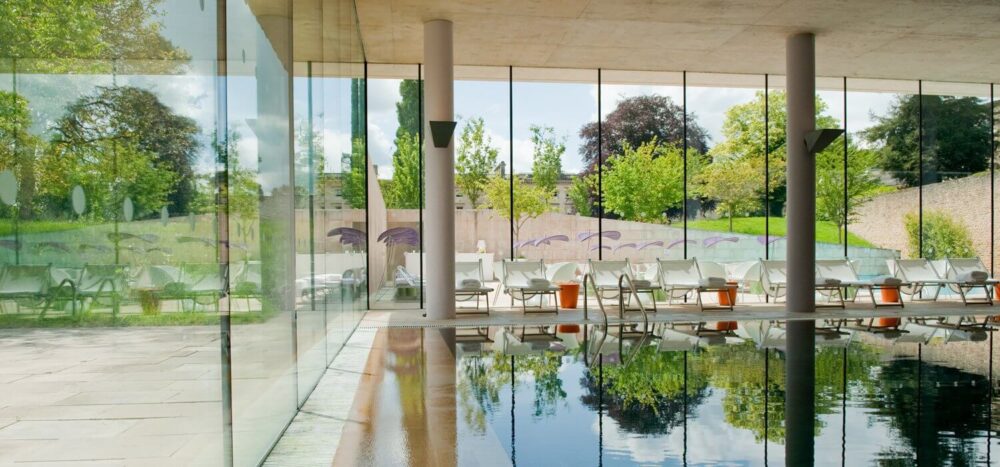 Tucked away in what feels like the most quaint, quiet English countryside (it is, in fact, only a 40 minute drive out of central London), The Grove Hertfordshire is almost too close to home to be safe from temptation mid-week.
Boasting four different restaurant areas and grounds that are as luscious as its gourmet breakfast (served in bed, naturally, eaten propped up with cloud-like pillows and silky soft linens), it is the Sequoia spa that is the jewel in its crown.
Using Natura Bissé products, their formulas rich in active ingredients, its body treatments are some of the best you'll experience. A special mention goes to The Orangery Experience.
Who would have thought feeling like a citrus soufflé would be so invigorating? It's the perfect precursor to a day spent walking around the expansive grounds, culminating in a glass from their excellent wine list. Read reviews.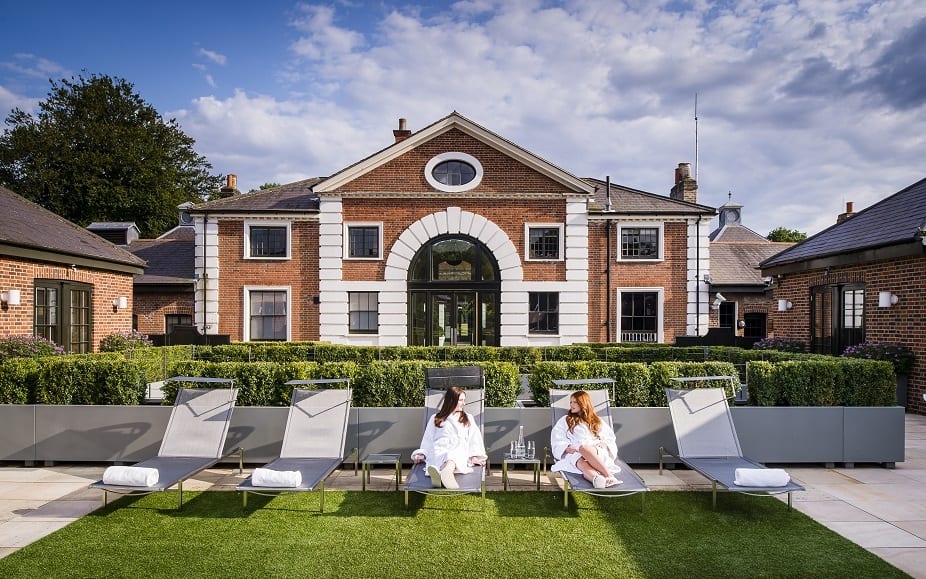 With 55 acres of woodland and meadows for guests to enjoy, Cowley Manor is a firm favourite with Cotswolds-frequenters. Its C-Side Spa makes it an even more enticing proposition, especially given the new menu of Emergin C Scientific Organics.
These are treatments that utilise the latest in skincare technology to provide hard-hitting, results-driven facials.
High points are the Anti-Ageing Apple Stem Cell Treatment (100 per cent of clients noticed improvement in the appearance of crow's feet), and the Detox Facial, which uses a range of potent super-ingredients such as kombucha, seaweed, French clay and grape extract. Read reviews.
Having trouble choosing from one of our best yoga retreats in the UK? For the latest travel inspiration follow us on Instagram @soulseedtravel. Or get in touch with our retreat advisors to help you find, discover and book your perfect retreat. Namaste!.
Pin this image & share!