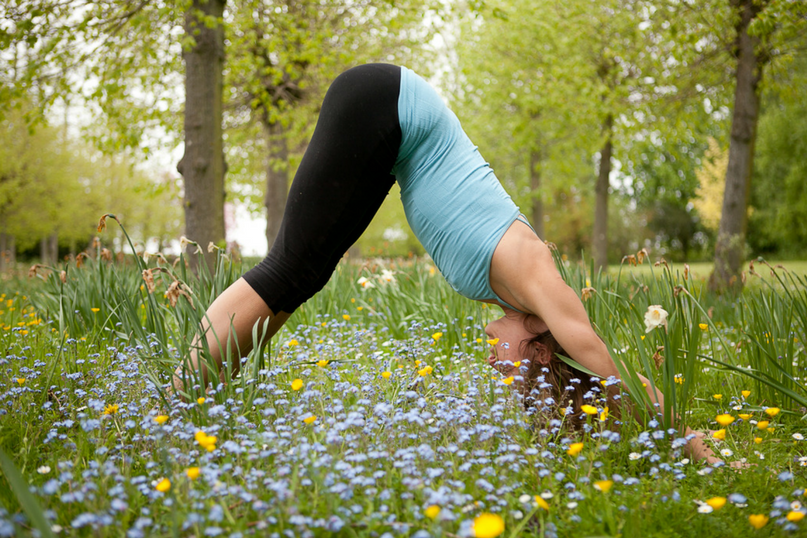 Here's our guide to the best yoga retreats in the UK for a short break in 2019. Enjoy the lush greenery, rolling hills and running rivers of the great British countryside, the wind swept beaches along the stunning Cornish coast or hiking across the Lake District. And when you book on to a bank holiday retreat you can look forward to the long weekends!
Dates:

12 – 14 July & 16 – 18 August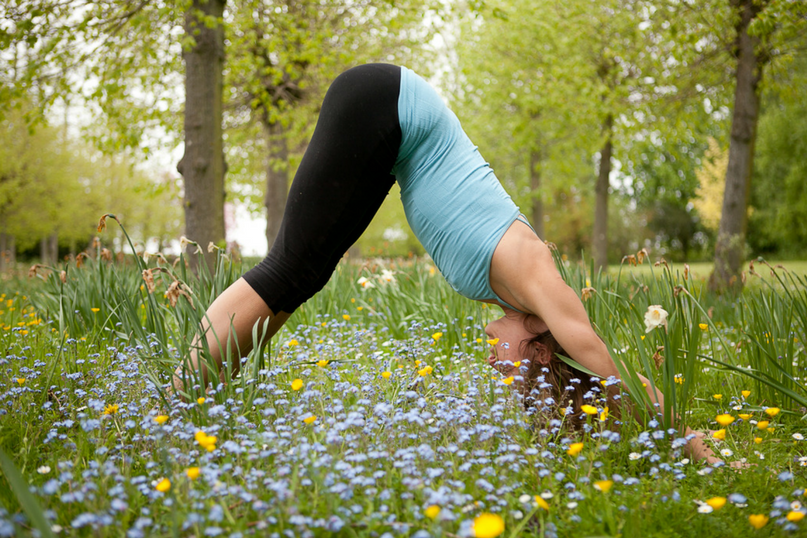 Give yourself a well deserved break and join us on our UK Summer Yoga wellness retreat in Oxfordshire where you can unwind, relax, and cleanse body and mind.
Stay in our gorgeous manor house and enjoy the peace that the meditation practices bring to you during the silent walk and in the yoga classes, and feel the body loosen and open up with the asana practices.
Situated alongside one of the Oxfordshire canal routes, Thrupp is a pretty and thriving village. If you are feeling adventurous take a canoe and paddle down the canal or hire a canal boat for the afternoon!
Explore the local surroundings and enjoy being in the countryside away from the frenetic pace of life in your day to day. Enjoy a massage from one of our expert in-house therapists or take time to rest and just be.
Revive in the morning with energising yoga in our beautiful yoga space and the day is yours to unwind in the grounds or explore and even take out a canoe! Evening yoga can be outside on the lawn to the dusk light.
Dates: 15th – 17th March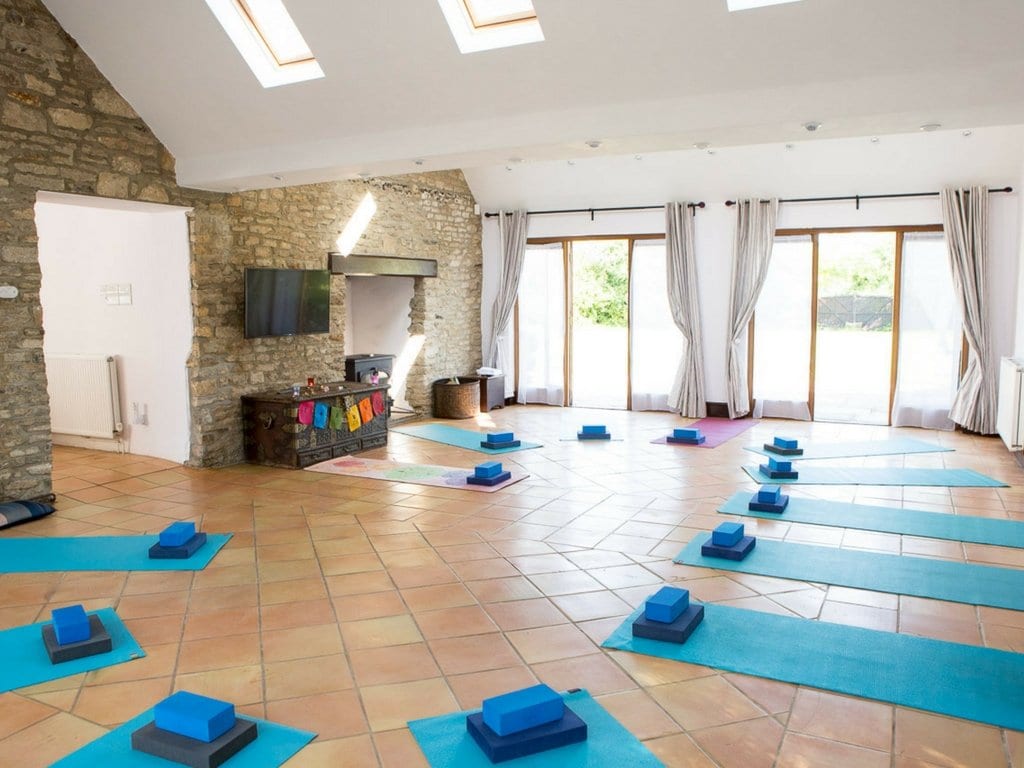 On our yoga and meditation retreat in Thrupp, Oxfordshire be prepared to switch off, let go and give permission to yourself to totally relax.
Mid March is a perfect time to experience a yoga retreat. It's a time when spring time is just beginning and it's time to shake off the hibernation mode of winter and start to bring more vibrant energy to the body and mind. There is no better place to experience than this than our Thrupp venue.
Situated along the canal life has a relaxed vibe to it, with people pottering alongside the canal or walkers taking in the scenery. Revive in the morning with energising yoga in our beautiful yoga space and the day is yours to unwind in the grounds or explore and even take out a canoe!
Evening yoga can be outside on the lawn to the dusk light. Feel revitalised this spring equinox weekend and full of energy. Enjoy a massage from one of our expert in-house therapists or take time to rest and just be.
Dates: Ongoing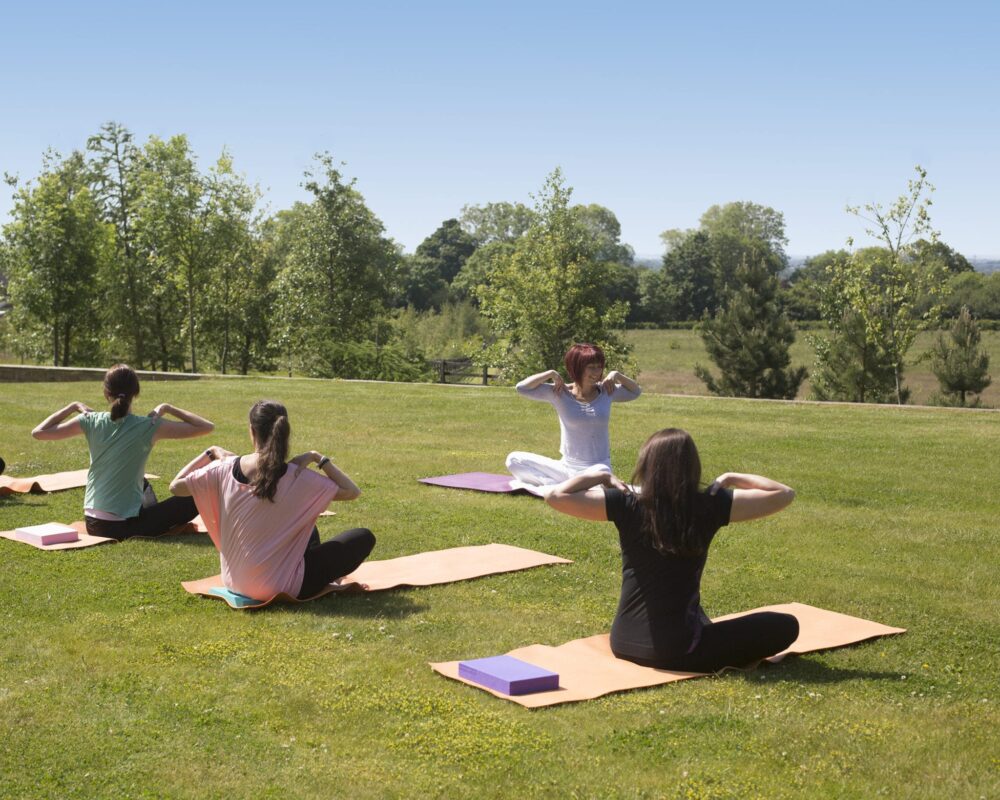 Reframe your mind and transform your life for a healthier, happier you. Raw Horizons is the UK's leading destination for wellbeing retreats for women.
Offering wellness coaching, yoga and detox programmes, our life-changing retreats will take you on a unique mind and body journey to be healthily happy.
Here you will find sanctuary, a safe haven to find peace, clarity and inspiration. Come to us to slow down and discover how to find your balance, access your inner confidence, discover your life passions, nourish your body or just relax.
Our delicious cuisine is based on the clean raw food diet, helping you detox in a gentle satisfying way. Open all year, we offer four signature retreat programs for 2, 3 & 5 nights.
Located in beautiful North Yorkshire countryside with amazing views and lovely country walks, our tranquil retreat venue, Split Farthing Hall is luxurious yet cosy. Arrive tired, stressed, perhaps a little lost… Leave feeling calm, energised and ready to take on the world.
Dates: 24 – 27 May, 23 – 26 August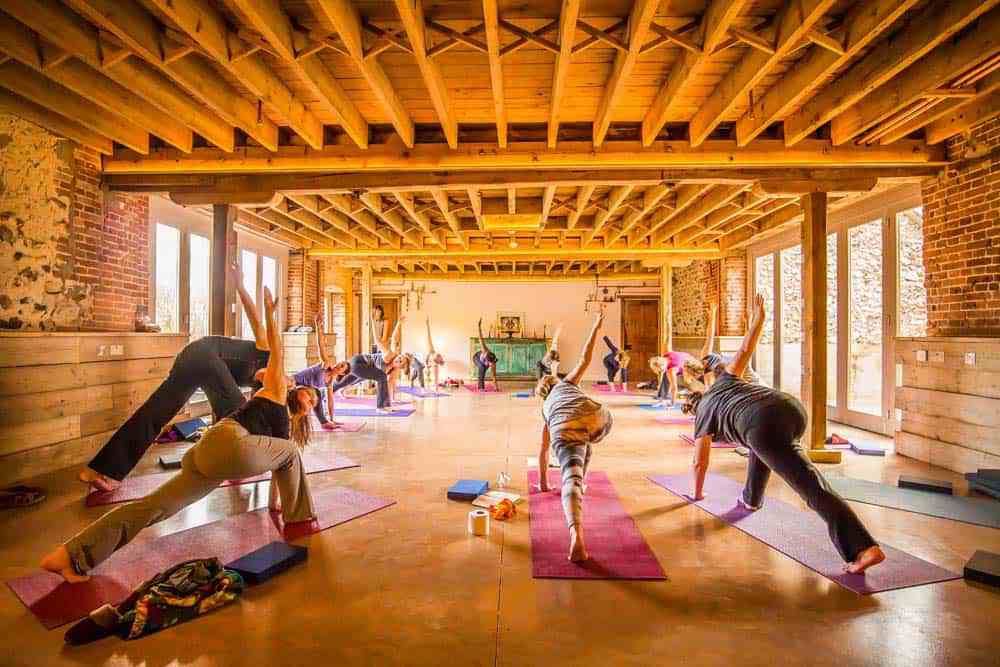 Join us for one of our Bank Holiday Yoga, Wellness and Meditation Retreats in Norfolk. Held at our stunning barn venue set in private grounds, with opportunities for wild lake swimming, exploring the Norfolk countryside, and experiencing all that Spring and Summer have to offer!
Enjoy twice daily yoga, with a dynamic focus in the mornings and a restorative focus in the evenings. Feast on delicious home cooked vegetarian brunch, lunch and dinner. Relax with meditative practices, holistic treatments, guided walks and more.
Holkham beach is nearby for those who would like a beach day in our free time. This retreat is suitable for anyone who'd like a weekend away with wellness, healthy food and Yoga. Beginners are welcome as well as all ages.
Dates: 19 – 22 April (3 nights), 22 – 26 April (4 nights), 19 – 26 April (7 nights)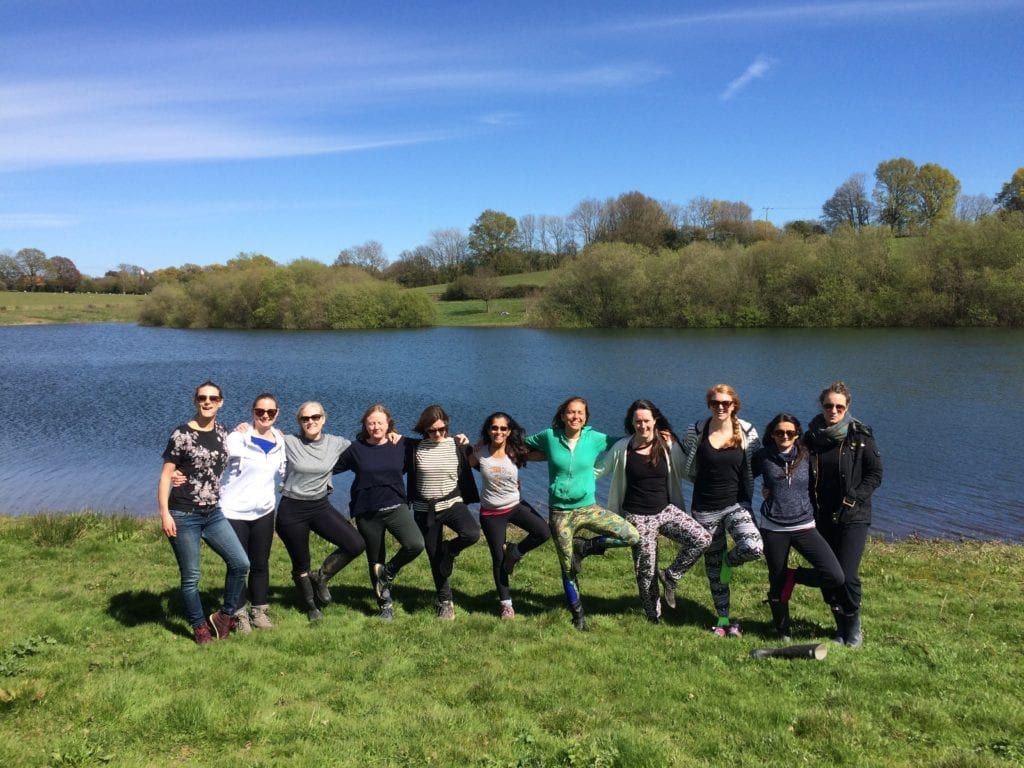 Come and enjoy an Easter yoga retreat over the weekend, the mid-week or the whole week at our Sussex retreat to re-energise and revive after a long winter.
Easter is a wonderful time to give yourself some well-deserved you time after being cooped up indoors during the winter months. The spring equinox has been and gone and the days are getting lighter and it's time to put that spring back into your step for a new and lighter and brighter you.
Allow the yoga to gently release any tension held in the body or mind from these colder and longer days and feel revitalised with a combination of yoga and meditation, delicious and wholesome food and invigorating walks in the stunning countryside.
Dates: 9 – 22 April, 22 – 26 April, 19 – 26 April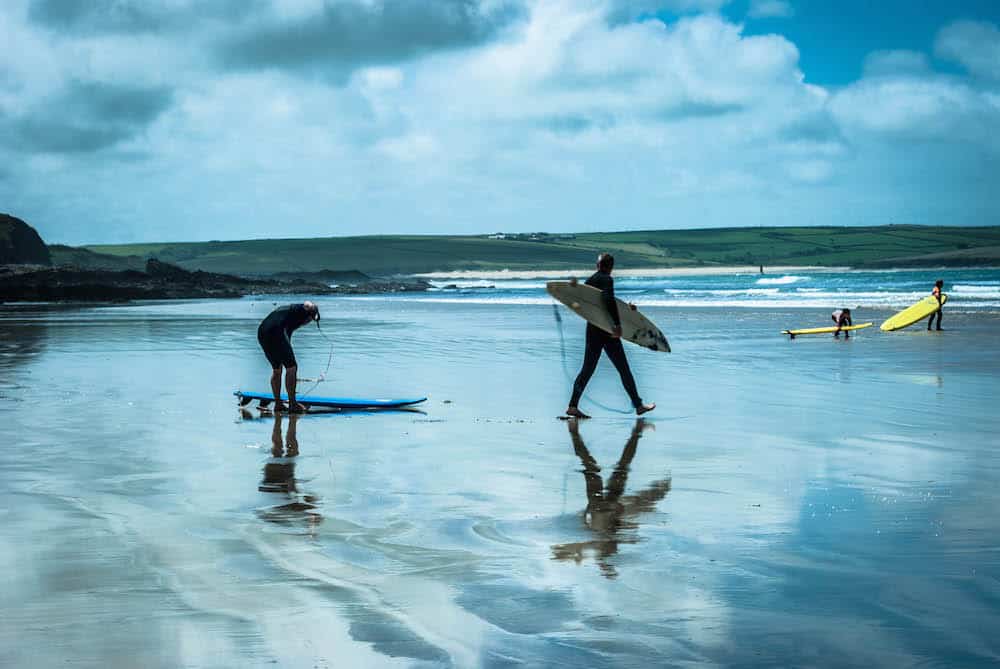 For a surf or walking adventure join us in Cornwall for 3, 4 or 7 nights this summer. We have returned to Cornwall after a break, and we are so excited to share this adventure with you.
We are located in St Agnes. This area is known for its outstanding natural beauty and from the TV series Poldark. Imagine a dramatic coastline with crashing waves and stunning beaches.
Our yoga and surf retreats in Cornwall are very popular. Energise with 1.5 hours of yoga in the morning, and after brunch, the day is yours to be as active or relaxed as you like.
Try surfing, explore the gorgeous beaches nearby or treat yourself to a cream tea. Restore with 1.5 hours of yoga in the evening. Feast on a two-course healthy vegetarian evening meal.
Whether you are a surf pro, a yoga pro or a complete beginner at either, the combination of yoga with surfing will enhance your balance, concentration and flexibility. Helping you get up on the board and stay on!.
If you prefer not to get in the water that is ok, this is also suited to people who prefer dry land and wish to enjoy the scenery.
Dates: 19th – 22nd April 
Refresh your mind, nourish your body and enjoy this magnificent manor house, built in 1532, a short train ride from London, surrounded by 73 acres of gardens in the beautiful Kent countryside.
Oxonhoath opened in 1999 as a retreat and conference centre with two bright and beautiful spaces for yoga classes which will be led by Senior teachers Dina Cohen and Norman Blair offering early morning Mindfulness Meditation and breathing practices (pranayama), followed by a choice of Vinyasa Flow or Ashtanga, plus Yin, Restorative, Yoga Nidra and much more in before dinner. The afternoons will be free to enjoy the surrounding countryside, indulge in a rejuvenating massage treatment, or take some quiet time with a book or a nap.
We have been running these Easter Yoga Retreats indulgences at Oxonhoath for the last 10 years, during which time it has been lovingly restored from 'shabby chic' to 4* fabulous. The home-cooked vegetarian meals make use of the local produce where possible and there is wine and beer available from the bar in the evening, plus some special Easter treats.
 Dates: 9th – 12th March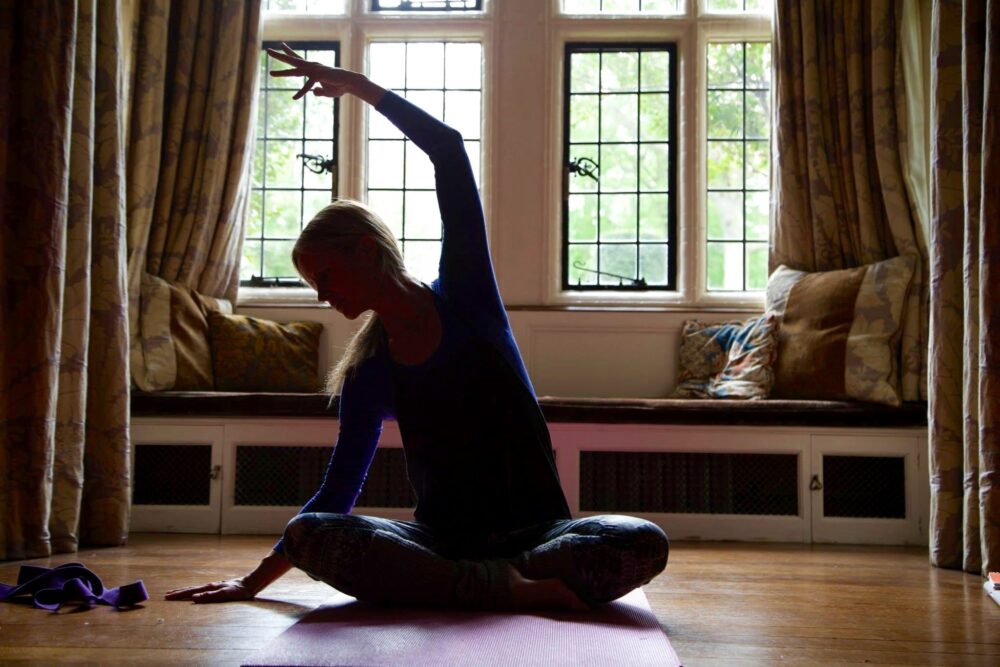 Join us for our renew and restore yoga weekend as we welcome the return of the light and embrace the early signs of spring. While winter is a time to conserve energy and reflect inwards, spring is a time of regeneration, new beginnings, and a renewal of spirit.
Through the time-honoured practices of meditation and yoga you will get to step back and immerse yourself in the natural surroundings of North Norfolk as it springs back into life. With space and time to relax in the beautiful walled garden and connect to Spring's wood element with silent walks through the Hall's grounds and beyond.
Staying 3 nights in the West wing, Wiveton Hall is a dreamy, flint-faced, Jacobean manor house. It dates back to the 17th century and is situated on the North Norfolk coast between Blakeney and Cley-next-the-Sea.
Apart from the beautiful setting on the north Norfolk coast, being a short country walk away from Blakeney and the cosy open fires of Wiveton Hall's West Wing we have the added bonus of our host being a National Treasure. Desmond, famed for his star role in the BBC's Normal for Norfolk, is a charming presence adding a little fun and spice to the proceedings!
Sometimes the only way to truly relax is to leave London behind and escape to the countryside for a peaceful couple of days. If you can't abscond for a trip abroad, take the staycation route and pay one of the UK's most luxurious spa hotels a visit – whether you're surrounded by ponies in the idyllic Lime Wood Hotel in the New Forest or enjoying the rooftop pool at Cameron House on the banks of Loch Lomond. Here, Vogue rounds up the very best spa breaks in the UK for you to escape to.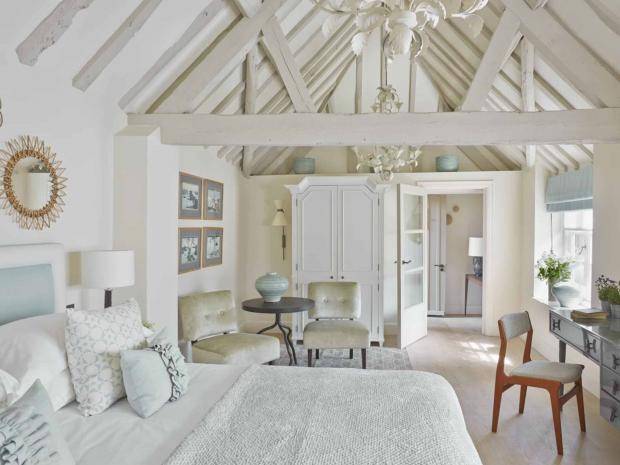 Wind your way down picturesque country lanes, past Cotswold-stone cottages, and eventually you'll reach the warm welcome of Dormy House Hotel – a cosy converted farmhouse that's about as British as you can get.
Accommodation options range from roomy suites to the adorable Rose Cottage, complete with private hot tub, and the House Spa is utterly luxurious. As well as an indoor infinity pool, outdoor hydrotherapy hot tub and three thermal suites, the treatments on offer are truly exemplary.
The fitness studio is well kitted out too, but if the weather's nice it would feel foolish not to take advantage of the glorious Cotswolds setting – ask for a map at reception and take a walk across hilltops dotted with sheep. Afterwards, reward yourself with a meal at one of the restaurants on-site – The Garden Room is particularly special. Read reviews.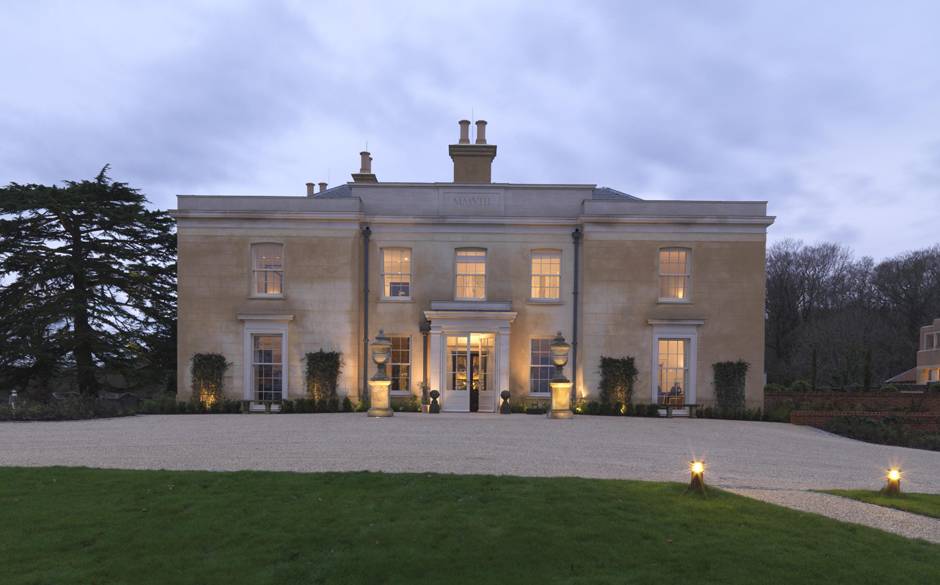 Just over 90 minutes from London by train, Lime Wood Hotel's idyllic New Forest setting makes for the most picturesque of countryside retreats, complete with wild ponies and donkeys roaming the entrance.
From opulent but cosy rooms in the main house to secluded cabins and lodges with log fires and private patios, it is almost too tempting to relax in your room for the entire stay.
However, with a spa that features a peaceful rooftop herb garden (where you can take part in morning yoga or meditation should you wish), a hydro-pool, steam room and sauna overlooking the forest and an outdoor hotpool and mud house – not to mention the warmest service, a pretty courtyard bar and a restaurant headed up by Michelin-starred chef Angela Hartnett and co-head Luke Holder – the rest of Lime Wood is well worth your time too. Read reviews.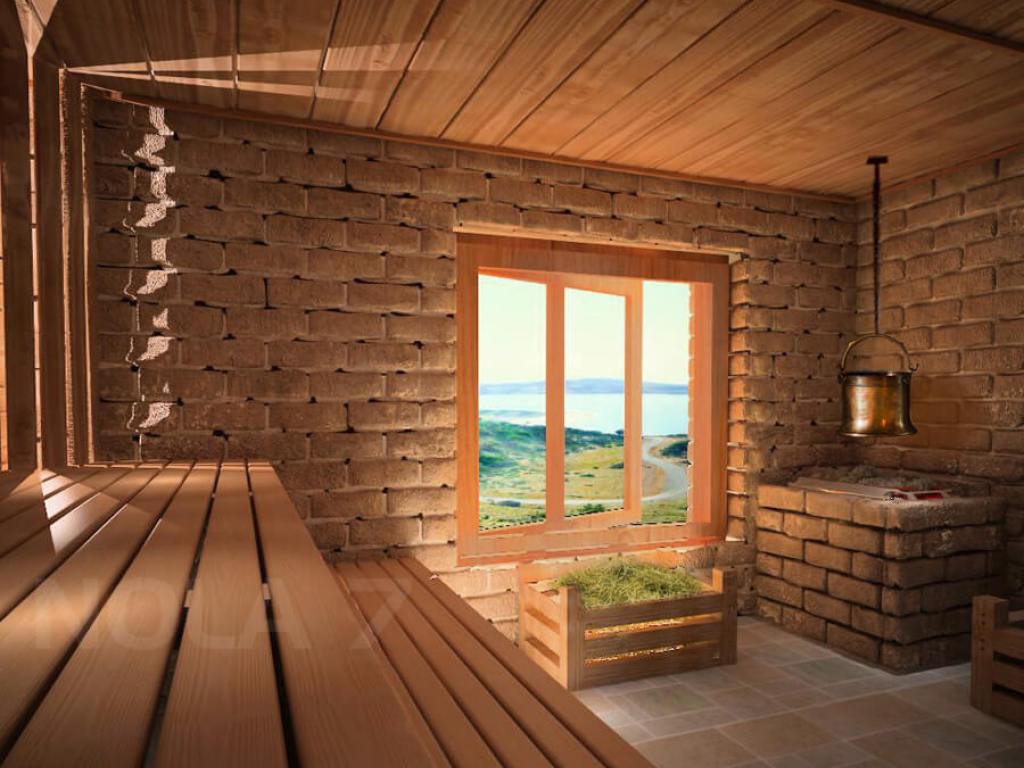 Archerfield House is a hidden gem. Stay in the main house or a self-contained lodge in the 550-acre grounds, and wander to the Fletcher's Cottage spa for a Sisley Supreme Anti-Ageing Facial to restore tone and radiance, or a Sisley Body Treatment involving deep muscle relief.
Complement these with a session in one of the private bath huts, each equipped with hand-harvested seaweed for a potent detoxifying boost, or a hot-stone massage using Beatitude, Scotland's own luxury essential-oil brand. Just 40 minutes' drive from Edinburgh, it's the perfect distance for an astonishingly recharging weekend. Read reviews.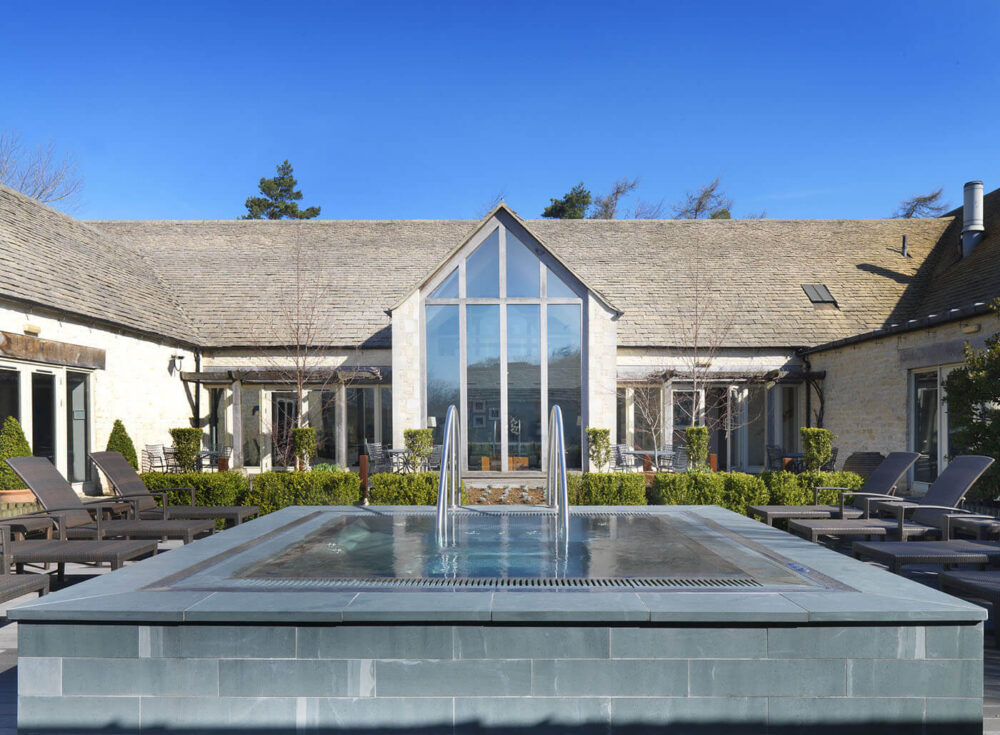 The word "Manor" in Calcot Manor is slightly misleading, encouraging visitors to expect a stuffy intimidating house, when nothing could be further from the truth.
Calcot Village would be more appropriate to describe the layout and feel, since the accommodation is made up of 35 quaint cottages, barns and outbuildings, all grouped around the rustic main building.
Thoughtfully preserved on the outside and completely modernised on the inside, the rooms provide exactly what most city visitors want from a country retreat: the appearance of rural living, but with wi-fi.
The spa – one of the main reasons that Calcot is almost always full, even on a rainy midweek day – occupies another of the cluster of farm buildings and boasts an indoor pool, treatment rooms, lounge, and lavender-surrounded outdoor hot tub overlooking an open wood fire.
Treatments focus on complete relaxation using Aromatherapy Associates products – although CACI therapies are also on offer – and the 45-minute Rose Facial is so relaxing it feels twice as long. Time moves more slowly in the Cotswolds – which is just as we like it. Read reviews.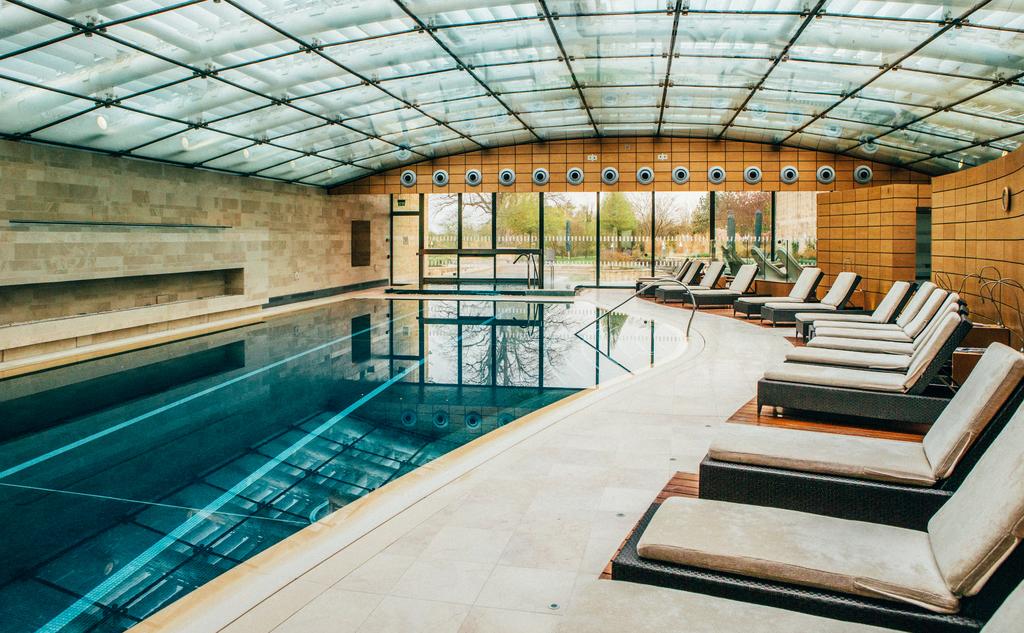 After driving down a mile-long driveway lined with beech and lime trees, Lucknam Park is no disappointment when you eventually reach it.
A Palladian mansion just six miles from the beautiful city of Bath, Lucknam boasts 42 individually-styled rooms and suites, 500 acres of land (which you can explore on horseback or by bike, should you wish to), a Michelin-starred restaurant and a spa featuring a 20-metre pool, hydrotherapy pool and five thermal cabins.
Guests can choose from a list of treatments using products from Espa, visit the gym or even book an appointment at the hairdressing salon during their stay.
The setting is idyllic, the hotel and facilities utterly luxurious and the service second to none – a weekend's stay feels like the ultimate country escape. Read reviews.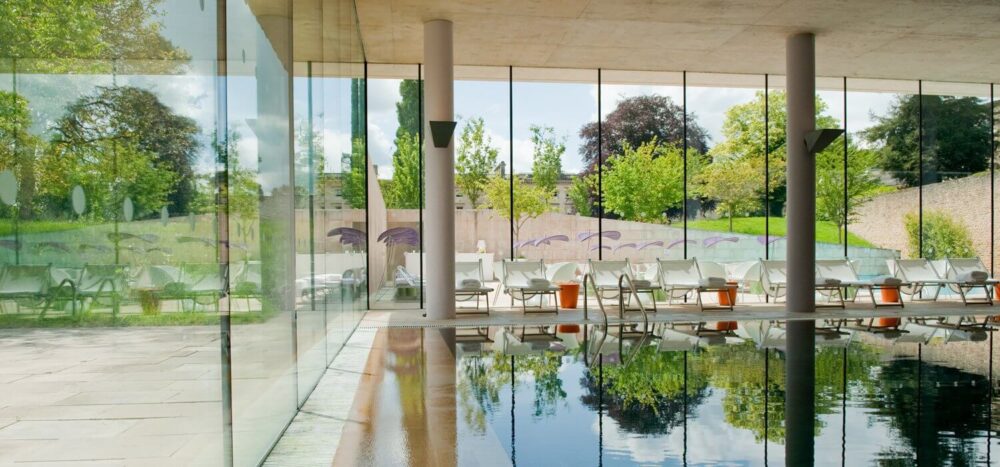 Tucked away in what feels like the most quaint, quiet English countryside (it is, in fact, only a 40 minute drive out of central London), The Grove Hertfordshire is almost too close to home to be safe from temptation mid-week.
Boasting four different restaurant areas and grounds that are as luscious as its gourmet breakfast (served in bed, naturally, eaten propped up with cloud-like pillows and silky soft linens), it is the Sequoia spa that is the jewel in its crown.
Using Natura Bissé products, their formulas rich in active ingredients, its body treatments are some of the best you'll experience. A special mention goes to The Orangery Experience.
Who would have thought feeling like a citrus soufflé would be so invigorating? It's the perfect precursor to a day spent walking around the expansive grounds, culminating in a glass from their excellent wine list. Read reviews.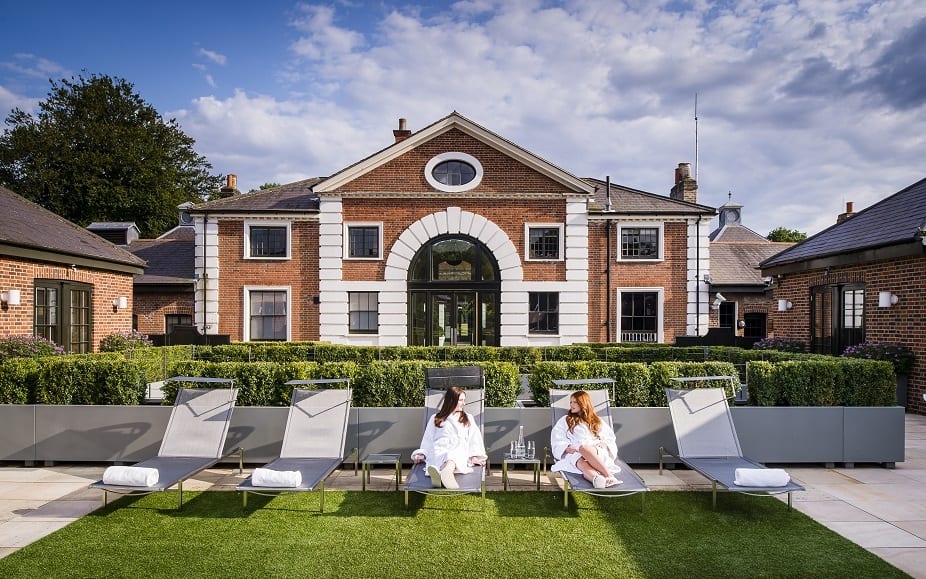 With 55 acres of woodland and meadows for guests to enjoy, Cowley Manor is a firm favourite with Cotswolds-frequenters. Its C-Side Spa makes it an even more enticing proposition, especially given the new menu of Emergin C Scientific Organics.
These are treatments that utilise the latest in skincare technology to provide hard-hitting, results-driven facials.
High points are the Anti-Ageing Apple Stem Cell Treatment (100 per cent of clients noticed improvement in the appearance of crow's feet), and the Detox Facial, which uses a range of potent super-ingredients such as kombucha, seaweed, French clay and grape extract. Read reviews.
Having trouble choosing from one of our best yoga retreats in the UK? For the latest travel inspiration follow us on Instagram @soulseedtravel.
Or get in touch with our retreat advisors to help you find, discover and book your perfect retreat. Namaste!.
Pin this image & share!