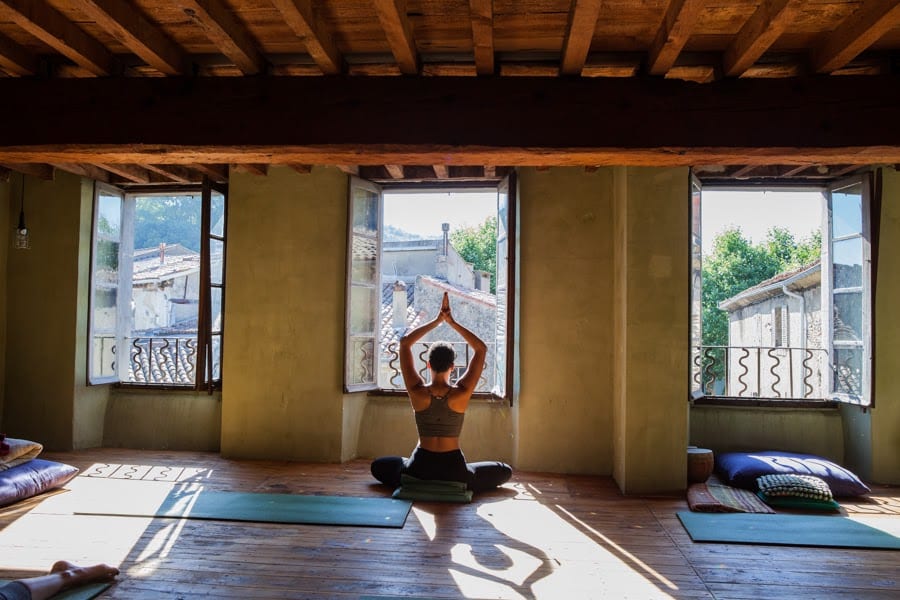 Choose the type of holiday that will leave you feeling refreshed, revived, calm and like a whole person again. Forget the itinerary, the diary, the alarm clock and leave the anxiety at home.
Here's our guide to Calming Retreats in Europe for Stress and Burn Out.
Dates: 11th – 15th October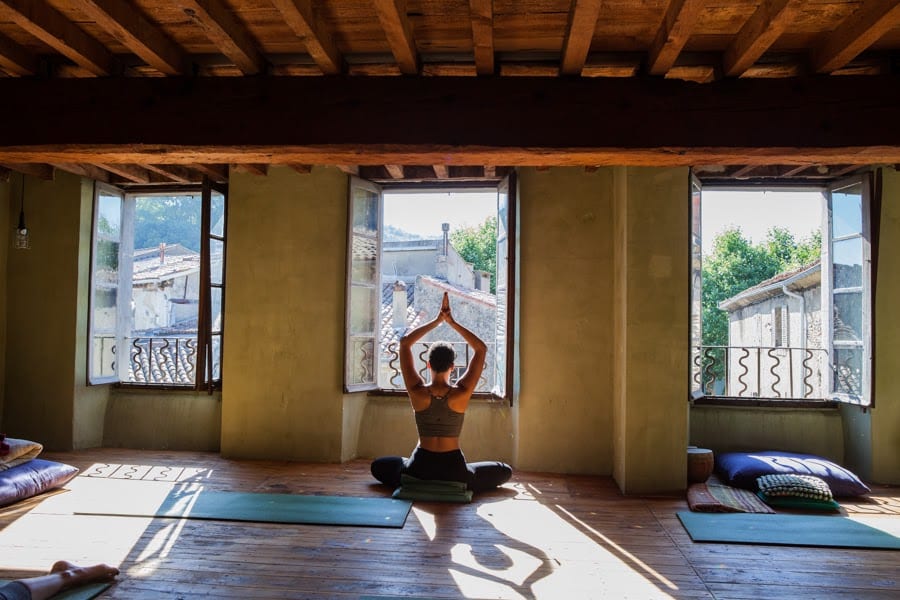 A 5 day Yoga, Mindfulness and Embodied Mediation Retreat in a French Chateau to re-establish a rich, soulful connection to your yoga and meditation practice. Located in a picturesque medieval village in the southern French Pyrenees, the house feels like a temple, the rooms are large and stylish.
This retreat is intended for all those in need of rejuvenation, rest and relaxation, and those who are seeking a more mystical connection to their existing yoga and meditation practice.
Retreat facilitator Gertrud shares her practice of Embodied Meditation, which is the yoga of breath, mindfulness and movement. Without excessive effort, the practice strengthens your core, legs and hips, tones your parasympathetic nervous system and sets alight your inner space.
The gourmet vegan food has been described as sensational, outrageous, alchemical, the best ever, and more. It is often raw, always free from dairy, meats, gluten, and sugar.
There will be periods of free time each day, which gives you opportunity to just relax in the walled garden, pamper yourself or explore wild swimming in nearby lakes and rivers. You will be held within a clear daily structure. You are welcome to add additional nights to the end of your stay.
Dates: Open May – October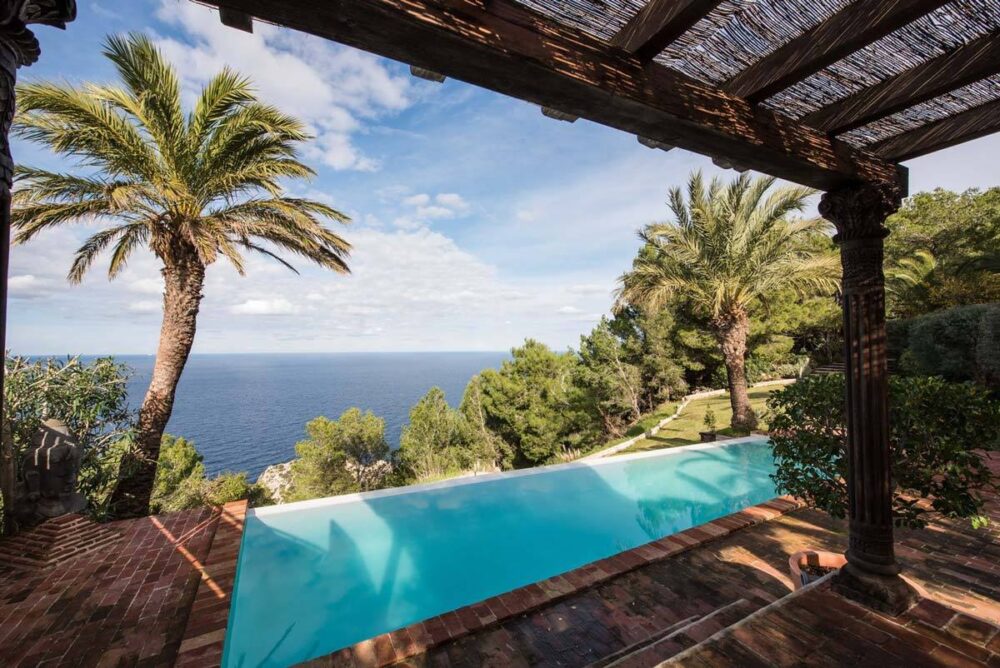 More than a yoga holiday, our meticulously curated holistic wellbeing retreats allow you to pause from the crazy pace of modern life. Reconnect with your true nature and let your soul shine with a whole heap of love from the  team and a jam-packed schedule of holistic, healing and transformative loveliness.
The perfect opportunity to explore, develop and deepen your yoga and meditation practice whilst gaining a greater understanding of holistic healing.
Laugh a lot, make new friends, snooze, sunbathe, explore, relax, read, walk and indulge in yummy food. A transformative holistic wellbeing experience that nourishes your body, mind and soul.
During your six nights on our holistic wellbeing retreat you can expect to enjoy an extraordinary amount of delicious daily Yoga, Meditation, Wellness Talks and Healing Workshops from our wellness experts, plus pampertastic and deeply healing remedial treatments from our talented wellness team (to ensure maximum relaxation and soul soothing!).
Not to mention being cared for by our utterly loving and attentive hosts who are constantly on hand to ensure that you don't lift a finger (we're quite strict about that!). It is a truly holistic wellness experience.
Dates: 9th – 15th June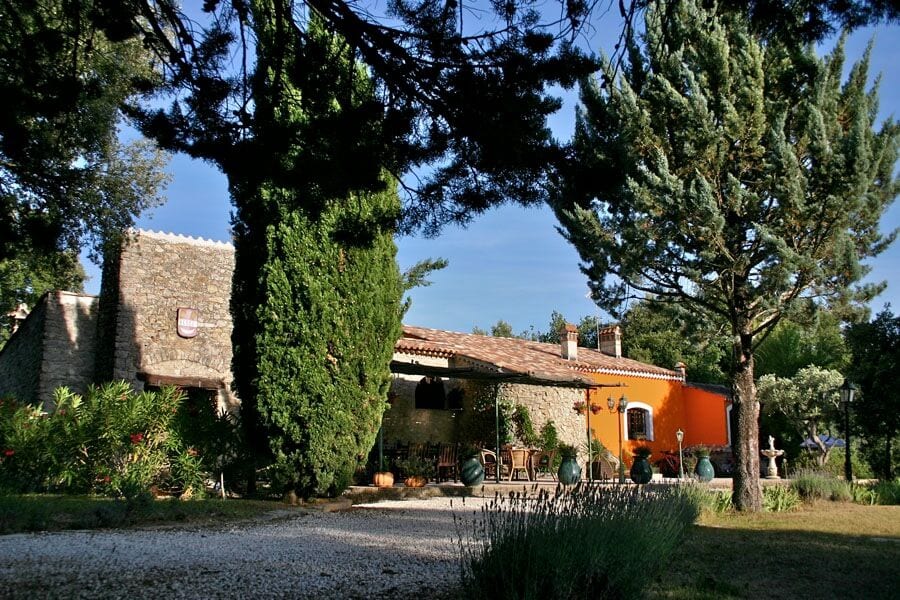 Get ready for our annual getaway in the south of France – this time with a new itinerary with daily yoga, walks, and food-focused activities throughout the week. From gourmet tastings, the famous Provencal rosé, and plenty of time to take in the gorgeous surroundings on our hikes past lavender, blue waters, and vineyards.
Bastide Avellanne is the ideal location to visit Provence. Situated only 30 minutes from the sea and from the Cote D'Azur between Cannes, St. Tropez and Hyeres. With its hundreds of kilometers of white beaches, rocky capes and wild bays, it is considered the most beautiful coastline of France – 300 kilometers of coast accompanying the Mediterranean Sea, white sandy beaches, a preserved landscape, protected islands and famous locations renowned worldwide.
It looks just as you see in postcards: fields of lavender, medieval villages, chateaux, markets full of colours where you can find local products and exotic spices, lively small towns with a slow way of life.
Day trips will allow guests to add arts, culture, adventure, and natural beauty to their retreat experience. Trips may include visits to small villages, large cities, outdoor activities, even a gorgeous spa day in a 5* countryside chateau where guests can swim, enjoy lunch, use the spa area and receive a relaxing treatment (included in the retreat).
Dates: 9th – 16th June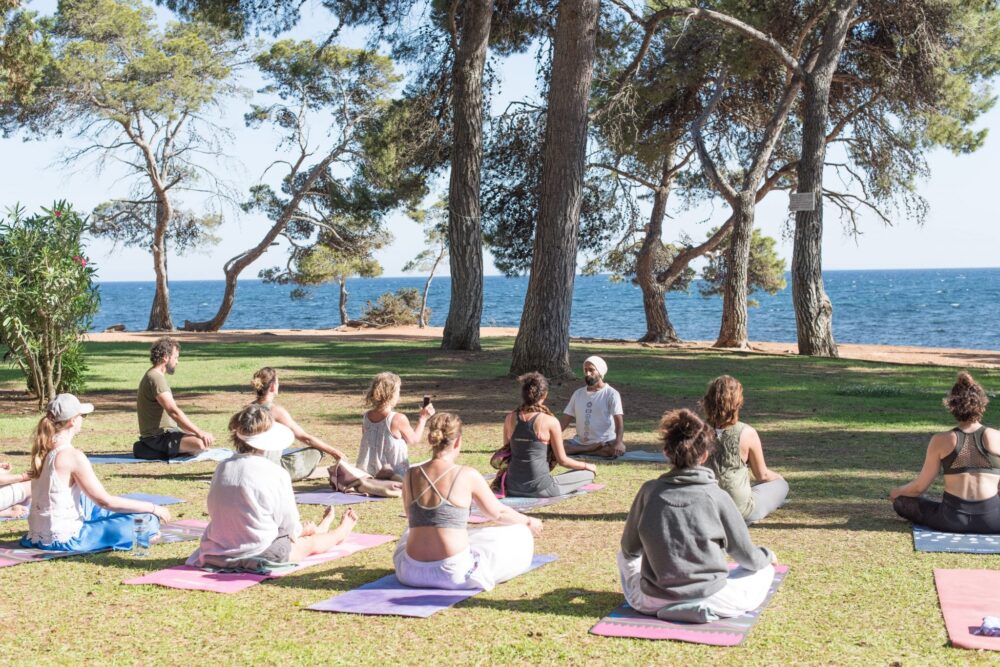 A transformational week in June that will take your yoga to new heights. This is beyond a teacher training. Delve deeper into your yogic journey with Swarmi Shiva Shankar who is back to Ibiza for a second year running after the success of his first retreat in Ibiza last year.
Taking residence at one of Ibiza's most beautiful finca's on the north of the island, The House of Om is proud to host the return of Swarmi Shiva Shankar to lead a week's yoga and meditation retreat that will offer you the opportunity to deepen your practice in the most peaceful surroundings; with twice-daily yoga and meditation classes led by Shivaji and House of Om founder, Vicky Godfrey.
Ibiza is one of the most magical places in the world and is simply enchanting and at its best in June. The beaches are phenomenal, the water is warm and the island is still peaceful as it builds to the busy summer months. Our sanctuary, is a beautiful 17th Century finca in the Ibizan country side near the beautiful villa of San Carlos Village
It is the perfect base for you to press pause, unwind and let go. We would also encourage a digital detox, while surrounded by the beautiful nature that surrounds Casa Shakti.
Nestled in country lanes on the north of the island, Casa Shakti has a yogi heart of its own. With its yoga deck, pool and terrace, vegetable gardens, dogs, cat and horses, wonderful energy and equally wonderful people abound. It's the perfect place for The House of Om to host this very special annual retreat.
Dates: 1st – 7th September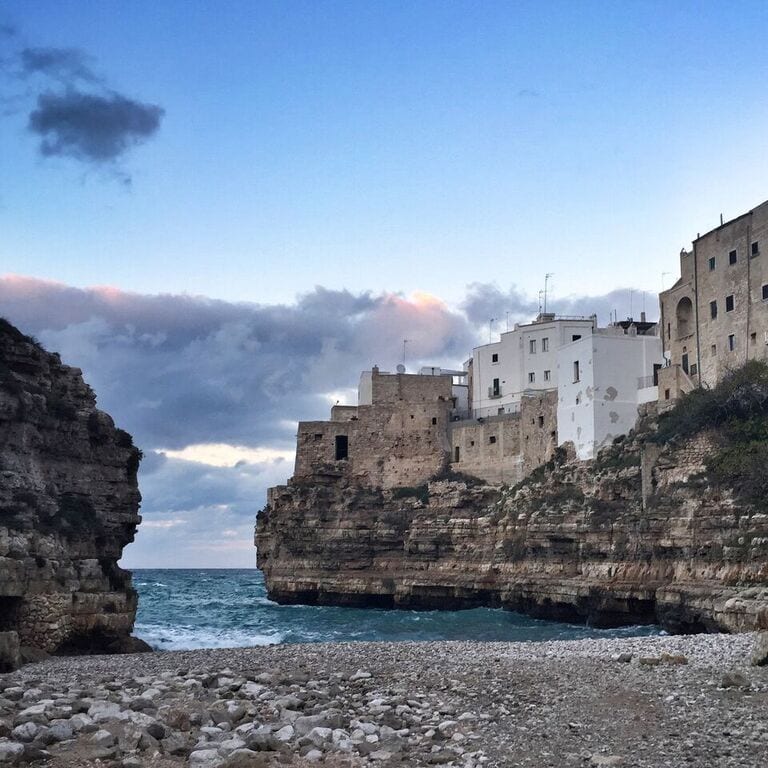 Join us for our annual Luxury Yoga Retreat in Puglia, and discover this "it list" region of Italy's rural heel. This wonderful retreat will enable us to experience the landscapes and activities of this incredible rising star of Italy.
Spend a week amongst fertile red earth, gnarled olives and turquoise seas. The day trips will allow you to experience the many unique landscapes and activities that this area has to offer.
Tour through Puglia's famous "Trulli," white, cone-shaped houses in the town of Alberobello, a UNESCO heritage site where the main concentration of these trulli still stand.
One day is spent in the neighbouring region of Bascilicata in the town of Matera where we'll enjoy the sites and unwind in a beautiful spa with treatments. The next day will be spent learning about the flavours of Puglia.
We start off with a cheese tasting and a visit to the town of Martina Franca. We will take in the gorgeous hilltop town of Ostuni, known as the White City, explore some of Italy's oldest olive farms and enjoy a meal in a local restaurant.
Our day trips will allow you to experience the many unique landscapes and activities that this area has to offer. One night will be spent at an award-winning restaurant with a tasting menu + wine pairing. Next we have a day of relaxation planned at one of the region's blue beaches and at a private beach club.
One day will include a winery visit with a tour and tasting, and yet another day with a visit to one of the area's most picturesque towns with plenty of photo-worthy vistas and blue waters, followed by an amazing unique meal in a "grotto" overlooking the cliffs by the sea in Polignano al Mare.
We will round out the week with massage treatments and plenty of time to relax at our home-away-from-home with its beautiful pool, walking trails, and more.
Dates: Open March – November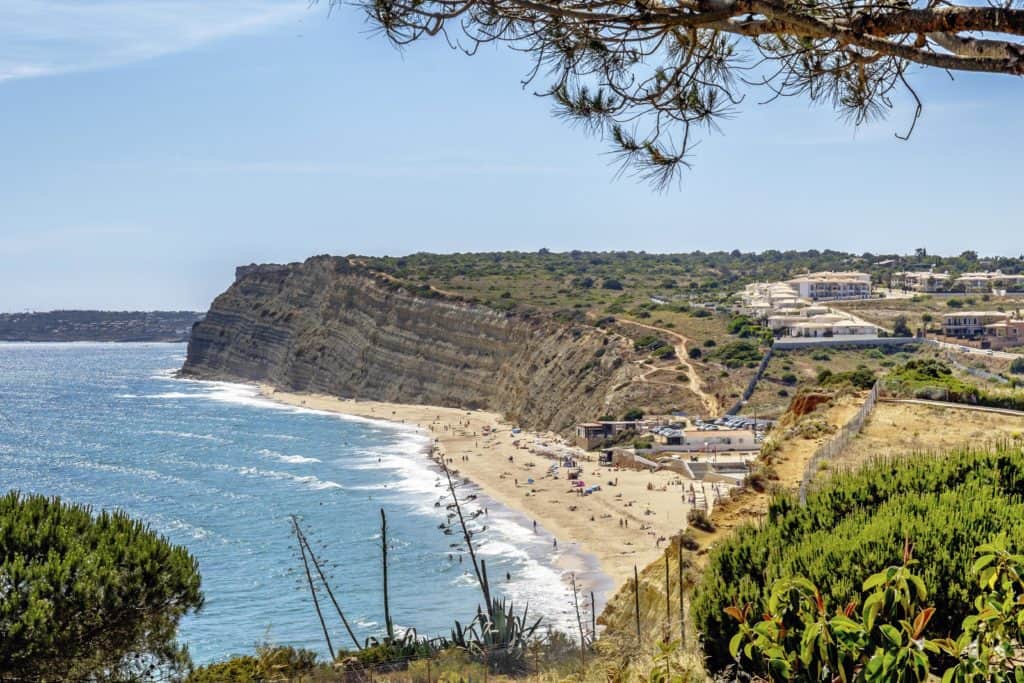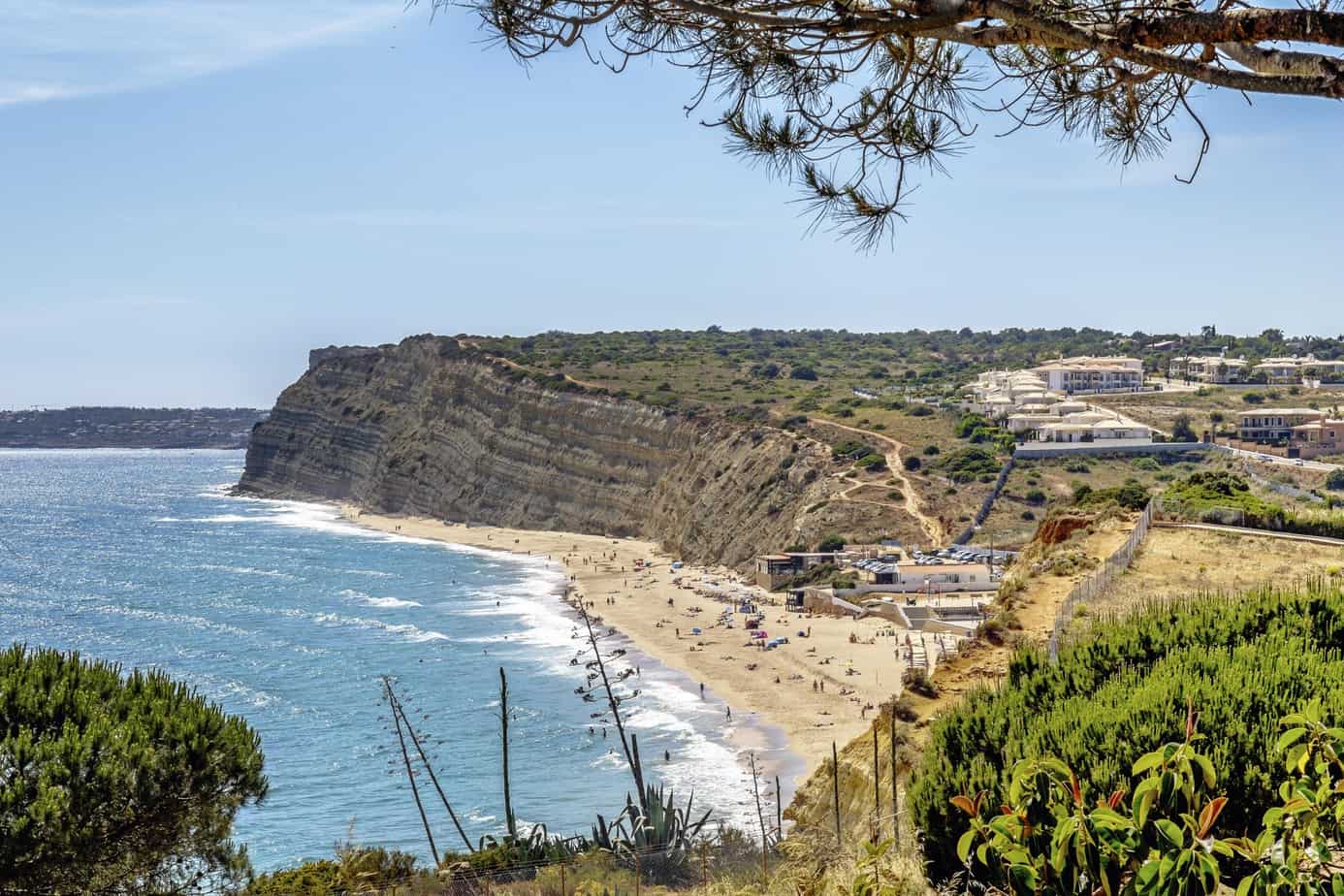 Escape everyday life and treat yourself to an indulgent 5 day retreat at a boutique hotel with maximum pampering and minimum stress. This is the perfect spa getaway experience just for you with your partner or a friend guaranteed to rejuvenate, relax and de-stress.
Boost your energy levels and establish new healthy habits with our selection of spa treatments and restaurant menu.
This Relax & Revive 5 day retreat includes 5 nights in a room with a beautiful sea or garden view, a welcome smoothie or juice on the hotel's panoramic terrace with stunning views of the sparkling ocean and endless sky, super-food breakfasts with dairy free alternatives, fresh fruit, vegetable juices and smoothies.
A two course lunch is included on two days of this relaxing break, to be taken on days of your choice as well as one evening four course dinner with vegetarian, vegan and raw food options.
As part of the retreat you can enjoy four organic treatments in the hotel's Neal's Yard Remedies of Covent Garden London Spa the first overseas spa of its kind.
This includes Indian Head Massage, Body Harmony Treatment, Relaxing Back Massage and a Facial. Morning yoga sessions are included every other day and you will also enjoy unlimited access to the wellness pool, sauna and steam room.
So relax and completely unwind with us, it will make a world of difference to your health and wellbeing and see you returning home completely renewed.
Dates: 12 – 19 May / 8 – 15 June / 23 – 30 June / 7 – 14 September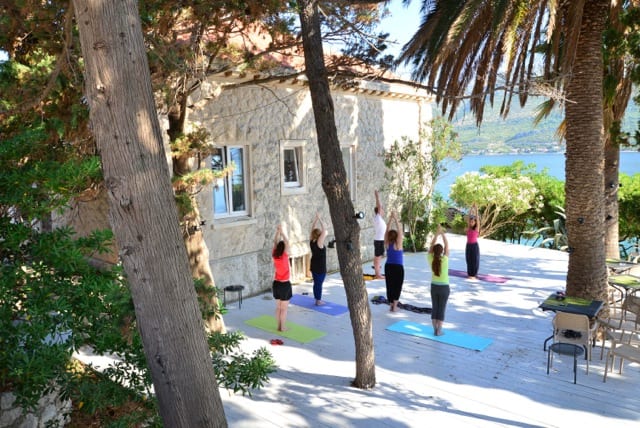 Are you looking for an inspiring and nourishing seaside yoga holiday in Croatia under the Mediterranean sun? Do you want to go somewhere where you can roll out your yoga mat by the sea in the morning, explore secluded beautiful beaches and unspoiled island's nature in the afternoon, and cleanse your body with organic food and detox juices? Then this week long retreat is Croatia is perfect for you!.
Experience the joys of a seaside yoga practice combined with meditation and breathing exercises. You will also experience excursions to the magical nature park of island Mljet with salt lakes, an olive grove farm with wild herb workshop where you will be able to learn about the culinary use and medical benefits of Mediterranean herbs, a boat ride to secluded beaches, and a tour to an organic Bee farm.
Most of all on our seaside yoga holiday, you will discover all the joys of the Mediterranean and have a lot of fun in the process! The extensive local knowledge of the retreat team ensures that you will enjoy the most authentic sights, flavors and experiences of Croatia.
Follow our wellness travels on instagram @soulseedtravel and join our Pinterest board 'The Best Yoga & Wellness Retreats' to add your pins! Contact retreats@soulseedmedia.com for advice, inspiration and to book your next retreat.