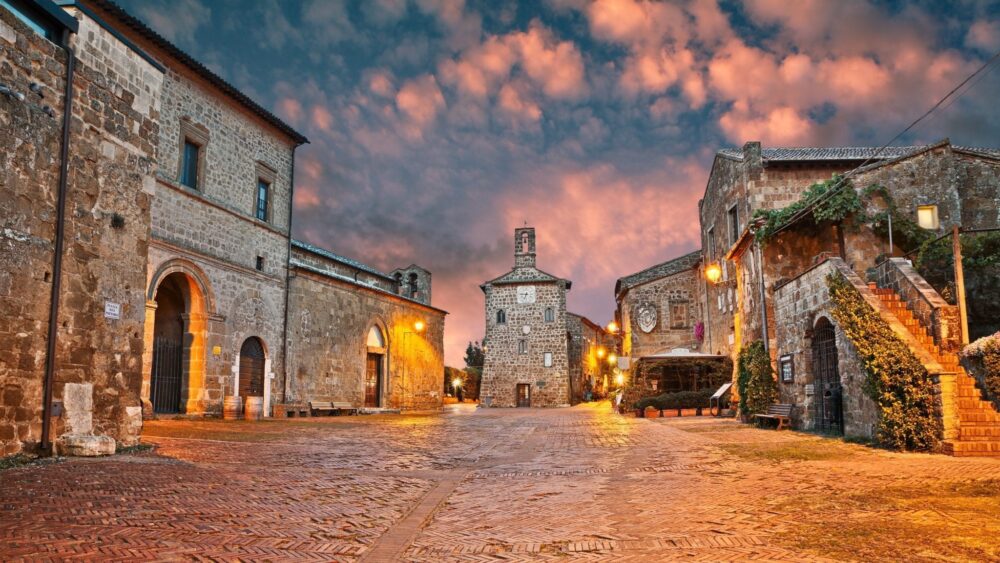 Discover the best retreats in Italy in our guide featuring Tuscany, Venice, Florence, Sardinia, the Amalfi Coast, Milan, Rome, Chianti and Puglia. Practice, recharge, relax and have a post sivasana glass of chianti if you fancy!.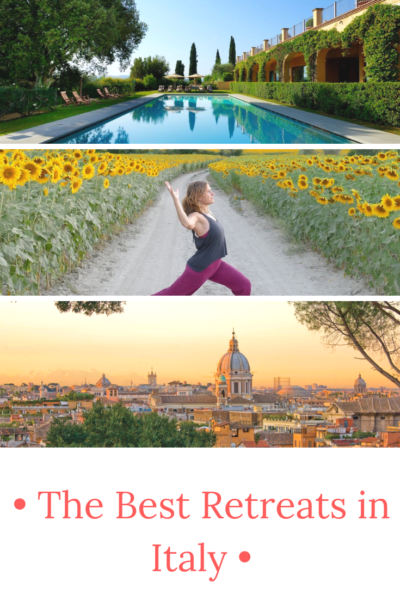 TUSCANY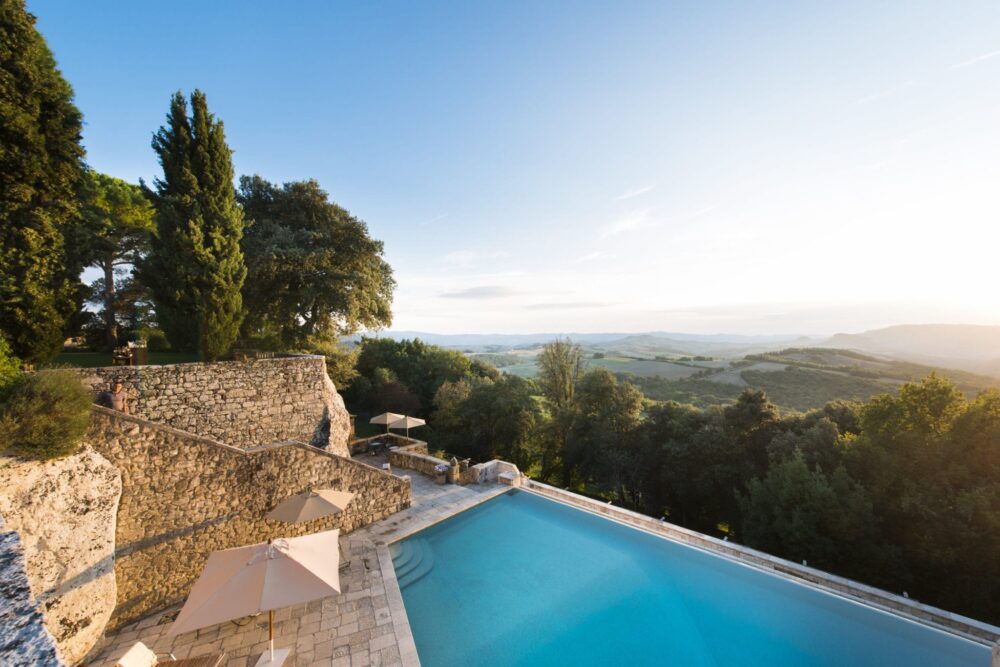 Dream to delight the senses and awaken the splendour of the heart awaits — in the timeless allure of the Tuscan countryside. La Vita in Equilibrio takes us on an Escape that celebrates renewal. If much is to be made of the magic of travel, seldom is it so tangible.
We have found a place that will leave you gasping for superlatives. Standing sentry over a parade of Tuscan hills, the Thyrennian sea shimmering in the distance. The immaculate estate of Borgo Pignano is a charming hamlet nestled between the copper and green woodlands once settled by ancient Etruscans.
Each morning, we greet the day with a guided meditation and a warming yoga flow, designed to gently dissolve points of resistance and increase wellbeing.
To welcome Spring, we spend our days foraging wild flowers for crafting our own soaps, we explore the gorgeous grounds of the estate following ancient trails that lead to waterfalls.
In true Tuscan spirit, we learn the subtle art of making the perfect pasta, with the estate master chef. At Borgo Pignano the ethos is one of sustainability. From terra to tavola, here everything is grown locally, a true expression of slow food.
Our days off the estate include a private tour of a vineyard, a visit to the purifying thermal waters of Terme di Sassetta and a day trip to the hilltop town of Volterra where we learn of ancient Etruscan traditions and delight in an evening of restorative yoga in the medieval town hall loggia.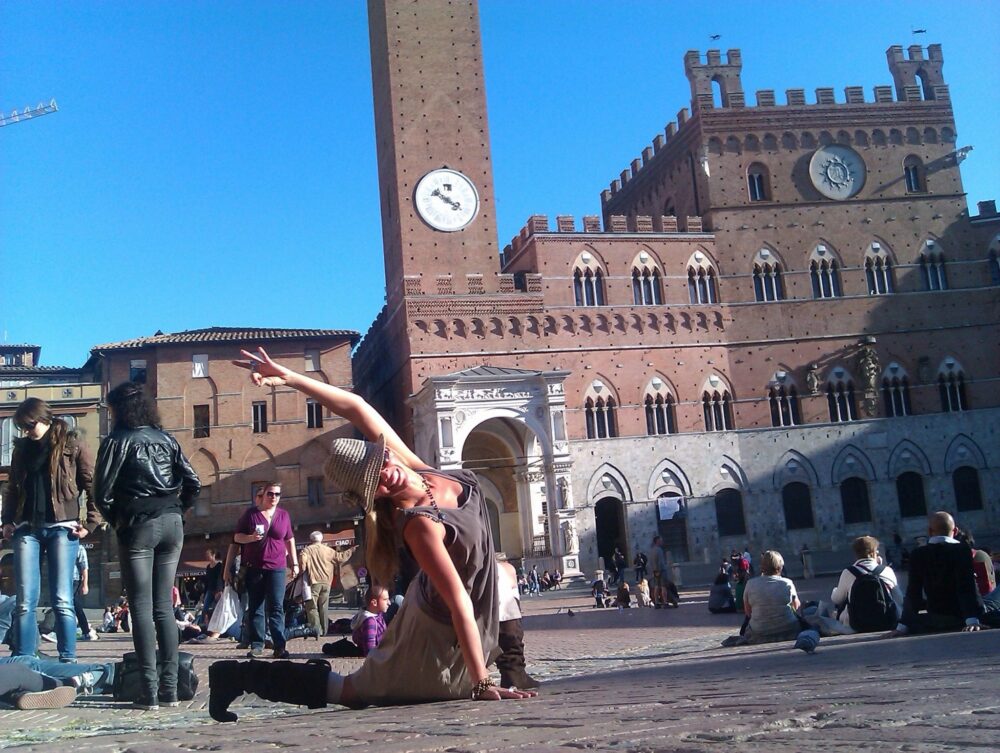 On this Luxury Yoga, Food and Adventure Retreat in Tuscany your days will be a perfect blend of exploring the Art Cities of Italy: lingering with iconic art, architecture, and design punctuated with wine, food, fashion, and fun. You will experience the real sensuousness of Tuscany and understand why it is on everyone's bucket list!
This week is all about recharging through reverence for nature, delight in culinary magnificence, inspired yoga and meditation practices and cultivating community.
Some say you can fall in love with a place just as you can with a person. This is certainly true of Toscana! The tastes, sights and people of Tuscany will nourish your spirit and renew your sense of joy.
Experiencing life under the Tuscan sun is something that stays with you forever. In Italy, you slow down to enjoy each breath, each sip of chianti, each taste of antipasto. You may in fact realise that you are actually home: the home of your heart. And life will never be the same after that. Tuscany teaches us to savour each moment and live inspired by the details that might have otherwise passed us by.
We will move at a relaxed pace; participation in any event is not mandatory and there will be plenty of time offered to explore on your own, read a great book, go on a horseback ride on the over 200 acre estate, hike through the vineyards or lounge by the pool getting the best tan of your life.
You will certainly have time to re-learn the art of relaxation or as the Italians say "Il Bel Fai Niente," set mindful goals, live in joy and renew your entire sense of wellbeing.

Join us for our culture, self discovery and yoga retreat in Lucca. Nestled in this lyrical landscape, and a short distance from the medieval city, we find a true haven for relaxation, Villa Boccella — an immaculately restored 17th century Tuscan estate.
The area around Lucca, is often referred to as the 'green island of Tuscany'. In the verdant splendour of this countryside, we take our first day to relax and settle into our exquisite surrounds. Take the day to swim, read and walk in nature or just perfect the art of il dolce far niente – the sweet pursuit of doing nothing – as you acclimatise yourself from your hectic life to the soothing balm that is Villa Bocella.
The path to creative awakening begins each morning in the Boccellina garden with our yoga and meditation class. Wake up to the sweet scent of jasmine with views of the Pizzorne mountains on the horizon.
Our morning sessions are followed by a deliciously abundant patio breakfast, lovingly prepared by your host
Follow the enchanting trails that lead you past the wild thyme or simply bask by the pool, in the golden light of the afternoon. The focus of this retreat, is manifesting the muse within you!
So we have designed a week of artisanal workshops, and immersive experiences ranging from wine making to silk weaving – but have also included plenty of time for you to soak it all in and enjoy.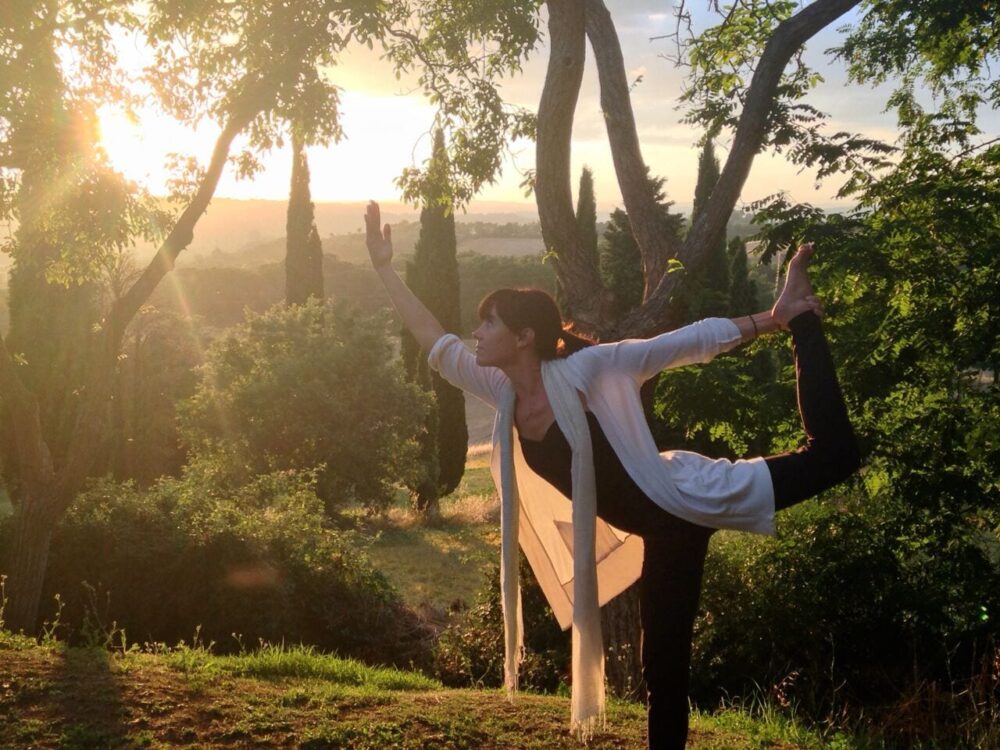 Join us for a creative + healthful week on this yoga and art retreat. This trip always fills up fast and we can't wait to enjoy Italian cuisine, thermal spa, day trips from the countryside to the cities of Siena and Montepulciano.
This retreat features Julian Hyzler from EASEL&LENS to combine a look at creative focus with art projects in sketching and "ifonography" (smartphone photography) throughout the week. Yoga and meditation classes will be held daily to prepare our bodies and minds to find a creative way of focus on our excursions through the Italian countryside.
We'll not only balance the week with the healthy "form" part of the retreat, but also with learning about and experiencing firsthand the amazing flavors of this region. Each day we'll be able to enjoy mouth-watering cuisine, as well as take part in tastings from wine and olive oil, to cheeses, gelato, and of course the Italian espresso.
From award-winning restaurants to family farms and kitchens, learning and enjoying the food will be an added bonus to working up an appetite during our classes and walks!.
Trips include visits to small villages, large cities, and outdoor activities, even a day at a unique "Sensorial" thermal spa where guests will enjoy a treatment "circuit" through thermal waters, aromatherapy, chromotherapy, and relaxation pods.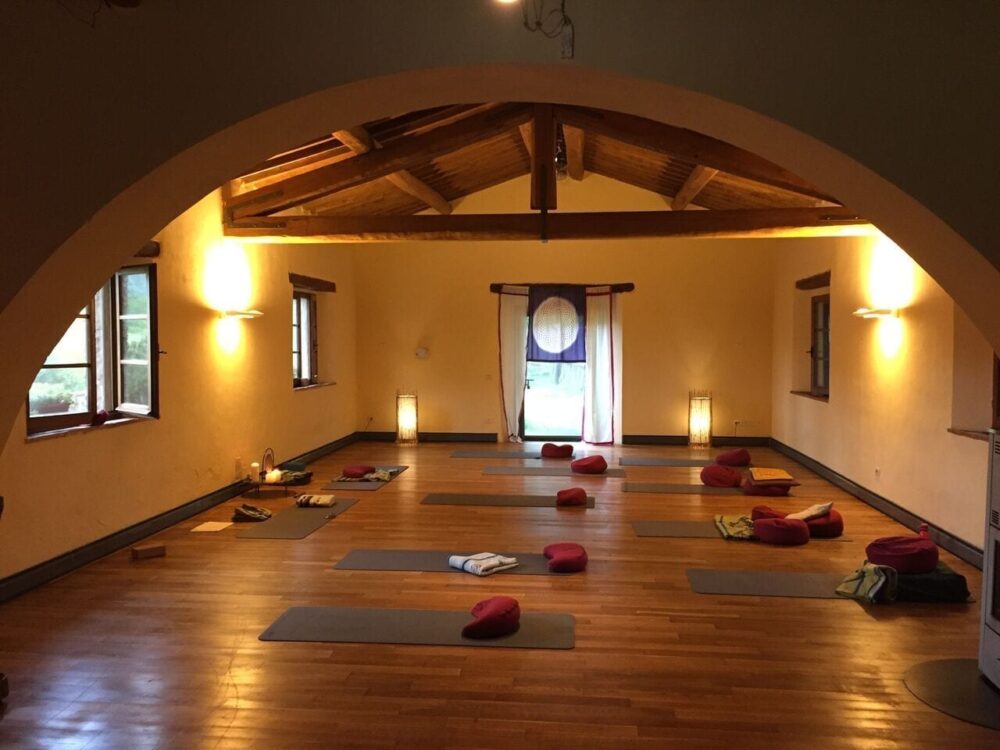 Your teachers Patricia and Surya will inspire you with 35 years of teaching experience, to deepen your practice in yoga asana, and meditation and additionally offering transformational Breathwork sessions for healing, personal transformation, and expansion of consciousness.
You will be immersed in the beauty and slow pace of Tuscan life at Le Pianore, an 800 year old villa in the magnificent hills of Monte Amiata in Monticello, southern Tuscany. With its spectacular views, fabulous walking, swimming pool bordered by cypress trees, and sumptuous cuisine, Le Pianore offers an environment of conscious sustainability, and an experience of the Italian way of living life where ease and enjoyment reign.
Yoga sessions invite deep listening, fluid unwinding, and awakening sensation as guide back to body's innate intelligence. This approach to practice, shifts the habit of "doing" asana to an unfolding, by feeling and sensing our way thru the practice. Sessions will be guided with periods for self exploration and discovery.
The ancient, rural beauty and the slow pace of life at Le Pianore, create a rare environment for refining awareness and deepening spiritual understanding in the process of retreat. To enhance the benefit of this yoga retreat, silent periods will be observed.

The Awaken the Heart sightseeing and yoga trip Tuscany retreat is is open to eight wonderful guests.

 Autumn in Italy is a feast for the eyes and the palette. Breathtaking fall colours can be seen from vineyards to olive groves to the mountains, and the weather is mild.
The cornerstone of Awaken the Heart will be beautifully energising and restorative yoga and meditation classes lead each day.

Awaken the Heart is also an immersive travel opportunity highlighted by activities connected to the fall harvest in Tuscany that inspire beauty, energise the body and uplift the spirit.
Villa Poggio di Gaville, nestled in the hills outside of Florence will be our retreat home for the week and offers both indoor and outdoor spaces for yoga. This splendiferous setting offers a tranquil haven to awaken the senses and will allow for moments to experience inner peace and heart awakening.
For anyone yearning to explore the Tuscany countryside in Italy, while enjoying daily yoga practice and meditation, with ample time off the mat for meandering through historic villages and towns, picking olives, visiting wineries and outdoor markets, and dining on the freshest homemade food prepared with love, than join me for this week of inspiration and exquisite beauty.
Each guest will stay in a private, beautifully appointed apartment with private bathroom, furnished in updated Tuscan country-style furnishings. Guests can leisurely enjoy the natural surroundings including walking paths and trails to nearby Lake Santa Barbara.
CHIANTI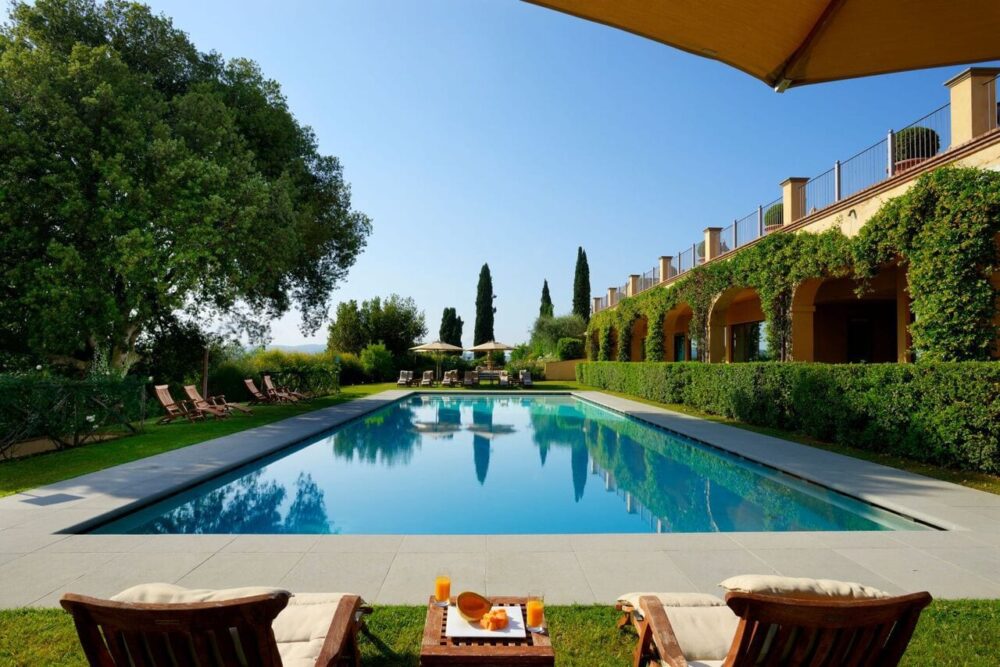 Join us in the heart of Italian wine region of Chianti for a fall getaway, themed in 'self-care', on this luxury yoga and spa retreat you will enjoy a 5* accommodation, spa treatments, one of the best food seasons in Italy, as well as daily yoga and soul-coaching workshops.
Our luxury yoga and spa retreat offer a series of mindful workshops that will guide you in the exploration of creative self-expression in your life. We will have meaningful discussions and fun activities intended to help you tap into your own inner wisdom and heartfelt desires.
And between the beauty and serenity of Tuscany alongside the vineyards and olive trees, the atmosphere will surely ignite your being with an energy perfect for the creative process.
Guests will not only enjoy the hotel and encompassing estate, but also the richness of the Italian cities in nearby regions. Day trips will allow students to add arts, culture, adventure, and natural beauty to their retreat experience.
We will visit the nearby cities of Florence and Siena as well as the "city of towers", San Gimignano and various Chianti wine region villages for tastings.
PUGLIA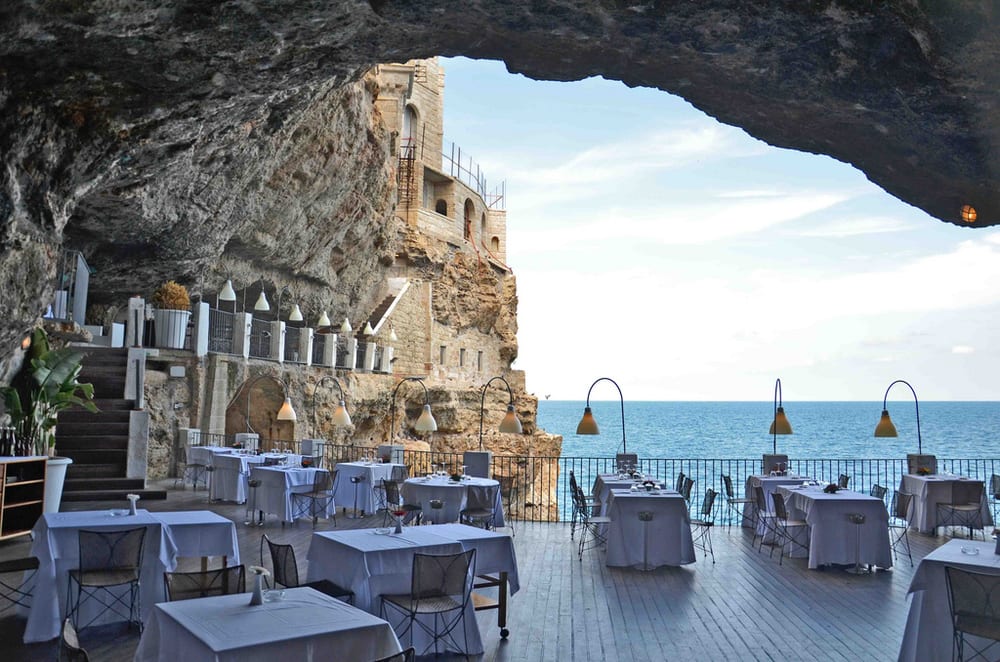 Join us for our annual Luxury Yoga Retreat in Puglia, and discover this "it list" region of Italy's rural heel. This wonderful retreat will enable us to experience the landscapes and activities of this incredible rising star of Italy.
We will spend a week amongst fertile red earth, gnarled olives, turquoise seas, tour through Puglia's famous trulli; cone shaped houses in the town of Alberobello, a UNESCO world heritage site.
Besides daily yoga classes, our retreats offers a series of mindful workshops that will guide you in the exploration of creative self-expression in your life.
One day is spent in the neighboring region of Bascilicata in the town of Matera where we'll enjoy the sites and also allow us to unwind in a beautiful spa with treatments. The next day will be spent learning about the flavours of Puglia.
We start off with a cheese tasting and a visit to the town of Martina Franca. We then move on to a winery where we will enjoy a tour and tasting, followed by lunch. We will also take in the gorgeous hilltop town of Ostuni, known as the White City. We will explore some of Italy's oldest olive farms and enjoy a meal in a local restaurant.
Our day trips will allow us to experience the many unique landscapes and activities that this area has to offer. We will take a tour through Puglia's famous "Trulli," white, cone-shaped houses in the town of Alberobello, a UNESCO heritage site where the main concentration of these trulli still stand.
We'll enjoy a walk around town and a meal at an award-winning restaurant with a tasting menu + wine pairing. Next we have a relaxed day at one of the region's blue beaches – we will explore the amazing coastal areas at a private beach club, visit a unique cheese farm and have a tasting in the area before heading back to the hotel.
One day will include a winery visit with a tour and tasting, and yet another day with a visit to one of the area's most picturesque towns with plenty of photo-worthy vistas and blue waters, followed by an amazing unique meal in a "grotto" overlooking the cliffs by the sea in Polignano al Mare.
We will round out the week with massage treatments and plenty of time to relax at our home-away-from-home with its beautiful pool, walking trails, and more.
VENICE
A trip to Italy would not be complete without visiting Venice. For a comprehensive guide to Venice covering when is the best time to go, how to get there and around, things to do, wonderful museums, places to stay, restaurants and bars and essential things you should know for your stay in the lagoon city, read this article from suitcase and wanderlust.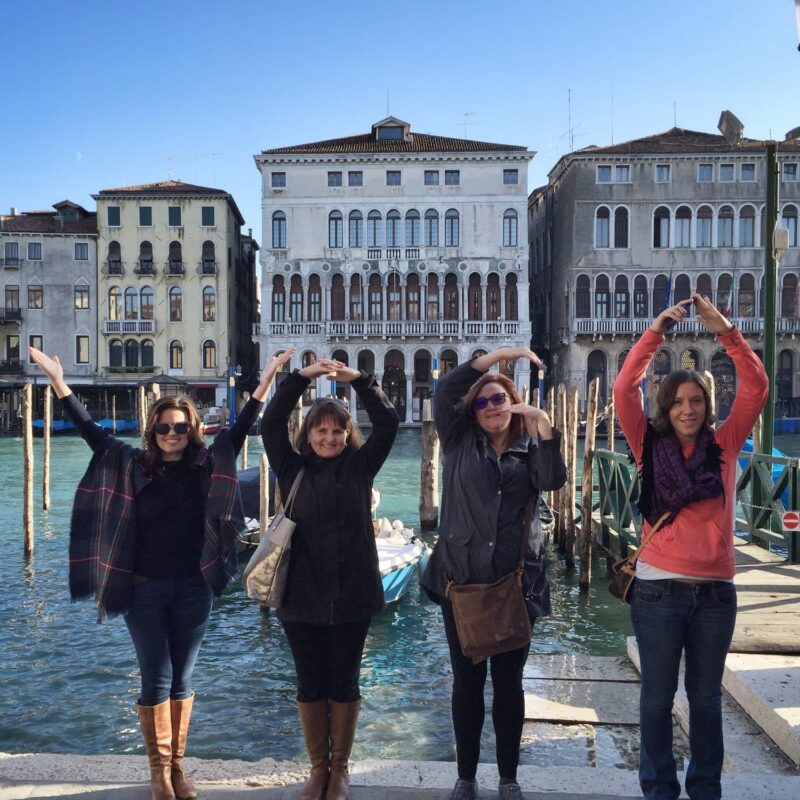 We're returning to our annual retreat in Venice, Italy – but this time to ring in the New Year! This enchanting city is the backdrop of a magical celebration – finding presence in each day and setting intentions for the year to come through daily yoga, creativity workshops, day trips, spas, and gourmet meals.
Come away with us for a week in the magical part of Italy known as Venezia! Venice is a place unlike any other in the world, and to see it is to transport yourself back to the days of Casanova, masked balls, and Carnevale. Oh, but there is so much more to Venice than what the usual tourist visit can offer. Our yoga retreat will allow for a deeper knowledge of Venice, its canals, and neighboring islands.
We're so excited to offer this retreat during a unique time to visit this amazing city – as it's out of the main tourist season so you can get a deeper view into the local life, as well as a chance to ring in the new year in such a magical and inspiring place.
SARDINIA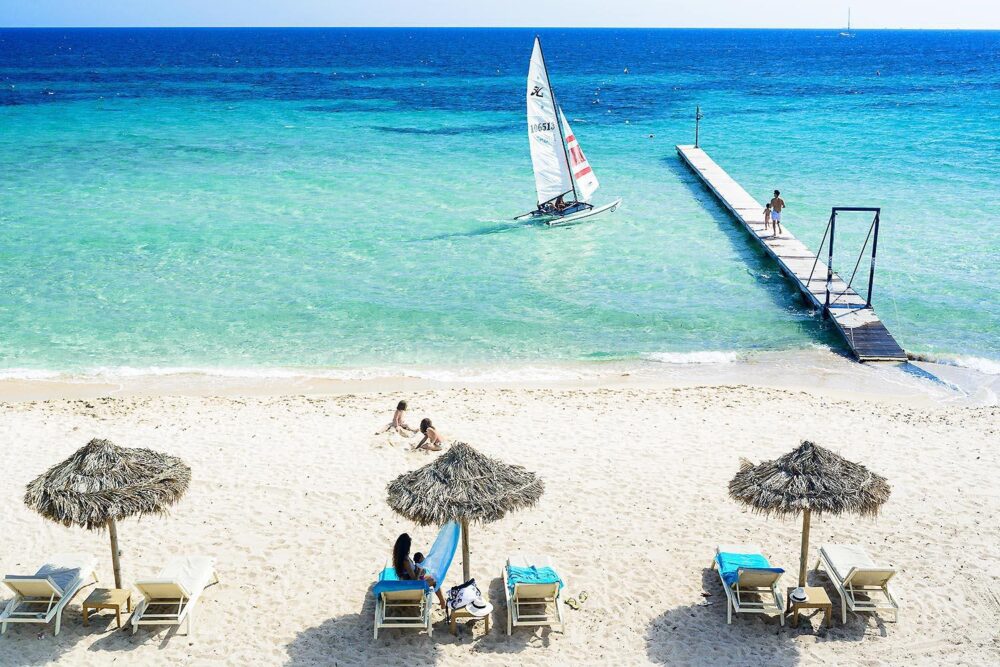 Developed in the 1980's when Forte Village Resort's medical team joined the Italian Thalassotherapy School, Aquaforte Spa's new approach to detoxification draws on the healing properties of seawater to restore and rebalance the body.
Beyond the Thalasso SPA and pools, Forte Village Resort's all-encompassing approach to health and fitness includes a Sports Medicine Centre, Cosmetic Medicine Centre and extensive offering of sport, training, spa therapies, healing treatments and personal counselling services.
Forte Village is known for having revolutionised the world of thalassotherapy, creating a totally original and extraordinarily effective method for detoxing, rejuvenating and improving the body.
The Acquaforte medical team offers tailor made wellness programmes plus a daily activity programme: Anti-Ageing, Thalasso Detox, Stay Healthy and Weight-loss.
The resort is set in 120 acres of beautiful gardens on the white sandy shores of the Mediterranean and sheltered by the mountains. Sardinia's sub-tropical climate enjoys 300 days of sunshine every year.
Luxury Hotels and Spa's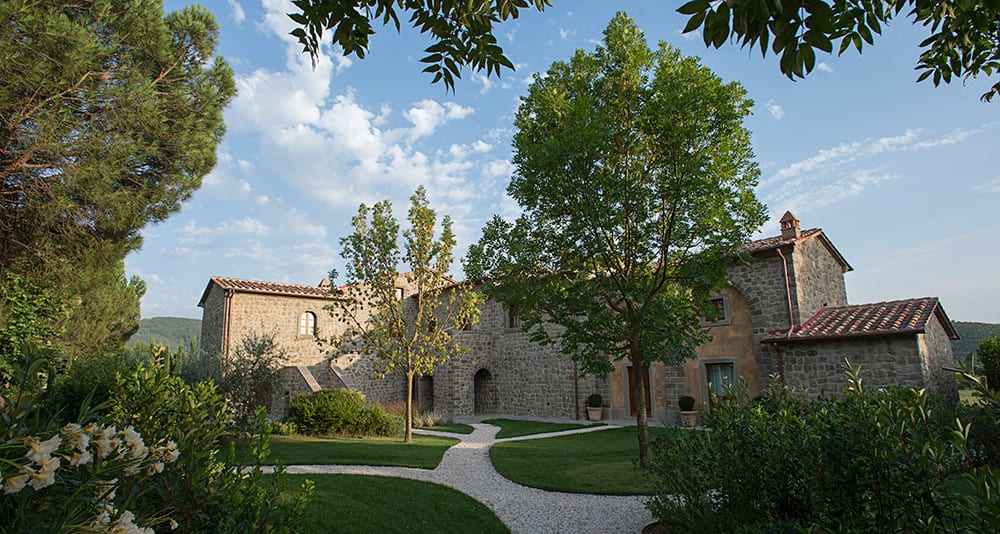 Situated just a few kilometres from Cortona in Tuscany, in a small valley surrounded by rolling hills, la Corte Relais is an oasis of peace and tranquillity and is perfect for those seeking both culture and tradition. You will be seduced by the traditional fine food and comforted by the elegance of this authentic Tuscan villa.
La Corte Relais is a country residence dating back to the 1700's where long-standing tradition and luxury are brought together to offer our guests the wonderful experience of wellness and relaxation.
Wellness facilities include deluxe spa suites, perfect for those who wish to relax and experience the luxurious and exclusive surroundings. The spa, that accommodates two guests, houses a crystal Turkish bath, a Jacuzzi and is equipped with four multi-sensory showers offering aromatherapy, chromotherapy and music therapy.
Read the latest reviews on Tripadvisor.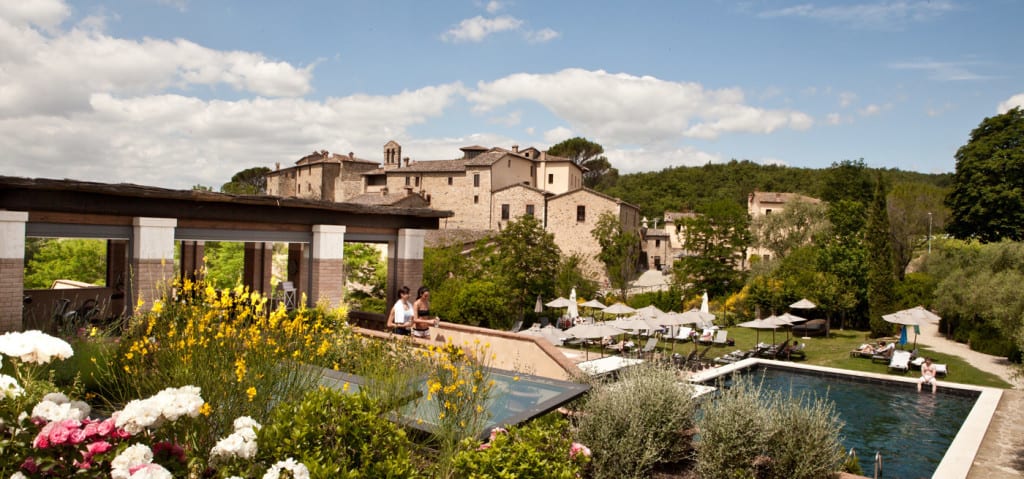 You are in the land of the Renaissance where proportion and balance are everything. Could there be a more beautiful and harmonious place to get back in shape, detox your body and rejuvenate yourself?
The splendid spa at the luxury hotel Castel Monastero in Tuscany is the perfect place for our retreat programs in weight loss, detox, yoga and meditation.
Complementing the retreat programs and enhancing their effect is the amazing "Aquae Monasterii" course with its high saline density sea oil pool, designed exclusively for our spa by the medical team of Thalasso del Forte, the spa at Forte Village, a World's Leading Resort since 1998.
But that's not all. In the healthy, peaceful setting of hills of the Chianti region, if you're looking for inner harmony, just close your eyes and inhale the warmth of the nature all around you. In the woods, the countryside and the wonderful garden around Castel Monastero you can listen to the messages that our bodies send us and be amazed by the renewal of energy and vitality.
A space to breathe in the deep sensation of wellness in an environment in which attention to detail and the professionalism of staff creates a unique and unrivalled harmony, immersed in the unspoilt nature of the Tuscan countryside. This is the starting point for wellness and the foundation of our Wellness philosophy.
Read the latest reviews on Tripadvisor.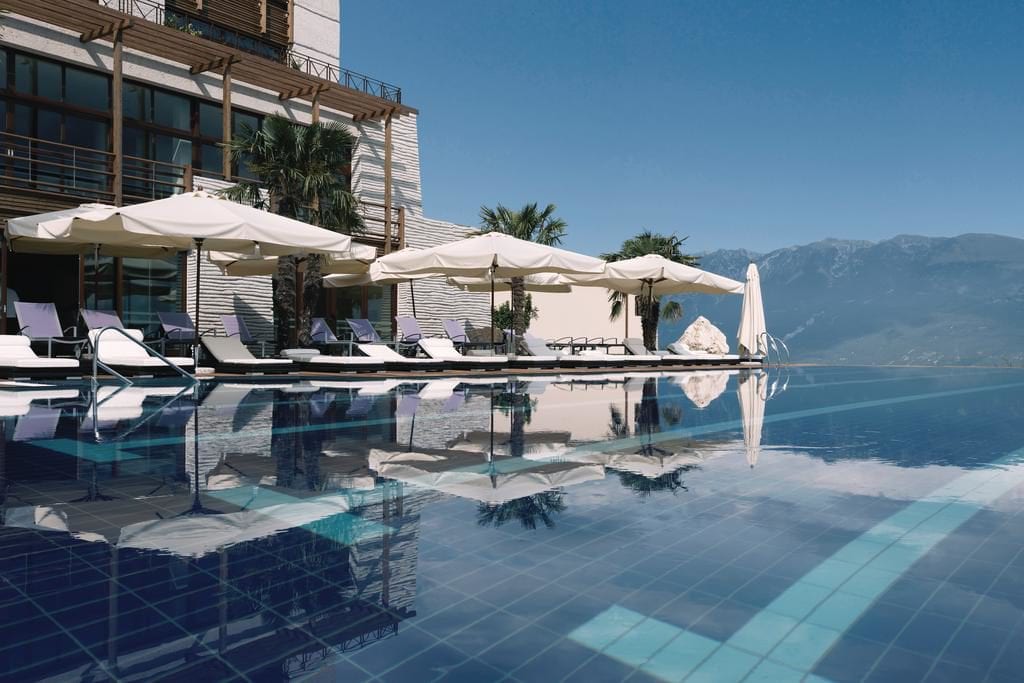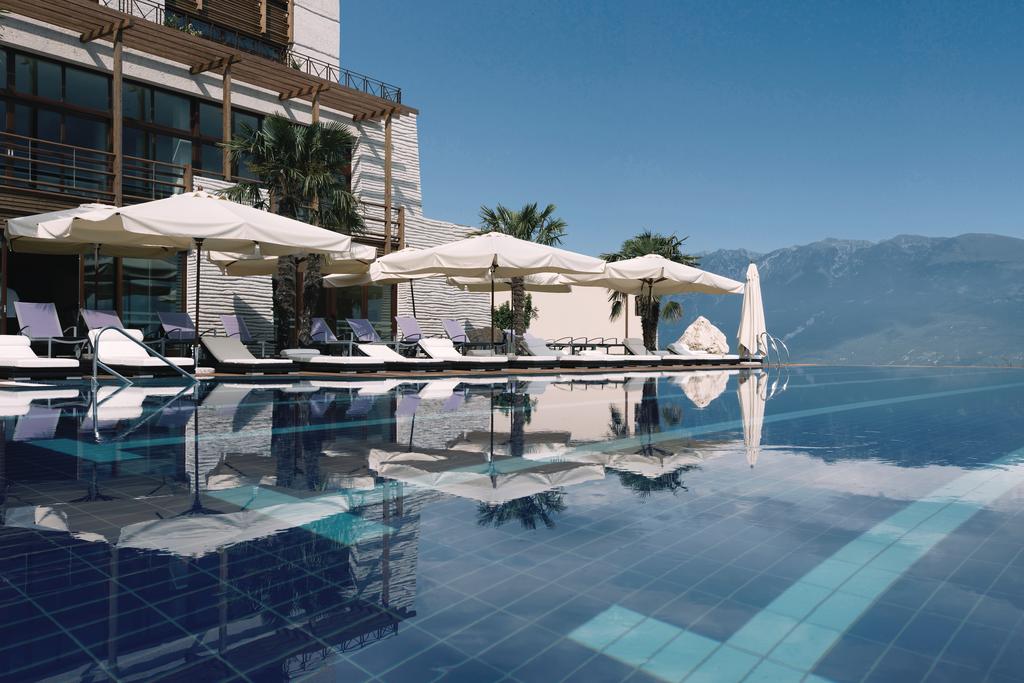 Lefay Resort is on the coast of Lake Garda in Gargnano, surrounded by hills and olive groves. It offers a wellness centre, panoramic views of the lake and free access to the spacious Mondo Lefay Spa, which also features indoor and outdoor pools.
An exclusive temple of wellness extending over 3,800 square metres, where body and soul are rejuvenated through the rediscovery of vital energy.
The infinity pool merges with the horizon, while the internal and external salt-water pool stretches into the park overlooking the lake together with the "Source Roccolino" whirlpool.
The water area is completed by the enticing indoor thalassotherapy pool "La Luna nel Lago". The Lefay SPA also features six different types of sauna and five relaxation areas to remove the stresses of everyday life.
They offer 3-5 day retreat packages where you can recover vital energy, and discover the holistic wellness philosophy according to the Lefay SPA Method principles.
The integral 5 night package is ideal for the full rebalancing and rejuvenation of body, mind and soul: a journey of rediscovery of a healthy and aware lifestyle.
Read the latest reviews on Tripadvisor.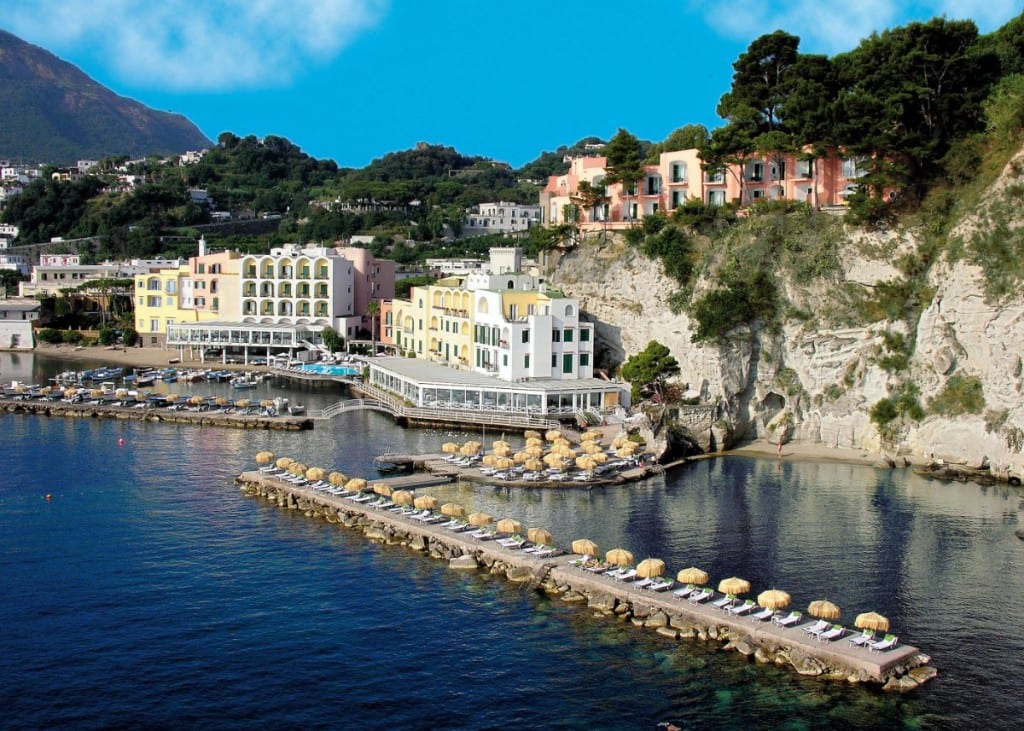 A unique choice in the world, where the natural environment and the tradition of hospitality come together in a magical mix and rejuvenating for the body, mind, and spirit.
The force of the sea and the virtues of hot springs, the solar affability of the hosts, the taste of Mediterranean cuisine and the search for healthy menu create harmony which gave the Regina Isabella hotel its undisputed prestige.
The thermal waters with ancient virtues and a top quality spa in the heart of the Mediterranean provide a rare combination that provides wellness for the body and soul, as well as beautiful Mediterranean scenery.
The Regina Isabella Thermal Baths are an ode to life and vitality, to a wellness that springs from the balance between body, mind and spirit.
Thanks to its history, the sea and its special volcanic nature, Ischia is a rare beauty and wellness legacy, an island that celebrates life with 103 thermal wellness springs and being the largest of the Neapolitan islands. The climate is mild all year round and visitors flock to the island to discover its natural beauty and to enjoy the thermal spas.
Read the latest reviews on Tripadvisor.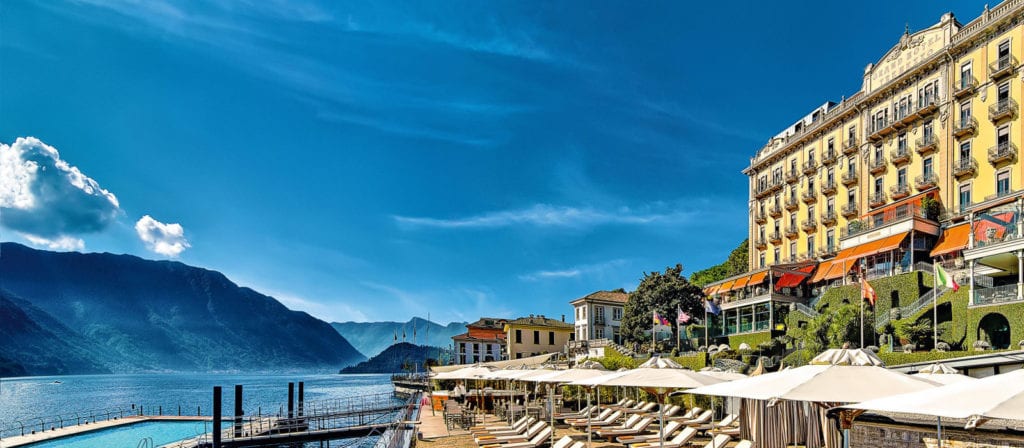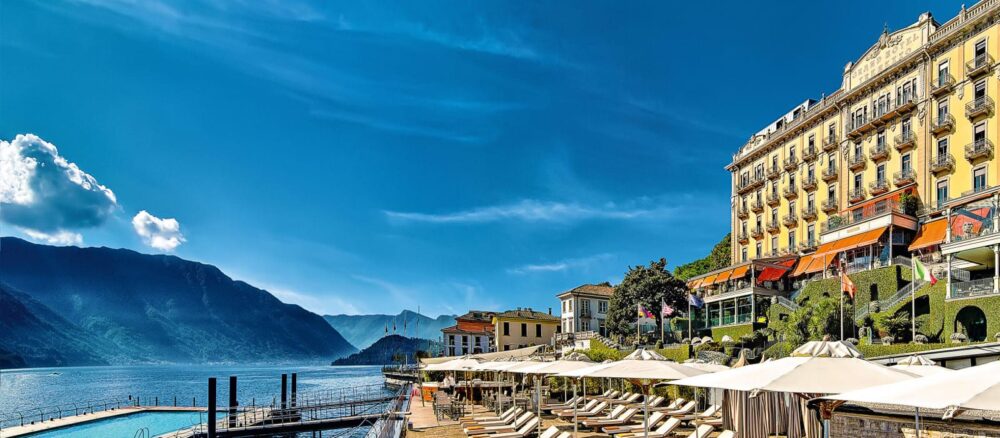 The Grand Hotel Tremezzo is one of the most beautiful and oldest luxury hotels on the shores of Lake Como. An authentic Art Nouveau palace, a 5-star hotel dating back to 1910 and decorated in a charming with original frescoes and antique furniture.
The TSPA Wellness Spa dedicates more than 1000 m2 to your relaxation and wellbeing, including a sauna, a relaxation lounge and an outdoor hot tub with panoramic views overlooking the lake.
Sports enthusiasts will appreciate the park's fitness room, tennis court and jogging trails. For treatments, guests are offered the care of one of the most exclusive and sought-after beauty lines in the world, ESPA.
Discover the best anti-stress, anti-ageing and rebalancing treatments, tailor-made to meet the demands of feminine and masculine beauty. All ESPA products are of natural origin and offer the best knowledge of the world, from Eastern tradition to European tradition.
 Read the latest reviews on Tripadvisor.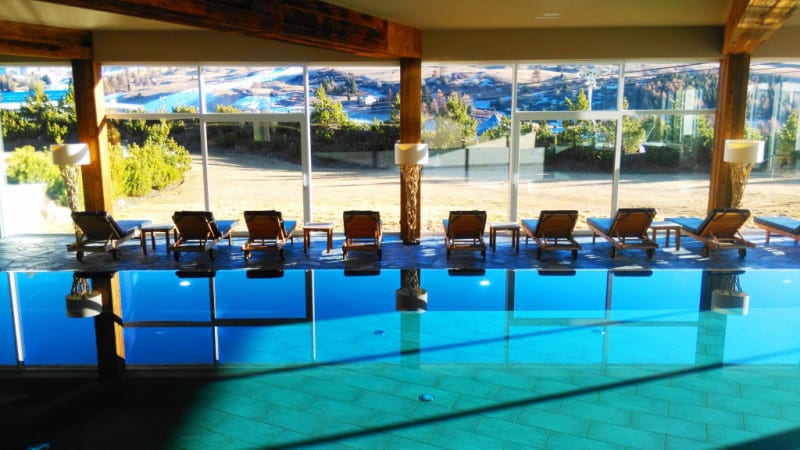 Enjoy a stay focused on nature and outdoor activities in a 5 star Hotel on the Alpe di Siusi – Seiser Alm in the Dolomites, Europe's most beautiful and largest high-altitude plateau. Surrounded by a unique natural setting and by a spectacular view of the Dolomites, a UNESCO World Natural Heritage site.
Designed according to an eco-friendly concept, and harmoniously integrated into the surrounding environment, the Alpina Dolomites offers a wide range of activities for sports and nature lovers, as well as refined hospitality and genuine expertise for vacations dedicated to overall wellbeing.
There is a wide choice of spa and wellness proposals mostly inspired by nature. Everything here is in keeping with the fascinating surrounding landscape.
The Alpina Spa is completely dedicated to improving your health and to strengthening your immune system and life energy, with a wide range of pleasurable and healthy treatments, holistic treatments, multiple-day personalised health and wellness programs, top quality cosmetic products and relaxing beauty treatments, whose benefits you'll feel for a long time, even when you're back at home.
A world of water, steam and aromas, encompassed in noble natural materials and surrounded by an extraordinary Alpine environment, is waiting for you for a truly unique sensorial experience.
Book through Soul Seed Travel to receive a complimentary gift such as a massage or airport pick up from our retreat partners. Sign up to our newsletter below and get £20 off your first booking.
Don' forget to follow our travel journeys on instagram @soulseedtravel and contact the team on retreats@soulseedmedia.com who will help you find your perfect retreat or wellness break in Italy.