The Best Retreats in Italy
Discover the best retreats in Italy in our guide featuring Tuscany, Florence, Sicily, Sardinia, the Amalfi Coast, Rome and Puglia. Practice, recharge, relax and have a post sivasana glass of chianti if you fancy!.
Book through Soul Seed Travel to receive a complimentary gift such as a massage or airport pick up from our retreat partners. Contact retreats@soulseedmedia.com to book.
TUSCANY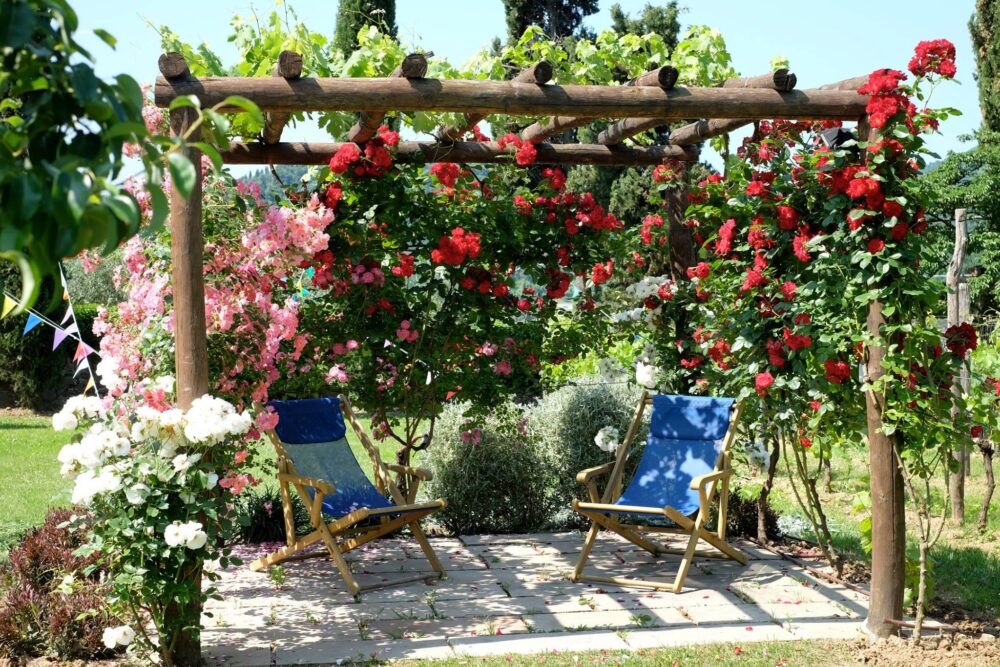 La Vita in Equilibrio takes us along the artisan's trail, uncovering the stories and secrets of this exuberant land for a week of yoga and self-discovery. Nestled in this lyrical landscape, and a short distance from the medieval city of Lucca, we find a true haven for relaxation, Villa Boccella — an immaculately restored 17th century Tuscan estate.
The path to creative awakening begins each morning in the Boccellina garden with our yoga and meditation class. Wake up to the sweet scent of jasmine with views of the Pizzorne mountains on the horizon.
Follow the enchanting trails that lead you past the wild thyme or simply bask by the pool, in the golden light of the afternoon. The focus of this retreat, is manifesting the muse within you!.
Expect a week of fully immersive experiences such as pasta making and silk weaving, as well as a visit to gleaming white marble quarries, as we follow in the footsteps of Michelangelo. In true Tuscan spirit, we frolic in vineyards, and taste our way through the delectable flavors of the region. The area around Lucca, is referred to as the 'green island of Tuscany'.
Here, we encounter baroque villas, magnificent palaces and charming gardens. When we are not exploring the local countryside, a host of creative workshops await. Tapping into personal archetypes, through mindful meditation, astrology, a series of arts and crafts activities, as well as blissful massage, we open ourselves to renewal and feel the energy flow.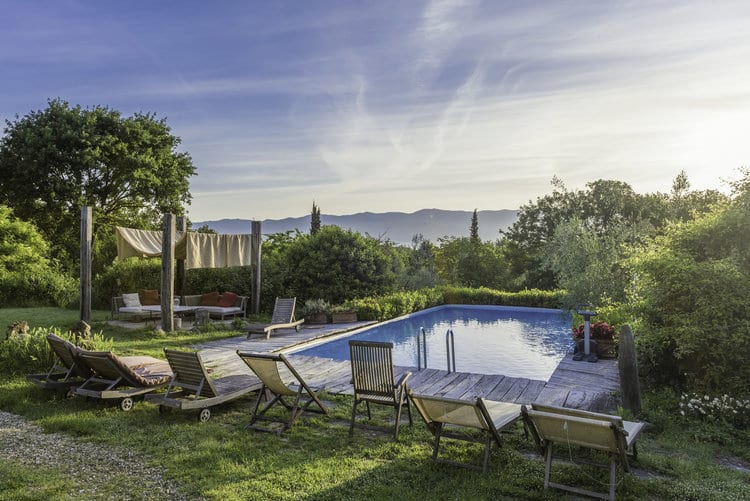 Join us for Gaia Gourmet in Tuscany! We have crafted a delicious week with cooking classes, wine & cheese tasting, truffle hunting, sight seeing, shopping, daily Yoga and more! All of our culinary delights and adventures have been curated by Chef Naga in alignment with our Gaia Gourmet philosophy. We have chosen foodie-focused excursions (everything is optional), and have also left some unstructured time for you to explore on your own or relax with some quiet moments on this beautiful property (massage services available).
We will journey to another Sanctuary in the Chianti region of Tuscany, the heart of the "Golden Triangle" between Senna, Arezzo and Florence; La Selva di Giordano. This magical property, overlooking the gentle slopes of the Arno valley, is a vast 32 acre natural garden of ancient oaks, olive groves, grape vines and overflowing meadows with indigenous wild flora and fauna. Similar to our beloved Sanctuary in Costa Rica, two flowing streams of water enhance the potent high vibration of the land. The totally restored 17th century farmhouse, two additional smaller villas, a spacious studio specifically for Yoga, four salt water swimming pools and an outdoor amphitheater are peacefully nestled into this healing environment, intertwined as if in symbiosis.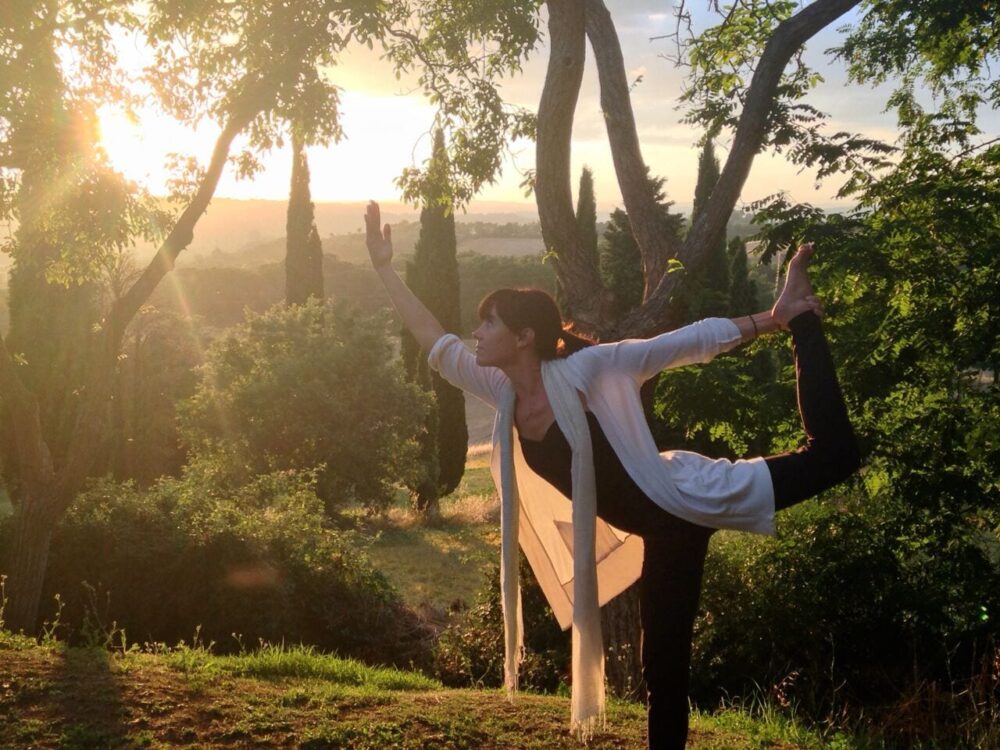 Besides a daily yoga class, we will also enjoy walks around the scenic Tuscan hills and a meditation walk will be included in the week as well. "FLAVORS".
We'll not only balance the week with the healthy "form" part of the retreat, but also with learning about and experiencing firsthand the amazing flavors of this region. Each day we'll be able to enjoy mouth-watering cuisine, as well as take part in tastings from wine and olive oil, to cheeses, gelato, and of course the Italian espresso.
From award-winning restaurants to family farms and kitchens, learning and enjoying the food will be an added bonus to working up an appetite during our classes and walks!.
Trips include visits to small villages, large cities, and outdoor activities, even a day at a unique "Sensorial" thermal spa where guests will enjoy a treatment "circuit" through thermal waters, aromatherapy, chromotherapy, and relaxation pods.
Julian and Erin will be your guides around the city, museums, and outlying walks. Enjoy seeing world famous works of art, as well as monuments, one-of-a-kind lookouts, and feeling the modern bustle of this compact city.
 ROME

Join us in the 'Eternal City' for a luxurious weekend yoga retreat in Rome. Picture velvet nights and candy coloured vespas zipping down cobblestone streets. Imagine coins tossed in fountains and taste melting mint gelato under a glistening sun. Envision yourself leaning over the balustrade of ancient bridges and peering into tiny osterias tucked into fragrant alleyways.
Perhaps Rome is an eternity, and so we are drawn to the one place where we can abandon ourselves to the art of il dolce far niente – the sweet pursuit of doing nothing.
It evokes in us a desire, a dream and a smile. "Take the whole day!" Joe Bradley said, to which Princess Anne, Hepburn's character replied: "I could do all the things I've always wanted." Well we say, take a few days! In May prepare to be enamoured as we take you on the ultimate all-inclusive Roman Holiday!.
Our home for our luxury yoga retreat in Rome will be the luxurious Donna Camilla Savelli Hotel, a baroque jewel that sits on the lush Janiculum hill. Built in the 17th century by famed architect Francesco Borromini this treasured dwelling was once a convent commissioned by a noblewoman.
History hides in every corner here – from Renaissance paintings to coffered ceilings, and antique wooden doors. Inviting us to take a break from the hurried life, is the stunning and secluded cloister, now a garden brimming with planted herbs and rose bushes.
While the terracotta rooftop terrace provides us with unparallelled views as we connect to the intimate expression of body and spirit during our morning meditation and yoga classes.
SICILY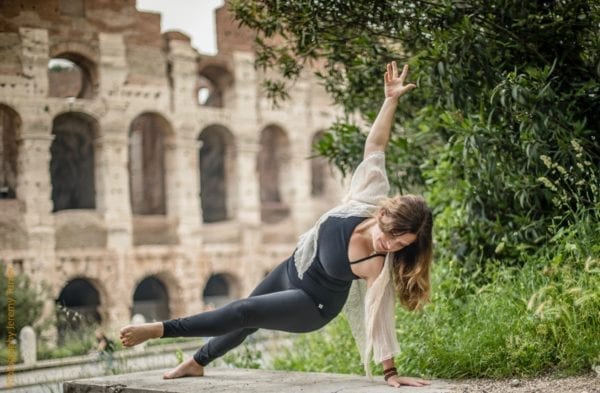 Our all inclusive city and sea yoga escape in Sicily begins in the vibrant and flamboyant city of Palermo. Famed for its storied past and street food culture, this is a city at the edge of Europe, at center of the ancient world. A place where Arabesqu rub shoulders with baroque churches, a place where fallen empires and faded frescos collide.
Staying in the heart of the old Souk markets, at the luxury boutique hotel Baglio San Giovanni we find ourselves in the lively centro storico wandering the labyrinthine streets, breathing in the dazzling aroma of spices, and savoring local delights.
We greet each morning with a guided meditation, followed by a yoga class focusing on the chakras to recharge the body's energy centres. Weather permitting, our morning practice will take place in the gardens of our Hotel.
Following this, we indulge in a café breakfast Sicilian-style, before taking some precious moments for riposare — the lovely Italian word for relaxation.
The rest of our days we spend in the ancient heart of Palermo, wandering the colourful markets with fruit stalls piled high resembling works of art, breathing in the dazzling aroma of spices, and savoring street food delights.
We take you on a tour, exploring the aphrodisiac properties of Sicilian spezzi and enjoy a cooking class with a local chef, who will share culinary secrets passed down from generations. We lunch and dine at restaurants serving local specialties sure to captivate the senses.
In Sicilian cuisine we find a tradition of flavourful simplicity — and like an artist's palette, it is a delicious testimony to the intricate tapestry of cultures that settled here.
This escape is open to singles and couples of all levels of yoga, and every walk of life. For anyone interested in the mind-opening experiences inspired by yoga, meditation and travel, as well as a love of Italy and it's food and culture, then this is the retreat for you!.
PUGLIA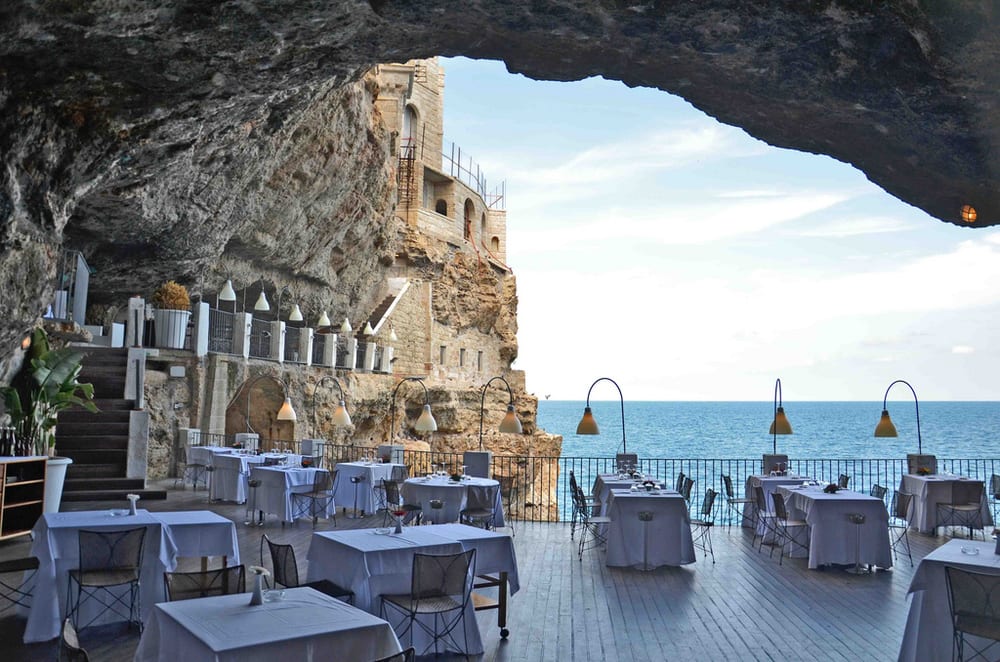 Join us for our annual Luxury Yoga Retreat in Puglia, and discover this "it list" region of Italy's rural heel. This wonderful retreat will enable us to experience the landscapes and activities of this incredible rising star of Italy.
Besides daily yoga classes, our new MOVE+MANIFEST retreats offers a series of mindful workshops that will guide you in the exploration of creative self-expression in your life. We will have meaningful discussions and fun activities intended to help you tap into your own inner wisdom and heartfelt desires.
And between the beauty and serenity of Puglia alongside the sea and ancient olive trees, the atmosphere will surely ignite your being with an energy perfect for the creative process.
We will tour through Puglia's famous trulli; cone shaped houses in the town of Alberobello, a UNESCO world heritage site. After walking around the town and enjoying a delicious tasting lunch, we will make our way back to the stunning Masseria Fumarola, an ancient farmstead that will be our home for the week.
There will also be a relaxed day at the beach where we will explore the incredible coastal part of the region, followed up with an amazing and unique dining experience in a cliffside grotto. In this open cavern, we will eat while looking down upon the sea at Polignano al Mare, one of the most picturesque villages of Puglia.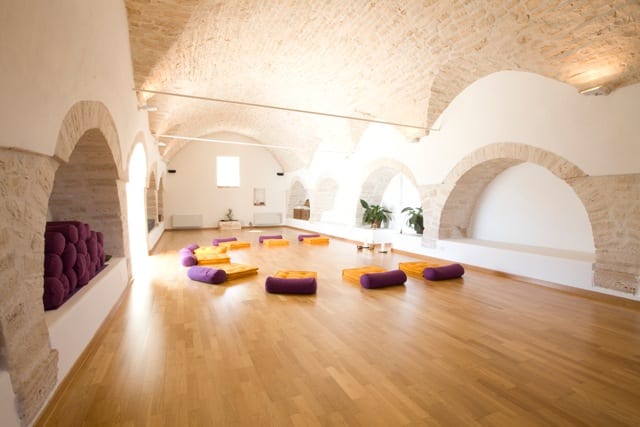 Come shed old layers, renew and rejuvenate to prepare for Autumn. This weeks program has a strong foundation in asana, meditation, and journaling.
We will be staying at La Rosa dei 4 Venti (formerly known as Santa Maria del Sole), a charming, family run yoga retreat set in an elegantly restored 16th century masseria (a traditional farmhouse found in the Puglia region). Our idyllic estate features stunning architecture, a beautiful pool, perfect yoga space and pathways to the neighboring forest.
Prepare to immerse yourself in simple Italian pleasures, extremely healthy and alkalising food, and a yoga program designed to recalibrate you. The yoga Studio at La Rosa is a beautifully converted 18th century barn situated in a peaceful part of the property. The hard wood floor and traditional stone, arched, white walls are designed to keep the room cool during the warm months as well offering space for guests to move through sequences uninterrupted. This retreat is open to everyone, suitable for both beginners and more advanced practitioners.
FLORENCE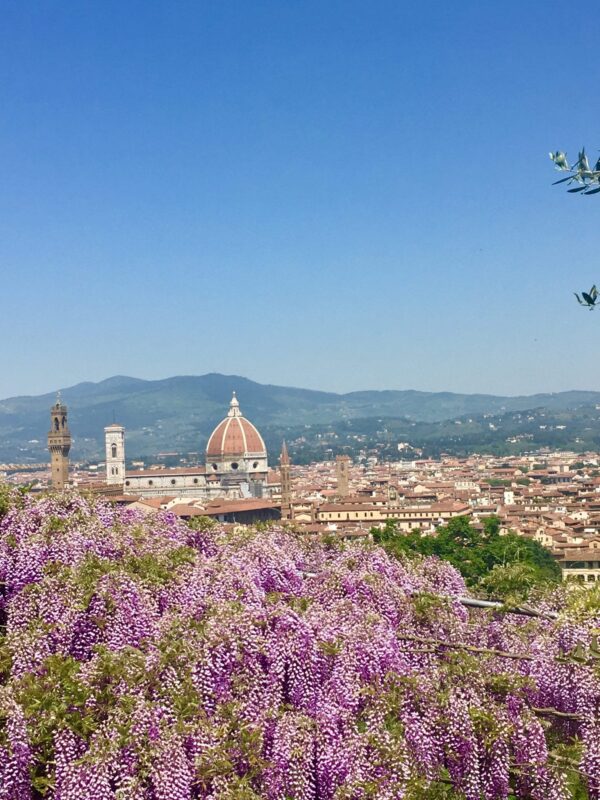 The Italian Renaissance Luxury Yoga Retreat Florence has been a long time coming seeing as I've lived here for for nearly 4 years and have passionately vetted out all the best restaurants, museums, shops, gelato stores, bars, produce stands, wine stores…well you get the picture. I LOVE Tuscany and have fully embraced the culture and way of life here.
This retreat is born from this passion for the city and the breathtaking country surrounding it. I'm delighted to put together an itinerary that reflects my deep appreciation for Italian lifestyle including the arts, Florentine history, family-owned restaurants, cheese and wine farms, music, the natural beauty, the small town charm, and the medieval influence.
Picture yourself being transported to the Italian Renaissance through exceptional cultural and historical experiences, inspiring and igniting your own personal renaissance within.
By joining this retreat you participate in our Conscious Traveler Initiative, where we donate a portion of the profits to a local non-profit organization that directly supports the improvement of conditions for people, animals or the environment in the area we visit. For this location, we have chosen the organization Nosotros.
This intercultural women's association helps foreign-born women find their footing in Italy. Working with healthcare professionals, university professors, and linguistic and cultural mediators, the association provides training on topics linked to racial and gender-based discrimination and violence and challenges related to multiculturalism.
We will be staying at a luxury hotel in the best possible location in all of Florence. This hotel comprises a historic tower on the most beautiful street in the city, Via Tornabuoni.
SARDINIA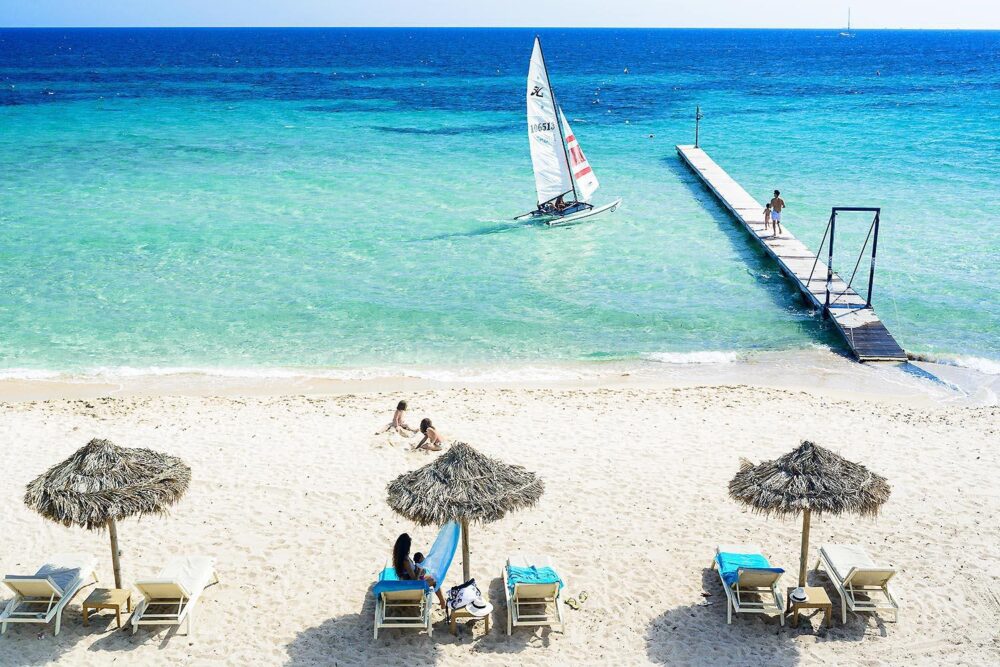 Developed in the 1980's when Forte Village Resort's medical team joined the Italian Thalassotherapy School, Aquaforte Spa's new approach to detoxification draws on the healing properties of seawater to restore and rebalance the body.
Beyond the Thalasso SPA and pools, Forte Village Resort's all-encompassing approach to health and fitness includes a Sports Medicine Centre, Cosmetic Medicine Centre and extensive offering of sport, training, spa therapies, healing treatments and personal counseling services. Forte Village is known for having revolutionised the world of thalassotherapy, creating a totally original and extraordinarily effective method for detoxing, rejuvenating and improving the body.
The resort is set in 120 acres of beautiful gardens on the white sandy shores of the Mediterranean and sheltered by the mountains, Sardinia's sub-tropical climate enjoys 300 days of sunshine every year. The Acquaforte medical team offers tailor made wellness programmes plus a daily activity programme: Anti-Ageing, Thalasso Detox, Stay Healthy and Weight-loss.
A trip to Italy would not be complete without visiting Venice. For a comprehensive guide to Venice covering when is the best time to go, how to get there and around, things to do, wonderful museums, places to stay, restaurants and bars and essential things you should know for your stay in the lagoon city, read this article from suitcase and wanderlust.
Luxury Hotels and Spa's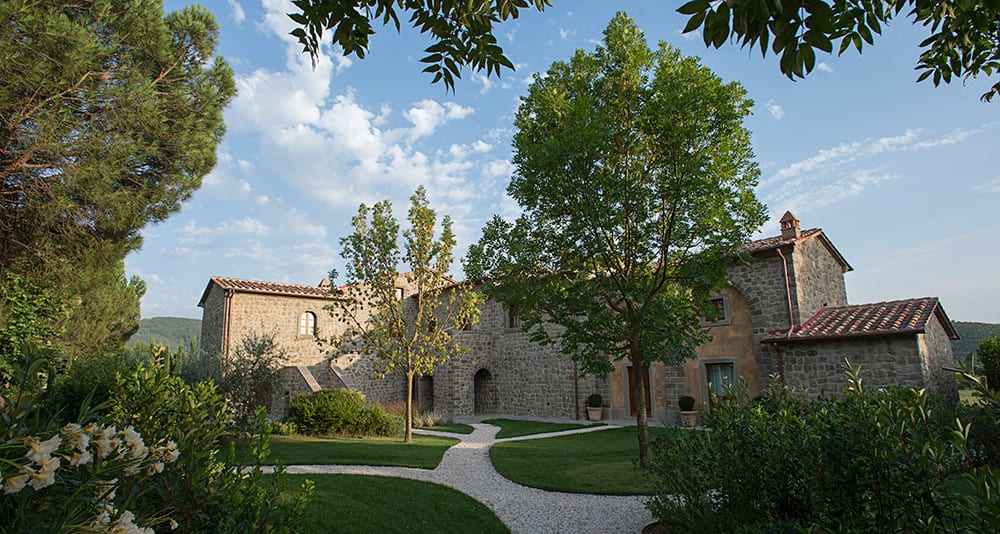 Situated just a few kilometres from Cortona in Tuscany, in a small valley surrounded by rolling hills, la Corte Relais is an oasis of peace and tranquillity and is perfect for those seeking both culture and tradition. You will be seduced by the traditional fine food and comforted by the elegance of this authentic Tuscan villa.
La Corte Relais is a country residence dating back to the 1700's where long-standing tradition and luxury are brought together to offer our guests the wonderful experience of wellness and relaxation.
Beautiful suites enhance the feeling of wellbeing. With an excellent restaurant and warm and genuine Tuscan hospitality, your stay will be completely unforgettable. This country residence is owned by the Papi family and has remained in the family for many generations. Most recently restored with love and respect by David and his mother Gabriella, original features have been maintained and well preserved.
Wellness facilities include deluxe spa suites, perfect for those who wish to relax and experience the luxurious and exclusive surroundings. The spa, that accommodates two guests, houses a crystal Turkish bath, a Jacuzzi and is equipped with four multi-sensory showers offering aromatherapy, chromotherapy and music therapy.
Read the latest reviews on Tripadvisor.
Castel Monastero Spa Hotel, Tuscany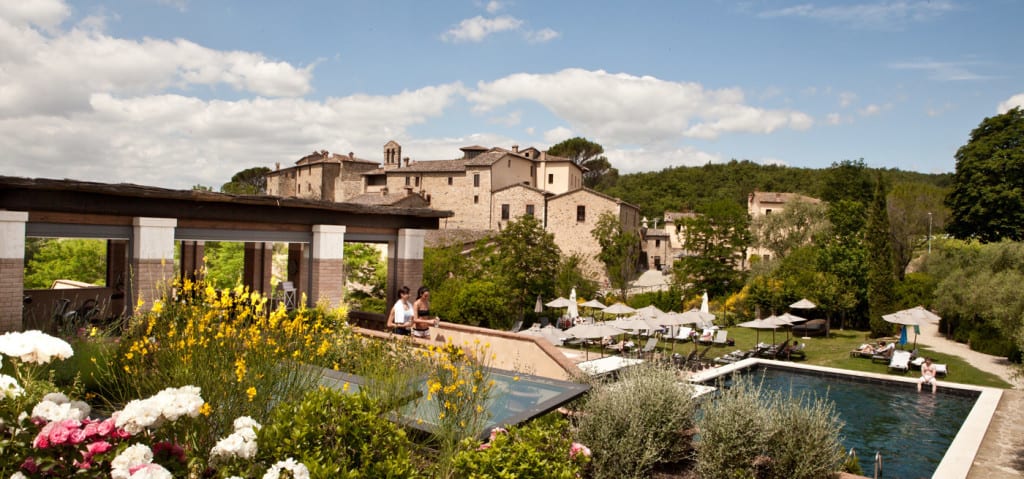 You are in the land of the Renaissance where proportion and balance are everything. Could there be a more beautiful and harmonious place to get back in shape, detox your body and rejuvenate yourself? The splendid spa at the luxury hotel Castel Monastero in Tuscany is the perfect place for our retreat programs in weight loss, detox, yoga and meditation.
Complementing the retreat programs and enhancing their effect is the amazing "Aquae Monasterii" course with its high saline density sea oil pool, designed exclusively for our spa by the medical team of Thalasso del Forte, the spa at Forte Village, a World's Leading Resort since 1998. But that's not all. In the healthy, peaceful setting of hills of the Chianti region, if you're looking for inner harmony, just close your eyes and inhale the warmth of the nature all around you. In the woods, the countryside and the wonderful garden around Castel Monastero you can listen to the messages that our bodies send us and be amazed by the renewal of energy and vitality. A space to breathe in the deep sensation of wellness in an environment in which attention to detail and the professionalism of staff creates a unique and unrivalled harmony, immersed in the unspoilt nature of the Tuscan countryside. This is the starting point for wellness and the foundation of our Wellness philosophy.
All the dietary menus in the program have been designed and developed by the internationally renowned chef Gordon Ramsay, who also created the menu of the Contrada restaurant for Castel Monastero. Come and discover one of the most beautiful stretches of countryside in Italy among the Chianti vines, corn fields, chestnut forests and long rows of cypress trees: this is the Tuscany of the Ombrone Valley – a land blessed with masterpieces of painting and food and the greatest, unparalleled art of knowing how to live life.
Read the latest reviews on Tripadvisor.
Lefay Resort & Spa Lago Di Garda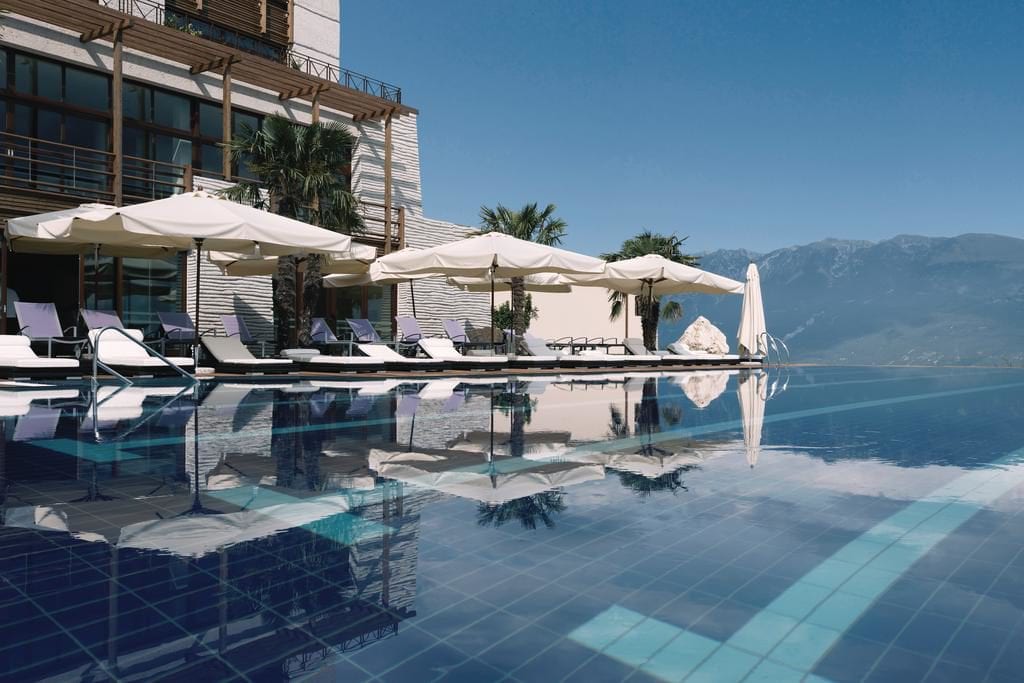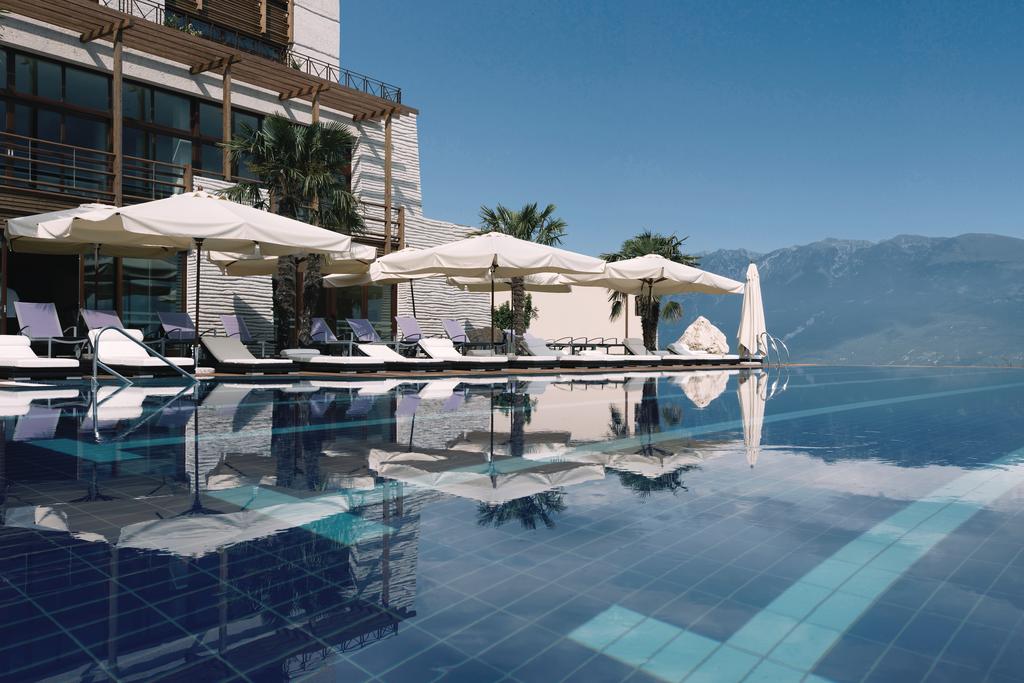 Lefay Resort is on the coast of Lake Garda in Gargnano, surrounded by hills and olive groves. It offers a wellness centre, panoramic views of the lake and free access to the spacious Mondo Lefay Spa, which also features indoor and outdoor pools.
An exclusive temple of wellness extending over 3,800 square metres, where body and soul are rejuvenated through the rediscovery of vital energy. The Infinity pool merges with the horizon, while the internal and external salt-water pool stretches into the park overlooking the lake together with the "Source Roccolino" whirlpool. The water area is completed by the enticing indoor thalassotherapy pool "La Luna nel Lago". The Lefay SPA also features six different types of sauna and five relaxation areas to remove the stresses of everyday life.
The activities which are integral to the Lefay SPA Method, are held amongst the age-old trees and Mediterranean shrubs. Directly overlooking the lake, the Resort's large park comprises a running circuit, a fitness trail with eight stations to improve muscle elasticity and the therapeutic energy garden, consisting of five stations associated with ancient symbols and meanings. They offer 3-5 retreat packages ranging from the discovery 3 day package, 4 day Essence packages where you can experience to recover vital energy and discover the holistic wellness philosophy that extends to every moment of the holiday and ways to find a balance and remove the chaotic pace of everyday life that strain the body, according to the Lefay SPA Method principles. The integral 5 night package is for the full rebalancing and rejuvenation of body, mind and soul: a journey of rediscovery of a healthy and aware lifestyle.
Read the latest reviews on Tripadvisor.
L'Abergo della Regina Isabella Resort and Health Spa, Ischia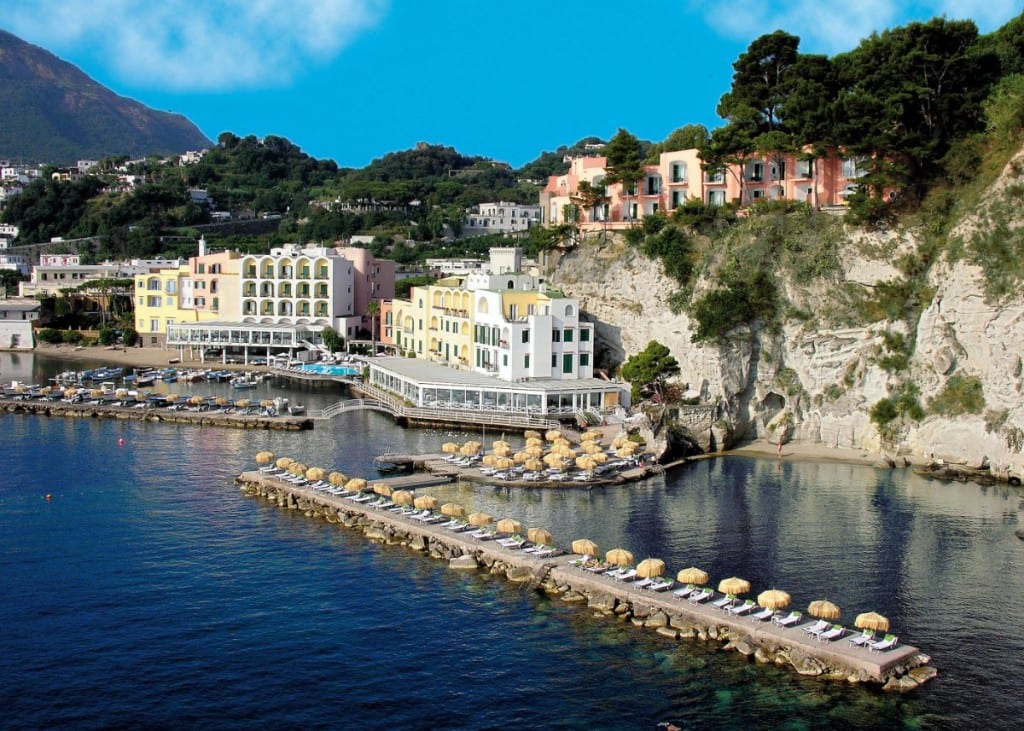 A unique choice in the world, where the natural environment and the tradition of hospitality come together in a magical mix and rejuvenating for the body, mind, and spirit. The force of the sea and the virtues of hot springs, the solar affability of the hosts, the taste of Mediterranean cuisine and the search for healthy menu create harmony which gave the Regina Isabella hotel its undisputed prestige. Plus, with the hotels participation in the artistic and cultural events of the island, it offers guests charming moments and emotions in every season. It was thanks to the foresight and commitment of Angelo Rizzoli, that in the '50s, arose the Regina Isabella hotel. The famous publisher and film producer, enchanted by the place and traditions of the thermal baths, he created the current spa hotel on the homonymous ancient Greek-roman ruins.
The thermal waters with ancient virtues and a top quality spa in the heart of the Mediterranean provide a rare combination that provides wellness for the body and soul, as well as beautiful Mediterranean scenery. The Regina Isabella Thermal Baths are an ode to life and vitality, to a wellness that springs from the balance between body, mind and spirit. The regenerating properties of the multi-active waters are skillfully enhanced by constant and careful scientific research. On the same wavelength with the hotel philosophy, tell us about your lifestyle and with the help of our medical staff, we'll find the best program suitable for you, tuned to our parameters and your desires.
Thanks to its history, the sea and its special volcanic nature, Ischia is a rare beauty and wellness legacy, an island that celebrates life with 103 thermal wellness springs and being the largest of the Neapolitan islands. The climate is mild all year round and visitors flock to the island to discover its natural beauty and to enjoy the thermal spas.
Read the latest reviews on Tripadvisor.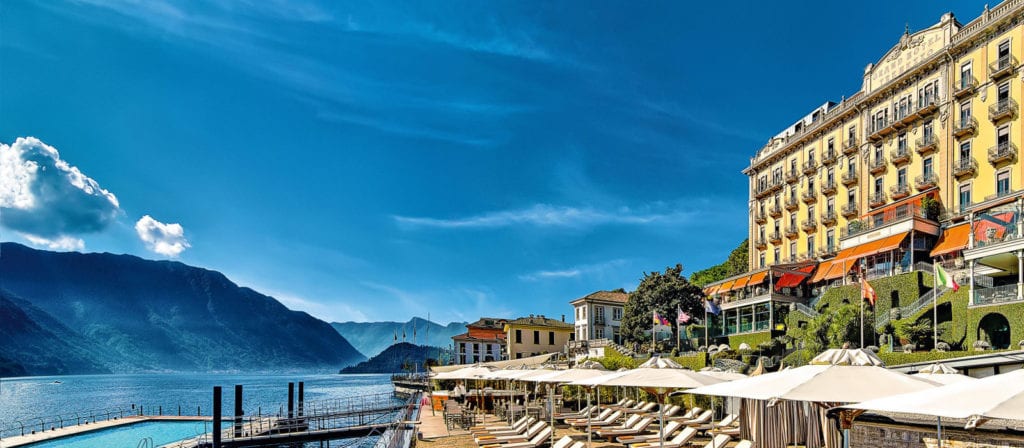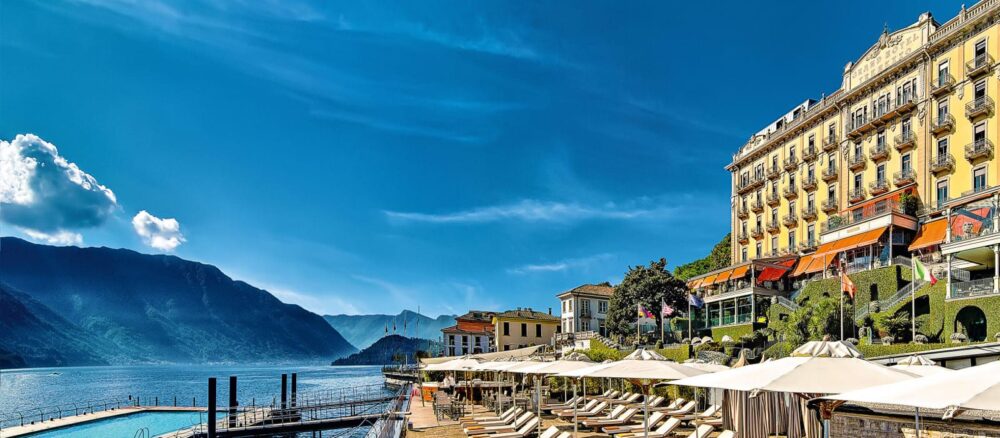 The Grand Hotel Tremezzo is one of the most beautiful and oldest luxury hotels on the shores of Lake Como. An authentic Art Nouveau palace, a 5-star hotel dating back to 1910 and decorated in a charming with original frescoes and antique furniture.
The TSPA Wellness Spa dedicates more than 1000 m2 to your relaxation and well-being, including a sauna, a relaxation lounge and an outdoor hot tub with panaromic views overlooking the lake. Sports enthusiasts will appreciate the park's fitness room, tennis court and jogging trails. For treatments, guests are offered the care of one of the most exclusive and sought-after beauty lines in the world, ESPA. Discover the best anti-stress, anti-aging and rebalancing treatments, tailor-made to meet the demands of feminine and masculine beauty. All ESPA products are of natural origin and offer the best knowledge of the world, from Eastern tradition to European tradition.
 Read the latest reviews on Tripadvisor.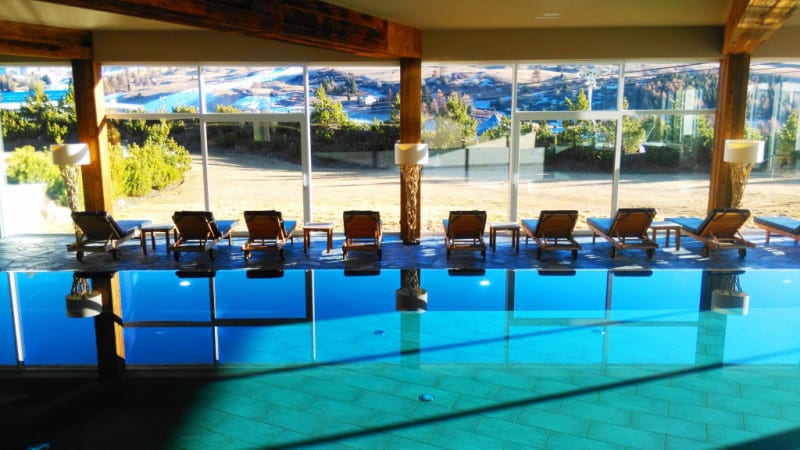 Enjoy a stay focused on nature and outdoor activities in a 5 star Hotel on the Alpe di Siusi – Seiser Alm in the Dolomites, Europe's most beautiful and largest high-altitude plateau, surrounded by a unique natural setting and by a spectacular view of the Dolomites, a UNESCO World Natural Heritage site.
Designed according to an eco-friendly concept, and harmoniously integrated into the surrounding environment, the Alpina Dolomites offers a wide range of activities for sports and nature lovers, as well as refined hospitality and genuine expertise for vacations dedicated to overall wellbeing.
There is a wide choice of spa and wellness proposals mostly inspired by nature. Everything here is in keeping with the fascinating surrounding landscape. The Alpina Spa is completely dedicated to improving your health and to strengthening your immune system and life energy, with a wide range of pleasurable and healthy treatments, holistic treatments, multiple-day personalised health and wellness programs, top quality cosmetic products and relaxing beauty treatments, whose benefits you'll feel for a long time, even when you're back at home.
A world of water, steam and aromas, encompassed in noble natural materials and surrounded by an extraordinary Alpine environment, is waiting for you for a truly unique sensorial experience.
Don' forget to follow our travel journeys on instagram @soulseedtravel and contact the team on retreats@soulseedmedia.com who will help you find your perfect retreat or wellness break in Italy.