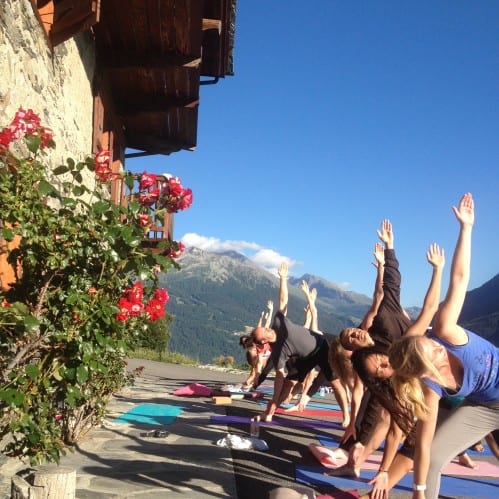 According to the United Nations World Tourism Organisation, over 80 million people travel to France every year. People from all over the world are drawn to France's sophisticated culture, heritage sites, delicious wine, sheer diversity, mountain range and charming little towns. It's time to discover some of the gems of this country with our recommended yoga and wellness retreats in France.
Join us in the beautiful French Alps for an alpine yoga and hiking holiday adventure. After touring around the French Alps, we love hiking in this area. With so many routes to choose from and breathtaking views, you won't want to go home! Stay in our beautiful rustic Chalet style accommodation nestled on the mountainside surrounded by alpine pastures. Start and end the day with yoga to stretch out your hiking limbs, and soothe them with a sauna and hot tub, or treat yourself to a massage. We have been running these alpine adventures since 2008 and have worked out the perfect formula for your active relaxation.
Step out of the chalet and the mountain trails are yours for the picking. If you've not visited the French Alps in the summer time, you're in for a treat. As the winter snow melts away in the spring, the mountains take on their summer mantle of bright green grass and colourful alpine flowers. The views are equally as spectacular in the summer as they are in the winter.
After a long walk reward yourself with a swim to cool off in a refreshing glacial lake. There are so many hikes to choose from, at blue, red or black levels. Enjoy views of Mont Blanc in the distance. If you feel like a day off from walking why not try paragliding or white water rafting, or enjoy the Olympic sized pool in Bourg St Maurice. Or simply relax in the garden of the chalet and catch some sun whilst enjoying a good book.
A 5 day retreat at award winning Yobaba Lounge to re-establish a rich, soulful connection to your yoga and meditation practice. Located in a picturesque medieval village in the southern French Pyrenees, the house feels like a temple, the rooms are large and stylish.
The gourmet vegan food has been described as sensational, outrageous, alchemical, the best ever, and more. It is often raw, always free from dairy, meats, gluten, and sugar. The food supports the practice and quickly rebalances digestion. Retreat facilitator Gertrud shares her practice of Embodied Meditation, which is the yoga of breath, mindfulness and movement. Without excessive effort, the practice strengthens your core, legs and hips, tones your parasympathetic nervous system and sets alight your inner space.
There will be periods of free time each day, which gives you opportunity to just relax in the walled garden, pamper yourself or explore wild swimming in nearby lakes and rivers. You will be held within a clear daily structure. The Yobaba Lounge team will look after all your practical needs whilst you let go and spend time with your self. Our retreats include periods of delicious silence (until mid-day each day) to help you reflect and integrate what arises during practice. The retreat is intended for all those in need of rejuvenation, rest and relaxation, and those who are seeking a more mystical connection to their existing yoga and meditation practice. Nevertheless, it is suitable for beginners or those already proficient in either yoga or meditation.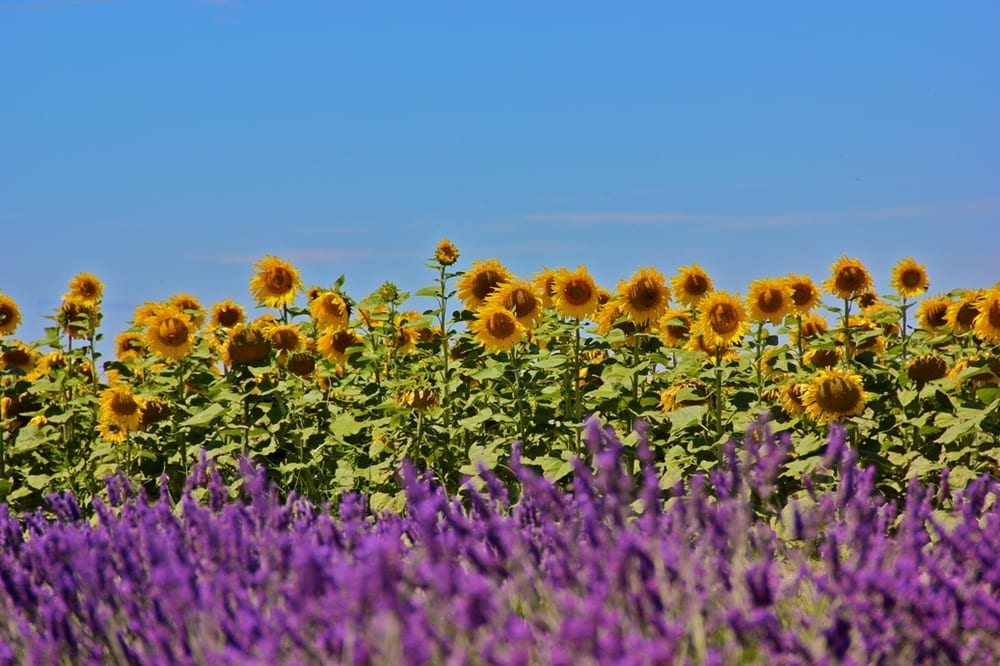 Join us in the chic south of France during lavender season. Enjoy daily yoga, day trips, amazing tastings, and scenes of the beautiful Cote d'Azur! Bastide Avellanne is the ideal location to visit Provence. Situated only 30 minutes from the sea and from the Cote D'Azur between Cannes, St Tropez and Hyeres, with its hundreds of kilometers of white beaches, rocky capes and wild bays is considered the most beautiful coastline of France – 300 kilometers of coast accompanying the Mediterranean Sea, white sandy beaches, a preserved landscape, protected islands and famous locations renowned worldwide. It looks just as you see in postcards, fields of lavender, medieval villages, chateaux, markets full of colours where you can find local products and exotic spices, lively small towns with a slow way of life.
Day trips will allow guests to add arts, culture, adventure, and natural beauty to their retreat experience. Trips may include visits to small villages, large cities, and outdoor activities, even a gorgeous spa day in near the Cote D'Azur where guests can swim, enjoy a healthy lunch, schedule spa treatments, or simply enjoy the sun. See smaller villages that few tourists go, and get a true education and taste of France with various tastings of regional wines, aperitifs and cheese.
For a more luxurious experience we recommend these Resorts & Spa Hotels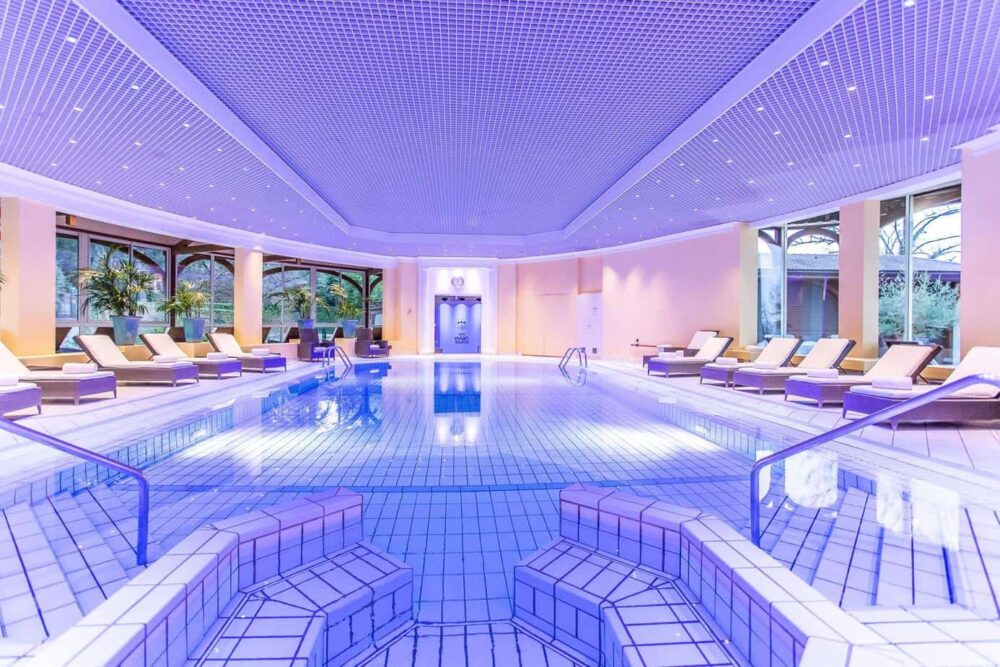 The Evian Resort has drawn inspiration from the rich natural surroundings on Lake Geneva to create the "Yoga Season Experience" and bring you exclusive weekend breaks. The 5-star Hôtel Royal Palace located in a unique setting between lake and mountains is the ideal spot for you to reconnect with yourself and with nature, in the very place where Evian water springs forth.
These exclusive yoga weekends have been designed so that you can reconnect with your inner nature as the seasons change. Yoga sessions, spa therapies, vegetarian cuisine, mindfulness walks… Everything has been studied down to the last detail to harmonise with the rhythm of the solstices and equinoxes.
We want to offer you a place where time recovers its natural rhythm. Where our humanity is in harmony with how we truly are. During this mini escape from time, the frenzy of action is replaced by mindful contemplation. These tailor-made weekends have been put together by our spa therapists, experts in harnessing energy flows and our executive chefs, in collaboration with Julien Levy, an iconic figure in the field of yoga and well-being.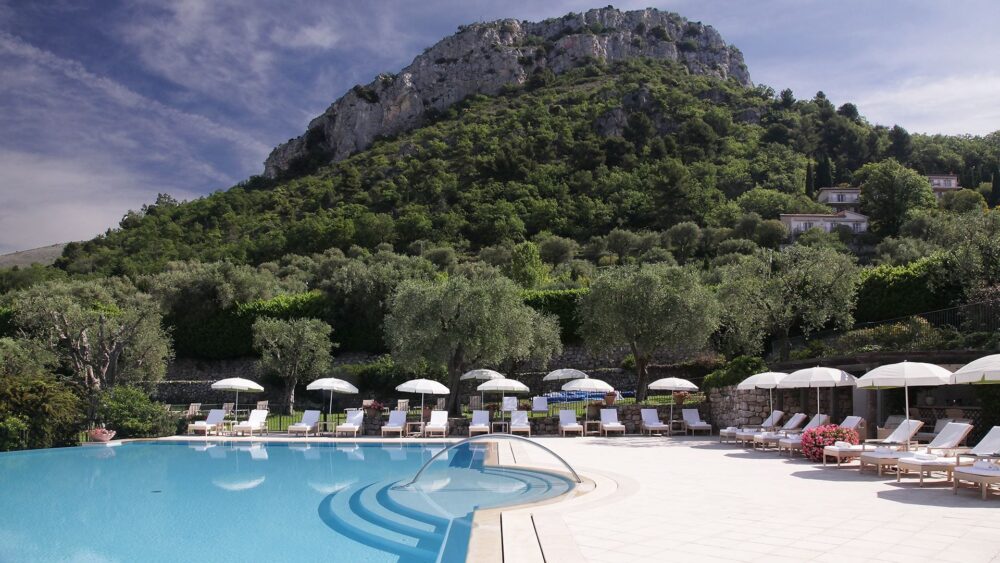 The Château Saint-Martin & Spa is a 5-star luxury sanctuary where historic Provence charm has been restyled for the most elegant contemporary lifestyle. Set amid picturesque rocky hills and olive groves, this inspirational hotel is distinguished by spectacular panoramic views of both the blue Mediterranean and the imposing Southern Alps.
Voted "Best luxury Spa destination in Europe" in the World Luxury Spa Awards, our spa partner is La Prairie, whose eternal quest for youthful beauty based on scientific innovation, splendid ingredients and luxurious experience is a perfect fit with our clients' expectations. Our spa has four elegant treatment rooms infused with natural daylight and fresh Provencal air, one is designed for couples and has a private Sweet Spa Crystal sauna, experience shower and steam room. Treatments are also performed in the hotel's gardens beneath a romantic flower strewn gazebo. The Spa also has a beauty room.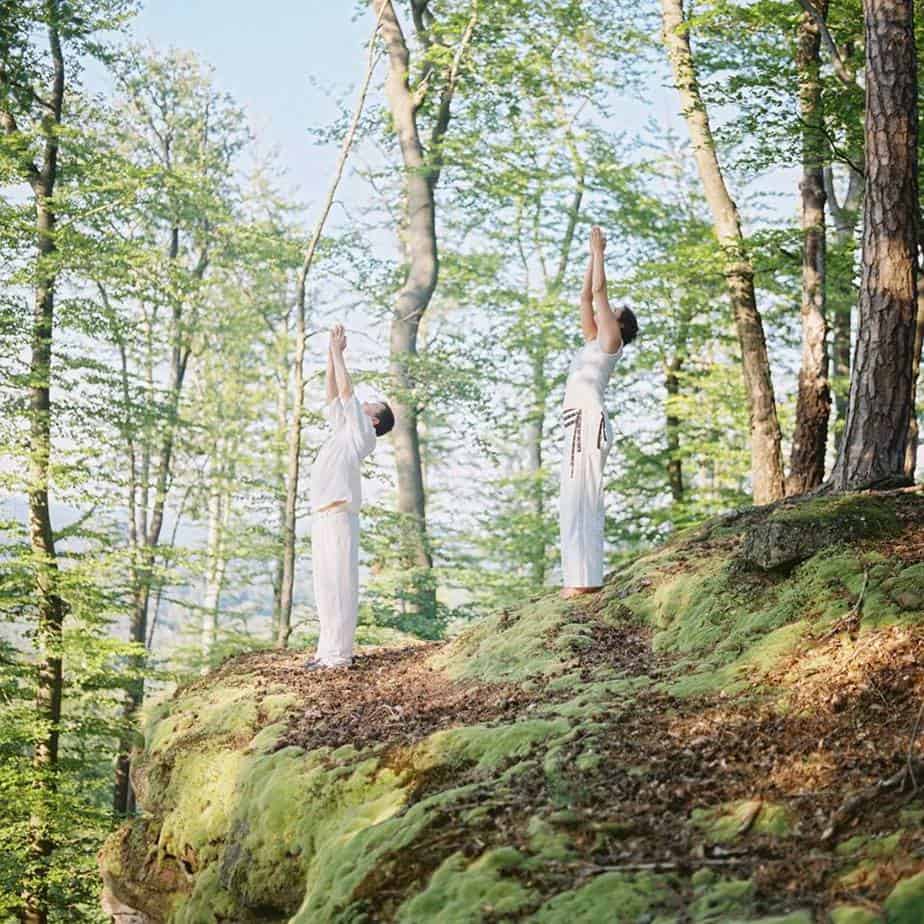 Set in the forests of Alsace, La Clairière is in complete harmony with its sylvan surroundings. The environment boosts your energy levels, helps recharge your batteries and inpires you to adopt a healthier lifestyle.
La Clairière espouses an approach of overall well-being, achieved through a combination of holistic treatments, energising, organic cuisine, and the aura of an exceptionally beautiful natural environment.
The Yoga in the forest program offers private one-to-one yoga sessions with customised instruction along with complementary treatments. This personal yoga and wellness retreat is suitable for beginners and experienced yogis alike, as the daily yoga sessions are tailored to the individual's skill level and goals.
The customised instruction includes asana (physical postures), pranayama (breathing) and meditation. Instruction can be adapted to fulfill a range of goals, such as addressing physical limitations, developing a regular home practice or deepening and intensifying existing practice.
And as Audrey Hepburn used to say in Sabrina, "Paris is always a good idea". Visit Paris this winter for a short or long weekend break focused on wellness. Discover our tailor made Weekend Wellness Packages for a bespoke package to suit your budget and requirements.
Having trouble choosing? Email us at retreats@soulseedmedia.com and we will help you find and book one of these wellness retreats in France. Follow our wellness travel inspiration on Instagram @soulseedtravel.