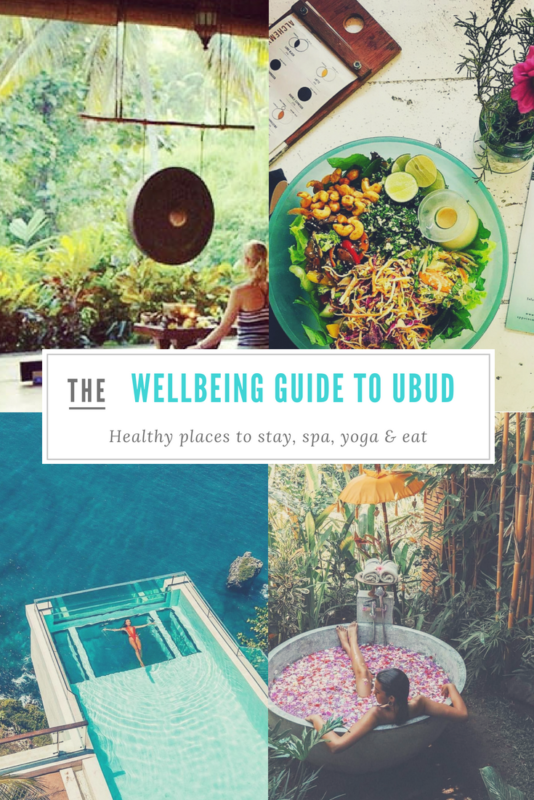 You may know that we are writing a series of guides for the wellness traveller and an around the world retreat Bible. This has to include Bali, and especially Ubud. Most people who are lucky enough to find themselves in Ubud have a particular interest in health and wellness as it's a popular destination for yoga, meditation and healthy food.
The name Ubud itself originates from the Balinese word "obat" which literally means "herb" or "medicine" and unique traditions in health and healing have given Ubud a reputation amongst spa practitioners worldwide.
It's a place of intense spiritual, positive and creative energy that is unlike anywhere else in the world. So to help you plan your trip to here's our Wellbeing Guide to Ubud of where to stay, yoga and eat delicious healthy food. You really will be spoilt for choice!
Where to eat
Ubud is a place that is absolutely bursting at the seams with fantastic vegetarian and vegan food.
 and a vibrant restaurant scene.
It's up there as one of the best plant-based destinations in all of Asia. On every street you can easily find healthy food, delicious fresh juices and coconuts and an abundance of different cuisines to tingle your tastebuds.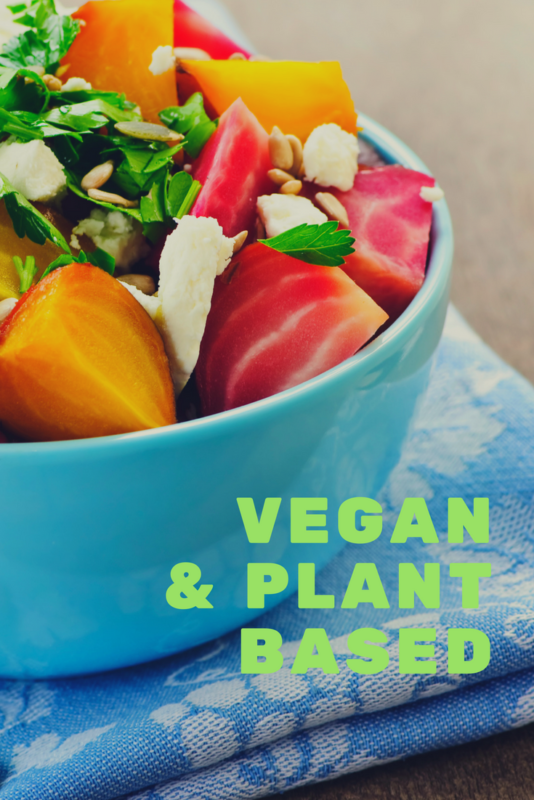 Buda means Wednesday in Balinese, just as good a day as any other to begin a business. Bali Buda began in 1994 with a passion for bringing the best we could find to people looking for the best to feed themselves and their families.
They deliver honest and wholesome food and still make their bread with pure people power, baking over 500 loaves of bread each morning before the sun rises. Just take a look at their delicious menu.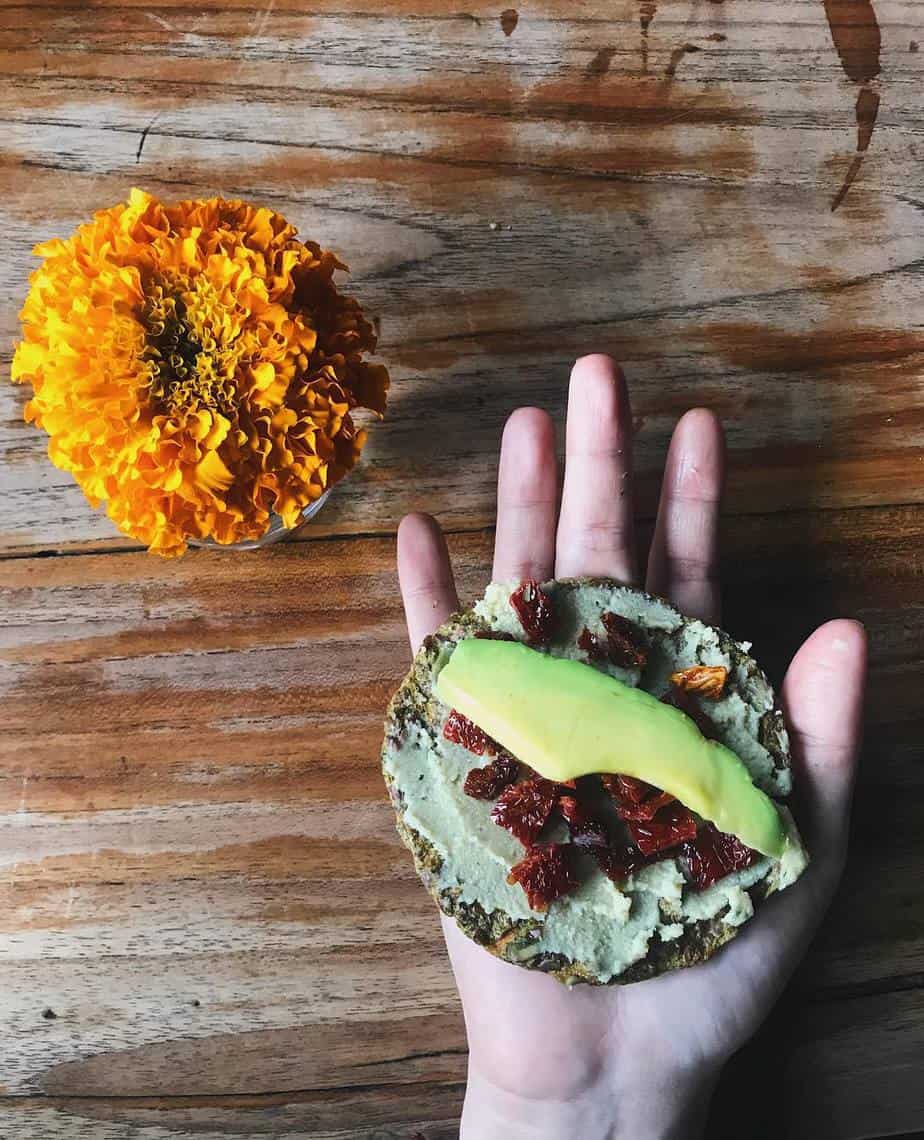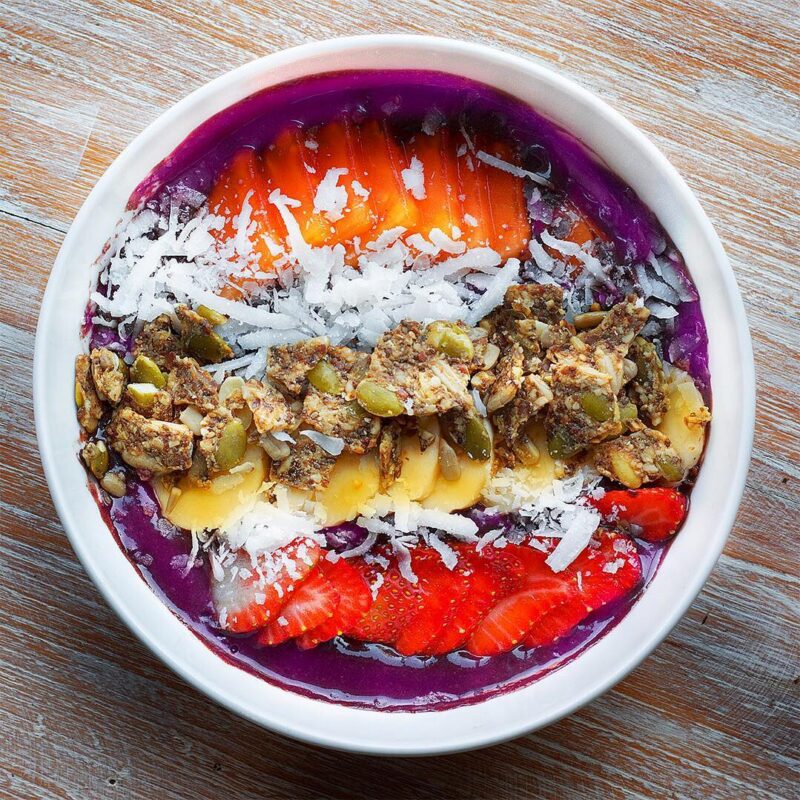 Earth Cafe is "A Whole Life Concept" brand of organic, vegan shops and restaurants. They pride themselves in supporting local traditional farming; as well as helping to educate the local community about ways to improve their quality of life and adopt a healthier lifestyle, by choosing the cleanest and most naturally-grown food.
Their aim is to sharpen your inner compass and support your health via their fresh organic menu. Whenever possible, they source, prepare and serve high-quality organic products and produce; including whole grains, non refined flour and sugar. Cold-pressed juices can be made to order, using fresh organic ingredients. See their menu here.
The best vegan ice cream bowl, bubble waffle and juices in Ubud, where you can find Bali's all vegan Acai Bowl and yummy vegan snacks.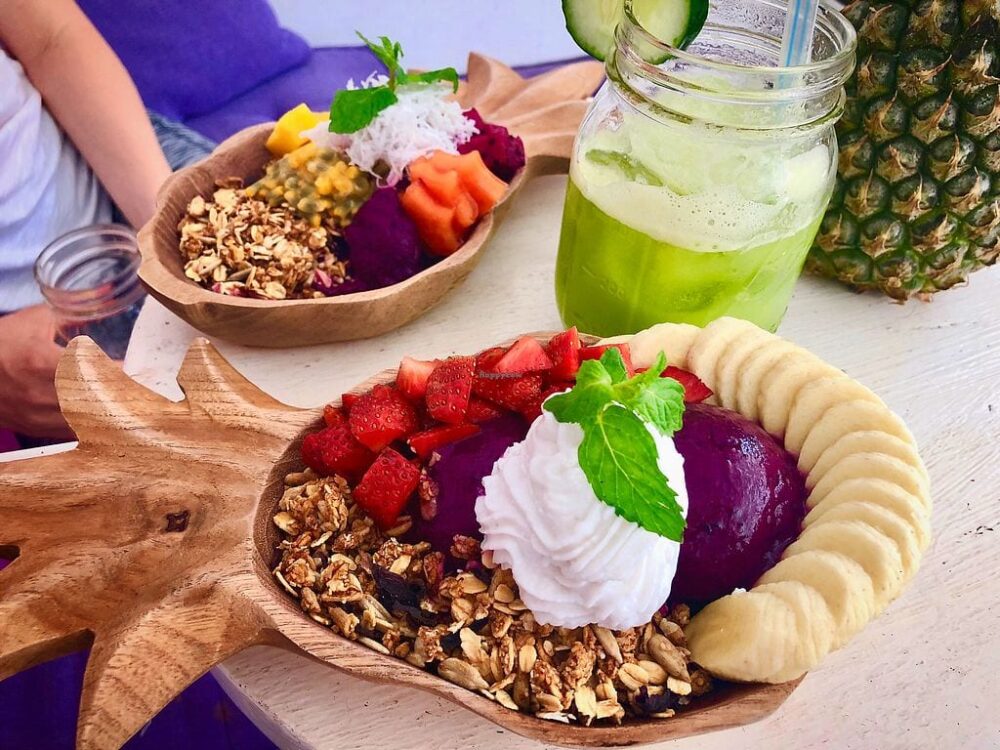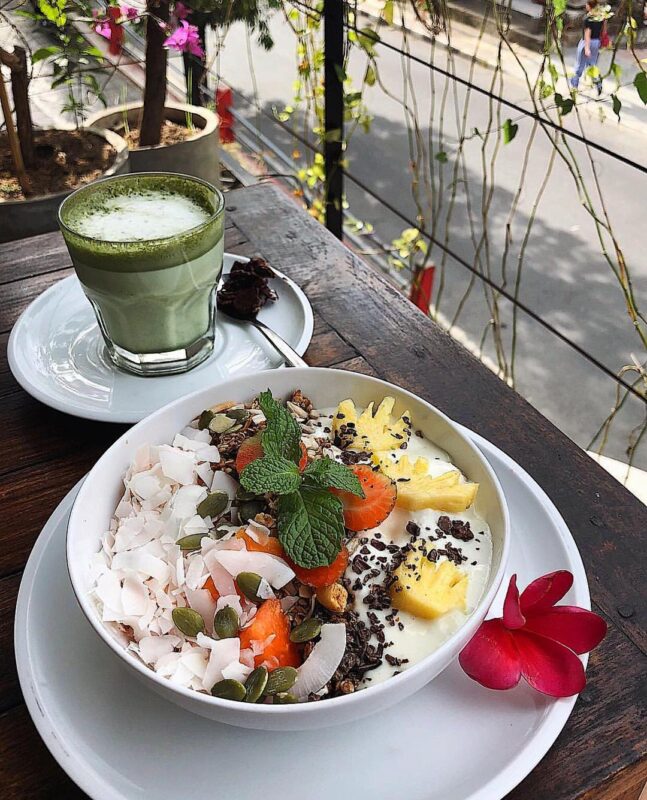 Photo credit @strawberryellie
The Seeds of Life Raw Food Cafe Bali and Taiost Tonic Bar. Positioned in the mountains of Ubud, they have access to some of the most vibrant organic produce grown in rich volcanic soils and fresh picked daily.
Serving fresh organic juices, super food smoothies, delicious raw and vegan deserts, soft centred-tonic-herb filled raw chocolates and super food bliss balls. Then they go to the next level, serving Reishi mushroom and cordyceps extract powder brownies with coconut ice-cream, papaya crepes, Sol Jars, smoothie bowls, chia porridges, triple layered banana pancakes, raw warmed pizzas, Malaysian laksa, Korean hobak rolls, tacos, enchiladas, gnocchis, veggie wraps, burgers, pastas, sprouted seeded hummus, moussaka, take away ferments and coconut yogurt, Wild Ancient Artisan Chinese Tea menu, ancient tea tree kombuchas and coconut kefir – all raw of course and taking raw food to a whole new paradigm. See their menu here.
An all plant-based vegan cafe where all the food extracted are "Medicine Flower" products – raw, organic and high vibrational.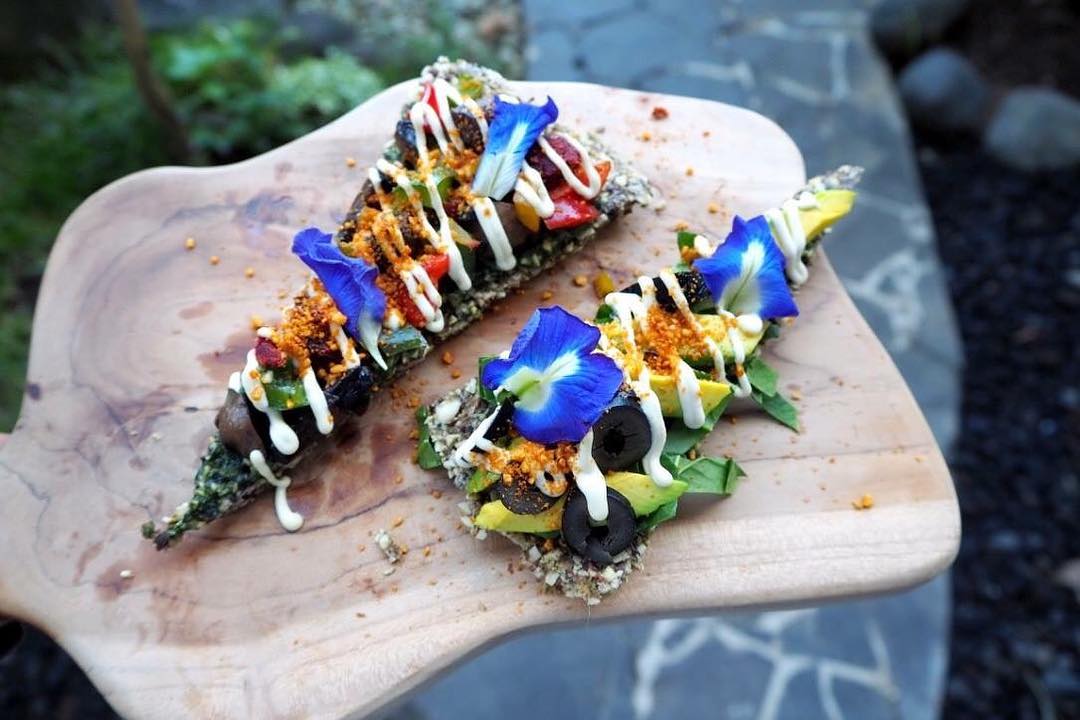 Their logo represents the circle, "ENSO" – 円相 -, in Zen, translated to "KUU", – 空 – , the source or essence, nothing-ness, is the infinity and the whole universe, that everything is inter-connected in a chain of co-becoming and in a state of constant flow.
They have ongoing un-cooking and yoga classes and many other "sharing" events to expand their creativities and remind us all that we are the fountain of potential.
The raw-living food is served for its higher light and vibration to enhance our healing process, healthy rejuvenation and longevity in the physical, emotional and spiritual level. Download their menu here.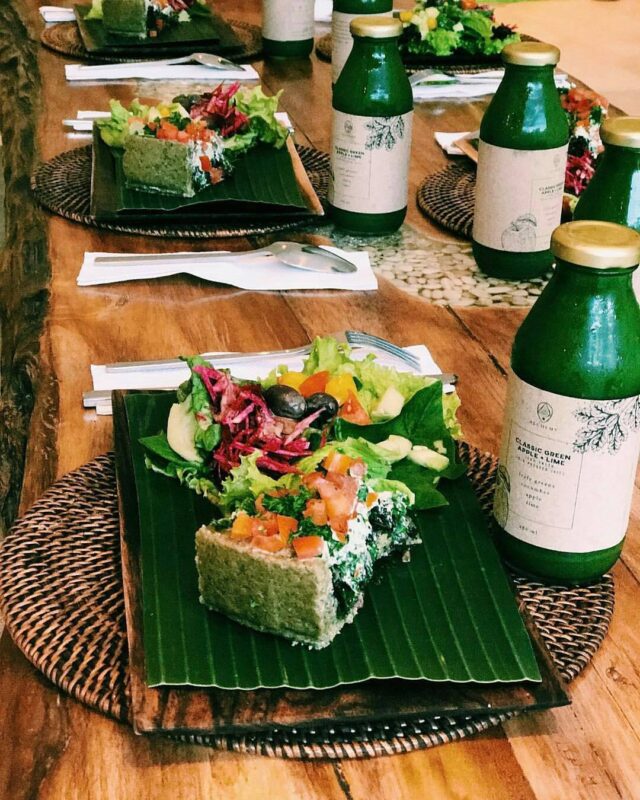 Alchemy is located in Penestanan, Ubud and is a raw food café / restaurant/ supermarket and education centre…and if you think it couldn't get any more dynamic, they also offer colon therapies! Created by a group of self-confessed tree hugging earth-lovers, (who all met in Bali), Alchemy brings together collective ideas created from passion/transformation from within and a love of raw food!.
The salad bar is where you will be spoiled for choice by an array of raw greens, fruits, cashew cheeses and salad dressings. Don't miss out on the guilt-free desserts that are without a doubt some of the best Bali has to offer – the "cloud nine" raw cheesecake and peanut cupcakes are divine!.
Alchemy is a perfect pit stop venue for a juice along with your village cycle ride through Ubud. Cool down and refresh with a lemon squash with honey coco biotic or rejuvenate with a ginger ale and apple coco biotic.
These juices are super delicious and thirst quenching thanks their natural ingredients and that special ingredient, coco biotic – a probiotic young coconut water that is home-brewed by fermenting the water from organic, wild young coconuts, the process creates a natural fizz giving those healthy juices a little extra refreshing kick.
KAFE believe in using 100% natural, organic and local ingredients. From wholesome breakfasts, super-smoothies, vegetarian food to vegan and gluten-free options, KAFE has a wide range of healthy flavoursome food for you to feast your eyes on.
Fusing together the tropical laid back vibes of Ubud with a quirky New York bistro, KAFE is the ultimate chill out spot. Since opening in 2005, their menu at KAFE has been carefully nurtured and developed in line with the owners ethos of a healthy, environmentally-conscious lifestyle.
Bali-harvested, organic and chemical-free produce is used whenever possible. Download their menu here.
Overlooking the beautiful Tjampuhan Ridge in the cultural heart of Bali, they established themselves in 2013 with the hope of creating delicious, healthy food in a conscious and sustainable manner. They strive to be an ethical business and are recognised by the Slow Food movement for their environmentally aware and socially fair work practices.
Their food is 100% vegetarian and many of our dishes are easily adjusted to become vegan and gluten free. Check the menu out here.
At Clear they use all natural ingredients from local Balinese farmers. with the belief that energy can be transferred through food, so it's very important to us how their chef's and kitchen staff are feeling. That is why they pride themselves on laughing, playing, and having a good time while preparing their food, so that it may be charged with life. Their menu can be downloaded here.
Sari Organik aims at whole and organic food. They use ingredients straight from their organic garden or buy them at farmers who grow chemical free products. When you walk around you can spot their garden. And if you want you can even pick your own vegetables to create your own dish.
The humble eatery first opened about 12 years ago with a focus on organic and sustainable produce. The family-run business is located right in the remote rice paddies where cars are prohibited to traverse through. You have to arrive either via a motorbike or by foot – which is quite a walk, but well worth it.
Should you overcome the challenges of getting to Warung Bodag Maliah at Sari Organik, you will be rewarded handsomely with a stunning, panoramic and tranquil view of Ubud's countryside.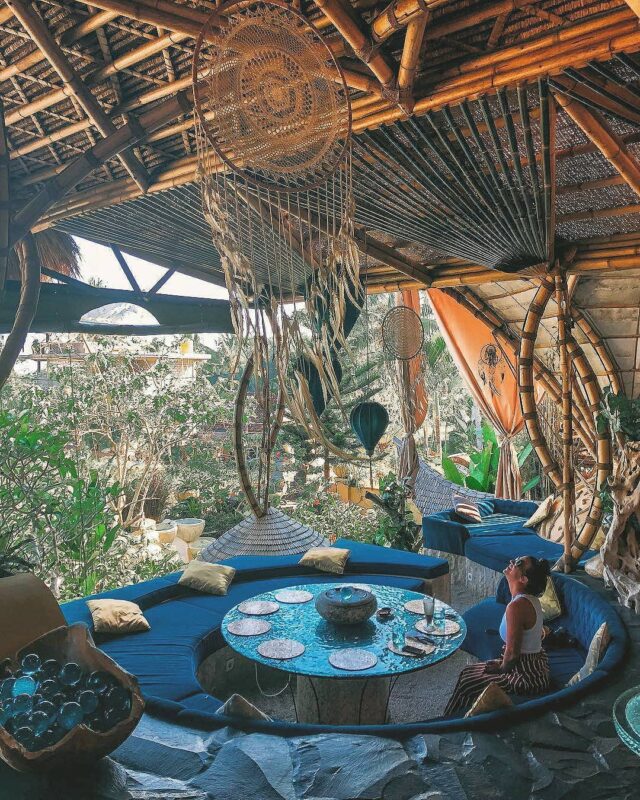 Dine ground-breaking earth-friendly restaurant, ten minutes outside Ubud, heading up the Batur volcano with a view as far as the ocean horizon.
Surrounded by idyllic rice-fields and jungle, overlooking the largest natural pool on the island, you will find Akasha who  believe Earth to be a sanctuary, and Akasha Restaurant an extension of this philosophy. Their plant-based menu is grown and foraged from their own NewEarth organic farm and from within the surrounding natural environment, with an emphasis on both sustainability and local sourcing.
They believe that in order to be your best self, your food source should both sustain and enlighten. With their nutritious and organic food, they provide dishes that satisfy and energise in equal measure.
Their passion is not simply cooking earth-friendly food, but for minimising the impact that any food production has upon the environment. Download the menu here.
Where to Yoga

Yoga retreats
This Women's Yoga Retreat in Ubud, Bali, is all about celebrating You. We invite you for a week of sweet surrender to the bliss and beauty that you already are. Rediscover your Divine essence and get in touch with the wisdom and power of the feminine on mystical Bali.
With great care we have designed a program for you to empower yourself, rediscover your authenticity and feel radiantly alive!  We invite you on a unique journey to the Island of the Gods. Lush tropical rainforests, fresh green rice fields, swaying palm trees and flowers in all shapes and sizes, filling the air with the sweetest aromas. This is the backdrop scenery of our intimate Bali Bliss Women's Yoga Retreat.
Expect to take care of yourself in the best possible way and surrender to being taken care of by Laura and the sweetest Balinese people.
Relaxing massages, nourishing healthy food, heart opening yoga sessions, morning dance meditation, authentic connection with women, being in nature, purification rituals, a full day of pampering at a Balinese spa, lots of love & laughter and much more deliciousness that makes you glow inside and out. It is time to meet our own needs, taking time for ourselves, nourish ourselves and above all: Be ourselves.
A Healing Retreat for Regeneration, Replenishment and Alignment. At Fivelements, Puri Ahimsa, they embrace holistic Balinese-inspired therapies administered by traditional Balinese healers using ancient wisdoms passed down through direct lineage.
Following the Balinese principal of Sekala-Niskala, which holds that we all live equally in two worlds; the seen or conscious world Sekala, and the unseen or psychic world Niskala, the Balinese healers engage the help of the divine source during each healing session.
The Panca Mahabhuta (fiveelements) Retreat is their signature program that comprises a holistic integrative approach designed to tune in on the physical, emotional and spiritual levels, allowing an organic healing process to naturally unfold. This begins by attuning to your authenticity and honouring your highest potential. Retreats are available in 3, 5, 7, 10, 14 & 21 nights' stays.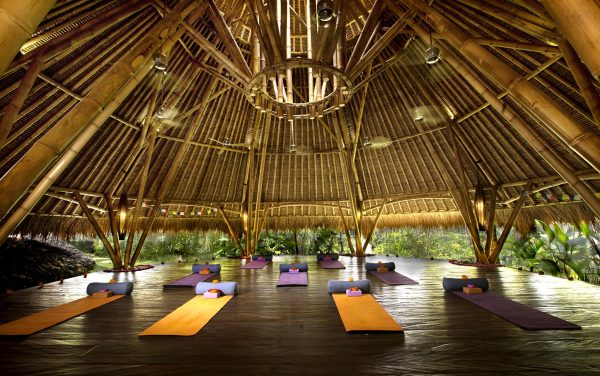 If you are looking for a detox, Blue Karma offer 7 day detox programs to help you lose weight, reduce stress, experience glowing skin, eliminate digestive issues, and boost energy levels. Release stress and negative mental patterns, and give your body and soul a new energy and vitality.
Between heaven and earth, 3.5 km from the centre of Ubud, in the middle of rice paddies, you'll discover Blue Karma Resort Ubud.
In the middle of this verdant haven of peace, built with respect for the environment, surrounded by fruit trees and deliciously perfumed plants, nestles a 25 m pool, Karma Yoga pagoda, gazebos with their thatched roofs as well as many other resting areas.
Zest for Life is open all year round and offers 14 day detoxes.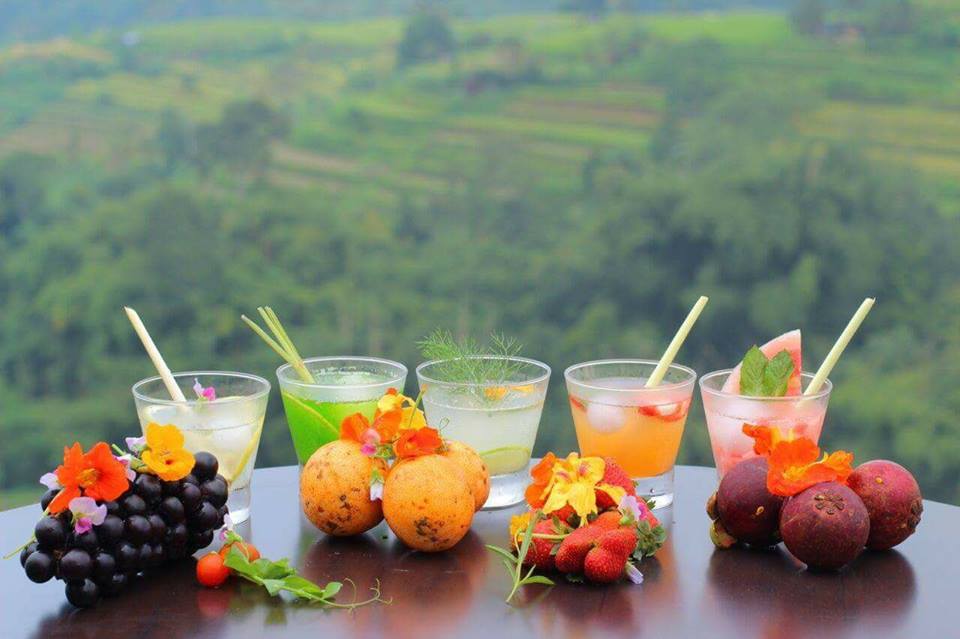 This is also suitable for those of you who don't want to lose weight, but want to detox and cleanse your body. You will be pampered at the spa with hot stone massages, organic facial, and body scrubs!. More details can be found here.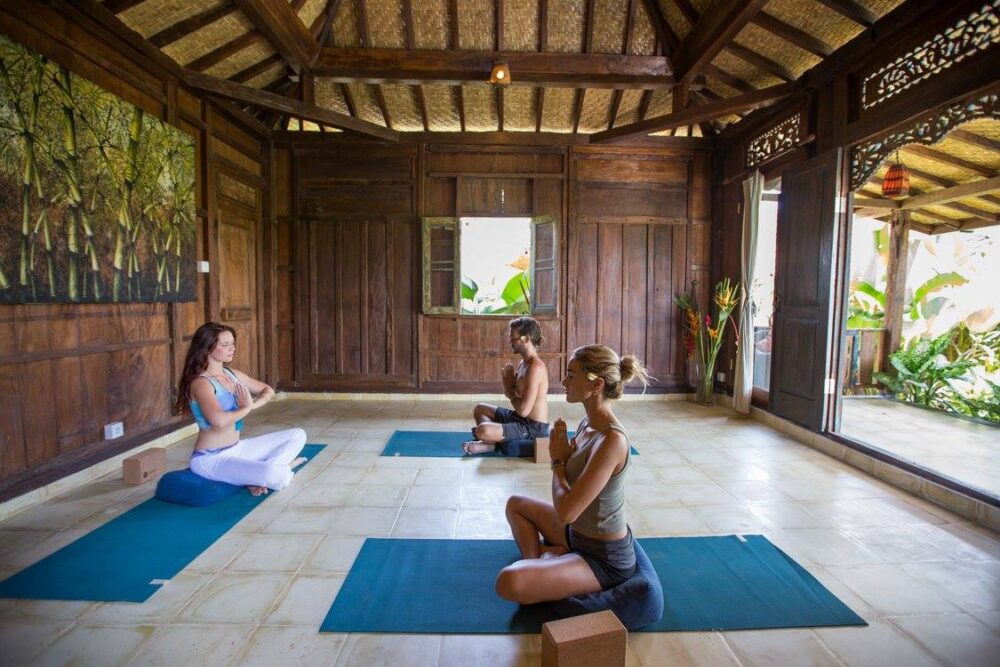 Nestled in plush tropical gardens and surrounded by lovely rice fields, Naya is a beautiful retreat and boutique homestay comprised of two adjacent properties; Naya and Naya's Rainbow.
Only a 7 minute drive from the centre of Ubud, guests have quick access to Bali's renowned cultural hub but will feel far enough from the crowds and traffic to enjoy the magic and essence of rural Bali.
Naya offers private 3, 5 and 7 day retreats consisting of Yoga, Bali Culture and Adventure. They also have teacher trainings and offerings from exceptional teachers from around the world sharing their gifts. Their list of retreats can be found here. Read reviews.
Yoga Teacher Trainings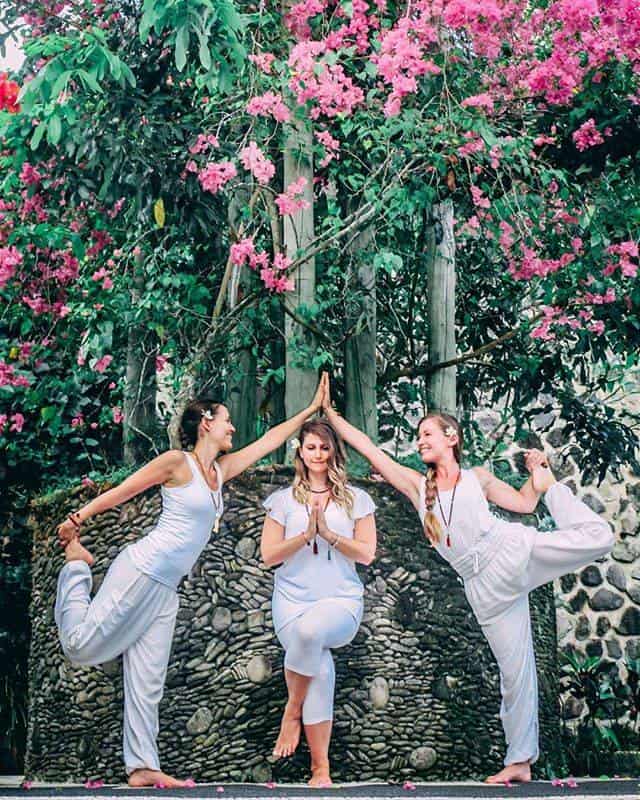 Blooming Lotus Yoga offers students the opportunity to experience one of the most unique, affordable and intimate Bali yoga teacher training courses, yoga retreats and meditation retreats Ubud has to offer. Listen to the sweet sounding birds, the trickling waters of the holy river below, and be absorbed in the breath-taking views of their jungle location.
With gifted and highly skilled Yoga teachers teaching from their hearts and the tradition of Yoga, you will guide you on a journey back home. Love, truth and bliss are the ultimate goal.
If you are looking for an authentic, intimate and affordable teacher training courses steeped in tradition and deep esoteric knowledge then this is the one for you.
Ongoing yoga retreats are also offered in Ubud for beginner and intermediate students who are looking for a yoga holiday like no other.
The location is in a stunningly beautiful and peaceful tropical jungle, nested above a sacred holy river, and receiving the divine vibrations of a powerful Balinese Temple directly across from  This is truly a blessing from the "Island of the Gods".
3 Week Bali Yoga Teacher Training with Alchemy of Yoga School, 1st – 22nd September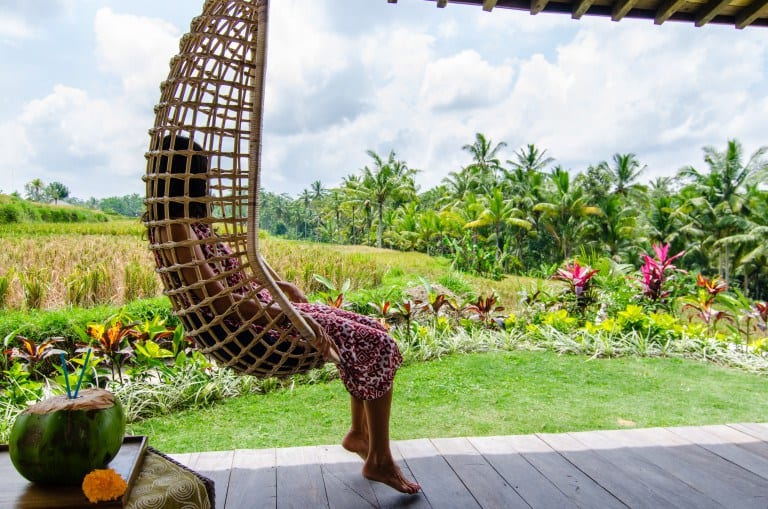 Find yourself endlessly inspired by the enthusiastic teachers on this transformative yoga teacher training in Bali. This is more than a course to become a teacher, the program encourages self-study and self-exploration to awaken you to your true potential and inner power. Learn how to design and confidently teach intelligent, alignment-driven Vinyasa, Hatha, and Restorative yoga classes.
Each training is meticulously planned and complete with enchanted locations, luxury accommodations, gourmet meals and plenty of tantalizing ways to fill in your spare time. More details here.
The Sacred Fig 200 hour Yoga Teacher Training is a highly-intensive program designed to educate and inspire the next generation of world-class yoga leaders. They firmly believe that the strongest attribute any yoga teacher possesses is themselves. And so they emphasise things like personal development, confidence, and speech (and don't worry, you'll still learn kick-ass alignment, too.)
Their rigorous program is approved by The Yoga Alliance, but it's so much more than that. In fact, it's one of the most comprehensive available today. Their teacher trainings attract students of all levels, from literally all around the globe and produce confident, knowledgeable, articulate, and empowered yoga teachers. More details here.
Yoga Studios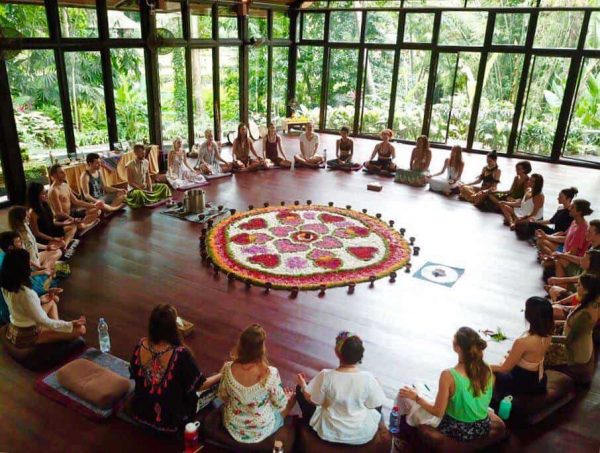 The Yoga Barn was created by its founders for the sole purpose of bringing together community and giving back to the island of Bali. Located in the heart of Ubud, Bali's cultural hub, The Yoga Barn is Southeast Asia's full service yoga studio and holistic healing retreat centre.
As a centre dedicated to healing and renewal, The Yoga Barn provides a lush and inspiring environment for the nourishment of body, mind and soul and is open 360 days a year from 7am – 9pm with over 15 classes and workshops each day to choose from.
These are taught with the deep knowledge and large hearts of the studio's established & visiting faculty. Daily classes and workshops range from traditional yoga styles of Classical Hatha, Vinyasa Flow, Power, Pranayama, Restorative, Iyengar, Kundalini, Yin and Anusara. Other modalities include Meditation, Sound Healing, Kirtan and Ecstatic Dance.
There are also retreats and yoga teacher trainings running on a regular basis. Find the full schedule here.
Perched above a lush valley in Ubud, with impressive views of Gunung Agung (Bali's most sacred mountain), Intuitive Flow is a back-to-basics practice space offering daily classes. Catering to beginners, the studio specializes in more mellow yoga forms, such as Gentle Yoga, Relaxation Yoga and Yoga Therapy, as well as a signature style called 'Yoga Pranala' (a combination of Vinyasa Flow and 'Mudra Pranala', a healing art based on energy movement).
Conducted by a small team of international and local teachers – including studio founder, Linda Madani – classes span 90 to 120 minutes and have a holistic wellbeing flavor. As well as the regular schedule, Intuitive Flow also hosts regular yoga and healing arts workshops, meditation programs, retreats and Yoga Alliance Accredited teacher trainings. You can see the class schedule here.
At Radiantly Alive Yoga Studio, they believe you are perfect as you are. Radiantly Alive serves as a light – offering yoga as a guide to bring you in touch with your own, true self again. We know that deep within you, the map is there and the path is laid out, it just needs to be illuminated.
The owners Jasmine and Rafael, have worked all over the world in all sorts of corporate jobs. But nowhere did they feel home, that sense of belonging, or the vibrancy for life as they instantly felt in Bali, at Radiantly Alive.
They have made Radiantly Alive their home, offering yoga in an environment where you can truly be yourself, be vulnerable, learn, stumble and get up again. All supported by a family surrounding you – to lift you through all those ups and downs.
Over 55 open-level yoga and movement classes are offered a week, with world-class teachers in a heart-centred community. Their class schedule can be found here.
Where to stay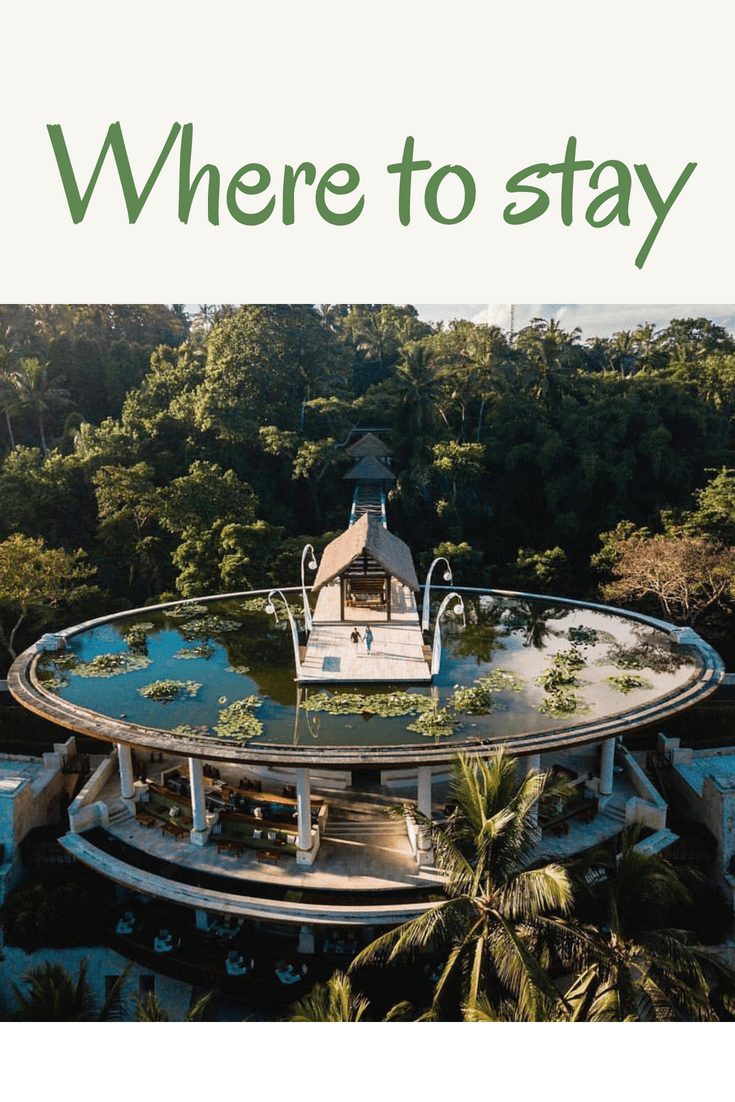 Wellness Hotels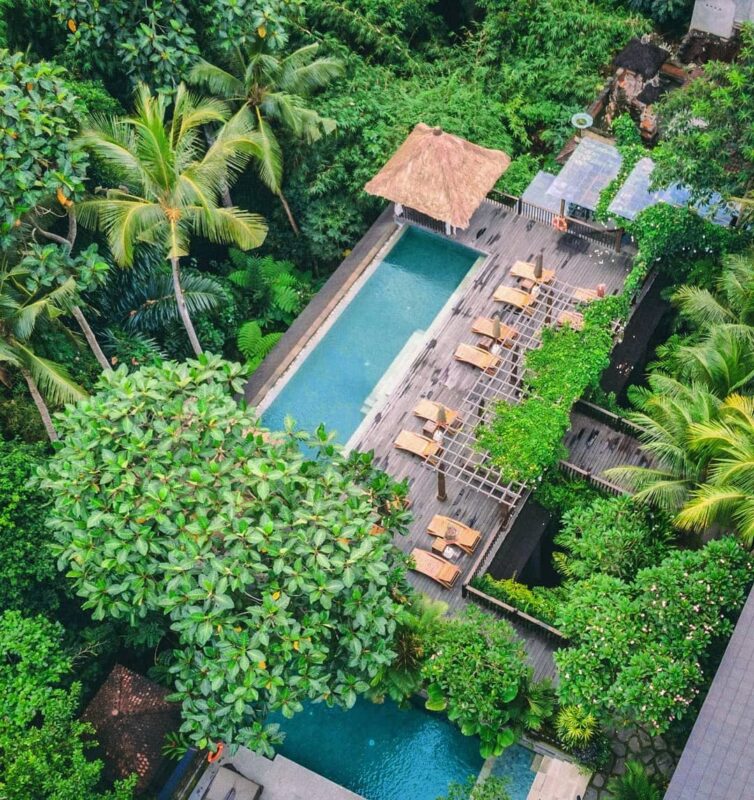 Treat yourself to more than just pampering and spa experiences at a resort in Bali! Our boutique wellness resort Hotel Adiwana is true home away from home where you will practice yoga sessions lead by the experienced teachers.
You will find peace among the exotic gardens and let Adiwana Resort Jembawan pamper you the way you deserve with the pampering treatments, recharging yoga and meditation classes, and exciting cultural excursions.
This five day retreat starts with a hatha yoga class and will be continue with Pranayama and meditation. During this program your meals and spa treatment it will be based on a wellness consultation result with the Ayurvedic Practitioner to diagnose your Dosha (Pita, Kapha,Vata) as your basic knowledge to continuing this program.
Rejuvenation often is defined as reversal of the ageing process. This contrasts with 'life extension' strategies that attempt to combat the causes of ageing in order to slow it down. Because rejuvenation is the reversal of ageing, the means employed to achieve it focus on repairing the damage caused by ageing and replacement of damaged tissue with new tissue.
While rejuvenation is one means to achieve extension of life, rejuvenation itself fundamentally affects a person by restoring aspects of youthfulness from the inside out. This program is designed to reverse biological ageing. It emphasise the quality of life instead of the mere prolongation of it. It is about enhancing your experience of life itself.
We offer a full spectrum of activities, therapies and retreat experiences for everyone. We believe that everyone is special, unique, and different in their own way. At Adiwana Resort Jembawan, you can customise your own retreat package based on your personal needs both as an individual or part of a group. Our goal is for you to return home feeling relaxed, refreshed and energised. Read reviews.
Ensconced within an untouched river valley overlooking the enchanting bamboo forests of Payangan in Ubud. The 149-room Padma Resort Ubud is an expansive destination resort located north of Bali's celebrated cultural centre.
You can take private yoga sessions with certified yogi, specially adapted to your needs and skills at the Bale Bamboo.
The Spa at Padma Resort Ubud is a sophisticated sanctuary that welcomes you to experience inner bliss. The team of impeccably trained therapists are on hand to deliver results-driven treatments and therapies, inspired by authentic Asian rituals taken in one of their stylish treatment suites. Read reviews.
The Alaya is a resort that gracefully blends in with its surrounding community. It faces out onto busy Jalan Hanoman where a constant stream of scooters and cars rush by, but step one foot into the resort and the calm of the bordering rice paddies, the gentle swoosh of the giant fans overhead and the welcoming smiles of the staff soon take over.
It's located in the heart of Ubud, a ten minutes' walk from the Monkey Forest and just a stones' throw from the Yoga Barn. A small working rice paddy sits aside the resort, and all rooms' balconies face out to it, giving a countryside air to this central hotel. Read reviews.
Standing amidst the luscious greenery on Jalan Raya Andong, Element by Westin Bali Ubud is a smoke-free, eco-conscious resort offers a range of healthy food and vigorous activities, including a saline swimming pool and the hotel's tailored spa, the PancaMaya Wellness where beauty rituals featuring spa products are created on the in-house Herbology table using natural ingredients.
Try one of their two signature treatments that represent their core concept and are trend conscious. The "PancaMaya Experience" is designed for you to enjoy a complete journey which encompasses all elements and senses of their spa philosophy.
The other signature treatment is specifically tailored to our millennials which soothes away stress and rejuvenates specific areas of your body, if this sounds interesting to you, opt for the "Digital Detox" program. Read reviews.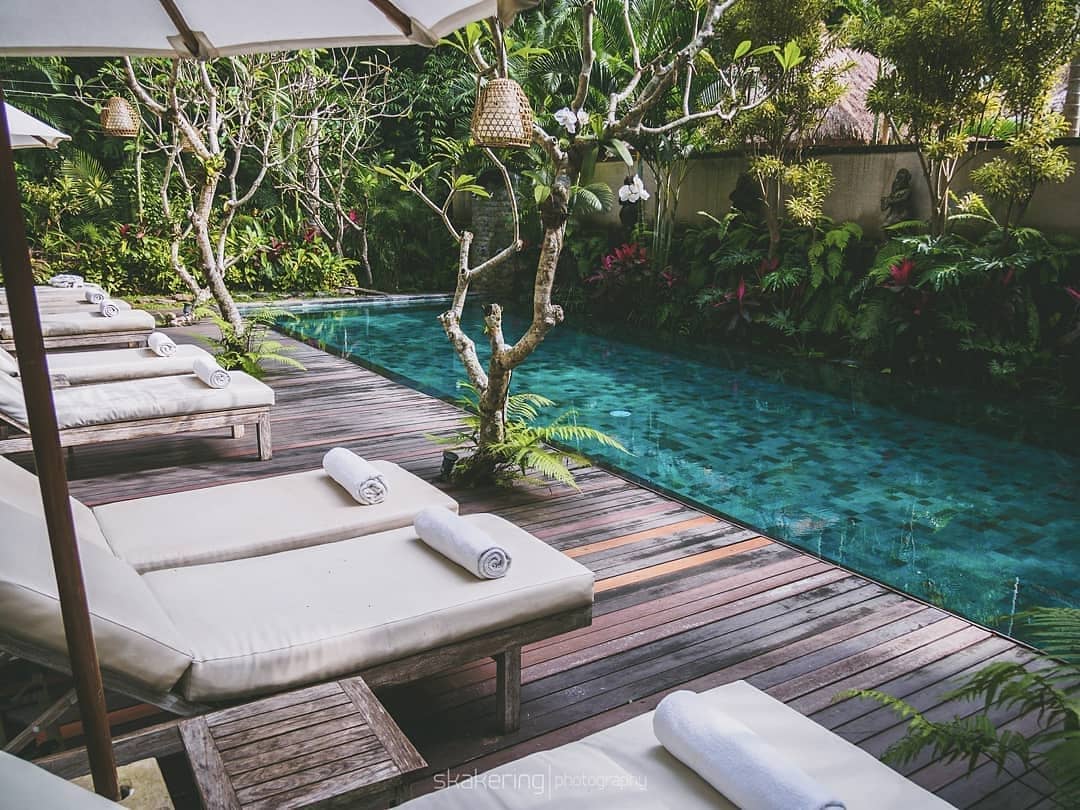 Puri Sunia Resort nestled in its own secluded place surrounded by the natural of environment such as beautiful rice paddies, water, coconut trees, Balinese traditional village of Abangan and Kokokan Village, a home of thousand white herons. Puri Sunia is derived from Balinese word 'Puri' and 'Sunia'. Puri mean 'a house of King' and Sunia mean 'quiet or peaceful'.
Meditation and yoga classes are offered daily in the yoga centre and there is the Aura Spa where all your treatments will begin with a unique foot bath ritual with its natural and fresh ingredients.
A must try is the spa that features two semi open treatment rooms with sunken bath, with a selection of treatments using natural oils with and exotic blend of perfumes. Indonesian herbs and spices add to the rich traditional nature of their treatments for total wellbeing. Read reviews.

Between heaven and earth, 3.5 km from the centre, in the middle of rice paddies, you'll discover "Blue Karma Resort Ubud", in the middle of this verdant haven of peace, built with respect of the environment, surrounded by fruit trees and deliciously perfumed plants, nestle a 25 m pool of supple shape, a pagoda "Karma Yoga", gazebos with their thatched roofs as well as many other resting areas.
Yoga and meditation classes are available daily at Blue Karma twice daily at 8.30am and 6pm. Read reviews.
Luxury Spa Hotels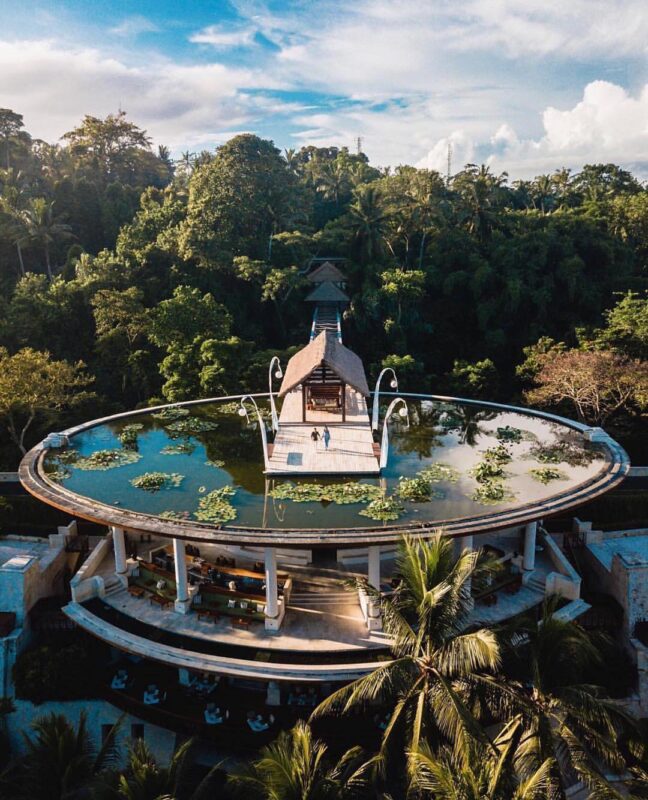 A wooden terrace in the middle of blooming lotus pond, floating high above the misty jungle valley – that's what one of world's most beautiful yoga spot looks like and this one is nestled in the Four Seasons Sayan resort in Ubud.
These sunrise classes are worth skipping the wine the night before and waking up at dawn. It's too bad this privilege is available for hotel residents only, though it's definitely worth the splurge to treat yourself. Read reviews.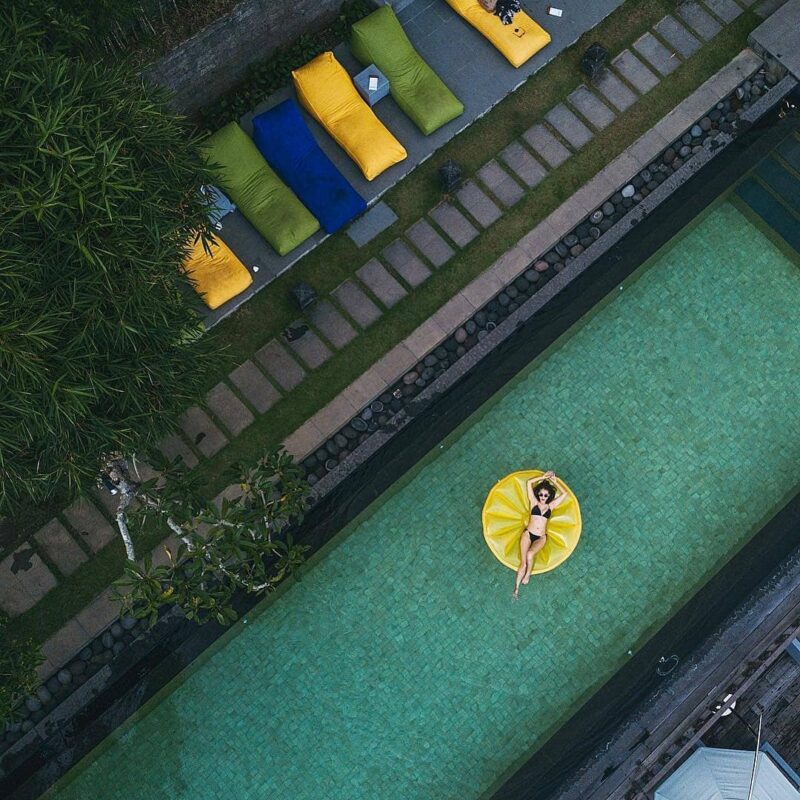 Kamandalu is a well-known 5 star luxury resort and spa located in Ubud, famous for its serenity and almost untouched nature. There are a lot of other popular tourist destinations in Bali, but Ubud is unlike the rest as it is more representative of of Bali culture and local village life.
The name kamandalu is adopted from the sacred Sanskrit language and it refers to a vessel that holds holy water. The process of actually creating this container has deep spiritual meaning whereby the maker must break away from the attachments of the physical world and purify himself of self-desire.
If you've been on any Instagram Bali tags, you've surely spotted Kamandalu a few times! It is massively popular for its luxurious private villa pools and floating trays. Read reviews.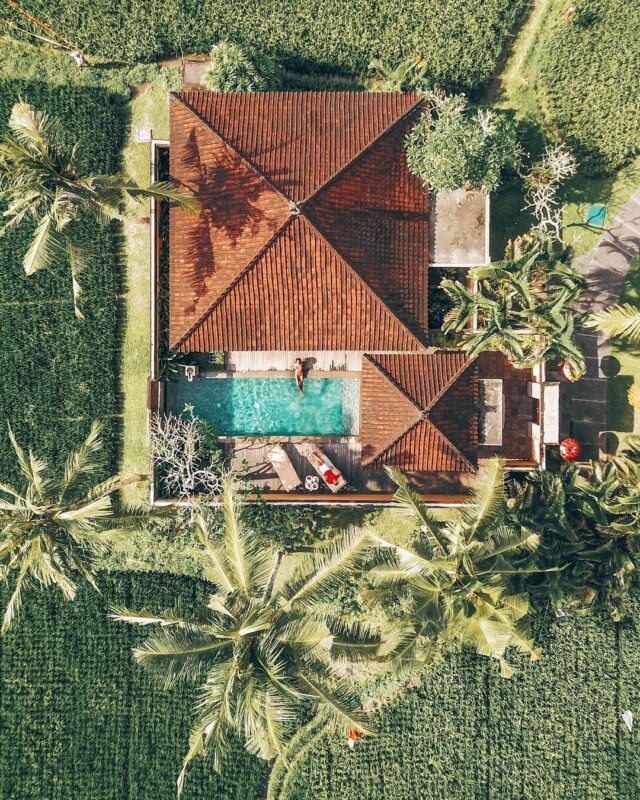 The Balinese are revered for their uncanny ability to celebrate beauty and grace in the everyday. Renowned hotelier Adrian Zecha was inspired by this philosophy when he conceptualized The Chedi Club Tanah Gajah, outside the village of Ubud.
Set amongst more than 12 acres of emerald green rice paddies, the resort radiates tranquility. At the entrance, an arrangement of flower adorned Ganesha sculptures lends a spiritual ambiance, while the property itself features serene lotus ponds, reflecting pools and private villas.
Interiors here blend harmoniously into the landscapes, and each villa has its own butler to help with everything from unpacking to poolside pampering. Ubud, with its bustling restaurant and art gallery scene, is nearby, though most guests choose to simply stay put. Read reviews.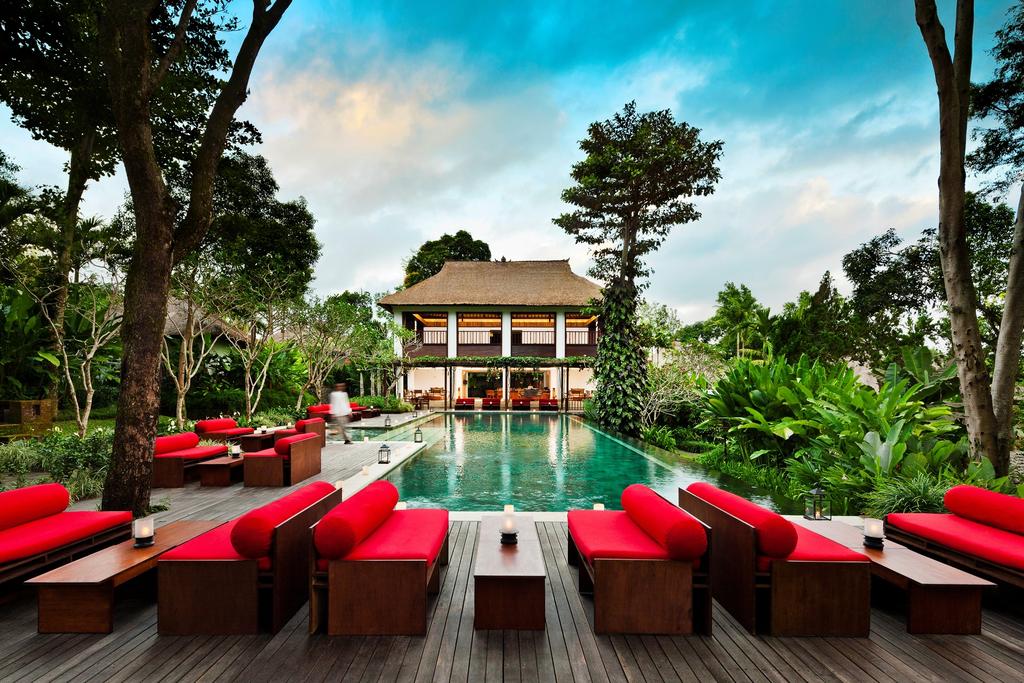 COMO Uma Ubud is a luxury resort in the heart of Ubud. The contemporary Asian design of our 46 rooms, suites and villas are relaxed, sunshine-filled spaces. The COMO Shambhala Retreat at Uma Ubud focuses on holistic wellness, with active pursuits including temple visits, biking and trekking and  a full range of holistic, Asian-inspired treatments.
An open-air yoga pavilion overlooks the Tjampuhan Valley where you can practice yoga on a daily complimentary session or on a private session. Their four serene treatment rooms, as well as a reflexology area, steam rooms, gym and 25m outdoor pool – all evoke Bali's peaceful, health-giving spirit. Read reviews.
Set above Ubud's verdant Valley of the Kings, Viceroy Bali is one of the world's most intimate and beautiful experiences, considered the ultimate when choosing a luxury resort in Bali. Just 10 minutes from the bustling cultural town of Ubud, each of the 25 private pool villas looks out to a spectacular jungle ravine.
Adding to the serenity is the sound of the rolling river rising from the valley floor below, something best enjoyed from your outdoor Balinese bungalow perched next to the pool.
3 day wellness packages are offered that include daily spa treatments and private yoga lessons.
Perched magnificently atop Bali's Valley of the Kings, the Lembah Spa is considered one of Bali's most tranquil settings and the perfect location for the pursuit of holistic health and well-being. Treatments have been meticulously developed combining Western knowledge with traditional, time-honored Balinese wellness techniques handed down over centuries. Read reviews.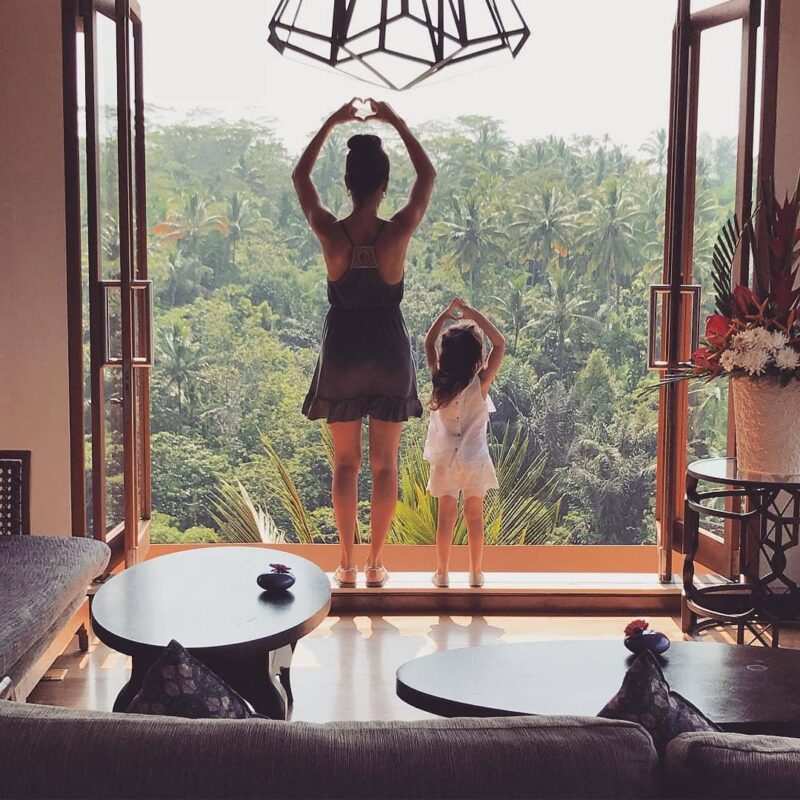 A winding mile from the village below, the hilltop boutique resort of Alila Ubud owes its inspiration to traditional Balinese village life. 14 two-storey wood-and-stone-made blocks house just 56 rooms. Each one offers panoramic views of the valley below, the River Ayung that runs through it and the ring of volcanoes surrounding the hotel.
On top of all this, Alila Ubud's 25-metre infinity pool with a killer view is the wow-factor here. Like its sister hotels in Bali, Alila Villas Uluwatu and Alila Manggis, Alila Ubud is a sustainable design hotel with a minimal eco footprint.
Alila Ubud takes relaxation to a new level of indulgence with a Rainforest Spa Experience that unfolds within a blissful cocoon of tranquility and beautiful valley views, encompassing spa rejuvenation and culinary refreshment.
Amid this enchanting setting, surrender to the pampering sensations of a relaxing footbath followed by a 90-minute therapeutic massage designed to unravel the deepest tension and stress.
Then refresh with a healthy, delicious lunch, choosing from either a three-course Detox or Pan-Asian set menu, made with fresh local and organic ingredients. Read reviews.
Have you been to Ubud? To recommend a place to add to our Ubud Wellbeing Guide leave a comment and follow us on instagram @soulseedtravel for the latest wellness travel news and inspiration.