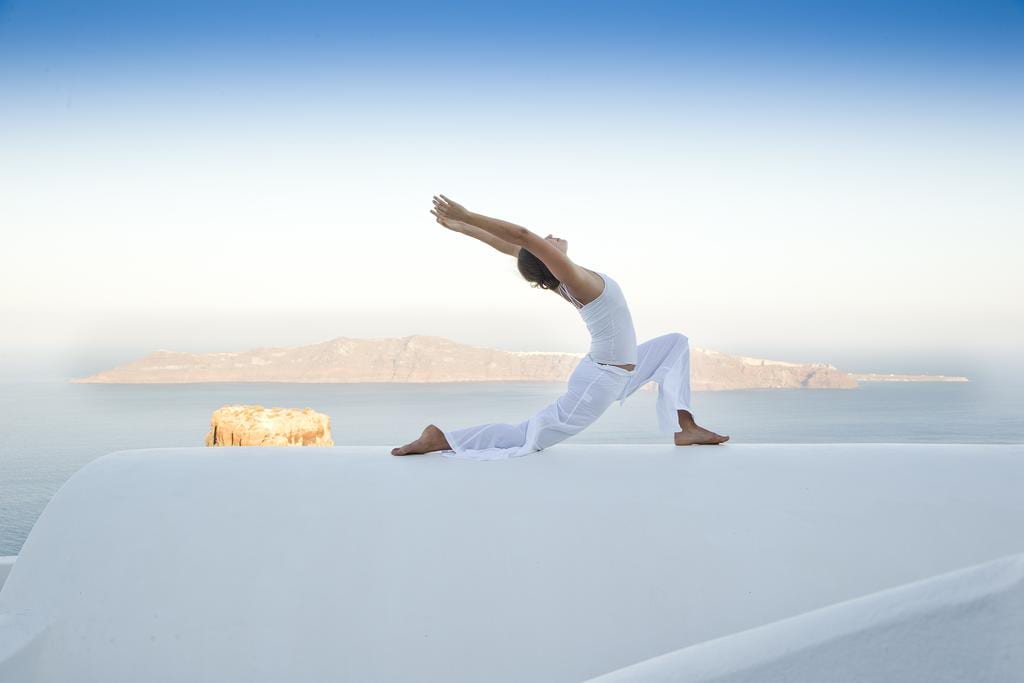 With so many (thousands) of stunning Greek Islands to choose from how do you narrow it down? We've picked our top islands especially for the wellness traveller who loves to spa, beach, yoga, explore and eat delicious healthy food.
We've put together an itinerary for you that will make your fellow yogis jealous even before you start posting those instagram pics. Begin your wellness journey in Athens. You can find many direct flights to Athens and use Skyscanner to find the best deals.
Athens
Stay at the boutique spa hotel Coco Mat. A calm oasis located in Kolonaki, one of the most high-end districts in Athens, this eco-friendly hotel is a showcase for Coco-mat, purveyor of all-natural beds to some of the world's best hotels. A good night's sleep is guaranteed.
As you would expect from a hotel designed and kitted out by an all-natural bed company, the biggest selling point is the 'four-layer sleeping system'. Dressed in organic cotton sheets, goose-down duvets and a selection of a dozen different pillows, these beds will send even the lightest sleeper into a blissful slumber. Read reviews.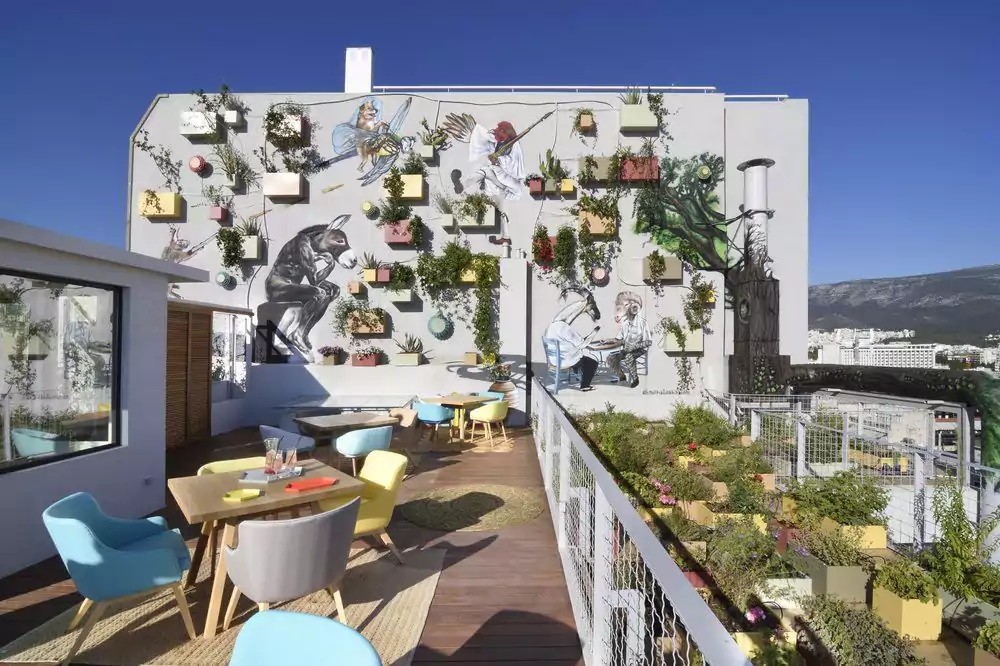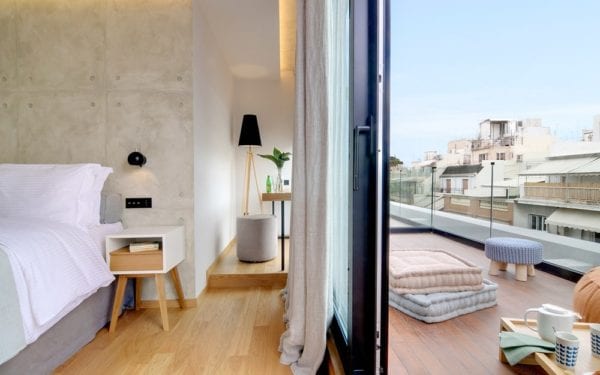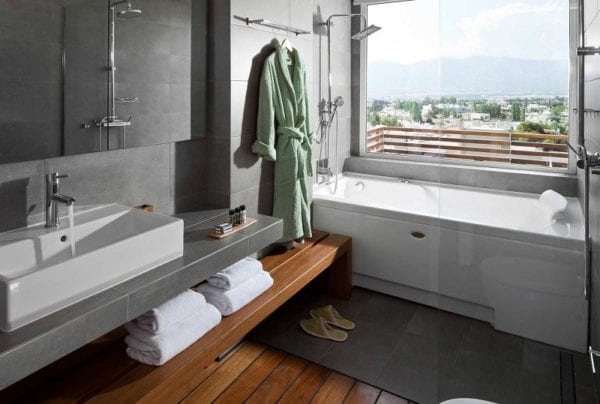 If you want to practice yoga whilst in Athens you can try these studios:
Yoga Tara's Home
Opened in 2016, Tara's home is a bright, cosy yoga studio located in Koukaki – very close to the Acropolis – where beginners are welcome.
Athens Yoga Center
Founder of Athens Yoga Center, Maja Zilih is an experienced registered yoga teacher who also trains future yoga instructors. She founded the Athens Yoga Center as a place where yogis, from beginners to advanced students, could come and practise in a dynamic way and discover their full potential.
Lessons include hatha, anusara, kundalini, vinyasa/flow, restorative, prenatal and postnatal yoga as well as mum and baby yoga, yoga for kids as well as relaxation and meditation lessons. It's a perfect place to de-stress after a long week in the office.
Hot Yoga
Located in Psychiko, Hot Yoga is a relaxing place where you can practise yoga in a serene and beautiful atmosphere. In a warm environment, get ready to stretch, tone your muscles, and build a strong core with the yoga classes. Hot Yoga includes a variety of lessons and also has yoga classes in English, a definite plus if you are visiting Athens but don't want to lose your flow.
Corpo – Pilates and Yoga Studio
Corpo is a Pilates and yoga studio located in Palaio Faliro, where you can practise different types of yoga, from hatha to vinyasa, as well as aerial and acro-yoga. You can also sign up for personal training and nutritional support or spinning lessons. It's a multifaceted venue with a dedicated and passionate team where you can exploit your full potential as a yogi.
Vegetarian & vegan food
For healthy eats in Athens before you start your journey to the Islands head to one of these.
Lime Bistro
Vegan restaurant emphasising macrobiotic alkaline diets. Uses equipment such as slow cooking in a vacuum, cold pressed juicer, dehydrator, yogurt machine to make yogurt from nuts, and a germinater to grow sprouts. Products are organic and made from scratch.
An all-vegan and raw-vegan eatery and take away, that operates under the motto "Give Peas a Chance." Serves a range of wraps, burgers, warm food, salads, cakes, desserts and breakfast specials, all made from scratch in-house, with mostly organic vegetables and fruits, locally sourced from small producers. Juices, smoothies, soft drinks and organic fair trade coffee available.
Delivery restaurant with 100% vegan menu which also hosts thematic culinary events.
Next stop Naxos!
How to get to Naxos: To get to Naxos the easiest way is to take a direct flight with Aegan which takes a very short 35 mins, search here with Skyscanner to get the best flight deals.
Or you can take the ferry which takes about 4-5 hours and you can sit on deck if it's nice weather and get great views of islands along the way.
Possibly the greenest island in the Cyclades, Naxos's incredible natural beauty has earned its reputation as the Hawaii of Greece. Almost 100km of white sandy beaches are lapped by incredibly clear waters. For those who enjoy adventure the island also offers activities such as kitesurfing, windsurfing or SUP.
It is the agriculture powerhouse of Greece, known for its potatoes, tomatoes, and cheese. The beautiful, historical Island of Naxos is located in the centre of the Cyclades.
Naxos has a lot of historical places, several archaeological sites and culture. The diversity of the island offers many different landscapes and all of these make it worthwhile to explore. Discover the authentic beauty of the villages, where you can stop at a Greek taverna to enjoy the local food and meet the Naxian people. Take a walk through the Venetian castle or visit the temples and ruins around the Island.
Where to stay
Located in the heart of the beautiful island, on one of the most beautiful beaches in Plaka. This is the place to laze around and enjoy a sandy beach within literally 50 steps from your room.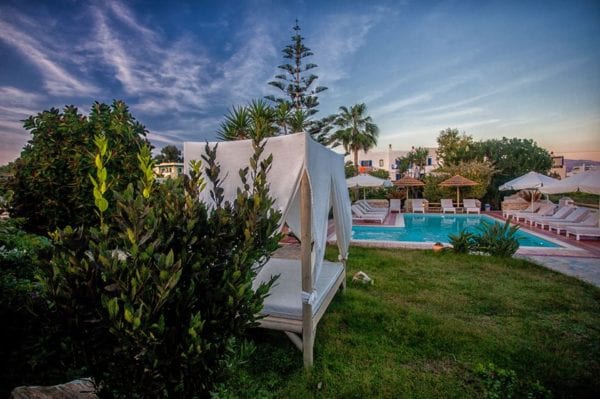 Rooms are very clean and tastefully decorated in minimal cycladic style, each has its own deck, veranda or direct access to the garden with local flora.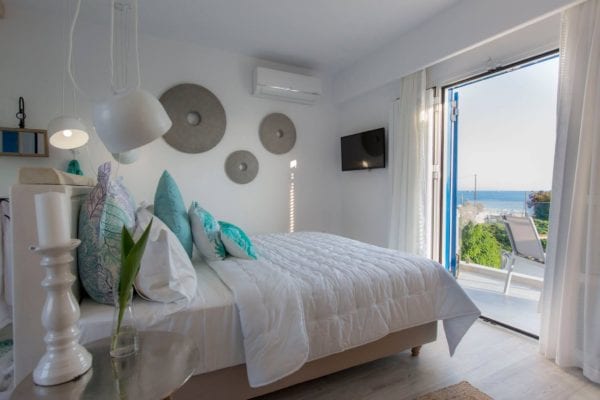 Free yoga sessions are given under the big cedar tree in front of the beach. Read reviews.
A real gem of the Aegean Sea combining the breathtaking beauty of unspoiled Plaka beach and nature, with the contemporary Cycladic design. This is a one-of-a-kind place for relaxation and tranquility.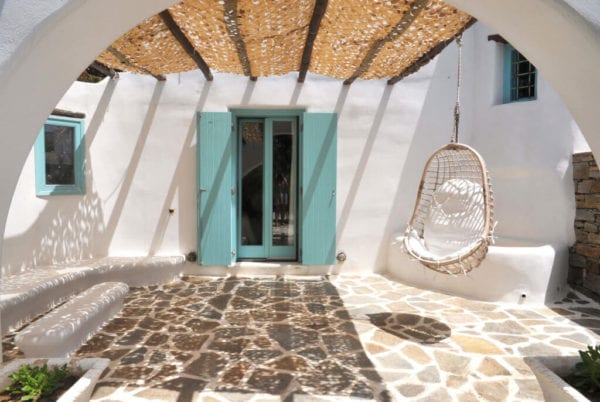 Yoga classes are given in the beautiful garden where you can find harmony of body and mind, improve your flexibility, strength and concentration, experience your inner self and let go.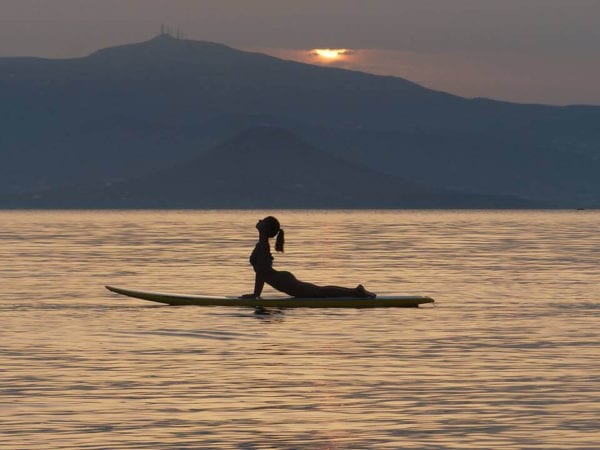 Classes are on offer 4 times per week by Loriën van Loenen, a trained yoga teacher. Lessons can also be arranged for every individual or group and at desirable times.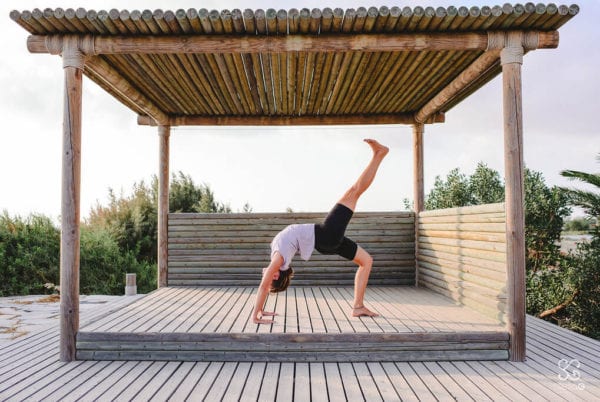 Massages can be arranged by a qualified holistic therapist. You can choose from a range of Thai Yoga Massage, Athletic-Stretch, Deep Tissue Oil, Aromatherapy, and Reiki. Read reviews.
Wisely located only 200 m. away from the breathtaking Agios Prokopios beach in Naxos, this new hospitality jewel is a hideaway of elegant luxury, offering to its guests upscale tailor-made services and features; all wrapped up in the excellence of high-end architecture.
Boasting amazing sea-views, private pools and Jacuzzi, each one of the eighteen suites of the hotel is a fine sample of leading design and comfort. The hotel embodies the philosophy of Cycladic chic purity and calmness; an ideal setting to unwind and indulge in the carefree island vibe. Private yoga and pilates lessons are available on request.
Vegetarian & vegan food
You will find many of the tavernas, especially in the Old Town have vegetarian and vegan food on the menu, including soups, beans, grilled vegetables and of course, potatoes!.
Where to retreat
Keep an eye on our Best Retreats in Greece guide for future retreats in Naxos.
Next stop Santorini!
Go here because you have to tick this one off your bucket list right? You might feel like you've already been there; you're bound to have seen endless photos on Instagram of the iconic domed white-washed houses set against bright blue sea.
Where to stay
If you are looking for privacy, this gorgeous luxury villa in Santorini sleeps 4 people, has its own pool and breathtaking views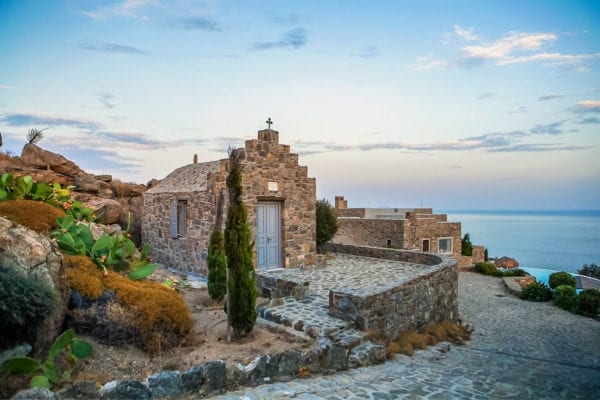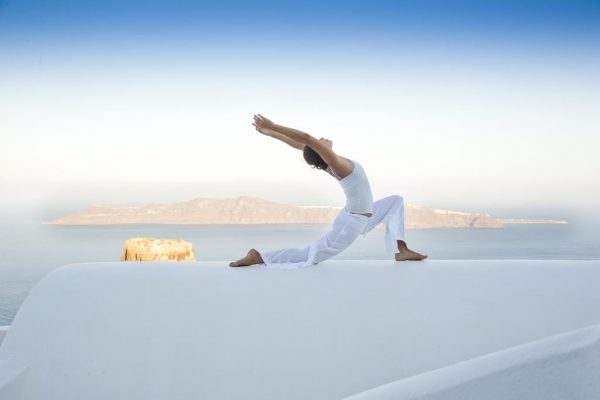 Grace Santorini is an exclusive boutique hotel in Santorini, Greece, perched above the world-famous Caldera with breathtaking views and sumptuous sunsets.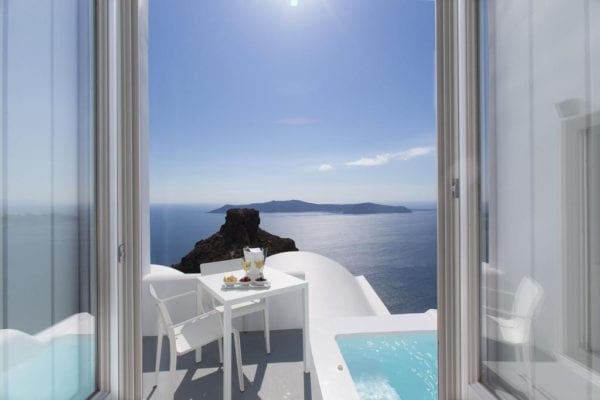 There is a dedicated yoga and Pilates studio with adjoining fitness area, where which offers daily complimentary yoga sessions. Read reviews.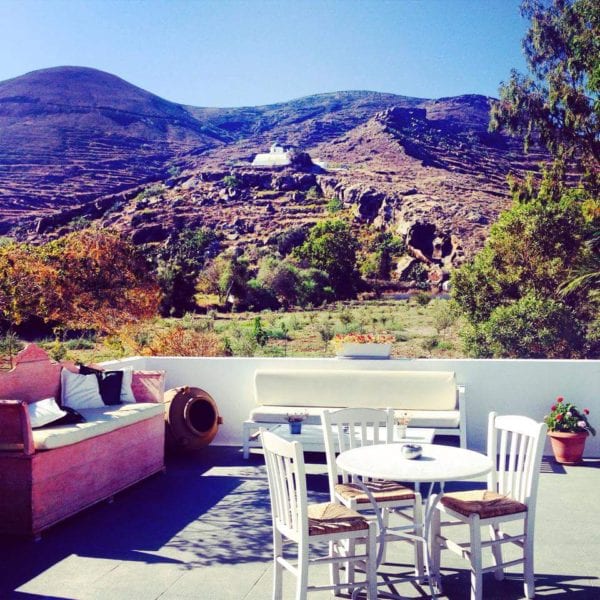 Hotel Pelagos is located at Baxedes of Oia, just 200m from the most beautiful beach of Oia, among vineyards and gardens where you will find all the beauty and calmness for your relaxation.
Pelagos hotel is continually running yoga retreats and other types of workshops, and has quickly captured a lot of attention from retreat leaders around the world. Read reviews.
Pegasus Suites and Spa, a luxury hotel set in the caldera cliff-face in the peaceful village of Imerovigli, blends in with the Cycladic architecture of the island.
While immaculate throughout, the 18 suites and villas, many designed to resemble caves (without the mustiness), are particularly outstanding – some have private hot tubs and plunge pools, and all have exceptional views.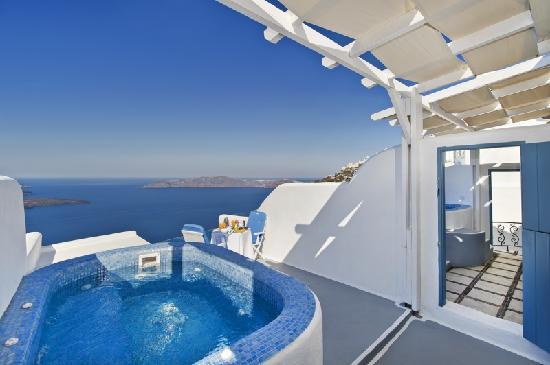 There in an on site spa with indoor pool and hammam. Choose between the wide selection of therapies and treatments for the face and the body.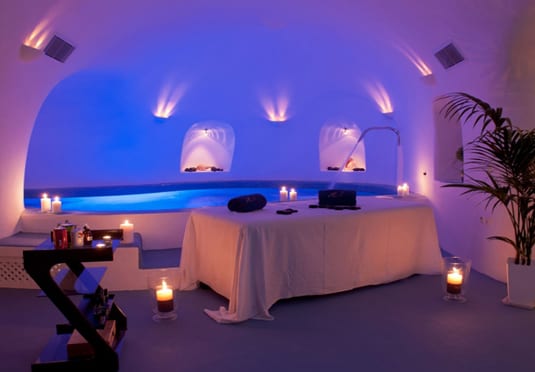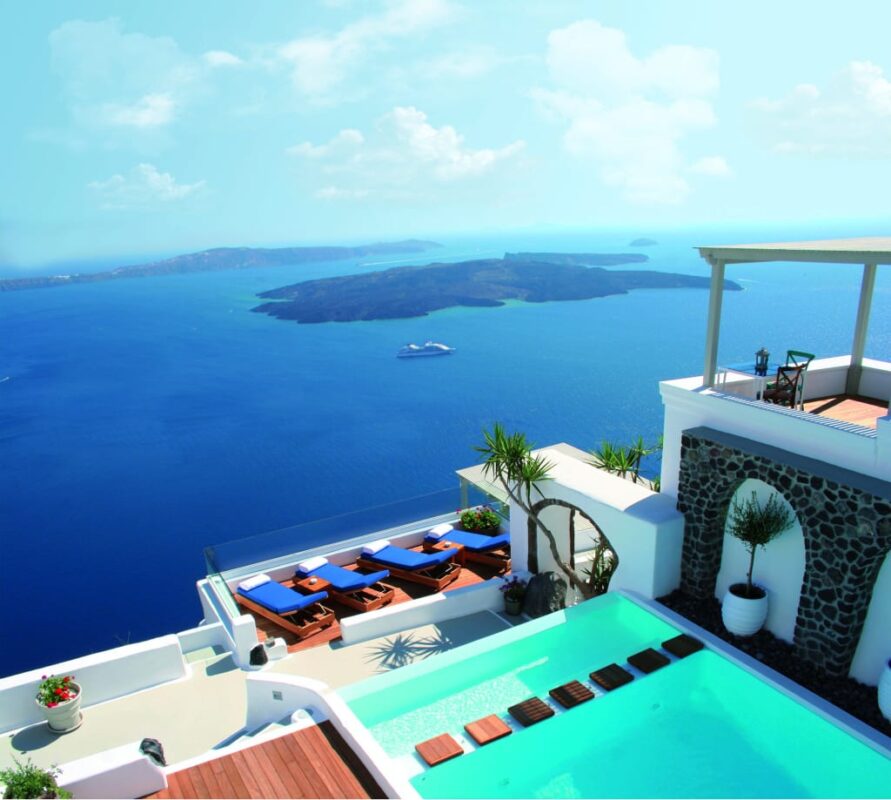 An authentic boutique cave hotel set in picturesque Imerovigli. Centrally located away from the hustle and bustle of the cruise ship port of Fira, the romantic village of Imerovigli is a pleasant drive from the famous sunset crowds in Oia.
Situated on a spectacular hillside setting and literally carved from the historic volcanic caldera wall, this serene retreat offers grace, elegance, and breathtaking views of the caldera cliffs and azure blue waters of the Aegean sea below.
All guests are welcome to use the wellness and fitness centre, which provides the latest range of professional exercise equipment and private treatment room for single or couple's massages.
After enjoying one of the relaxing treatments, take pleasure lounging in the heated and jetted, indoor grotto pool, soothing away any remaining stresses. Read reviews.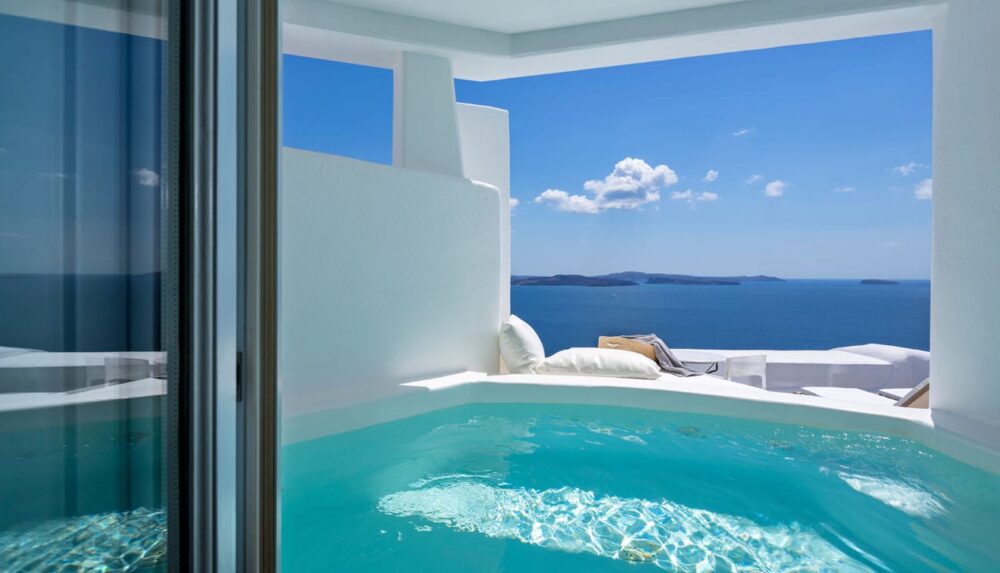 This luxury retreat gives you a mountain-top spa and pools with panoramic views of Santorini's caldera. Built on an old cliff-top winery, the Suites of the Gods look directly over Santorini's ancient volcanic crater – now filled with the blue waters of the Aegean
It's located on Santorini's northern tip, near the tranquil village church, a whitewashed hideaway just steps from Oia's lively boutique-lined streets. All hotel suites are freshly renovated and elegantly decorated in a dazzling white, minimal manner, featuring private verandas, al fresco dining areas and breathtaking views. Read reviews.
Where to retreat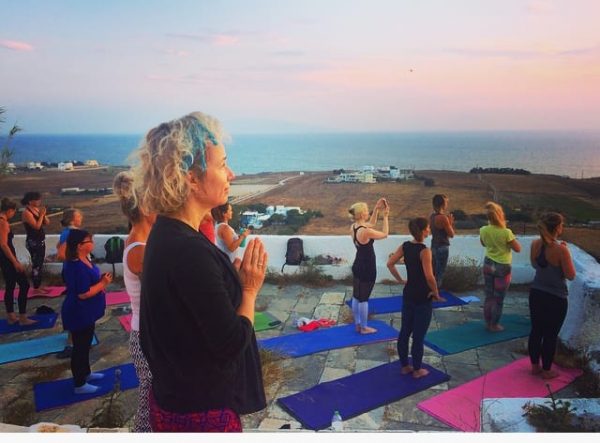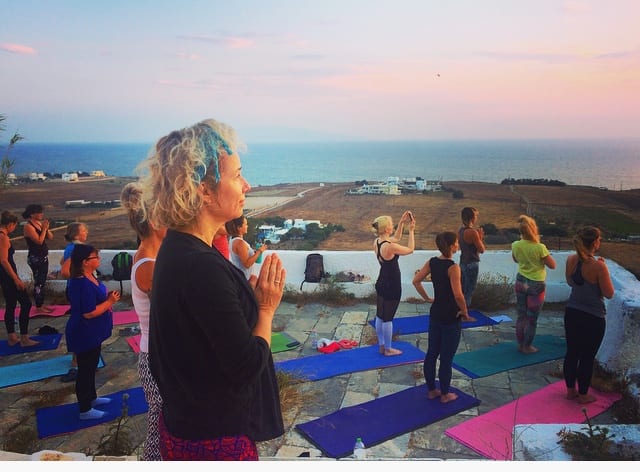 Be energised and inspired on this trip of a lifetime and join us on our 7 day Santorini yoga retreat. Enjoy flowing vinyasa practice, gentle restorative sessions and rejuvenating meditation.
This rejuvenating programme combines vinyasa yoga, restorative yoga and meditation to take you on an incredible journey of wellbeing and discovery in stunning Santorini.
From your arrival in Greece you can feel at ease and enjoy the wonders of this glistening jewel of an island, safe in the experienced hands of our team.
As well as the expert teachings you will also find yourself rebalanced by the beautiful nature of Santorini, with inspiring walks and views all around. You can take in the stillness, soak up the Greek sunshine and enjoy the energy of this special island, allowing yourself the time and space to relax.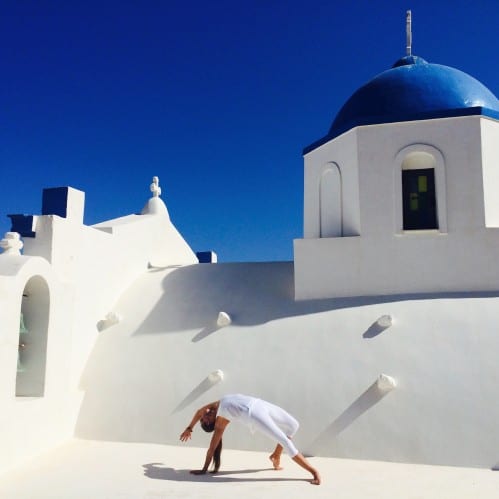 For a breathtaking and unforgettable sunshine Santorini yoga holiday, come and join us on the magical island known for its beautiful blue and white churches and surrounded by majestic views of volcanoes in the backdrop, the crystal clear Aegean sea and stunning sunsets.
Get all the Vitamin D you could possibly need and more soaking-in the warm Greek summer sun. The wonderful heart-warming people of Greece, the food, and stunning scenery make it a very special location to retreat to.
Your Santorini yoga holiday will include accommodation at a stunning boutique hotel, a wholesome organic breakfast of fruit, granola, meats, cheeses, yoghurt and more all freshly prepared, three hours of yoga per day, a two hour walking tour of the Santorini Coastline, and more.
Caveland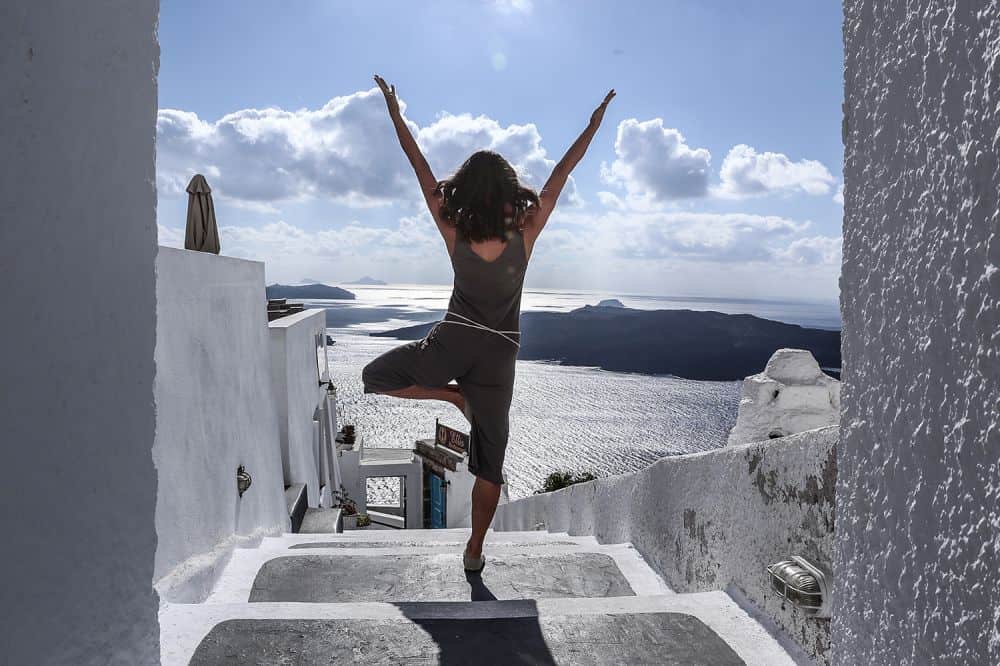 At Caveland they bring together yoga practitioners from all-around the World to practice daily yoga on a secluded outdoor terrace overlooking the village and the sea.
Caveland or "tennis club" is a former 4 star hotel and tennis club. It was refurbished and re-opened in 2011 as a boutique hostel. The property is a 15 000 sqm large complex situated in a picturesque village of Karterados just next to Santorini's capital Fira town. Accommodation during the retreat is in traditional Santorinian caves.
Veronika, the yoga teacher has been teaching yoga and leading retreats for 7 years. She and her husband are in charge of Caveland. The next retreats take place in May & October 2019.
Vegetarian & vegan food
The Nomadic Vegan Wendy, shares all her favourite tried and tested places in Santorini and Kzell has done all the research for you to uncover which restaurants on the Island serve vegan food.
Next stop Paros!
A pearl in the Aegean Sea, Paros is home to plenty of postcard perfect villages, make sure you pop in to Parikia (the main town), Lefkes and Marpissa, to name just a few, for your fill of white-washed houses.
How to get to Paros: You can't fly directly to the island, but it's an easy ferry ride from Santorini. You can search for ferries and find the schedule here.
Where to stay
Yria Island Boutique Hotel & Spa
Located in the heart of the beautiful bay of Parasporos amongst an oasis of vineyards, trees and wildlife is an extraordinary boutique hotel. The Astir spa offers the wellness traveller the ultimate spa holiday experience through a huge variety of pampering packages.
Meticulously designed and arranged, the comprehensive hotel spa facilities will soothe the mind, body, and soul and leave you feeling totally at peace.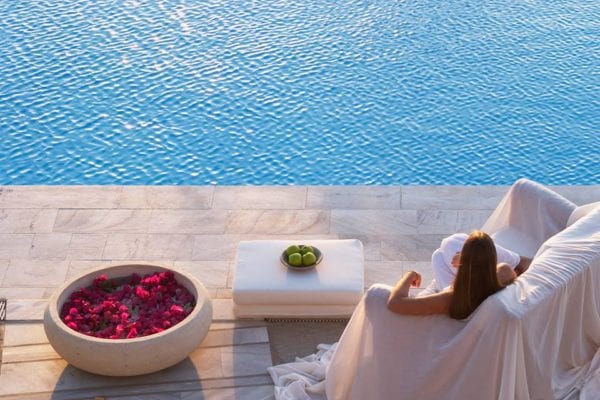 In keeping with Yria Island Boutique Hotel & Spa ethos, all products used in the Astir Spa are made from the purest ingredients inspired by ancient Mediterranean techniques and remedies, and utilising natural flora products of the island of Paros.
Blending seamlessly with its luscious verdant surroundings, this spa hotel has been designed and built as an environmentally friendly hotel, constructed from locally sourced materials and utilising the expertise of local craftsmen.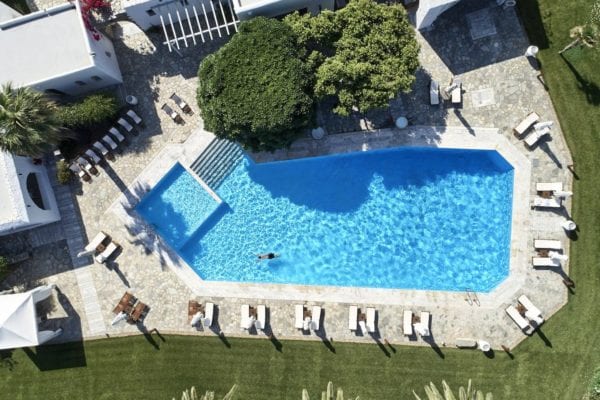 This focus on heritage and connection to the island of Paros runs deep through every aspect of the hotel's ethos, with its name 'Yria' inspired by the historic name for the island of Paros from the time of antiquity.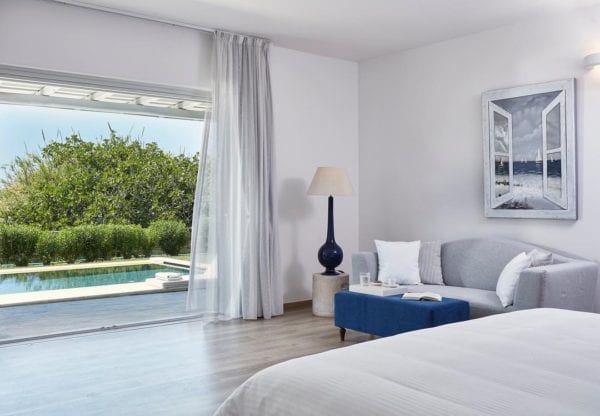 Total serenity and bliss awaits you at the Yria Island Boutique Hotel Spa resort in Paros. Read reviews.
For families or friends, stay in beautiful luxury villa in Ambelas with views over the terraced landscape to the Aegean Sea.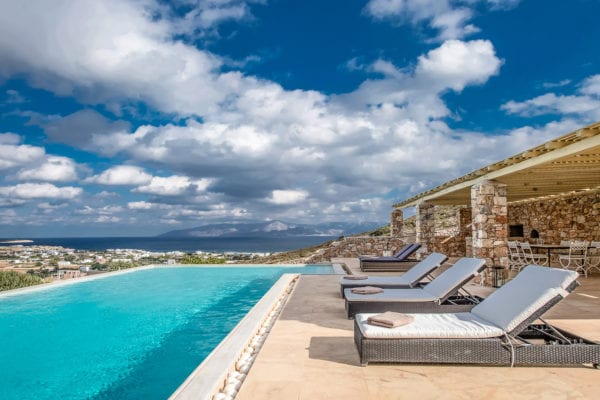 Where to retreat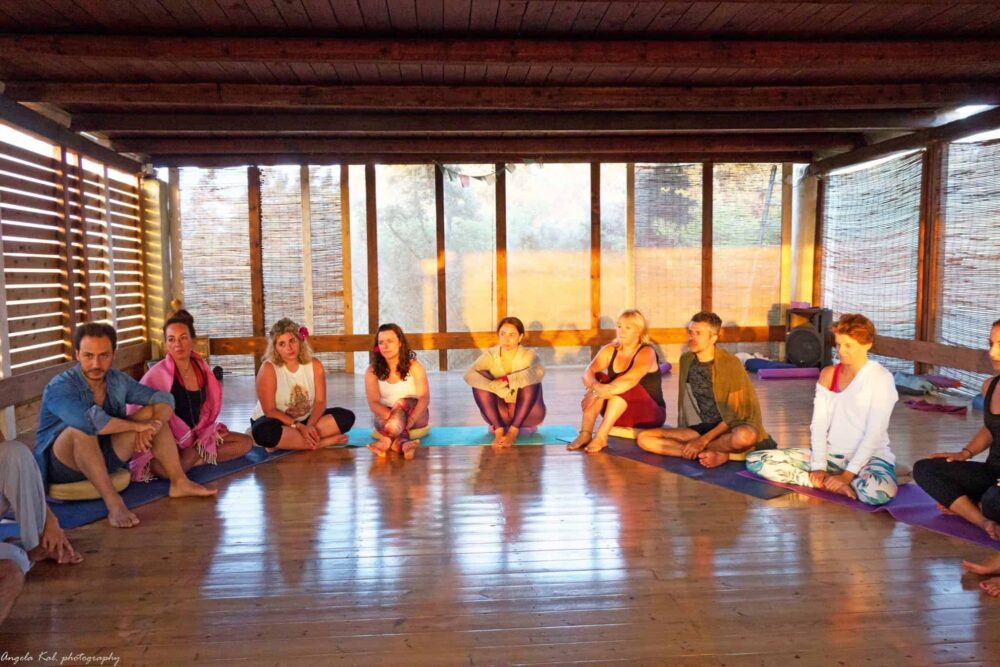 Okreblue was created for like-minded people to gather and practice and share. The owners Angelo and Sasy have built the place with love and care, slowly expanded only to fulfil their guests' needs.
Coming to Okreblue you really get the essence of arriving to someone's home, feeling the warmth of true and authentic welcome. The two spacious, beautiful hand-made outdoor shalas, the rooms, the lounge-restaurant and of course the amazing Filizi beach are just a few meters away from each other. Coming here you don't need to look for more, you have everything at your doorstep.
What makes Okreblue more special, is the organic home grown vegetables that are used for the delicious meals at Caretta restaurant-lounge (Okreblue's restaurant).
Choose your retreat with one of the international yoga teachers that hold their retreats/teacher trainings here, or come to attend everyday yoga classes with Sasy, enjoy the hearty food and the beach.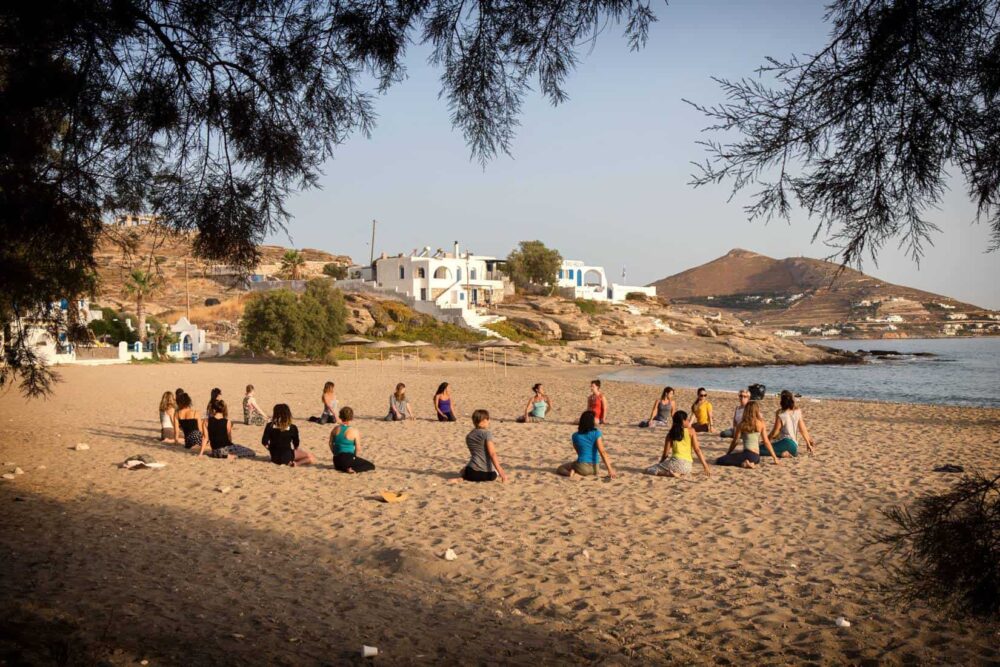 The authentic yoga classes are taught by our enthusiastic and experienced teachers given to you with all their love. Their passion for yoga goes further than only the yoga classes. They also put their whole heart into their practice!
They offer holistic ways to explore and expand your potential, your knowledge, to restore wellness, balance and health through yoga retreats and teacher trainings. And to get physically and internally strong and embody presence. To experience inner and outer alignment, and energetic flow from within. And to investigate the mind-body connection, and develop focus and clarity of mind.
Vegetarian & vegan food
Happy Cow is the best resource when it comes to finding healthy eats and places that sell vegetarian and vegan food. We recommend a cute cafe called Distrato, located in the old town of Paroikia.
Next stop Folegandros
An hour's boat ride from popular Santorini lies the bewitching island of Folegandros – a tranquil timewarp of relaxed dining, stunning Aegean sunsets and walks through rugged landscapes Together with Sikinos, Ios, Anafi and Santorini, it forms the southern part of the Cyclades.
Where to stay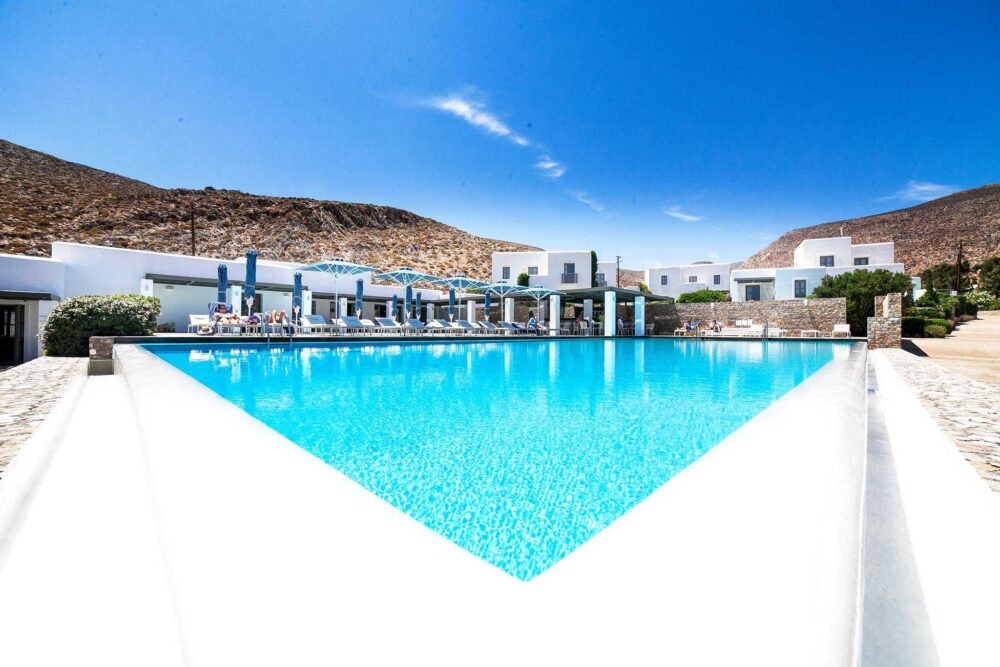 In Folegandros, an island that has kept its Aegean legacy untouched by time, Anemi Ηotel was created to guarantee an amazing stay, combining contemporary design and Cycladic architecture.
Located 3 km away from Chora and just a few minutes' walk from the pebbled beach of Karavostasis, Anemi Hotel consists of 12 separate, two-story buildings that face the Aegean sea and Folegandros port. Wellness facilities include a tennis court, fitness centre and yoga classes.
Within the hotel there is also a yoga studio. It comes with all the good things, mats, props, protection against the Cycladic wind and warm sun. Anemi's new yoga studio is more than just a yoga studio with classes, it is a wellness centre offering massages and therapies.
Where to retreat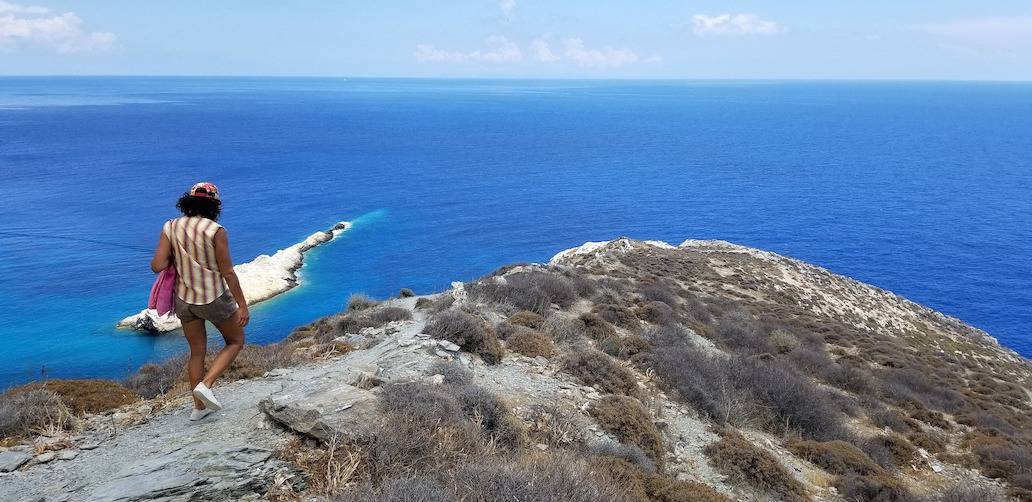 Curated isn't your typical yoga retreat. There's no set time structure and each day is treated differently. Curated is created specifically for and with the Cycladic island of Folegandros in mind. The retreats were created in relationship to the islands raw nature, winds, heat, clear blue waters, local food, and greek culture.
Zoja proposes that yoga is happening all the time, not just on your mat. It's happening when you walk, talk, eat, and work. It's about cultivating a presence in the world and connecting to ourselves and each other.
Each day, Zoja takes the group on hikes to sacred beaches and leads an asana and meditation class. Each night, Zoja curates dinner at a local taverna. There's also plenty of time to relax on the beach, spend time on your own, or linger in the shops and cafes that line the ancient stone village. And, for those of you wanting a bit of pampering, Thai massage and Reiki treatments are available upon request.
Curated has started to host world renowned expert yoga and spiritual guides. These incredible teachers guide the asana practice, while Zoja continues to host the entire retreat through the welcoming to the island, the leading of the hikes, and curating dinners.
Curated is a transformative experience. It's about staying open to the situation and trusting the expertise and experience of your guide. This isn't your typical retreat. This is Curated.
Don't forget you can now buy everything you need for your wellness journey in our Wellness Travel Shop –  bikinis, yoga tops, bottoms, fitness & active wear, organic & vegan skincare, haircare & suncare + destination guides.
Pin this Greek Islands guide & share!