Last Updated on March 11, 2019 by Editor
The great thing about retreats open all year round is that you can check in and check out anytime you like. No matter what the season or the destination, these recommended retreats run weekly wellness programs for yoga, healthy eating, detox, rest and relaxation.
All you need to do is decide where you want to go, and when and we'll help you to find a retreat that suits your needs.
Samahita Wellness Retreat in Koh Samui is purposely set up to help you unlock your potential, increase your energy level, recover and enhance your vitality – to breathe into a new life.
Health, fitness, and spirituality, through yoga practice, meditation, breath, core and cardio workouts, charged delicious food, interesting people, detox and vitality enhancing wellness programs, in a relaxed yet supportive environment, directly on the beach.
Samahita's Total Self-Care Program has been developed to help you make the most of your stay and relieve stress. You get the stress-free benefit of the whole selection of yoga, breath, meditation, and fitness classes every day, all the great food, and a selection of massages, facials, scrubs and skin treatments. This Samahita wellness program is available for 3, 5 or 7 days.
We are directly on the seaside; an Oasis for your Mind & Soul with fantastic ocean views and surrounded by gorgeous green nature; a quiet and safe area where the only sounds you will hear are singing birds and the ever flowing voice of the ocean.
Long Bay beach, one of the most beautiful virgin beaches, with kilometers of fine white sand, is just at 3 minutes walking distance, in the fishermen village Long Bay.
The parish of Portland, on Jamaica's East Coast is one of the most beautiful places on the island. With its stunning and warm blue waters, romantic coves, virgin beaches, breathtaking panoramic views and waterfalls, it is not a tourist area and you will be far away from the rush, stress, and hustle of the city. You will have a chance to meet locals, walk around and enjoy amazing wild nature and the pulsing culture of sweet Jamaica.
It is time to slow down and get back into balance. Enjoy an oasis of tranquility and relaxation through yoga, mind and body awareness, healthy food, fresh spring water and herbal medicine. More than just a holiday, we are here for you to experience a transformational journey within yourself. Go Natural retreats are all about slowing down and getting back into balance.
We cater to the needs of each individual as a whole being, and provide an oasis of tranquility and rejuvenation through yoga, mind and body awareness, healthy food and herbal teas, in a priceless natural environment.
Join us year round at our Surya retreat, on the sun-blessed island of Fuerteventura, Canary Islands with epic sand dunes rolling down into the turquoise ocean, breathtaking white-sand beaches and dramatic volcanic sunsets.
More than just a holiday, we are here to support you in your wellbeing journey, making you feel at ease from the moment you arrive.
Stretch and strengthen your body and mind and bring yourself back into balance with a unique blend of yoga, pilates and meditation. Enjoy mouthwatering vegetarian meals, holistic massage and stunning sunsets over the volcanoes.
Our seven night yoga and Pilates retreats running every week from Saturday to Saturday are designed to help reduce stress, improve fitness and vitality and most importantly take time for you. Perfect for all levels from beginner to advanced practitioners, we are here to support you and your goals every step of the way.
The Sen Wellness Sanctuary is a small, peaceful and modest retreat in a nature reserve set between a lagoon and the ocean in the south of Sri Lanka.
It is the perfect place to immerse yourself in natural beauty and relax and rejuvenate your body and mind.
The Sanctuary offers Yoga and Ayurveda retreats all year round and hosts detox retreats and special Signature retreats a few times a year.
The gentle rhythm of the sanctuary and the pared back approach and architecture of the place allow for a genuine retreat.
The focus at Sen Wellness Retreat is on rest and connection with nature and oneself. The eclectic and fascinating selection of books available are perfect to fill your time between yoga, treatments and walks on the beach.
You'll be encouraged to put away your devices as much as possible and allow for a digital detox too.
With our retreat sanctuary in the mangrove forest by the beach, we invite our guests to reconnect with nature and feel the vital energy of Sri Lanka.
Our retreats allow you to relax, rebalance and rejuvenate in a peaceful, healing environment in our natural sanctuary.
Azulfit's Lotus Retreat in Corralejo, Fuerteventura, Canary Islands is a little oasis for you to experience an unforgettable beach yoga holiday.
Salute to the sun as it rises over the ocean, explore the endless white sandy beaches or learn to surf in the beautiful turquoise ocean.
With world-class instruction from a team of international instructors, an inclusive full body massage and delicious, wholesome breakfasts, the Azulfit retreat is made for holidays that enliven the body, mind and spirit.
The Azulfit Lotus Retreat is perfectly placed for relaxation and respite, located just a short walk from Waikiki beach.
Designed with solo travellers, friends, couples and groups in mind. It's ideal for those looking to combine the relaxation and chilled vibe of a beach holiday with the benefits of a wellbeing retreat. All retreats run Saturday – Saturday.
This is the ultimate 3 night Sex and the City Escape. It offers the opportunity to go away at any time you wish and to create your very own bespoke escape with a group of ten (more can be arranged) taking the entire riad exclusively.
The UK based owner, Lucia Silver, will work with you to design a program of perfectly balanced relaxing, adventurous and cultural activities that will nurture your body and romance your soul.
All you need to do is tell us what you need and want and leave us to do the rest. Your only job is to get on a plane here and enjoy it.
Whether you are wanting to be seduced by the souks, enthralled by exotic new experiences like camel riding, belly dancing and excursions to the desert, or you just want to be spoiled and indulged with a sensual massage by our candlelit rose filled fountain, we will create the experience just for you.
For these reasons and more, Dar Jaguar has established a sparkling reputation for designing and hosting some of the most spectacular hen party packages in Marrakech.
A fun-filled week with something to suit everyone, take the next step along your path of self-discovery through the practice of Hatha yoga, physical postures, breathing techniques, meditation and relaxation with our team of professional yoga teachers!
Relax and unwind in the comfort of one of Cyprus Villages tastefully restored traditional village houses far away from mass tourism. The houses and apartments are located in and around the village of Tochni.
Tochni is set in the country approx. 10 km from the beach and 30 km from Limassol. Spend your free time either reflecting quietly or take part in the varied activities on offer. Leave feeling renewed with a greatly enhanced sense of well-being and positivity.
Tere is plenty of time to enjoy traditional holiday activities such as relaxing by the pool or at the nearby beach, strolling through the village or hiking through the countryside.
A Healing Retreat for Regeneration, Replenishment & Alignment. At Fivelements, Puri Ahimsa, we embrace holistic Balinese-inspired therapies administered by traditional Balinese healers using ancient wisdoms passed down through direct lineage.
Following the Balinese principal of Sekala-Niskala, which holds that we all live equally in two worlds; the seen or conscious world Sekala, and the unseen or psychic world Niskala, the Balinese healers engage the help of the divine source during each healing session.
The Panca Mahabhuta (five elements) Retreat is our signature program that comprises a holistic integrative approach designed to tune in on the physical, emotional and spiritual levels, allowing an organic healing process to naturally unfold. This begins by attuning to your authenticity and honouring your highest potential.
Acknowledging and respecting your individuality, we collaborate with you through a personalised Guest Liaisonprogramme, which guides and nurtures a healing path combining: Balinese-inspired healing rituals for purification, balancing and regeneration, Plant-based living foods cuisine for health, beauty and longevity, sacred arts practices for inner strength, alignment and dedication.
Retreats are available in 3, 5, 7, 10, 14 & 21 nights' stays.

Bali's premier Health and Wellbeing Spa Retreat, Bagus Jati, is set in 5 hectares of hillside gardens among lush tropical forests in the mountains of Ubud, Bali. Bagus Jati offers stunning views of one of Bali's most breathtaking valleys. It is an architecturally unique retreat dedicated to one thing – your wellbeing.
Eight circular deluxe spa villas, twelve superior villas, ten superior chalets, four pool villas and one royal pool suite are nestled into five hectares of beautifully landscaped gardens and jungle along with facilities that will ensure that you unwind, and experience a level of relaxation and rejuvenation that is unsurpassed.
At Bagus Jati, our guests are treated as individuals. Our natural health and well-being programs are tailored to focus on replenishing your body, mind and spirit, offering you the tools to improve the quality of your everyday life. Escape the daily stress of life and learn to live well.
On our Healing Detox Retreat, we embrace holistic Balinese-inspired therapies administered by traditional Balinese healers using ancient wisdoms passed down through direct lineage.
Following the Balinese principal of Sekala-Niskala, which holds that we all live equally in two worlds; the seen or conscious world Sekala, and the unseen or psychic world Niskala, the Balinese healers engage the help of the divine source during each healing session.
A healing journey for detoxification and transformation. At Fivelements, Bali we recognise that optimal wellness comes from learning to love and respect the body, mind, and spirit, where health and well-being are a reflection of inner harmony.
This is our signature cleansing programme inspired by the ancient Balinese philosophy that promotes living with purity of thought, speech, and action. It encourages us to align our heartfelt goodwill and thinking with consistent speech and action.
The retreat includes traditional Balinese healing therapies aimed to detoxify and purify the physical body, sekala, and the non-physical mind and soul, niskala, unifying body and mind towards a natural harmonious state of being, and allowing an organic healing process to unfold.
With your needs in mind, we collaborate with you to nurture a new healing path, combining: Balinese Healing Rituals for purification, balance and regeneration. Living Foods for detoxification, nutrition and vitality and Sacred Arts for inner strength, integrity and dedication.
As our lives become increasingly demanding, fast-paced and over-stressed, we begin to recognise significant impacts in our body's natural ability to sustain healthy organ productivity, effective toxin elimination and overall health and wellness.
Combined with the growing number of harmful chemicals and pollutants to which we are exposed on a daily basis (whether due to impure air or water, food pesticides, preservatives, additives or other non-natural materials), this is causing us to experience poorer health, including chronic aches and pains, lower levels of energy and productivity, frequent illness, decreased memory or concentration, depression, ongoing digestive issues, bloating, excessive weight, dependence upon food or other substances, disease and premature ageing.
This 7 day detox and cleanse retreat will take place at Blue Karma Seminyak resort on the beautiful island of Bali. Indulge yourself a week in the magical island of the Gods, Bali with comprehensive wellness treatment and care from the best.
This retreat can help you lose weight, reduce stress, clear up the skin and digestive problems, and significantly boost energy levels.
Let go of years of accumulated stress and negative mental patterns and give your body and soul a new energy and vitality. Reconnect with yourself, others, and the environment.
Blue Karma Seminyak is a beach resort area at the southern end of Bali, with many luxury hotels, villas, and spas, as well as high-end shopping and restaurants. In the heart of Seminyak, the resort is within walking distance to shops, restaurants, and to the beach.
Indulge yourself for a whole week in the Blue Karma Ubud resort on the magical island of Bali.
In the middle of this verdant haven of peace, built with respect for the environment, surrounded by fruit trees and deliciously perfumed plants, nestles a 25 m pool, our Karma Yoga pagoda, gazebos with their thatched roofs as well as many other resting areas.
With a comprehensive range of wellness treatments, you'll receive the very best care for your body and soul. This detox retreat at the Blue Karma Ubud resort can help you lose weight, reduce stress, clear up the skin and digestive problems, and significantly boost energy levels.
Let go of possibly years of accumulated stress and negative mental patterns and give your body and soul a new energy and vitality. Reconnect with yourself, others, and the environment at Blue Karma Ubud. Traditional Balinese massage and a range of other treatments are available and offer the perfect opportunity to enhance your stay in Bali.
Come to the mountains of Costa Rica for an all inclusive rejuvenating retreat at our beautiful eco-lodge immersed in nature.
Practice yoga and meditation in an open-air pavilion with breathtaking views, read by the pool, hike in the jungle and renew your health with our professional wellness services directed by AHG registered herbalist and nutritionist Jill Ruttenberg.
At AmaTierra you can nurture yourself with delicious organic foods and professional wellness services. Take a tasting tour of our organic greenhouse or find serenity on a hike to the stream.
In our rural mountain eco-lodge, surrounded by friendly Costa Rican people, you can glimpse the local culture in a safe and natural way. Choose a package to match your holistic lifestyle.
AmaTierra has one of the best yoga retreats in Costa Rica. Attend Special Yoga retreats and other self-improvement workshops offered at AmaTierra that will enrich your vacation experience and inspire profound transformation in your whole Being.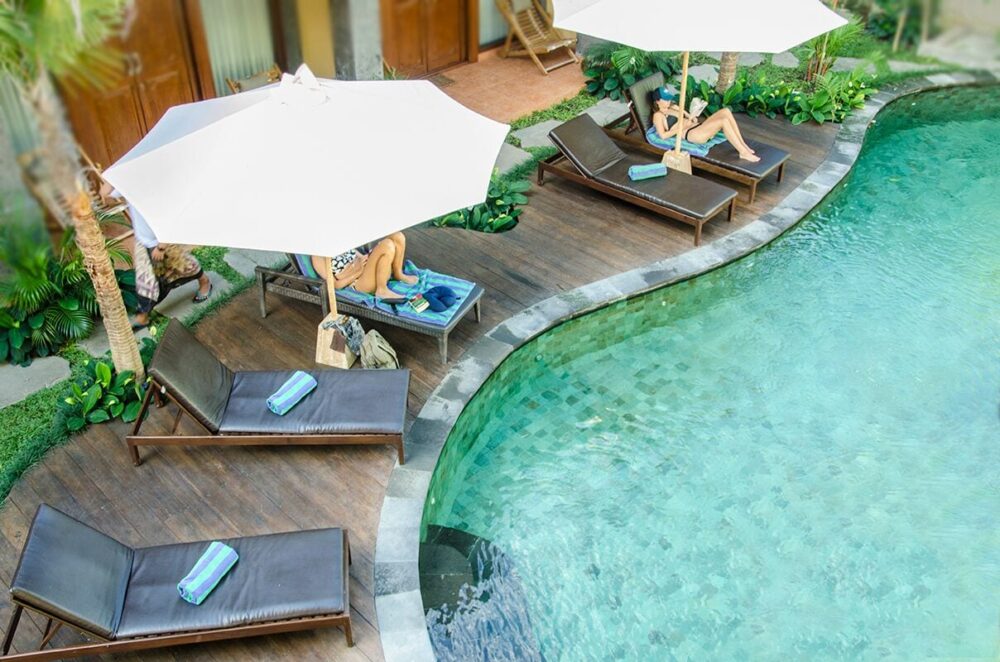 In this 14 day detox you will experience a wonderful cleansing juice detox with our added elixers and alkalizing powders, as well as visit the "real bail" on our tailor made special trips including a unique visit to a rural Balinese Priest in East Bali.
By attending for a longer time, your body will receive a more thorough cleanse, and those stubborn kilos will fall away as well! This is also suitable for those of you who don't want to lose weight, but want to detox and cleanse your body. You will also be pampered at our spa with hot stone massages, organic facial, and body scrubs!
Our retreat program includes a health and wellness consultation, specialist meditation and breathing program, Change Your Mind Change Your Life session with our clinical hypnotherapist – a mix of life coaching, hypnotherapy and creative visualisation, yoga classes with our private teacher, an enthralling visit to the Balinese Healer and an excursion to the Healing Volcanic Hot Pools.
Join us for one of our yoga holidays in Las Palmas, a place known for its all year long summer, right in the beach promenade of la Playa de Las Canteras, a 12 kilometers beach which is considered one of the best urban beaches in Europe.
The Canary Islands are known for their eternal summer weather, so you can enjoy your holidays at the beach all year long. We want to give you the opportunity to let yoga be your daily companion, merge into the Canarian lifestyle, meet new people, connect to nature and have a time for yourself.
An invitation to leave your "musts" behind and just live your holiday as you please. We want to give you what we love, so we offer you daily yoga classes and all sort of activities to discover Gran Canaria, experience something new or simply relax and chill.
Your non yogi partner will also have its place and you will be able to enjoy both your yoga practice and the pleasure of sharing. Because we believe that above all, the best way to be healthy is to be happy.
The neighborhood where we are located is very quiet, secure and warm, so you can have all the facilities of being in a city, but in a soft and calm atmosphere. Las Palmas is a charming city which still keeps its Latin American colonial influences, making it colorful, joyful and kind.
It also has a lot of different kind of nice restaurants where you will be able to eat all sorts of food from all over the world. Our cute yoga studio is from 5 to 10 minutes walk from all our accommodations as it is the rooftop where we teach some of our lessons.
The Art of Detox retreat at Chiva-Som is a fully personalised dietary focused programme. Start a beneficial dietary transformation or a more subtle change to achieve the goals you wish to fulfil. Retreats are available for 5, 7, 10 or 14 nights.
For 23 years, Chiva-Som has provided a Haven of Life for guests seeking health and wellness. Our programmes are founded upon our six wellness modalities: Spa, Fitness, Physiotherapy, Holistic Health, Nutrition and Aesthetic Beauty.
Your personal advisor will aid you in discovering the ideal diet, balancing macro and micronutrients while herbal and nutritional supplements ensure your detoxification processes are working optimally to cleanse your body of toxins.
Through our retreat you will discover a new path towards more nourishing foods that will bring your digestive and metabolic systems back to their optimal function for sustaining health.
This is not an escape from everyday life. It is the return to a life well lived. Where rugged luxury meets unregulated freedom.
A place to connect with something larger than oneself. A haven for the adventurer, for the wanderer. The endlessly passionate and curious. Arrive with an open heart and leave changed forever. This is vacation with a purpose. A destination with meaning. This is Nihi Sumba.
At Nihi Sumba Island we promote all facets of wellbeing. Our focus is to help you leave rejuvenated and rebalanced through a plethora of activities that have been designed to support our mission.
Let the highly trained, healing hands of our Sumbanese Spa staff take care of you as you unplug from your daily life and begin to reconnect to your inner self.
Follow our travel inspiration on instagram @soulseedtravel to stay updated with our latest recommendations retreats open all year. Fill in the form below to speak with one of our wellness travel advisors to help you find your perfect retreat. Pack your bags and book your flight!