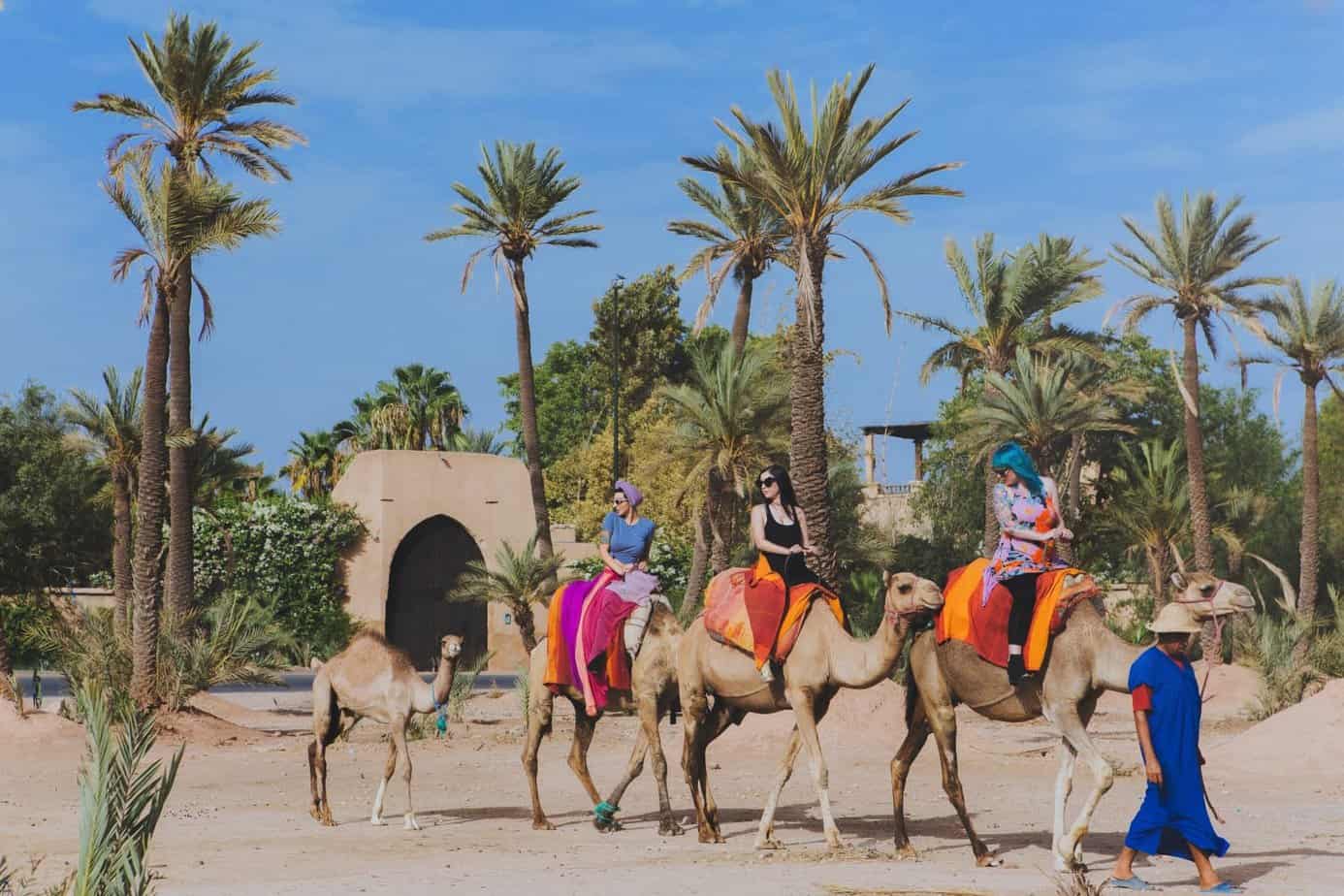 Amid the madness and mystique there's peace and serenity to be found on one of these luxurious retreats in magical Marrakech.
Behind the doors of the beautiful Riad's discover a tranquil oasis and a blissful retreat program to keep you in shape, entertained and pampered. Here's the Soul Seed Travel Guide to Luxury & Soulful Retreats in Magical Marrakech.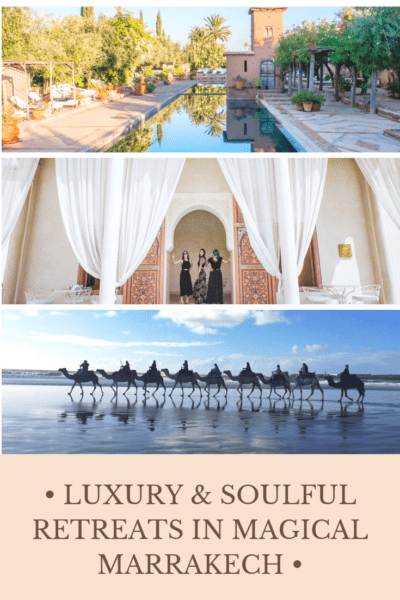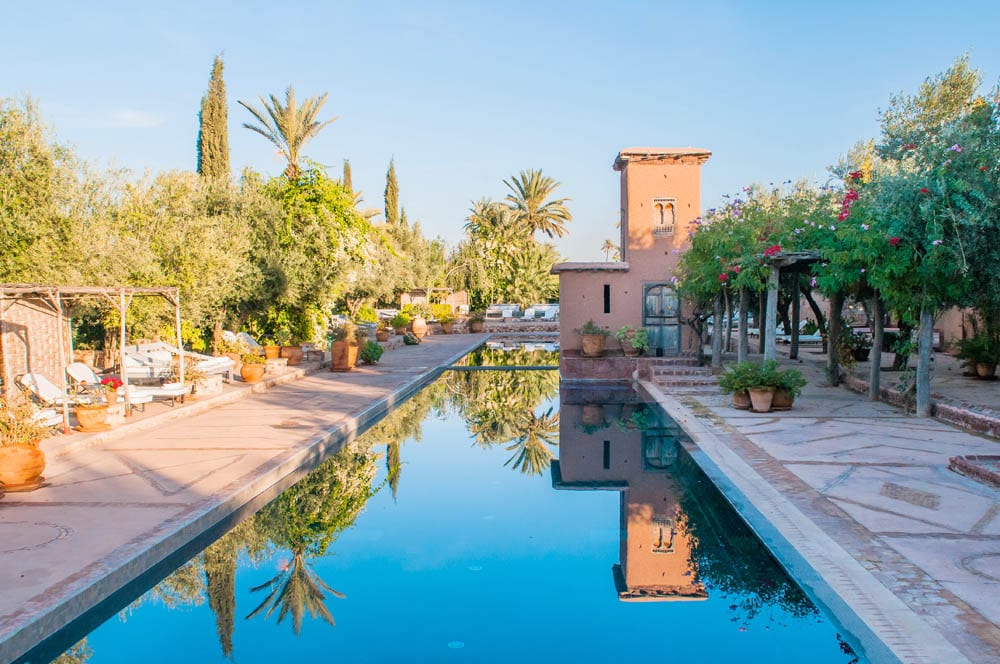 Join us for our once-in-a-lifetime luxury boutique yoga retreat travel experience combined with a deeper spiritual perspective in the mystical, magical land of Marrakech.
You'll be able to experience the exotic world of Marrakech while learning about the historically unique culture, indulging in a one-of-a-kind shopping experience, going to the spectacular Atlas Mountains, dining in stunning restaurants, rejuvenating in the famous Moroccan Spas, going on camel rides and mule treks, seeing beautiful Arabian horses and much more!!.
Plus daily yoga and meditation class, along with personal tarot readings with our leader Michelle Lee, are integrated into each day, making the week a true soulful "retreat" experience. You will go home feeling centered, rejuvenated, and completely inspired!
Our hotel sits in the magnificent 14 hectares of the Beldi Country Club. Here you will find a charming blend of Moroccan tradition and French chic. A green oasis of charm, ancient olive trees, stylish swimming pools and restaurants with views across the rose gardens to the Atlas Mountains.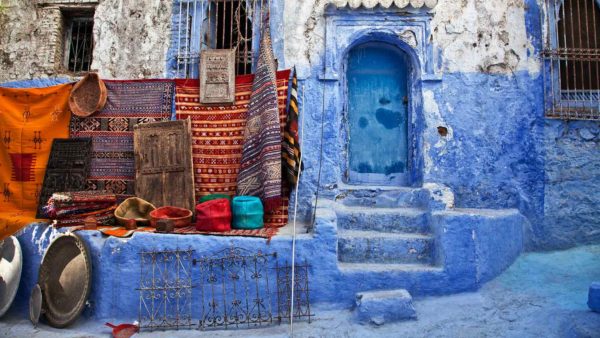 On this 8 day Marrakech + Sahara Desert Yoga and Art retreat, we'll first enjoy the bustling city, discovering its souks and artisan crafts throughout the medina and then we'll head out to the Sahara desert for a few nights under the stars.
You will visit and ancient Kasbah, or fortress village as well as engage with our Berber women's textile co-op community partner to learn about artisan textile traditions.
Our artisan producer partners use natural dying methods for textiles, using spices and herbs such as saffron and indigo. They also craft by hand and play an important role in their community.
Local experiences include a traditional sand-oven cooking class in the desert, as well as cultural education about traditions, artisanship and the Moroccan way of life.
We work with our local hotel partners to ensure fresh, locally sourced breakfasts and we visit locally owned restaurants that prioritise regional cuisine such as olive oil, local breads and figs.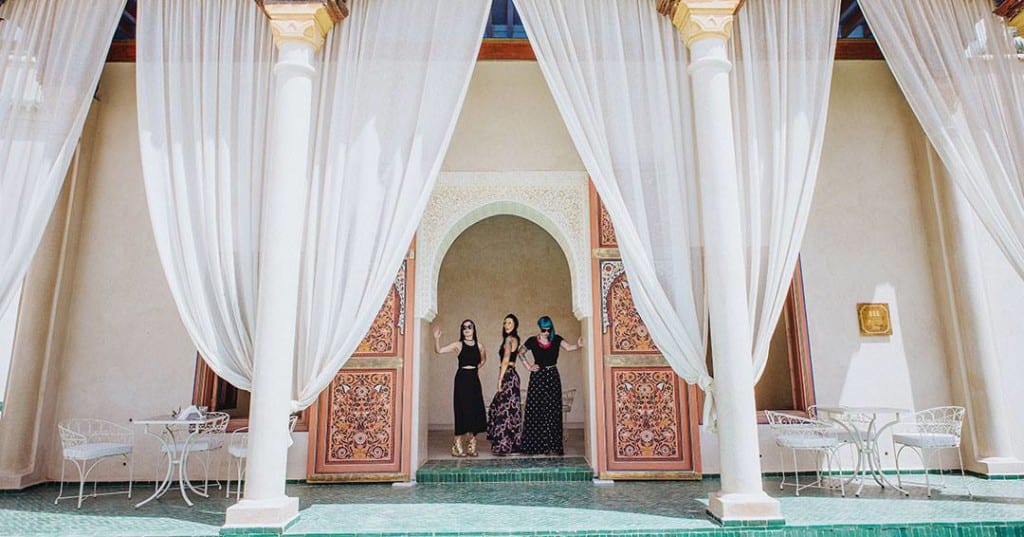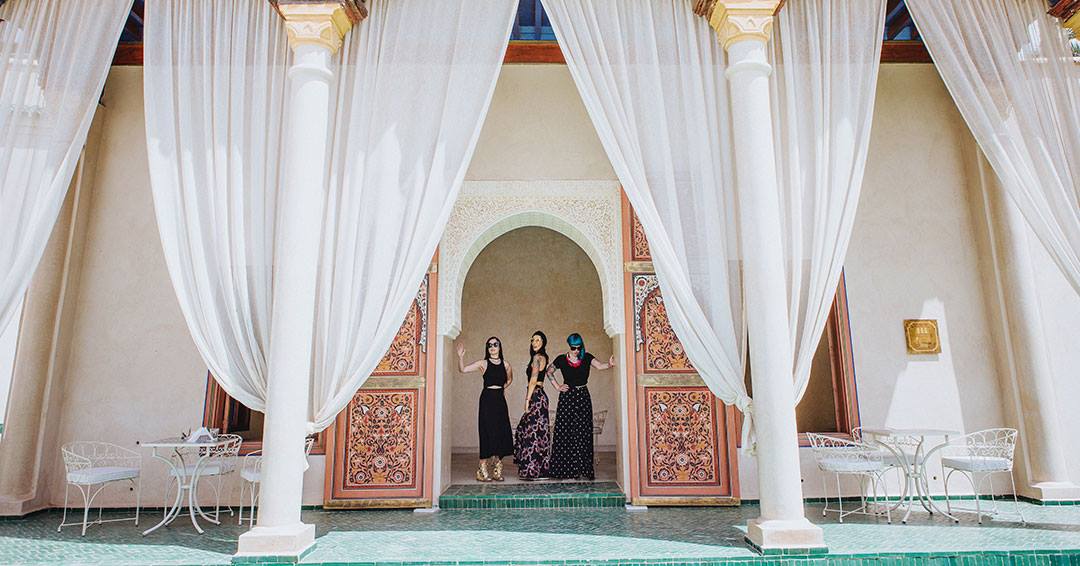 This is the ultimate 3 night Sex and the City Escape. It offers the opportunity to go away at any time you wish and to create your very own bespoke escape with a group of ten (more can be arranged) taking the entire riad exclusively. The UK based owner, Lucia Silver, will work with you to design a program of perfectly balanced relaxing, adventurous and cultural activities that will nurture your body and romance your soul.
In Lucia's words, this is a "Gorgeous marriage of the radical self love we owe to our hard working-selves and the style, fun and cultural sophistication of Sex and the City".
All you need to do is tell us what you need and want and leave us to do the rest. Your only job is to get on a plane here and enjoy it.
In Lucia's work as a red carpet and wedding dress designer in London, Brides tell her all the time that they can't find anywhere original or distinctive to celebrate their hen with their best girlfriends. Especially if they don't want it to involve stretch white limos, pink bunny ears and sweaty nightclubs.
Well that's no longer true! "Sex and the City" inspired and reminded us of the fun and importance of precious girlfriend time and Lucia wanted to create something really special at Dar to allow for just this. The perfect, exotic, beautiful place to explore and adventure, shop until you drop and relax with your best gals.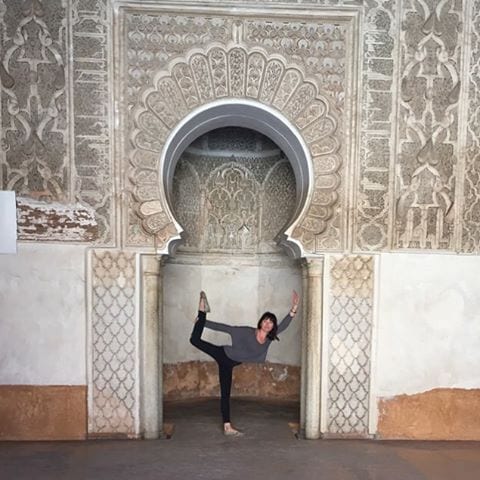 We are so excited about this special collaboration and enhancement to our Marrakech retreat. EAT.PRAY.MOVE will feature Julian Hyzler from EASEL&LENS to combine a look at creative focus with travel-journal creation classes throughout the week.
Yoga and meditation classes will be held daily to prepare our bodies and minds to find the 'calm in the chaos' of the sensory-overload that is Morocco – and then these art projects will help us find news ways of seeing – both yoga and art working together to find FOCUS in the many layers of smells, sites, and sounds that abound in exotic Marrakech.
All levels are welcome, and participation is voluntary. Projects and classes will be offered as a completely exploratory, unintimidating and personal experience.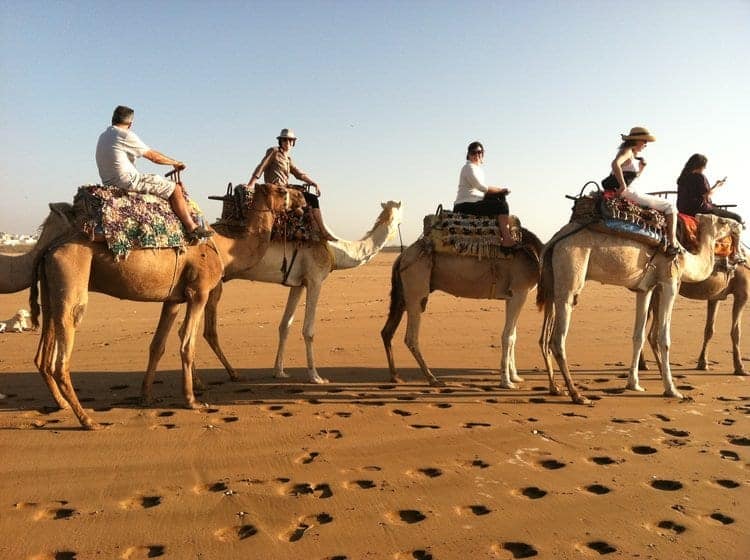 Join us for a special Luxury Ritual+ Renewal Yoga Retreat as we explore the power of ritual to bring us into the present moment and into the flow state.
The ceremony of tea will guide the flow of each day's activities, which include a day trip and meal at Richard Branson's retreat in the Atlas Mountains, a mule trek to collect wild herbs and enjoy traditional tea in a Berber tent, shopping at the souks, a spa day at a traditional hammam, agourmet lunch at the famous historic and uber-luxurious La Mamounia. and a tea blending workshop as well as a daily yoga classes (morning vinyasa and evening yin).
Guests will leave with an understanding of tea as a plant, a lifestyle and a divine beverage as well as a personal tea ritual, a hand-blended tea and a daily practice to turn the mundane into meditation and tap into the bliss of the present moment.
This fantastic yoga retreat will take place at the fabulous Peacock Pavilions boutique hotel. Located in Marrakesh on 8.5 acres of land, including 5 acres of olive grove, this stylish and eco-friendly abode has been featured in worldwide publications, including National Geographic Traveler, Elle Decor, Travel+Leisure and more.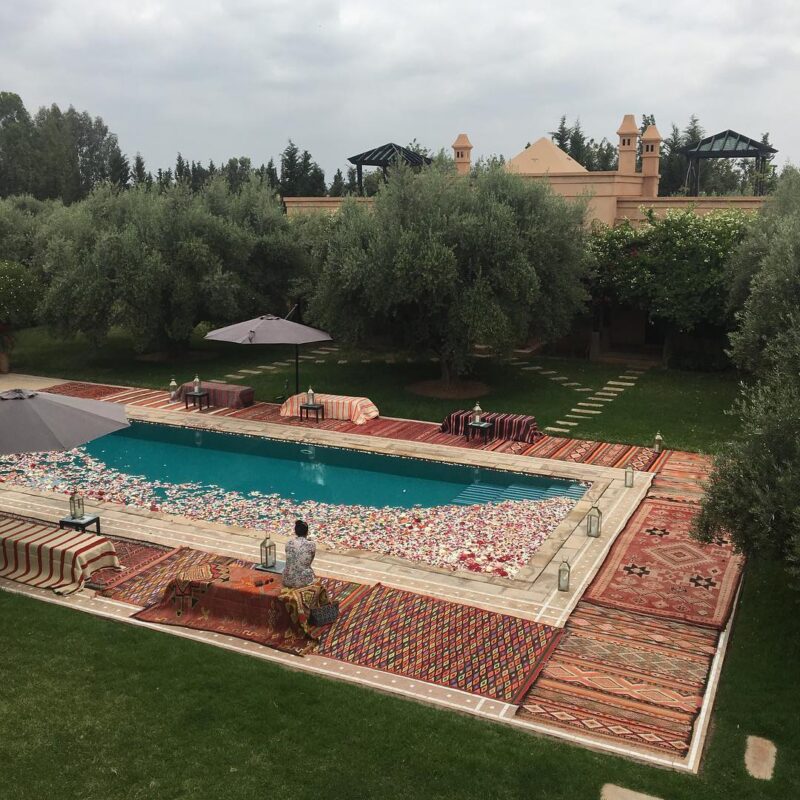 Join Gin & Yin retreats for a magical three day retreat for women. This is the 'kind of retreat' you can dip in and out of as much or as little as you choose. The kind of retreat that has a pause button built in, enabling you to breathe a little slower and take in the view.
You'll not only be able to stretch your body and your mind but most importantly have fun and with a pinch of adventure thrown in for good measure along the way.
Whether you're seeking a quiet space to write, read or think, or would love to try or improve your yoga or if you're simply looking to connect with other women in beautiful surroundings and need a break from the every day to chat over a glass of something cold, then this could be for you. Spaces are also typically limited to 14 ladies or less.
Our retreat home is the perfect place to enable you to embrace the wild woman in you and have your very own adventure, not needing to think about anyone else other than yourself for a few days, to breathe a little deeper, stretch a little further, restore some balance and open your mind and your heart to a new culture and new experiences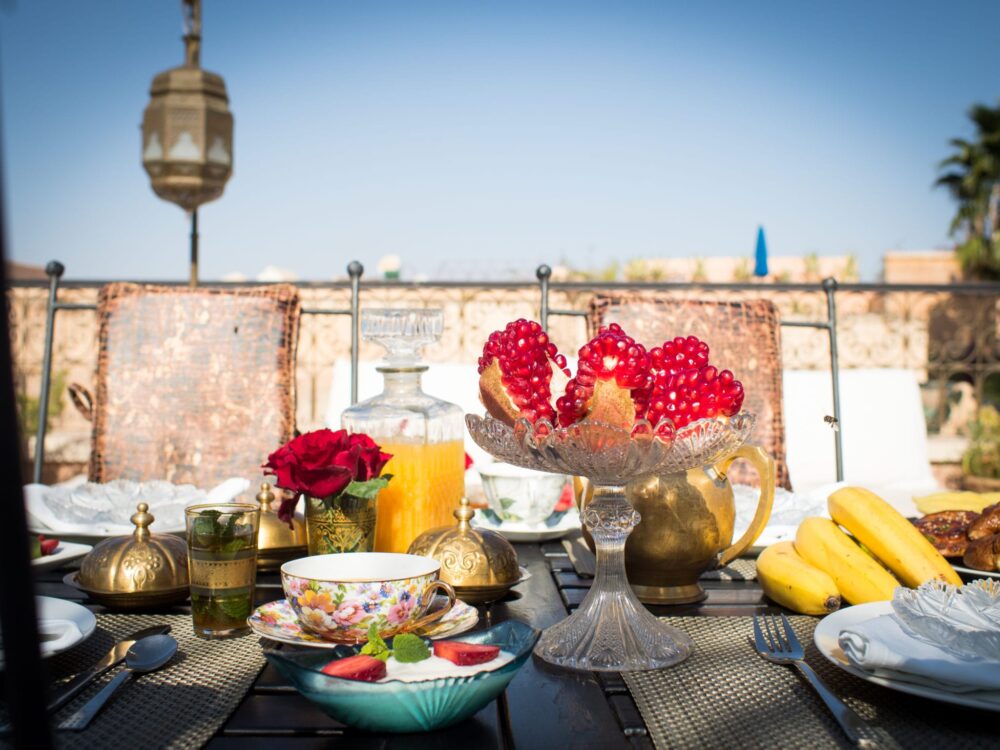 Dar Jaguar is perfectly located in the best part of the medina in central Marrakech. It offers the opportunity to go away at any time you wish and to create your very own bespoke "Escape" whether that be alone, with a friend or with a group of ten or more taking the entire riad exclusively.
The UK based owner, Lucia Silver, will work with you to design a programme of wellbeing and cultural activities that will nurture your body and romance your soul.
In Lucia's words, this is a "Gorgeous marriage of the radical self love we owe to our hard working-selves and the style, fun and cultural sophistication of Sex and the City". All you need to do is tell us what you need and want and leave us to do the rest. All you need to do is get on a plane here and enjoy it.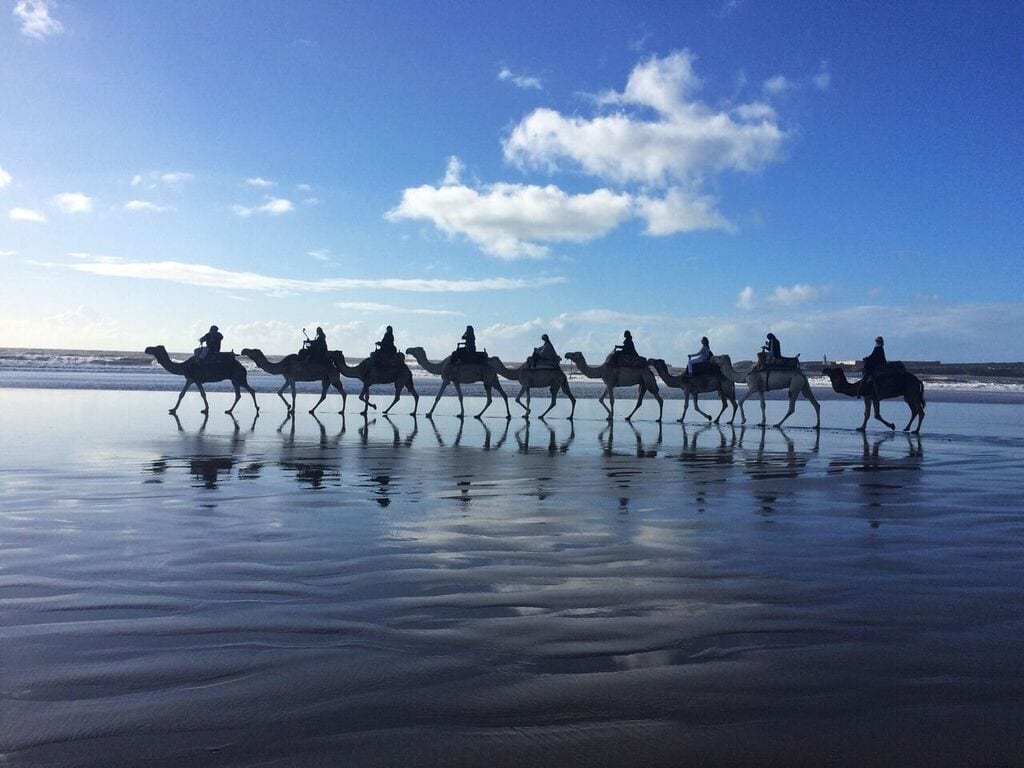 This Luxury Yoga Retreat at Peacock Pavilions offers a series of mindful workshops that will guide you in the exploration of creative self-expression in your life. Expect meaningful discussions and fun activities intended to help you tap into your own inner wisdom and heartfelt desires.
Your retreat home for the week is the fabulous Peacock Pavilions boutique hotel. This stylish and eco-friendly abode has been featured in worldwide publications, including National Geographic Traveler.
You will not only enjoy the grounds of Peacock Pavilions, the outdoor areas including a lovely pool, patio, private terraces, and covered yoga platform, but the retreat includes some amazing day-trips to the surrounding sites.
A guided day trip in Marrakech will lead you through an introduction to souks and visits to sites such as Ben Youssef Medrasa.
A full day will be spent exploring the nearby Atlas Mountains with a base at the Kasbah Tamadot Hotel with a traditional mule trek to the nearby village of Asni followed by time at the beautiful grounds of this 5-star location overlooking the vista and tasting menu lunch.
The final full day entails a trip to the famous Bains de Marrakech, a luxurious spa facility, where guests can be pampered to their heart's content with a full program of various treatments. What better way to wrap up a week of yoga than a day of pure relaxation.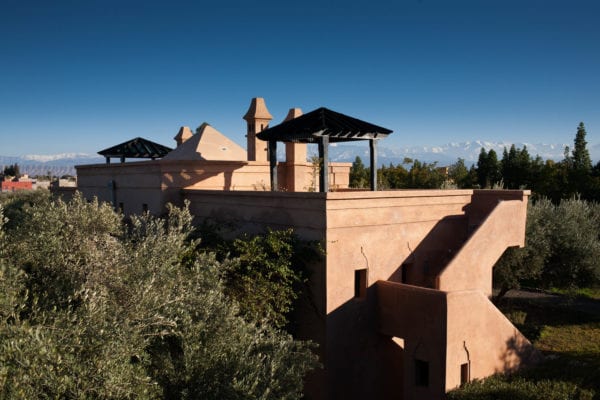 Culture & Connections make the world more beautiful. Samira Shuruk's retreats are designed to guide you in exploring the magic of the world while finding deep joy and connection within yourself. Valley of the Roses & The Red City is an adventure filled with movement, culture, and nature in breathtaking Morocco. Be entranced with centuries-long traditions, while enjoying the camaraderie of our small retreat group.
Our adventure begins with daily hikes and fascinating culture in the Valley of the Roses, in the Atlas Mountains. We'll have an engaging Berber guide, sharing his culture with us. Our nights will be in a traditional Amazigh casbah, and our days filled with exciting sites and scents.
This trip continues and is joined by our Magical Marrakech guests at the lush Peacock Pavilions outside Marrakech with night blooming jasmine, stylish terraces, an outdoor pool, exercise pavilion, stunning views and more.
We will celebrate and dine in an authentic Arabian dining tent, amidst the glow of lanterns, handcrafted art and textiles. While in Marrakech, six optional multi-level classes include Pilates, stretching, myofascial release and more will help you feel fantastic your whole trip.
Our inclusions are many and designed to help you fully embrace the beauty of the melange of Moroccan cultures. You will love:
~ Our professionally guided tour of the Marrakech Medina & Souk
~ A trip to the Atlas Mountains
~ Opportunities to learn about local arts and cultures directly from artisans
~ A traditional Hamman (Moroccan bathhouse), with massage
~ The visit to the Berber museum and Les Jardins Majorel
~ Getting henna art from a local artist
~ The traditional Moroccan cooking class, including a trip to the chef bazaar
~ Our tea times, cocktail parties, tantalizing locally grown food, and more.
All of this is researched and arranged by Samira, just for our group.
YOUR OWN LUXURY VILLA IN MAGIAL MARRAKECH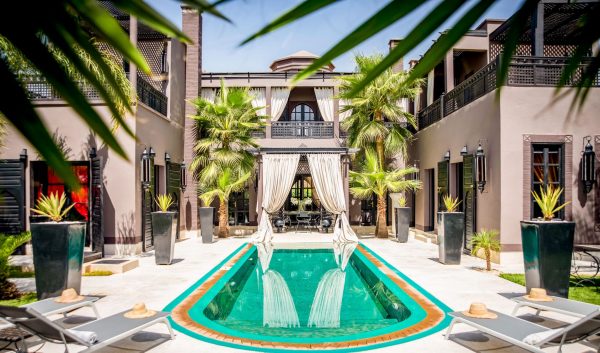 Located just ten minutes from Marrakech's most popular attraction, "The Square" Jemaa El-Fnaa, this secluded property is decorated with palm trees, expertly manicured gardens, and designer outdoor furniture.
Inside there are four uniquely-themed master bedroom suites and elegantly adorned shared spaces. Providing guests with the perfect home base for an unforgettable Moroccan vacation.
Architects and interior decorators have made sure your Moroccan getaway starts with an authentic step in the right direction. From the outside, a sleek and stylish color scheme, with matching furniture, accessories, and a swimming pool gives this villa a thoughtful, cohesive look.
Inside, things get a little more exciting. The living room, lounge, and dining area continue the elegant feel of the exterior, with the addition of eclectic local works of art. The living area also features a beautiful wood burning fireplace and state of the art electronics.
At dinner, the fully equipped kitchen is sure to inspire culinary creativity. The formal dining area features seating for eight. Wi-Fi, air conditioning, television, and daily housekeeping are also included.
On the terrace, you'll love cooling off in the pool, relaxing in a sun lounger, and strolling through the beautiful gardens.
Jemaa El-Fnaa, just ten minutes from home, is the perfect place to start your Moroccan exploration. There, you'll find a bustling atmosphere rich with street performers, musicians, shops, cuisine, and special events.
Also nearby, Morocco's main shopping and trading market The Souks, where bartering is encouraged, and you'll find some of the most interesting souvenirs.
If you need a break from the city, Majorelle Gardens is the place to go. Housing the Islamic Art Museum, Berber Museum, and Musee Yves Saint Laurent within its lush property, Majorelle Gardens is a gorgeous place to spend an afternoon.
LUXURY SPA HOTELS IN MAGICAL MARRAKECH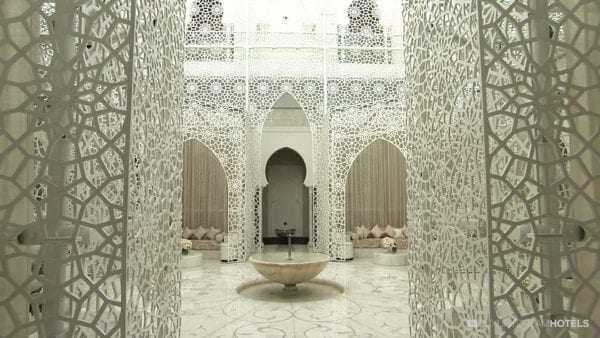 A 53-riad mini-medina, Marrakech's Royal Mansour was commissioned by King Mohammed VI as a sanctuary for visiting dignitaries. There are no suites or rooms at Royal Mansour Marrakech.
Upon their arrival, guests are escorted through the Medina and Gardens to their private residence, a traditional Moroccan Riad. The Royal Mansour Marrakech is built upon palatial proportions and exudes a magical charm.
This is the only hotel in the world offering that unique concept.The exquisite Riad architecture spans across three different floors of the utmost secured privacy and enables an exclusive escape to another world. The Royal Mansour Marrakech Spa is a true paradise which promises to stimulate the senses. Read reviews.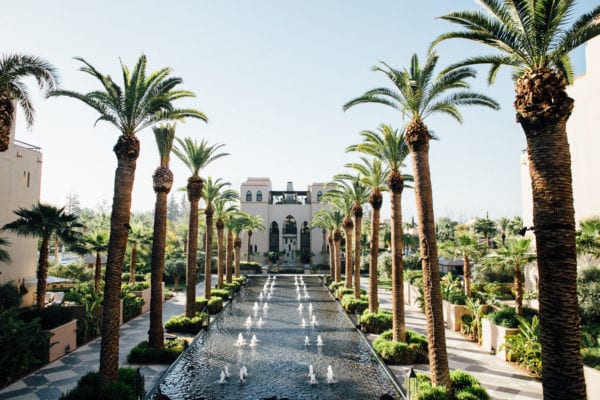 Perfectly situated between the city's ancient medina and the cosmopolitan neighbourhoods of the Ville Nouvelle, Four Seasons Resort Marrakech welcomes you with a blissful retreat – 16 hectares (40 acres) filled with Moorish gardens and refreshing pools.
Here, traditional values and contemporary comforts unite. Experience true relaxation at our Moroccan spa, let the kids play in their very own kasbah, and take in views of the Atlas Mountains from your private terrace.
Lose yourself in the magic of Marrakech with deep relaxation. The Spa features steamy hammams, plunge pools, indoor-outdoor treatment rooms and traditional Moroccan spa rituals. Try out individual yoga and group classes in vinyasa yoga, meditation and stretching.
Calm your body and mind in the traditional, mosaic-walled hammam and extend your relaxation experience with a post-treatment dip in the adults-only quiet pool. Read reviews.
For healthy eats and recommendations on spa's have a read of Hip & Healthy's guide to 72 hours in Marrakech.
Get a true taste of local culture in this accessible guide, put together by Mohammed of Fabulous Morocco Holidays (FMH). For vegetarian food check out this article on the best restaurants.