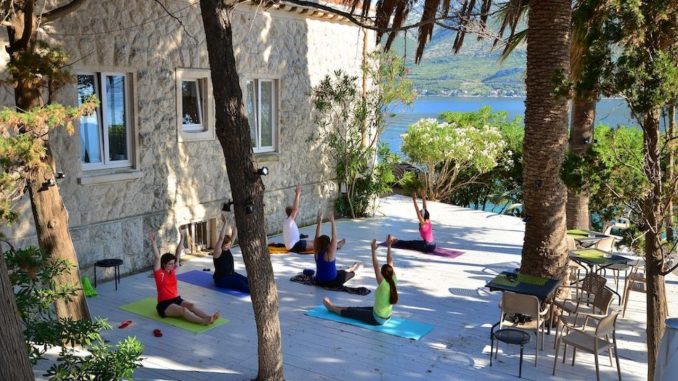 A retreat is the perfect summer getaway when you're bored of your annual re-tox holiday and you're in need of a healthy holiday, a lifestyle detox or you want to deepen your yoga or meditation practice.
We've chosen these summer yoga retreats for those of you thinking about where to go on holiday this summer, who fancy practicing yoga in the sun, on a beach or in the Mediterranean countryside.
It's time to breathe in the fresh clean air and get plenty of time to relax, unwind and rejuvenate. We're sure you'll find something here for you!. Here's our guide to the best summer yoga retreats in Europe.
Summer Yoga Retreats in Portugal
Location: In the Portuguese mountains (fly into Lisbon or Porto)
Mood: Run by husband and wife Andrew and Vonetta Winter, Vale de Moses is set in a heartbreakingly beautiful valley surrounded by pine and eucalyptus forest
Dates: 1 – 7 September / 8 – 14 September / 15 – 21 September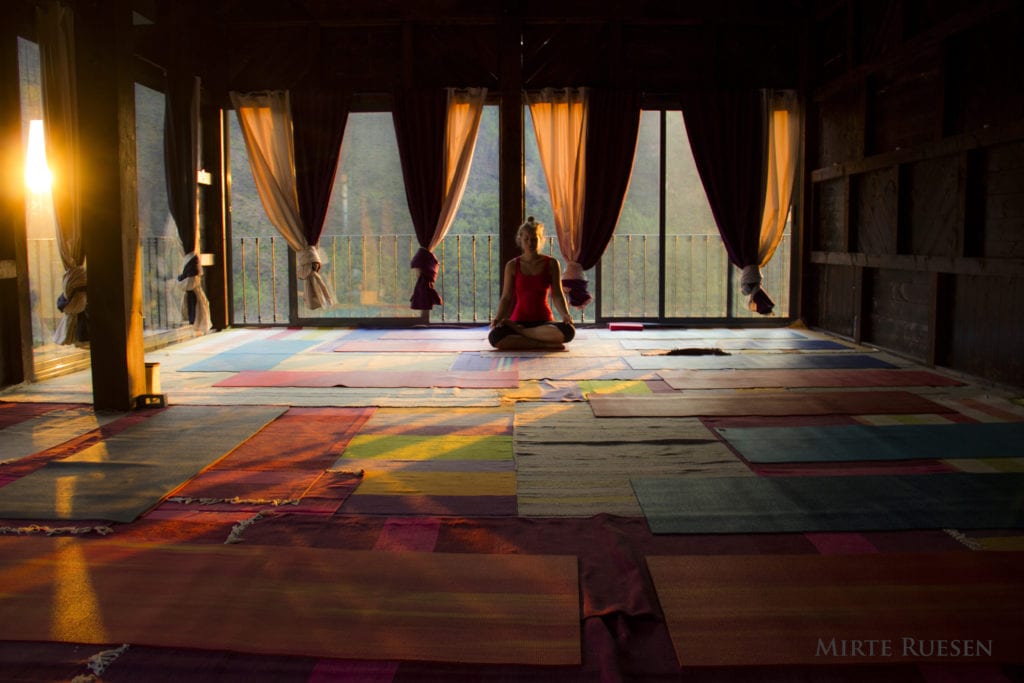 Vale de Moses is a family run yoga retreat in the heart of the Portuguese mountains. Spend a week or more practicing yoga, receiving massage and acupuncture treatments, walking in forests, swimming in natural river pools and eating delicious nutritious food.
Stay in one of the beautifully restored stone cottages, Soulpads or in a Tipi.  Our retreat home is perfect for those in need of a break, rest and relaxation. We are surrounded by nature and forests, peace and tranquility – the perfect ingredients to restore your body and mind.
The combination of good food and sleep, clean mountain air and water, therapeutic massage and acupuncture, hill walking and river swimming, all create a highly restorative context in which to begin, or to deepen, your yoga practice.
Soulfully reconnect with our planet and with your own body. This warm invitation to deepen your love affair with yoga, is open for everyone, travelling alone or with friends, new to yoga or practicing for decades. Most of our retreats at Vale de Moses include morning and afternoon classes, a health consultation, massage/acupuncture treatment, 3 nourishing daily meals and a trip to the nearby Rio Zêzere.
Location: Quinta Vale da Lama, Odiáxere Lagos
Mood: If you like to be physical and train your body (or want to start doing so) or if you are simply looking to throw some beach & waves at your yearly yoga retreat, this week will be unforgettable.
Dates:  8th – 14th September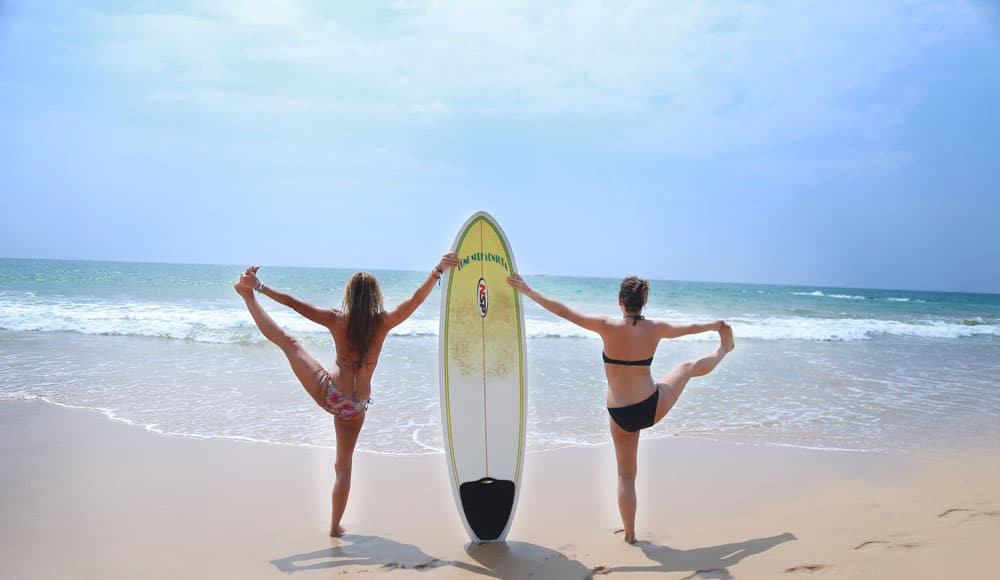 Our yoga surf holiday is for those who want to express this joy through their relationship to nature, open spaces, wind and yes, a surfboard!
Combining hatha flow, restorative yoga, meditation and surfing this retreat gives you the opportunity to combine the wonderful surf of the Portuguese South West coast with a healing and insightful yoga practice.
Our retreat home is Vale da Lama, a solar passive house, where temperature is controlled without any use of electricity, only by sunlight and firewood. A happy week. Two yoga sessions, movement in the morning and restorative in the evening, sandwich a daylong surfing session.
Sun, waves and excitement at the beach, good food, lush gardens and lazy hammocks back home. All the good feelings and smiles of an Algarve holiday plus quality yoga lessons to support the healing, strength and flexibility of the body.
If you like to be physical and train your body (or want to start doing so) or if you are simply looking to throw some beach & waves at your yearly yoga retreat, this week will be unforgettable.
Last but not least: we keep getting raging reviews of our associates, Future Surf School. Serious, attentive and trustworthy instructors will guide your in your first steps onto a surfboard, you are in good hands with them!
♥ Book retreats in Portugal
Summer Yoga Retreats in Greece
Location: Almyros is a peaceful paradise escape placed along the North coast road of Corfu.
Mood: Perfect for those looking to take a relaxing beach yoga break from the hustle and bustle of everyday life.
Dates:  3 – 10 September, 10 – 17 September, 17 – 24 September
Summer Yoga Retreats in Croatia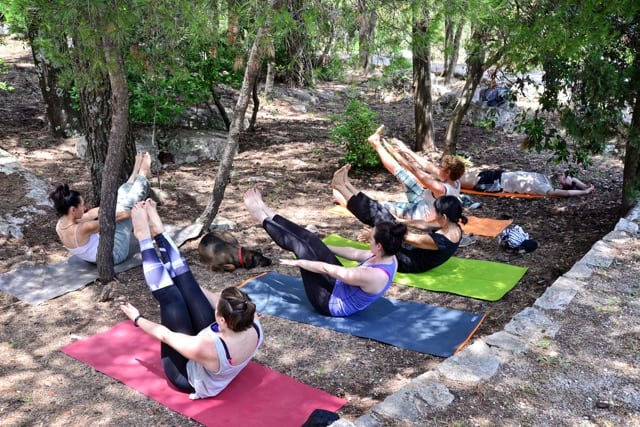 Location: The retreat will take place in an old stone village right above the lakes and the national park
Mood: This holistic wellbeing yoga retreat is a short training that will help you start a balanced, healthy lifestyle
Dates: 28th September – 5th October
This 8 Day Detox, Yoga, Cooking classes, and Hiking Retreat in Mljet Island, Croatia will nourish, nurture and inspire your body, mind and spirit in 2019. It will create a platform on which you will be able to build on once when your return home, so that you can continue implementing positive changes and healthy life style in your daily life.
During this retreat you will experience the joy of yoga practice combined with meditation and breathing exercises. The healthy cooking classes are led by our macrobiotic chef whose love and knowledge of nutritional, healthy, organic food is truly exceptional. You will also join hiking trips with stunning views of the island, lakes and sea and to Odysseus' cave.
You will be spoiled and nurtured by our chef who will cater for your needs with love and care. The retreat is also a great way to relax, meet new people and just have a joyful, restorative and rejuvenating holiday.
During this retreat we will accommodate a small number of participants, in order for us to be able to serve you in the best possible way and to care of each of participants needs as well as to give everyone the personal attention that is needed during yoga classes as well as cooking classes.
The schedule is designed in a way that every day is a new experience. At the evening tea time, you can discuss and reflect on the experience that you had throughout the day.
♥ Book retreats in Croatia
Summer Yoga Retreats in Italy
Location: Puglia, a southern region forming the heel of Italy's "boot," is known for its whitewashed hill towns, centuries-old farmland and hundreds of kilometres of Mediterranean coastline
Mood: Move + Manifest: A combination of yoga, mindful workshops & day trips to explore the local towns & culture
Dates: 1st – 7th September

On this wonderful seven day retreat we will stay at the luxurious Masseria Fumarola and experience the landscapes and activities of this incredible rising star of Italy.
Besides daily yoga classes, our new MOVE+MANIFEST retreats offers a series of mindful workshops that will guide you in the exploration of creative self-expression in your life. We will have meaningful discussions and fun activities intended to help you tap into your own inner wisdom and heartfelt desires.
Between the beauty and serenity of Puglia alongside the sea and ancient olive trees, the atmosphere will surely ignite your being with an energy perfect for the creative process.
We will tour through Puglia's famous trulli; cone shaped houses in the town of Alberobello, a UNESCO world heritage site. After walking around the town and enjoying a delicious tasting lunch, we will make our way back to the stunning Masseria Fumarola, an ancient farmstead that will be our home for the week.
There will also be a relaxed day at the beach where we will explore the incredible coastal part of the region, followed up with an amazing and unique dining experience in a cliffside grotto. In this open cavern, we will eat while looking down upon the sea at Polignano al Mare, one of the most picturesque villages of Puglia.
Location: Lucca is a city on the Serchio river in Italy's Tuscany region.
Mood: A week of artisanal workshops, and immersive experiences ranging from wine making to silk weaving
Dates: 14th – 21st September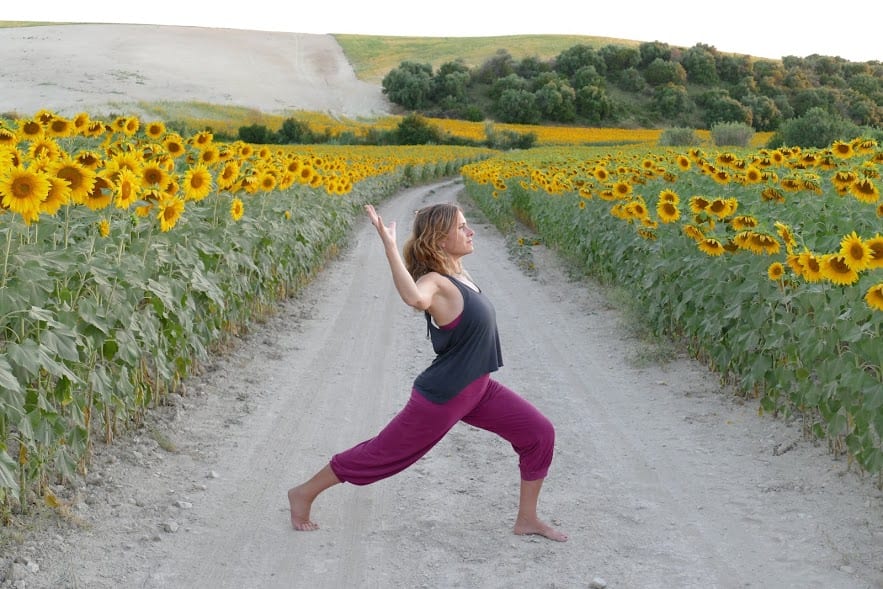 Join us for our culture, self discovery and yoga retreat in Lucca. Nestled in this lyrical landscape, and a short distance from the medieval city, we find a true haven for relaxation, Villa Boccella — an immaculately restored 17th century Tuscan estate.
The area around Lucca, is often referred to as the 'green island of Tuscany'. In the verdant splendour of this countryside, we take our first day to relax and settle into our exquisite surrounds. Take the day to swim, read and walk in nature or just perfect the art of il dolce far niente – the sweet pursuit of doing nothing – as you acclimatise yourself from your hectic life to the soothing balm that is Villa Bocella.
The path to creative awakening begins each morning in the Boccellina garden with our yoga and meditation class. Wake up to the sweet scent of jasmine with views of the Pizzorne mountains on the horizon. Our morning sessions are followed by a deliciously abundant patio breakfast, lovingly prepared by your host
Follow the enchanting trails that lead you past the wild thyme or simply bask by the pool, in the golden light of the afternoon. The focus of this retreat, is manifesting the muse within you!
♥ Book retreats Italy
Pin this guide & share!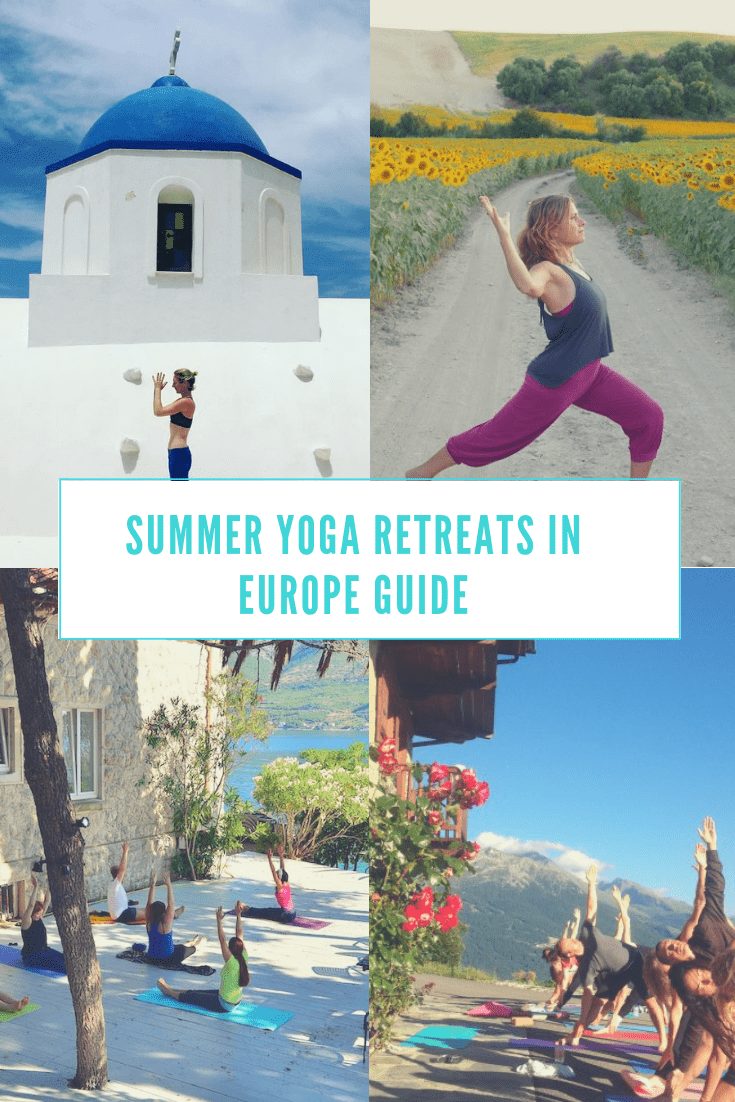 Having trouble choosing one of these summer yoga retreats? Contact our team on retreats@soulseedmedia.com and let us help you find your perfect retreat. Follow our travel inspiration on instagram @soulseedtravel. Pack your bags and book your flight!.