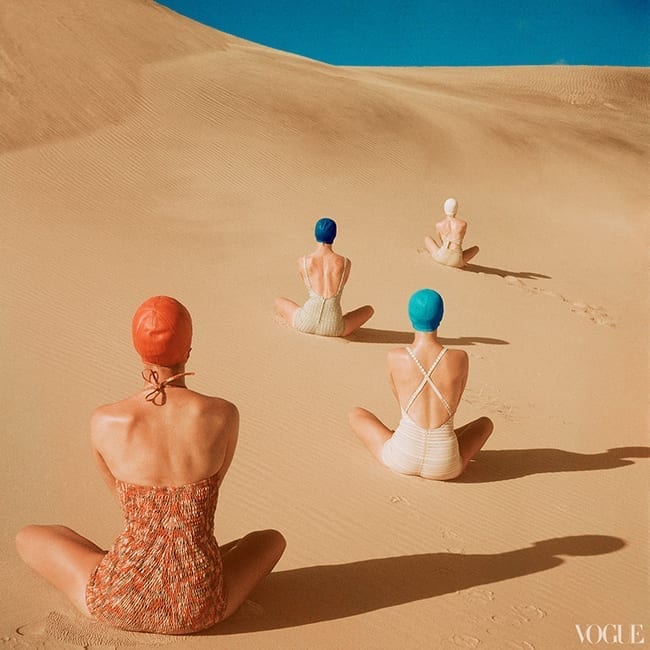 A retreat is the perfect summer getaway when you're bored of your annual re-tox holiday and you're in need of a healthy holiday, a lifestyle detox or you want to deepen your yoga or meditation practice.
We've chosen these summer yoga retreats for those of you thinking about where to go on holiday this summer, who fancy practicing yoga in the sun, on a beach or in the Mediterranean countryside.
It's time to breathe in the fresh clean air and get plenty of time to relax, unwind and rejuvenate. We're sure you'll find something here for you!. Here's our guide to the best summer yoga retreats in Europe.
Summer Yoga Retreats in Greece
Location: Almyros is a peaceful paradise escape placed along the North coast road of Corfu.
Mood: Perfect for those looking to take a relaxing beach yoga break from the hustle and bustle of everyday life.
Dates:  Open May – October
Summer Yoga Retreats in Croatia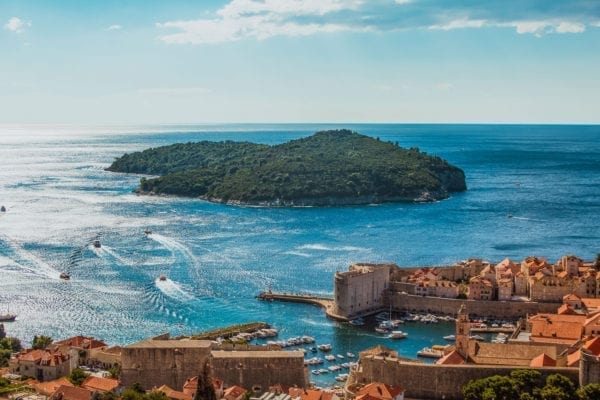 Location: Dubrovnik is a city in southern Croatia fronting the Adriatic Sea. Situated steps away from the Adriatic Sea, the Royal Blue Hotel features the only outdoor rooftop swimming pool in all of Dubrovnik.
Mood: Think wine tastings, spa, and blue waters!
Dates: 2nd -7th July
We're returning to Croatia, this year at a new luxury hotel, for our luxury yoga, culture and mindful workshops retreat in Dubrovnik for a week on the gorgeous Adriatic.  Combine yoga and manifestation, and coaching workshops to consciously create the life you dream.
Besides daily yoga classes, our retreat in Dubrovnik offers a series of mindful workshops that will guide you in the exploration of creative self-expression in your life.
We will have meaningful discussions and fun activities intended to help you tap into your own inner wisdom and heartfelt desires. And between the beauty of Croatia and the serenity of the sea and landscape, the atmosphere will surely ignite your being with an energy perfect for the creative process.
Location: The central-Dalmatian island of Korcula is the sixth largest and one of the greenest Adriatic island's.
Mood: A Mediterranean atmosphere with swimming, hiking, walking, kayaking, relaxing in beautiful unspoiled nature and exploring old villages and towns.
Dates: April – September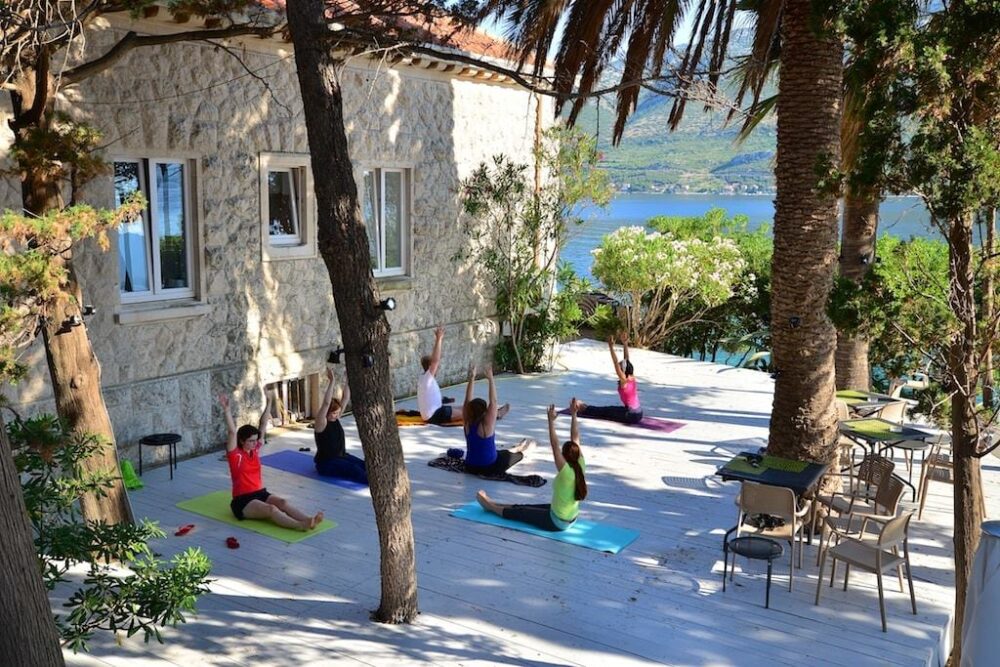 From April – September you can join a Yoga and Wellness weekend retreat (Thursday – Sunday). This is the perfect opportunity to refill and restore your energy under the Mediterranean sun surrounded by crystal blue seas, and bring your body and mind into balance with daily yoga classes, meditation and breathing exercises.
The extensive local knowledge of the retreat team ensures that you will enjoy the best authentic sights, flavours and experiences of Croatia.
You will enjoy hikes through Korcula's lush and unspoiled wild fields, explore hidden bays of breathtaking beauty and experience an excursion to the magical natural park of island Mlijet, with its salt lakes, a bicycle wine tour to the famous Croatian wine region on Peljesac, and most of all to discover all the joys of the Mediterranean and have a lot of fun in the process.
Have a week to spare? In May, June & September you can roll out your yoga mat by the sea on these 7 day nourishing yoga and detox retreats.
♥ Book retreats in Croatia
Summer Yoga Retreats in France
Location: La Thuile, a small peaceful hamlet that's part of the commune of Sainte Foy Tarentaise. It's nestled on the mountainside surrounded by alpine pastures, at 1250 metres altitude, halfway between Bourg St Maurice and Val d'Isère.
Mood: An active holiday including yoga, hiking & adventure.
Dates:  2nd -7th July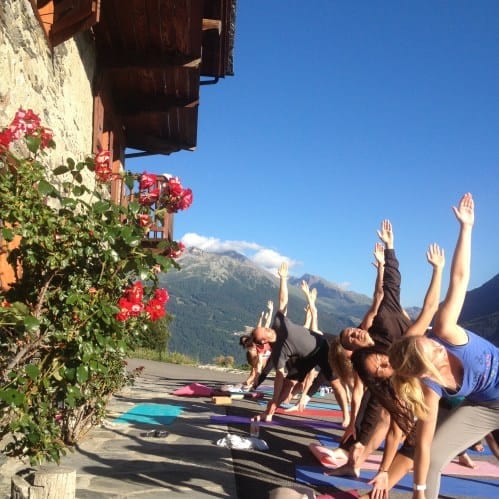 Join us in the beautiful French Alps for an alpine yoga and hiking holiday adventure. After touring around the French Alps, we love hiking in this area. With so many routes to choose from and breathtaking views, you won't want to go home!
If you are a lover of the mountains and enjoy being in the great outdoors this is the hiking yoga holiday for you. An exciting week of adventure activities during the day beginning with yoga and then a choice of hiking, white water rafting, paragliding or wild swimming.
Stay in our beautiful rustic Chalet style accommodation nestled on the mountainside surrounded by alpine pastures. Start and end the day with yoga to stretch out your hiking limbs, and soothe them with a sauna and hot tub, or treat yourself to a massage.
Step out of the chalet and the mountain trails are yours for the picking. If you've not visited the French Alps in the summer time, you're in for a treat. As the winter snow melts away in the spring, the mountains take on their summer mantle of bright green grass and colourful alpine flowers. The views are equally as spectacular in the summer as they are in the winter.
After a long walk reward yourself with a swim to cool off in a refreshing glacial lake. There are so many hikes to choose from, at blue, red or black levels. Enjoy views of Mont Blanc in the distance.
Location: Bastide Avellanne is the ideal location to visit Provence. Situated only 30 minutes from the sea and from the Cote D'Azur between Cannes, St. Tropez and Hyeres.
Mood: Daily yoga, walks, and food-focused activities throughout the week.
Dates: 9th – 15th June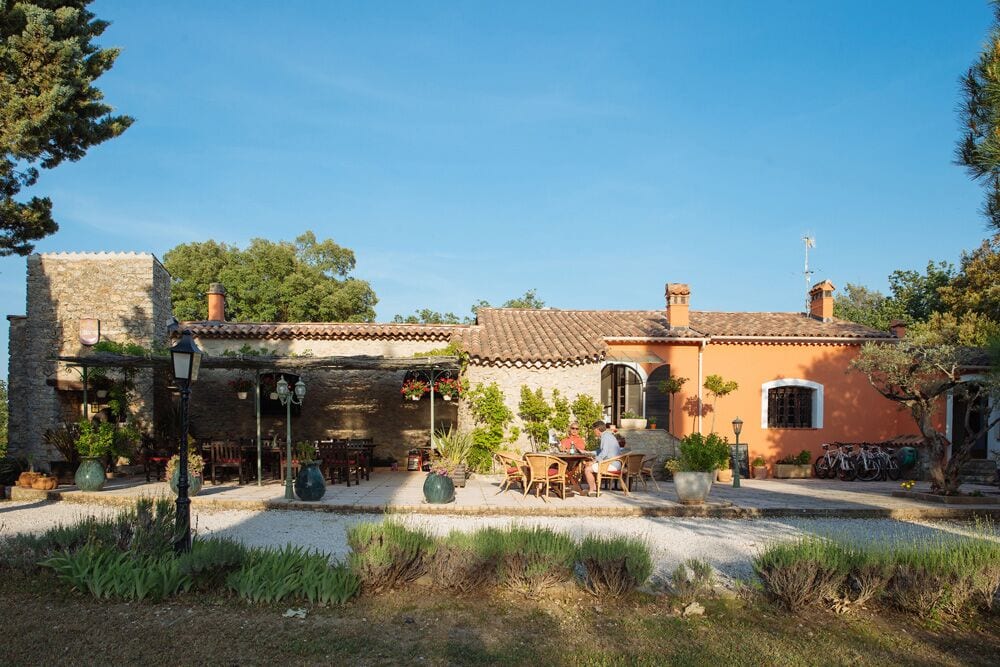 Get ready for our annual getaway in the south of France – this time with a new itinerary with daily yoga, walks, and food-focused activities throughout the week. From gourmet tastings, the famous Provencal rosé, and plenty of time to take in the gorgeous surroundings on our hikes past lavender, blue waters, and vineyards.
With its hundreds of kilometers of white beaches, rocky capes and wild bays, Bastide Avellanne is considered the most beautiful coastline of France – 300 kilometers of coast accompanying the Mediterranean Sea, white sandy beaches, a preserved landscape, protected islands and famous locations renowned worldwide.
It looks just as you see in postcards: fields of lavender, medieval villages, chateaux, markets full of colours where you can find local products and exotic spices, lively small towns with a slow way of life.
Day trips will allow guests to add arts, culture, adventure, and natural beauty to their retreat experience. Trips may include visits to small villages, large cities, outdoor activities, even a gorgeous spa day in a 5* countryside chateau where guests can swim, enjoy lunch, use the spa area and receive a relaxing treatment (included in the retreat).
See smaller villages that few tourists visit, and get a true education and taste of France with various tastings of regional wines, aperitifs and cheeses.
One day will be spent on the French Riviera on the island of Porquerolles for free time to explore the beaches, hiking trails or town. We will take a tour through the countryside to see quaint villages, French markets, and hopefully get a peek at the early-blooming lavender fields.
♥ Book retreats France
Summer Yoga Retreats in Italy
Location: Puglia, a southern region forming the heel of Italy's "boot," is known for its whitewashed hill towns, centuries-old farmland and hundreds of kilometres of Mediterranean coastline
Mood: Move + Manifest: A combination of yoga, mindful workshops & day trips to explore the local towns & culture
Dates: 1st – 7th September

On this wonderful seven day retreat we will stay at the luxurious Masseria Fumarola and experience the landscapes and activities of this incredible rising star of Italy.
Besides daily yoga classes, our new MOVE+MANIFEST retreats offers a series of mindful workshops that will guide you in the exploration of creative self-expression in your life. We will have meaningful discussions and fun activities intended to help you tap into your own inner wisdom and heartfelt desires.
Between the beauty and serenity of Puglia alongside the sea and ancient olive trees, the atmosphere will surely ignite your being with an energy perfect for the creative process.
We will tour through Puglia's famous trulli; cone shaped houses in the town of Alberobello, a UNESCO world heritage site. After walking around the town and enjoying a delicious tasting lunch, we will make our way back to the stunning Masseria Fumarola, an ancient farmstead that will be our home for the week.
There will also be a relaxed day at the beach where we will explore the incredible coastal part of the region, followed up with an amazing and unique dining experience in a cliffside grotto. In this open cavern, we will eat while looking down upon the sea at Polignano al Mare, one of the most picturesque villages of Puglia.
Location: Lucca is a city on the Serchio river in Italy's Tuscany region.
Mood: A week of artisanal workshops, and immersive experiences ranging from wine making to silk weaving
Dates: 14th – 21st September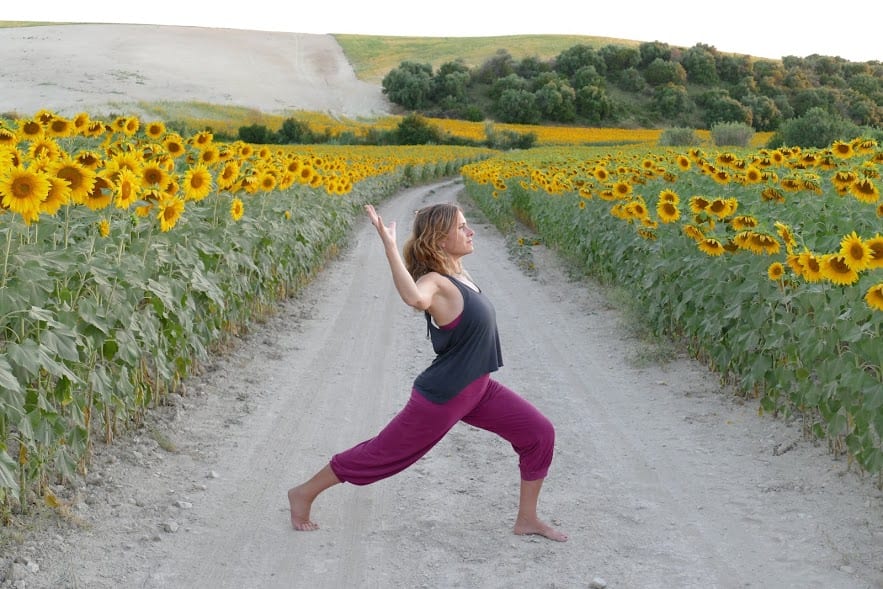 Join us for our culture, self discovery and yoga retreat in Lucca. Nestled in this lyrical landscape, and a short distance from the medieval city, we find a true haven for relaxation, Villa Boccella — an immaculately restored 17th century Tuscan estate.
The area around Lucca, is often referred to as the 'green island of Tuscany'. In the verdant splendour of this countryside, we take our first day to relax and settle into our exquisite surrounds. Take the day to swim, read and walk in nature or just perfect the art of il dolce far niente – the sweet pursuit of doing nothing – as you acclimatise yourself from your hectic life to the soothing balm that is Villa Bocella.
The path to creative awakening begins each morning in the Boccellina garden with our yoga and meditation class. Wake up to the sweet scent of jasmine with views of the Pizzorne mountains on the horizon. Our morning sessions are followed by a deliciously abundant patio breakfast, lovingly prepared by your host
Follow the enchanting trails that lead you past the wild thyme or simply bask by the pool, in the golden light of the afternoon. The focus of this retreat, is manifesting the muse within you!
♥ Book retreats Italy
Pin this guide & share!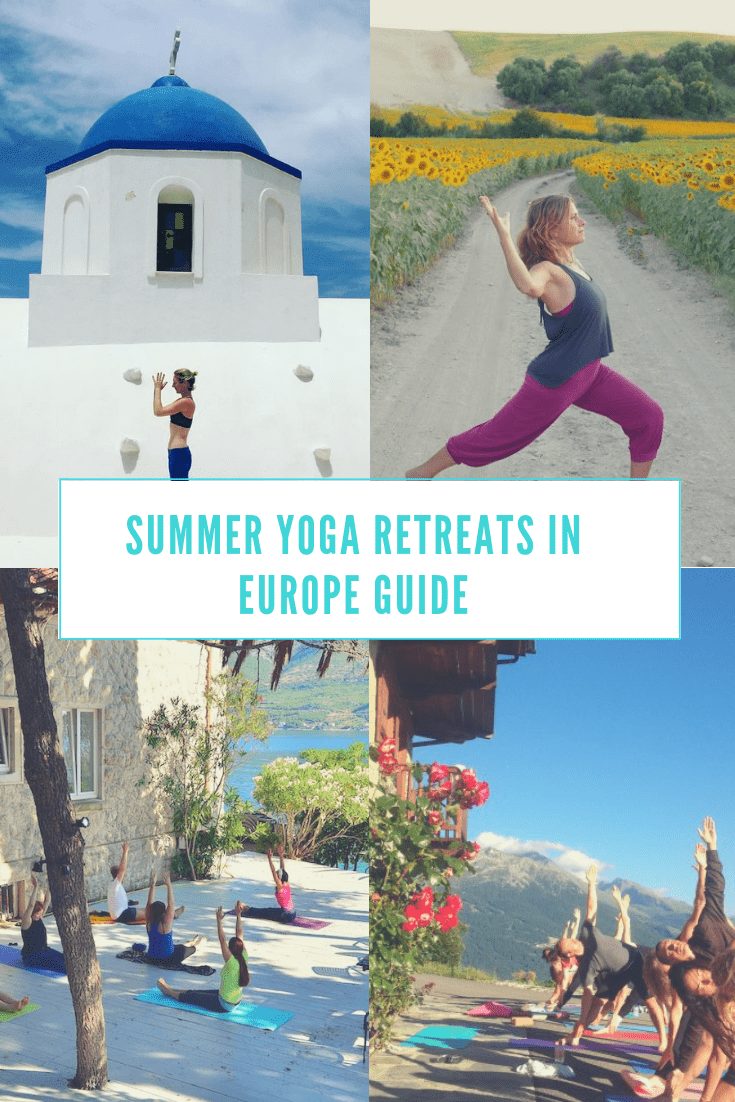 Having trouble choosing one of these summer yoga retreats? Contact our team on retreats@soulseedmedia.com and let us help you find your perfect retreat.
Follow our travel inspiration on instagram @soulseedtravel. Pack your bags and book your flight!.