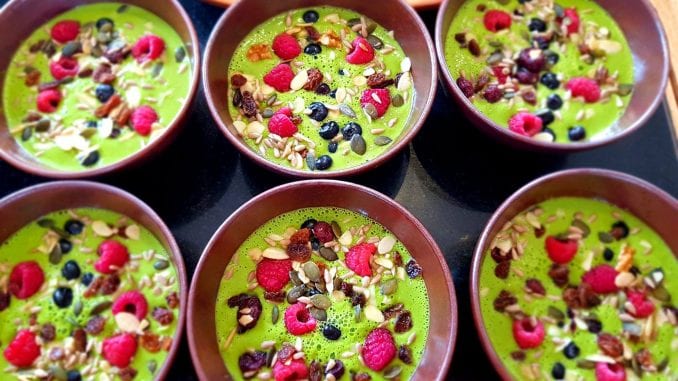 Here's our recommendations on healthy eating retreats to heal your body and mind. Think nutritious and delicious meals and smoothies along with healing massages, yoga, meditation and plenty of pampering on the menu too.
Dates: 28th September – 5th October

This 8 Day Detox, Yoga, Cooking classes, and Hiking Retreat in Mljet Island will nourish, nurture and inspire your body, mind and spirit. It will create a platform on which you will be able to build on once when your return home, so that you can continue implementing positive changes and healthy life style in your daily life.
During this retreat you will experience the joy of yoga practice combined with meditation and breathing exercises. The healthy cooking classes are led by our macrobiotic chef whose love and knowledge of nutritional, healthy, organic food is truly exceptional. You will also join hiking trips with stunning views of the island, lakes and sea and to Odysseus' cave.
During this retreat we will accommodate a small number of participants, in order for us to be able to serve you in the best possible way and to care of each of participants needs as well as to give everyone the personal attention that is needed during yoga classes as well as cooking classes.
The schedule is designed in a way that every day is a new experience. At the evening tea time, you can discuss and reflect on the experience that you had throughout the day.
♥ Book healthy eating retreats in Croatia
Dates: Open all year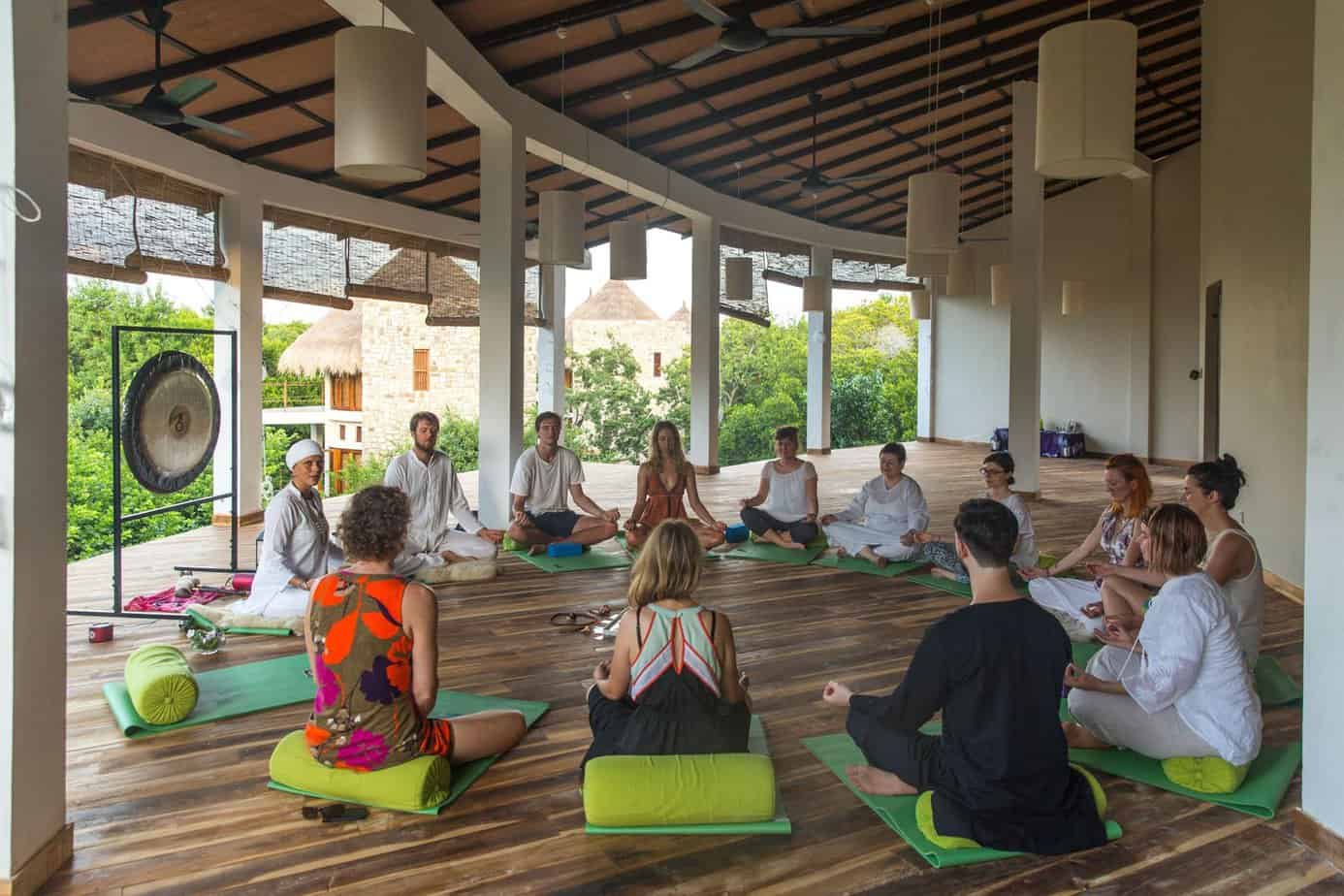 The Sen Wellness Sanctuary is a small, peaceful and modest retreat in a nature reserve set between a lagoon and the ocean in the south of Sri Lanka. It is the perfect place to immerse yourself in natural beauty and relax and rejuvenate your body and mind.
The Sanctuary offers Yoga and Ayurveda retreats all year round and hosts detox retreats and special Signature retreats a few times a year. The gentle rhythm of the sanctuary and the pared back approach and architecture of the place allow for a genuine retreat.
The focus at Sen Wellness Retreat is on rest and connection with nature and oneself. The eclectic and fascinating selection of books available are perfect to fill your time between yoga, treatments and walks on the beach.
You'll be encouraged to put away your devices as much as possible and allow for a digital detox too. With our retreat sanctuary in the mangrove forest by the beach, we invite our guests to reconnect with nature and feel the vital energy of Sri Lanka. Our retreats allow you to relax, rebalance and rejuvenate in a peaceful, healing environment in our natural sanctuary.
♥ Book healthy eating retreats in Sri Lanka
Dates: 3 – 10 & 10 – 17 August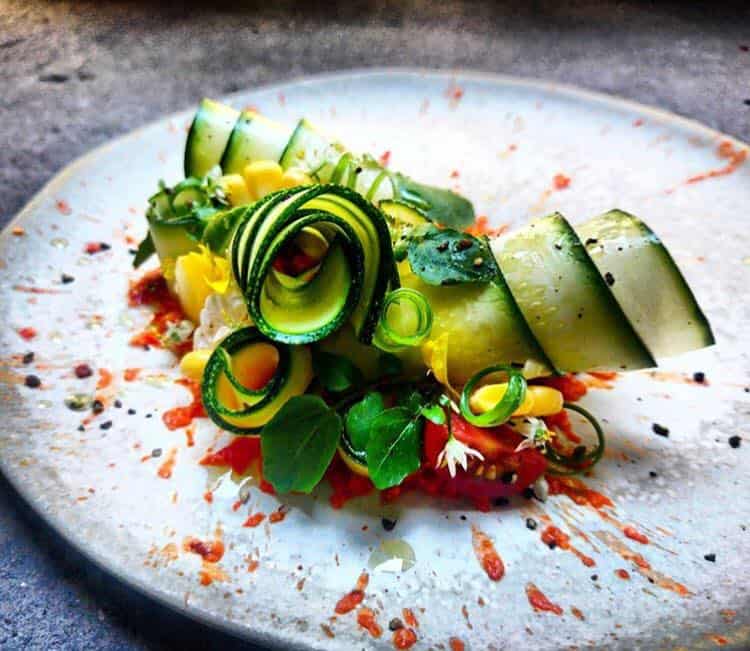 Are you ready to retreat to a place where you can completely rest, reset and let go and enjoy chef prepared plant based cuisine at its finest with a splash of yoga, and more? These raw food summer yoga retreats in Portugal are located on the edge of the Sao Bartolomeu de Messines/Silves nature reserve in the Algarve.
Expect a nourishing, exclusive, intimate and unique week of restful bliss. With my experienced team of yogis and therapists, I will guide you through a beautiful week. This is the perfect chance for you to relax into nature, unplug from the world, restore and reset.
We'll create some wonderful dishes together and indulge in the preparation of incredible foods. Being an experienced yogi is not a prerequisite, all you will need for this stunning week of yoga is the will to explore and embrace a high vibrational flow.
There will be daily kitchen classes on raw food, yoga and holistic sessions. They are completely at your leisure, so if you just want to relax by the plunge pool and wait to be fed, that's ok too. It's your holiday!
Dine al fresco by the river each night and be ready for spectacular sunsets, evening workshops, meditation sessions, incredible food, cacao ceremonies and much more. Leave feeling rested, rebooted and filled with a new zest for life!
We like to consider that while on 'retreat' we are withdrawing from the everyday world. We like to consider our retreat as a world in itself – where we provide the space and opportunity for you to take all the time you need to reflect on your world, your wellbeing and your self.
Dates: Open March – November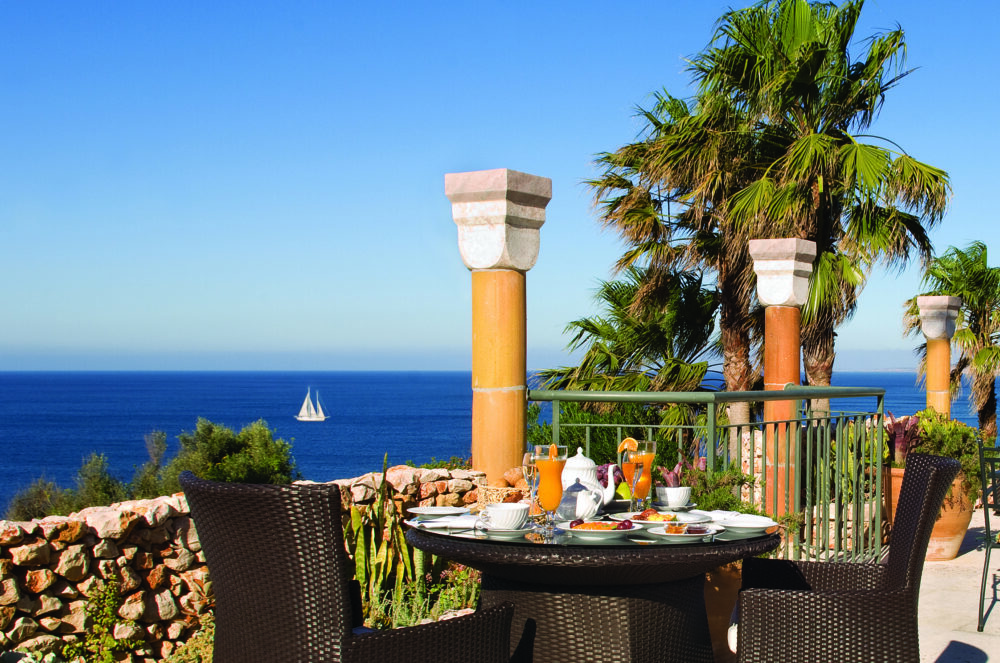 Escape everyday life and treat yourself to an indulgent 5 day retreat at a boutique hotel with maximum pampering and minimum stress. This is the perfect spa getaway experience just for you with your partner or a friend guaranteed to rejuvenate, relax and de-stress.
Boost your energy levels and establish new healthy habits with our selection of spa treatments and restaurant menu.
This Relax & Revive 5 day retreat includes 5 nights in a room with a beautiful sea or garden view, a welcome smoothie or juice on the hotel's panoramic terrace with stunning views of the sparkling ocean and endless sky, super-food breakfasts with dairy free alternatives, fresh fruit, vegetable juices and smoothies.
A two course lunch is included on two days of this relaxing break, to be taken on days of your choice as well as one evening four course dinner with vegetarian, vegan and raw food options.
As part of the retreat you can enjoy four organic treatments in the hotel's Neal's Yard Remedies of Covent Garden London Spa the first overseas spa of its kind.
This includes Indian Head Massage, Body Harmony Treatment, Relaxing Back Massage and a Facial. Morning yoga sessions are included every other day and you will also enjoy unlimited access to the wellness pool, sauna and steam room.
So relax and completely unwind with us, it will make a world of difference to your health and wellbeing and see you returning home completely renewed.
♥ Book healthy eating retreats in Portugal
Dates: 12 – 14 July & 16 – 18 August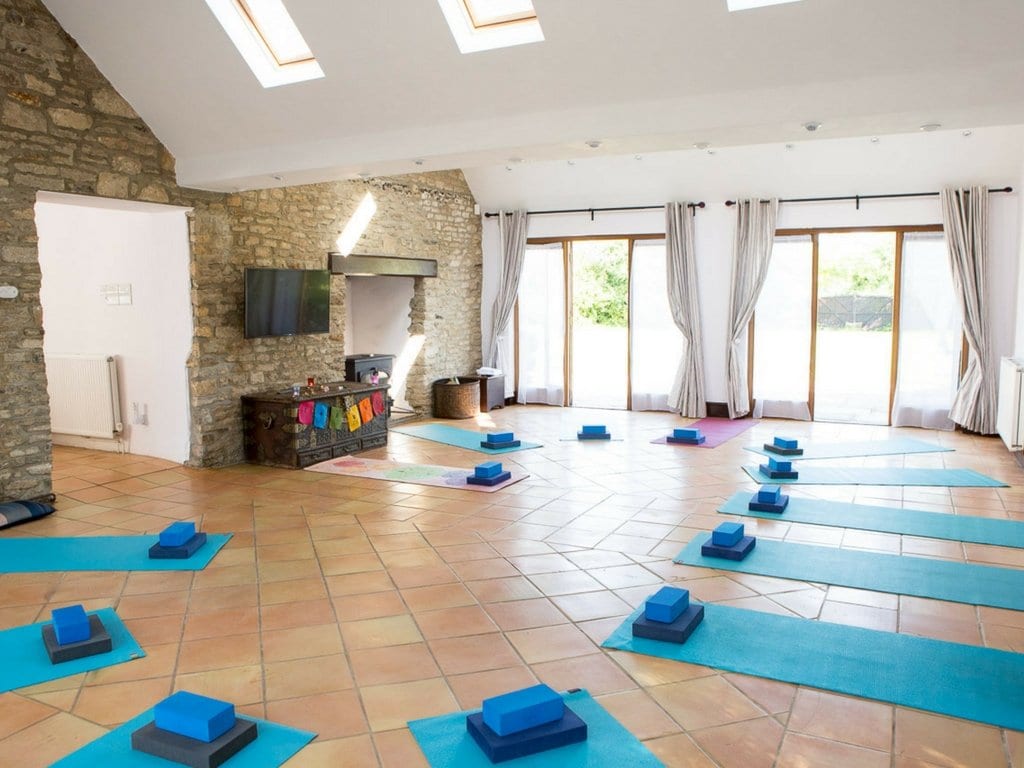 Give yourself a well deserved break and join us on our UK Summer Yoga wellness retreat in Oxfordshire where you can unwind, relax, and cleanse body and mind.
Stay in our gorgeous manor house and enjoy the peace that the meditation practices bring to you during the silent walk and in the yoga classes, and feel the body loosen and open up with the asana practices.
Situated alongside one of the Oxfordshire canal routes, Thrupp is a pretty and thriving village. If you are feeling adventurous take a canoe and paddle down the canal or hire a canal boat for the afternoon!
Explore the local surroundings and enjoy being in the countryside away from the frenetic pace of life in your day to day. Enjoy a massage from one of our expert in-house therapists or take time to rest and just be.
Revive in the morning with energising yoga in our beautiful yoga space and the day is yours to unwind in the grounds or explore and even take out a canoe! Evening yoga can be outside on the lawn to the dusk light.
♥ Book healthy eating retreats in the UK
Dates: 3rd – 7th May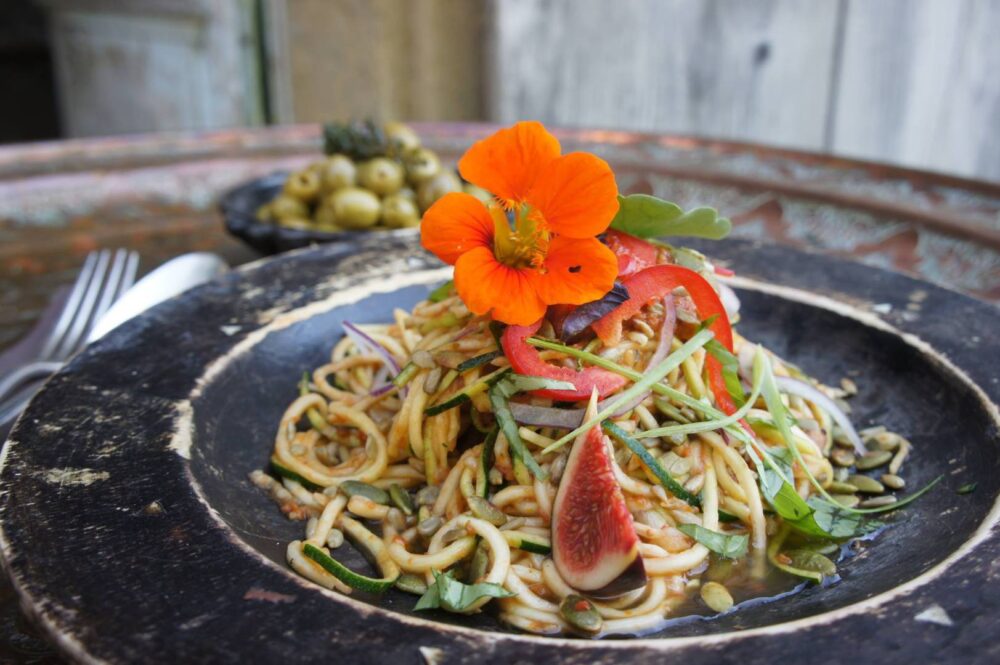 A 5 day Yoga, Mindfulness and Embodied Mediation Retreat in a French Chateau to re-establish a rich, soulful connection to your yoga and meditation practice. Located in a picturesque medieval village in the southern French Pyrenees, the house feels like a temple, the rooms are large and stylish.
This retreat is intended for all those in need of rejuvenation, rest and relaxation, and those who are seeking a more mystical connection to their existing yoga and meditation practice.
Retreat facilitator Gertrud shares her practice of Embodied Meditation, which is the yoga of breath, mindfulness and movement. Without excessive effort, the practice strengthens your core, legs and hips, tones your parasympathetic nervous system and sets alight your inner space.
The gourmet vegan food has been described as sensational, outrageous, alchemical, the best ever, and more. It is often raw, always free from dairy, meats, gluten, and sugar.
There will be periods of free time each day, which gives you opportunity to just relax in the walled garden, pamper yourself or explore wild swimming in nearby lakes and rivers. You will be held within a clear daily structure. You are welcome to add additional nights to the end of your stay.
♥ Book healthy eating retreats in France
Dates: Open all year
Treat yourself to more than just pampering and spa experiences at a resort in Bali! Our boutique wellness resort Hotel Adiwana is true home away from home where you will practice yoga sessions lead by the experienced teachers.
You will find peace among the exotic gardens and let Adiwana Resort Jembawan pamper you the way you deserve with the pampering treatments, recharging yoga and meditation classes, and exciting cultural excursions.
This five day retreat starts with a hatha yoga class and will be continue with Pranayama and meditation. During this program your meals and spa treatment it will be based on a wellness consultation result with the Ayurvedic Practitioner to diagnose your Dosha (Pita, Kapha,Vata) as your basic knowledge to continuing this program.
Rejuvenation often is defined as reversal of the ageing process. This contrasts with 'life extension' strategies that attempt to combat the causes of ageing in order to slow it down. Because rejuvenation is the reversal of ageing, the means employed to achieve it focus on repairing the damage caused by ageing and replacement of damaged tissue with new tissue.
While rejuvenation is one means to achieve extension of life, rejuvenation itself fundamentally affects a person by restoring aspects of youthfulness from the inside out. This program is designed to reverse biological ageing. It emphasise the quality of life instead of the mere prolongation of it. It is about enhancing your experience of life itself.
We offer a full spectrum of activities, therapies and retreat experiences for everyone. We believe that everyone is special, unique, and different in their own way. At Adiwana Resort Jembawan, you can customise your own retreat package based on your personal needs both as an individual or part of a group. Our goal is for you to return home feeling relaxed, refreshed and energised.
Dates: Open all year
Bali's premier Health and Wellbeing Spa Retreat, Bagus Jati, is set in 5 hectares of hillside gardens among lush tropical forests in the mountains of Ubud, Bali. Bagus Jati offers stunning views of one of Bali's most breathtaking valleys. It is an architecturally unique retreat dedicated to one thing – your wellbeing.
Eight circular deluxe spa villas, twelve superior villas, ten superior chalets, four pool villas and one royal pool suite are nestled into five hectares of beautifully landscaped gardens and jungle along with facilities that will ensure that you unwind, and experience a level of relaxation and rejuvenation that is unsurpassed.
At Bagus Jati, our guests are treated as individuals. Our natural health and well-being programs are tailored to focus on replenishing your body, mind and spirit, offering you the tools to improve the quality of your everyday life. Escape the daily stress of life and learn to live well. Retreats are available for 5, 7 or 10 days.
♥ Book healthy eating retreats in Bali
Dates: 1st – 8th June

Life is a Journey; trust every step of the way. As we journey through life we all come across our own challenges along the way. We have so many decisions to make in life it can leave us feeling a little burnt out.
We can feel the pressure of society, as we try to fit in to a mould or a way of life where, deep down, we know we don't belong. We can question our own self worth and struggle to know our purpose, feeling lost in the vastness of life.
We can feel disconnected from who we are, trying to find happiness from something external (a relationship, a holiday, alcohol, a new car, the next new thing).
Some of us have felt such pain and despair (of body, mind and soul) that we doubt we will ever heal and feel ourselves again. Whatever your story our job remains the same;  to nurture, empower and support you on your path to reaching your full potential.
Our timetable will be perfectly balanced between exciting activities and personal time to relax, dip in the pool and catch up on 'me time'. You are invited to try everything, however, extra personal time and long lies are also supported.
Your home for the week is a beautiful villa nestled amongst a fragrant pine forest in the beautiful North of Ibiza, a peaceful and tranquil sanctuary.
This organic and nurturing home has gardens to explore, meditative spaces to switch off, Bali style huts to relax and a beautiful pool to dip in and refresh.
Together we will discover an island of turquoise waters, hidden coves, pine tree forests, the magical Es Vedra filled with magnetic power and explore Ibiza's best kept secrets. We will take you exploring on the beautiful island of Ibiza. Think magical picnic sunset on the beach, beautiful nature walks and a spectacular sunrise special yoga on the beach.
Dates: Open May – October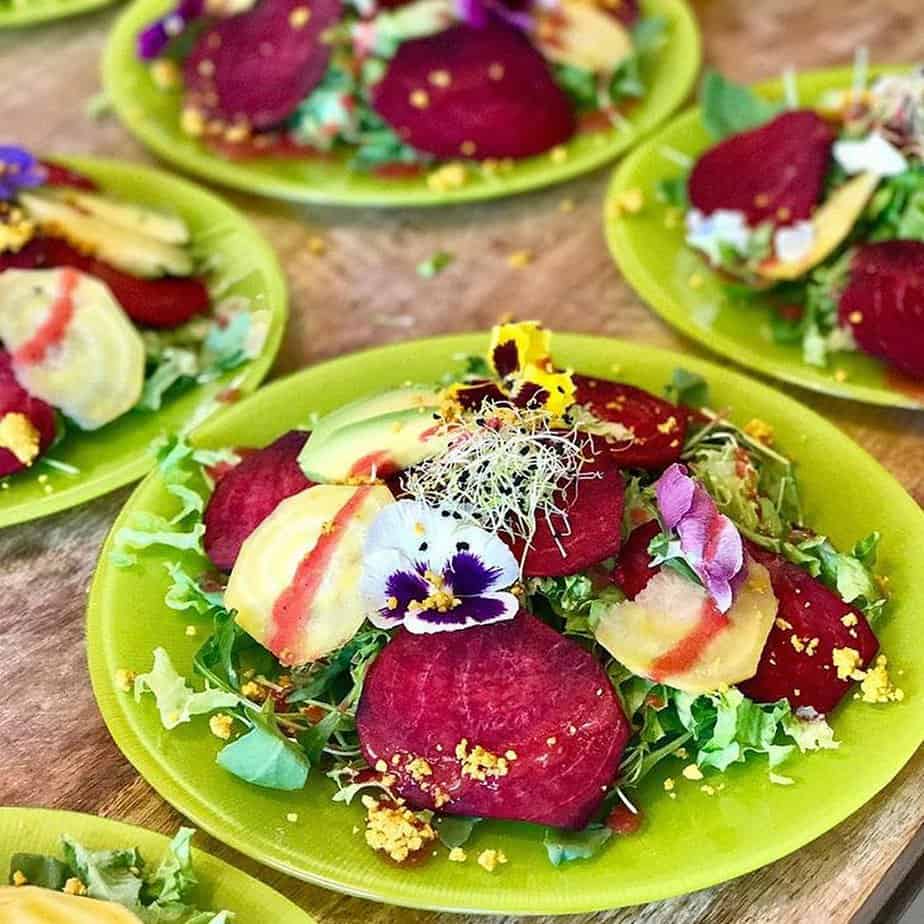 More than a yoga holiday, our meticulously curated holistic wellbeing retreats allow you to pause from the crazy pace of modern life. Reconnect with your true nature and let your soul shine with a whole heap of love from the  team and a jam-packed schedule of holistic, healing and transformative loveliness.
The perfect opportunity to explore, develop and deepen your yoga and meditation practice whilst gaining a greater understanding of holistic healing.
Laugh a lot, make new friends, snooze, sunbathe, explore, relax, read, walk and indulge in yummy food. A transformative holistic wellbeing experience that nourishes your body, mind and soul.
During your six nights on our holistic wellbeing retreat you can expect to enjoy an extraordinary amount of delicious daily Yoga, Meditation, Wellness Talks and Healing Workshops from our wellness experts, plus pampertastic and deeply healing remedial treatments from our talented wellness team (to ensure maximum relaxation and soul soothing!).
Not to mention being cared for by our utterly loving and attentive hosts who are constantly on hand to ensure that you don't lift a finger (we're quite strict about that!). It is a truly holistic wellness experience.
♥ Book healthy eating retreats in Ibiza
Having trouble choosing from our collection of the healthy eating retreats? Email us at retreats@soulseedmedia.com and we will help you find and book your perfect retreat. Follow our travels on Instagram @soulseedtravel.