Description
Christmas and New Year's Yoga Retreat in Koh Samui
For the 15th year in a row, Samahita Retreat is hosting a Christmas and New Year's Retreat in Thailand. There are two back to back week-long programs, one from December 22 through December 29, and the other from December 29 through January 5.
Paul and the Samahita team will share in the task of teaching and guiding all guests across the range of yoga and meditation practices, core strength work and cycle classes.
Yoga and its techniques cover a number of practices that include sitting meditation forms, focused breath work that develops into a pranayama practice, and the physical yoga practice of asana. In addition, as in our YogaCoreCycle program, we incorporate core strength sessions and cycle work outs.
The aim is for you to experience and practice yoga across its spectrum, taking care of the mental and emotional side to the different aspects of the physical. Every morning involves sitting and breath work practices. This serves as a platform for all other activities.
The physical yoga asana practice will be offered on a number of levels that includes experienced self-practice, guided vinyasa classes, explorative asana classes, and restorative afternoon sessions.
Weaved into this schedule are different core classes in the morning and/or afternoon. We alternate the cycle classes between silent-sunrise classes to mid-afternoon fun-cycle classes. As is the case at Samahita, you are free to attend all sessions or choose those that are working for you on a particular day. Our intention is for you to feel uplifted and clear in what to practice by the time you end the retreat.
The first week will place an emphasis on asana practice in the workshops, with more on the Philosophy by the second week, apt for an understanding to contemplate closing the old year and opening the new, with both weeks focused on the breath. Keeping things fluid Paul will still entertain questions on all subjects over the different weeks.
There will be a Christmas Eve celebration with special gourmet feast and performances and fundraiser for our local charities. On New Year's Eve there will be a special ceremony to acknowledge 2018 and welcome in 2019 as well as a feast and performances.
The special ceremony will help you close and heal the past year, setting the energy and intention for the year coming with an impetus to follow through on it. The rest of your time will be a nice break from all the crazy holiday happenings and commercial onslaught. Come and really enjoy a genuine holiday break from the 'holidays'.
Musical celebrations!
In addition to yoga practice and optional fitness, this year's Christmas and New Year's retreats will be infused with magical flute music, concerts, tea ceremonies and ecstatic dance, featuring two international guest musicians, collaborating in kirtans while leading their own unique performances!
Bibi McGill, lead guitarist with Beyonce, is not your typical rockstar guitarist—she's also an internationally acclaimed yoga teacher. Bibi will deliver a healing experience that brings balance to the entire being as she leads ecstatic dance workshops and tea ceremonies infused with breath, sacred sound and hypnotic playlists. www.yogabibi.com
Retreat Schedule
The Daily Schedule
The program begins at 5pm on the first day of the retreat with a group welcome and departure is at 12pm on the last day. The schedule is subject to change at the discretion of the teacher.
7-7.25 am
Silent Sunrise Cycle on alternate days
7.30 am
Sitting practice with inner energetic focus, breath awareness, dynamic sound, contemplation of forgiveness and thanks, into Breathwork-Pranayama and Meditation
9 – 10.30 am
Asana practice – detailed guidance by Paul through either a Centered Contemplative Energy approach or a Dynamic Core Vinyasa. We will also make available the opportunity to do assisted self-practice with other teachers.
10 am – 1 pm
Brunch buffet
3 – 3:30 pm
Snack and refreshment
4 pm
Q&A with Paul (or alternate days Core and Cycle) followed by Restorative yoga class with breath and sitting practice
6 – 8 pm
Complimentary herbal steam room available
6 – 8 pm
Dinner buffet
7.30 pm
Evening program – your personal meditation in the Buddha shala or organized video or music programs
Cuisine
We will provide a mainly vegetarian and vegan buffet with a fish dish once a day and a raw dish twice a day. There will also be a juice bar with healthy beverages.
Accommodation
Our eco-friendly rooms are perfect for quiet contemplation and relaxation.
Single superior room
Approximately 35 square meters of personal space with a private balcony and queen size bed.
Suitable for singles or couples
(Max capacity: 2 adults, 1 child)
· 35 sqm plus a private balcony and ensuite private bathroom
· large shower area with room for clothes hanging and drying
· bio-sustainable hand soap, shampoo, conditioner and shower gel
· queen-size bed, bedside lighting and comfortable private seating
· large writing desk (2.5m), desk lamp and bookshelves
· lockable storage cabinet (up to larger size laptops) and a room safe
· hot-water kettle, mugs, medium-size fridge
· built-in wardrobe with sufficient space for luggage
· ceiling fans, mosquito screens and air conditioning
Semi private room
Approximately 25 square meters of personal space with a private balcony and queen size bed. Shared bathroom between two rooms.
Suitable for family of four or two people sharing
(Max capacity: 2 adults, 2 children – across 2 semi-private rooms)
· 25 sqm plus a private balcony
· shared bathroom with separate access from adjacent semi-private room
· bio-sustainable hand soap, shampoo, conditioner and shower gel
· queen-size bed and bedside lighting
· medium writing desk (1.5m), desk lamp and bookshelves
· lockable storage cabinet and a room safe
· hot-water kettle, mugs, medium-size fridge
· built-in wardrobe with sufficient space for luggage
· ceiling fans, mosquito screens and air conditioning
(Default booking arrangement is for same-gender room assignment unless guests are friends and request otherwise)
Share two bedroom loft
Approximately 50 square meters of personal space with private balcony and queen size beds. The room is split-level, with a loft. Each bedroom has its own private space. There is a fully equipped shared bathroom.
Suitable for two people sharing or family of four
(max capacity 2 adults, 2 children)
· 50 sqm plus a private balcony with table and chairs
· two bedrooms between split level loft
· private bathroom for shared occupants
· bio-sustainable hand soap, shampoo, conditioner and shower gel
· queen-size bed and bedside lighting
· large writing desk (2.5m), desk lamp and bookshelves
· lockable storage cabinet and a room safe
· hot-water kettle, mugs, medium-size fridge
· built-in wardrobes with sufficient space for luggage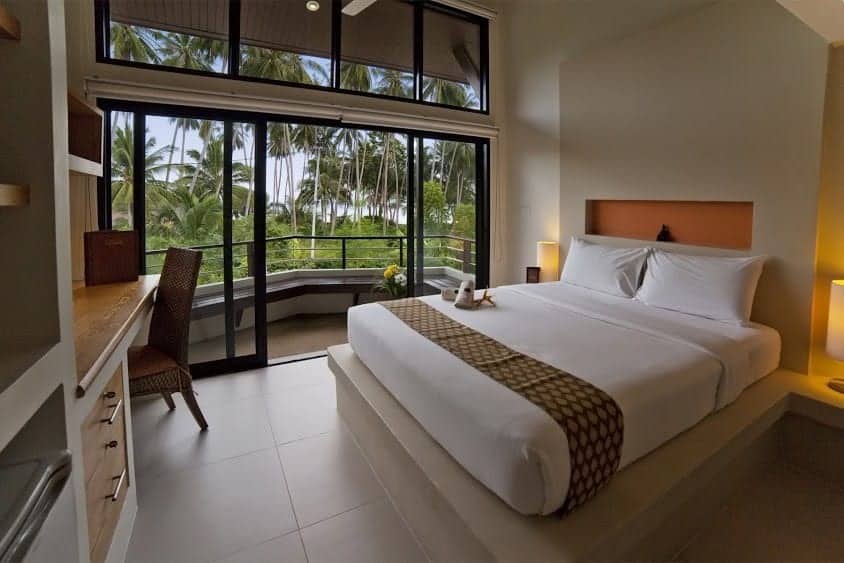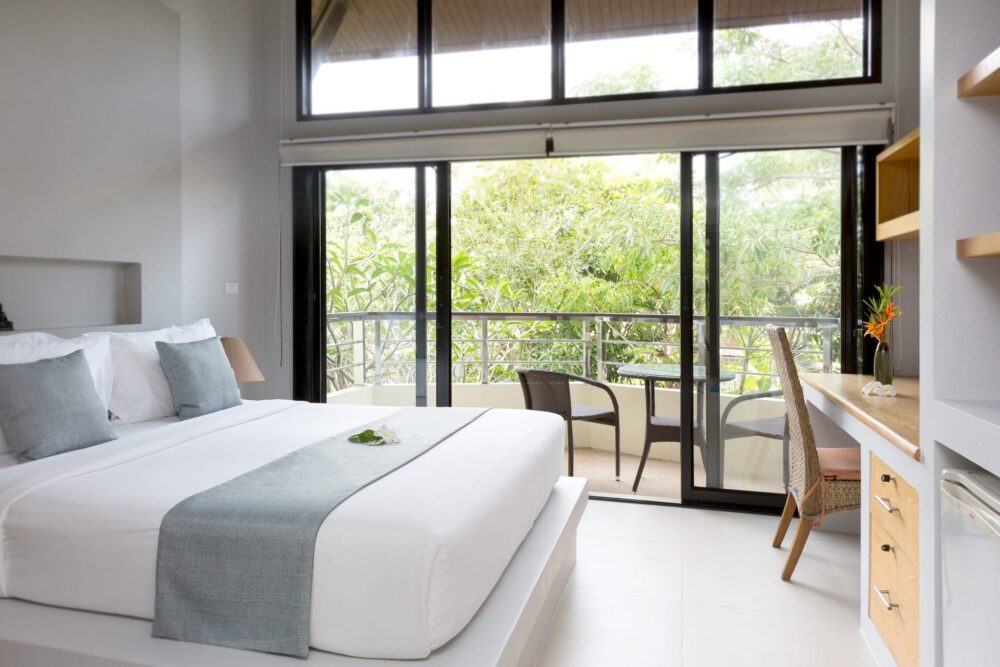 Retreat price
Prices are in US Dollars
Private Room: $1,512
Semi-Private Room: $1,372
Shared Two-Bedroom Loft: $1,232
Includes
* Full yoga and fitness program
* Fully equipped accommodation with AC
* Full brunch and dinner buffets
* Mineral drinking water
* Herbal steam room
* Salt water swimming pool
* Wifi internet
* Service charge
* VAT government tax
* Buffet gala dinner and celebration on Christmas Eve and New Year's Eve
Does not include
* Airfare
* Insurance
Optional activities
* Tour around the island visiting the Friday market in fisherman village
* Boat trip to a neighbouring island.
What past guests have said
"I've been to Samahita several times, the quality of the yoga taught here is the best I've come across and the whole place has a level of integrity & family feel that makes it somewhere I keep going back to! They've now also added a fitness element which is brilliant as the yoga can then just be about yoga rather than having a workout, and the core classes really focus on the strength you need to improve your yoga and/or help you deal with any injuries. The cycle classes are great fun – and would highly recommend. The fitness option would also be good for any partners that aren't so keen on the yoga. Samahita is right on the beach so in between all the classes you can just laze in the sunshine which is perfect. Would highly recommend a stay here". Sandra
"I had the chance to stay at Samahita and spend a month there, same as last year. The place and location with the long sandy beach,peaceful surrounding and beautiful sunset cannot be better for relaxing and disconnect completely from the busy daily life. You will get top quality yoga with qualified teachers..I have been teaching for over 15 years and been really impressed by the quality of the teaching, especially Paul. The all team is great and make you fell at home..you can also do a detox and have some massage…the food is healthy and tasty….I don't think I can ask for more , and I already booked myself for next year." ~ Cecile, 2015
"I didn't get a chance to say a big THANK YOU before we flew out on Saturday. What an amazing week, such an incredible experience and the best way to see in the New Year. Truly inspiring! You will be happy to hear Teresa and I continued our morning breathing and mediation while in Bangkok, then followed your no eating plan for our flights back to London for Teresa and for me Sydney…it worked a treat. I flew in at 6am and was right back at work but feeling great; I have Edo and Jo's music playing through my headphones while I work to ease me back into it all. Thanks again I learnt so much from you, it all made sense and helped me understand what to do and where I need to be with my long legs. Lucy". ~ Global Corporate Solutions
How to get here
Samahita Retreat lies on the south coast of Koh Samui, a tropical island in the Gulf of Thailand. Koh Samui is only about an hour away from Bangkok by air, an hour plus from Singapore, and three hours from Hong Kong.
The island has the allure of a remote island paradise but with the accessibility of the region's most popular destinations.
Situated on Laem Sor Beach, near the well-known Laem Sor Pagoda, Samahita is about 45 minutes drive from the airport, 35 minutes from Chaweng shopping area, 25 minutes from Lamai shopping area, and 20 minutes from Nathon, the picturesque port town of Samui.
Bangkok Airways and Thai Airways fly directly to Koh Samui from Bangkok. They operate flights every hour daily, and you can book your flights directly online.
The first flight out is around 6 am and last flight is around 10 pm daily. One-way is around 4000 THB. Travel time is approximately one hour from Bangkok.
For a more affordable route to Koh Samui fly from Don Muang Airport in Bangkok to Suratthani on the mainland and take the ferry.
From Suratthani Airport there are plenty of transfers (approx 1 hour) to bring you by coach to the Ferry (1.5 hours).
You arrive in Nathon, Koh Samui. We recommend Skyscanner to search for the best airfare.
Booking
To make an enquiry or book this Christmas and New Year's retreat, send your request to the team who will get back to you within 24 hours or email us directly on retreats@soulseedmedia.com.