Medical Spa Deep Detox Program at Palazzo Fiuggi, Rome | Italy
To book or enquire about this Medical Spa Deep Detox Program at Palazzo Fiuggi, send us a message via email below. You can also email the team directly at retreats@soulseedmedia.com who will get back to you within 24 hours.
Description
We invite you to experience the Palazzo Fiuggi Medical Concept at its birthplace. Here, amid a breath-taking natural setting long renowned for its healing waters, guests can enjoy privileged access to world-class spa and medical facilities.
Palazzo Fiuggi is only one hour away from Rome and the structure consists of a fantastic 6000 square meter spa, relaxation area, a large and bright 400 square meter gym, heated outdoor and indoor pools. It is possible to take walks inside the very suggestive park that surrounds the hotel where you can breathe the pure and fresh air of Fiuggi.
All this is enriched by the Food Line that is created by our starred chef Heinz Beck, who offers dishes rich in nutrients prepared with fresh local ingredients and low in calories.
Deep Detox Programme
Fusing the deepest holistic traditions with advanced traditional Western medicine, our integrative approach elevates therapy beyond the treatment of symptoms to fully rejuvenate body, mind, and soul. Expect a personalized program with precisely tailored treatments that deliver measurable results.
Palazzo Fiuggi's holistic Deep Detox programme is backed by the latest scientific research. Delight in the nutritious three-Michelin-starred cuisine, combined with personalised therapies and the therapeutic effect of Fiuggi water for a balanced and long-lasting detoxifying effect.
The personalised detox programme is designed to work in synergy with broader personal health goals, helping you to reduce the levels of toxins in your body and find your ideal lifestyle. This approach combines exquisitely prepared meals from our team with increased exercise and detox treatments, together creating a new healthy regime. The programme includes detox hydrotherapy sessions, wellness treatments, light exercise and dietary advice.
OBJECTIVE
Reduce toxins in the body
Reduce heavy metals in the body
BENEFITS
Changing to a healthier lifestyle
Implementing a more active lifestyle
Creating attention towards a healthier diet
Giving knowledge for a continuous healthy lifestyle
Treatments for 7 day program
MEDICAL
Three (3) Medical Checks – a full check up on arrival with two follows ups
ECG (electrocardiogram)
One (1) Abdominal Ultrasound
Two (2) Laboratory Full Blood Analysis tests, including Detox & Heavy Metal Profile. The first on arrival , the second on departure. This will help to determinate improvements over the week and set your direction for a better life style
One (1) Naturopathic – giving you all the right tools for your specific health & nutrition goals
(Daily) Personalised Menu with every meal
Fiuggi Healing Thermal Medical Therapy
Two (2) Intravenous sensational supplementation
One (1) Nilas Assessment
One (1) Hydro Colon Therapy
One (1) Nutritional Consultation session
Six (6) Personalised infusions from the oldest pharmacy in the world
Two (2) Health Check up
Two (2) Bio-Impedancemetry (BIA) and Three (2) Styku (3d body scanner). Deep diagnosis of your body both internally and externally
Three (3) Ozono terapy sessions
Two (2) Cryo Therapy sessions
OVERALL WELLBEING
Three (3) iDome Fir Triple Detox sessions
HYDRO & BATHING
One (1) Hammam Welcome Cleansing Ritual
Two (2) 3-Step Hydro Cure activated by Fiuggi water
Two (2) Thalassotherapy sessions
Access to Roman Thermae and swimming pools
WELLNESS & HOLISTIC
Two (2) Lymph Flow Massage Treatments (50 min)
Two (2) Detox and Firm Abdominal Treatments
MOVEMENT
Daily Group classes (Yoga, Sound Healing and Meditation)
One (1) Kinesis Group Class
One (1) Cognitive Group Class
All Fiuggi programs are based on medical evidence and are tailored by our doctors and experts to fit guest's unique treatment profiles and objectives.
Rooms
ROYAL SUITE
135 M² | 1 BEDROOM | 1 LIVINGROOM | 1 BATHROOM
A first-class 135 sqm suite with living room, bedroom, walk-in wardrobe, bathroom with bath and shower, separate bathroom and dedicated guest service. Featuring exquisite silks, Murano crystal chandeliers and Italian marble. There are panoramic views from the 140 sqm terrace.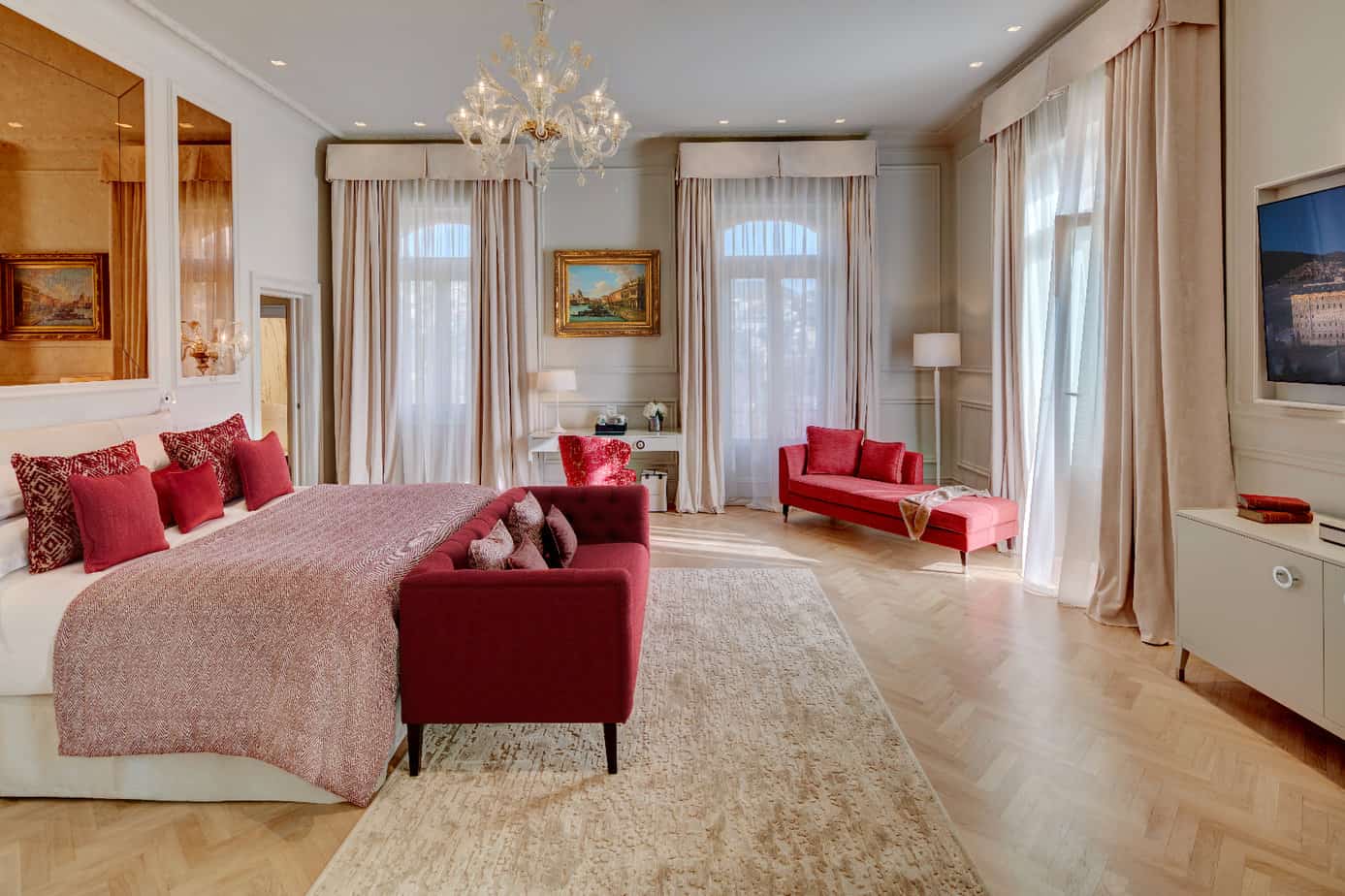 PRESIDENTIAL SUITE
110 M² | 2 BEDROOM | 1 LIVINGROOM | 1 BATHROOM
A spacious 110 sqm suite with amazing views from the 160 sqm terrace. Living room, bedroom, walk-in wardrobe, bathroom with bath and shower, separate bathroom and guest service. The bedroom features a canopy bed and period paintings, while the bathrooms incorporate precious marbles and unique mosaics.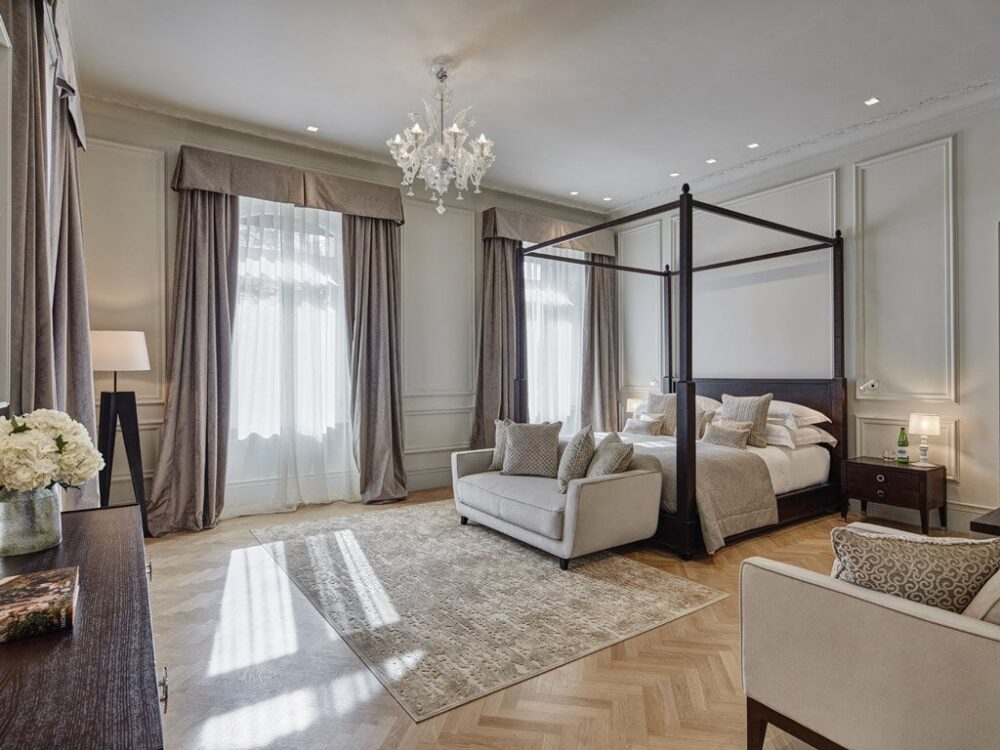 IMPERIAL SUITE
55 M² | 1 BEDROOM | 1 LIVINGROOM | 1 BATHROOM
A generous 55 sqm suite with 100 sqm terrace overlooking the old town. Living area, bedroom, walk-in wardrobe, bathroom with bath and shower. Furnished in contemporary style and evoking the mood of the beautifully verdant Mediterranean Macchia.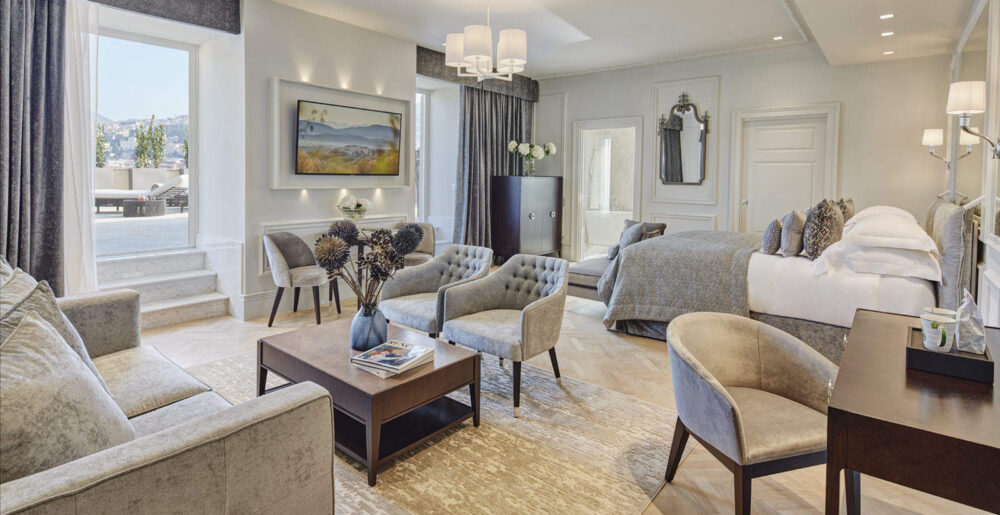 CHARME ROOM
30-37 M² | 1 BEDROOM | LIVINGROOM | 1 BATHROOM
Charming 30-37 sqm room with expansive view; some with a balcony or terrace.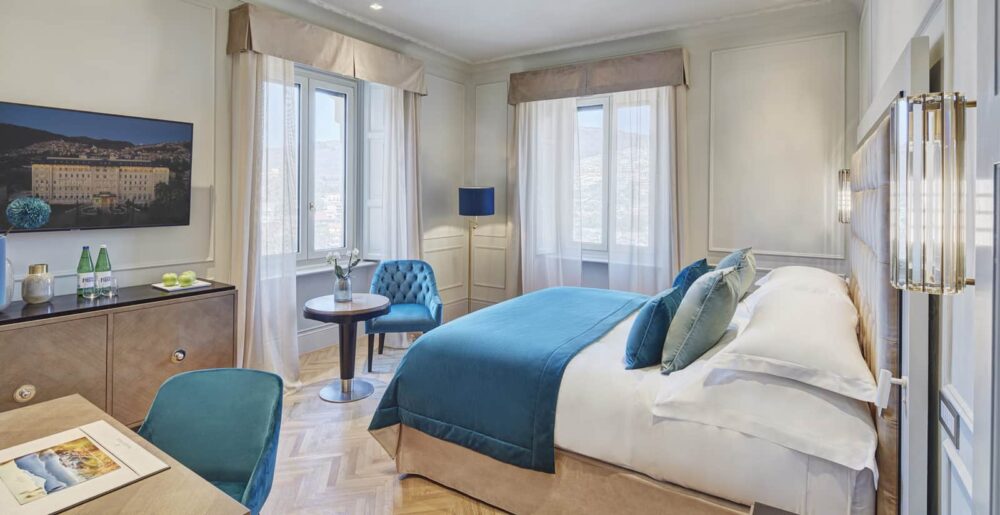 PRESTIGE ROOM
33-38 M² | 1 BEDROOM | 1 LIVINGROOM | 1 BATHROOM
Elegant 33-38 sqm room with living area. Panoramic view; some with a balcony or terrace.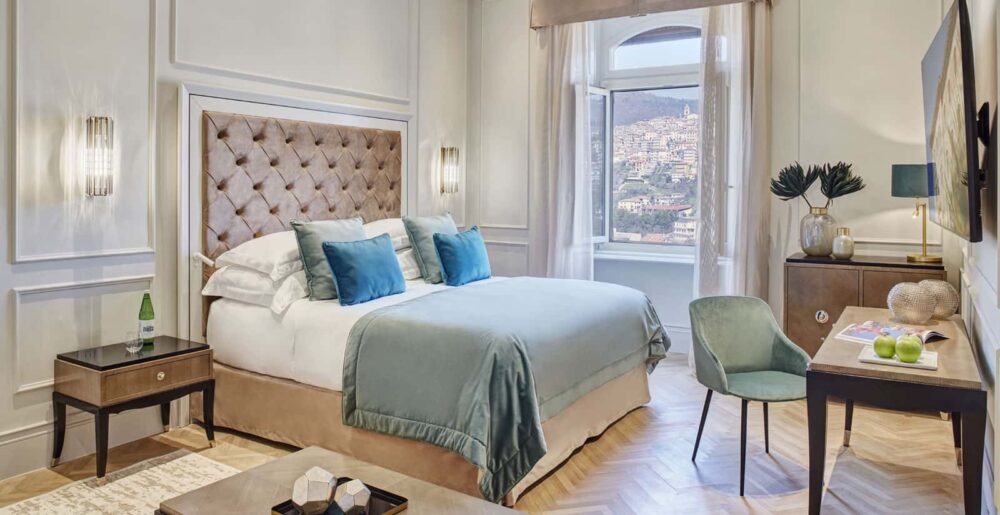 SUITE
60-76 M² | 1 BEDROOM | 1 LIVINGROOM | 1 BATHROOM
Luxury 60-76 sqm suite with living area, bedroom, bathroom with bath and shower and separate WC. All offer lovely views; some include a balcony or terrace.
Food As Medicine
Developed by senescence and genetics specialist Prof. David Della Morte Canosci, in collaboration with our resident three-star Michelin chef Heinz Beck, who boasts an honorary degree in Natural Bio-Energies and Naturopathy, the Palazzo Fiuggi Food Line is no ordinary diet. Food Line offers guests a supportive regimen, combining a balanced calorie intake with a targeted movement program and incorporating a personalized combination of nutrients to activate the molecular pathways that stimulate cellular rejuvenation.
One of the key elements for a better and longer life is effective nutrition, supported by regular motor activity and a healthy lifestyle. Where a guest's primary objective is to detoxify and establish a stable and healthy weight, a panel of epigenetic tests forms part of our initial diagnosis. We go beyond simple nutritional and biochemical evaluation, analyzing the deepest genetic components, understanding the body's interaction with the external environment and prescribing the interventions and activities essential to maintaining long-term wellbeing.
A DIET FOR LIFE
By creating the Palazzo Fiuggi Food Line, Chef Heinz Beck and Prof. David Della Morte Canosci have introduced a new and completely unique diet concept that successfully targets fat reduction without adversely impacting muscle mass. Food Line doesn't demand guests follow a punitive regimen. Instead, it harnesses the power of essential nutrients and micro-nutrients to create delicious meals that achieve safe weight loss, without the usual feelings of hunger. Chef Beck's finely honed cooking techniques and use of beneficial aromatic herbs assure a mouth-watering menu.
CLEANSED WITH FIUGGI WATER
Naturally, Fiuggi water plays a fundamental part in the journey towards optimal health and wellness. The spring's unique mineral composition helps purify the toxins that create oxidative stress and inflammation in our immune system that cause premature aging. Its detoxifying power helps to restore balance and support the endogenous defense mechanism that is so crucial to our long-term wellbeing.
ORGANIC & BIODYNAMIC INGREDIENTS
Even the most carefully planned and meticulously calibrated meals depend on the purity, nutritional quality and seasonality of their individual ingredients. Palazzo Fiuggi is serendipitously located amid fertile countryside with excellent access to the area's very best organic and biodynamic fruit and vegetables. Some ingredients are grown here in the Palazzo's own vegetable garden, while others are painstakingly selected from the region's most outstanding producers, favoring and supporting the concept of eco-sustainability and circular economy.
Program Pricing
€5.600 per person. Please note the 7 nights required accommodation at Palazzo Fiuggi is not included. Rooms are priced separetely.
Including
Beakfast, lunch and dinner
Personalised nutrition plan and Fiuggi Water
VAT
Room Pricing
Prices are per night
Charme
Single €550
DBL €700
Prestige
Single €750
DBL €900
Junior Suite
€1000
Suite (without balcony)
€1.300
Suite (with balcony)
€1.550
Suite (with terrace)
€2.400
Imperial suite
€2.900
Presidential
On request
Royal
On request
The above rates are quoted only in addition to one of our Health & Wellness Programmes.
An accompanaying guest sharing the same room shall buy at least the"Accompany Programme" which includes:
* Breakfast, Lunch and Dinner with balanced nutrition plan – Fiuggi water includes
* 1 Welcome to Palazzo Ritual Hammam.
* 1 three steps hydroterapy path
* Unlimited use of Palazzo Fiuggi facilities (indoor and outdoor pools, tennis court and padel court).
Booking
To book this Medical Spa Deep Detox Program at Palazzo Fiuggi, send your enquiry to the team who will get back to you within 24 hours or email us directly on retreats@soulseedmedia.com.
Sorry no more offers available