7 Day Pilates and Barre Retreat, Fuerteventura 27th April – 4th May
Receive a complementary massage when you book through Soul Seed Travel. Fill in the form to make an enquiry or booking and we will get back to you within 24 hours. You can also contact the team direct on retreats@soulseedmedia.com.
Description
7 Day Pilates and Barre Retreat, Fuerteventura
The complete Pilates getaway…reconnect and center with Jo and Laerke in paradise. A week of focused, fun classes and rejuvenating meals and treatments will leave you feeling renewed and connected.
Don't miss this opportunity to enjoy nutritious food, gain a deep understanding of Pilates complimented by fun Barre classes to add a fun fitness flair to the week. Renew your body with Pilates and Barre and restore with our amazing inclusive therapeutic massage. Benefit from a week of mindful movement with our incredible teachers. Experience rejuvenating Pilates in Paradise. You will gain an understanding of Pilates on a new level through Jo's comprehensive sessions. Laerke's fun Barre and Pilates equipment classes will leave you with a feel-good glow.
Our beautiful retreat is set away from the hustle of every day life allowing you to eat nutritious foods, decompress and immerse in Pilates in an idyllic location, filled with blue skies, white sand beaches and stunning volcanic vistas.
Led by Jo and Laerke and our caring and warm team you will benefit from their experience, knowledge and support in this very special week. Awaken the spark present within, guided by the teachings of these exceptionally talented and caring teachers, whilst soaking up the elements of our beautiful island paradise.
At the end of the retreat you will feel longer, leaner, more toned; feel relaxed and connected to your body and breath; you'll be glowing from within from a week spent eating nutritious foods and island living and you'll be more knowledgeable about how to move safely and move well.
Why add Barre to this amazing Pilates retreat? Fun of course! Barre compliments Pilates as a series of strengthening exercises targeting glutes, core, arms, legs. Barre also targets the muscles that run close to your bones and connect into your core and spine, which we neglect when we spend a lot of time sitting.
Teachers
Jo Dombernowsky is in charge of the menu at the retreat and inspires us all with her ability to make really healthy food taste really good. Having studied nutrition for many years, Jo knows the power of food to improve health, energy and wellbeing and prepares her meals to do exactly that. She loves to pass on her knowledge and passion for food throughout the retreat and in her workshops and nutrition weeks.
Originally from Denmark, Jo is quickly becoming the Canary Island's go to expert on all things nutrition and you may catch her being interviewed on the radio. She has successfully campaigned to improve nutritional education within schools, and is experiencing widespread support for her amazing cookbook, 'Truly Healthy, Truly Delicious'.
Jo is also an advanced practitioner and inspiring instructor of Stott Pilates. Her classes focus strongly on understanding correct form, body awareness and body synergy, giving students the understanding and skill to progress in their Pilates safely and quickly.
Jo's passion for fitness and overall wellbeing shine through in all that she does, and we are delighted to have her as part of the team.
Lærke brings her passion for dance, fitness and healthy living to the Azulfit team with a quiet confidence and ease. Her background is in ballet and modern dance having studied for years in both Denmark & Brazil. In Brazil Lærke had her first experiences with Pilates and saw how beneficial the training was not only to dance but to body awareness. She trained as a Stott Pilates instructor in 2009 and has been sharing her love for Pilates ever since. Since 2009 she has also trained and taught pre and post natal pilates, breast cancer rehab, stability ball, flexband and other Pilates equipment courses. In 2013 she qualified to teach Reformer Pilates and ballet fitness barre.
Lærke's dance background has given her the ability to create flow and fun in her challenging classes. Laerke also believes in awareness and teaching to the body in front of you, as 'working with a group of people always includes surprises and situations that you can´t prepare for.'
Her classes are a mix of technique, cuing, fun and sweat. Her classes are energetic, include everyone and keeping the focus on doing the exercises with correct form.
Lærke grew up in the Danish country side with parents who aimed to be self-sufficient, her mother teaching her about cooking organic, vegetarian food from a young age. At 18 she started working in a organic and vegetarian restaurant. Her passion for healthy living grew; she worked in raw food kitchens and has been inspired by vegetarian cuisine ever since. 'I love how food and cooking is a form of a creative expression and how you as a chef can expand people's horizon to new tastes and ways of living a healthier life.'
Retreat Schedule
Saturday: Arrivals
Day 1. (morning) – Welcome, Meet the teachers and Introductory Pilates Class
(evening) – Pilates Fundamentals
Day 2. (morning)- Pilates Rise & Flow + Q&A
(evening )- Pilates workshop: Swiss Stability Balls
Day 3. (morning) – Pilates w Props
(evening) – Barre Class with Laerke
Day 4. (morning) Pilates & the Magic Circle
(evening) Rest evening
Day 5. (morning) Pilates class & Breath workshop
(evening) Barre Class with Laerke
Day 6. (morning) Pilates Flow
(evening) Pilates Circuit
Saturday: Brunch & Departures
Accommodation
This special retreat week takes place at Surya Retreat in Fuerteventura. The retreat is beautifully situated nestled amongst the volcanoes with views to the sea. Offering different levels of accommodation to suit all budgets, we are sure to have the perfect place for you to rest, relax and enjoy the rejuvenating effects of this special week.
Surya Retreat has a relaxed, friendly atmosphere, beautifully decorated rooms from and lots of comfy chill-out areas. You can relax with a book in the garden, have a dip in the pool, chat with your fellow guests in the bright open lounge or Spanish courtyard or sit and enjoy the view to the sea from the terrace.
We have hand selected each bed with your comfort in mind, and furnishings have been chosen to complement the beautiful Spanish finca style of the villa. Here you will find a haven of rejuvenation, the perfect complement to your daily practice.
Retreat price
Prices are in Euros
Vitality Deluxe Courtyard Suite: (large open room, double bed, deluxe bathroom) shared €945/single €1260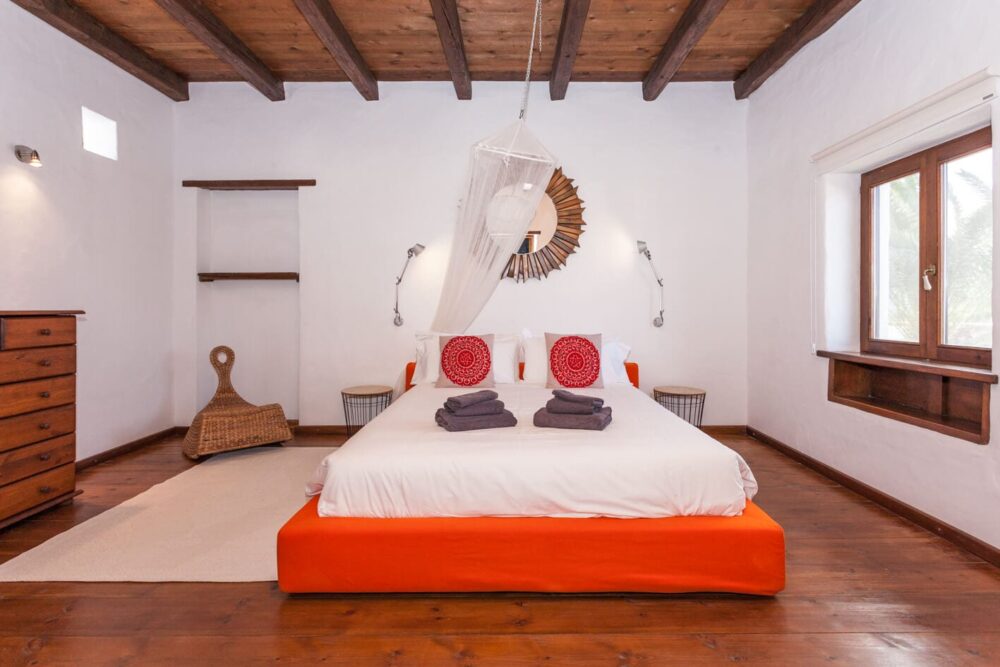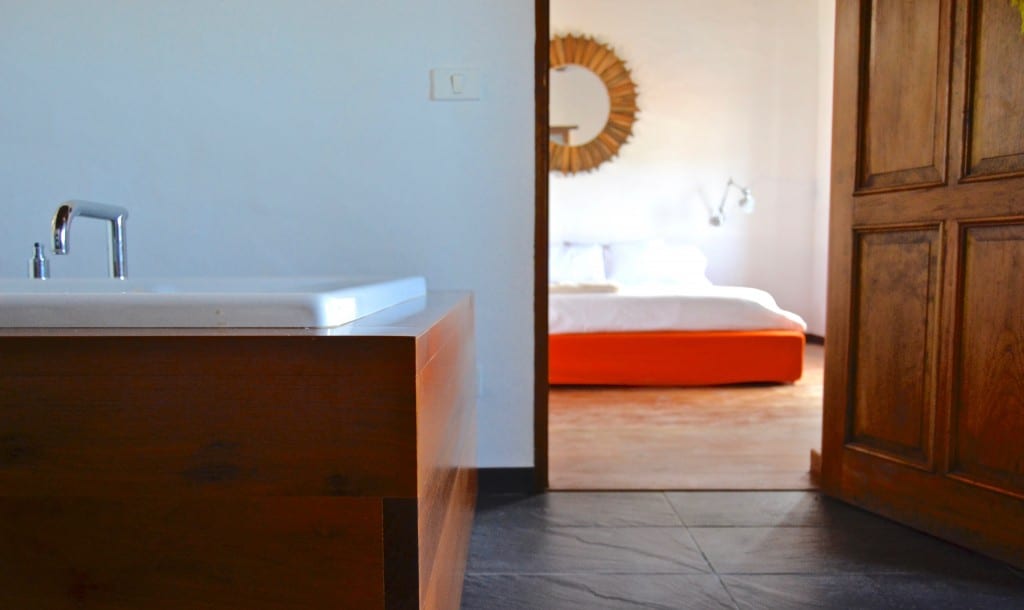 Tranquility Courtyard Apartment: (double bed, single bed, private bathroom, private garden terrace, cosy lounge) shared €945/single €1260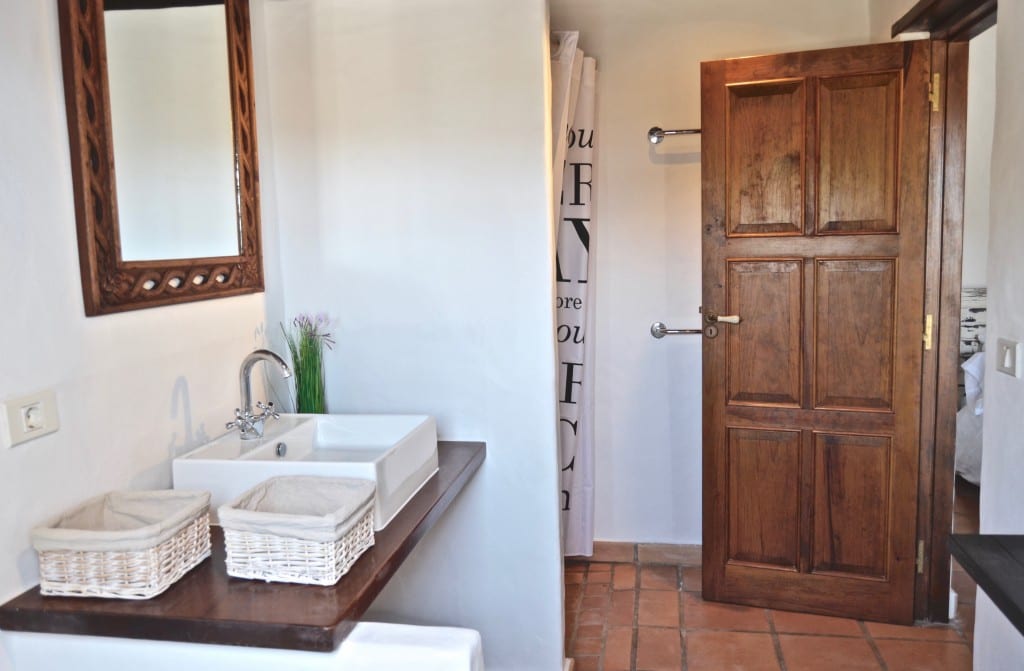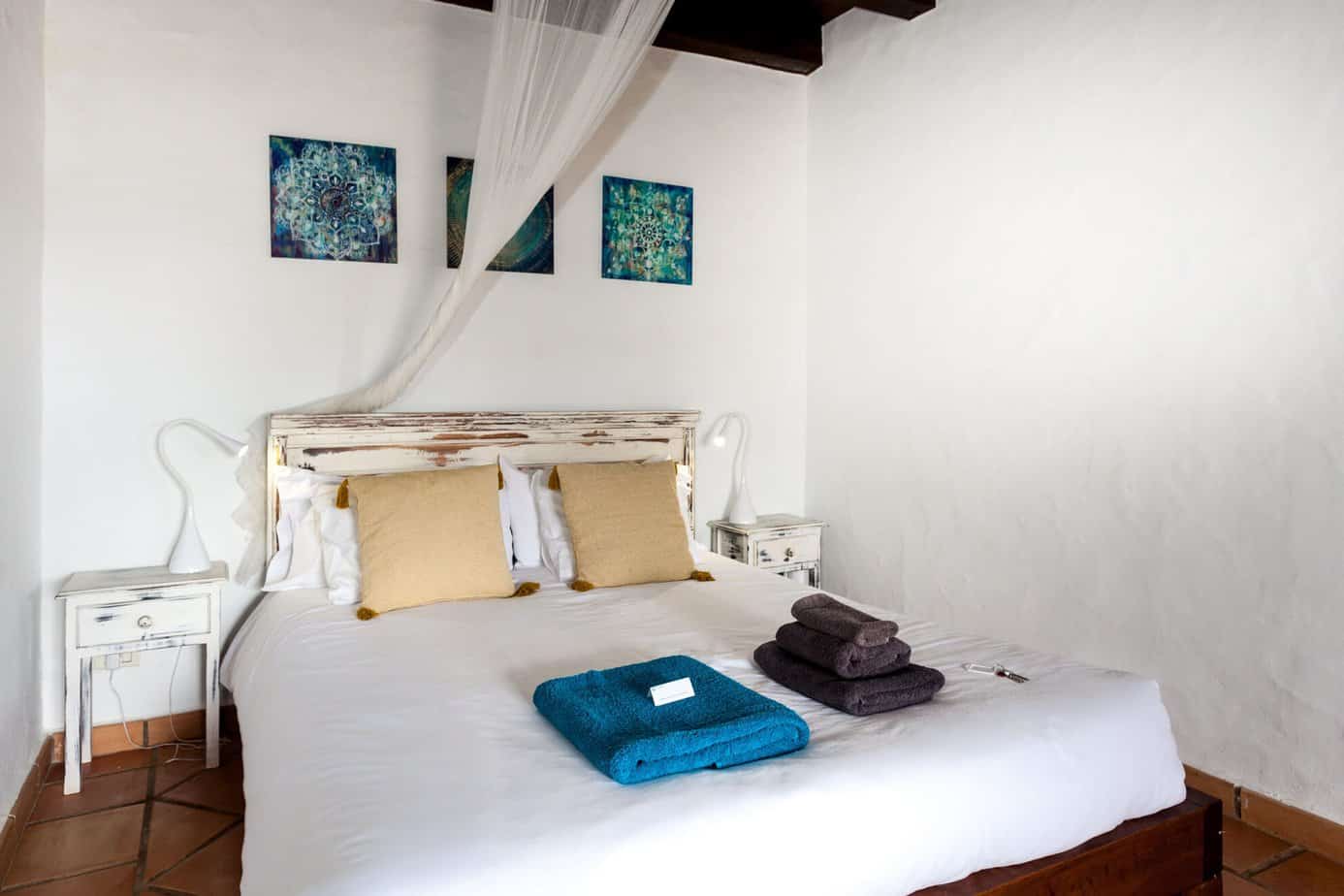 Rejuvenate Room: (private room, double bed, private bathroom, shared lounge, garden terrace with pool view) shared €840/single €1085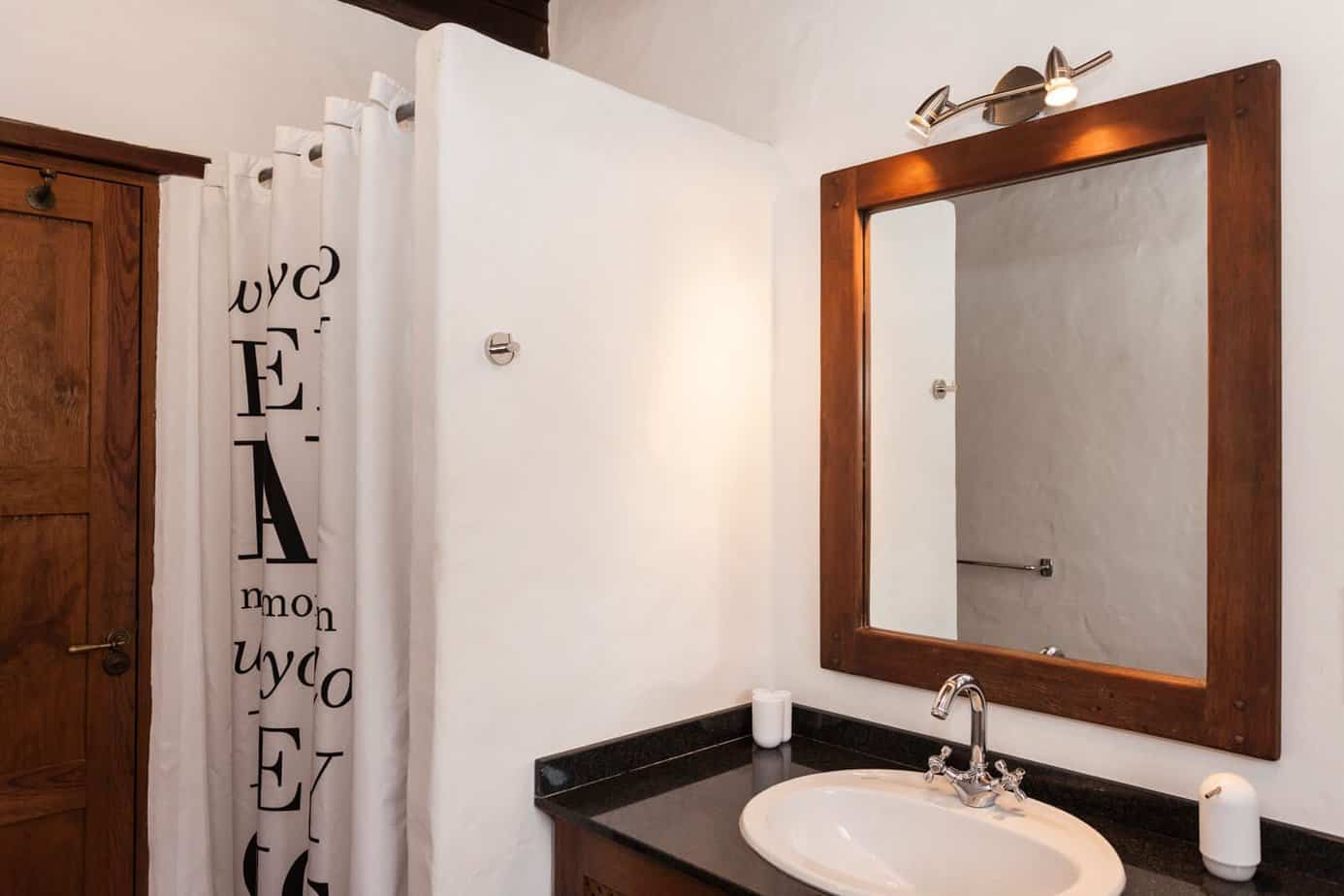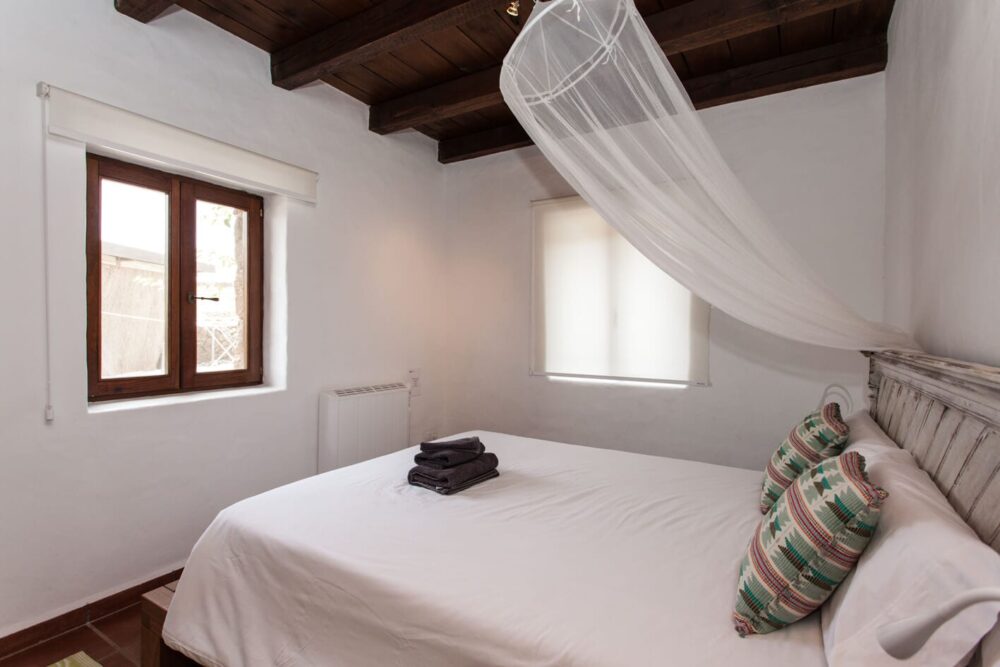 Zen Rooms: (private apartment, 2 twin bedded bedrooms, shared bathroom, kitchenette, lounge, private pool view terrace) shared €735/single €945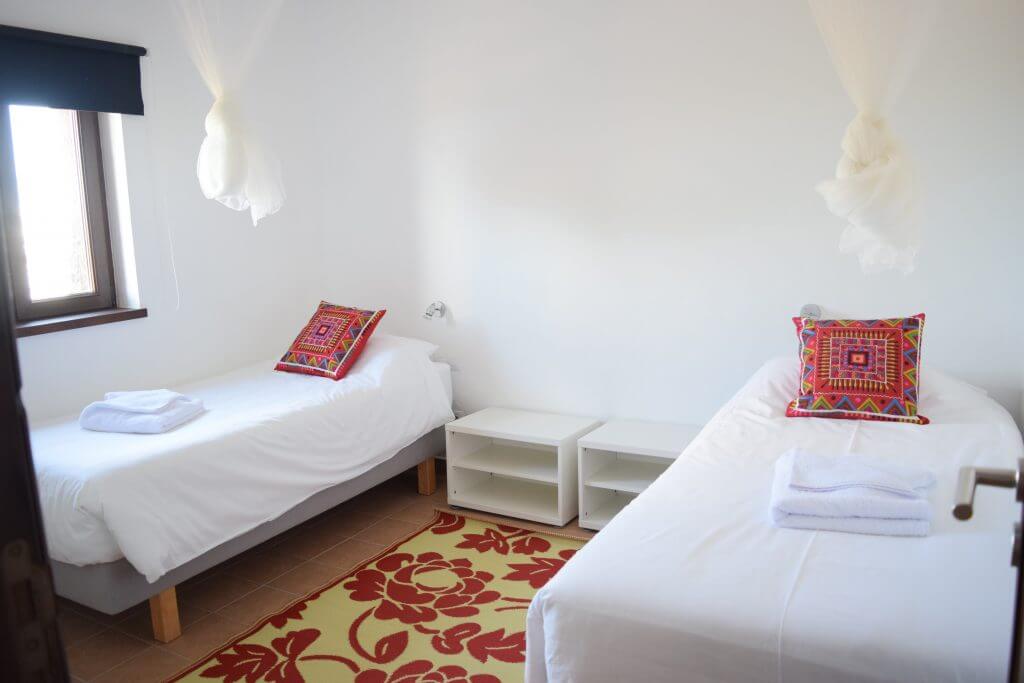 Serenity Room: (off main courtyard with private courtyard and ensuite bathroom) €910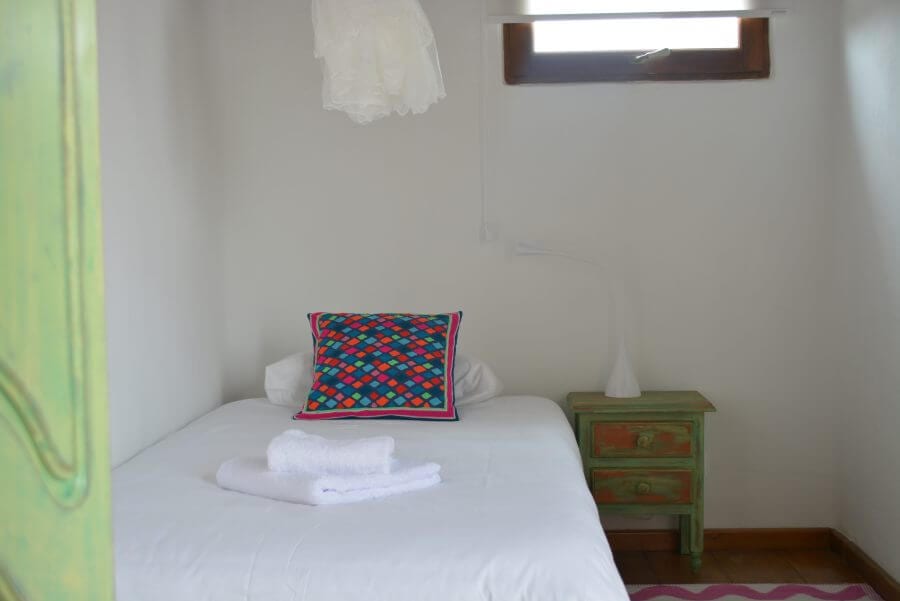 Contentment Room: (single bed, pool view, private bathroom, shared lounge) €980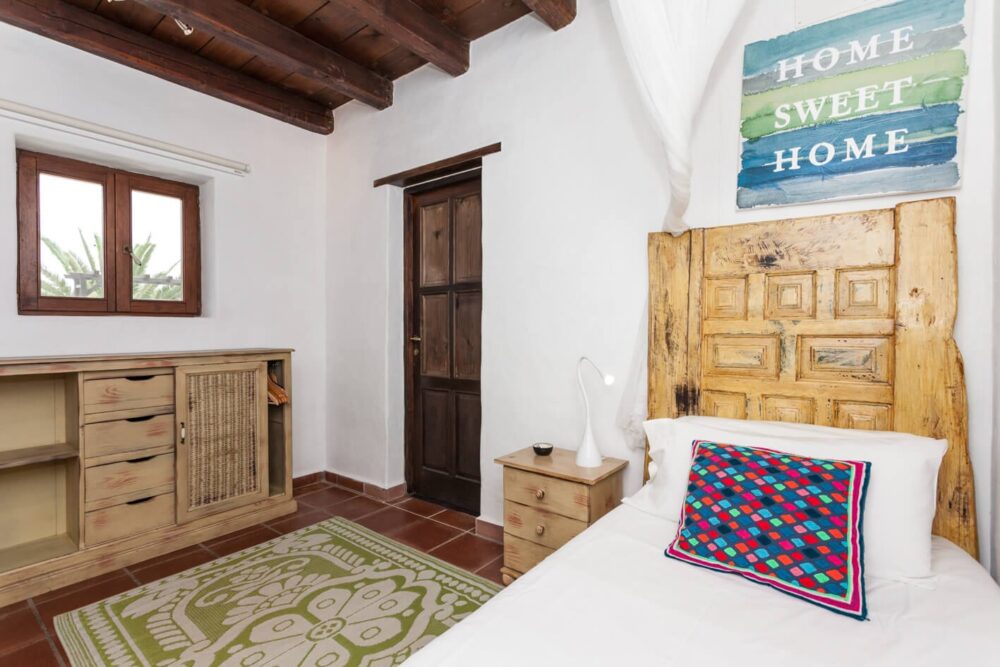 Sanctuary Courtyard Rooms: (private room, double bed, shared bathroom) shared €735/single €910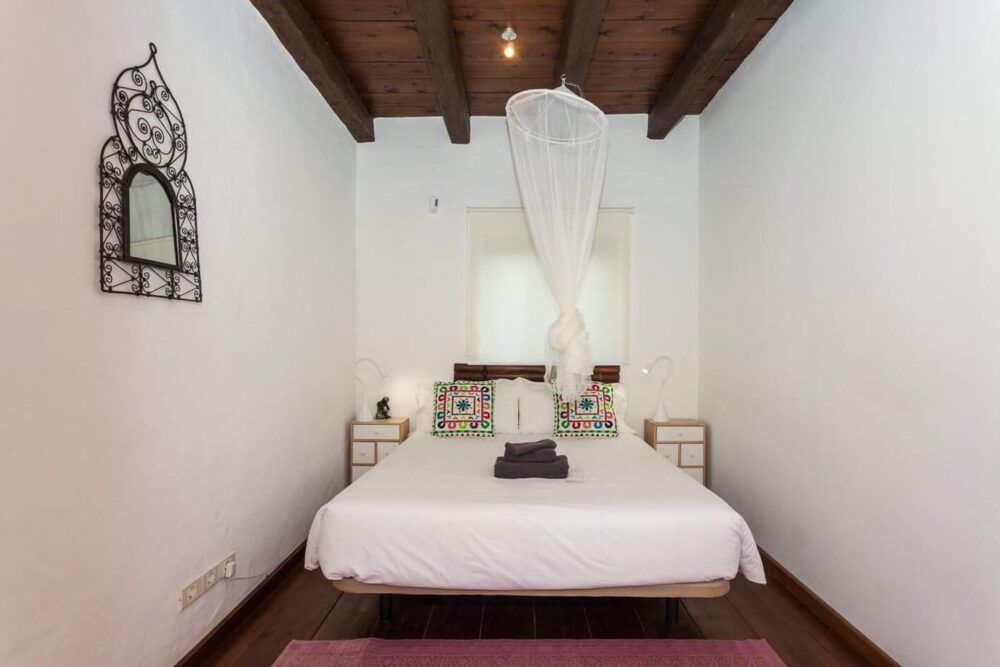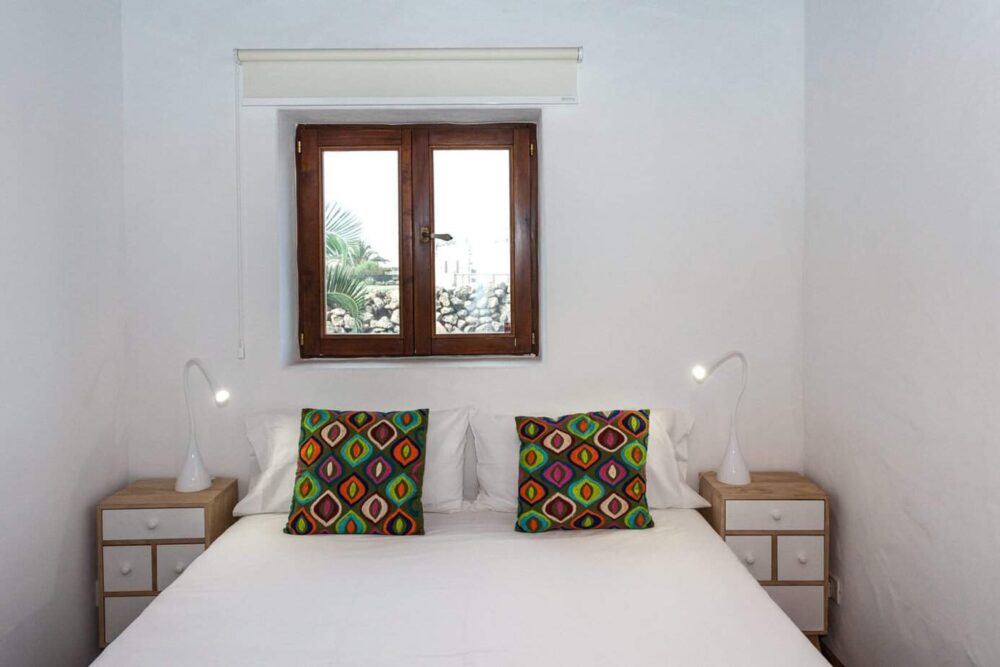 Inner Peace Room: (private room, single beds, private bathroom) shared €770/single €945
Om Cabin: (private rustic cabin, single beds, private ensuite bathroom) shared €770/single €910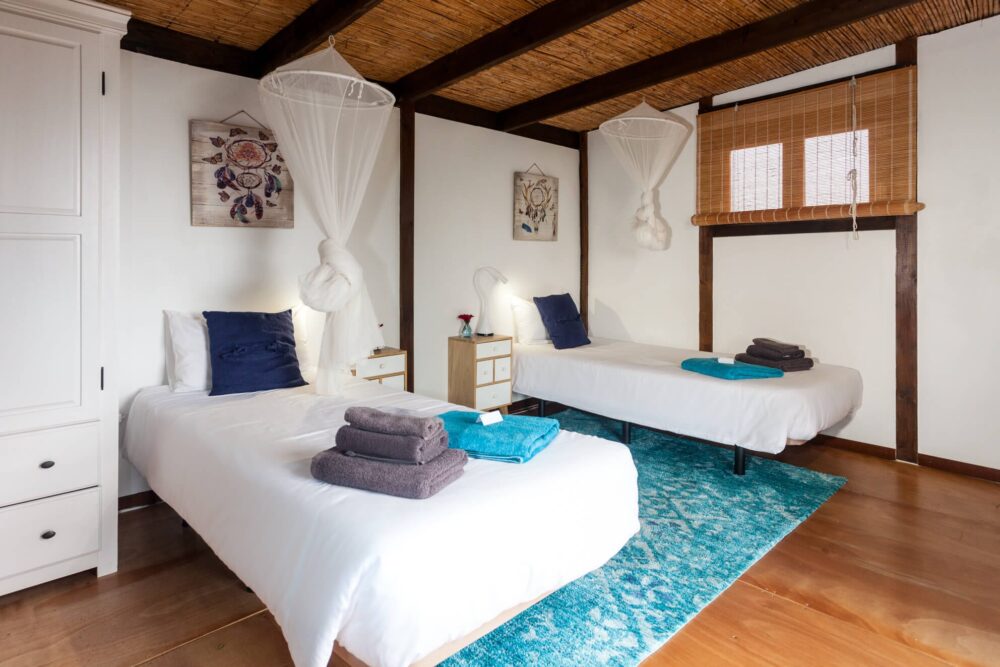 Prana Vista Cabin: (private cabin, single beds, shared bathroom) shared €700/single €875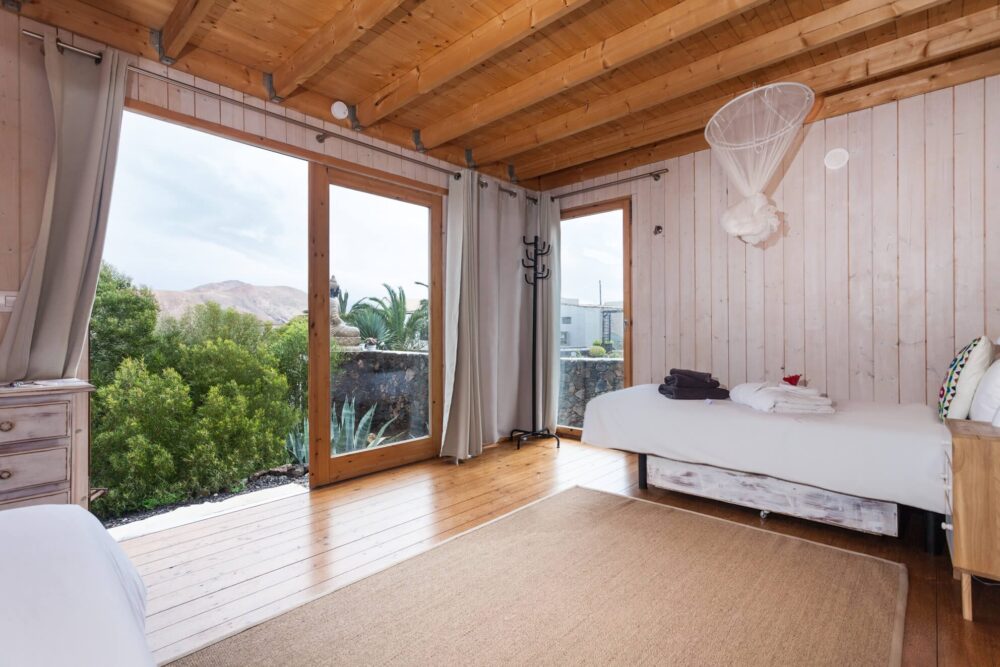 Soul Space Cabin: (private cabin, single beds, shared bathroom) shared €700/single €875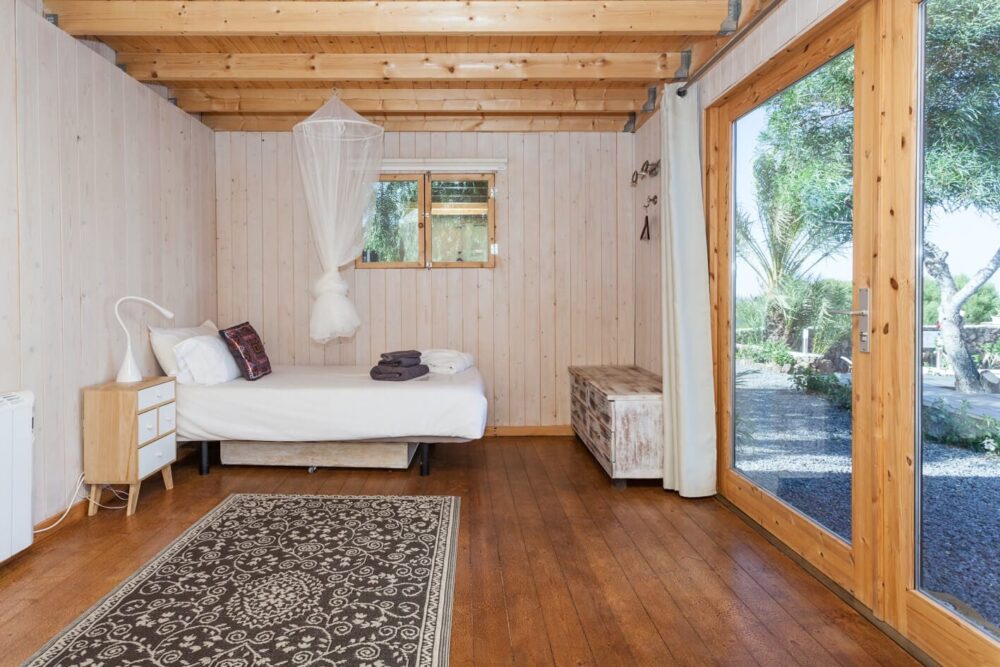 Included
* Seven nights accommodation
* All classes as listed above
* Daily brunches, lunches (provided packed for those who prefer to explore) + 5 delicious vegetarian evening meals
* One hour full body therapeutic massage
* All equipment (mats, circles, etc.)
Does not include
* Flights
* Travel insurance
* Lunches (some evening meals are not included)
Optional activities
* Massage
* Complementary therapies
* Surfing
* Horseback riding
* SUP
* Windsurfing
* Kitesurfing
* Snorkelling
* Kayaking
* Walking
What past guests have said
"I've just spent a week at the Surya Retreat in Fuertaventura. There are lots of good things to say about the venue but what made it such a positive experience for me was the people who work there. I've dabbled in Pilates before and not really 'got it' but Jo is such a good teacher I've now got the bug and I'm going to try classes back at home. Everyone I came across was so thoughtful and kind." S. Pratt, UK
"Amazing experience, i'd also like to say a special thanks to Jo who gave us the best tuition and helped me 'find myself' during class. I feel refreshed and relaxed and will definitely be back." Rachel, UK
How to get here
You can book your flight to come directly to Fuerteventura airport (FUE). For a wider choice of flights, you can fly to Lanzarote Arrecife airport (ACE) and take the 20-minute ferry crossing to Fuerteventura. The last ferry crossing to Corralejo from Playa Blanca, Lanzarote is at 19:00 so please make sure your flight arrives by 16:00 if travelling with luggage.
Fuerteventura airport is 35 minutes from the Surya Retreat. We recommend that you allow us to organise a transfer for you. This will ensure that you have no waiting around at the airport and that your driver knows exactly where you are going, allowing you to get to us and settle in as smoothly and stress free as possible. The cost is as follows:
1 Guest – €40
2 Guests – €20
3 Guests or more – €15
We always try to arrange shared transfers for guests arriving at similar times to keep your costs down. We recommend Skyscanner to search for the best airfare.
Booking
To book this retreat, send your enquiry to the team who will get back to you within 24 hours or email us directly on retreats@soulseedmedia.com.