Description
Pilates and Nutrition Retreat in Fuerteventura
Don't miss this wonderful opportunity to join us on our pilates and nutrition retreat, recharge your body and reset your mind with energising practice and explore the rejuvenating effects of nutrient rich cuisine. Two world class teachers lead this perfect winter wellbeing escape.
Join Jamie, one of the world's first Pilates retreat teachers, and published cookbook Author Jo, in a sun-kissed, beautiful and enchanting environment. Azulfit Surya Retreat in, Fuerteventura, Canary Islands is an oasis for you to experience an unforgettable Pilates retreat. Be energised and rejuvenated with the power of Pilates, with daily classes and workshops in Pilates, nutrition and ayurveda.
Look and feel stronger, leaner and more vibrant
Immerse yourself in your Pilates practice with one of the world's leading teachers
Learn lifelong nutrition tools for maintaining health and vitality
Learn how to develop a consistent self practice even in a busy world
Sweat, smile and amaze yourself in Paradise
You will finish the week feeling healthier, stronger and more energised, and will discover the healing power of classical Pilates. Be prepared to return home looking younger, feeling stronger and rejuvenated and ready for the winter season ahead.
You will experience energising workouts, a nurturing and nourishing environment. Thrive and grow in your practice and your life. Did we mention, have a lot of fun, whilst sharing the Pilates and delicious meals in a blissful setting with like minded souls?
With a warm, fun and open approach and a passion to share his expert knowledge of the Pilates method, Jamie's Pilates retreat weeks are rapidly gaining the reputation for being one of the most popular Pilates retreat experiences available. Jo's expert knowledge on nutrition and lifestyle inspire many to live a healthier, happier more energetic lifestyle.
Health, balance and vitality can be yours by joining us for this life changing retreat. Jamie Isaac is a certified 2nd Generation master teacher, as well as a teacher trainer for Peak Pilates, and has a passion and understanding of the method that is infectious.
His unique fun, empowering and compassionate teaching style will take you on a true Pilates adventure, leaving you feeling energised, inspired and rejuvenated.
Sweat, smile and amaze yourself, as each class and workshop combines with the scenery to create an experience like no other.
Teachers
Jamie Isaac believes in the power of mindful movement to change the world. As a surfer, yoga lover and Classical Pilates aficionado, Jamie founded Azulfit, Yoga & Pilates Retreats & Fluid Art Pilates Studio to share his passion with those who are ready to take their next conscious step toward vibrant health.
Changing the world takes energy, clarity and inspiration, and Jamie makes sure his students have more than they need so they can be a shining example to others of what is possible.
Jamie is a 2nd Generation Master Pilates teacher and one of the world's first Pilates retreat teachers. At his studio in California, and through workshops and retreats across the globe, Jamie loves nothing more than supporting and celebrating the transformations of his students… except maybe playing with his awesome kids.
Jamie feels gratitude for all the inspirational teachers he has learned from. From exploring a deeper side to mindful movement, in Santa Fe, with Celia Hulton, Ray Kurshals, & Michele Larsson, to developing a compassionate and authentic approach to delivering the method, with Zoey Trap.
Invited to study with Lolita San Miguel (who trained with Joe Pilates himself), Jamie is honored to be certified by her, as a Master Teacher.
Jamie's enthusiasm and down to earth, friendly manner help students get the most possible from each and every class – and have fun while they're doing it!
As an eternal student passionate about the method, the adventure continues and Jamie is really excited to share that with you.
Cuisine
After each morning session, enjoy our homemade brunches designed by Jo Dombernowsky – author of Truly Healthy, Truly Delicious.
Learn why we make sourdough bread, why we soak our oats and how doing these things can improve digestion, heighten energy and help you lead the happy, energised, balanced life you have always wanted to.
We offer five inclusive evening meals in your week to energise, revitalise and nourish, for a delicious, balancing week. A great chance to detox from the normal day to day diet and to enjoy the famous healthy retreat food during your week with us.
Accommodation
Surya Retreat has a relaxed, friendly atmosphere, beautifully decorated rooms from and lots of comfy chill-out areas. You can relax with a book in the garden, have a dip in the pool, chat with your fellow guests in the bright open lounge or Spanish courtyard or sit and enjoy the view to the sea from the terrace.
Offering different levels of accommodation to suit all budgets, we are sure to have the perfect place for you to lay your head. Careful thought has gone into every detail of the bedrooms and apartments on offer.
Surya Retreat has 5 rooms with double beds, 2 single private rooms and 6 twin rooms available, all of which are designed with your rest and comfort in mind.
We have hand selected each bed with your comfort in mind, and furnishings have been chosen to complement the beautiful Spanish finca style of the villa. Here you will find a haven of rejuvenation, the perfect complement to your daily practice.
Vitality Suite with ensuite bathroom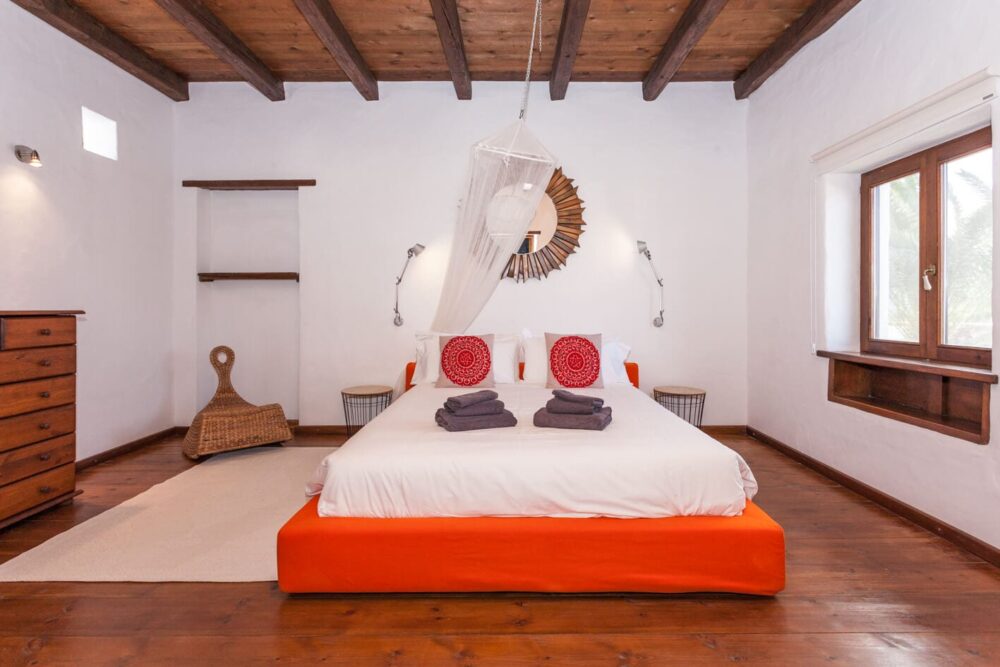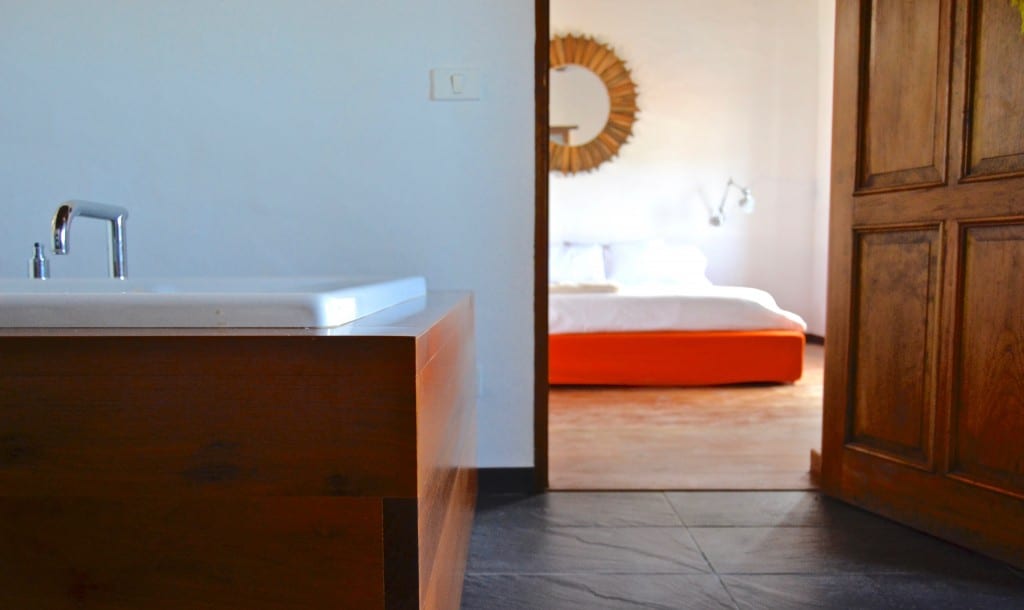 Tranquility room with private ensuite bathroom (twin bed not pictured)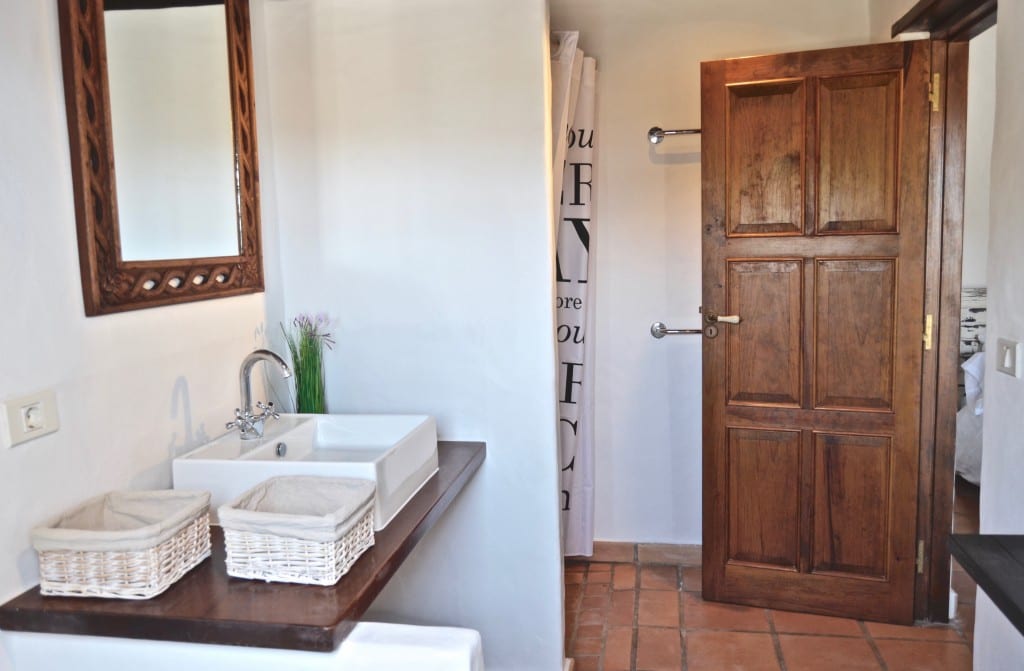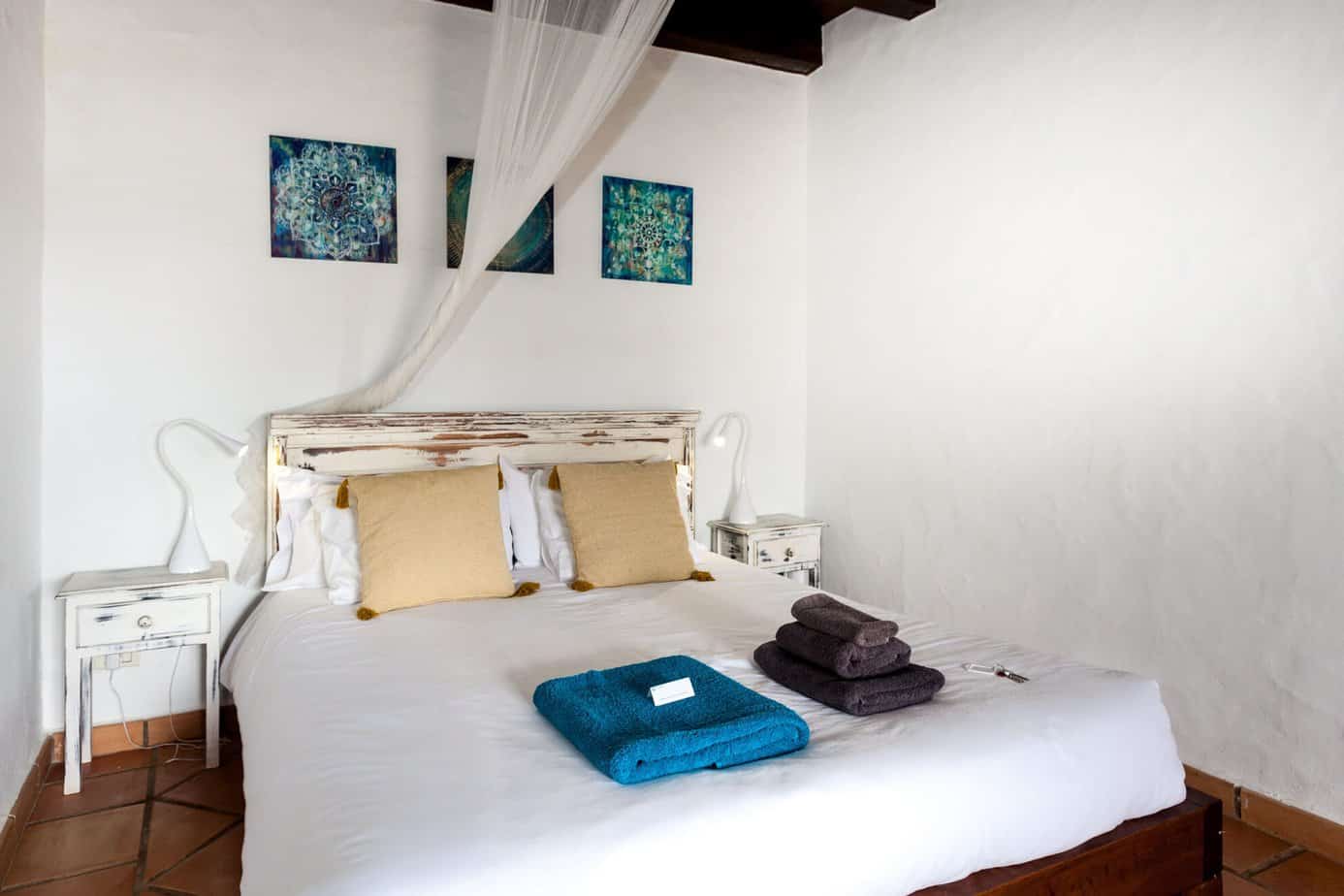 Sanctuary Courtyard Rooms with shared bathroom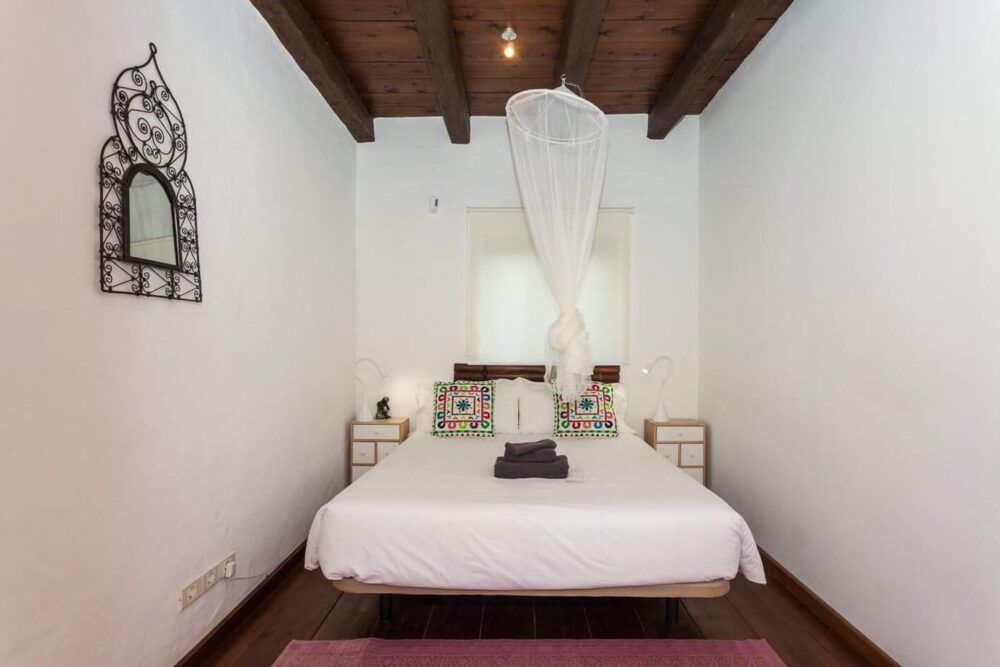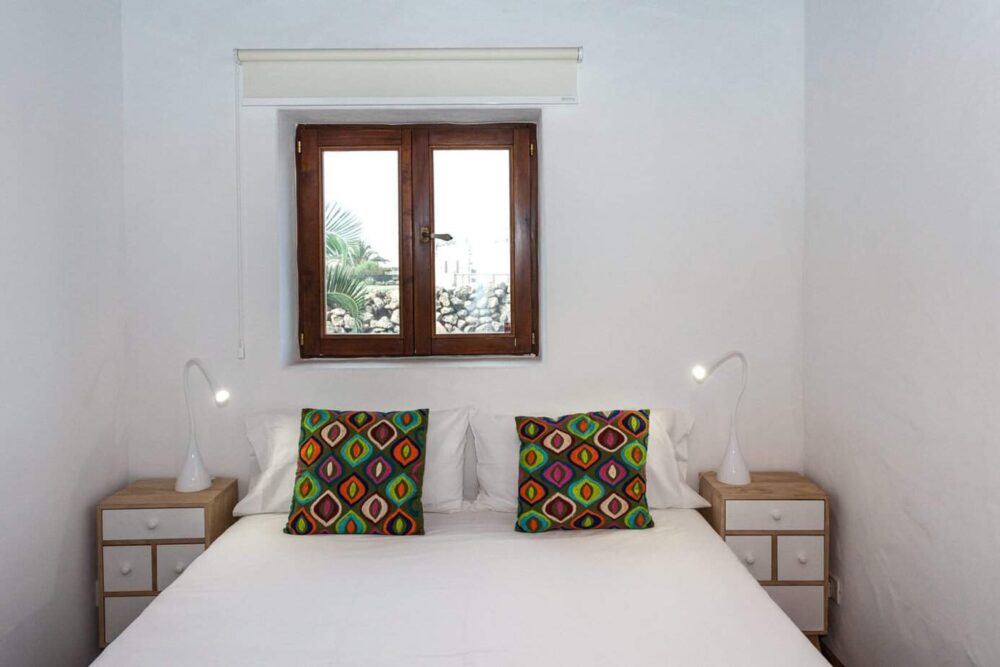 Rejuvenate room with private bathroom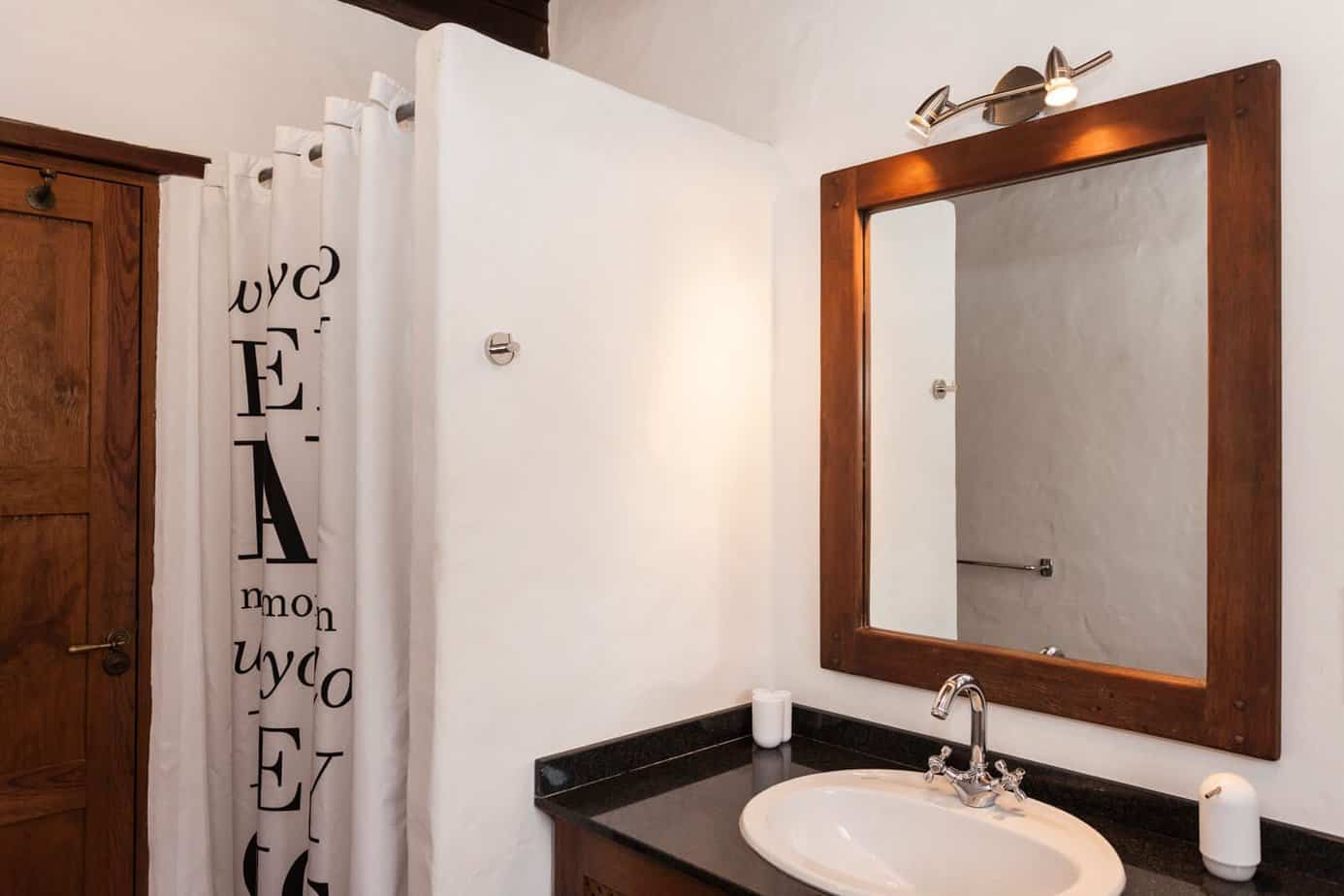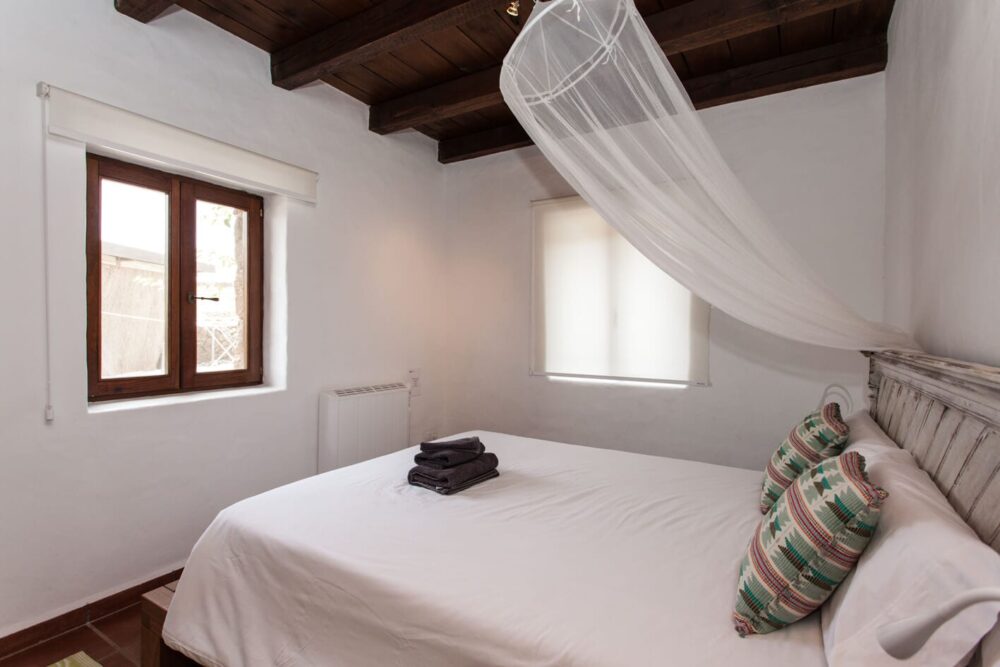 Casa Gecko with private ensuite bathroom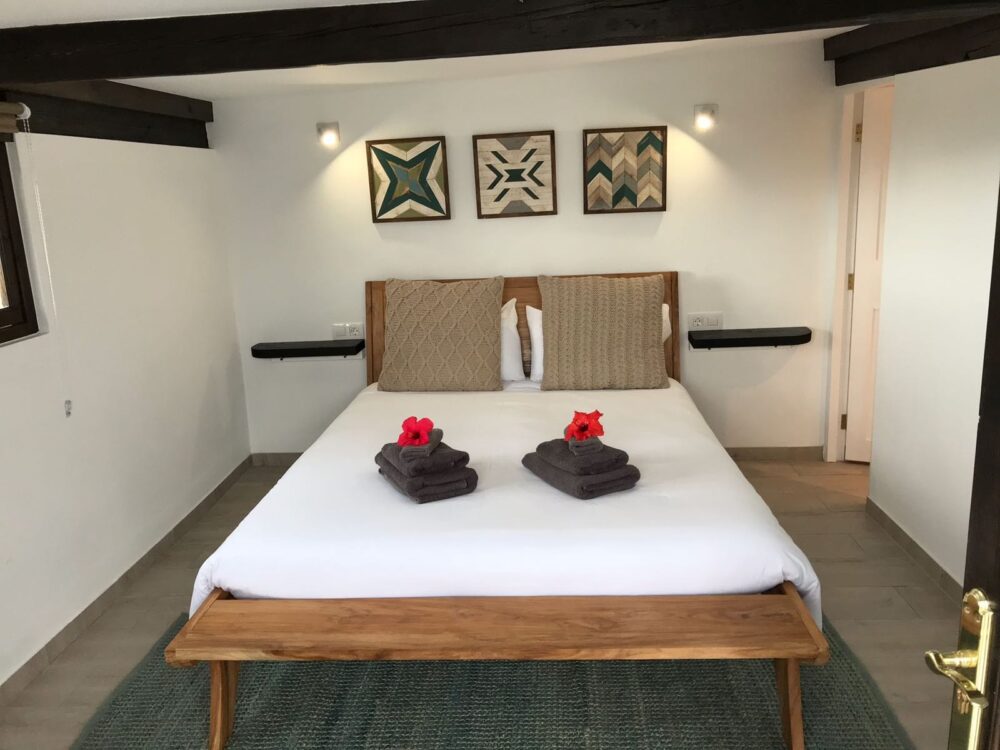 Contentment room with private ensuite bathroom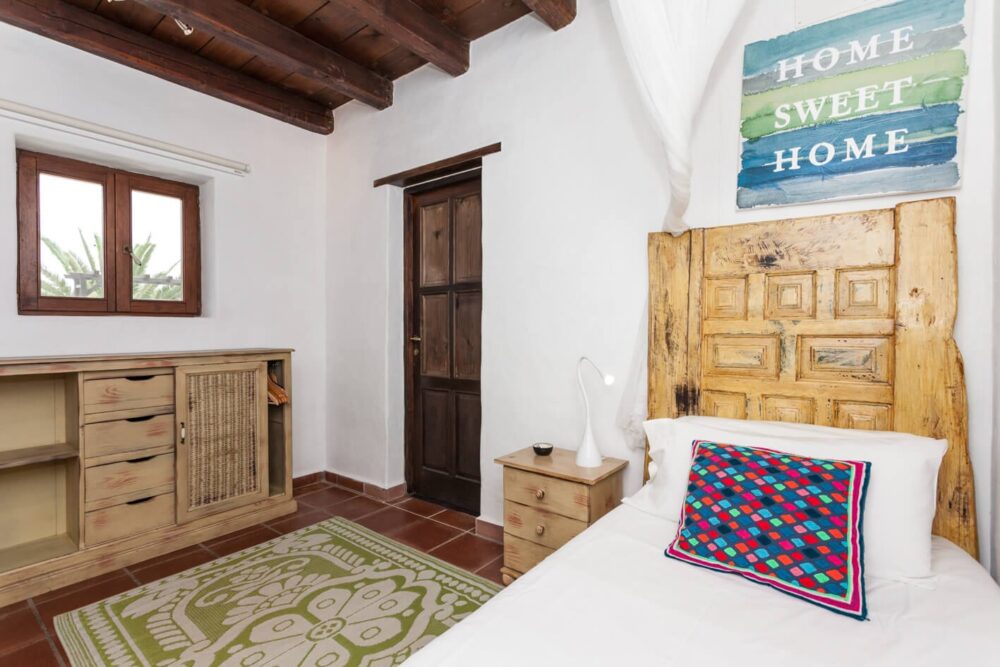 Serenity room with private ensuite bathroom+ private courtyard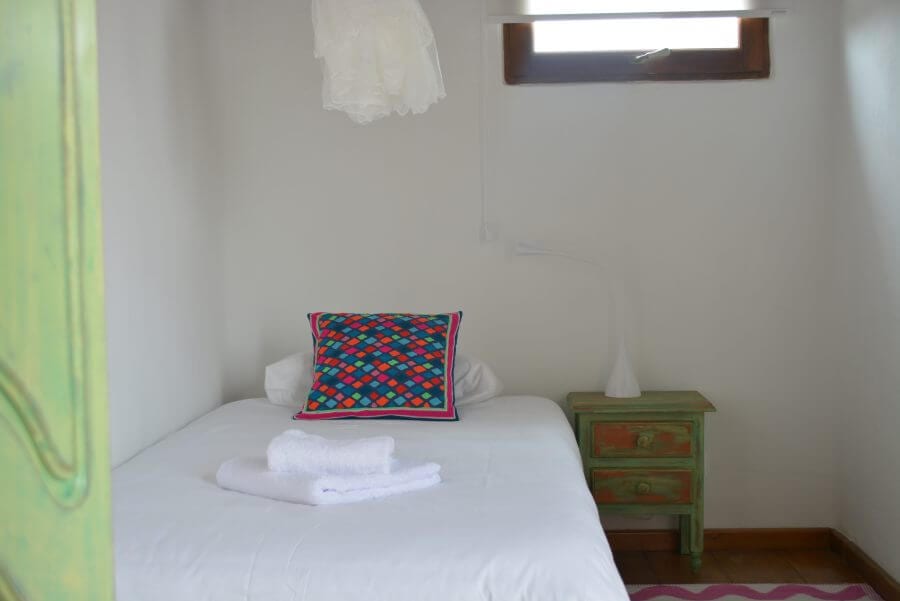 Inner Peace room with private ensuite bathroom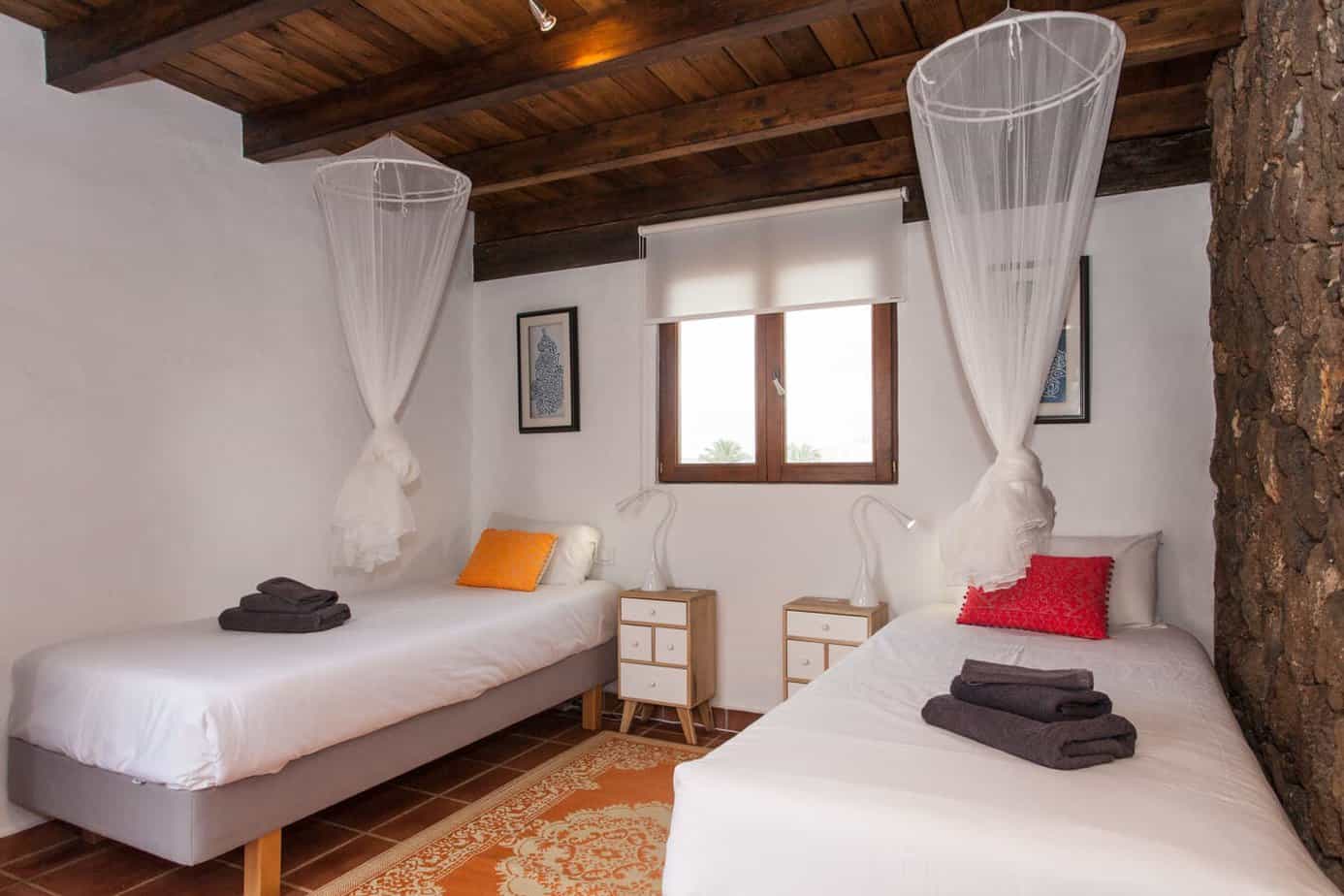 Zen Guest house room with shared bathroom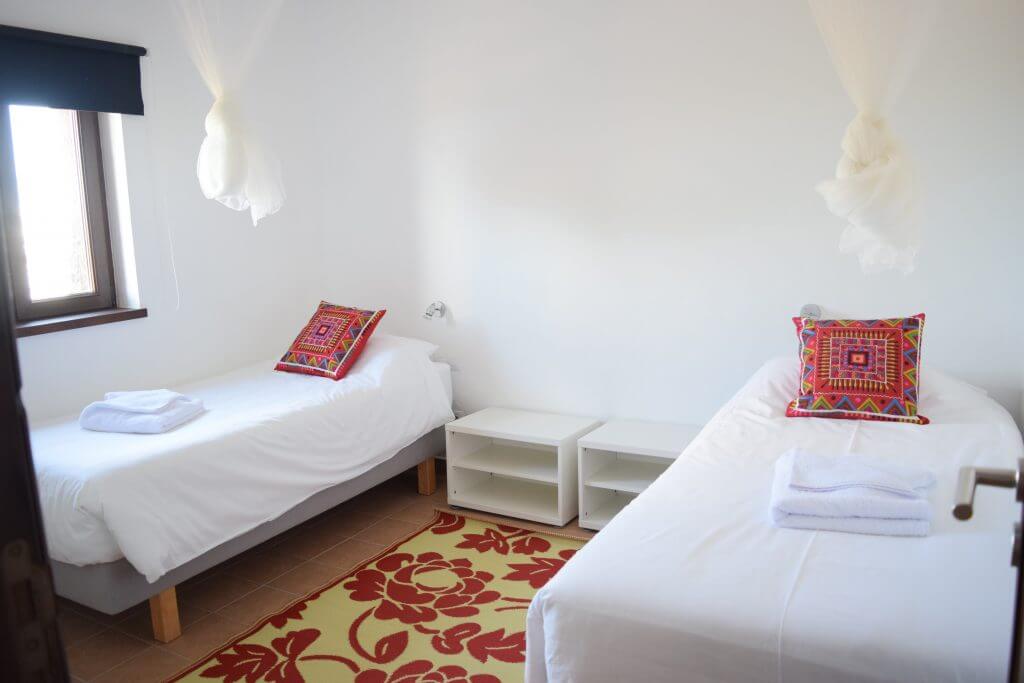 Om Cabin with private bathroom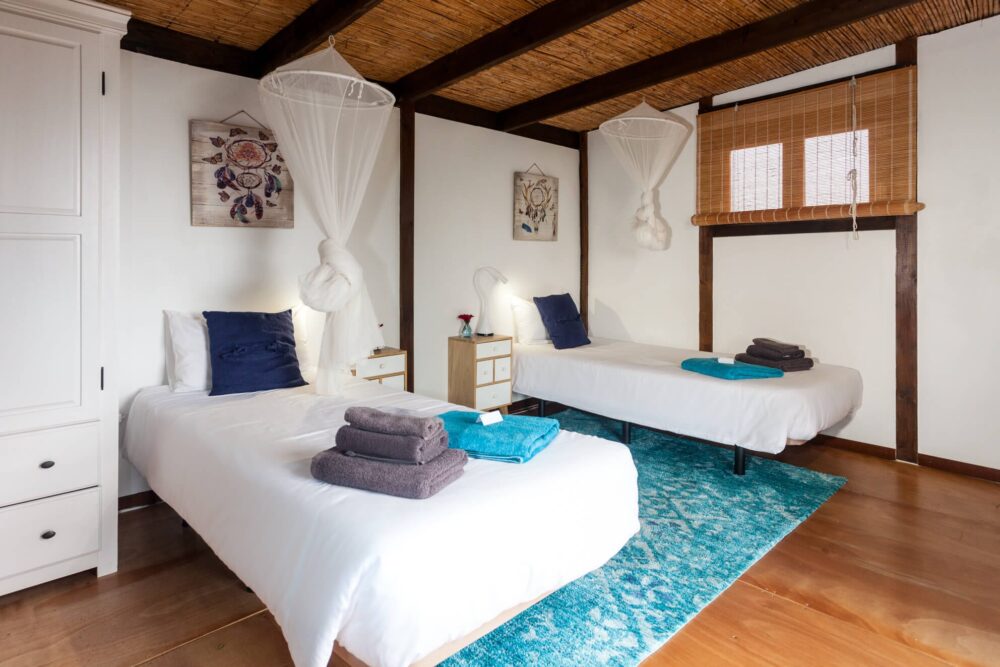 Soul Space Cabin with bathroom (next door)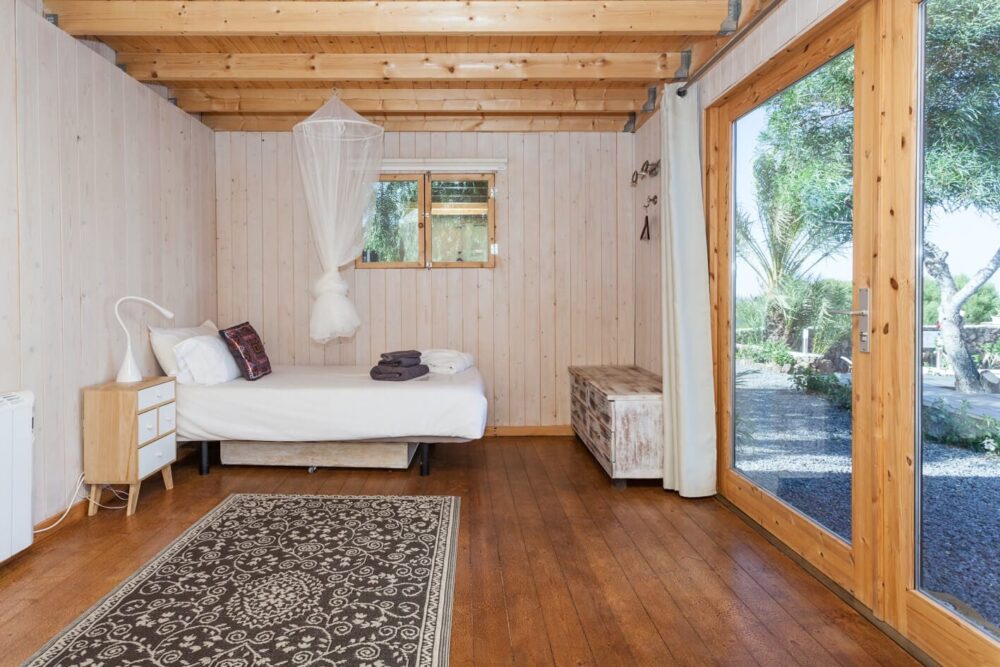 Prana Cabin with bathroom (behind cabin)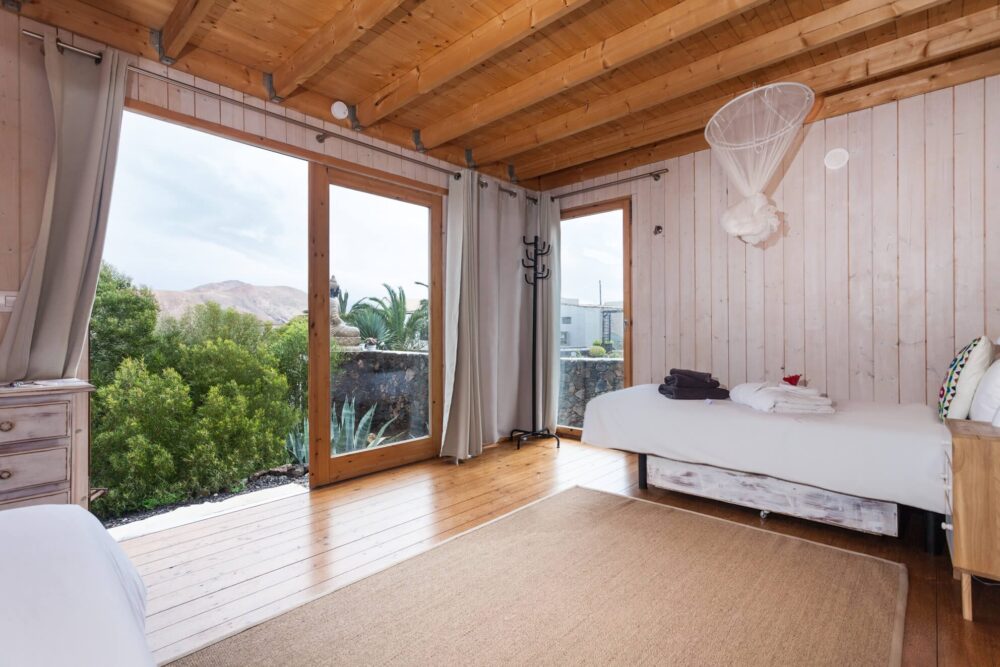 Retreat price
The cost of the course starts at €800 for a shared room. There is a €100 supplement to our normal prices for this Pilates retreat.
Includes
* Seven nights accommodation
* All classes as listed above
* Daily brunch and five delicious vegetarian evening meals
* One hour full body therapeutic massage
* All equipment (mats, belts, etc.)
Does not include
* Flights
* Travel insurance
* Lunches (some evening meals are not included)
Optional activities
* Massage
* Complementary therapies
* Surfing
* Horseback riding
* SUP
* Windsurfing
* Kitesurfing
* Snorkelling
* Kayaking
What past guest have said
"Having visited Surya retreat 8 times I didn't think that could improve but Surya goes beyond all my expectations; idyllic, restful, amazing food, beautiful people, pure bliss, hearts and kisses! Thank you to each and everyone of you to sharing this with me…I will be back." Suzanna, UK
"I went to Surya retreat at a time in my life where I needed time to myself to reflect and heal. Their place was the perfect place to do that. It's beautiful, peaceful and the combination of Yoga, Pilates, Reiki, massage, great company and delicious vegetarian food was just what I needed. I can't wait to go back!." Heida Reed (Star of BBC's Poldark)
"I loved my week at Surya retreat. It was my first yoga retreat and I didn't know what to expect. I have to say it exceeded my expectations. Though a bit out of the way, the retreat itself was very nice. It was clean and comfortable. What I love most by far was the teachers and staff. The teachers are so patient and very experienced. They guided us through different types of yoga, pilates and meditations. I learned a lot and also felt I was well taken care of. The staff was so warm and tried to accommodate our needs with a smile. Food, oh the food there was heaven. As a meat eater, I was skeptical about the two vegan and vegetarian daily meal plan. However, as soon as I tasted the first meal, I didn't want any meat. In fact, I love the food so much that I am cutting down on my meat consumption after I come back home. I can't recommend enough. It is a place that you can't help but feeling relaxed and happy." Ali W
How to get here
You can book your flight to come directly to Fuerteventura airport (FUE). For a wider choice of flights, you can fly to Lanzarote Arrecife airport (ACE) and take the 20-minute ferry crossing to Fuerteventura.
The last ferry crossing to Corralejo from Playa Blanca, Lanzarote is at 19:00 so please make sure your flight arrives by 16:00 if travelling with luggage.
Fuerteventura airport is 35 minutes from the Surya Retreat. We recommend that you allow us to organise a transfer for you.
This will ensure that you have no waiting around at the airport and that your driver knows exactly where you are going, allowing you to get to us and settle in as smoothly and stress free as possible.
The cost is as follows:
1 Guest – €40
2 Guests – €20
3 Guests or more – €15
We always try to arrange shared transfers for guests arriving at similar times to keep your costs down. We recommend Skyscanner to search for the best airfare.
Booking
To book your place on the pilates and nutrition rereat, fill in the form below. You can also email the team on retreats@soulseedmedia.com if you have any questions.