Description
River Tavy Retreat
At River Tavy Retreat we provide retreats in an eco-friendly environment conducive to relaxation, health and well-being. Situated on 10 beautiful acres of organic Devonshire land on the edge of mythical Dartmoor and with easy access to the beaches of Devon and Cornwall.
Sustainability
At River Tavy, we have our own natural spring water, practice sustainability and source our own seasonal, local food from a range of quality local producers. Being a member and contributor to the local environment is of utmost importance to us.
Accommodation
Main Cottage
The main cottage, Mount Tavy Cottage has a large living/entertainment room, dining room, breakfast room, two kitchens, a massage room and a stunning outdoor courtyard space. There are four spacious double rooms with their own private bathrooms in the main cottage along with two kitchens which lead out to a beautiful courtyard garden.
Woodshed Cottage
Also on the property there is the Woodshed Cottage, a two-bedroom cottage with one double and one twin room, both with private bathrooms, a kitchen and living room with a wood burning stove and its own private courtyard garden.
Pumphouse Cottage
The Pumphouse Cottage has one double bedroom, private bathroom, kitchen and living room with wood burning stove and its own private balcony overlooking the lake.
Garden Studios
Additionally, there are two garden studios with three single beds in each, a kitchenette, bathroom and private balconies.
Guests have full access to roam the grounds including our apple orchard, Victorian walled garden, arctic cabin and are free to use our two breeze houses by the lake and pond. There is also an Arctic Cabin which is a traditional alpine style cabin with an indoor grill over an open fire. With seating for four to six people it's perfect for cooking supper over the grill.
River Tavy can accommodate up to 20 guests:
All rooms are luxurious with either en-suite or private bathroom.
4 x double rooms with private bathrooms in Mount Tavy Cottage
1 x double and 1 x twin bedroom in the Woodshed Cottage
1 x double room in the Pumphouse Cottage
3 x single beds or 1 x double and 1 x single in the Tack Room Studio
3 x single beds or 1 x double and 1 x single in the Potting Shed Studio
Yoga spaces
We offer an indoor yoga space in the form of a converted Victorian Glasshouse with a underfloor heating, there is also ample space outside by our lake and our pond. There is also a massage room with a massage bed.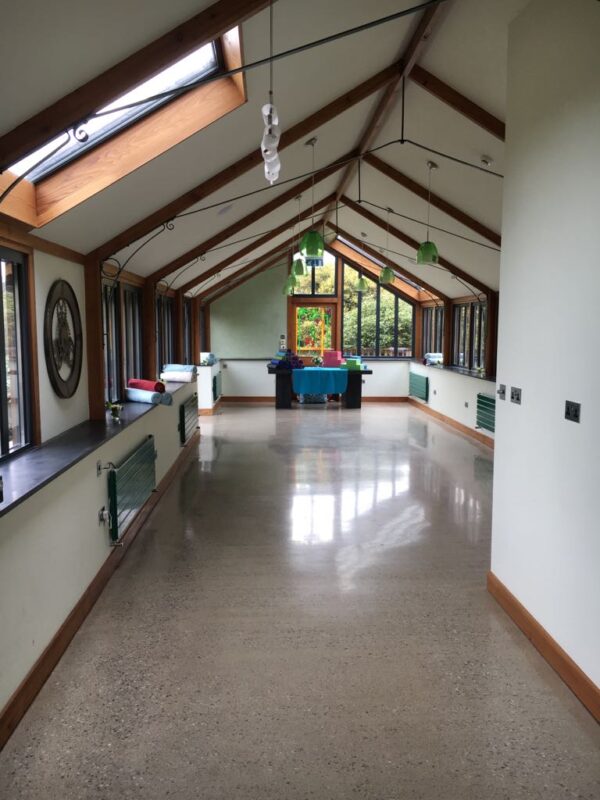 Group retreat pricing
River Tavy has 9 bedrooms and prices are based on one person per room. We charge £90 per night/per room for accommodation plus a one-off charge of £500 for the exclusive use of the venue and all the facilities for the duration of the retreat, including access to the yoga studio with all yoga equipment and the massage room with massage bed.
We require a 25% deposit (of the total amount) to ensure the dates are booked. The remaining balance is due 4 weeks prior to the retreat date, or at the time of booking, if the booking is less than 4 weeks to the retreat date.
Details and booking
Contact the team on retreats@soulseedmedia.com who will be happy to assist you in the organisation of your retreat at River Tavy.