Sailing Yoga Holiday Croatia, Spring – Summer June – September
This retreat has a special offer on, receive a 5% discount when you book through Soul Seed Travel. Fill in the form to make an enquiry or booking and we will get back to you within 24 hours. You can also contact the team direct on retreats@soulseedmedia.com.
Description
2022 Dates

We combine a retreat and sailing yoga holiday in Croatia, on a beautiful Split to Dubrovnik (and vice versa) itinerary. The itinerary is like 'a tasting plate of Croatia' including some of the best destinations when you sail Croatia, including Hvar, the magical Pakleni Islands, the National Park in Mljet, the fortified town of Korčula and the magical island of Vis and its hidden gem; Stivina Bay.
Our Croatian retreat + sailing yoga holiday itinerary is like no other. You will have yoga classes in the morning (depending on the day), daily swim stops and evening meditation before heading out to explore a new town/port every day.
Yoga classes are an hour long in some of the most breath-taking settings you've ever taken a class. There is still time to explore world famous islands, such as Vis, Korčula and Hvar where you can wander the streets, explore the old castle and enjoy sunset cocktails.
​
As you sail Croatia, you have the freedom to relax as you please with a book, sunbathing, chatting with your fellow yoga retreat guests or learning to sail with your skipper.
If your schedule allows it, stay an extra day before and after your trip.  Don't fly in on Saturday and join the boat immediately, then finish your trip on Saturday, then fly out that day, you will miss out on so much of the amazing Old Towns.
Highlights include
* The best Croatian sailing itinerary in the market (in our opinion)
* Hostess provided on all voyages
* Learn to sail (if you want) with your qualified skipper
* Daily swim stops in the crystal clear water
* Appreciate ancient Croatian architecture
* Enjoy Hvar's buzzing nightlife & fine dining
* Walk/cycle the forest and lake of the Mljet National Park
* Explore the Old Town of Dubrovnik, Game of Thrones anyone?
* Be welcomed by the warm hospitality of the locals
* Let your taste buds come alive with the local food and wines
* Take in the sights and relax as we sail the coast
* Golden sunsets and sunrises like nothing you've seen before
* A sky full of stars at night, with no light pollution
Itinerary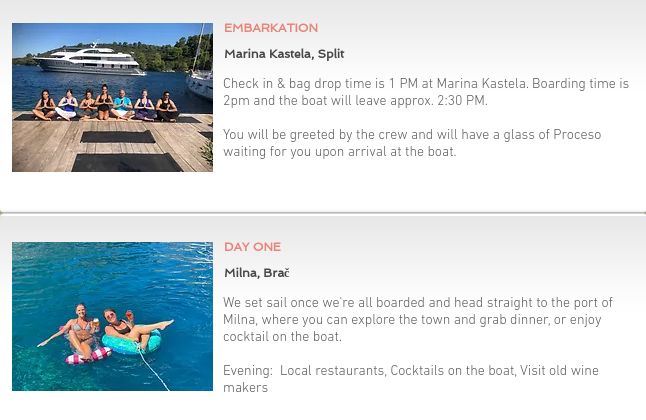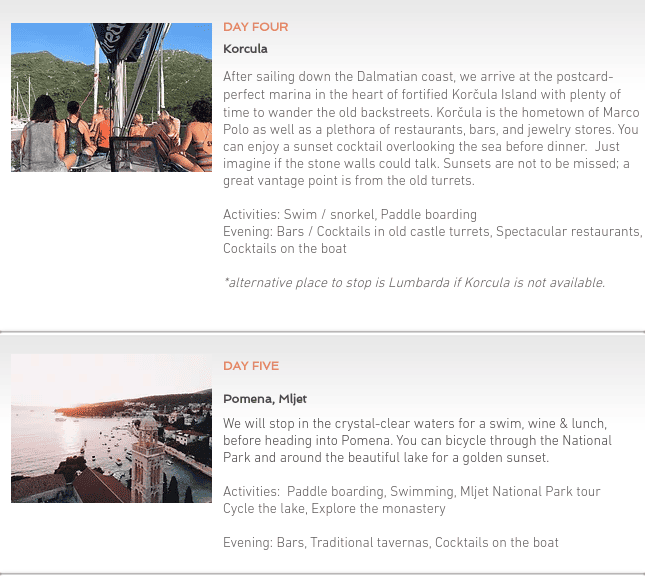 ​Split
Whether you're starting or ending your Croatian sailing holiday in Split, there is more to the city than just the old town, including the beaches and day trips to Plitvice Lakes and Krka Falls.
You will be starting/ending your Croatian sailing holiday in Split (Marina Kaštela) which is only 10 minutes from the airport and 15 minutes from the Old Town.
​Sit back and relax, you are going to love your vacation when you sail Croatia and the 'tasting plate' of the Dalmatian coastline.
Brac and Milna
We will then sail to the island of Brač and the traditional town of Milna. You'll be able to wander the streets and breathe in tradition before setting down for the first night of your Croatian cruise.
There is time for you to sample some of the local wine on your private yacht before dinner time. This may be your first opportunity to witness a stunning Croatian sunset, but it wont be the last on your sailing holiday!
Hvar
Hvar is the queen of the Croatian Dalmatian islands and is now famous for being famous. Hvar was known for it's important strategic and nautical position, now it's better known for her bars, restaurants, fort and vibrant atmosphere.
Hvar has it all including Hula Hula bar to catch the sunset to the sound of house music, known for its après-beach party (4pm to 9pm), a plethora of restaurants to cater to every budget and taste, or If you prefer to stay on board your private yacht, you'll enjoy a perfectly still night in the bay with an outdoor cocktail bar a short tender ride away.
Vis
No sailing holiday in Croatia would be complete without calling into Vis. Vis is not only one of the highlights of the sailing holiday, but is foodie heaven. We will depart early to get a head start on the day's activities and to secure a berth on the very popular town quay, so you can hop on, hop off your private yacht.
Once in Vis, you can take an excursion to the Blue Caves, Green Caves and Stiniva Bay. Bring your camera for amazing pics.
Once we're done with the action-packed stuff, we're off to the town of Vis where you can take a wine tour, military tour or just wander the streets at your own leisure. You will wake to the calm and tranquility in the bay. Heaven.
Polače (Mljet)
Mljet is the most beautiful and most forested island in the Adriatic. When we sail to Mljet on your private yacht, keep an eye out for dolphins, as this is a hot-spot for dolphin watching or just sit back and relax as we sail to the National Park.
​We will stop in the crystal clear waters for a swim, wine & lunch, before heading into Polače where you can bicycle through the National Park and around the beautiful lake for a golden sunset. The backdrop of the day/evening will be nothing like what you've experienced before. We promise you.
Okukje (Mljet)
Mljet National Park is just too good to say "zbogom" (goodbye), so let's not. Your Croatian sailing holiday isn't over just yet, we'll sail our way down the coastline to find our hidden gem, for our swim-stop, lunch and refreshments before we continue to a little bay and traditional fishing village where time stands still and the hospitality second to none in Okuklje (pronounced "o-kook-yeah").
We will berth your private yacht and dine in a restaurant where they'll kill you with kindness and the food is pretty amazing too!. No street lights means an amazing sky full of stars after dinner.
Dubrovnik
We will enjoy a leisurely breakfast before heading off on our final voyage on your Croatian sailing holiday to the fortified town of Dubrovnik. You'll enjoy your final swim, lunch and refreshments in the bay before we dock in Dubrovnik.
The mystical old town will cast a spell over you and you'll believe in fairy tales after your sailing holiday. Before the sun sets, we'll explore the Old Town and catch the sun setting with a cocktail and your new friends. Check out at 8am
Accommodation
Accommodation will be on the boat. We have 4 cabins, 2 Forward cabins with separate bathrooms, and 2 cabins with a shared bathroom. There's also a room with 2 bunk beds. All cabins are good for 2 people.
Remember, cabins are on a double-share first come first served basis so buddy up and book early.
Retreat Price
Prices are in Euros

Pricing is per person based on 2 people sharing a double cabin.
Includes
* Accommodation
* On board meals (breakfast & lunch)
* Your crew/yoga instructor
* Yoga classes,
* Use of mats and blocks
* Fuel
* Marina fees
* Water
* Taxes
* Final cleaning fee and insurance
Does not include
* Your restaurant dinners
* BYO alcohol/mixes
* And any activities off the boat such as excursions or water taxis
What past guests have said
"I spent a wonderful week with Yoga Sailing Holidays in Croatia this past summer. It was a transforming experience for me. Total rejuvenation I must say. This retreat was not only good for the soul and energy, but also was awakening of all senses. We sailed through the serene waters of Adriatic, experienced the impeccable nature and places, and tasted the most delicious fruits and foods every single day!!! I traveled solo and made new friends.
There aren't enough words to explain how thankful I am that our paths crossed with our yoga instructor Donna Freakie. You inspired me and made this spiritual journey so rich and unforgettable. Thank you for everything! And our skipper Jonathan Colwell you are such an amazing person with your energy and smile on your face. Thanks to you "this person" knows how to throw the ropes and make that s-8 knot (I mean kind of :p).
You took us to the most beautiful spots, and you always had an answer for any questions we may have had. Yoga Sailing Holidays family thank you for everything you did for making this journey possible." Gila, Turkey
" What a wonderful week sailing from Split to Dubrovnik! Truly spectacular!. We got to see all different types of ports. Some lively ones for when you feel like partying and some quieter ones when you just feel like relaxing.
Our skipper Jon and hostess Ricarda were great. They were super accommodating with everyone's needs on the boat. We all bonded rather quickly which made the trip even that much more comfortable! I would definitely recommend Med Sailing Holidays to anyone thinking about going on vacation. One of the best vacations I've ever had!!." Bryan, USA
"The Med Sailing Holidays Ultra Week 2016! Wow! This week can only be described as an insane once in a lifetime trip!. We were incredibly lucky to have Skipper Geoff who was awesome. His knowledge on the places we traveled was incredible and he was always down for a cheeky mid day tipple!
​The route that we took was very carefully thought out and included all the great photo and swimming spots. The little islands that we docked at every night were beautiful and you could do them at your own pace whether it be a quiet dinner to an out of control all nighter. The skippers and hosts knew all the good little local spots and a lot of good food recommendations.
The boat itself was awesome and very comfortable with more room than expected. Geoff was very knowledgable with sailing and we could get involved as much as we wanted to. We all walked off the boat knowing how to win a sailing race against a fellow Australian boat!
​The food was again amazing and the fresh fruit every day was a definite hit. All in all this trip was one to tick off the bucket list and I will definitely be back to sail the Adriatic Sea. Well done guys! Also a massive thanks to Nick and Candice for all the work they put in to making our trip that much more enjoyable, also our lovely hostess Brit! Your banana pancakes were truly amazing! If you're looking for a professional yet fun way to sail around Croatia then look no further!." Nikita, New Zealand
What to pack
Most people tend to over pack for a sailing holiday.  You generally can pack on the light side, just remember your swimmers, something for the evening at dinner and a warm jacket.  Soft bags are preferred on the boat as they're easier to stow away and cause less damage.
* Travel insurance – it might be worthwhile checking with your company to ensure you're covered for sailing activities or any last-minute emergencies
* Rock shoes – the rocks can be sharp and if you have some rock shoes, they may be a handy addition to your luggage (if you plan on a little exploring)
* Beach towel – We will provide ben linen and a towel, however if you'd like a beach towel it may pay to bring your own
* Power adapter – it's always good to bring a power adapter for any electrical items, including USB cords.  The boat has 2 prong European power points, personal power banks are also a great idea to bring with you
* Medication – if you need medication, remember to bring it with you, including seasickness tablets if you get motion sickness.  It's better to be safe than seasick!
* Music – pack your favourite music on your iPod or MP3 player and remember to pack your aux cable
* Money – bring cash for our first day, as the island may not have an ATM or accept cards,
* Alcohol – Bring your favourite drink for your first night, should you wish to have a wine on board
* Shoes – any shoes with dark or marking soles and heels are not permitted on board.  It would be wise to bring flip-flops or similar for the hot weather,
* Personal – Remember your personal toiletries, including shampoo and to pack your swimmers!
Internet – Although we will have WIFI on the boat, if you want permanent internet on your phone/devices, you can buy a T Mobile SIM for €11 which gives your local calling, SMS and 7-days unlimited 4G data
* WhatsApp – If you haven't got WhatsApp installed on your phone, download it as we create a group specific to your boat so that we can communicate with everyone and all guests and crew can share their best photos with everyone.
* Yoga gear – comfortable clothing, remember it might be warm
* Underwater camera or GoPro for creating a video of your holiday
Booking
To book this sailing yoga retreat, send your enquiry to the team who will get back to you within 24 hours or email us directly on retreats@soulseedmedia.com..
Copyright © 2022 | WordPress Theme by MH Themes