The Notorious Yogabeats Retreat with David Sye, Fuerteventura 2nd – 9th November
Receive an additional complementary massage when you book through Soul Seed Travel. Fill in the form to make an enquiry or booking and we will get back to you within 24 hours. You can also contact the team direct on retreats@soulseedmedia.com.
Description
The Notorious Yogabeats Retreat with David Sye, Fuerteventura
David Sye brings his own special brand of yoga, healing and wisdom to this life changing retreat week. Join us in stunning Fuerteventura for a profoundly fun, healing, rejuvenating retreat.
David's Yogabeats slips you intentionally but subtly into the magical mystical side of yoga, opening up the mind and body, leaving you with a euphoric joy in your heart, and a deep smile within.
His method is not just a collection of stretches, but a magical doorway beyond personal boundaries and inhibitions. Practice powerful meditations, guided breath-work and joyful yoga practices full of music, laughter and lightness.
David is not only a well known and loved yoga elder, who has studied with many gurus and even met with the Dalai Lama, but he is also one of the most authentic yogis in the world. An open, friendly and caring soul who will bring amazing vibrant energy to the mat and inspire the very best from your practice, whatever your level of experience.
Known for his life changing yoga sessions where flowing movements meet primal rhythms, a world where breath and meditation join fun, expression and personal growth. Using ancient Tibetan yoga practices David takes you through asana pranayama and meditation practices in a way you will have never experienced before.
You will feel inspired, supported, part of a community and ready to take on the winter charged and rejuvenated, with an open heart and a strong mind.
David's classes are refreshing. Everyone feels liberated and inspired to follow their intuition, regardless of their ability or yoga experience.
David's goal for this retreat week is to make it a yoga holiday that will be remembered for your entire life. The week will be a combination of daily yoga sessions, meditations and group discussions where you will have the chance to have fun, meet likeminded souls.
Alongside a daily yoga and meditation program, we will have a menu of delicious healthful meals that will leave you feeling balanced and invigorated, alive and refreshed.
Location
Our winter warmer retreat with David Sye will be held at the stunning Surya Retreat. With a range of options to suit a variety of budgets, let's celebrate a week of sun soaked rejuvenation together, with an eclectic blend of healing classes, meaningful conversation and amazing massage and meals.
Cuisine
All meals at Surya retreat are vegetarian or vegan. Our resident nutritionist Jo Dombernowsky genuinely believes in the power of food to improve health, energy and general wellbeing.
Using only the best ingredients, each meal is not only a chance to enjoy good food and good company, it's a chance to learn about the benefits of nutritious eating.
After the morning session you will sit down to a delicious homemade brunch including fresh fruit salad, homemade marmalades, homemade bread, homemade yogurt, homemade muesli and homemade granola, a hot dish of the day (eggs, pancakes, porridge) and a choice of drinks including water, coffee, tea and herbal tea.
Five delicious and healthy evening meals are included within the cost of the course. The evening meals are bursting with flavour and completely in line with the retreat philosophy of providing vibrant, holistic food that guests are inspired to make back home.
Accommodation
Surya Retreat has a relaxed, friendly atmosphere, beautifully decorated rooms from and lots of comfy chill-out areas. You can relax with a book in the garden, have a dip in the pool, chat with your fellow guests in the bright open lounge or Spanish courtyard or sit and enjoy the view to the sea from the terrace.
Offering different levels of accommodation to suit all budgets, we are sure to have the perfect place for you to lay your head. Careful thought has gone into every detail of the bedrooms and apartments on offer.
Surya Retreat has 5 rooms with double beds, 2 single private rooms and 6 twin rooms available, all of which are designed with your rest and comfort in mind.
We have hand selected each bed with your comfort in mind, and furnishings have been chosen to complement the beautiful Spanish finca style of the villa.
Vitality Suite with ensuite bathroom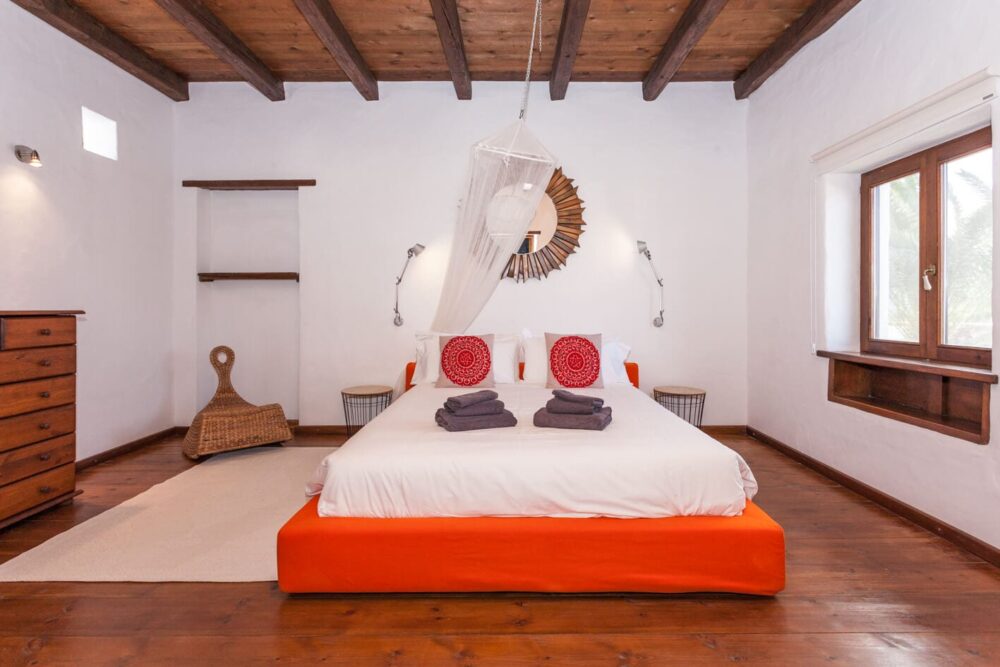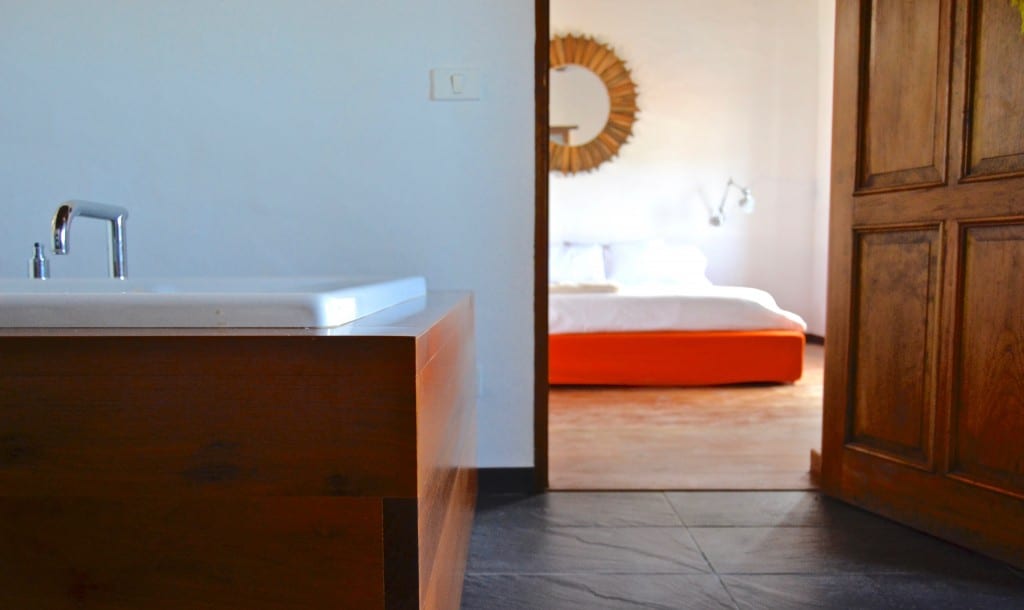 Tranquility room with private ensuite bathroom (twin bed not pictured)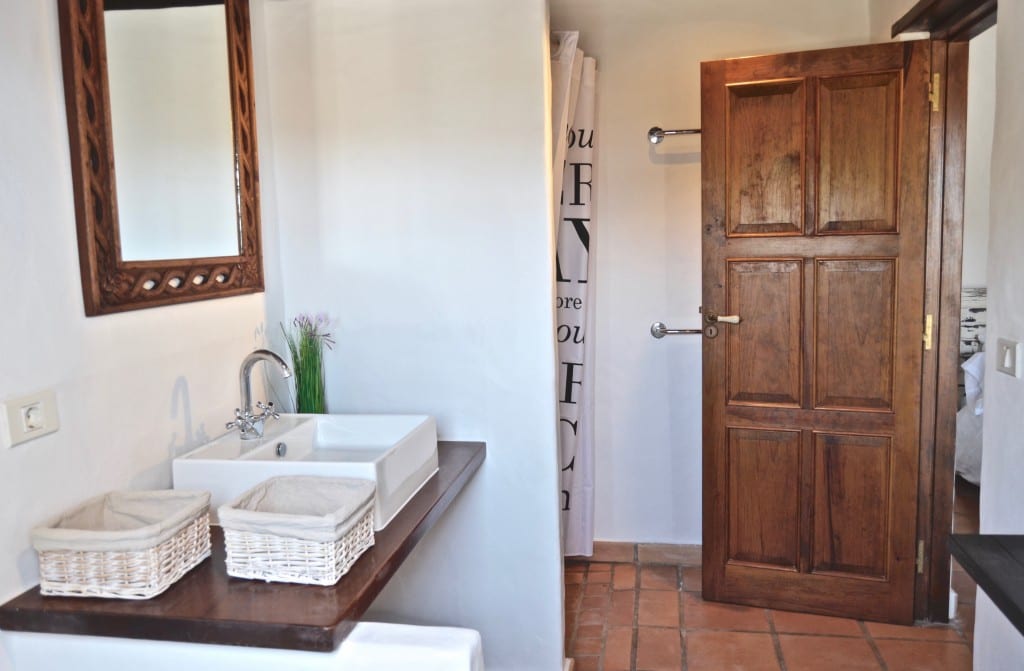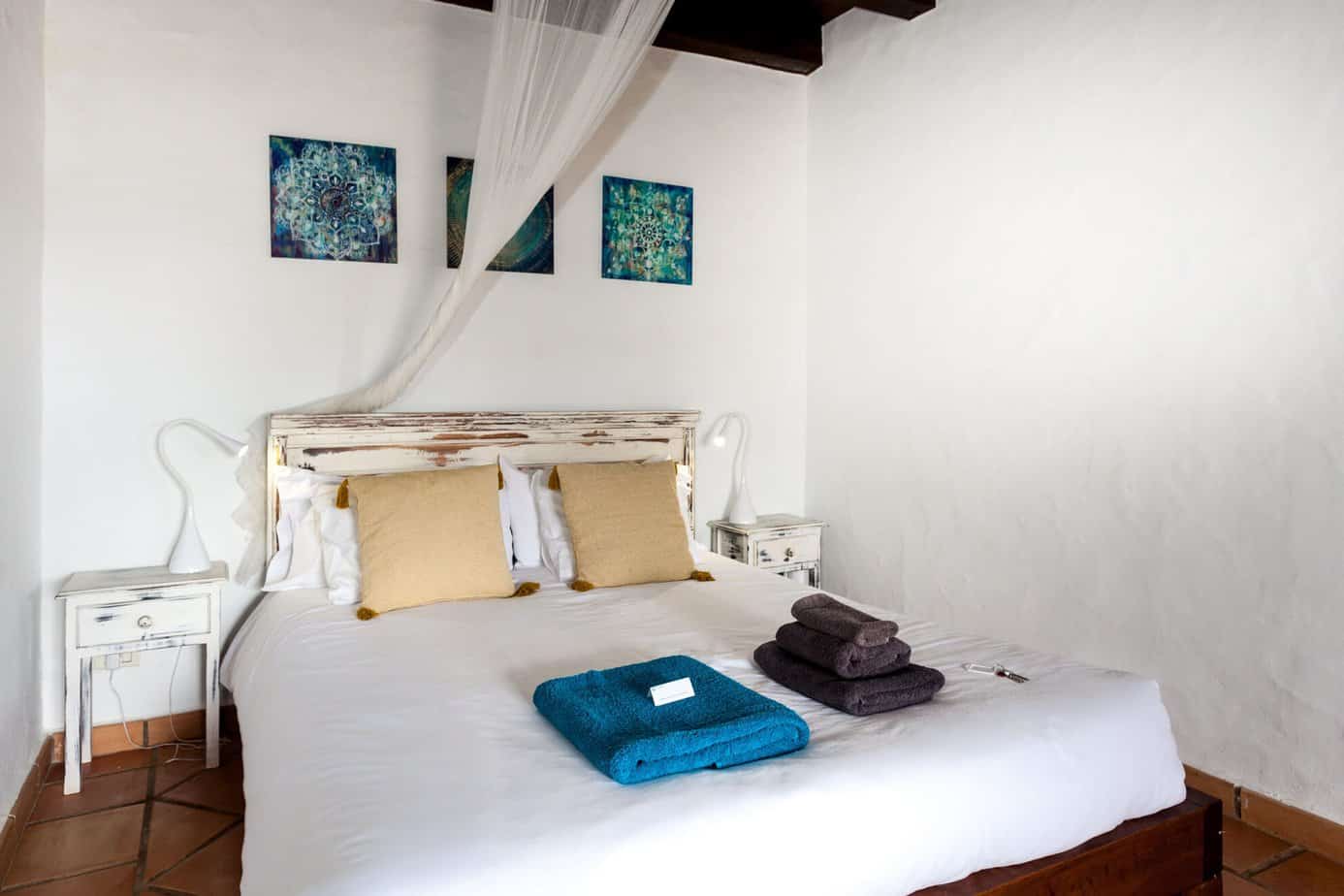 Sanctuary Courtyard Rooms with shared bathroom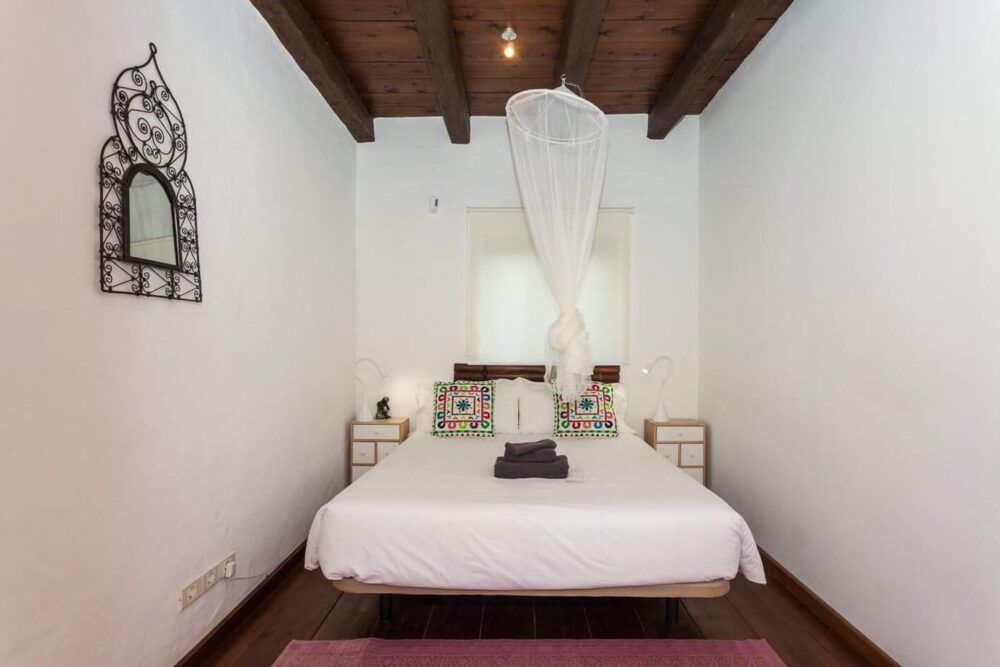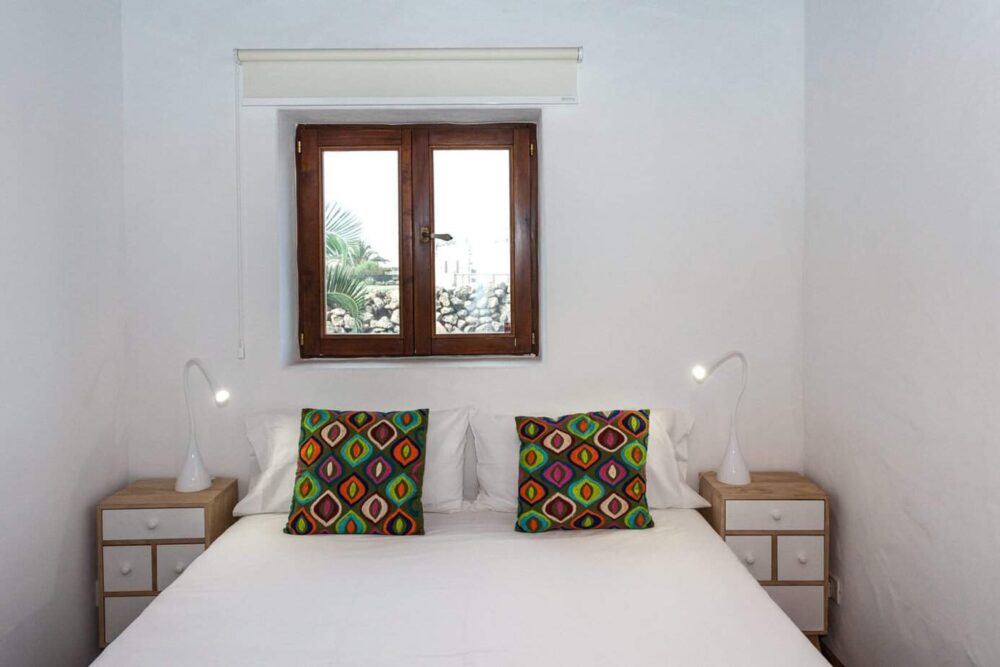 Rejuvenate room with private bathroom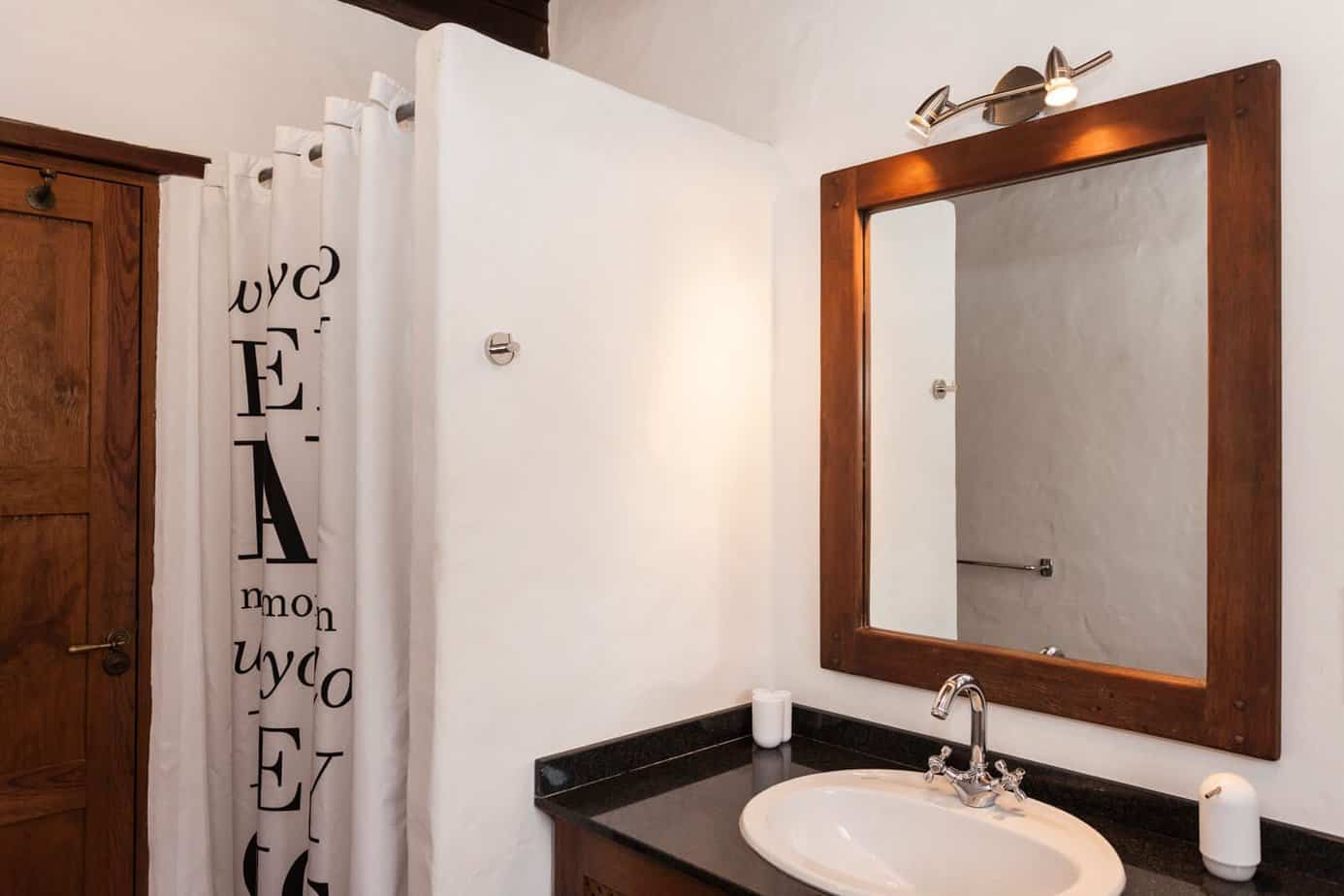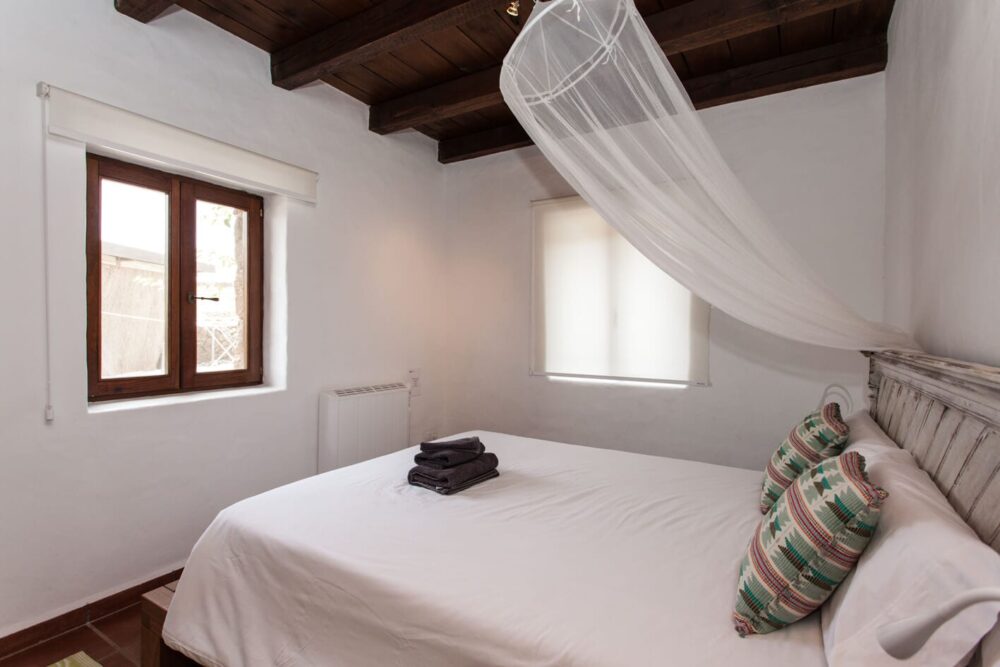 Casa Gecko with private ensuite bathroom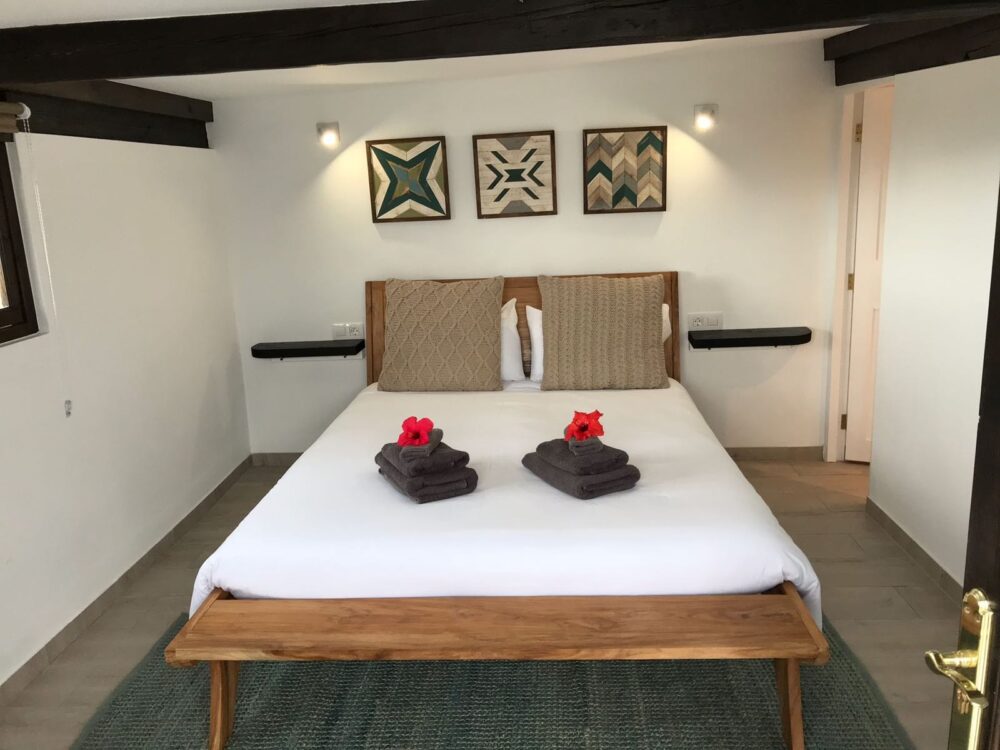 Contentment room with private ensuite bathroom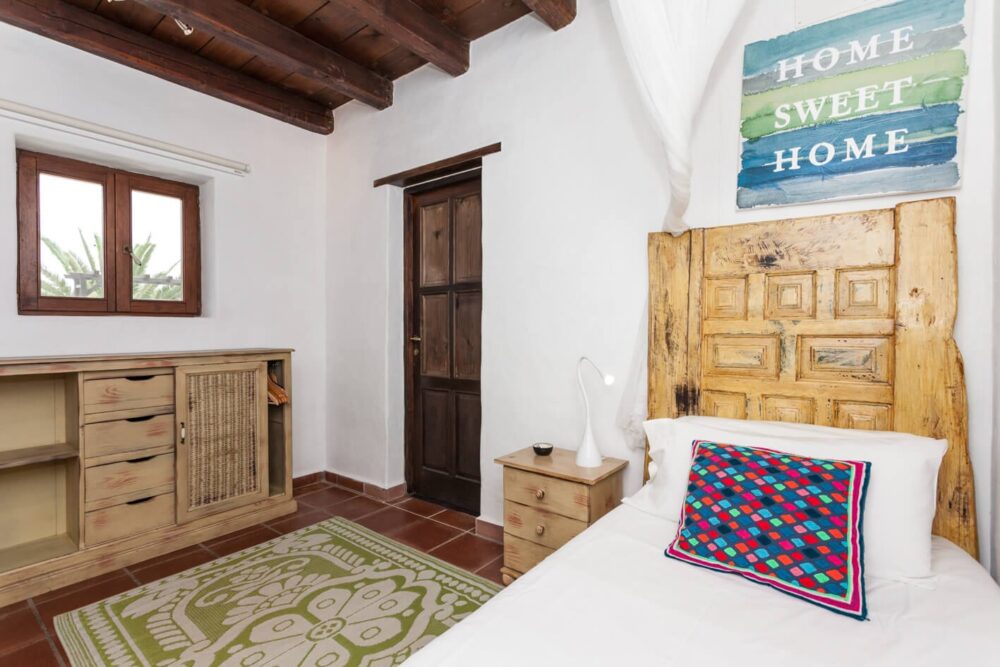 Serenity room with private ensuite bathroom+ private courtyard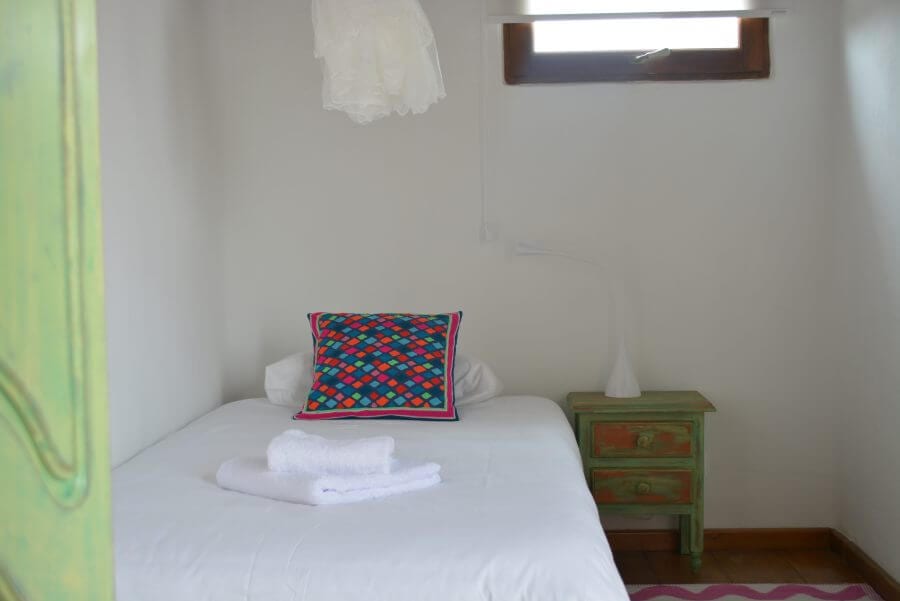 Inner Peace room with private ensuite bathroom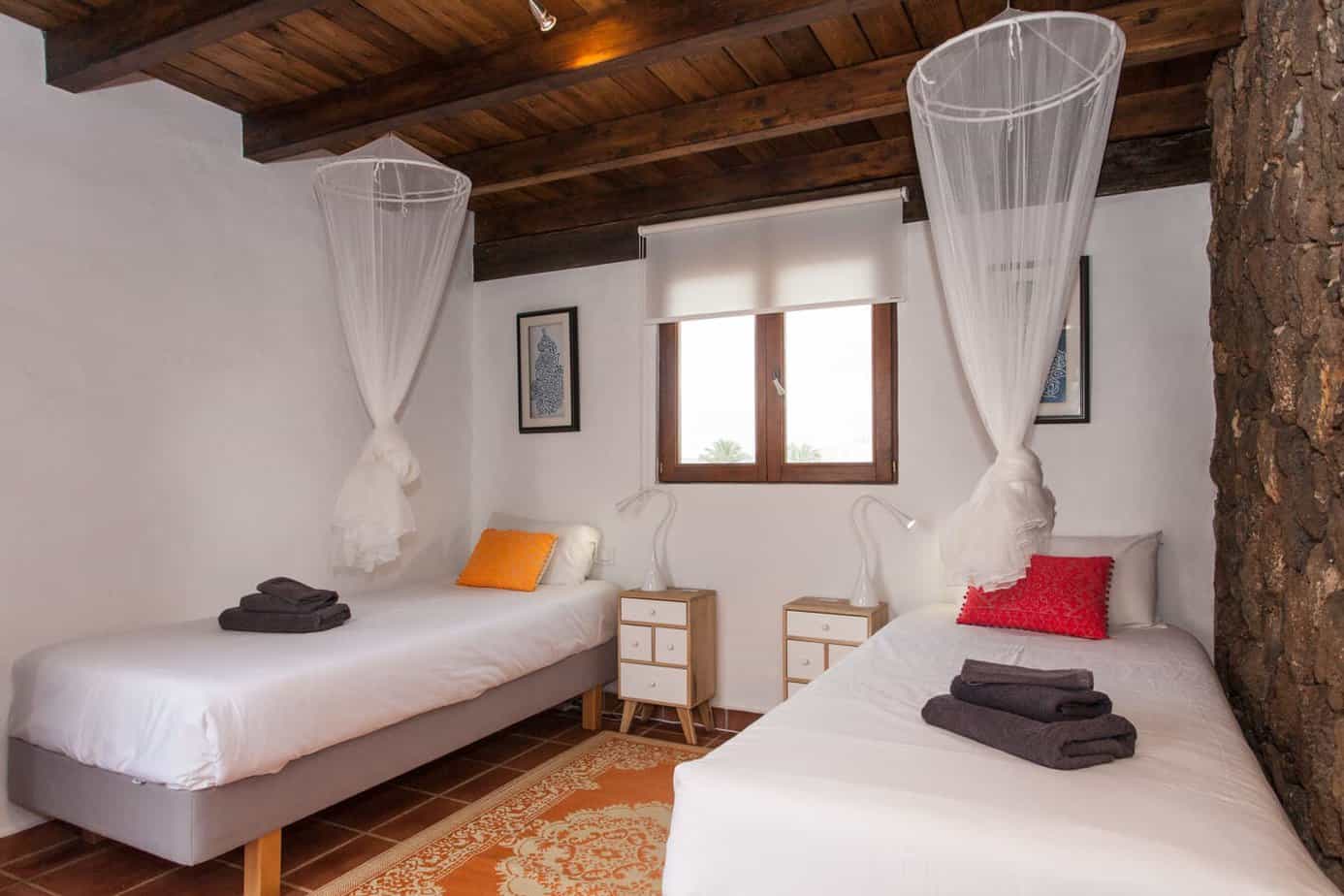 Zen Guest house room with shared bathroom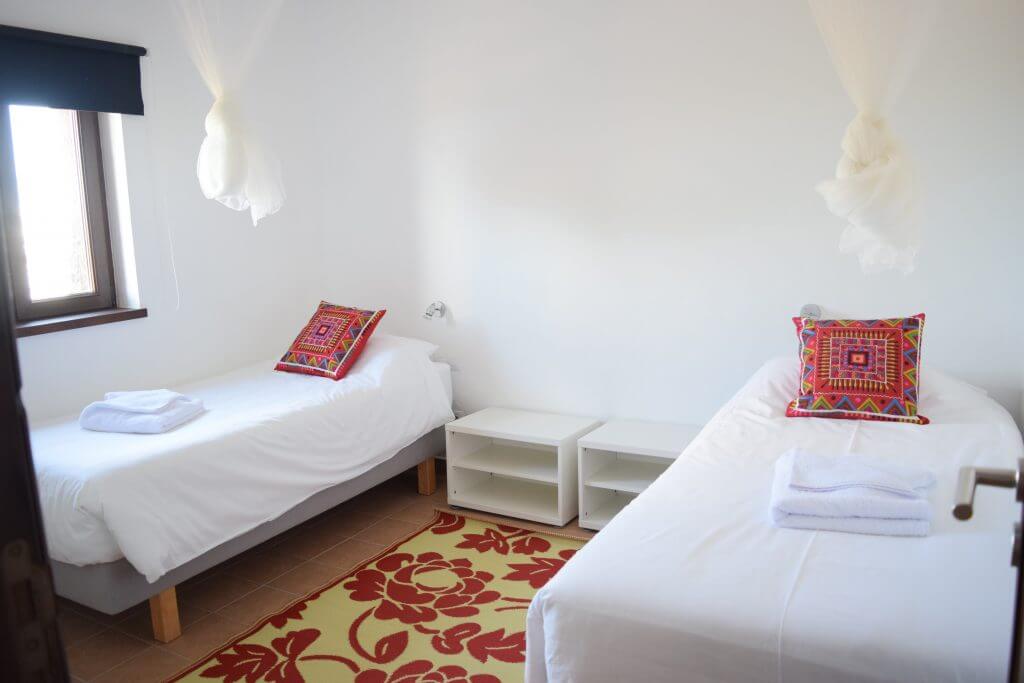 Om Cabin with private bathroom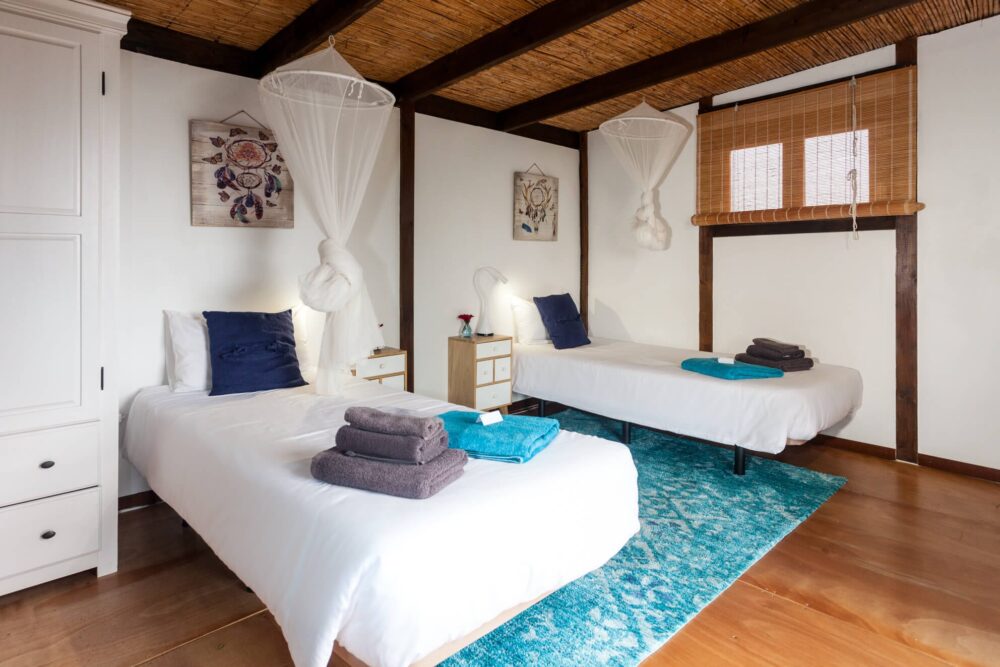 Soul Space Cabin with bathroom (next door)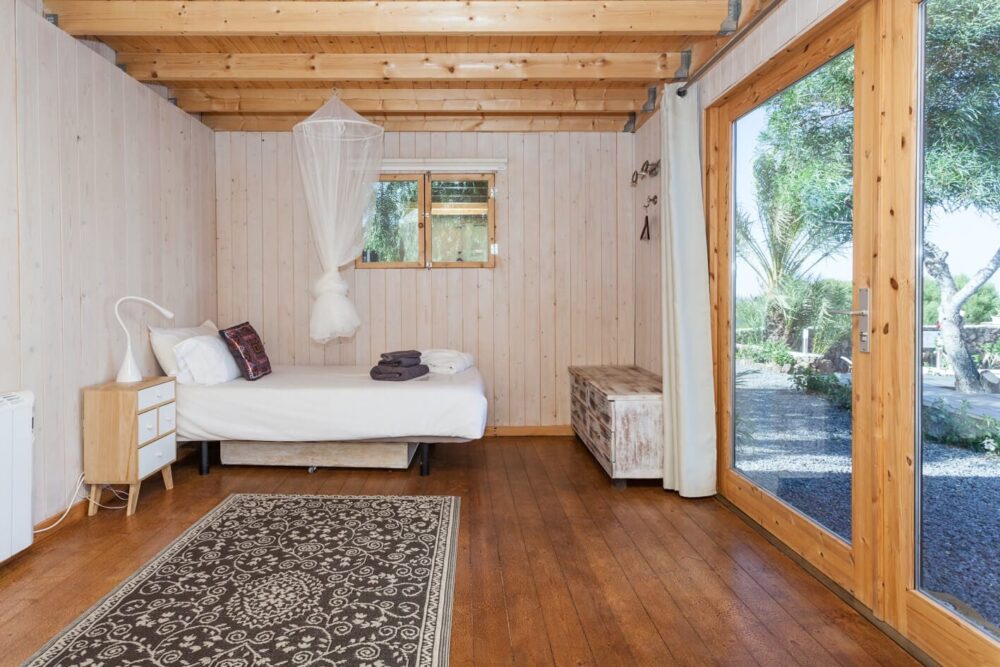 Prana Cabin with bathroom (behind cabin)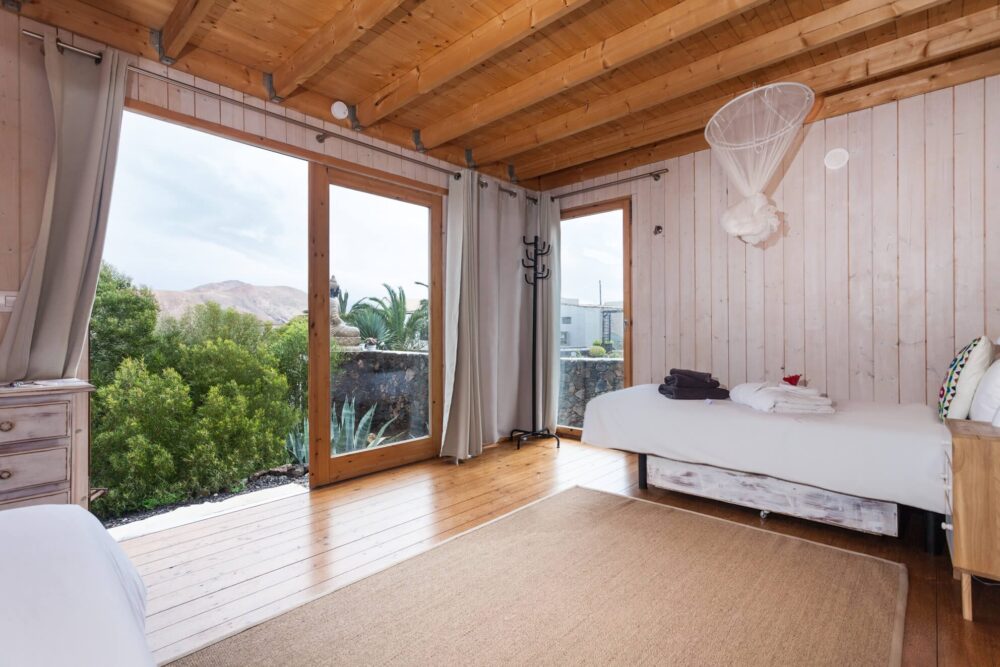 What past guest have said
"Having visited Surya retreat 8 times I didn't think that could improve but Surya goes beyond all my expectations; idyllic, restful, amazing food, beautiful people, pure bliss, hearts and kisses! Thank you to each and everyone of you to sharing this with me…I will be back." Suzanna, UK
"I went to Surya retreat at a time in my life where I needed time to myself to reflect and heal. Their place was the perfect place to do that. It's beautiful, peaceful and the combination of Yoga, Pilates, Reiki, massage, great company and delicious vegetarian food was just what I needed. I can't wait to go back!." Heida Reed (Star of BBC's Poldark)
"I loved my week at Surya retreat. It was my first yoga retreat and I didn't know what to expect. I have to say it exceeded my expectations. Though a bit out of the way, the retreat itself was very nice. It was clean and comfortable. What I love most by far was the teachers and staff. The teachers are so patient and very experienced. They guided us through different types of yoga, pilates and meditations. I learned a lot and also felt I was well taken care of.
The staff was so warm and tried to accommodate our needs with a smile. Food, oh the food there was heaven. As a meat eater, I was skeptical about the two vegan and vegetarian daily meal plan. However, as soon as I tasted the first meal, I didn't want any meat. In fact, I love the food so much that I am cutting down on my meat consumption after I come back home. I can't recommend enough. It is a place that you can't help but feeling relaxed and happy." Ali W
How to get here
You can book your flight to come directly to Fuerteventura airport (FUE). For a wider choice of flights, you can fly to Lanzarote Arrecife airport (ACE) and take the 20-minute ferry crossing to Fuerteventura.
The last ferry crossing to Corralejo from Playa Blanca, Lanzarote is at 19:00 so please make sure your flight arrives by 16:00 if travelling with luggage.
Fuerteventura airport is 35 minutes from the Surya Retreat. We recommend that you allow us to organise a transfer for you. This will ensure that you have no waiting around at the airport and that your driver knows exactly where you are going, allowing you to get to us and settle in as smoothly and stress free as possible.
The cost is as follows:
1 Guest – €40
2 Guests – €20
3 Guests or more – €15
We always try to arrange shared transfers for guests arriving at similar times to keep your costs down. We recommend Skyscanner to search for the best airfare.
Retreat price
There is a €130 euro supplement to our normal prices for this special retreat week to add on top of your accommodation choice below.
Vitality Deluxe Courtyard Suite: (large open room, double bed, deluxe bathroom) shared €945/single €1260
Tranquility Courtyard Apartment: (double bed, single bed, private bathroom, private garden terrace, cosy lounge) shared €945/single €1260
Rejuvenate Room: (private room, double bed, private bathroom, shared lounge, garden terrace with pool view) shared €840/single €1085
Zen Rooms: (private apartment, 2 twin bedded bedrooms, shared bathroom, kitchenette, lounge, private pool view terrace) shared €735/single €945
Serenity Room: (off main courtyard with private courtyard and ensuite bathroom) €910
Contentment Room: (single bed, pool view, private bathroom, shared lounge) €980
Sanctuary Courtyard Rooms: (private room, double bed, shared bathroom) shared €735/single €910
Inner Peace Room: (private room, single beds, private bathroom) shared €770/single €945
Om Cabin: (private rustic cabin, single beds, private ensuite bathroom) shared €770/single €910
Prana Vista Cabin: (private cabin, single beds, shared bathroom) shared €700/single €875
Soul Space Cabin: (private cabin, single beds, shared bathroom) shared €700/single €875
Includes
* All yoga and meditation classes
* Daily brunches
* Light lunches
* One-hour full body massage
* All class equipment (mats, belts, etc.)
* 5 vegetarian evening meals + 1 donation based charity evening meal to benefit Yogabeats Conflict, David's non-profit
Does not include
* Flights
* Travel insurance
* Lunches (some evening meals are not included)
Optional activities
* Massage
* Complementary therapies
* Surfing
* Horseback riding
* SUP
* Windsurfing
* Kitesurfing
* Snorkelling
* Kayaking
Booking
To book your place on the retreat with David Sye, fill in the form below and we will get back to you within 24 hours. You can also contact the team direct on retreats@soulseedmedia.com.